With these 20 Keto Soup Recipes you will have delicious low carb recipes to keep you warm all winter long. Best of all, most of them can be made in 30 minutes or less.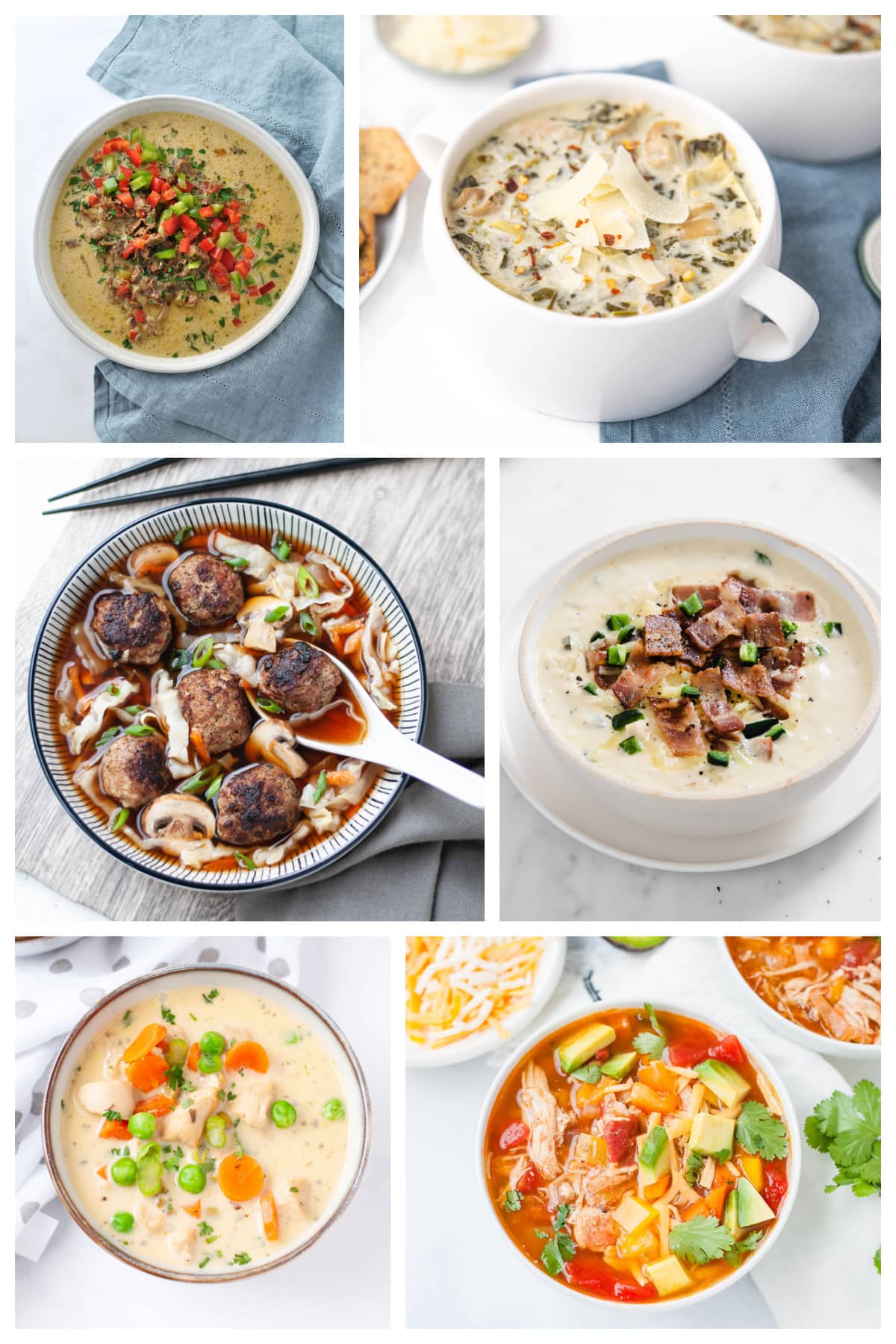 Whether you like to cook your soup low and slow in a Dutch oven, or lighting fast in an Instant Pot, you will find that all of these keto soup recipes are easily adaptable for any cooking method.
Are you a visual learner? Is it easier for you to follow a recipe if you can watch it made step by step? If so, be sure to follow along on our YouTube and Tiktok channels
Keto Soup Recipes20
Here are 20 of my favorite warm and comforting keto soup recipes. From stovetop to slow cooker, and even Instant Pot recipes, there is something here for everyone.
Few foods in life are as comforting as a bowl of hot soup, and soup happens to be one of my all-time favorite things to cook --That is why you will find an abundance of low carb and gluten free soup recipes on my site.
All of these recipes are made with accessible and approachable, real food ingredients that you can find at your local grocery store.
More recipe round-ups
Ingredient Recommendations
If you are like me and you like to do most of your shopping online, while still getting quality ingredients, I have some great resources and discounts for you on the ingredients you will need for these keto soup recipes.
Quality Meat and Seafood Delivery - I get all of my grass-fed, organic, and pasture raised meats from Butcher Box. Each month, they run exciting promotions for free meat in your first box. Check out this months offer.
Organic Produce Delivery - Fresh, organic produce, delivered right to your door from Full Circle Farms. Choose whether you want all fruit, all vegetables or a mix of both. You even get to pick the produce that comes in your box. Check out the different box options here.
Bone Broth - As the base for all of my soups and stews, I like to use a quality bone broth or stock. Some of my favorite brands are Bonafide Provisions, Bare Bones Broth, and Kettle and Fire.
More Keto Soup Recipes