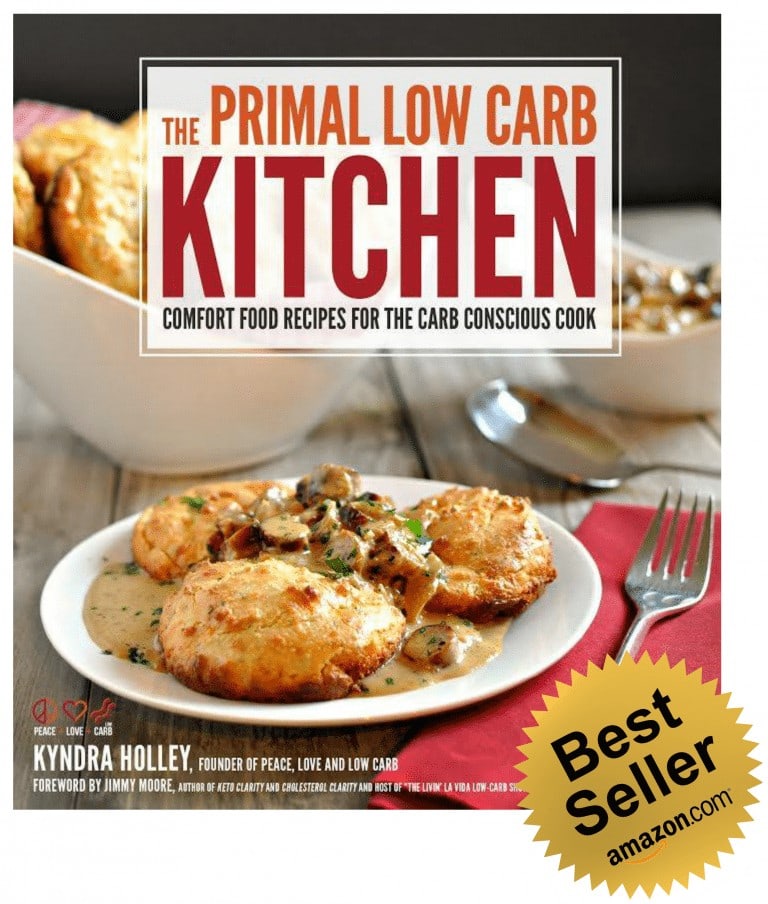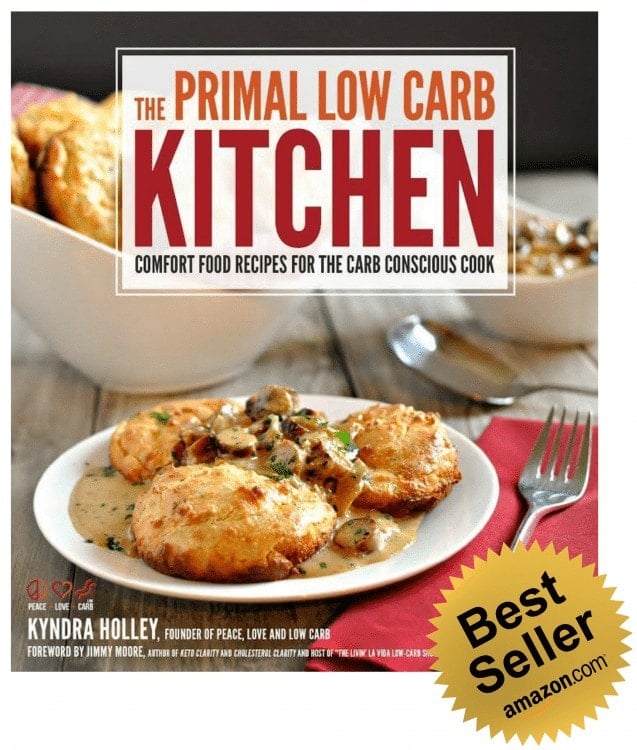 The early reviews are coming in and The Primal Low Carb Kitchen is already a smashing success. Before it has even been released it has achieved several best selling milestones.
#1 New Release in Low Carb Diets on Amazon
Top 100 Hot New Releases on Amazon
Top 5 Hot New Releases in Gluten Free on Amazon
Preview before you buy! Watch the video below for a sneak peek inside the book!
It's time to debunk the myth that you can't live a low carb lifestyle and still enjoy all your favorite foods.

The Primal Low Carb Kitchen Cookbook is HERE!!
Time and time again I hear the same thing... "I can't stick to my low carb diet because I feel deprived" or some variation of that statement. When we feel deprived, we only want the things we "can't have" even more. What if I told you that you could live your low carb lifestyle and all the health benefits it brings, while still enjoying all of your favorite comfort foods? Don't believe me? The Primal Low Carb Kitchen has all the classic comfort foods, recreated into gluten free, low carb, primal variations. Biscuits and gravy? Check! Waffles? Check! Mac and Cheese? Check! Pizza? Check, Check! The early reviews are in, and this is what people are saying...
"Kyndra absolutely knocks it out of the park with The Primal Low Carb Kitchen! Not only does she provide the information every low-carber needs to do things healthfully and effectively, but she shares recipes that would thrill anyone, not just the low-carb eater. There's something for anyone and everyone in this book. Well done!"- Liz Wolfe (NTP and the author of Eat The Yolks")
"
Bridge the gap between a low-carb diet and Paleo with The Primal Low Carb Kitchen! Enjoy comfort foods at its low-carb finest, while incorporating the nutrient-dense values Paleo offers. Kyndra shares the recipes that have been the key to her success in losing weight, becoming comfortable with healthy cooking and learning to use more nutritious ingredients in place of boring carb-loaded fillers. Discover the healthiest you without leaving behind the foods you love thanks to The Primal Low Carb Kitchen!
" -
Ciarra Hannah
, (creator of Popular Paleo and Author of
The Frugal Paleo Cookbook
)

Now do you believe me? When you spend your days thinking about your "diet" as opposed to considering it a lifestyle, it will consume you. If you spend your days thinking about what you will eat for dinner while you are eating lunch, it is time to make a shift. Stop depriving yourself. I will show you how. If you want pizza, eat pizza. It just may not be the delivery place down the street. With a little creativity and a trip to your local grocer, I'll show you how you can easily recreate your favorite dishes so that you can enjoy life without being food obsessed. Trust me, I've been there. It is not fun. I wrote this book for myself just as much as I wrote it for you. I have been through it. That is how I know that I can help you. I used to always tell people that my problem was that "I never met a mac & cheese that I didn't like." That is still true. Now my mac & cheese just looks a little different. All the taste, with none of the guilt. Caramelized Onion and Prosciutto "Mac" & Cheese anyone? This dish might be my proudest creation and the one that I have made the most time. Sure to convert even your most skeptic, carb binging friends. Many times, low carb renditions don't fit the bill and they still leave you wanting more. I promise you that is not the case here, my friends. Here are a few more ringing endorsements to help bring that point home.
"Kyndra Holley is like a comfort food wizard in the kitchen. She literally takes your most beloved meals from your childhood, and turns them into healthier masterpieces right before your eyes. The Primal Low Carb Kitchen Cookbook is a must-have for all food lovers" - Cindy Sexton (author of bestselling Paleo Takes 5 -or- Fewer and Founder of PALEOdISH.com")
"Think going on a low carb diet means you will be giving up all of your beloved favorite foods? Not so fast. Kyndra is here to open your eyes to the amazing world of primal and low carb cooking and she's doing it in style. This book is all about making comfort food accessible again. Pizza, waffles, biscuits and gravy, yes it is all here. I have had the pleasure of working with Kyndra on other projects and I have seen her grow and develop her skills as a creative and inspiring low carb cook. This will quickly become one of the most dog-eared, food-spattered cookbooks in your collection. " – Carolyn Ketchum (Culinary genius behind the drool-worthy blog "All Day I Dream About Food")"

What can you expect from The Primal Low Carb Kitchen?
85+ Low Carb, Primal and Gluten Free Recipes
All easy to find, whole food ingredients
Full page color photo for every recipe
Nutritional analysis for each recipe
Simple swaps for your favorite snacks
Creative ways to maximize your grocery budget
My kitchen must haves
Seasoning and spice blends
and much more...
"Kyndra Holley does it again! Building on the success of Peace, Love & Low Carb, she has once again given us a friendly, happy cookbook, with clear, simple directions. It's full of useful info, especially for those who have only started cooking since they figured out that processed food was the reason they felt sluggish or even sick all the time. But most of all, there are the recipes. The wonderful, wonderful recipes. The hardest thing will be choosing which recipe to make first. You need this book. You really, really do." -Dana Carpender (Hold the Toast Press, and author of several best-selling low carb and paleo cookbooks)
"Kyndra Holley's brand new book, "The Primal Low Carb Kitchen" is a fantastic resource for low-carb enthusiasts. It's loaded with satisfying and mouth-watering recipes. With it's wonderful resource section, it will teach you how to do low-carb the healthy way! Learn how to swap our your old favorite ingredients for healthy alternatives, how to identify hidden sources of gluten and how to save money on your groceries. With this book in hand, you will be well on your way to looking and feeling your best! - Arsy Vartanian (Creator of Rubies & Radishes and Author of The Paleo Foodie Cookbook)



"Kyndra has been quite a gem for the low carb Paleo community. Her new cookbook is absolutely essential for anyone searching for an amazingly flavorful path to health. Her recipes are not just delicious; they are made with ingredients that are familiar and nutritious! I highly recommend adding this cookbook to your collection; if anything, the photos will make your mouth water!" – Maria Emmerich (Founder of Maria, Mind Body Health)
Available on Amazon, Barnes & Noble, Indie Bound, Books-A-Million and wherever books are sold.
---
REVIEWS OF THE PRIMAL LOW CARB KITCHEN COOKBOOK