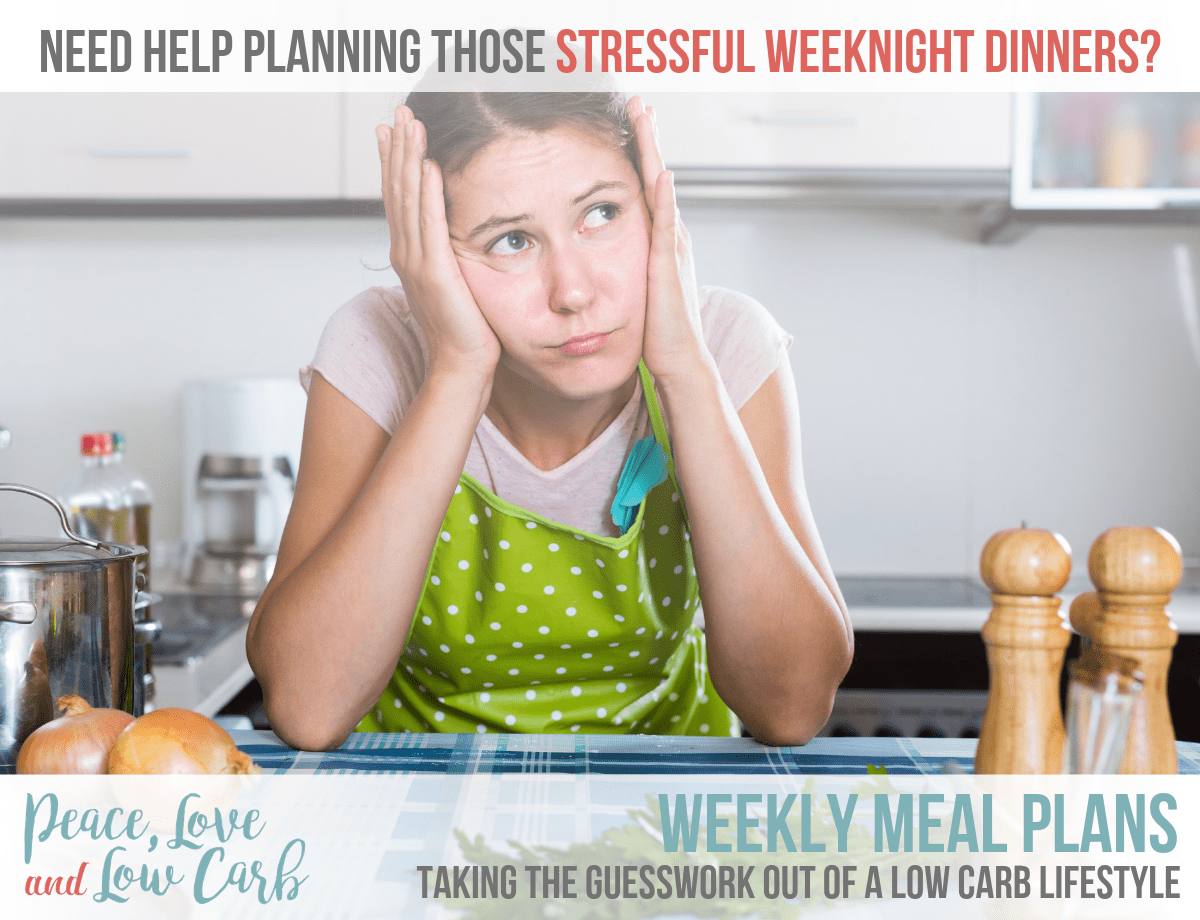 No Obligation
You can order the meal plans week by week or in blocks of 4. No obligation, no subscriptions, just delicious recipes!
New Plans Each Week
Each week is a brand new meal plan that plays off the week prior, in order to maximize leftover ingredients and cut down on waste, as well as reduce your grocery bill.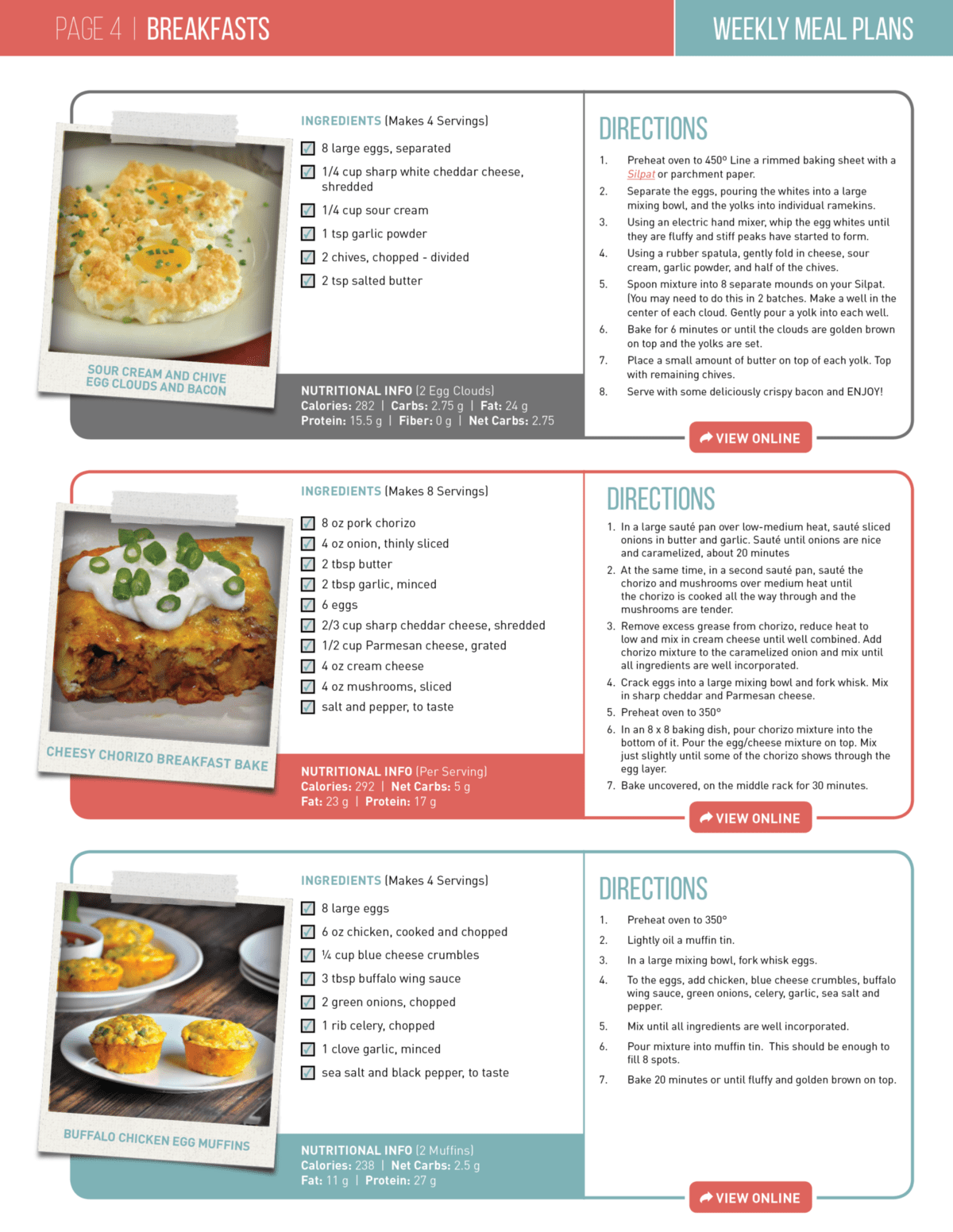 Recipes For the Week
These low carb and gluten free meal plans are designed to feed 2-4 people for 5 days and utilize leftovers to save you time and money. Spend that extra time with your loved ones, instead of in the kitchen. There are 3 breakfast recipes, 3 lunch recipes, 4 dinner recipes, 3 side dish recipes and an optional dessert recipe. Even though there are only 3 or 4 recipes per category, there are enough servings for 5 days worth of meals. Days are not assigned to the meals. That way, you can mix and match the recipes according to your own preferences and schedule. Need more food? Or maybe less? No problem! I provide tips for how to scale the recipes up or down to best suit your families needs.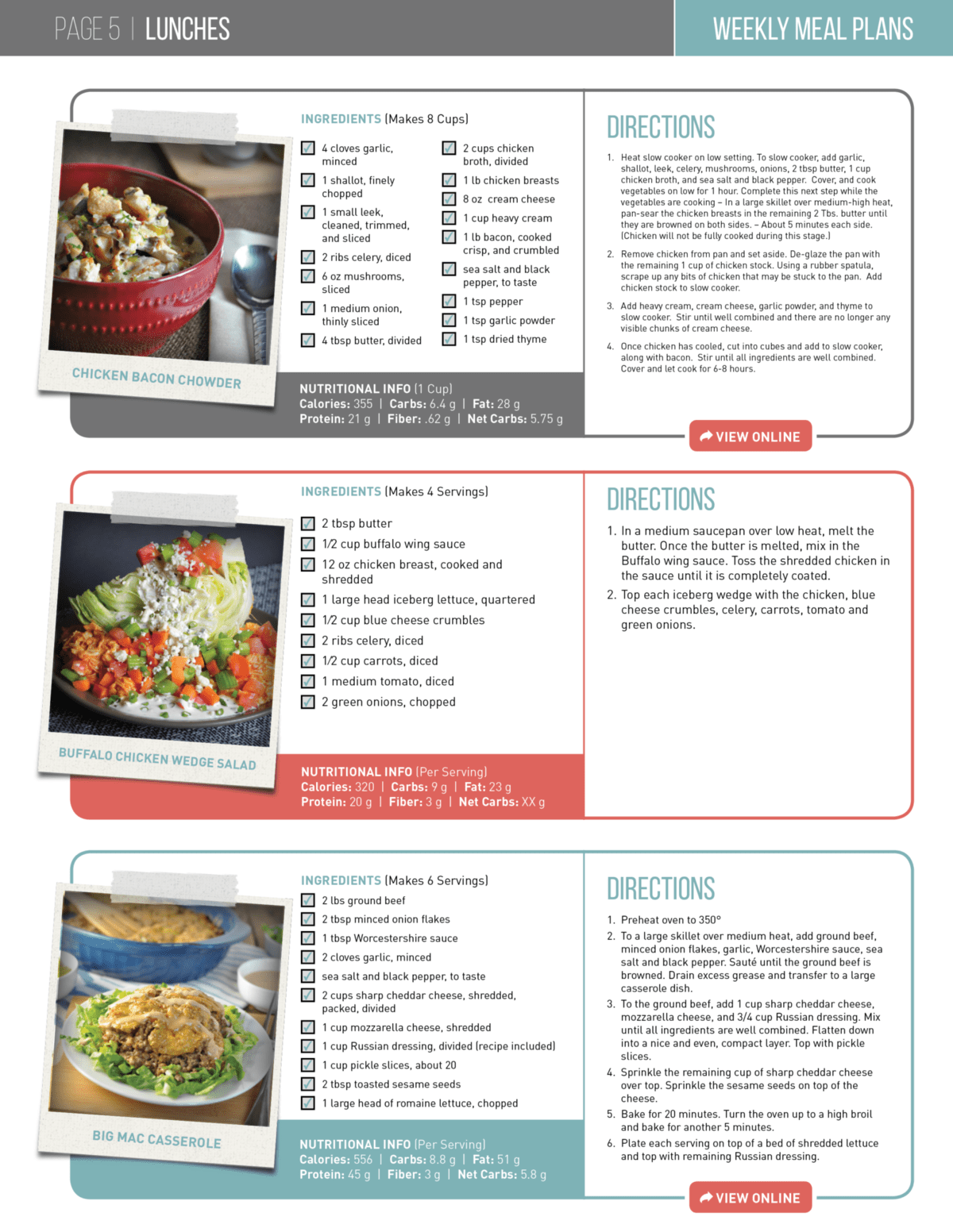 More About the Recipes
All recipes have a full color photo, nutritional analysis, ingredients and directions. They also include a link to view each recipe online. They are all low carb and gluten free and are less than 10 net carbs each. Most are much lower. They are comprised of easy to find, real, whole food ingredients. No funky, hard to find specialty ingredients. Each plan builds off the week prior to maximize ingredients and reduce your grocery bill. You can mix and match the recipes to stay in the carb range that best suits your current needs.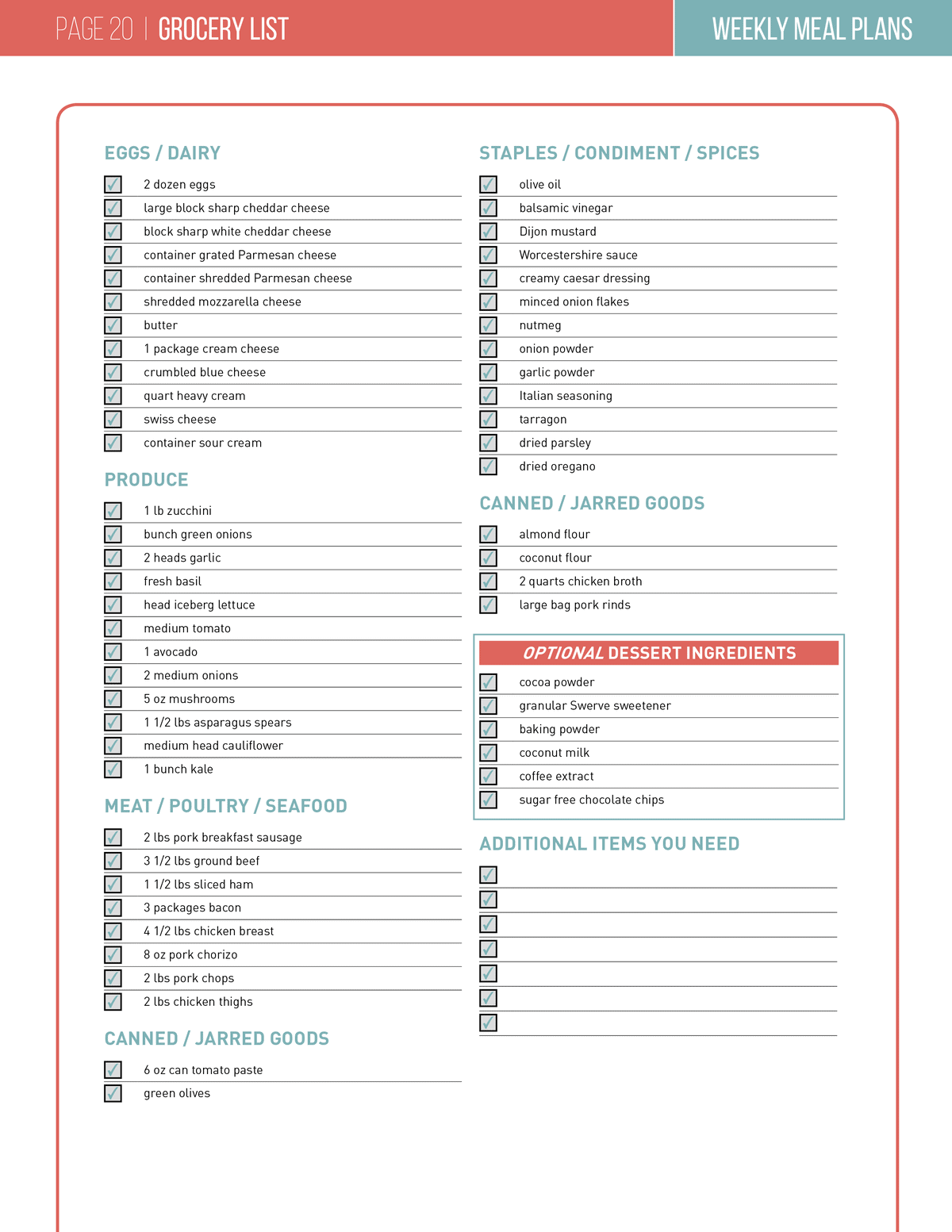 Printable Grocery Lists
Each weekly meal plan comes with a printable grocery list. The days of getting home from the grocery store, only to realize that you forgot an ingredient for dinner are over! The grocery list is organized by department. No more running back and forth across the store as you cross things off your list. There is even a spot to write in any additional items you might need for the week.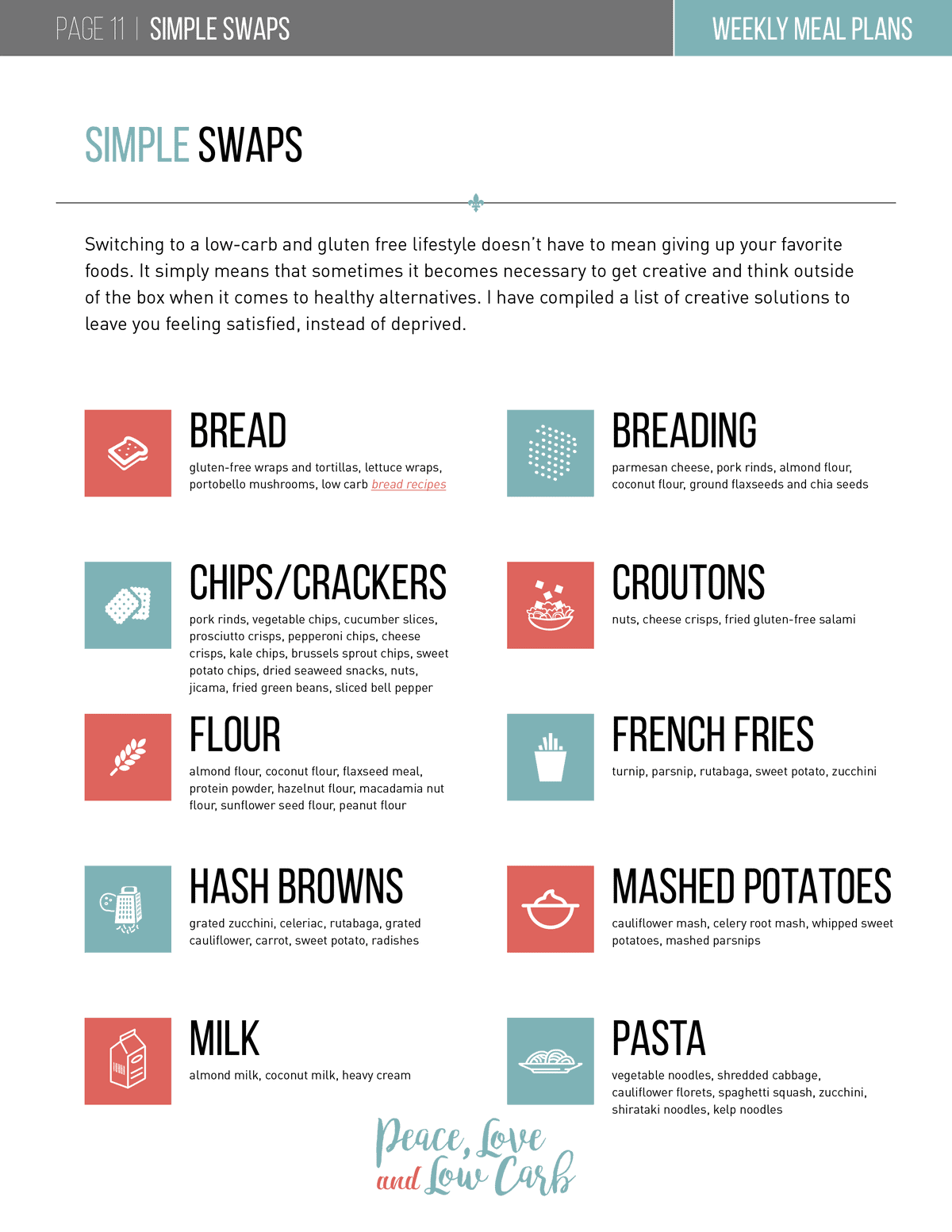 New Resources Added Every Week
In addition to everything I have already listed, each new meal plan contains a new low carb and gluten free resource. Not only will these meal plans help you take the guesswork out of your low carb and gluten free lifestyle, but they will arm you will all the tools you need to educate yourself on this way of eating and keep you on the road to success! Some of the resources you can expect to see through the weeks are: Ways to maximize Your Grocery Budget, Hidden Sources of Gluten, Convenient Conversions, Cooking Terms Defined, Simple Swaps, Recipe Round-Ups, 50 Low Carb and Gluten Free Snack Ideas and much, much more!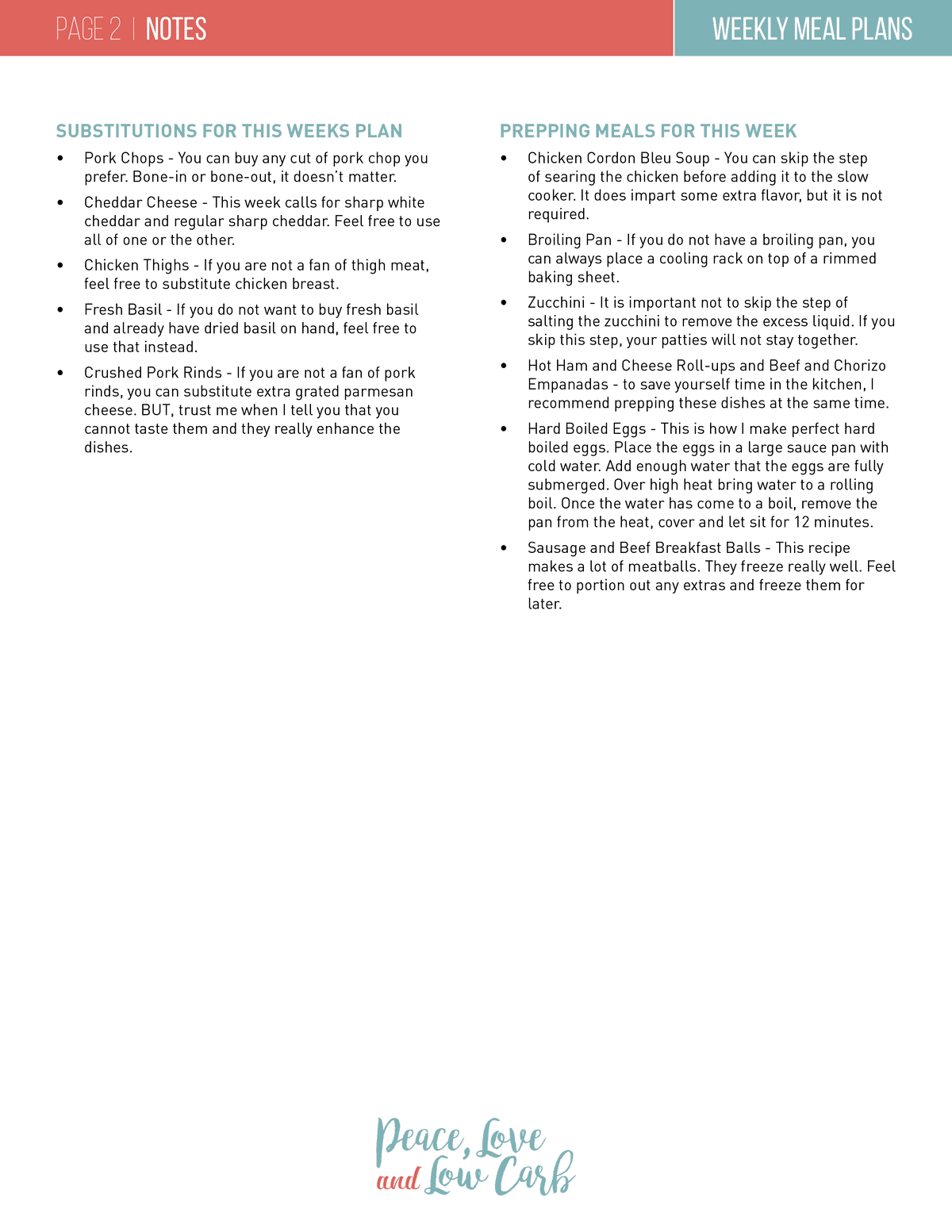 Suggestions for Substitutions and Meal Prep Tips
Each plan contains a list of suggestions for substitutions specifically for that weeks recipes, based on common food allergies, likes and dislikes. There is also a list of meal prep tips and tricks to help save you time and money each week. The goal is to minimize your grocery bill and maximize your free time.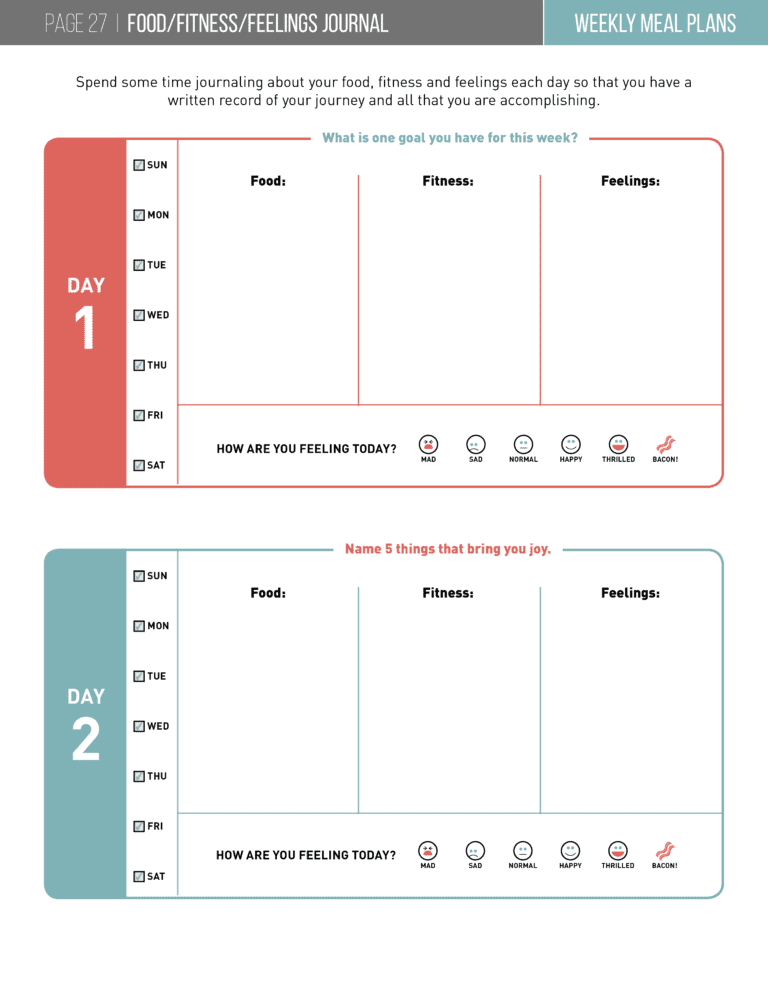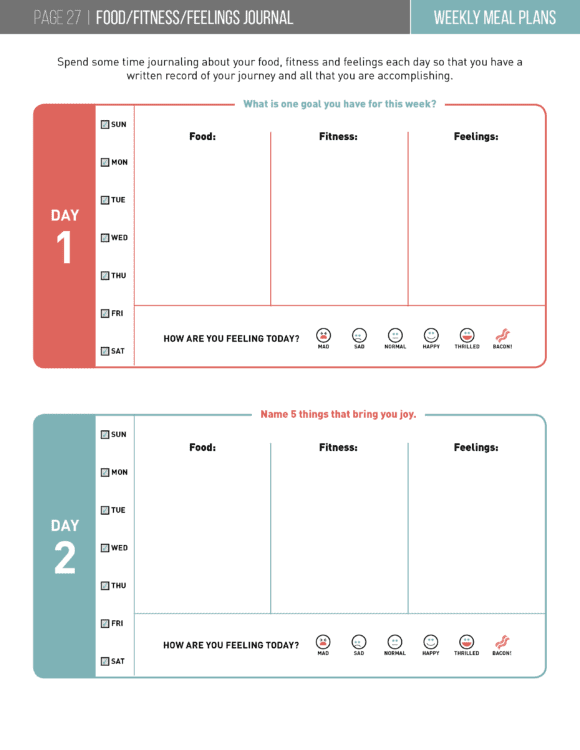 Food/Feelings/Fitness Journal
Each week contains a 7 day journal where you can spend a little time each day writing about your food, your workouts, and how you are feeling overall. Each day provides a little food for thought, question, or quote to be thought provoking and help get those creative juices flowing. There is also a spot each day to rate how you are feeling and to set goals for the week.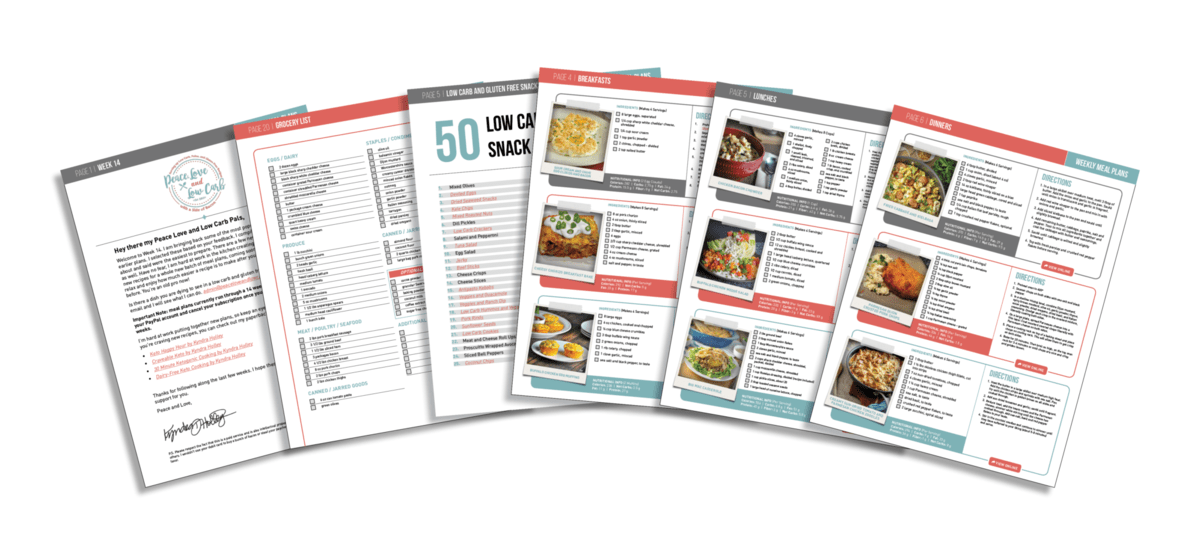 Included in the meal plans:
What are you waiting for?
Only $4.99/week
Frequently Asked Questions
How do we let you know our food preferences? For example, no eggs for breakfast?
The same meal plan will be sent to everyone, but will contain a list of substitutions for common food allergies, likes and dislikes.
Just ordered the first 4 weeks. Will there be a reminder email when the 4 weeks are over?
Reminder emails are not sent out. However, when you realize how much you love them and decide you want to order more, you can do so here
You say this is an opt in / opt out plan. What exactly does that mean and how will you know which week I am supposed to get?
It simply means that you are never under any obligation. You can jump in or jump out at any time. Meal plans are available for purchase individually, or in bundles of multiple weeks. Therefore, you can always order the next meal plan in the sequence.
How many carbs per day are your meal plans?
The meal plans are set up so that you can mix/match your meals for the day to stay within the carb range that you want. All recipes are less than 10 net carbs per serving - most are much less than that. These plans are even suitable for those that are trying to stay in the 20-30 gram per day range.
Are you only using recipes from your site, or will it be a mix of recipes from your site and your cookbooks?
The meal plans will be a mix of recipes from my site, brand new recipes exclusive to the meal plans, and my cookbooks.
I am located outside of the United States, can I still use this meal plan? Will I be able to find the ingredients necessary to make the recipes?
The meal plans are made with only unprocessed, real, whole food ingredients, making them easier to find in other countries.
Do you have a sample plan I can see?
The sales page is very detailed and contains actual pictures from the meal plans. That way, you know exactly what to expect and there are no surprises.
How do I access my meal plans?
Meal plans are available for download immediately after purchase. You will be provided a download link and you will have 5 attempts to download the meal plans before the link expires. If you have any issues downloading your plans, email admin@peaceloveandlowcarb.com we will get you taken care of.
Do the recipes in the meal plan contain dairy? If so, are there substitutions?
Yes, the recipes have dairy. There will not be substitutions written in for the dairy, although in many recipes it can just be omitted. If you would like dairy free specific meal plans, I have those available here.
How many people is the meal plan intended to feed? Also, how much is the average weekly cost of groceries on your plans?
The meal plans are written for 2 to 4 people but can easily be scaled up or down. As for an average weekly shopping cost, the price of groceries is different in every state—dependent upon the cost of living, minimum wage etc. However, many people have commented that after the first couple of weeks (after building up the fridge and pantry staples) that their grocery bills have been drastically reduced and that there is virtually no waste.
Why are there only 3 of each meal? I thought this was a 5 day meal plan?
When you look at the meals for the week, you will see that there are 3-4 meals in each category - Breakfast, Lunch, Dinner, and Side Dishes as well as an extensive snack list. It is written this way so that there are enough servings in each category for 5 days worth of food. For example, between the 3 breakfast recipes in the Week 1 Meal Plan, there are 20 servings total. That is enough to feed 4 people breakfast for 5 days. I am utilizing leftovers to make this plan easy to stick to. The idea is to save money, reduce waste and spend less time in the kitchen. You can save that extra time for family and friends by prepping meals in advance and in the right portions so that you aren't cooking every day, 3 times a day.