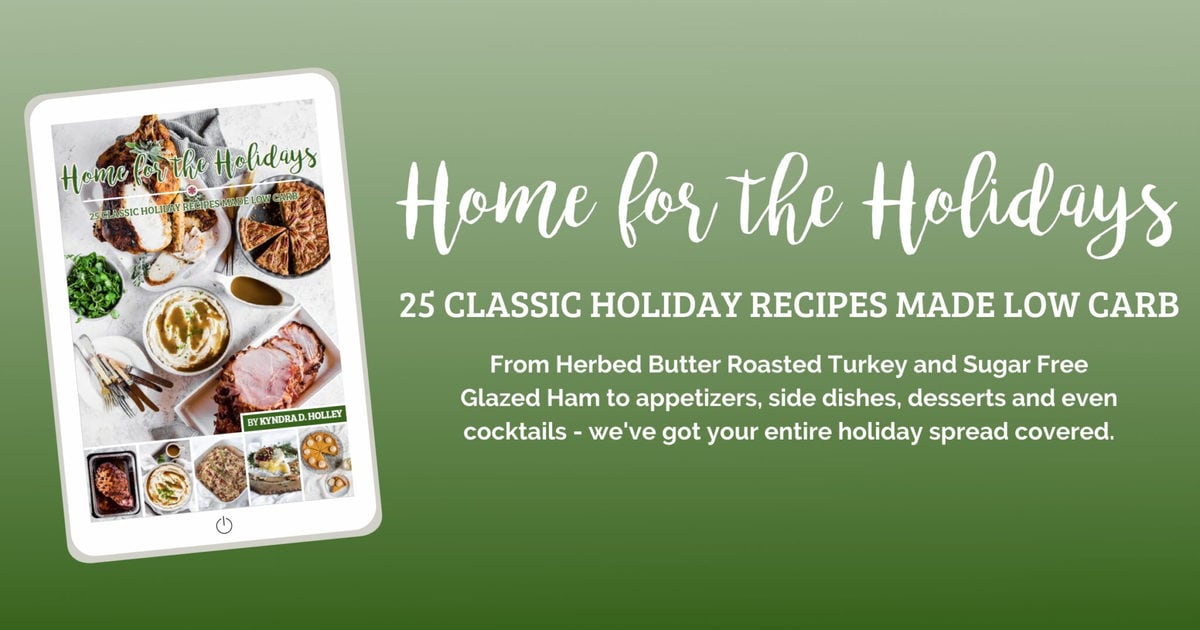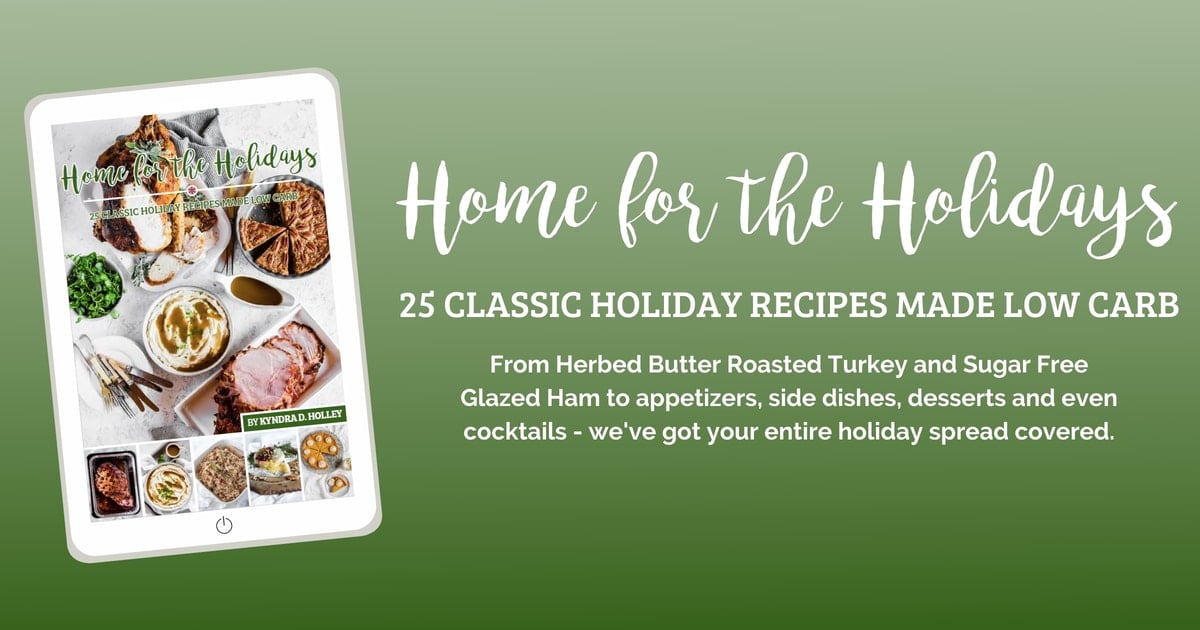 The Home for the Holidays eBook features 25 low carb, gluten free, and sugar free, holiday recipes. All of your favorite classic holiday recipes, recreated in healthier versions.
Whether you are the one doing the cooking or are just looking for healthier recipes that you can bring to family gatherings, this book has it all. This ebook would also make a great gift for a loved one who's gone keto and isn't sure how to adjust their holiday plans, or for anyone looking to cut the carb coma that usually comes with a holiday feast.
From Herbed Butter Roasted Turkey and Sugar Free Glazed Ham to appetizers, side dishes, desserts and even cocktails - we've got your entire holiday spread covered.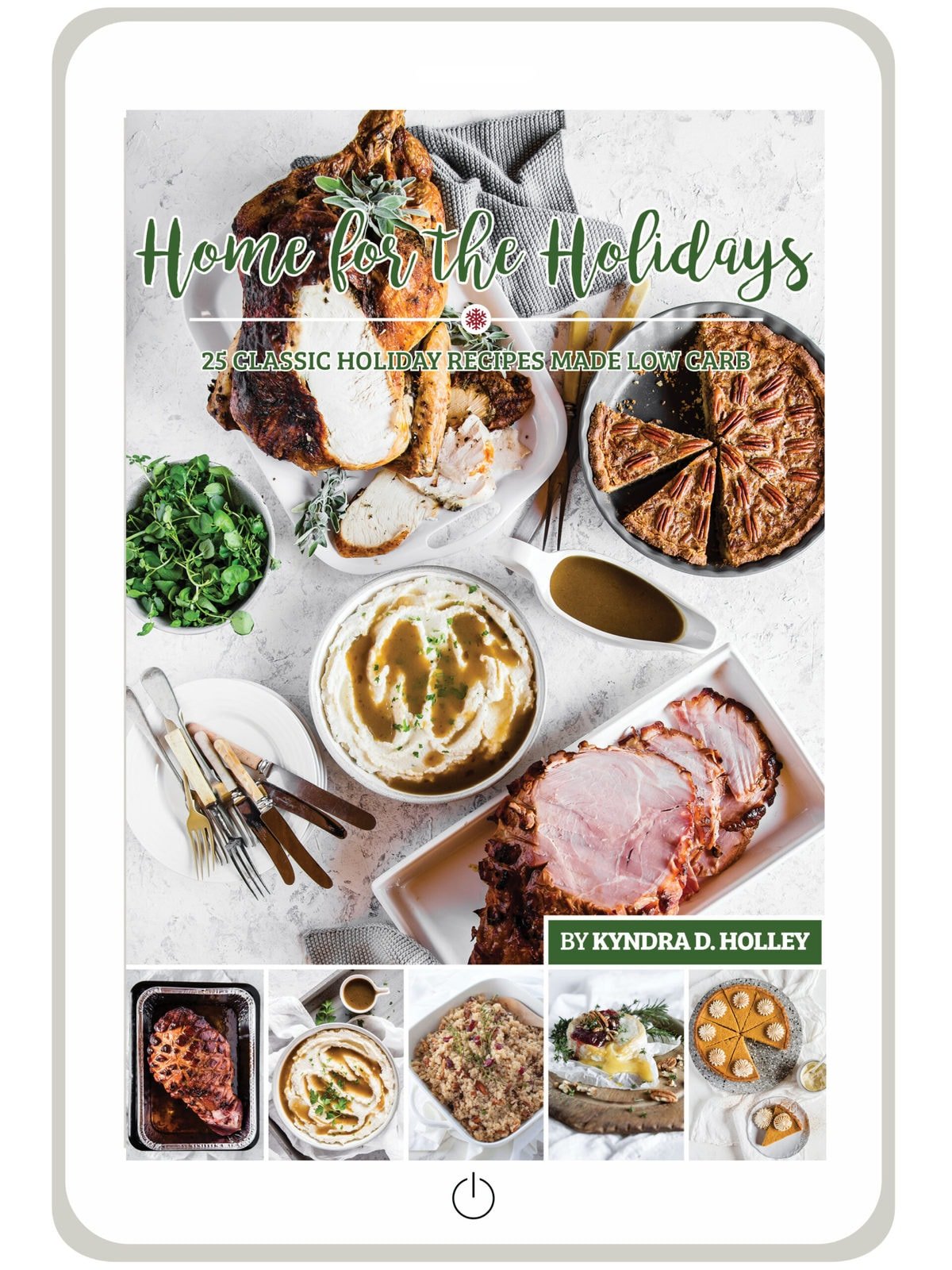 ONLY $9.99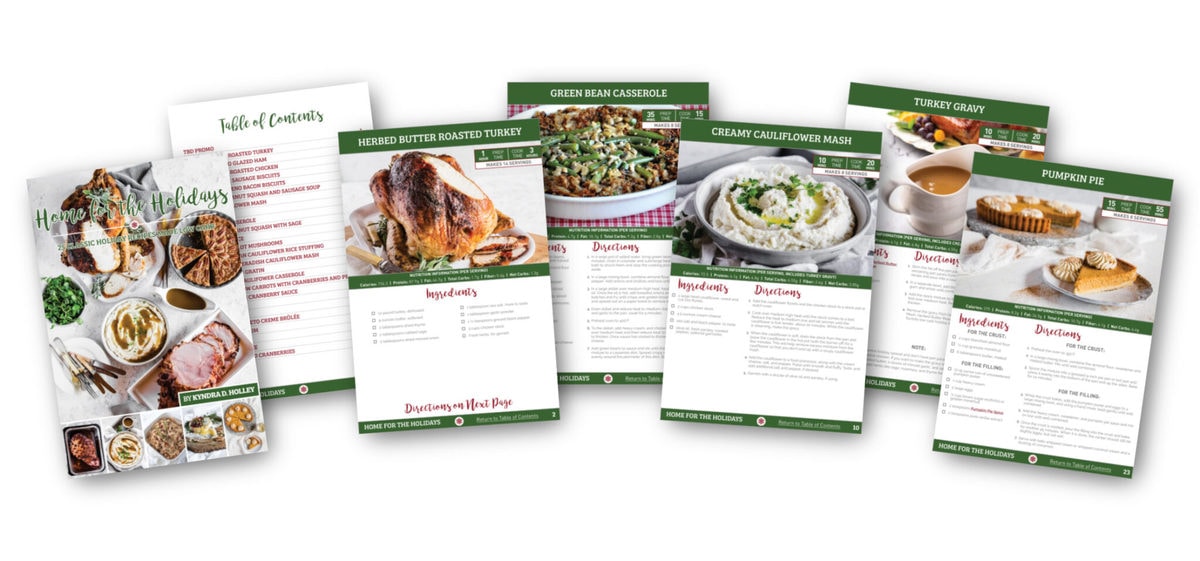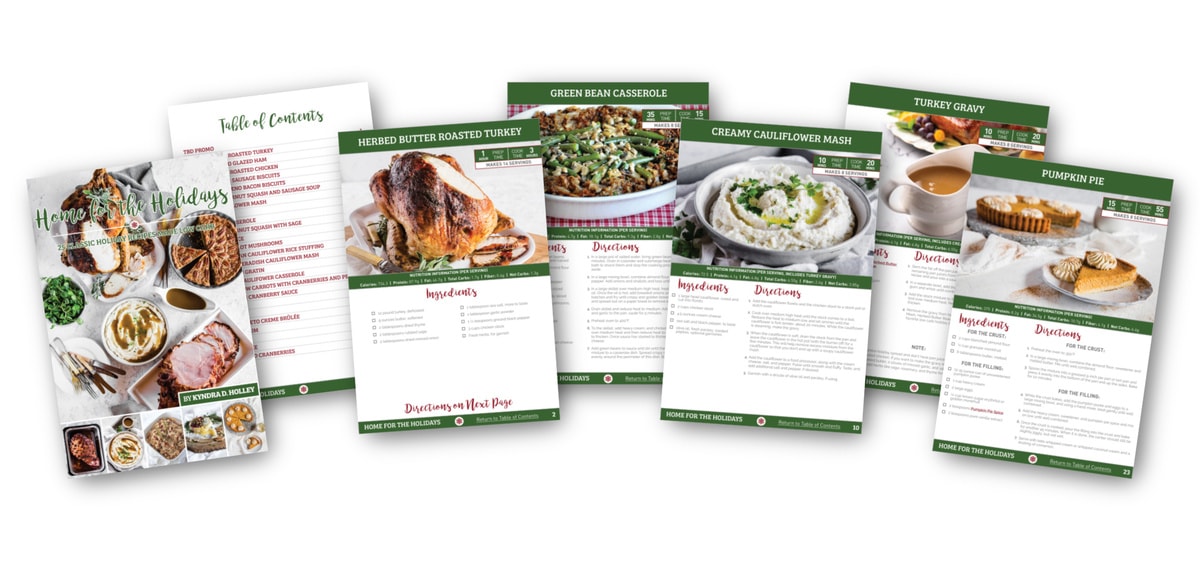 INCLUDED IN THIS HOLIDAY EBOOK:
Interactive Table of Contents – return to the table of contents with the click of a button
25 low carb and gluten free versions of classic holiday recipes
Full color photo for every recipe
Step by step ingredients with clear and concise directions
Complete nutritional analysis for every recipe – Calories, Fat, Protein, Total Carbs, Fiber, Net Carbs
List of essential ingredients included throughout the book with clickable links to purchase
List of kitchen tools with clickable links to purchase
Low carb holiday recipes included in this ebook:
Herbed Butter Roasted Turkey
Glazed Ham
Buttery Whole Roasted Chicken
White Sausage Cheddar Biscuits
Cheddar Jalapeno Bacon Biscuits
Roasted Butternut Squash and Sausage Soup
Creamy Cauliflower Mash
Keto Gravy
Green Bean Casserole
Roasted Butternut Squash with Sage
Cranberry Sauce
Balsamic Shallot Mushroom
Cranberry Pecan Cauliflower Rice Stuffing
Chive and Horseradish Cauliflower Mash
Cauliflower Au Gratin
Loaded Baked Cauliflower Casserole
Roasted Rainbow Carrots with Cranberries and Pecans
Baked Brie with Cranberry Sauce
Pecan Pie
Pumpkin Pie
Pumpkin Spice Creme Brulee
Hot Buttered Rum
Irish Cream
Pumpkin Pie Spice
Sugar-free Dried Cranberries
MORE KETO COOKBOOKS AND MEAL PLANS
Get a Free Turkey from Butcher Box - HERE
From now through 11/15 Butcher Box is offering a FREE 10-14 pound turkey - perfect for you Thanksgiving or Christmas feast
Best of all, I've even got you covered with a keto-friendly turkey recipe - Here
Build a custom Butcher Box with grass-fed/grass-finished beef, salmon, scallops, chicken, pork, and more, and get a Thanksgiving turkey for free in your first box.
Why choose Butcher Box over regular meat from the store or from another grass-fed meat subscription company? Well, for starters, dollar for dollar and pound for pound, Butcher Box is a better value than what I could get for meat of that quality at my local grocery store. I have been using their service for over 3 years now and I absolutely love it. Cows were meant to eat grass, not cheap grains! Feedlot cattle are fed antibiotics, hormones, corn, soy, and in some cases even animal byproducts and candy. As a result, you get a fatty piece of meat tainted with antibiotics and hormones. Butcher Box meats are free or hormones and antibiotics and are humanely sourced from farmers with animal welfare as their core value.