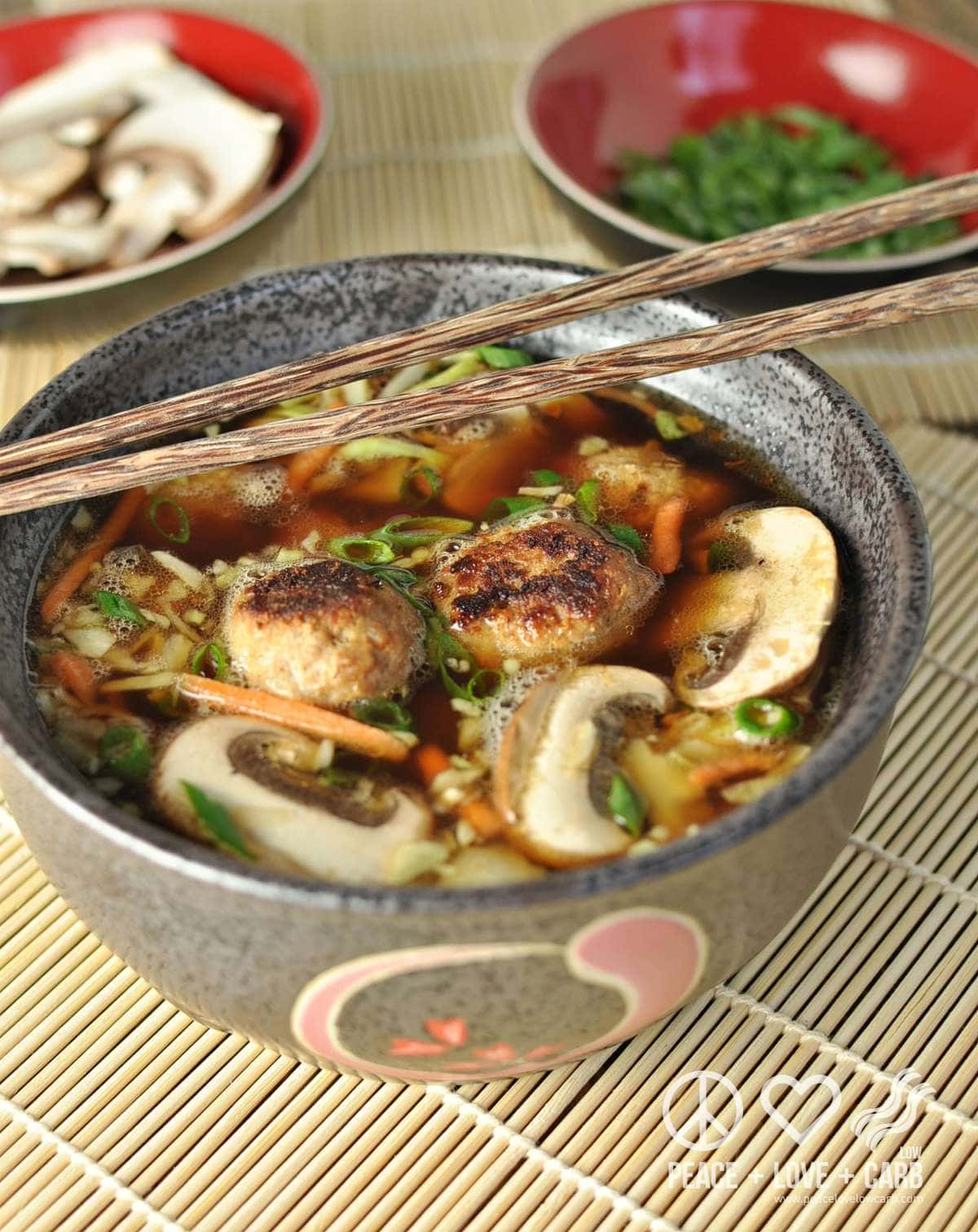 Making low carb Chinese food recipes can be a little tricky. Many traditional asian inspired dishes cantain sugar, soy, gluten, as well as other things I typically try to avoid. But all it takes is a little creativity and a willingness to cook your own food and you can have a deliciously remarkable low carb wonton soup. I am a huge fan of wonton soup. It is so comforting.  While I still miss the flavor and texture of those delicious little dumplings, this soup is a great substitution. The meatballs are plump, juicy and incredibly flavorful.
Check out some of my other favorite low carb asian inspired recipes:

Sign up for updates to receive one week FREE of my low carb and gluten free meal plans:
Print
Easy Peasy Wonton-less Soup – Paleo, Low Carb, Gluten Free
---
Yield:

Makes 10 Servings
Ingredients
For the meatballs
1 1/2 lbs ground pork
3 tbsp coconut aminos or gluten free soy sauce
2 tbsp plus 1 tsp toasted sesame oil, divided
1 tsp gluten free oyster sauce (get it here)
1 tsp fish sauce (get it here)
1 tsp fresh ginger, grated
1/4 tsp crushed red pepper flakes
2 cloves garlic, minced
2 green onions, chopped
1 large pastured egg
For the broth
8 cups chicken stock (get it here)
2 cups water
2 tbsp oyster sauce
2 tbsp coconut aminos or gluten free soy sauce
2 tbsp fish sauce
2 tsp fresh ginger, grated
1/2 tsp crushed red pepper flakes
5 large cremini mushrooms, thinly sliced
1 bunch green onions, thinly sliced on a bias
14 oz bag of coleslaw mix (cabbage and carrots)
---
Instructions
In a large mixing bowl, combine ground pork, coconut aminos, 1 tsp sesame oil, oyster sauce, fish sauce, ginger, red pepper flakes, garlic, green onions, and egg. Mix until well incorporated. Form the mixture into bite sized meatballs. It should yield about 40 meatballs.
In a stock pot or dutch oven, heat the remaining 2 tbsp of sesame oil over medium high heat. Add the meatballs to the pot. Cook the meatballs until they are browned all over and cooked through. If they start to stick, splash a little chicken stock in the pot. Remove the meatballs from the pot and set aside.
To the pot add chicken stock, water, oyster sauce, coconut aminos, fish sauce, ginger, and red pepper flakes. Bring to a boil and then reduce heat to low to simmer. Simmer for 10 minutes.
Add the meatballs, mushrooms and cabbage to the broth. Let simmer for an additional 5 minutes before serving.
Notes
Per Serving (2 Cups) : Calories: 260 | Fat: 16g | Protein: 21 g | Total Carbs: 6.4g | Fiber: 1.1g | Net Carbs: 5.3g