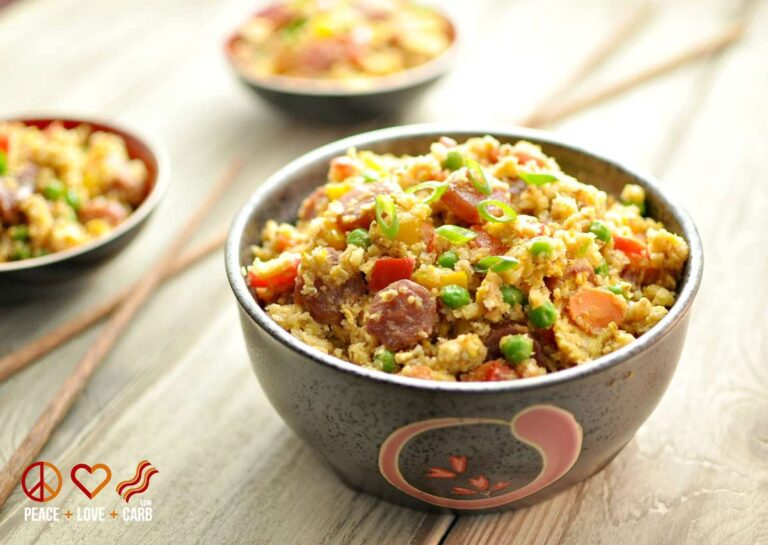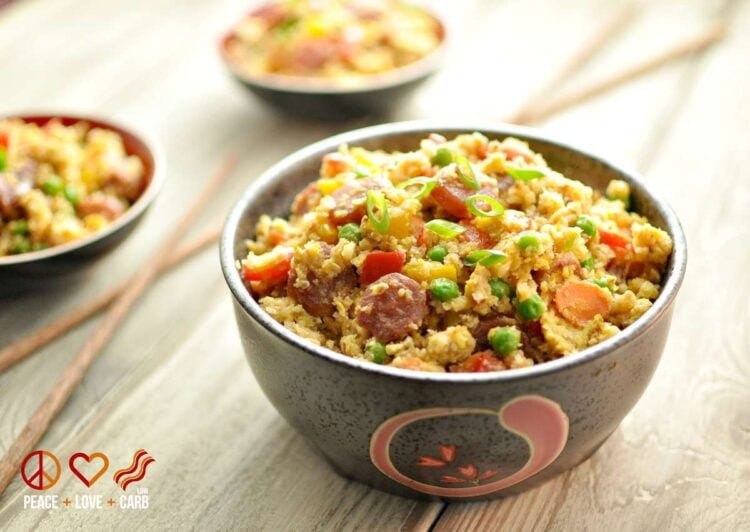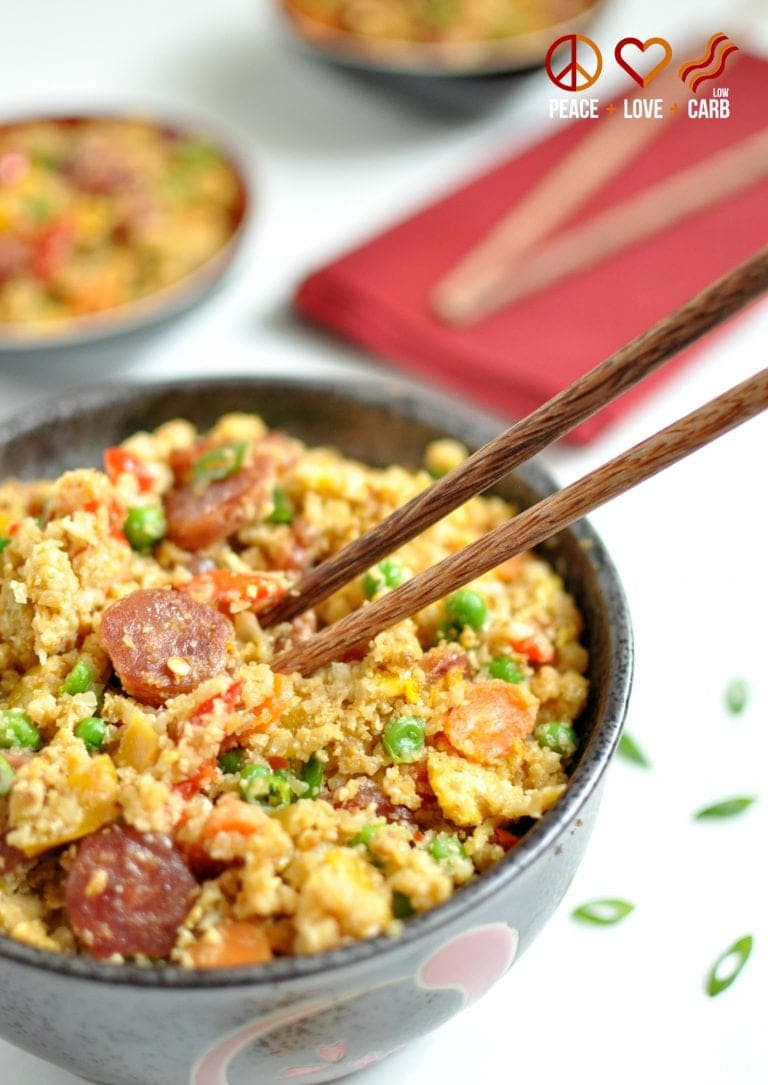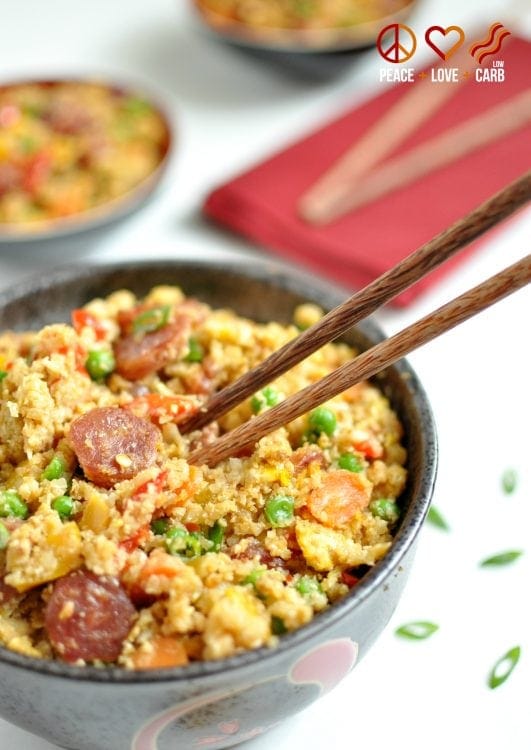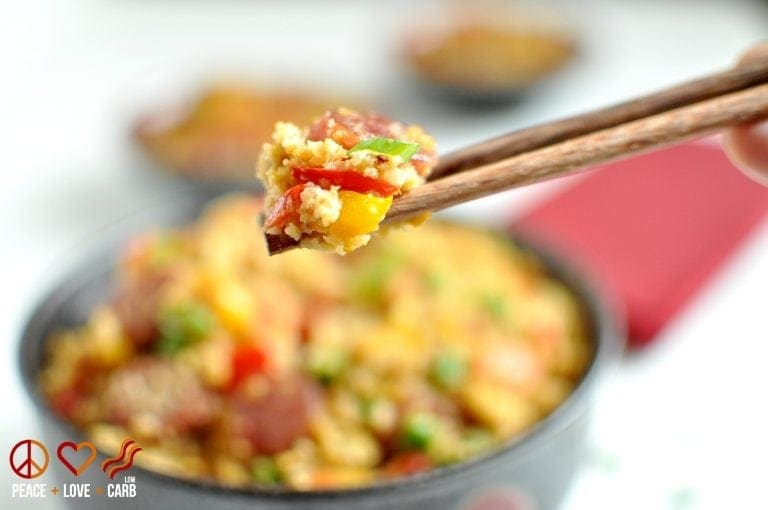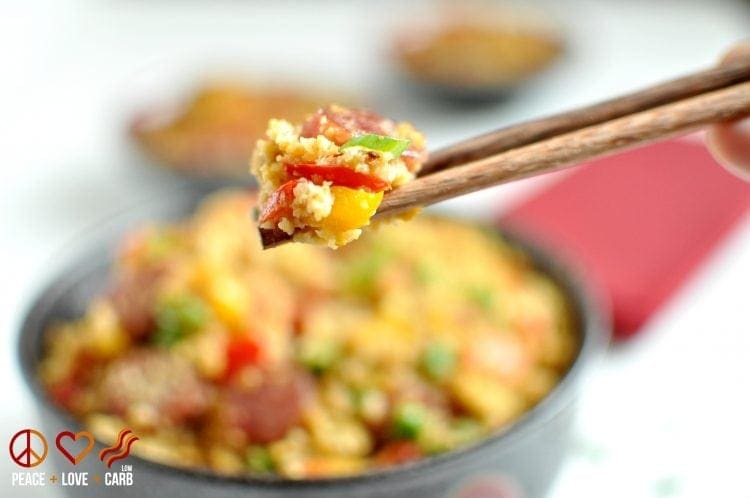 I think I need to go to cauliflower rice rehab. I seriously cannot get enough. Not only is it low carb, but it is so much less filling than actual rice. I am continually amazed at how well cauliflower can masquerade as so many other foods. Like this Mushroom Risotto Recipe or this 5 Cheese and Bacon Arancini Recipe. Need more proof? How about this Chicken Cordon Bleu Casserole? This fried "rice" recipe calls for Chinese sausage. It is typically a fattier, sweet tasting sausage. It is perfect in asian inspired dishes. If you are not a fan of sausage, you can simply substitute your favorite protein, or just omit it altogether.

Sign up for updates to receive one week FREE of my low carb and gluten free meal plans:
[mc4wp_form id="9184"]
Ingredients
1 medium head cauliflower
4 tbsp butter (½ stick)
2 large green onions, chopped, whites and greens separated
4 cloves garlic, minced
½ cup carrot, thinly sliced on a bias
1⁄2 cup yellow bell pepper, diced
1⁄2 cup red bell pepper, diced
4 tablespoon soy sauce or coconut aminos
1 tablespoon sesame oil
1 teaspoon sea salt, more to taste
1⁄2 teaspoon crushed red pepper flakes
½ lb Chinese sausage, sliced on a bias
½ cup frozen peas
3 large eggs
Instructions
Using a food processor or a box grater, rice the cauliflower.
Heat a wok over medium heat. In the wok, heat 1 tablespoon of the butter, then add the white portion of the onions and the garlic. Sauté for 2 to 3 minutes.
Add the remaining 3 tablespoons of the butter, and the carrot and bell pepper, and sauté for 5 to 7 minutes.
Add the riced cauliflower, coconut aminos, sesame oil, sea salt and red pepper flakes.
Stir-fry for 10 minutes. Mix in the Chinese sausage and peas. Stir-fry for an additional 5 minutes.
Crack the eggs into a bowl and fork whisk.
Push all the ingredients in the wok over to one side of the pan. Pour the eggs into the empty side of the pan and lightly scramble them. As the eggs begin to scramble, slowly mix them in with the rest of the dish.
Garnish with the green portion of the onions before serving.