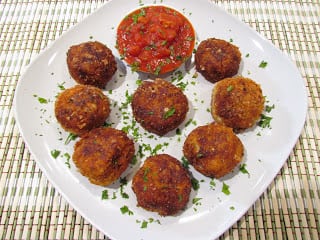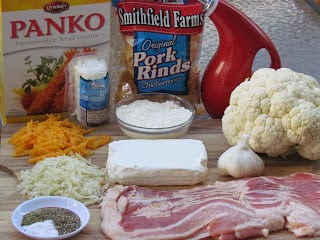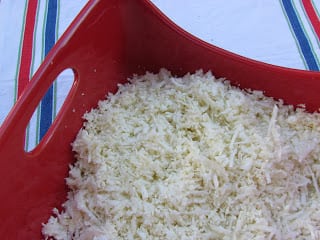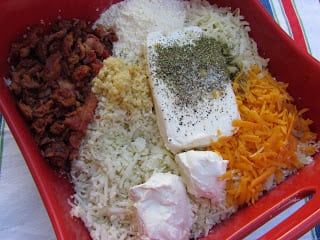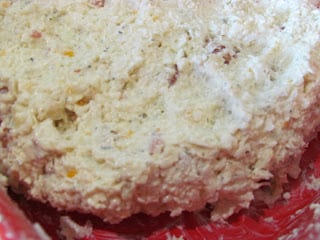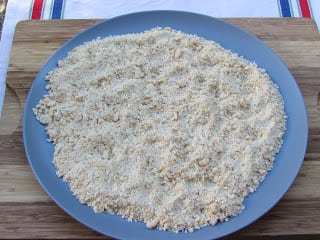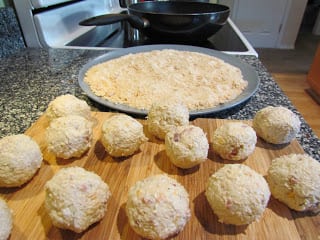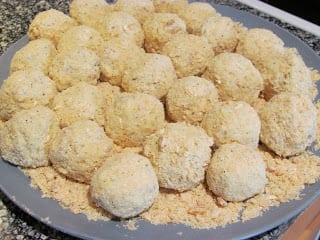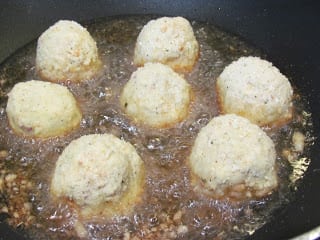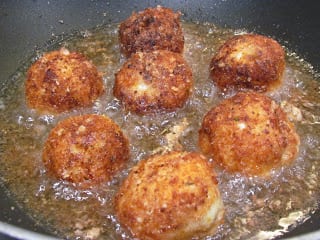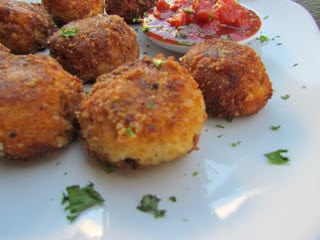 Arancini - Five Cheese, Bacon, Cauliflower Bites
Traditional Arancini are deep fried rice balls, coated with breadcrumbs. I recreated this traditional version into a delightfully sinful, low-carb version using riced cauliflower instead of rice. To make this gluten free, simply replace the panko with extra pork rinds. You can put any number of ingredients inside. I went with a couple of my favorites.... LOTS of cheese and bacon. Hope you enjoy them as much as we did.
Check out some of my other favorite low carb italian inspired recipes:
"Spaghetti" and Meatballs
Chicken Parmesan Meatballs

Sign up for updates to receive one week FREE of my low carb and gluten free meal plans:
[mc4wp_form id="9184"]
5 Cups Riced Cauliflower
1 lb. Bacon - Cooked, and Crumbled
8 oz Cream Cheese - Softened
4 oz. Goat Cheese
1 ½ Cup Grated Parmesan Cheese - Divided
½ Cup Sharp Cheddar Cheese
½ Cup Sharp Garlic White Cheddar Cheese
1 Cup Crushed Pork Rinds
½ Cup Panko (to make gluten-free, replace panko with extra crushed pork rinds)
3 Cloves Garlic - Minced
1 tsp. Italian Seasoning - Divided
1 tsp. Onion Powder
1 tsp. Garlic Powder
½ tsp. Sea Salt
½ tsp. Black Pepper
Oil
(2 Tbs. Peace and Love)
To rice the cauliflower you can pulse it in a food processor or even just use a cheese grater. I used a cheese grater.
In large mixing bowl, combine riced cauliflower, bacon, softened cream cheese, goat cheese, sharp cheddar cheese, sharp garlic white cheddar cheese, ½ cup grated Parmesan, minced garlic, ½ tsp. Italian seasoning, sea salt and pepper. Mix until all ingredients are well incorporated. Refrigerate 1-2 hours to allow to firm.
Combine crushed pork rinds, remaining 1 cup Parmesan cheese, Panko, remaining ½ tsp. Italian seasoning, onion powder and garlic powder. This mixture will be your breading.
After cauliflower mixture has had time to chill and firm, roll mixture into even balls. I made mine approximately an inch and a half to two inches in diameter. This made 30 balls. Freeze for 3 hours, up to overnight.
In a large pan, heat about one inch of oil over medium-high to high heat. Using different oils will change the temperature at which you should heat it. Be sure to check the smoke point for any oil you choose to use. When I am frying things stove-top I use my non-stick wok. The high sides help prevent splatter and it makes for easy clean up.
Roll each ball in breading mixture until well and evenly coated. When oil is nice and hot, drop balls in 5 or 6 at a time. It will be obvious when it is time to flip them over. Fry until they are a nice even golden brown all over.
Remove from oil and let cool on a paper towel. The paper towel will soak up excess grease. I served these with a low-carb marinara and also ranch dressing. They both made for great dips.
SERVE AND ENJOY!!
Makes 10 Servings:
1 Serving: 3 Balls
Calories: 280
Carbs: 5.4 net g
Fat: 19 g
Protein: 19 g***Here is a little hint. They are great reheated in a non-stick pan with a little oil or cooking spray. My husband and I fried them and topped them with over-medium eggs the next day for breakfast. Simply delish!
Peace and Love!