Carbonara has always been one of my favorite pasta dishes. However, I hadn't had it for years before creating this recipe. I forgot how much I enjoy it. The eggs and Parmesan cheese make a perfectly creamy texture. It's almost as if you are eating a rich cream sauce, without actually adding any cream. I love coming up with creative low carb pasta substitutions. Who says that a low carb, ketogenic lifestyle has to be boring?
Low carb pasta substitution recipes:
Keto Cookbooks and Meal Plans
Print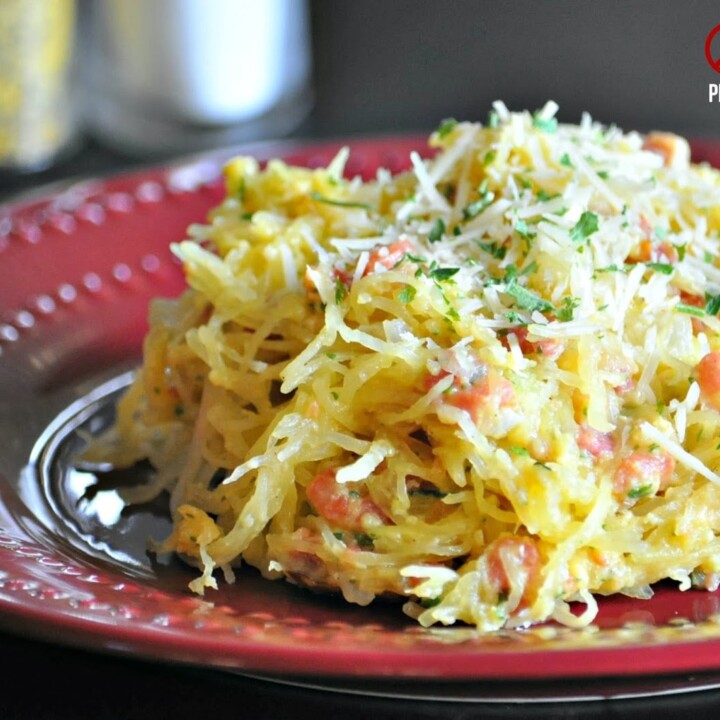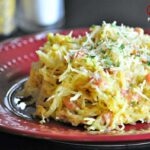 Low Carb Spaghetti Squash Carbonara
---
1

large spaghetti squash

1 tablespoon

olive oil
sea salt and black pepper

5 ounces

pancetta, diced

1

small onion, diced

2

cloves garlic. minced

2

large eggs

1 tablespoon

chopped fresh flat-leaf parsley

½ cup

grated Parmesan cheese

1 teaspoon

sea salt

¼ teaspoon

black pepper

½ cup

shredded Parmesan cheese
---
Instructions
Preheat oven to 400° Line a rimmed baking sheet with aluminum foil.
Cut spaghetti squash in half. Scrape out the seeds. Drizzle the squash halves with olive oil and sprinkle with a little sea salt and black pepper. Place cut side down on baking sheet. Bake for 45 minutes or until fork tender and the shreds pull away from the skin effortlessly.
While the spaghetti squash is roasting, heat a large skillet over medium heat. Add pancetta to the pan and cook until crispy. To the pan, add the onion and the garlic. Cook until translucent and soft. Once the spaghetti squash is roasted, use a fork to scrape out the shreds of squash. Add to skillet and toss with pancetta, onion and garlic. Make sure that spaghetti squash is nice and hot.
In a large mixing bowl, whisk together eggs, parsley, grated Parmesan, sea salt and black pepper. To the mixing bowl, add squash mixture and toss with egg mixture. The heat of the spaghetti squash will cook the eggs just enough to coat them to the strands of squash without scrambling them.
Top with shredded Parmesan before serving.
Notes
Per Serving - Calories: 256 | Fat: 19g | Protein: 13g | Net Carbs: 10g