Low Carb Pasta Recipes are one of the most requested among those following a low carb, ketogenic lifestyle. This "Just Like the Real Thing" Low Carb Keto Lasagna is sure to become your all time favorite.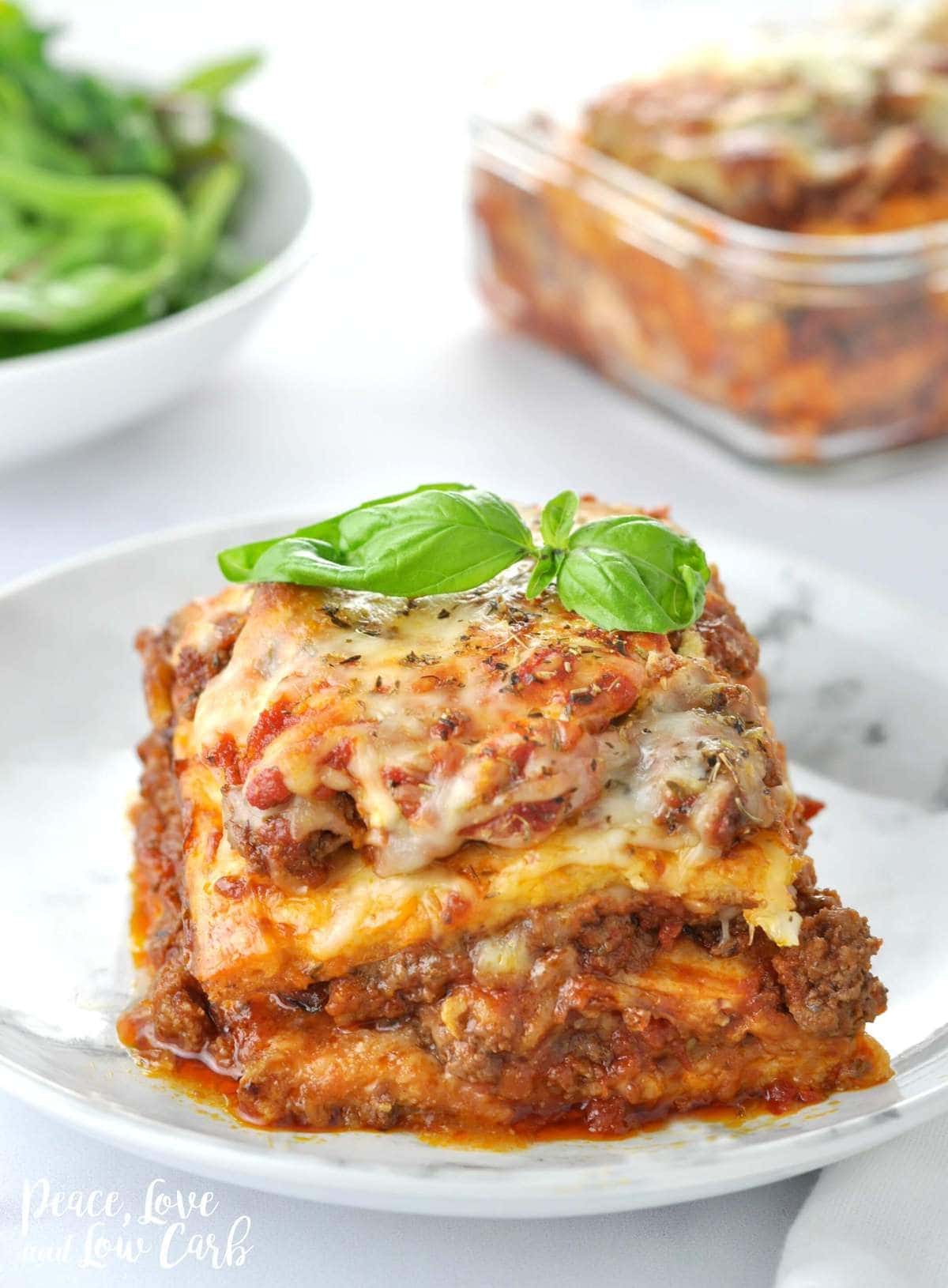 "Just like the Real Thing" Low Carb Lasagna
This keto lasagna recipe is easy to make and tastes just like the real thing. In fact, over the years, I have been told many times that it should be called "Better Than the Real Thing" lasagna. When I was first starting a low carb, ketogenic lifestyle, I really wanted a low carb and gluten free pasta substitution. But at the time, they were really hard to find, and the keto pasta recipes that I could find, we just plain no good! I was tired of wasting food trying low carb recipes that fell flat. Sound familiar? I knew I had to set out to make my own low carb, real food versions. There were two recipes that I immediately knew I wanted to make - a low carb mac and cheese and a low carb lasagna. So, I did exactly that. They were two of the very first recipes I ever wrote for this site and 6 years later, they are still among the most popular.
The first time I made this low carb keto lasagna, I served it to Jon without telling him that it was an impasta (get it? impasta?) and he had no idea. Once I told him, he was even more impressed. It is low carb comfort food at it's finest. Although it does take a little meal prep work, it is definitely worth it to have a healthier version that you can eat whenever you want.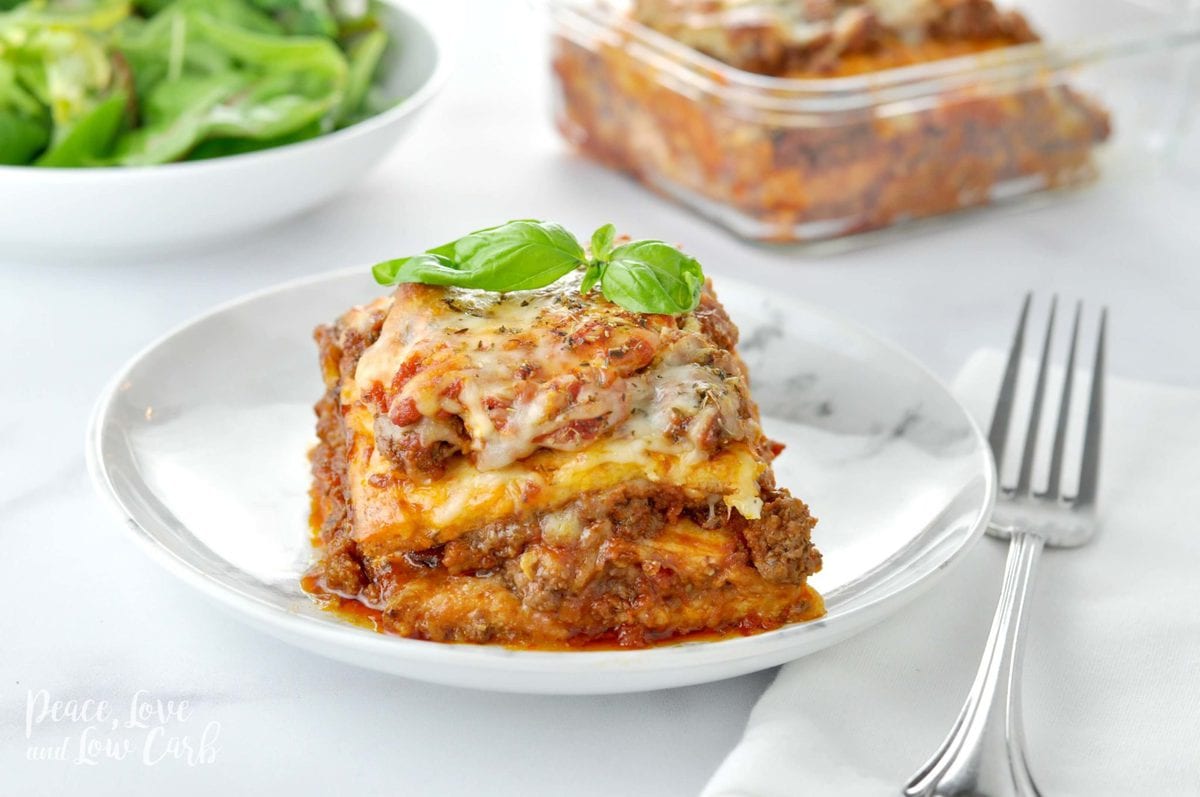 Can you make the noodles for the this keto lasagna in advance?
You can even make the low carb noodles in advance and freeze them. Having the noodles done ahead of time makes for a quick and easy low carb meal. Perfect for those busy weeknights. If you want to go a step further, you can even swap out the low carb marinara sauce and ground beef in this recipe for my Low Carb Hearty Tomato Meat Sauce Recipe. I like to make a double batch of that sauce and portion it out into individual freezer meals so that I always have it on hand. If you have a stash of the noodles and the sauce in the freezer at all times, this meal comes together so quickly. This is a great example of why I talk about the importance of food prep in my low carb and gluten free meal plans. Spend one day a week batch cooking and prepping and then it is smooth sailing for the rest of the week!
I'll even let you in on a little secret. about the "noodles" portion of this low carb keto lasagna recipe... They also make for an amazing nut free pizza crust. Don't believe me? Check it out for yourself. Low Carb Nut Free Pizza Crust
More low carb pasta substitution recipes:
Keto Cookbooks and Meal Plans
Print
"Just Like The Real Thing" LASAGNA!!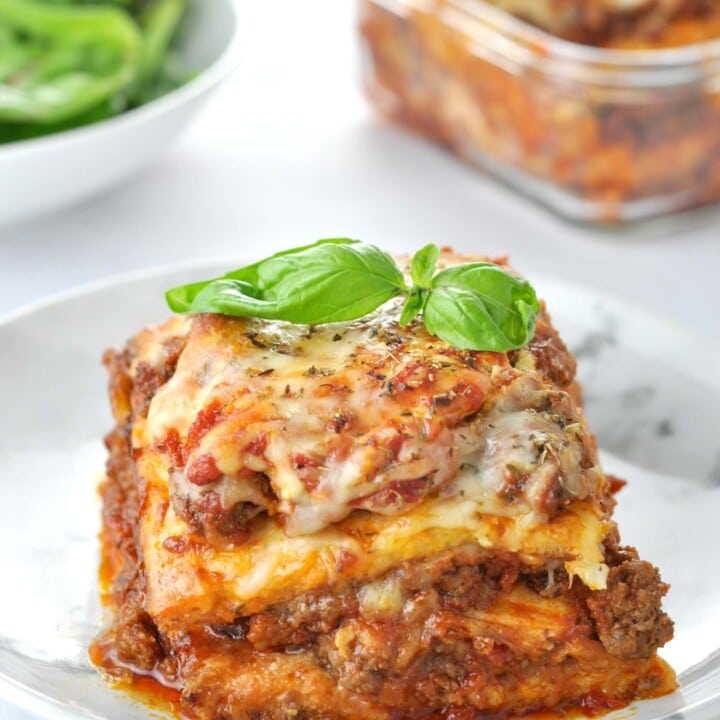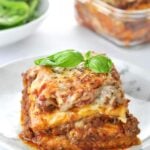 Author:
Prep Time:

30 minutes

Cook Time:

40 minutes

Total Time:

1 hour 10 minutes

Yield:

6

Servings

1

x
Scale
Ingredients
For the "Noodles":
2

large eggs

4 oz

cream cheese, softened

¼ cup

Parmesan cheese, grated

1 ¼ cup

mozzarella cheese, shredded

¼ tsp

Italian seasoning

¼ tsp

garlic powder

¼ tsp

onion powder
For the Filling:
1

lb ground beef (I get my grass-fed beef here)

1 ½ cups

Three Cheese Marinara Sauce, divided (get the recipe here)

¾ cup

mozzarella cheese, shredded

6 tbsp

whole milk ricotta cheese

1 tbsp

minced onion flakes (I use this brand)

1 tsp

dried oregano

1 tsp

garlic powder

1 tsp

dried basil

1 tsp

Italian seasoning
Instructions
For the "Noodles":
This part will take the longest, so feel free to make the "noodles" the night before and just leave them in the fridge until you are ready for them.
Preheat oven to 375° Line a 9x13 baking dish with parchment paper
In a large mixing bowl, using a hand mixer, cream together cream cheese and eggs.
Next, add Parmesan cheese, Italian seasoning, garlic powder, and onion powder. Mix until all ingredients are well combined.
Using a rubber spatula, fold in mozzarella cheese and mix until well incorporated.
Spread the mixture into the baking dish, forming a nice even layer.
Bake on the middle rack for 20-25 minutes.
When the "noodles" are done baking, cool in the fridge for about 20 minutes and then cut into thirds. This makes three perfectly sized "noodle" layers for an 8.5 X 4.5 X 2.5 loaf pan.
For the Filling:
In a large skillet over medium-high heat, combine ground beef, minced onion, oregano, garlic powder, dried basil and a pinch of salt. Cook until the meat is browned.
Drain excess fat from pan and add ¾ cup marinara sauce to meat. Reduce heat to low and simmer for 10 minutes.
Putting it all together:
Pour ¼ cup marinara sauce into bottom of loaf pan. Top with the first "noodle" layer
Layer a third of the ground beef mixture. Top with ¼ cup mozzarella cheese and 3 tbsp ricotta cheese, and cover with another "noodle" layer. Repeat these steps.
Cover the top "noodle" layer with remaining ground beef, and mozzarella cheese. Sprinkle Italian seasoning over top. Bake for 20 minutes.
Notes
net carbs per serving: 5.6g
Nutrition
Serving Size:

1 serving

Calories:

399

Fat:

27g

Carbohydrates:

6.3g

Fiber:

0.7g

Protein:

33.5g