This quick and easy Keto Chicken Pad Thai holds its own against traditional high carb thai food. Best of all, it is quick, easy, and loaded with flavor.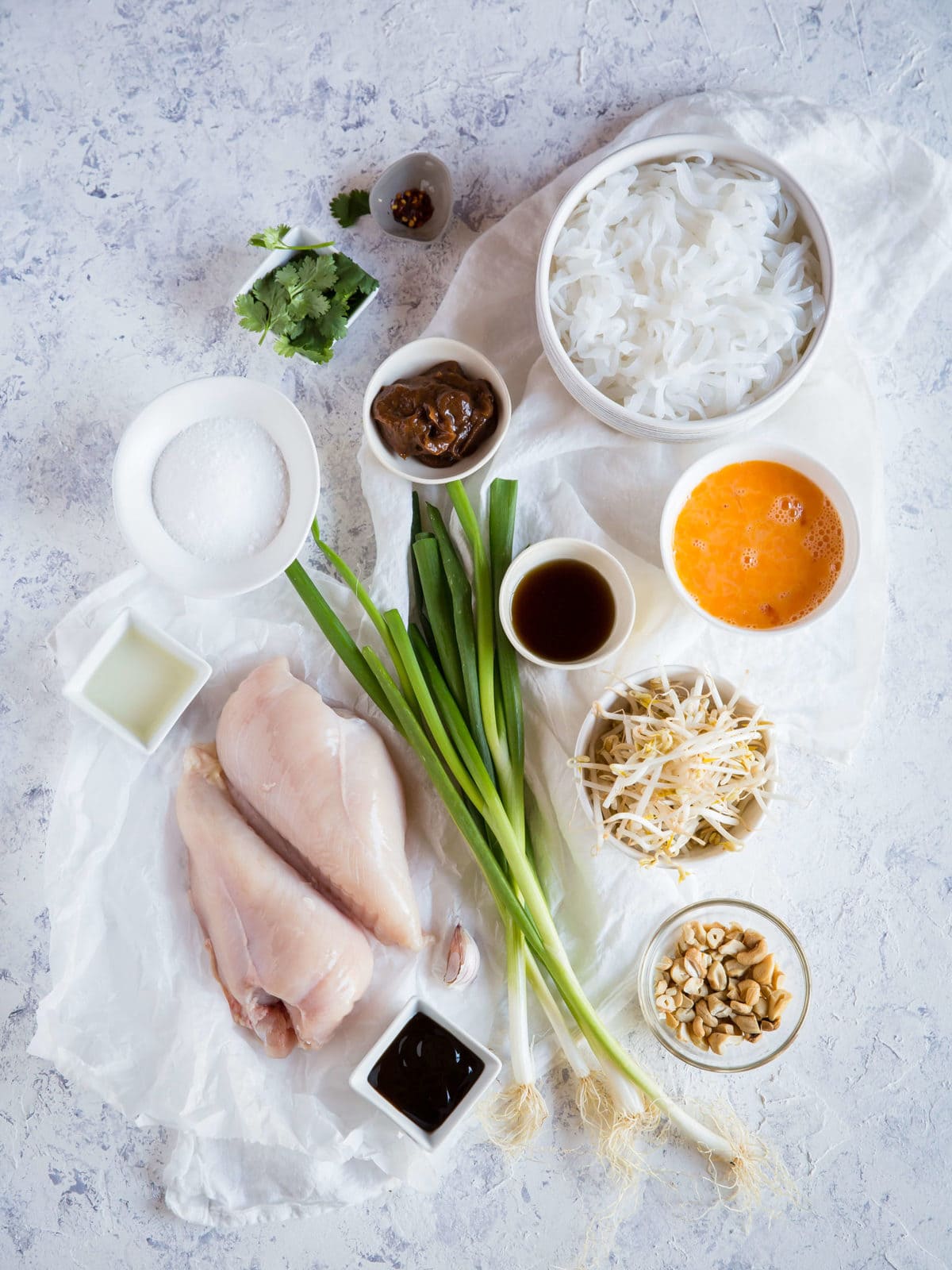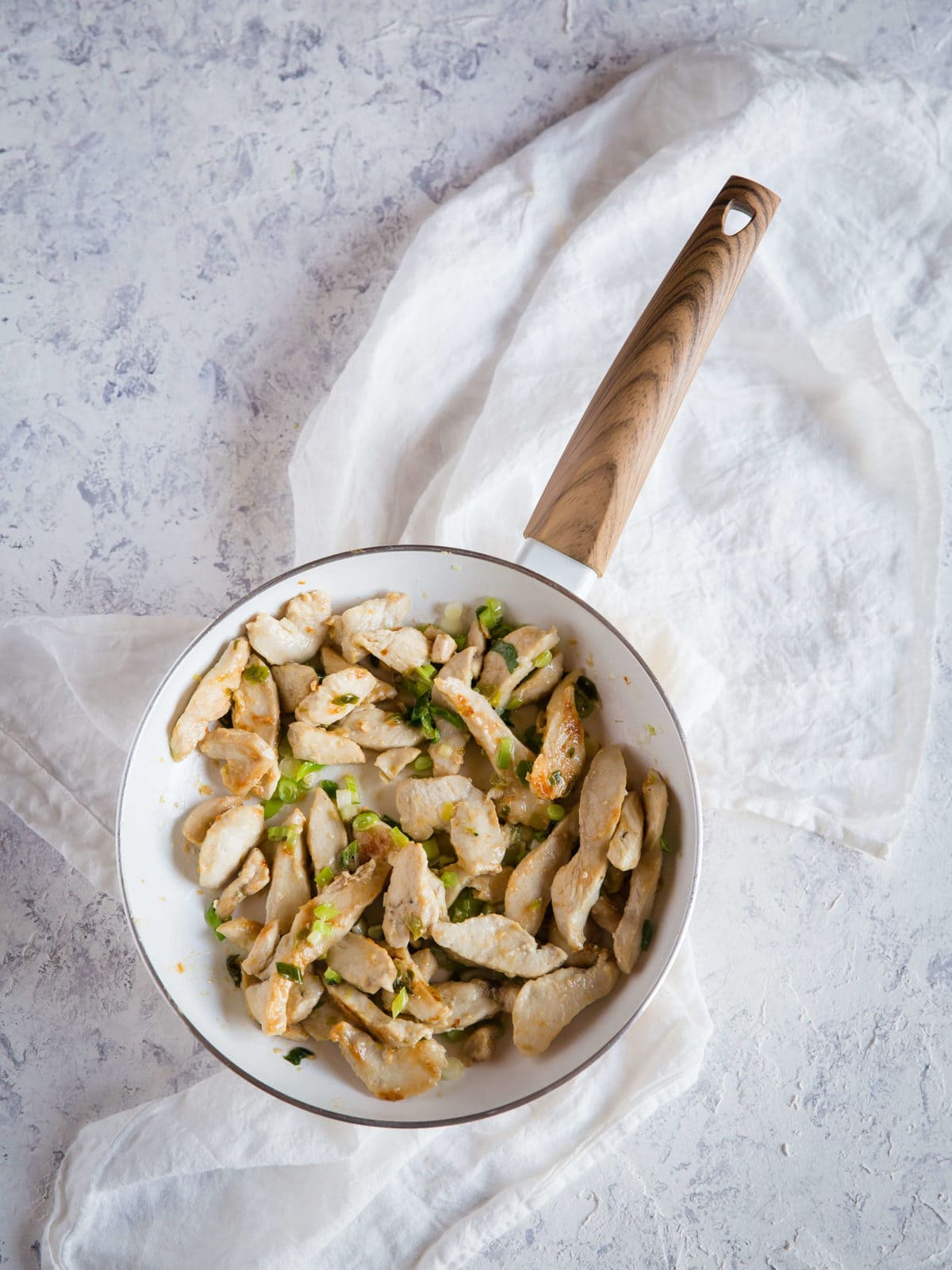 Craving keto pad thai?
Let's be honest: I'm always craving thai food. Noodles coated in a sweet and savory sauce, tossed with perfectly cooked juicy chicken, slightly fried scrambled eggs, plus chopped peanuts, bean sprouts, fresh cilantro, lime juice, and green onions ... this is what my keto pad thai dreams are made of. You could even customize this dish to incorporate your favorite protein. Whether it's chicken pad thai, beef pad thai, pork pad thai, or shrimp pad thai, I love them all.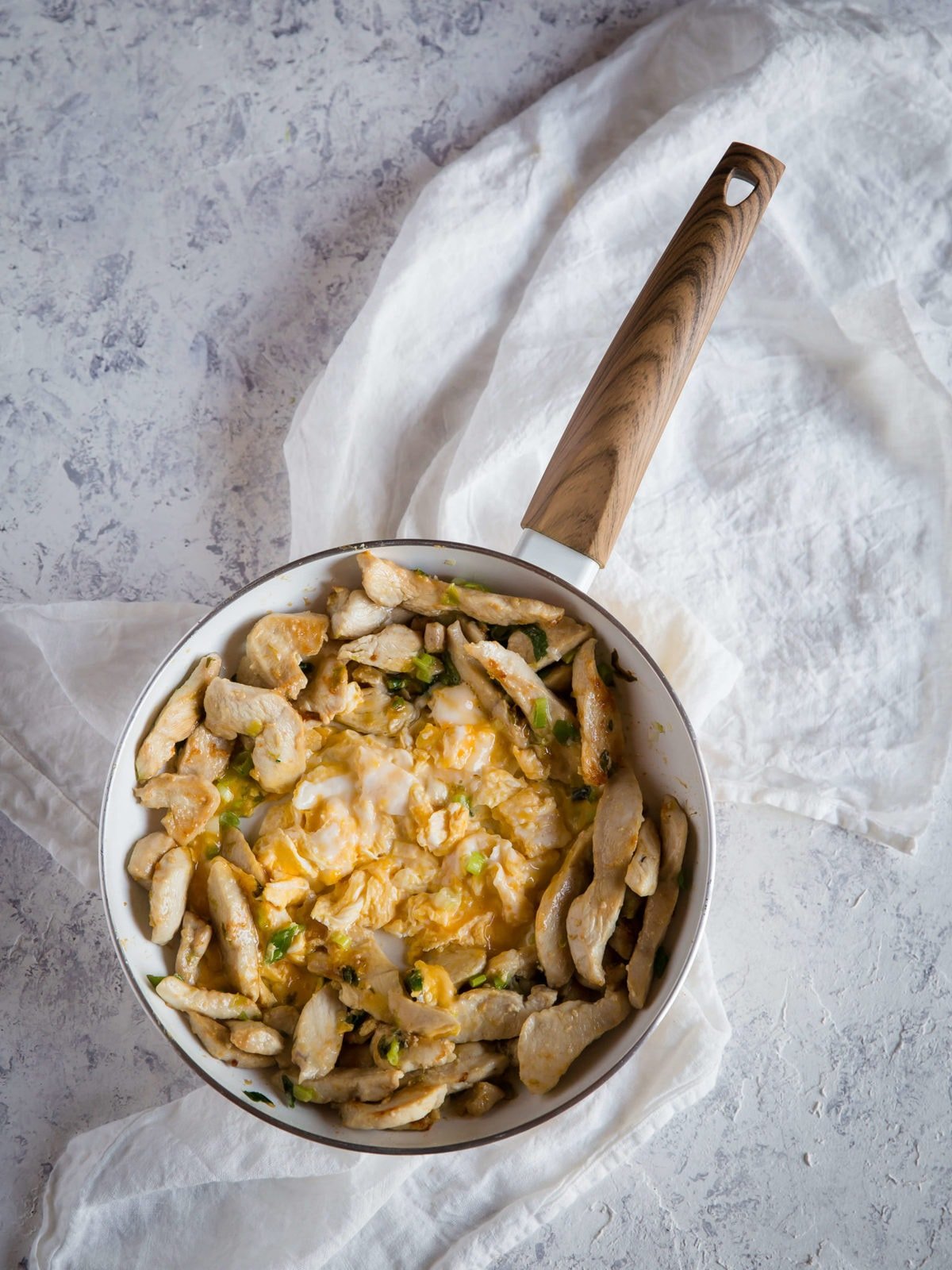 Sugar free sauce for low carb Asian recipes
When it comes to making keto thai food, the trick is to nail the sauce and find a swap for the noodles (we'll get to that in a minute). Thai dishes are oftentimes loaded with sugary sauces, but not this keto pad thai. Instead of sugar, I like to use granular erythritol because it's a 1:1 swap for regular sugar. Swerve is my favorite brand. Next up: noodle options for your favorite low carb Asian recipes.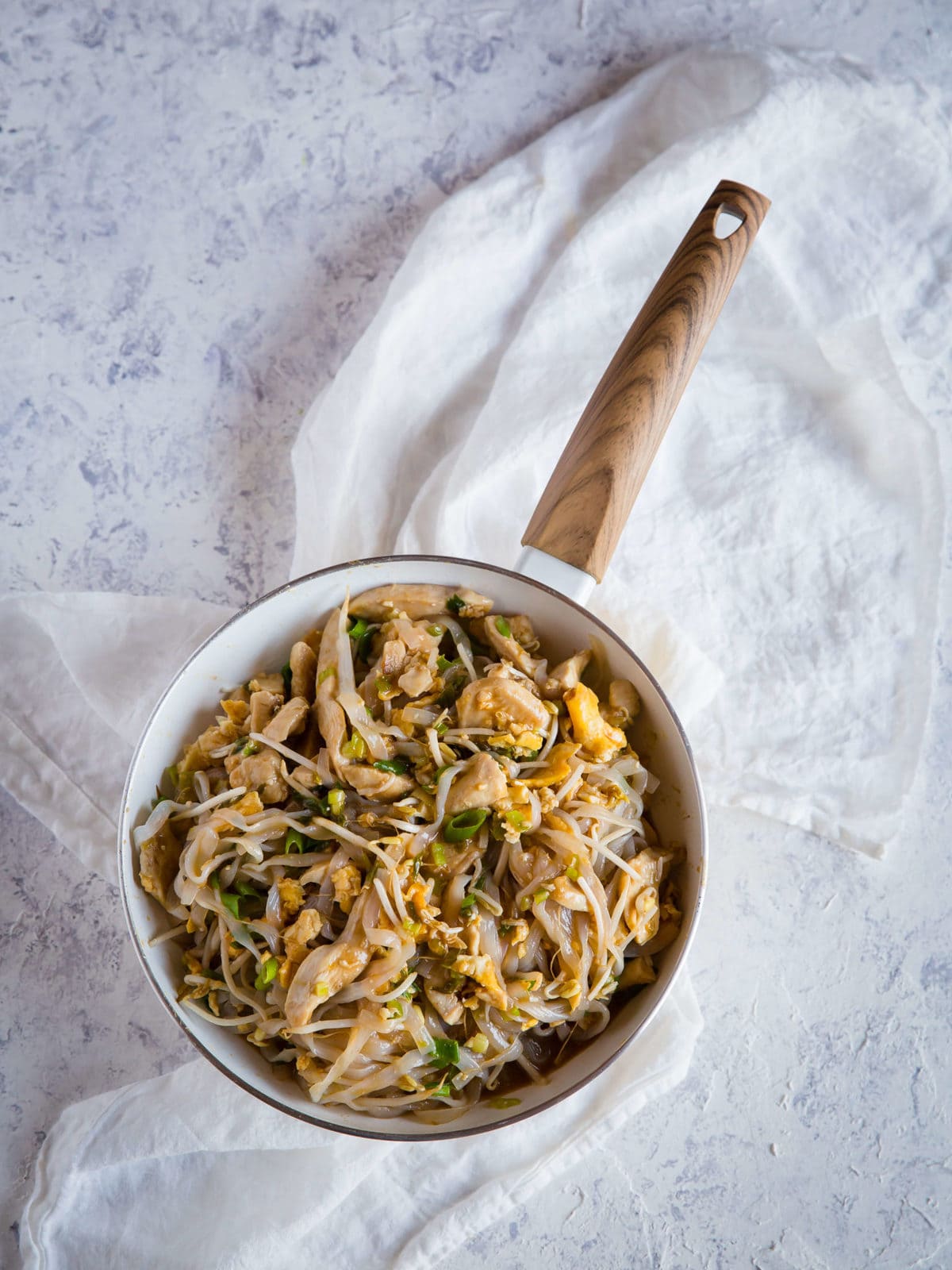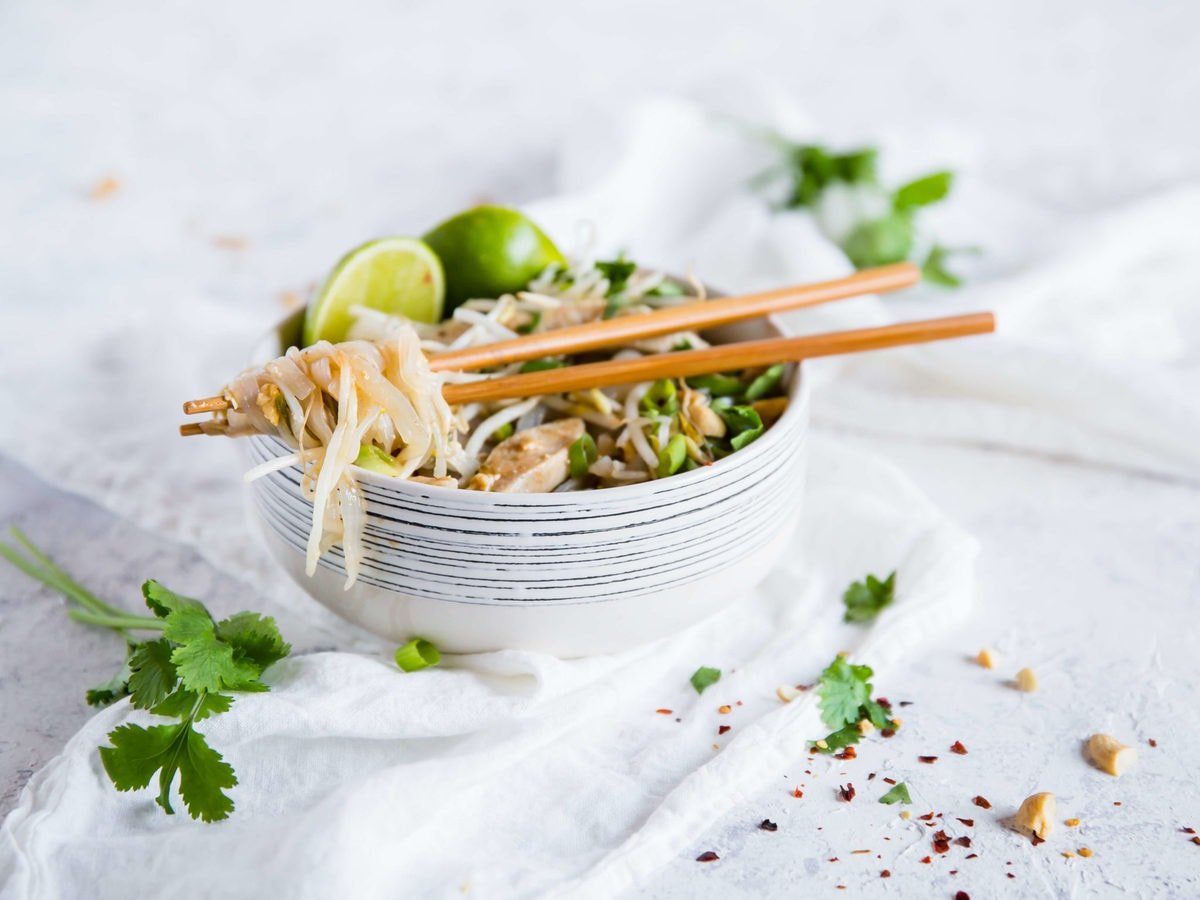 Keto pasta substitutions
While traditional chicken pad thai is made with rice noodles, you can use shirataki noodles, zucchini noodles, or cabbage noodles for this copycat Asian takeout recipe. Just choose your favorite keto noodles for a gluten free pad thai that's nutrient dense, loaded with flavor, and works for your dietary needs. Read below for how to cook shrirataki noodles.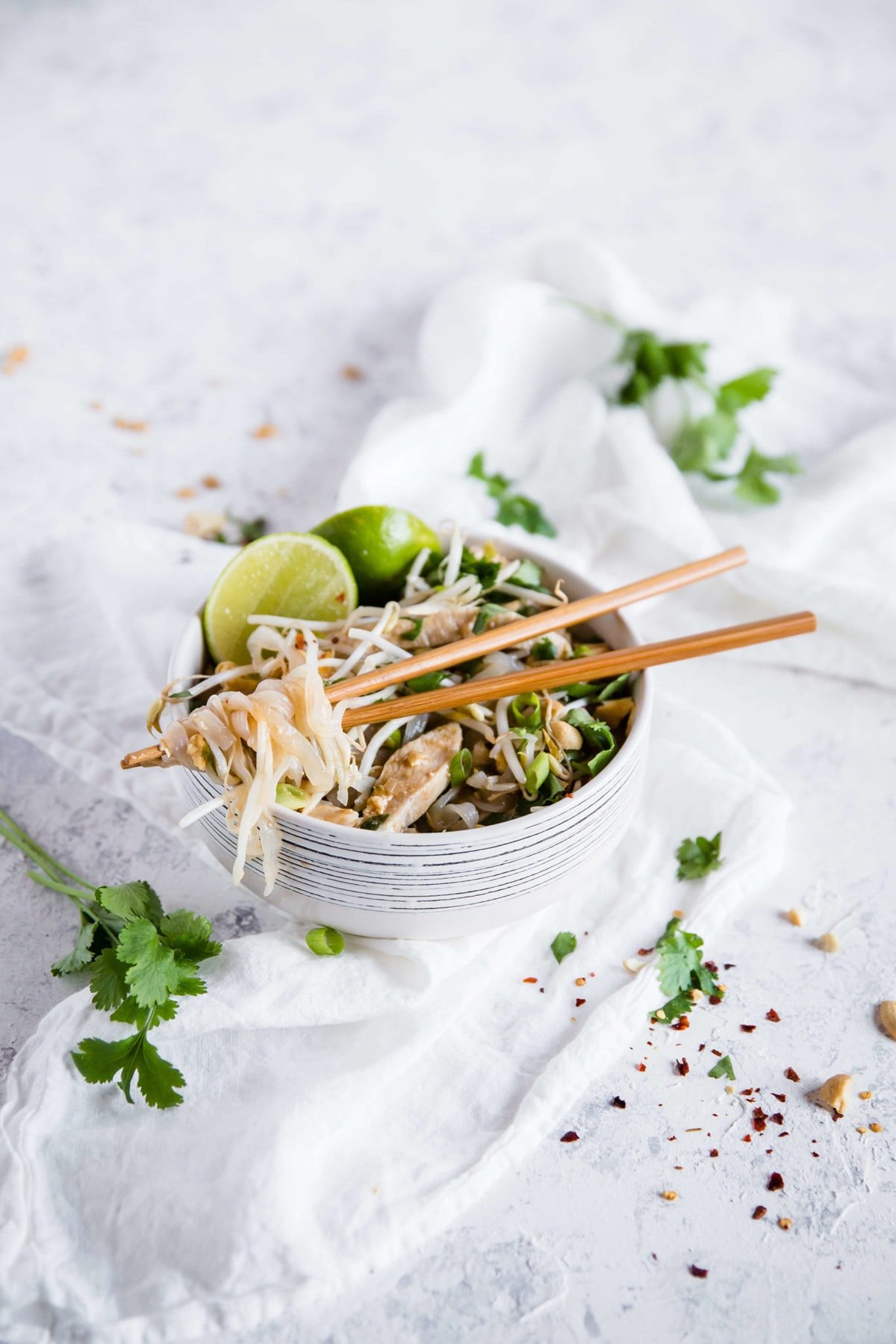 How to cook shirataki noodles:
Shirataki noodles, konjac noodles, miracle noodles, Japanese yam noodles – Whatever you wish to call them, there is one thing that usually rings true. They stink! They do. They really do. If you've ever opened up a bag of these low carb noodles, then you know the smell I am talking about. For many, it has been so off-putting that they opt to not even give them a try. But I am going to give you some tips and tricks that just might change all of that.
The type of shirataki noodle matters
Above all, a successful keto chicken pad thai is largely dependent on the type of noodle you buy. I could never get used to the texture or taste of them until I found just the perfect brand. Now, it is the only brand I buy. It truly makes all of the difference in the world. I have been able to find them in nearly all of the grocery stores near me, but I usually buy them in a box of 10 from Amazon because it saves money. This is the brand of shiritaki noodles that I recommend. I have tried many other brands and have not been a fan.
Preparation shirataki noodles
If you try to take a bag of shirataki noodles and toss them directly in a pan, this is your first mistake. It is important to drain the liquid they are stored in and soak them in a bowl of fresh water. From there, drain them and give them another good rinse. If they still have an odor or feel a little slimy, I like to dry fry them in a pan for a few moments. Taking all of these steps will really help them absorb the flavors you are cooking them in and lose a lot of that rubbery texture. While this really helps, they are still not for everyone. I have found that using them in Asian inspired cooking is usually the gateway into loving them. In my book Dairy Free Keto Cooking, I made a beef ramen that is so spot on taste and texture wise that I simply cannot get enough of it. They definitely resemble the texture of rice noodles more than they do a traditional flour pasta. However, through finding the perfect brand and taking the time to properly prepare them, I have become a big fan!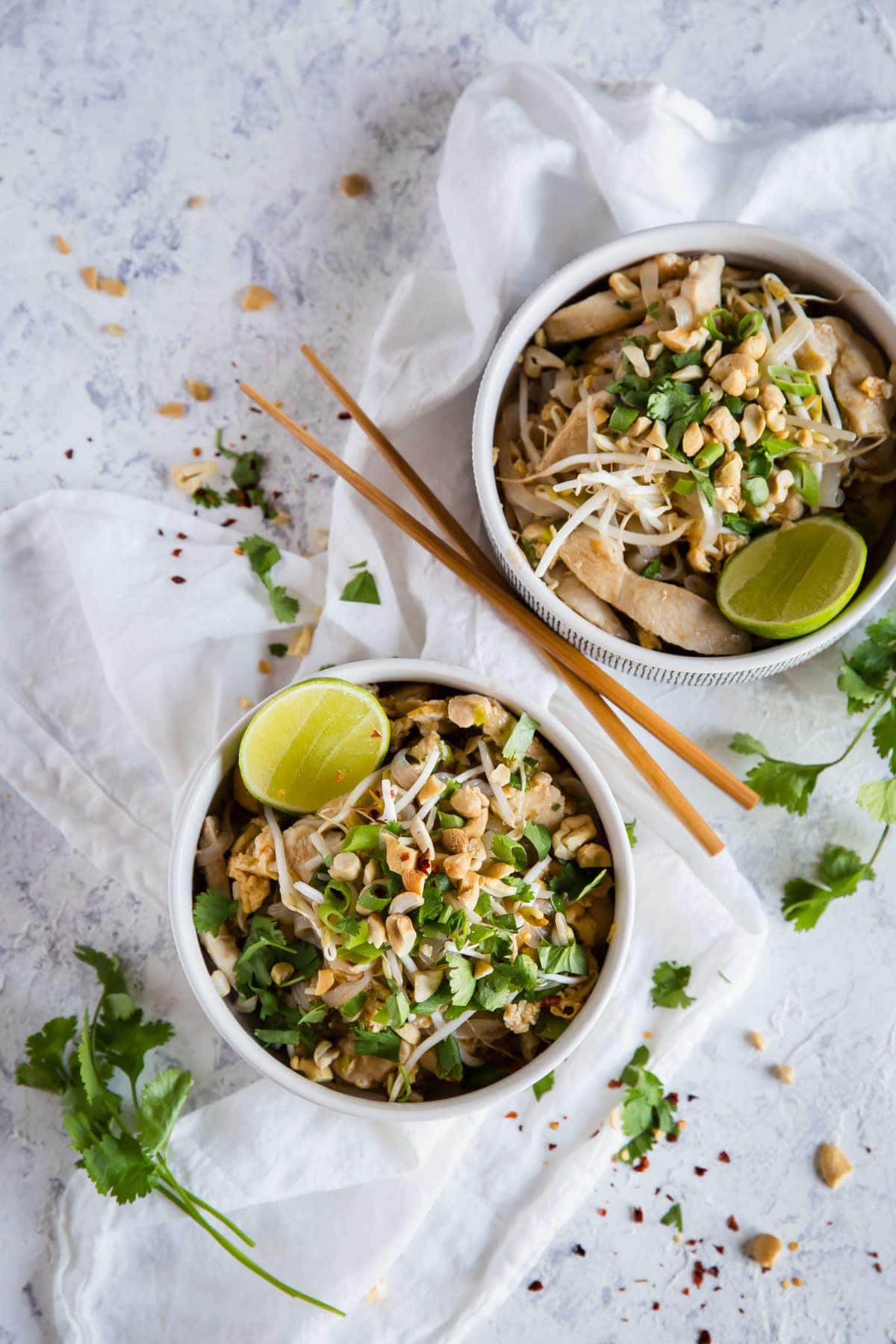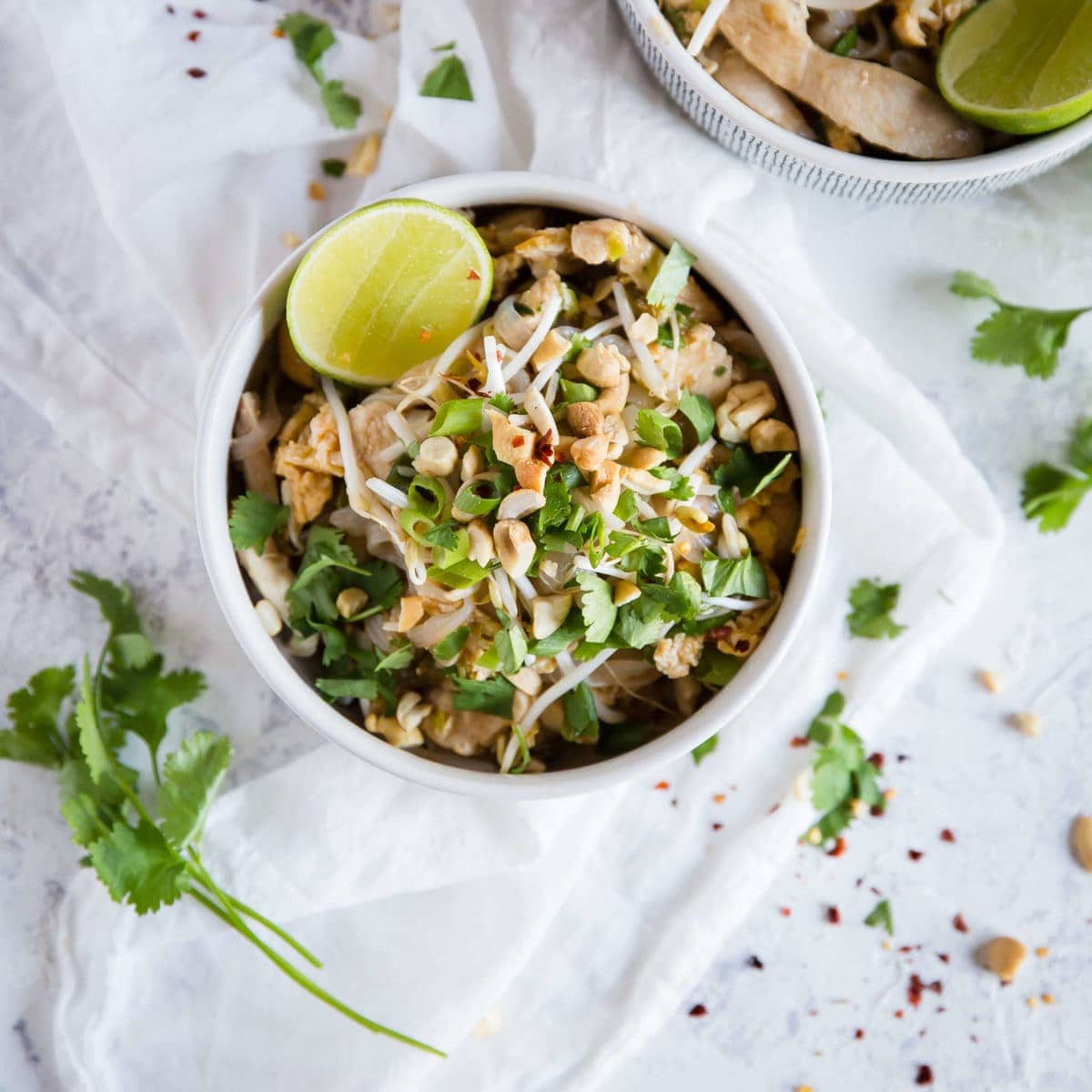 More low carb asian inspired recipes:
Print
Keto Chicken Pad Thai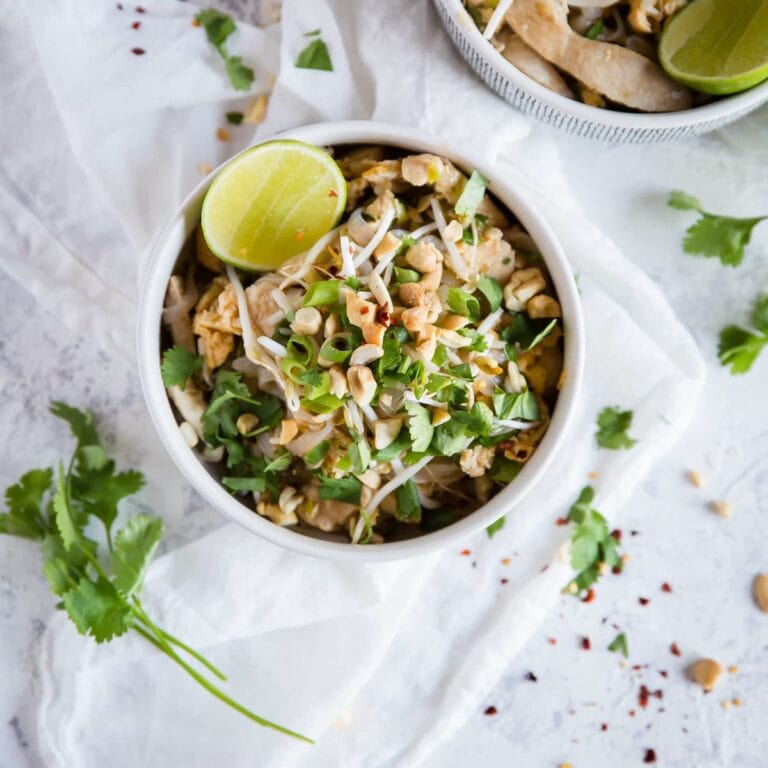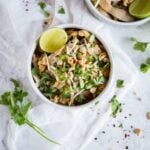 Author:
Prep Time:

30 minutes

Cook Time:

15 minutes

Total Time:

45 minutes

Yield:

4

servings

1

x
Scale
Ingredients
for the sauce:
for the pad thai
(2) 8-ounce packages of fettuccine style shirataki noodles (this is the brand I use)

2 tablespoons

coconut oil

4

green onions, sliced - green and white parts separated

2

cloves garlic, minced

1

pounds boneless, skinless chicken breasts, cut into thin strips (get organic, pastured chicken here)

2

eggs, whisked

1 cup

bean sprouts

¼ cup

torn cilantro leaves

¼ cup

chopped peanuts

¼ teaspoon

red pepper flakes, for garnish

1

lime, quartered
Instructions
Combine all ingredients for the sauce in a small bowl and set aside.
Drain, rinse, and soak the shirataki noodles in fresh water for 20 minutes. Strain them and dry fry them a large skillet, over medium heat for 5 minutes. Add half of the sauce to the pan, and cook for an additional 5 to 10 minutes or until most of the sauce has cooked into the noodles. Transfer the noodles, and any remaining sauce to a bowl and set aside.
To the same skillet, add the coconut oil, the white parts of the green onions, and the garlic. Cook until the onions are translucent and the garlic is fragrant.
Add the chicken to the pan and cook until it is browned and cooked through.
Push the chicken to the sides of the pan and pour the whisked eggs into the center, pushing them around with a rubber spatula to scramble.
Add the bean sprouts, the noodles, and remaining sauce to the pan and cook for an additional 5 minutes.
Garnish with cilantro, peanuts, red pepper flakes and lime, before serving.
Notes
net carbs per serving: 7.9g
Nutrition
Calories:

318

Fat:

16.9g

Carbohydrates:

11.7g

Fiber:

3.8g

Protein:

32.5g
Keywords: keto thai food, keto asian food, chicken pad thai recipe, gluten free keto recipes, low carb recipes, keto food blog