This One Pot Keto Sesame Chicken and Broccoli is easy to make, only calls for inexpensive, real food ingredients, and best of all, it only dirties one pan. Win/win!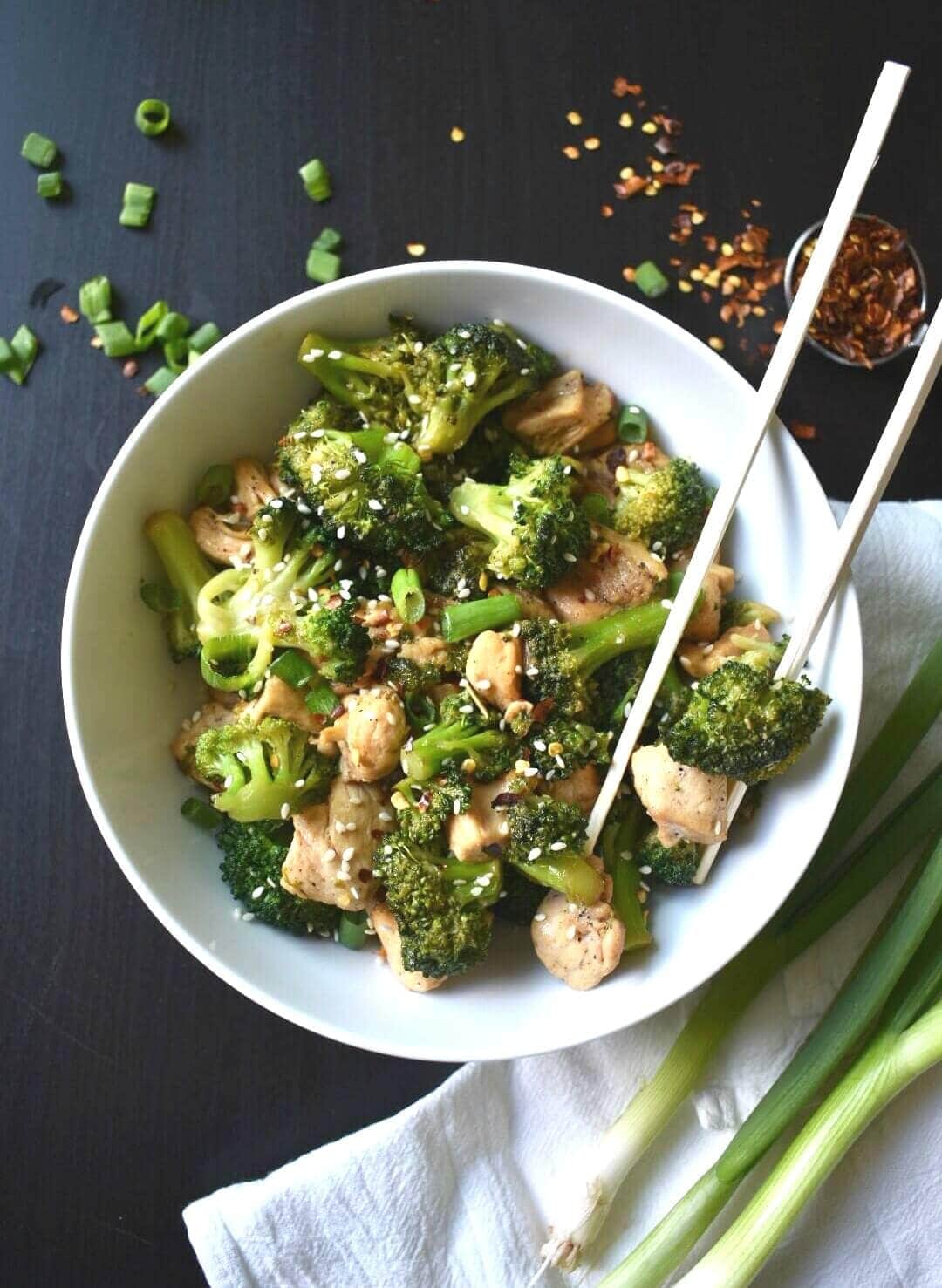 Keto sesame chicken and broccoli is a delicious healthy version of the old classic
Todays post is a guest post from the ever inspiring Jen of Beauty and the Benchpress. She has undergone a major weight loss transformation through fitness and proper nutrition, and is inspiring others to do the same. She has a clean and simple approach to food. And you all know that my #1 piece of advice to anyone trying to get healthier is to KEEP IT SIMPLE!! Well, Jen is here with a delicious paleo, keto recipe to help you do just that!
Now, I'm going to hand it over to Jen.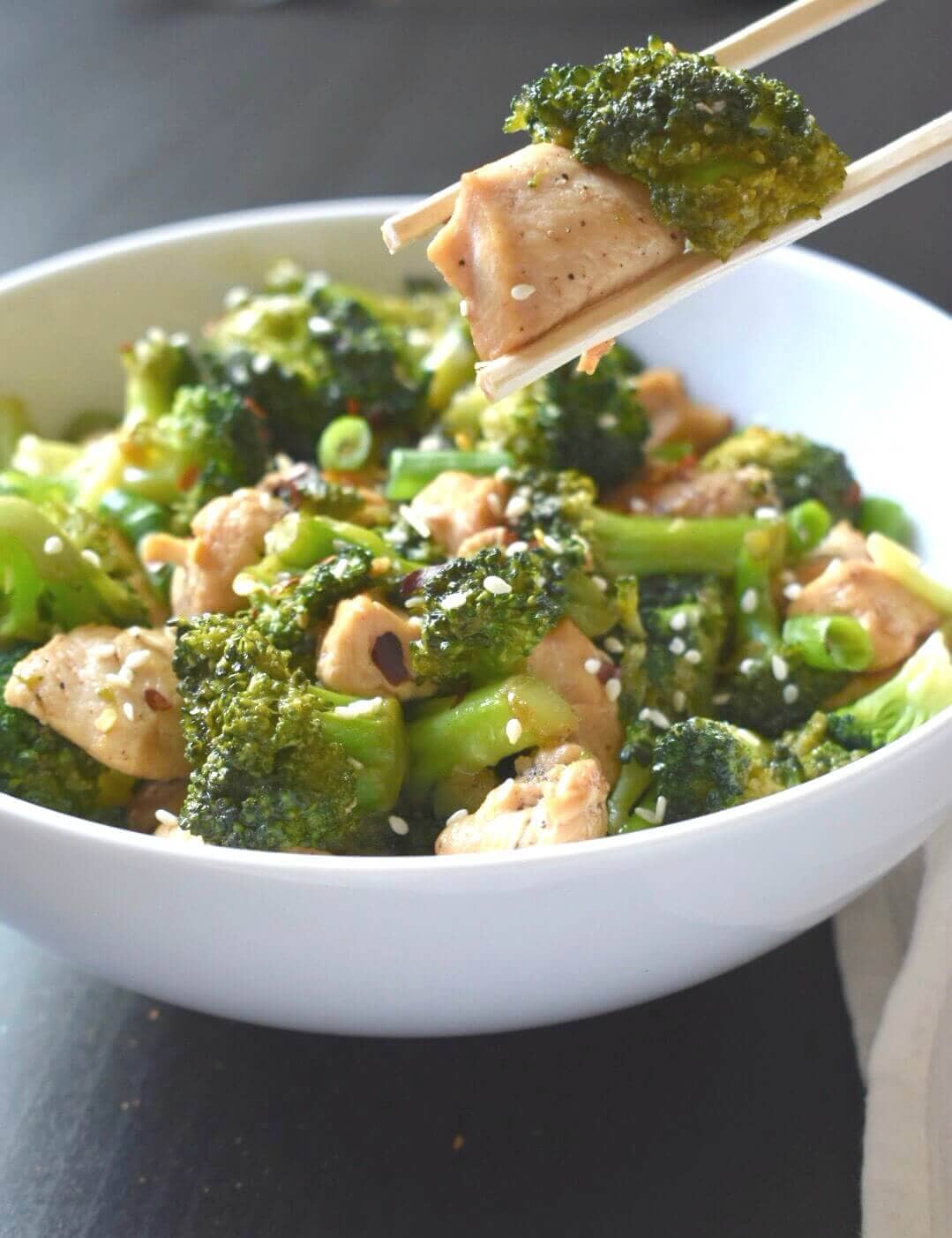 Keto sesame chicken and broccoli: the perfect one pot keto meal
From Jen: First of all, can I just say how excited I am to be here with you guys in this space?! Kyndra has been such a source of inspiration and motivation for me so I couldn't be happier to be here with the community she has created! Thanks for having me!
Today I am coming to you with a new recipe - One Pot Keto Sesame Chicken and Broccoli. One pan meals are the best kinds of meals aren't they? Quick, easy and clean-up is a breeze. And if there's one thing I hate, it's clean up. One pan meals are also one of my favorite ways to meal prep since you can just throw your favorite ingredients together in one pan and have meals ready to go for the week. I'm a HUGE fan of prep and I credit meal prepping as a major factor in helping me get healthier and lose weight when I was first starting out. That being said, most of the recipes on my blog are meals that I can quickly throw together and make enough servings to keep me ready for a week of healthy choices.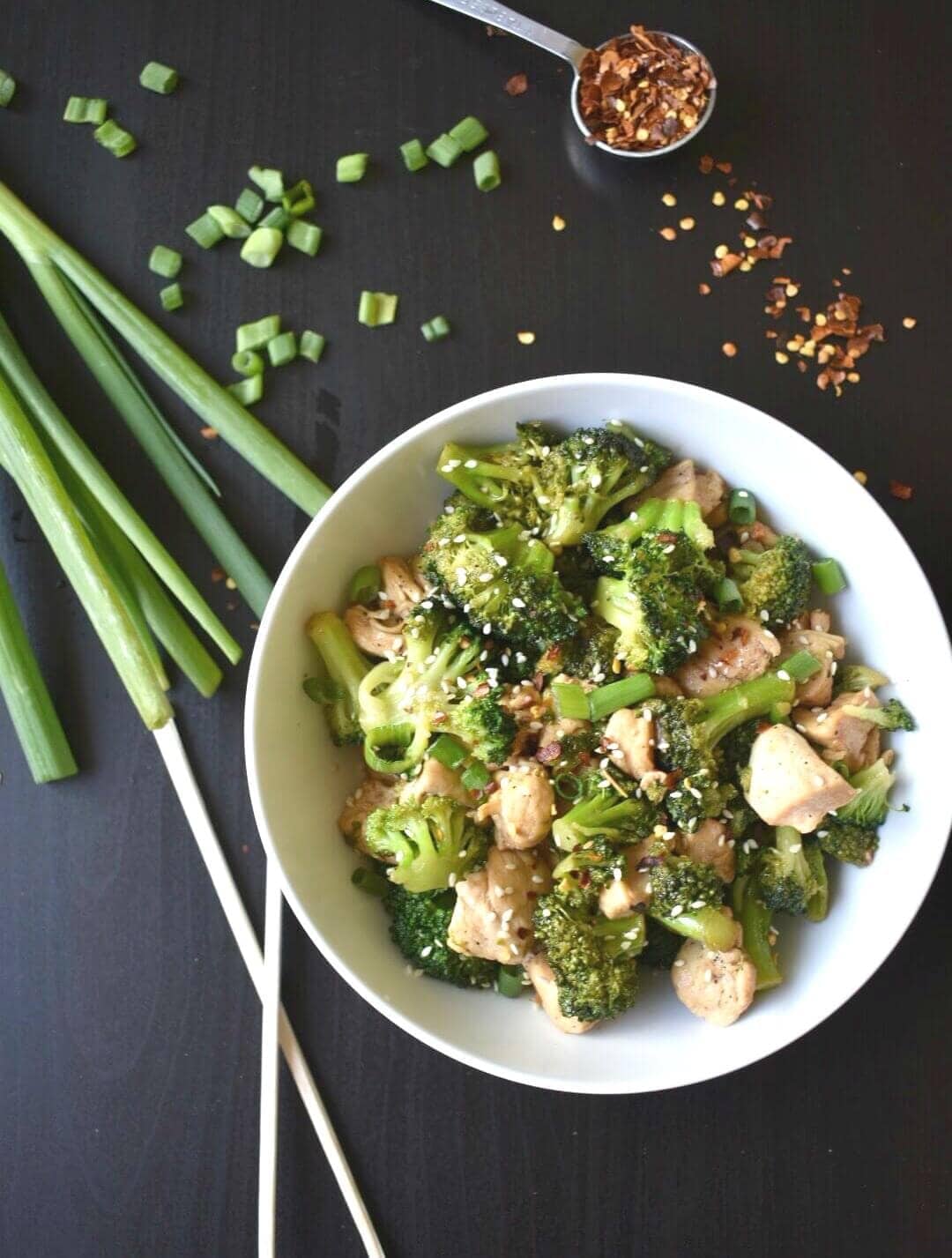 Copycat Keto Chinese food versus the traditional stuff
Usually when I'm craving Chinese food, I want to head to the nearest takeout place but those dishes are usually laden with tons of calories and unhealthy additives. This One Pot Keto Sesame Chicken and Broccoli recipe helps satisfy those cravings while still allowing me to keep my health goals intact. I did my first round of Whole30 in January and since then, I've been working on creating recipes that can be enjoyed both on a round of Whole30 and off. This recipe is low carb, paleo friendly and Whole30 compliant-success!
In addition to this keto Sesame Chicken and Broccoli recipe, check out some of my other favorite asian-inspired keto recipes:
Print
One Pot Keto Sesame Chicken and Broccoli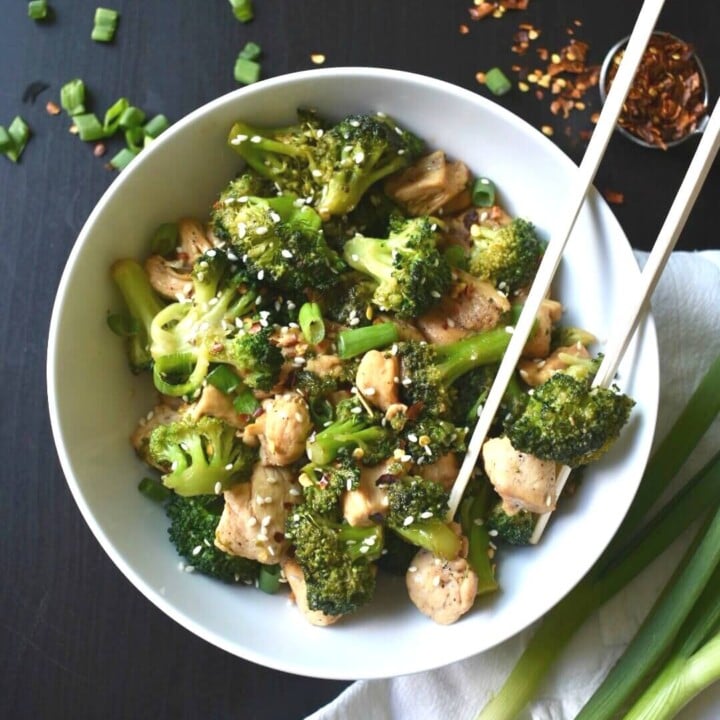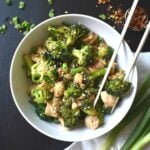 I love cooking with sesame oil because you need so little to pack a huge flavor punch. This recipe uses coconut aminos but if you're not doing a Whole30 you can use regular soy sauce, or tamari (gluten free soy sauce) The arrowroot powder in this recipe is optional but I love using it to thicken up the sauce a bit.
Author:
Prep Time:

10 minutes

Cook Time:

15 minutes

Total Time:

25 minutes

Yield:

4

servings

1

x
Scale
Ingredients
1

pound boneless, skinless chicken breast, cubed

12 ounces

broccoli florets

¼ cup

coconut aminos, or soy sauce

1 tablespoon

avocado oil (I use this brand)

1 teaspoon

sesame oil

1 ½ teaspoon

arrowroot powder (get it here)

1

clove garlic, minced

½ teaspoon

sesame seeds, plus extra for garnish
Salt and pepper, to taste
Red pepper flakes, for garnish
Green onions, sliced, for garnish
Instructions
Place the broccoli florets in a microwave safe bowl with 1 tablespoon of water and cover with a damp paper towel. Microwave for 2 minutes until the broccoli is just becoming tender.
In a small bowl, mix the coconut aminos and arrowroot powder and set aside
In a large skillet over medium heat, add the avocado oil and garlic and sauté until fragrant, about 1 minute.
Add the chicken to the skillet along with the salt and pepper, and sauté until cooked through, about 6 minutes.
Once the chicken is just about done, add the sesame oil and broccoli to pan and sauté for an additional minute before pouring the coconut amino mixture over top.
Sauté for 1 to 2 more minutes until all ingredients are well incorporated.
Garnish with red pepper flakes, sesame seeds and green onions, before serving.
Nutrition
Calories:

204

Fat:

6.1g

Carbohydrates:

7g

Fiber:

2.1g

Protein:

30g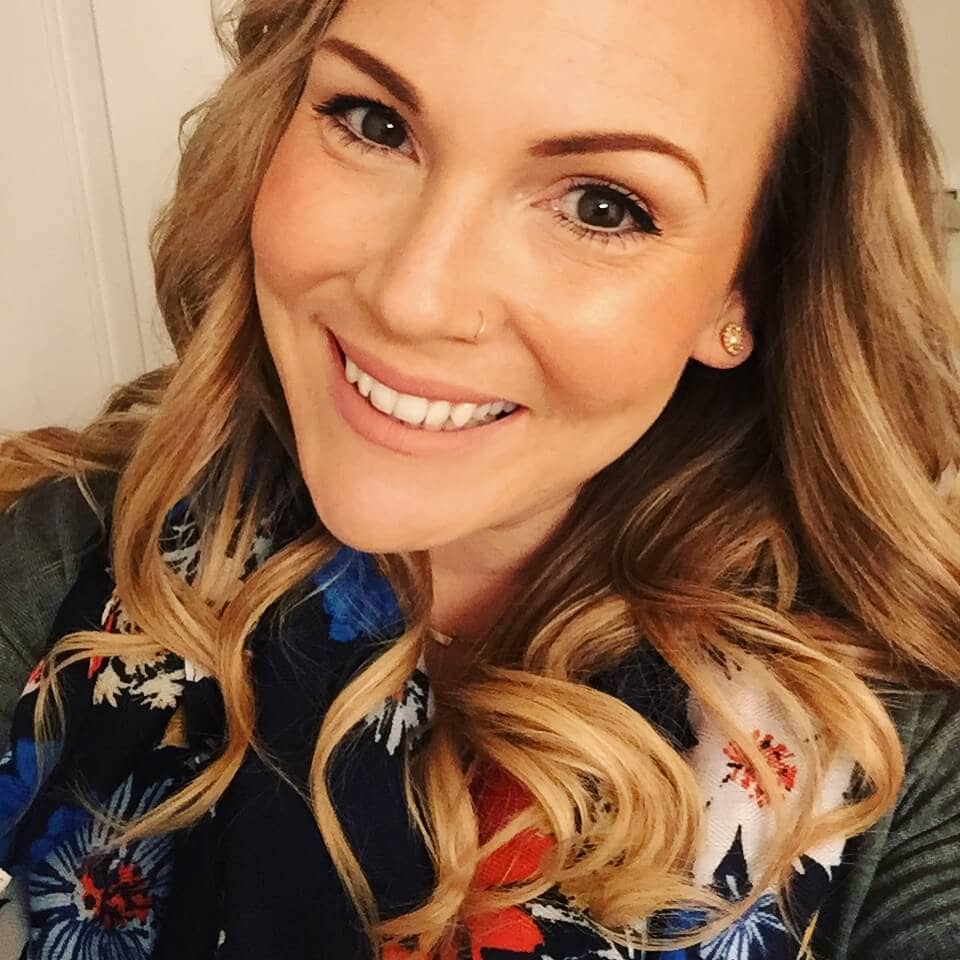 About Jen
Hey there, I'm Jen: a fitness loving, makeup obsessed California girl. I've found a whole new outlook on life after losing 85 pounds by changing my lifestyle one small step at a time. I love connecting with others and sharing a little about my life and what I love, which includes all things health, fitness and beauty.
Follow Jen / Beauty and the Benchpress around the web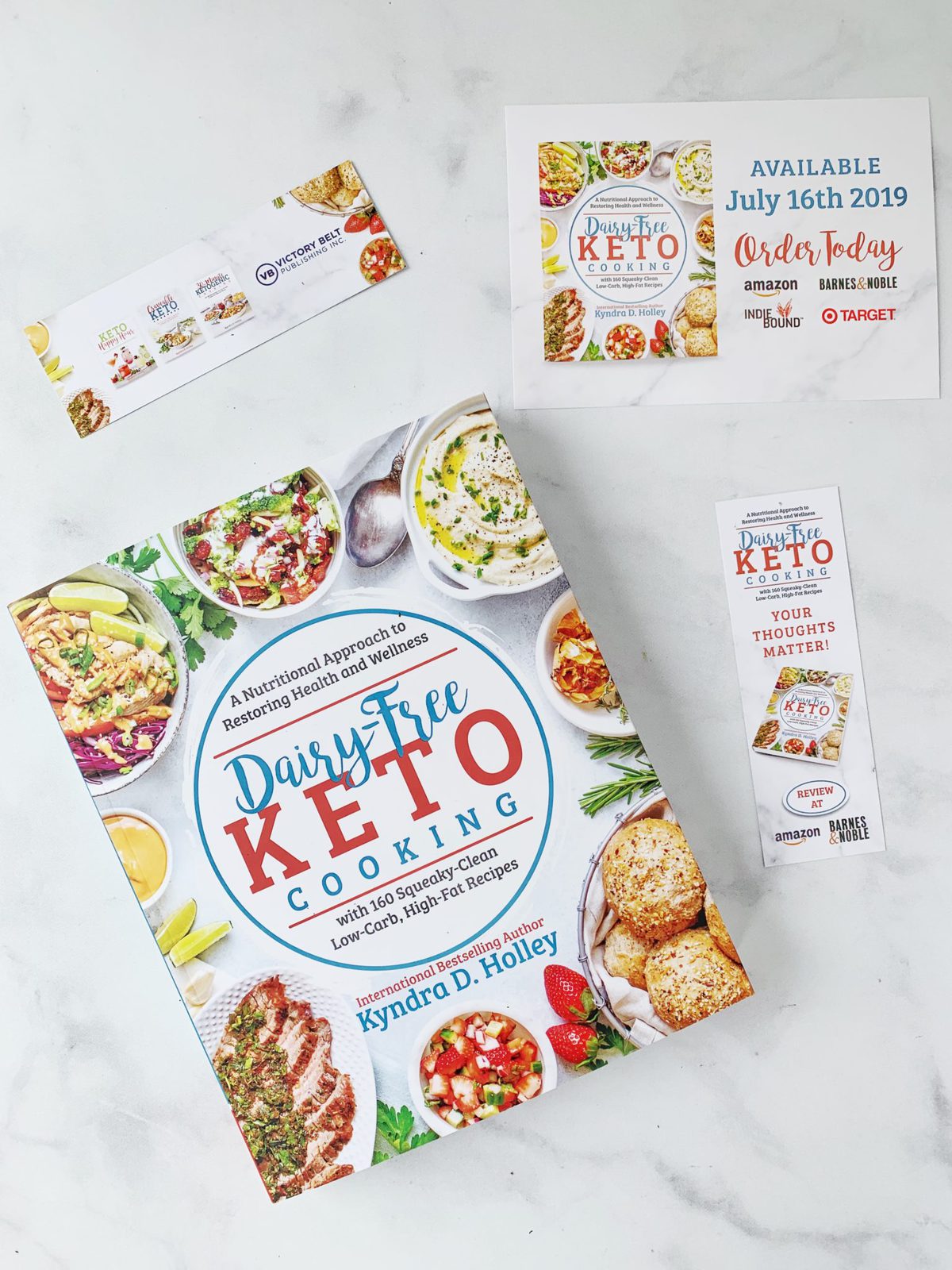 DAIRY-FREE KETO COOKING: A Nutritional Approach to Health and Wellness. With 150 Squeaky Clean Low-Carb, High-Fat Recipes
Check out my other books -
HERE
Using only approachable and accessible, nutrient dense, real food ingredients, I put together a dairy-free keto roadmap that does not require a search for unfamiliar specialty ingredients or that you have a gourmet kitchen. Each one of these delectable recipes is rooted in simplicity and calls for ingredients that can be found at your local grocery store. I'm showing you how to incorporate dairy-free substitutions that go far beyond the coconut.
In addition to tantalizing your palate with tasty recipes, Dairy-Free Keto Cooking will teach you how to restore your health and wellness, while living a lifestyle that nourishes you in mind, body, and spirit. Whether your goal is to lose weight, heal your body from the inside out, or simply find your own personal version of food freedom, I'm here to help you along in your journey to finding your personal path to wellness.
 YOU CAN GRAB A COPY -
HERE
Dairy-Free Keto Cooking features something for everyone. If you suffer from dairy intolerances or food allergies, this is the book for you. If you are someone who just loves easy to make, delicious food, then this book is for you. I added a bit of everything everything, including suggestions for adding or reintroducing dairy for all the cheese loving, quesophiles.
With recipes like this, how could anyone possibly feel deprived?
Slow Cooker Pork Carnitas
Cowboy Style Beef Ragout
Sweet and Spicy Barbecue Ribs
Loco Moco
Pork Tenderloin with Dill Sauce
Flourless Chocolate Lava Cake
Easy Peasy Cuban Picadillo
Salted Caramel Chocolate Chip Cookies
Blueberry Maple Breakfast Sausage
Crab Salad Stuffed Avocado
Scotch Eggs
Supreme Pizza Soup
Jalapeño Popper Chicken Salad Sandwiches
Blackened Shrimp Fettucine Alfredo
and much, much more!
I wrote this book with everyone in mind and it is complete with several different meal plans (paleo, AIP, Egg free, nut free, 30 minute meals) as well as tons of valuable resources. Dairy-Free Keto Cooking will quickly become your go-to cookbook!
YOU CAN GRAB A COPY -
HERE