If you are craving low carb Chinese food, this paleo, keto Mongolian Beef is going to absolutely hit the spot. It is quick and easy to make, and bursting with flavor.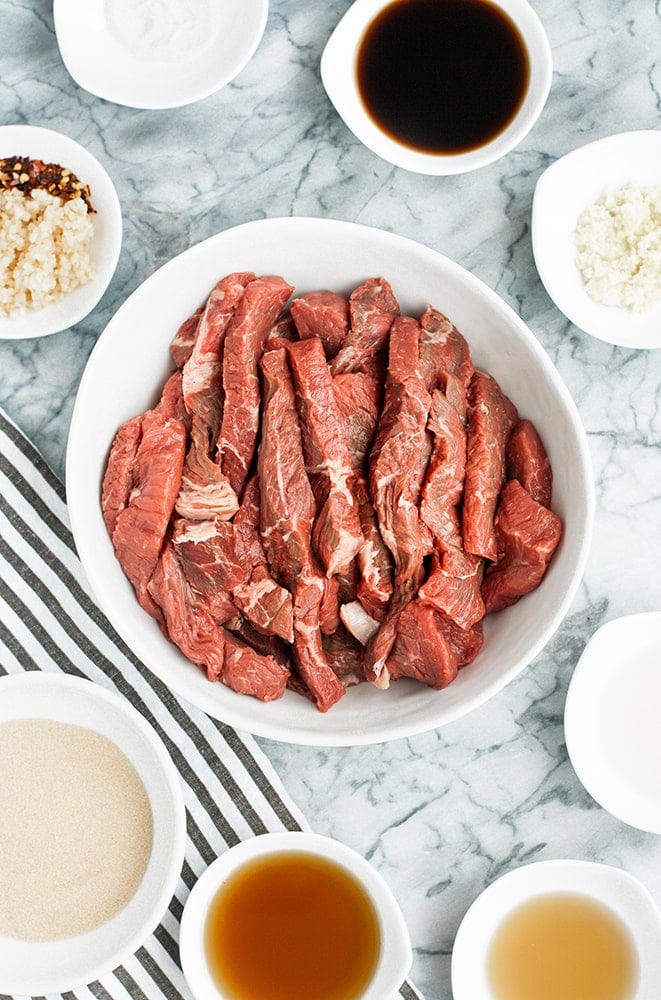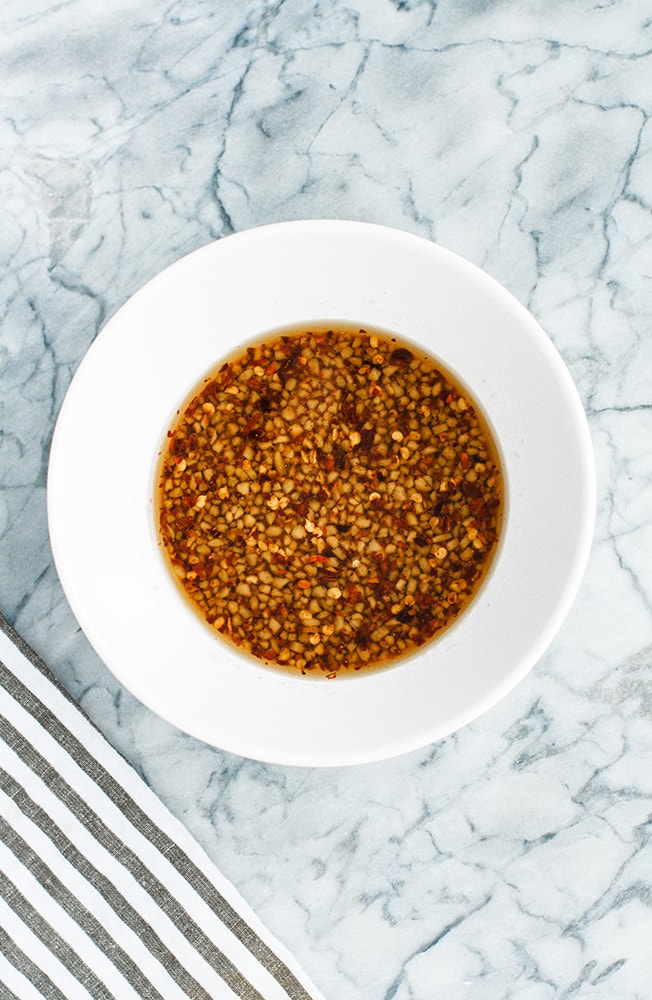 The best keto Mongolian beef recipe
While the traditional Mongolian beef recipe is loaded with sugar, gluten, soy, and corn (from cornstarch), this Keto Mongolian Beef is a healthier homemade low carb Mongolian beef recipe. Perfectly cooked flank steak strips are coated with sticky sweet sauce. The sauce has a bit of a kick from red pepper flakes and fresh grated ginger, plus a bit of umami flavor from fish sauce. While traditional restaurant and even homemade Chinese food recipes are not usually gluten free, this keto-friendly version is made gluten free by the use of tamari or coconut aminos.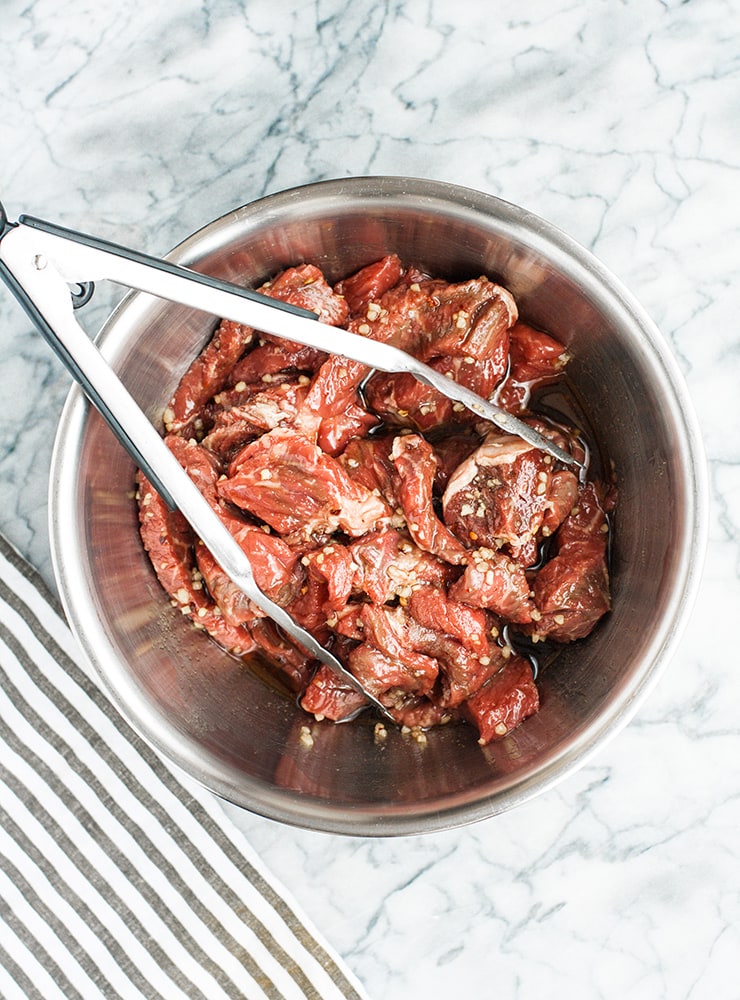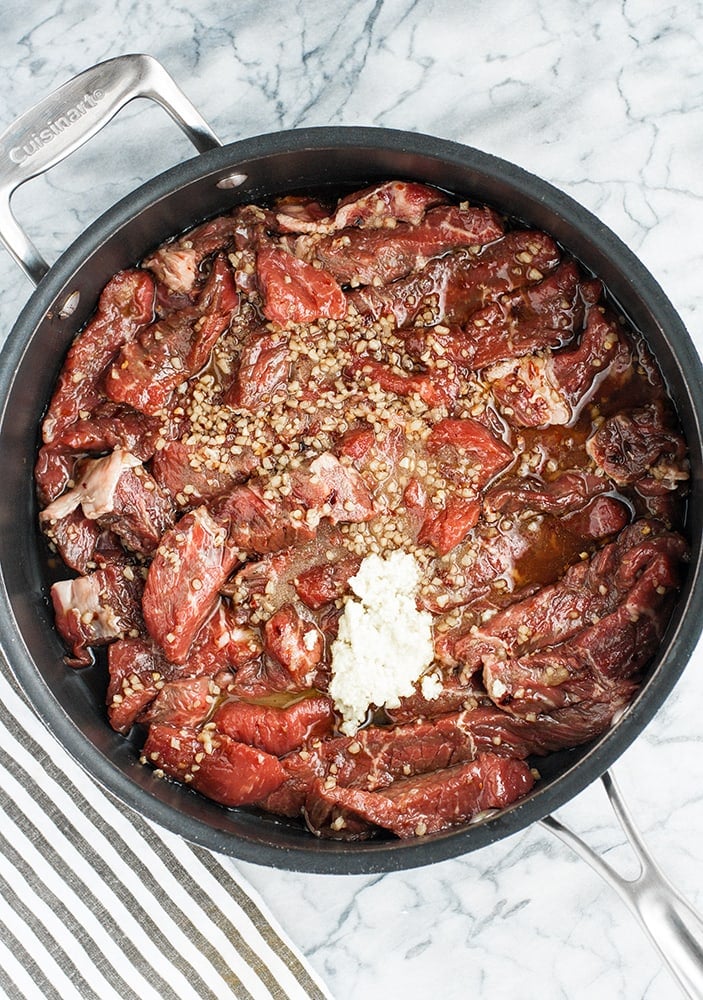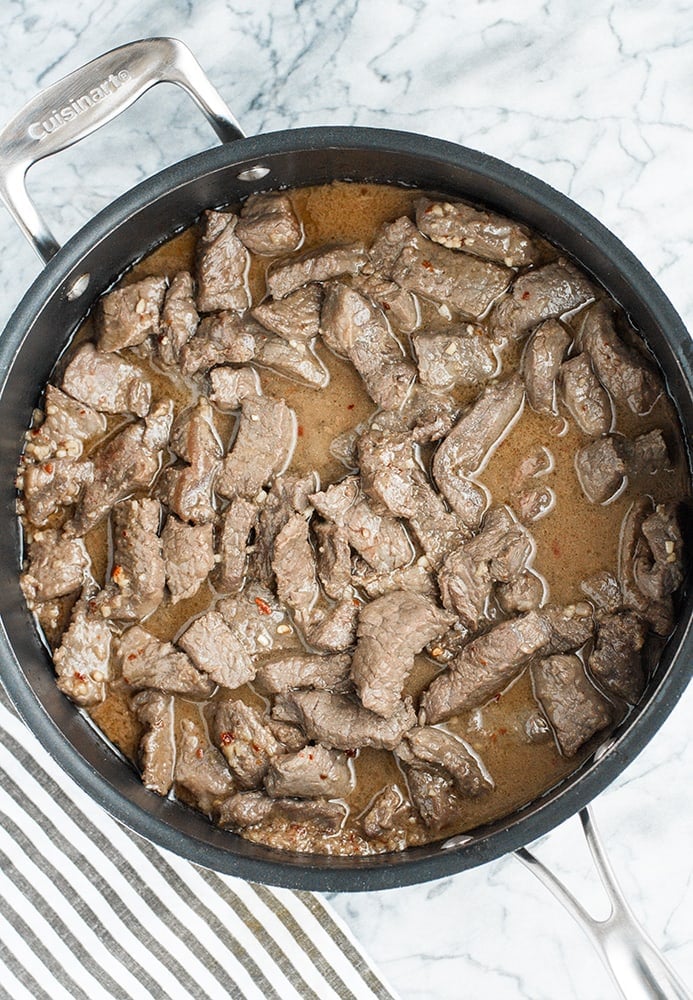 How to make gluten free Chinese food recipes
Making gluten-free Chinese food is easy. Just swap regular soy sauce for tamari or coconut aminos. Coconut aminos are made from coconut sap. The sap is aged with salt, resulting in a really delicious paleo, soy-free, gluten-free option for your favorite keto Chinese food recipes. I love using coconut aminos, especially in a low carb beef recipe, the saltiness really compliments the beef without overpowering it. Big Tree Farms is my favorite brand of coconut aminos. If you aren't a fan of coconut aminos, you can also use tamari or liquid aminos.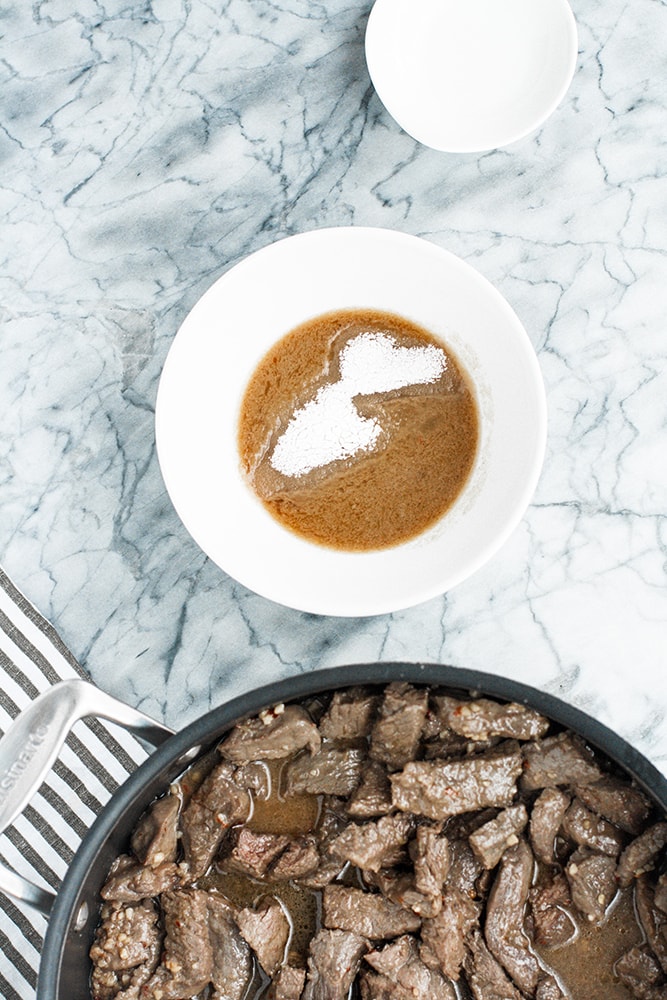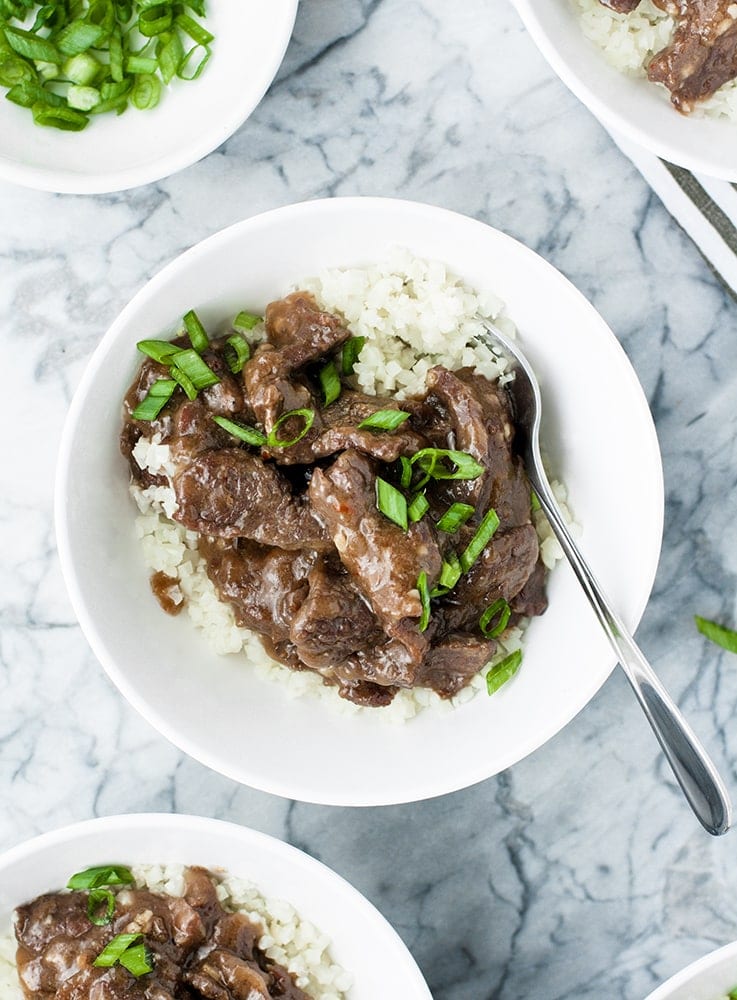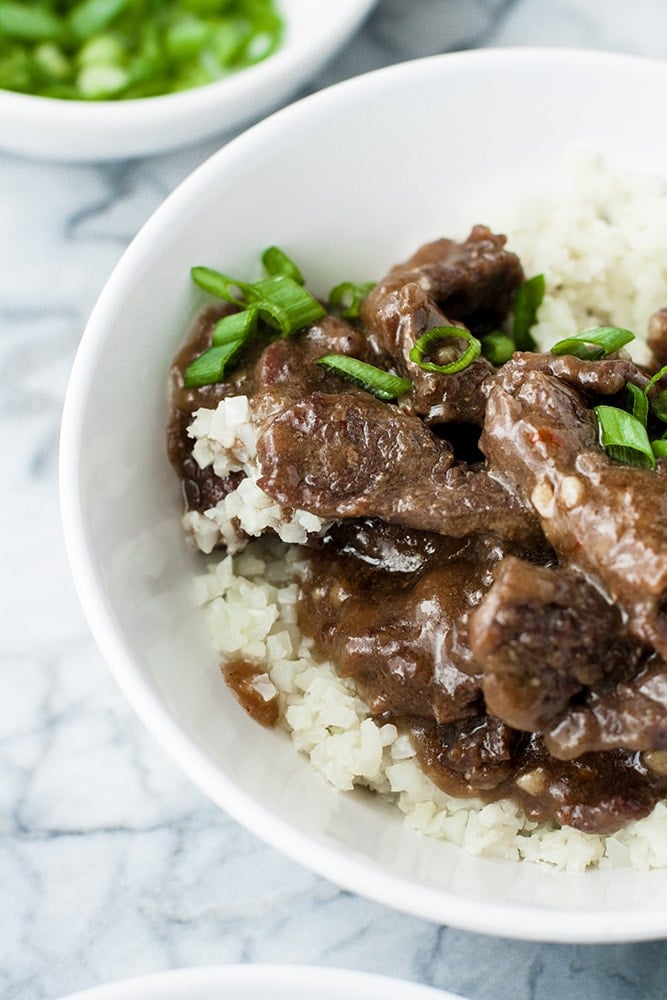 How to make cauliflower rice for Keto mongolian beef
You can definitely enjoy this recipe on its own, but if you're missing a side of white rice, cauliflower rice is a great option. While you can probably find cauliflower rice in the frozen section of your grocery store, it's super easy to make at home. Grab a head of cauliflower and cut it into florets. From there, you can either throw it in a food processor and pulse, or grate the florets with a cheese grater until it resembles grains of rice.
Before cooking, squeeze out any excess moisture with a paper towel. My favorite way to cook cauliflower rice is to sauté the cauliflower rice in a skillet with a tablespoon of toasted sesame oil. Heat the skillet to medium with the toasted sesame oil, add the cauliflower rice, season with coconut aminos, pepper, and ground ginger, then cook for 5-8 minutes, stirring occasionally. If you like your cauliflower rice more tender, you can put a lid on the skillet and let it steam. Cauliflower rice reheats really well in the microwave, and you can top it with a generous serving of Keto Mongolian Beef!
Here are some of my favorite cauliflower rice recipes - Chinese Sausage Cauliflower Fried Rice, Buttery Cauliflower Rice Pilaf, Creamy Mushroom Cauliflower Risotto, Cajun Cauliflower Rice, Cranberry Pecan Cauliflower Rice Stuffing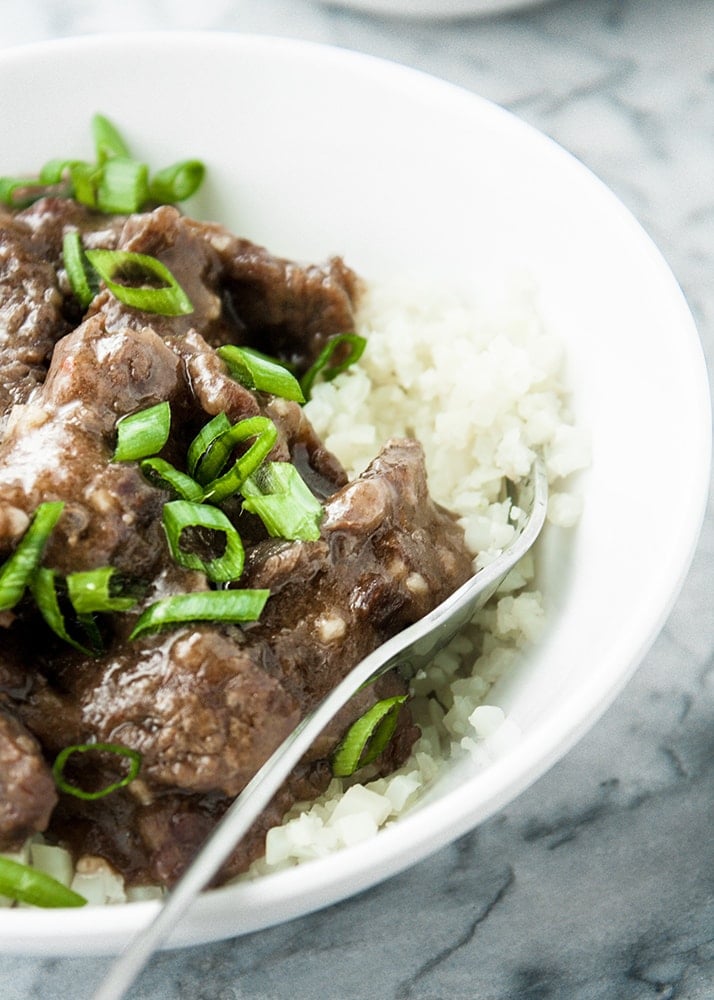 Todays post is a guest post from Sara of Real Balanced: Follow Real Balanced for delicious and keto-friendly recipes on

Instagram, Facebook,

and

Pinterest!
"Hey, everyone! Sara Nelson of Real Balanced here. Growing up, my family would regularly order Chinese takeout and it was MY FAVORITE. Full of so much rich flavor, Asian-inspired dishes have always been on a regular rotation in my household.
This easy dinner recipe is made with a wide variety of ingredients including flank steak, minced garlic, green onions, ginger, golden monk fruit sweetener, and more. Plus, this Keto Mongolian Beef is soy free (unlike many Mongolian Beef recipes) as, instead of soy sauce, liquid aminos is used.
Next time you find yourself wanting stir fry or anything with that familiar and delicious soy sauce-y taste, you're going to want to whip up this dish! You won't be disappointed."
In addition to this Keto Mongolian Beef, check out some of my other favorite low carb asian inspired recipes:
Print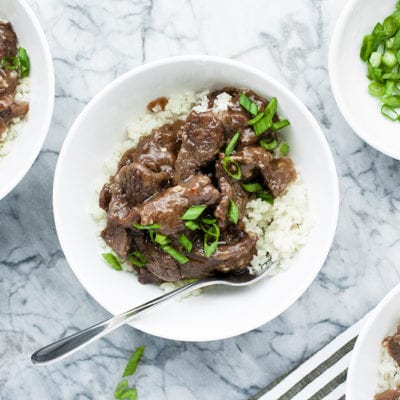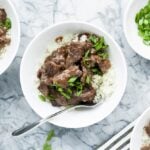 Keto Mongolian Beef
---
Author:

Kyndra Holley

Total Time:

35 minutes

Yield:

4

servings

1

x
1 ½

pounds flank steak

¼ teaspoon

crushed red pepper flakes, optional

1 tablespoon

fish sauce

3

cloves garlic, minced

2 tablespoons

gluten free soy sauce or coconut aminos (I use this brand)

2 tablespoons

toasted sesame oil

½ cup

golden monk fruit sweetener (I use this brand) Code PEACE for 20% off

1 tablespoons

avocado oil

1 tablespoon

grated fresh ginger

1 ½ teaspoons

glucomannan powder or xanthan gum

2 tablespoons

thinly sliced green onions
---
Instructions
Cutting against the grain, slice steak into thin strips, then into 1 to 2 inch pieces. Set aside.
In a small bowl, whisk together the red pepper flakes, fish sauce, minced garlic, soy sauce, sesame oil, and monk fruit sweetener. To a large mixing bowl, add sliced steak and, using tongs, rotate steak strips until all meat is coated in marinade. Cover the bowl and transfer to the refrigerator to marinate for 30 minutes.
Once the steak has finished marinating, heat the avocado oil in a large pan over medium heat. Once the oil is hot, add the steak, marinade, and grated ginger to the pan. Cook the steak until browned, flipping as needed. Turn off the heat and remove the pan from the stove.
Using a spoon, spoon out ½ cup of the sauce from the pan and transfer to a mixing bowl. Sprinkle the glucomannan powder on top of the sauce and whisk ingredients together until the sauce thickens. Pour the thickened sauce back into pan. Serve beef in bowls on its own or atop cauliflower rice and garnish with sliced green onions.
Notes
Storage: Store beef in an airtight container in the refrigerator and consume within 2-3 days. Alternatively, for freezing, store beef in an airtight container in the freezer and consume within 2 months. To re-heat, thaw beef in the refrigerator and, once thawed, heat in a pan over medium heat until warmed throughout.
Prep Time:

25 minutes

Cook Time:

10 minutes
Nutrition
Serving Size:

¾ cup

Calories:

339

Fat:

19g

Carbohydrates:

1.9g net

Protein:

37g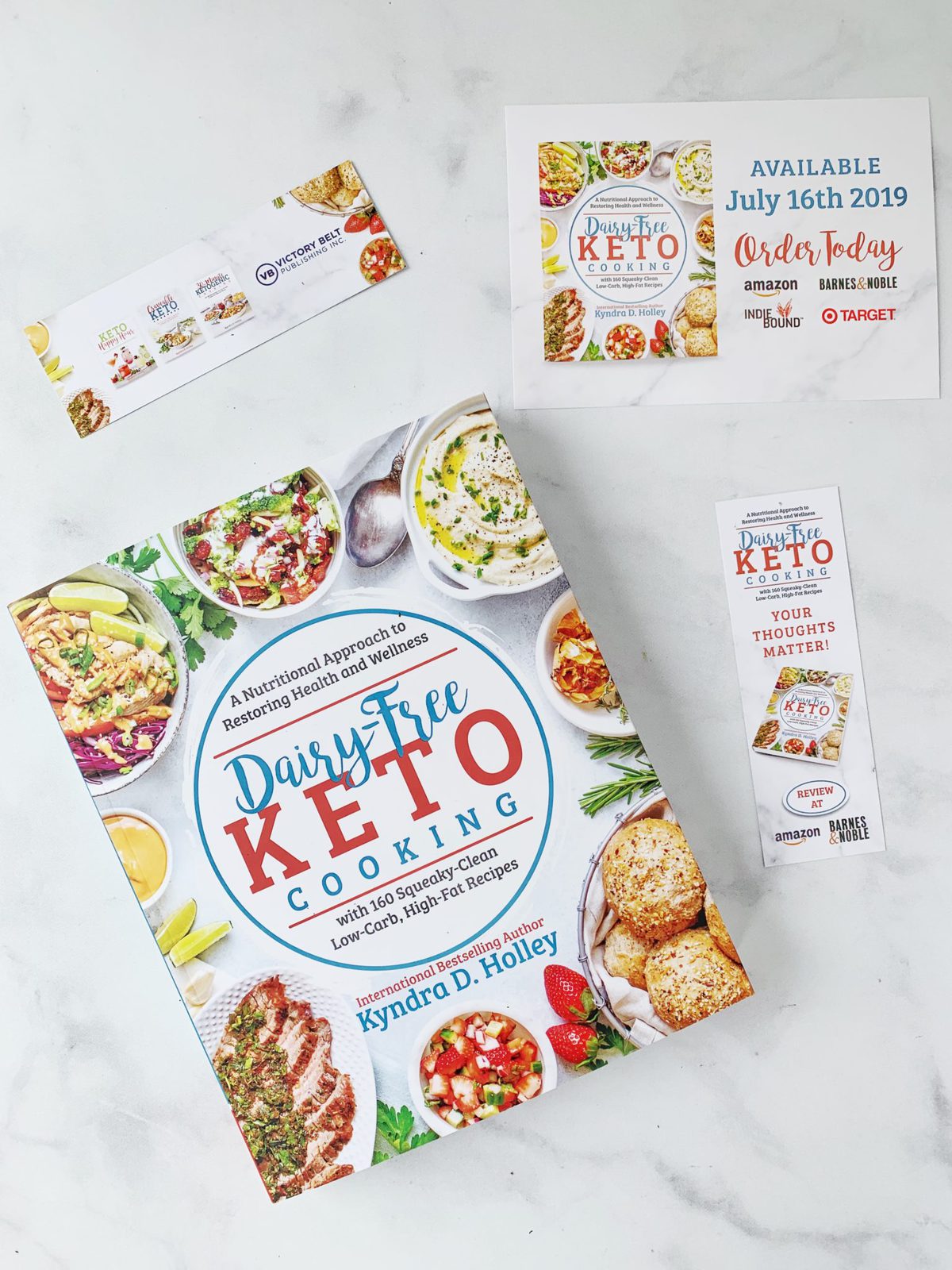 DAIRY-FREE KETO COOKING: A Nutritional Approach to Health and Wellness. With 150 Squeaky Clean Low-Carb, High-Fat Recipes
Check out my other books -
HERE
Using only approachable and accessible, nutrient dense, real food ingredients, I put together a dairy-free keto roadmap that does not require a search for unfamiliar specialty ingredients or that you have a gourmet kitchen. Each one of these delectable recipes is rooted in simplicity and calls for ingredients that can be found at your local grocery store. I'm showing you how to incorporate dairy-free substitutions that go far beyond the coconut.
In addition to tantalizing your palate with tasty recipes, Dairy-Free Keto Cooking will teach you how to restore your health and wellness, while living a lifestyle that nourishes you in mind, body, and spirit. Whether your goal is to lose weight, heal your body from the inside out, or simply find your own personal version of food freedom, I'm here to help you along in your journey to finding your personal path to wellness.
YOU CAN GRAB A COPY -
HERE
Dairy-Free Keto Cooking features something for everyone. If you suffer from dairy intolerances or food allergies, this is the book for you. If you are someone who just loves easy to make, delicious food, then this book is for you. I added a bit of everything everything, including suggestions for adding or reintroducing dairy for all the cheese loving, quesophiles.
With recipes like this, how could anyone possibly feel deprived?
Slow Cooker Pork Carnitas
Cowboy Style Beef Ragout
Sweet and Spicy Barbecue Ribs
Loco Moco
Pork Tenderloin with Dill Sauce
Flourless Chocolate Lava Cake
Easy Peasy Cuban Picadillo
Salted Caramel Chocolate Chip Cookies
Blueberry Maple Breakfast Sausage
Crab Salad Stuffed Avocado
Scotch Eggs
Supreme Pizza Soup
Jalapeño Popper Chicken Salad Sandwiches
Blackened Shrimp Fettucine Alfredo
and much, much more!
I wrote this book with everyone in mind and it is complete with several different meal plans (paleo, AIP, Egg free, nut free, 30 minute meals) as well as tons of valuable resources. Dairy-Free Keto Cooking will quickly become your go-to cookbook!
YOU CAN GRAB A COPY -
HERE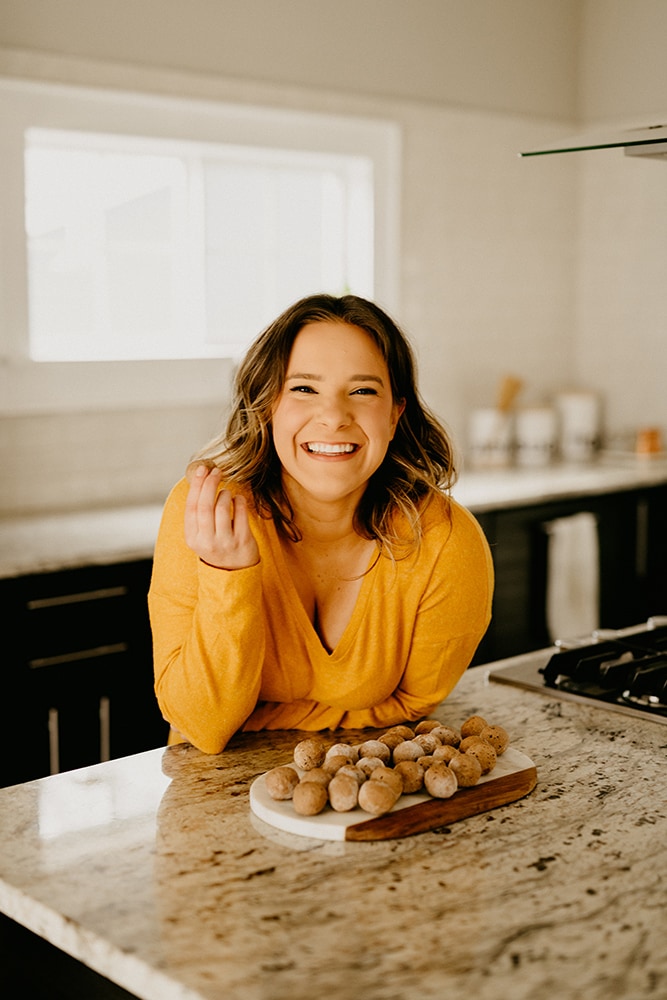 Sara Nelson is the food blogger behind realbalanced.com, a site dedicated to sharing low-carb, keto, and nut-free recipes. Since 2017, Sara has shared delicious, nutritious, and allergy-friendly recipes with her thousands of blog readers and social media followers. Sara lives in Milwaukee, WI with her husband, Ryan, and their Boston Terrier, Rowsdower.
Follow Real Balanced for delicious and keto-friendly recipes! Sara can be found over on her blog, Instagram,Facebook, and Pinterest!