This Cranberry Pecan Cauliflower Rice Low Carb Stuffing is the perfect keto Thanksgiving side dish. You can stuff it inside the turkey in place of traditional stuffing, or you can just serve it on the side.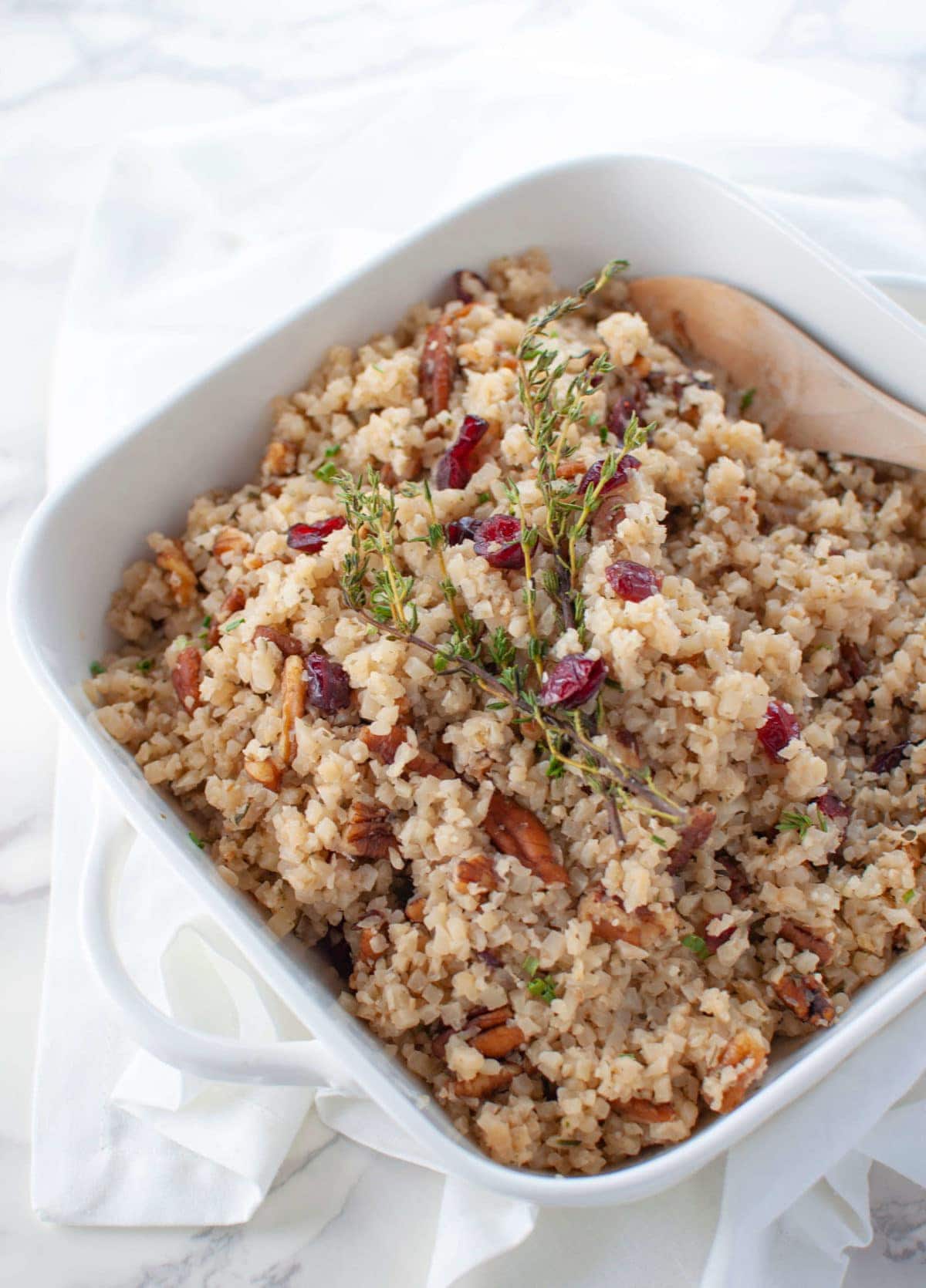 Cauliflower Rice Low Carb Stuffing
Fall is in full swing, and I've got delicious low carb holiday recipes on the brain. One of the hardest traditional Thanksgiving recipes to recreate is a low carb stuffing recipe. While this isn't traditional in the sense that it is made with bread, it still has all of those wonderful flavors of a perfectly prepared Thanksgiving spread. When it comes to the the holiday table, the turkey is always the star of the show, carefully plated on decorative platters and set in the center of the table. But for me, it is the side dishes that get piled high on my plate. This Cranberry Pecan Cauliflower Rice Low Carb Stuffing has quickly become one of our favorite Thanksgiving side dishes.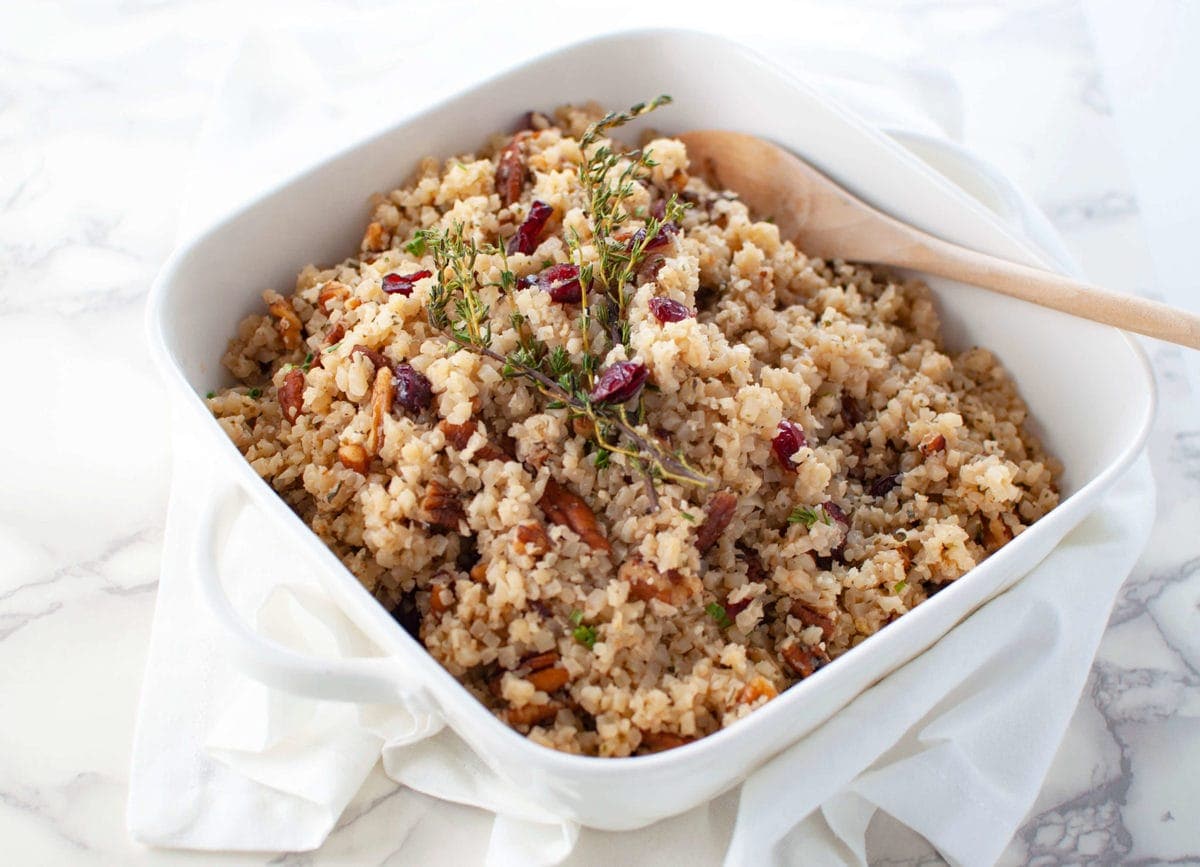 The last several years I have prepared a full keto Thanksgiving spread. Complete with low carb pumpkin pie and everything. We don't see a need to change the way we eat year round just for the sake of traditional holiday foods. This is a lifestyle for us, after all. Why wake up with a sugar and carb hangover when you can easily recreate all of your favorite classic holiday dishes in low carb version. Don't believe me? Check out some of the recipes below.
More low carb thanksgiving recipes: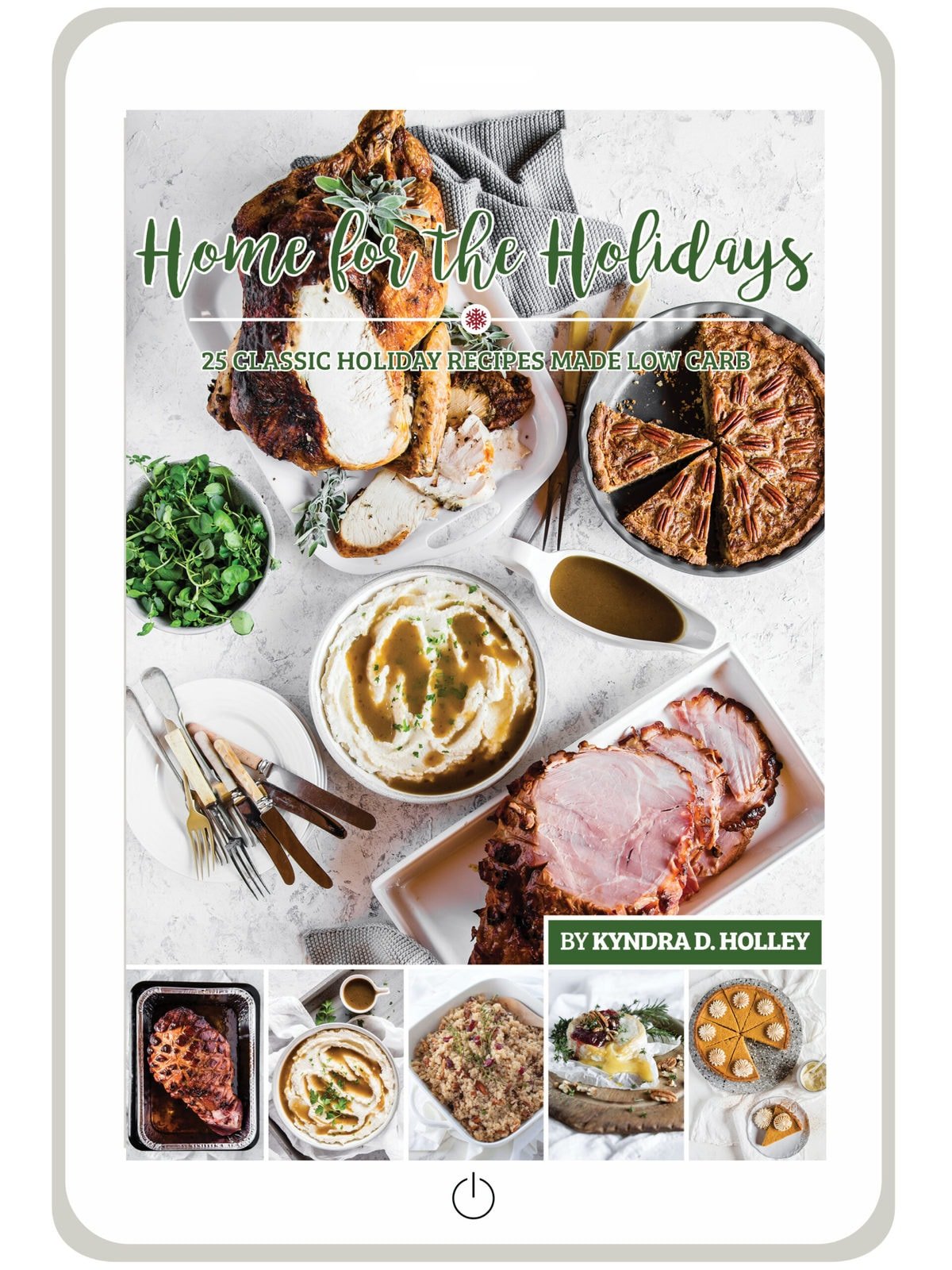 Grab a copy of Home for the Holidays - HERE
Print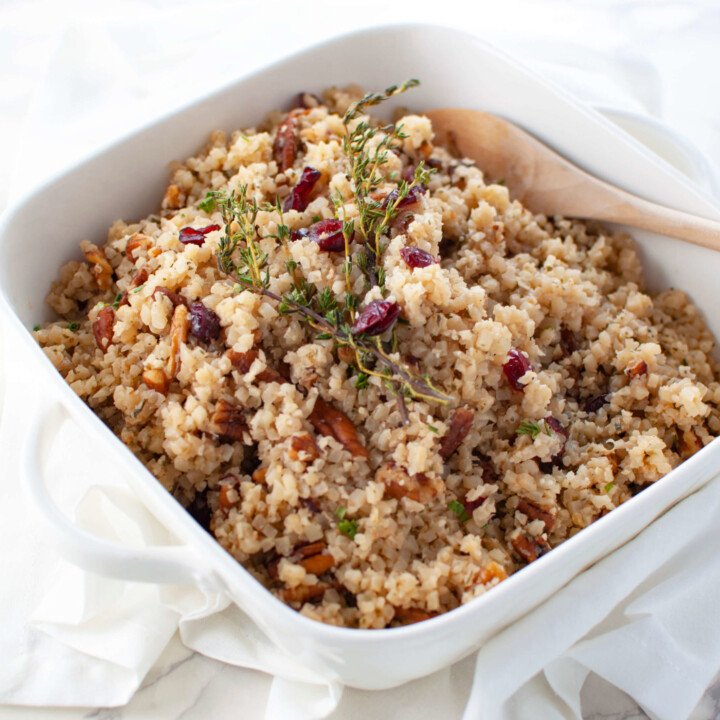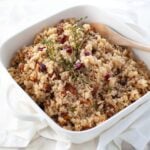 Cranberry Pecan Cauliflower Rice Stuffing
---
¾ cup

raw pecans

2 tablespoons

butter

1

shallot, thinly sliced

1 cup

chicken stock

6 cups

riced cauliflower

2

sprigs fresh thyme

1

bay leaf

1 teaspoon

sea salt

½ teaspoon

ground black pepper

2 tablespoons

chopped fresh flat-leaf parsley

½ cup

grated Parmesan cheese

¼ cup

Low Carb Sugar Free Dried Cranberries (get the recipe here)
---
Instructions
Preheat the oven to 350°F. Spread the pecans in a single layer on a rimmed baking sheet and roast them for 8 minutes.
Meanwhile, heat the butter in a large skillet over medium heat. Add the shallot and sauté until it is soft and translucent.
Add the stock to the skillet and, using a rubber spatula, scrape and mix in any bits that are stuck to the bottom of the pan.
Add the riced cauliflower, thyme, bay leaf, salt, and pepper to the skillet. Cook for about 15 minutes, until all of the liquid has evaporated and the cauliflower is completely cooked and tender.
Remove the thyme sprigs and bay leaf and discard. Mix in the roasted pecans, Parmesan cheese, and dried cranberries. Taste and add more salt and pepper, if desired.
Store leftovers in the refrigerator for up to 1 week.
Notes
Net Carbs Per Serving: 3.2g
Prep Time:

10 minutes

Cook Time:

30 minutes

Category:

side dishes
Nutrition
Calories:

127

Fat:

10g

Carbohydrates:

5.5g

Fiber:

2.3g

Protein:

4.4g
Keywords: low carb side dishes, keto side dish recipes, low carb thanksgiving recipes, cauliflower rice recipes, low carb stuffing recipes, keto recipes, low carb recipes