These Keto Supreme Pizza Stuffed Peppers are a simple and delicious way to still enjoy pizza while sticking to your healthy low carb lifestyle.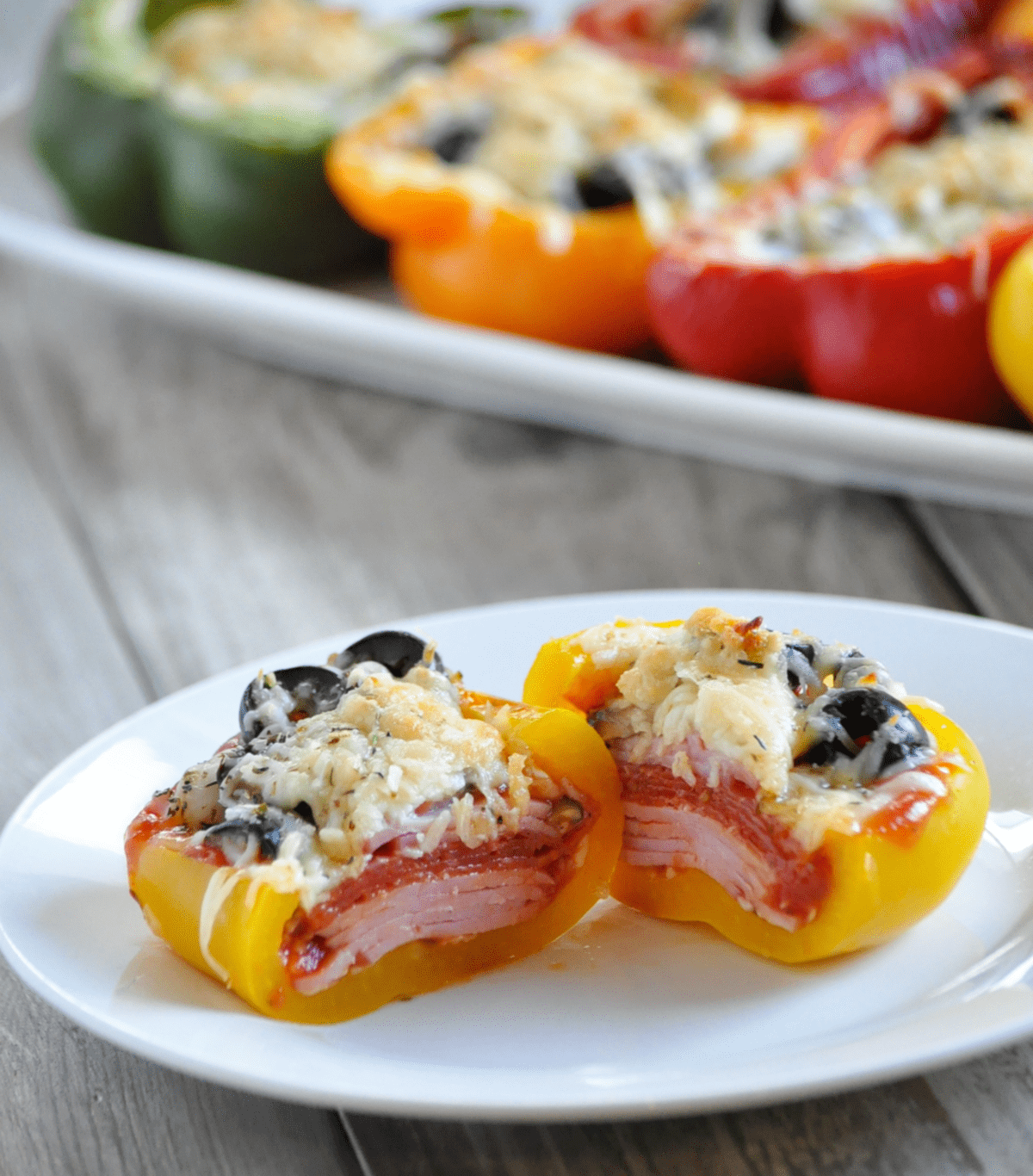 Healthy pizza recipes: is gluten free pizza really worth it?
While gluten free pizza can be complicated (not all gluten free flours are keto), these Keto Supreme Pizza Stuffed Peppers are a quick and easy way to enjoy low carb pizza, and also add some extra vegetables to your diet. They are extremely versatile and you can mix and match them up any way you please. Just load them up with all your favorite meats and veggies and cook them according to the directions below.
But don't forget to also whip up a batch of my low carb pizza sauce. You won't be disappointed. It also really makes for a great low carb pasta sauce to put on top of shiritaki noodles, zucchini noodles, or even spaghetti squash.
Keto Pizza Stuffed Peppers: an easy nut free keto pizza!
Keto pizza stuffed peppers certainly aren't a new invention. In fact, I have these Low Carb Pepperoni Pizza Stuffed Peppers and these Low Carb Hawaiian Pizza Stuffed Peppers on my site from back in 2013. They're all naturally gluten free and nut free. Can you ever really have too many low carb pizza recipes? I certainly don't think so.
Pizza is one of those foods that is universally loved, and even mediocre pizza is still good. How can you go wrong with all that sauce, cheese, meat and veggies? You can't! These Keto Supreme Pizza Stuffed Peppers are from my cookbook – Primal Low Carb Kitchen
More than 15 years ago when I first started living a low carb lifestyle, I knew immediately that if I was ever going to find any success in my new lifestyle that it couldn't come at the cost of giving up all of my favorite foods. So I set out on a mission to recreate all of my favorite foods into low carb versions – low carb Mac and cheese, low carb pizza… even low carb nachos. In fact, this mission is exactly what brought my blog to life. I started creating all these delicious foods that fit into my low carb, keto lifestyle. I wanted to eat healthier versions of the foods I loved, without feeling deprived. Fast forward 7 years, 5 cookbooks, and 100 low carb pizza recipes later and I am still at it.
In addition to these Keto Supreme Pizza Stuffed Peppers, check out some of my other favorite low carb pizza recipes: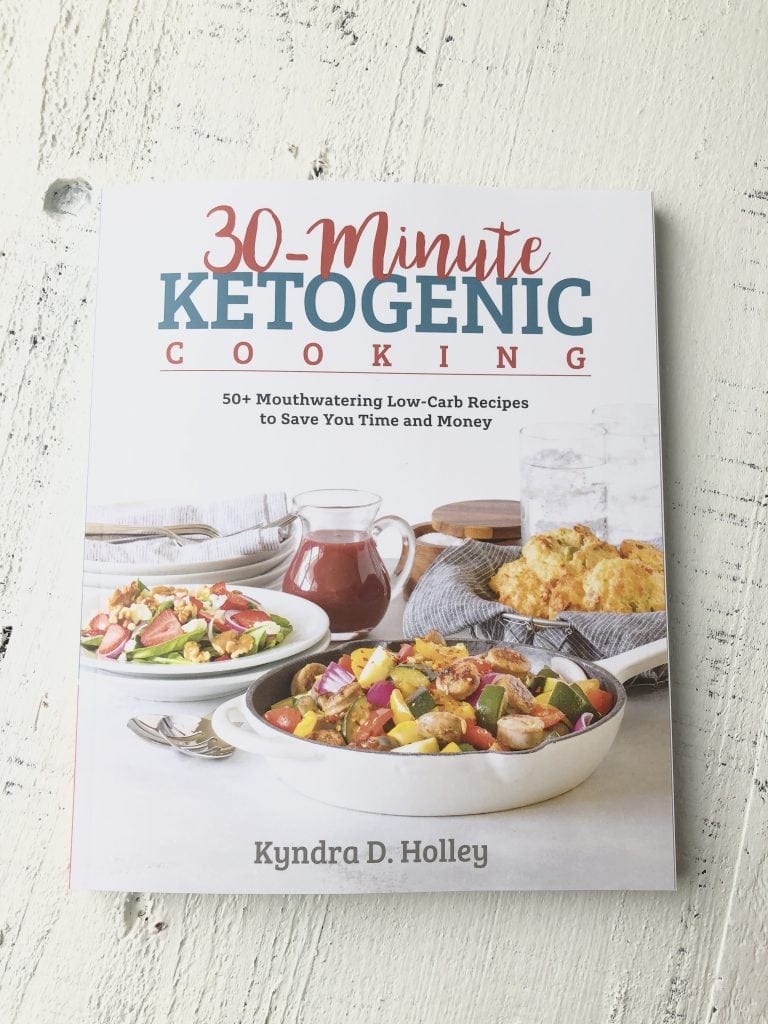 30 MINUTE KETOGENIC COOKING 50+ Mouthwatering Low-Carb Recipes to Save You Time and Money

Check out my other books –
HERE
I am so excited to help with a problem that so many people struggle with – Not having enough time! I can't even count how many times I have heard people say that they just don't have enough time to prepare healthy meals. So, what if I told you that I wrote an entire book of recipes that only require 30 minutes of hands-on time or less?
That's right, every recipe inside can be completed in 30 minutes or less and only contains ingredients that you can easily find at your local grocery store. No funny specialty ingredients here! Only real, whole foods!
50+ Mouthwatering recipes, ready in 30 minutes or less
STARTERS AND SNACKS
Buffalo Chicken Dip
Mediterranean Flat Bread
Dill Pickle Deviled Eggs
Buttery Garlic Crescent Rolls
Tahini Ranch Dip
Pico De Gallo
Cheddar Jalapeno Bacon Biscuits
SALADS
Strawberry Spinach Salad
Shaved Brussels Sprouts and Kale Salad
Greek Salad
Taco Wedge Salad
Cucumber Dill Tuna Salad
Barbecue Chicken Mockaroni Salad
BREAKFAST
Fortune Cookie Waffles
Ham and Spinach Eggs Benedict
Cheesy Pico Eggs
Sausage Balls
Sour Cream and Chive Egg Clouds
Ham and Cheese Waffles
Chicken Cordon Bleu Frittata
LUNCH AND DINNER
Pork Chops with Herbed Goat Cheese Butter
Spicy Sausage and Cabbage Stir-Fry
Zucchini Noodles with Hamburger Gravy
Chicken Sausage and Vegetable Skillet
Sloppy Joe Stuffed Peppers
Cheesy Salsa Verde Chicken Casserole
Greek Meatballs
Grilled New York Steak with Blue Cheese Dijon Cream Sauce
Fish Taco Bowls
Herbed Chicken and Mushrooms
Skillet Chicken Parmesan
Shrimp Piccata
Salisbury Steak
Buffalo Chicken Roasted Cabbage Steaks
Zucchini Noodles with Pesto Cream Sauce
SIDES
Pan-Fried Brussels Sprouts with Creamy Dijon Cider Dressing
Green Onion and Lime Cauliflower Rice
Cheesy Zucchini Gratin
Sauteed Asparagus with Mushrooms and Bacon
Cauliflower Steaks with Cheesy Bacon Sauce
Sauteed Green Beans with Ham
Herbed Goat Cheese Cauliflower Mash
SWEET TREATS
Chocolate Chip Cookies for Two
Mini Blueberry Cheesecakes
Double Chocolate Flourless Brownies
Lemon Mousse
Sesame Shortbread Sugar Cookies
Pumpkin Cheesecake Mousse
Avocado Chocolate Pudding
 Hungry? YOU CAN GRAB A COPY –
HERE
Print
Keto Supreme Pizza Stuffed Peppers
Author:
Prep Time:

15 minutes

Cook Time:

25 minutes

Total Time:

40 minutes

Yield:

8

servings

1

x
Scale
Ingredients
1

large red bell pepper, halved, ribs and seeds removed

1

large orange bell pepper, halved, ribs and seeds removed

1

large yellow bell pepper, halved, ribs and seeds removed

1

large green bell pepper, halved, ribs and seeds removed

1 1/2 cup

s shredded mozzarella cheese

1 cup

Low Carb Pizza Sauce (get the recipe here)

2 ounce

s pepperoni slices

2 ounce

s Canadian bacon slices

4

button mushrooms, sliced

10

black olives, sliced

1/3 cup

diced onion

1/2 cup

grated Parmesan cheese

1 tablespoon

Italian seasoning (I use this brand)
Instructions
Preheat the oven to 400°F. Line a rimmed baking sheet with parchment paper.
Line up the peppers on the baking sheet and bake on the middle rack for 15 minutes. Remove the peppers from the oven and pour out any excess moisture.
Sprinkle 1 tablespoon of the mozzarella into the bottom of each pepper cup. Top the mozzarella with 2 tablespoons of the pizza sauce. Evenly divide the pepperoni, Canadian bacon, mushrooms, olive and onion among the 8 pepper cups.
Top each pepper cup with 2 tablespoons of mozzarella cheese. Return the peppers to the oven and bake on the top rack for an additional 10 minutes. Remove the peppers from the oven and top each one with 1 tablespoon of Parmesan cheese and a sprinkle of Italian seasoning. Return the peppers to the oven and broil for 5 minutes.
Notes
Net Carbs Per Serving: 5 grams
Nutrition
Serving Size:

1 pizza stuffed pepper

Calories:

197

Fat:

12g

Carbohydrates:

12g

Fiber:

7g

Protein:

13g
Keywords: low carb pizza, pizza stuffed peppers, keto pizza recipes, easy pizza recipes, stuffed pepper recipes, keto, low carb, diabetic friendly, sugar free, no added sugar