Rich and cheesy – Stuffed Chicken Parmesan Keto Meatloaf. Sure to become an instant classic.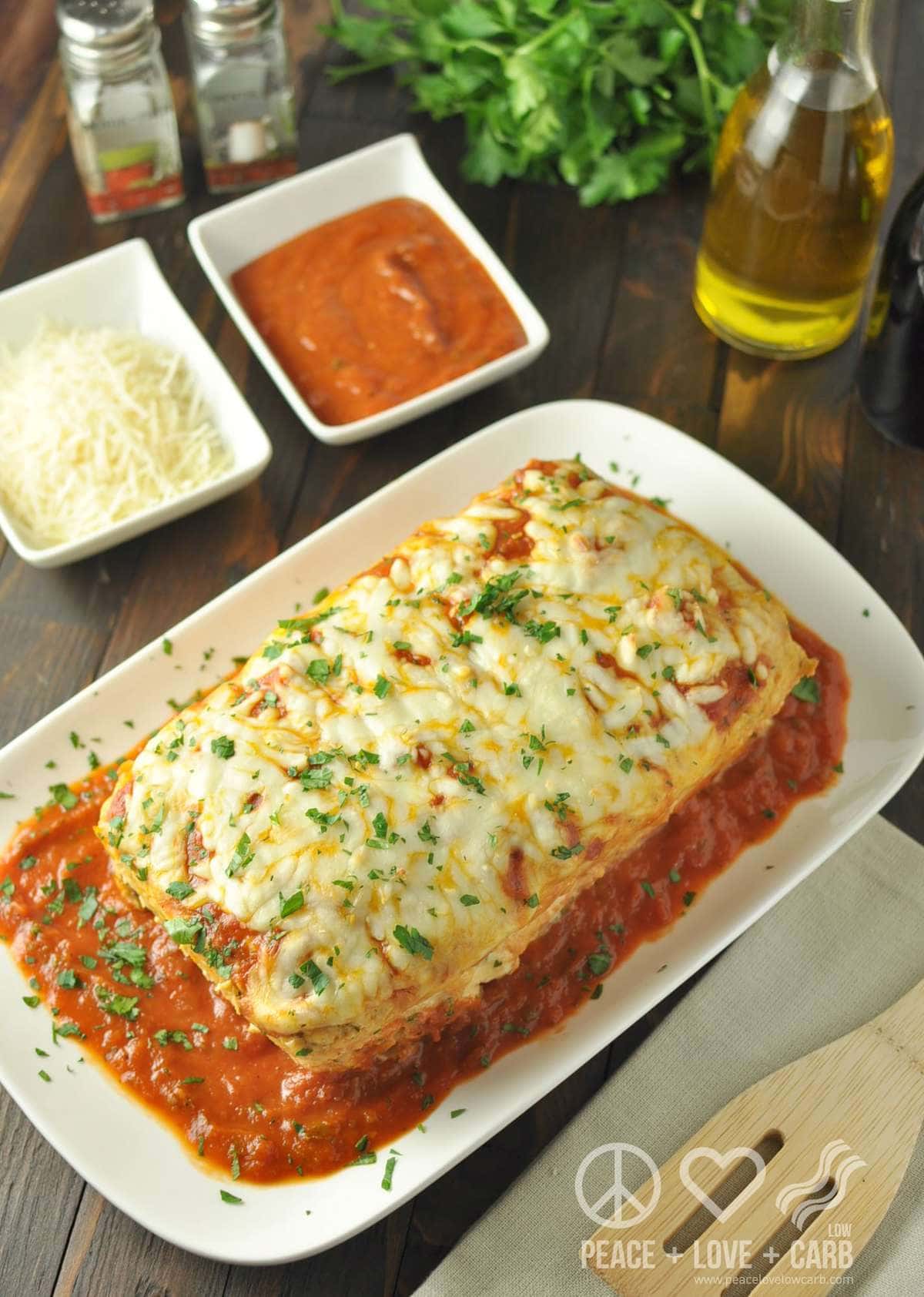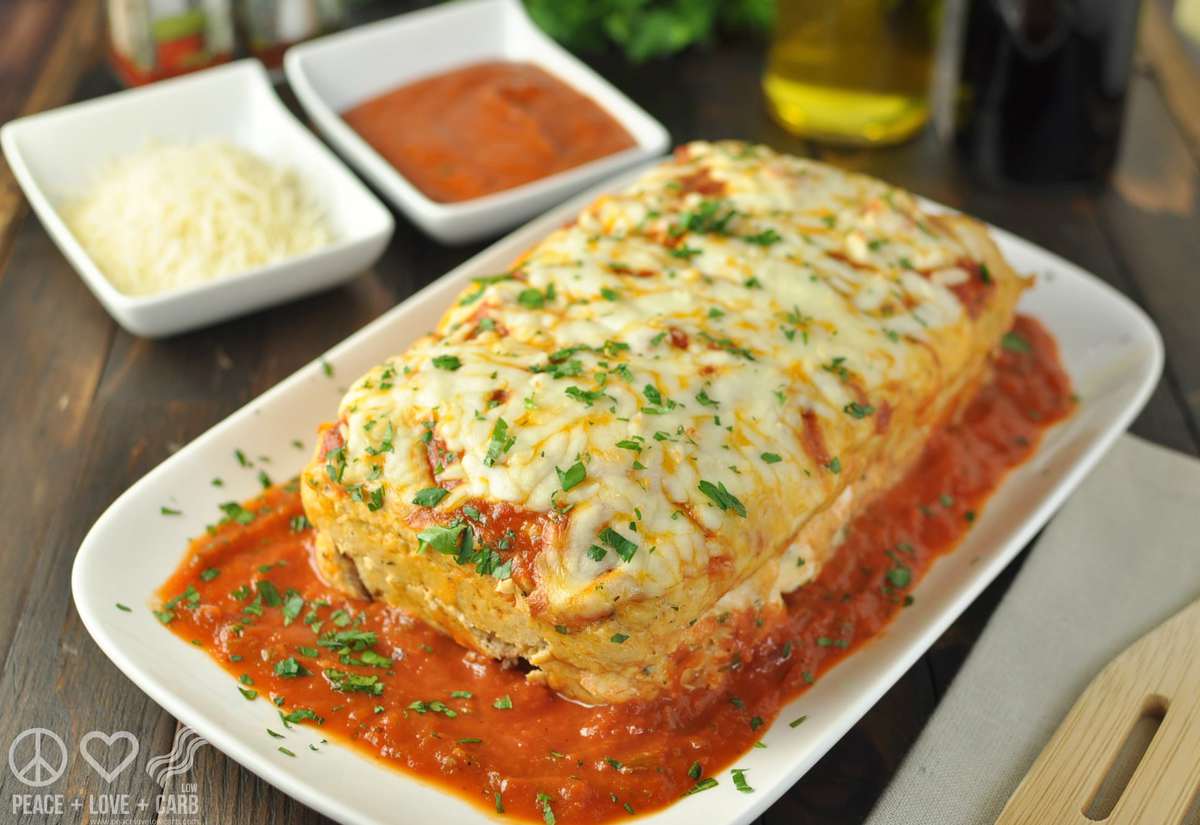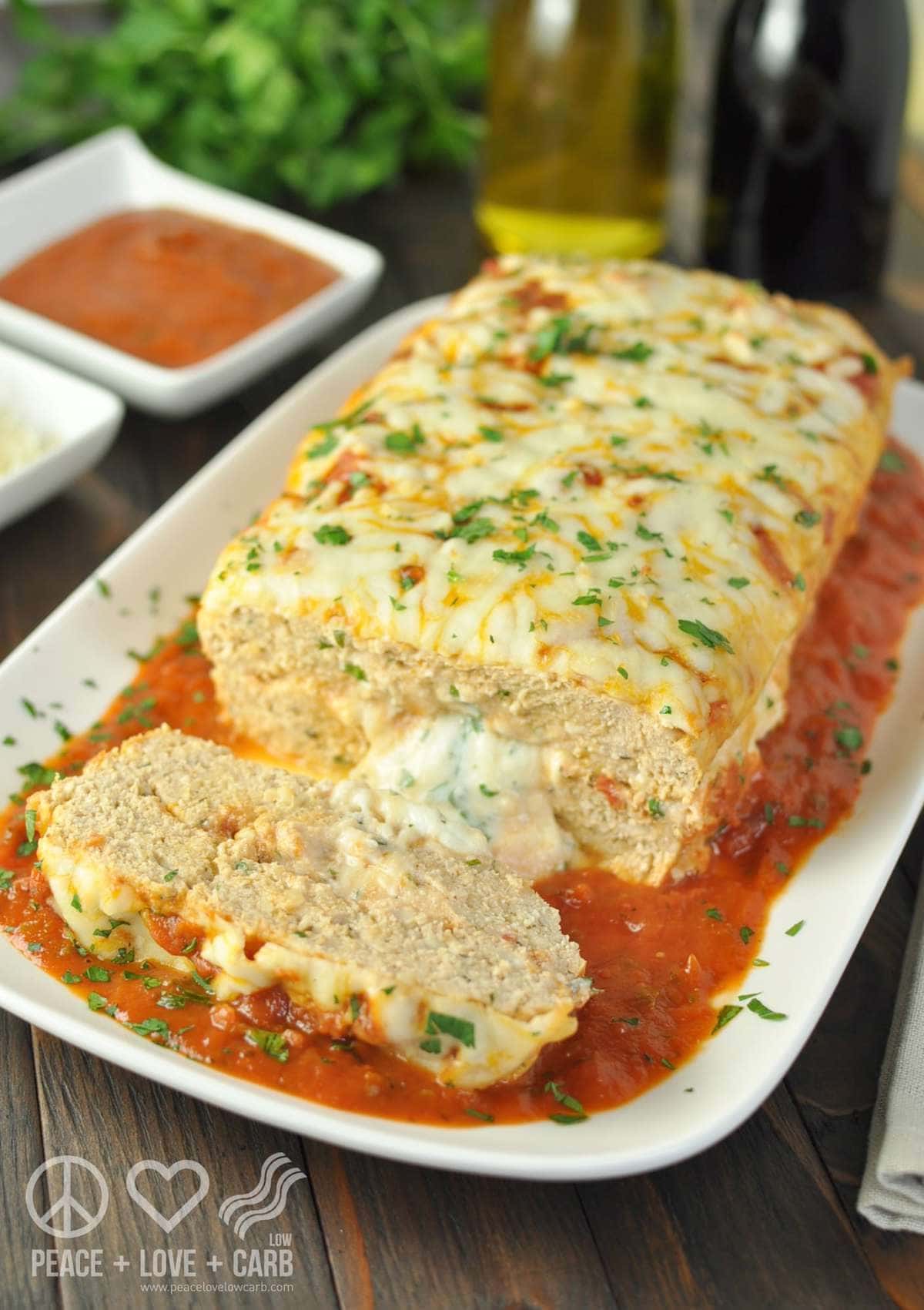 This keto meatloaf recipe is the real deal. It isn't the dry boring loaf of mystery meat that your mom used to force feed you as a child. Don't let the word meatloaf and the negative connotation that often comes with it fool you! This juicy, cheesy Stuffed Chicken Parmesan Keto Meatloaf tastes like a big tray of lasagna met up with some chicken parmesan, dimmed the lights and got a little romantic in the oven! My Three Cheese Garlic Marinara Recipe just made things official. This low carb meatloaf recipe was the first time I made a meatloaf in a silicone loaf pan. It was a game changer. The meatloaf just slides right out and clean up was a cinch. There is no going back. If you want to mix things up a bit, you can also try out my Chicken Parmesan Meatball Recipe. Or get really crazy and try  Chicken Philly Cheesesteak Keto Meatloaf.
CLICK HERE TO ORDER MY NEW BOOK: 30 MINUTE KETOGENIC COOKING
Print
Stuffed Chicken Parmesan Meatloaf, Low Carb, Gluten Free
---
Prep Time:

20 minutes

Cook Time:

40 minutes

Total Time:

1 hour

Yield:

Makes

8

Servings

1

x
Scale
Ingredients
For the meatloaf
2

lbs ground chicken

1 cup

Three Cheese Garlic Marinara Sauce, divided

4

cloves garlic, minced

2 tbsp

Italian flat leaf parsley, chopped

2 tsp

Italian seasoning

2 tsp

onion powder

1 1/2 tsp

sea salt

1/2 tsp

black pepper
For the filling and the topping
1/2 cup

full fat ricotta cheese

1 cup

mozzarella cheese, shredded, divided

1 cup

Parmesan cheese, shredded, divided

2 tbsp

Italian flat leaf parsley, chopped

2 tsp

chives, chopped

1

clove garlic, minced

1/2 tsp

sea salt
---
Instructions
Preheat oven to 400°
In a large mixing bowl, combine the ground chicken, 1/4 cup of marinara sauce, garlic, parsley, Italian seasoning, onion powder, sea salt and black pepper. Divide the mixture into 2 equal portions.
In a separate mixing bowl, combine ricotta cheese, 1/2 cup mozzarella cheese, 1/2 cup Parmesan cheese, parsley, chives, garlic and sea salt. Mix until all ingredients are combined.
Put half of the meat mixture into the bottom of a 9.25 x 5.25 x 2 3/4 loaf pan. Press evenly into the pan, reaching all the way to the corners.
Make a groove down the center of the meat. Layer the cheese filling down the center.
Top with the second half of the meat mixture, spreading evenly across the pan and pressing down into the bottom layer. Bake for 20 minutes.
Remove the meatloaf from the oven and top with 1/4 cup of marinara sauce and remaining mozzarella and Parmesan cheese.
Return to the oven and bake for an additional 20 minutes.
After slicing the meatloaf, top each slice with the remaining marinara sauce.
---
Notes
Per Serving – Calories: 272 | Fat: 17g | Protein: 28g | Net Carbs: 4g