Keto Fettuccine Alfredo with Pesto Chicken and Broccoli is comfort food at its finest. If you've been missing pasta on your low carb diet, look no further.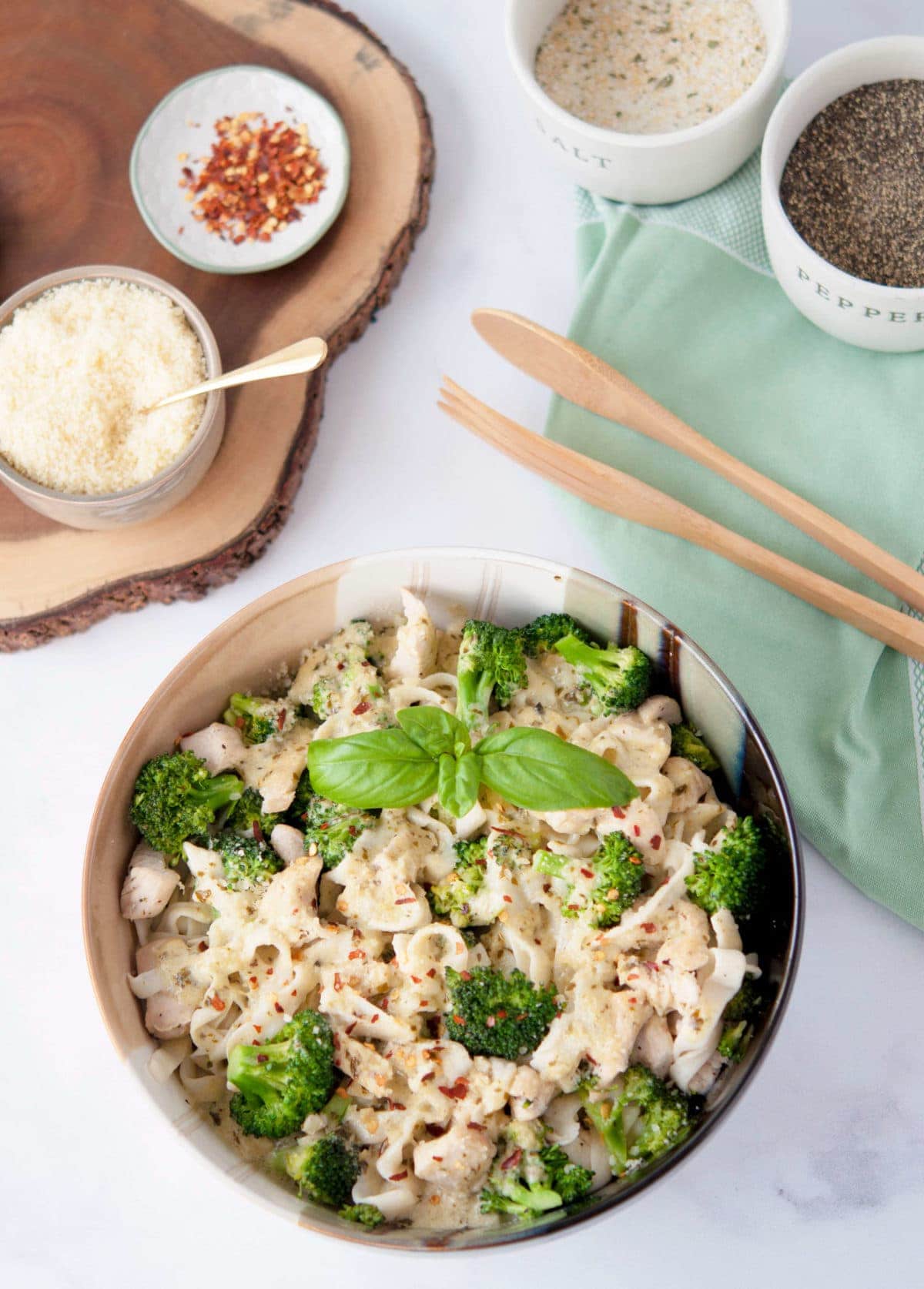 Gluten free and keto fettuccine alfredo! Could it really be?
YES! Your eyes are not deceiving you. You can in fact have low carb fettuccine alfredo and still keep it keto. But how? Well for starters this recipe calls for a scratch made low carb alfredo sauce recipe. When made more traditionally, alfredo sauce is already keto by nature as it is usually just butter, garlic, cream, parmesan, and pepper. Easy peasy. For this keto pasta recipe we are kicking things up a notch and adding in an extra punch of flavor in the form of pesto. I wasn't always a fan of pesto sauce. It always tasted too earthy to me. Well I have come around in a big way. Especially when we are talking about mixing it into a cream sauce. If pesto isn't your thing, you can always leave it out and this dish will still be amazing.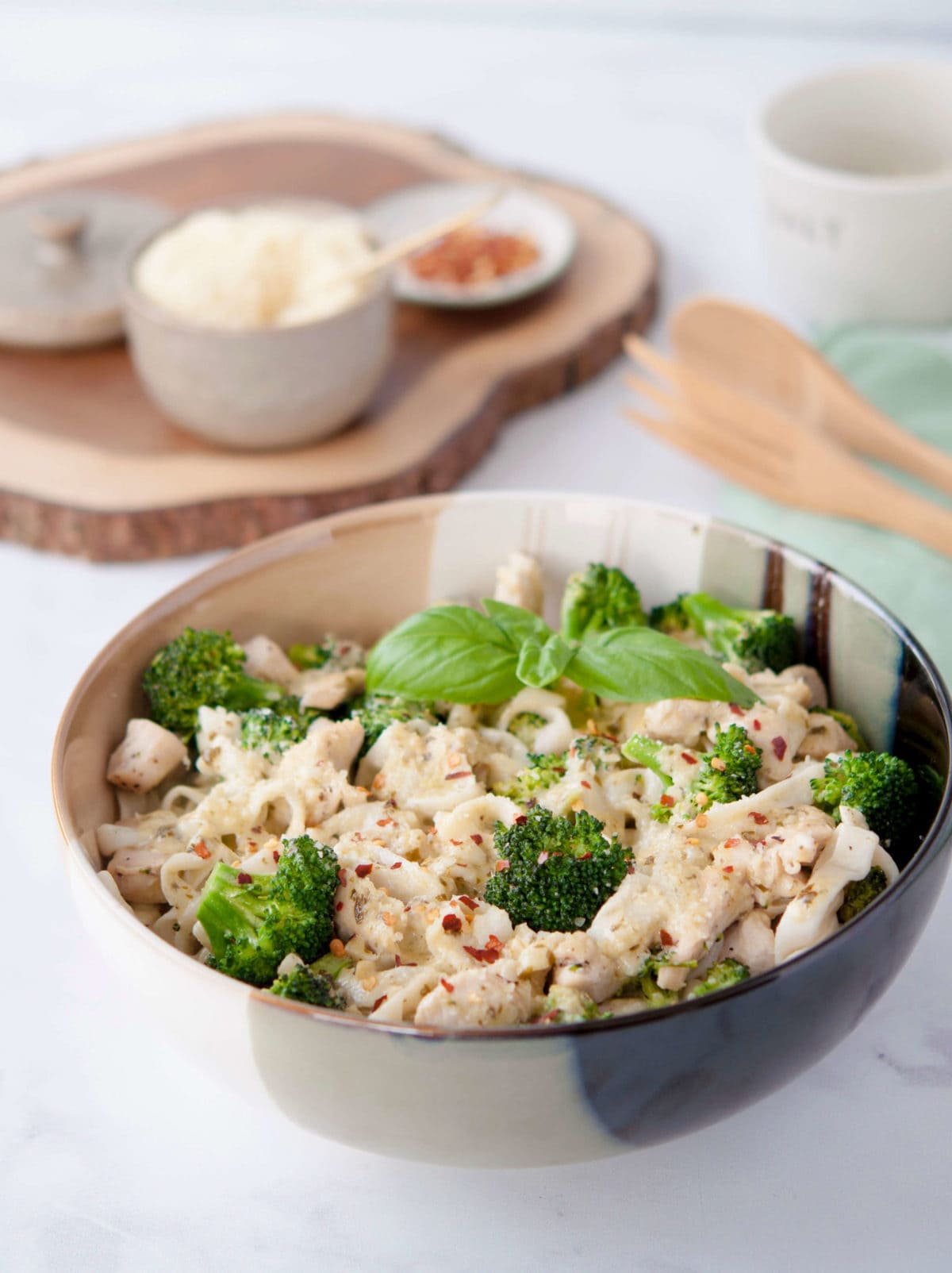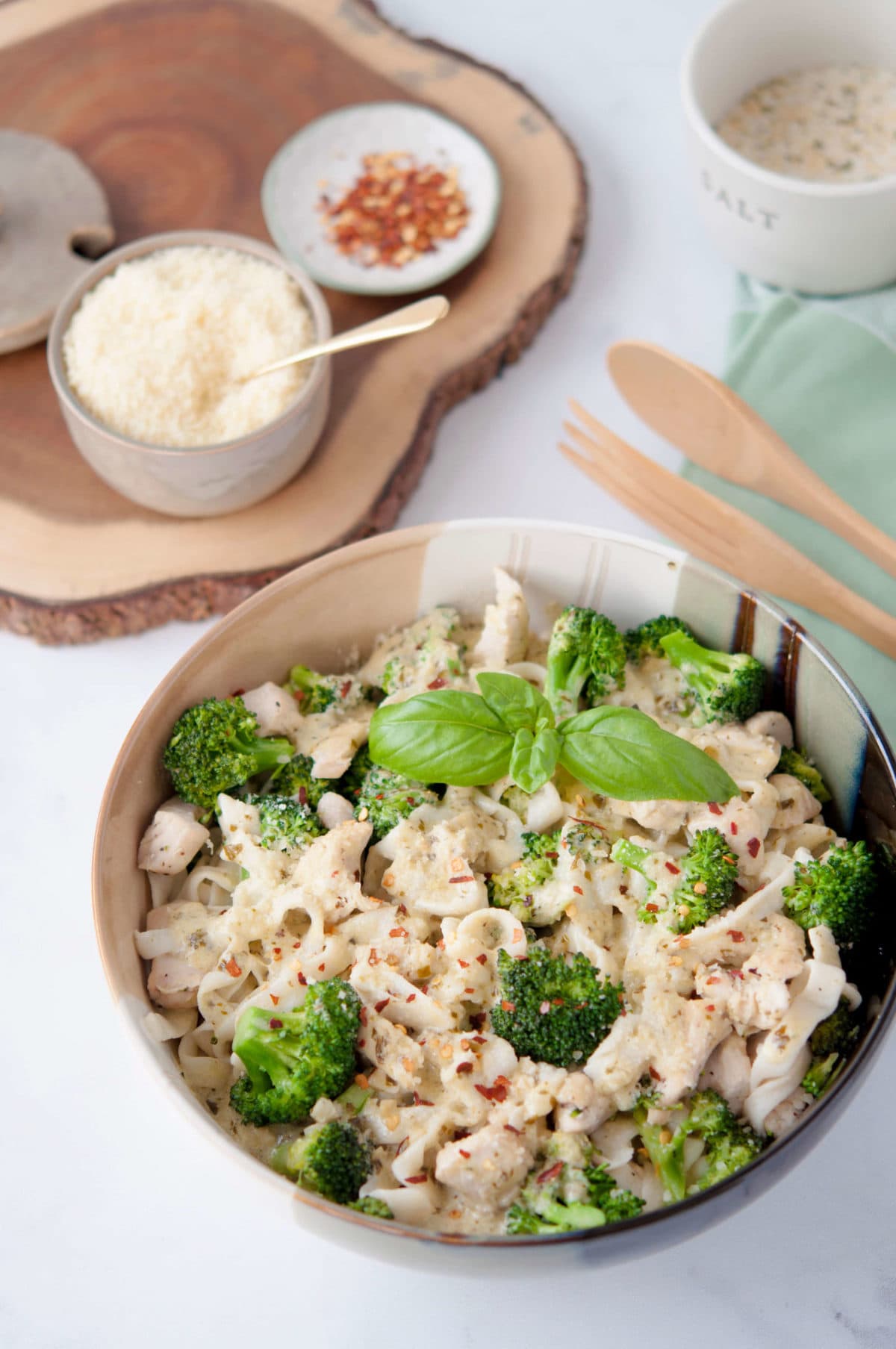 Now onto the keto pasta substitutions:
A good keto pasta recipe is something that has eluded us forever and is one of the things we all miss the most. Prior to living a ketogenic lifestyle, my food groups were bread, pasta, potatoes, rice, and fried foods. Those just happen to be all of the hardest things to recreate into low carb versions. Well, with a little creativity and realistic expectations, you can can still enjoy healthier versions of all your old favorite foods. Some of my favorite low carb pasta substitutions are shirataki noodles, zucchini noodles, spaghetti squash, cauliflower, butternut squash noodles, and Rainbow Vegetable Noodles. But the one I want to talk about today is shirataki noodles.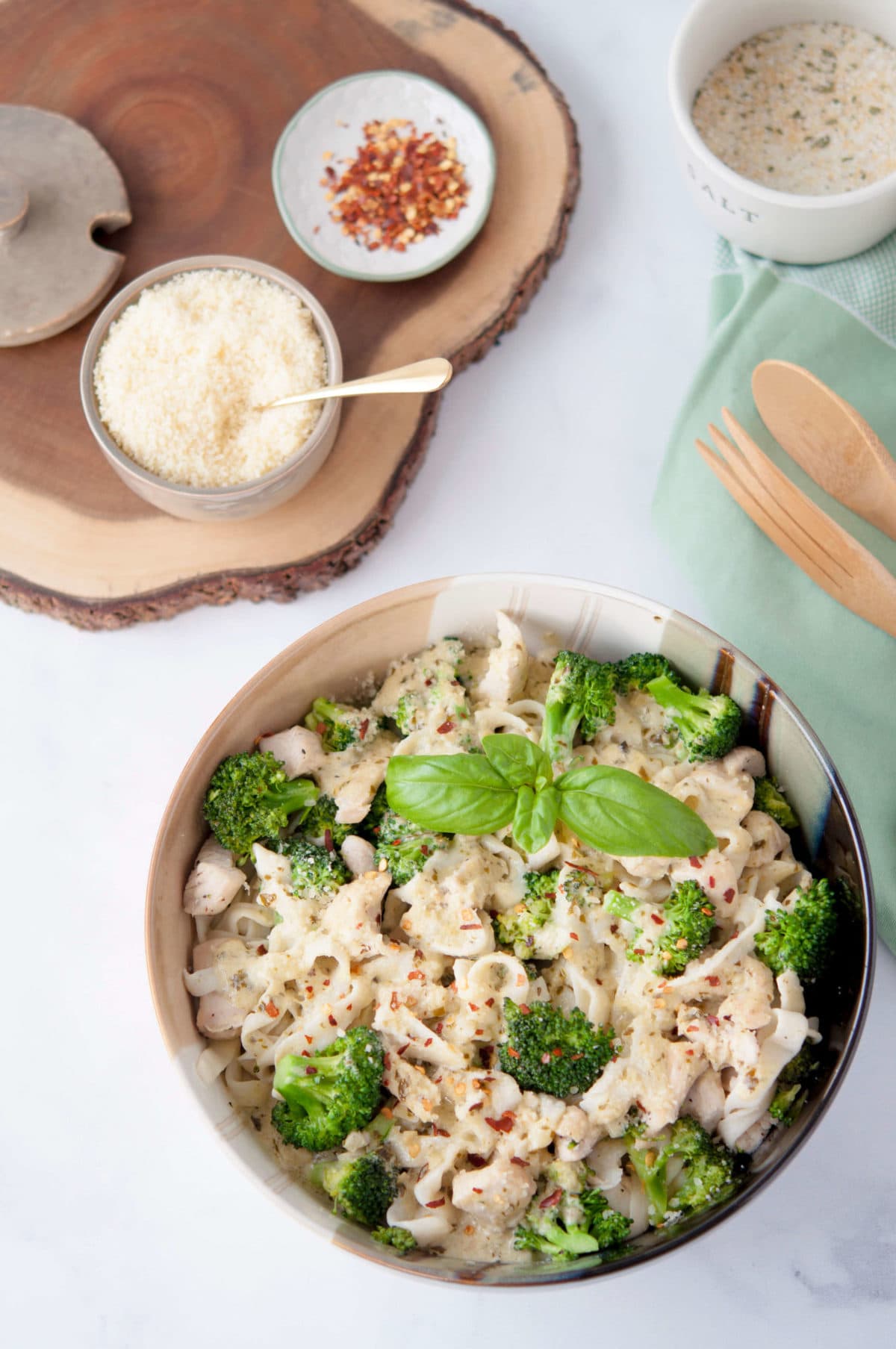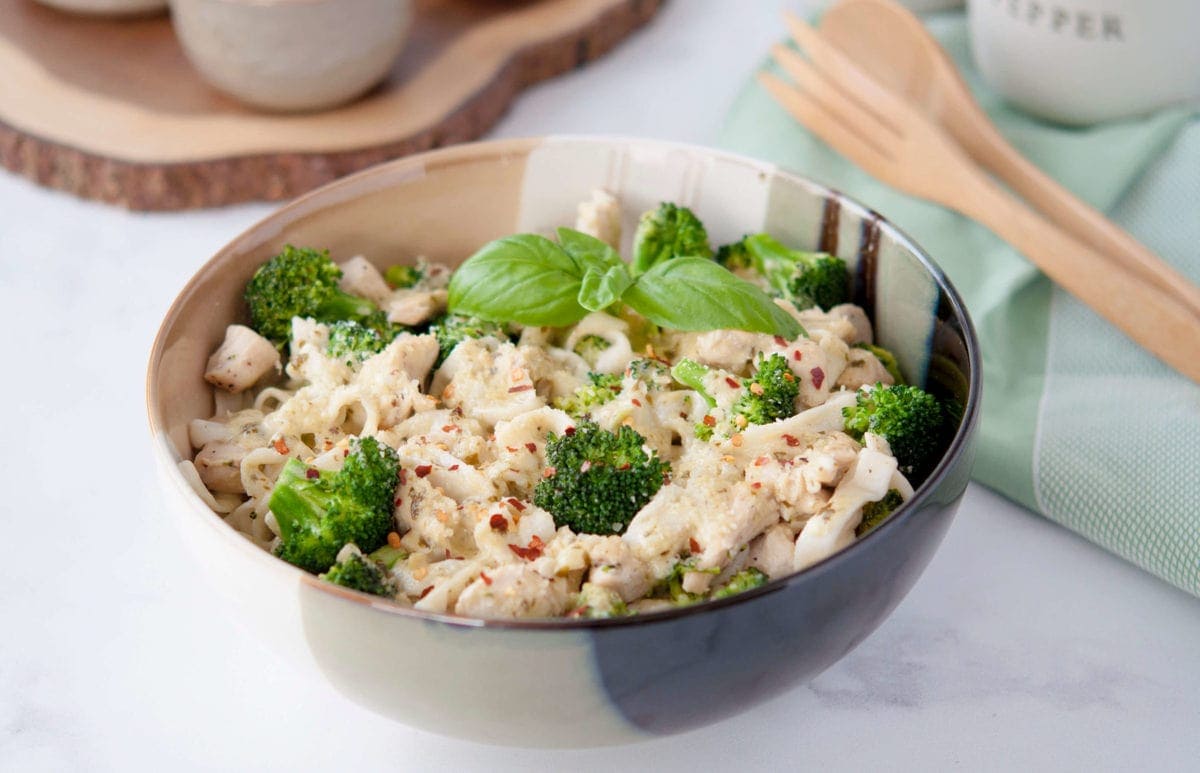 How to cook shirataki noodles for keto fettuccine alfredo:
Shirataki noodles, konjac noodles, miracle noodles, Japanese yam noodles – Whatever you wish to call them, there is one thing that usually rings true. They stink! They do. They really do. If you've ever opened up a bag of these low carb noodles, then you know the smell I am talking about. For many, it has been so off-putting that they opt to not even give them a try. But I am going to give you some tips and tricks that just might change all of that.
The type of shirataki noodle matters
Above all, a successful Keto Fettuccine Alfredo is largely dependent on the type of noodle you buy. I could never get used to the texture or taste of them until I found just the perfect brand. Now, it is the only brand I buy. It truly makes all of the difference in the world. I have been able to find them in nearly all of the grocery stores near me, but I usually buy them in a box of 10 from Amazon because it saves money. This is the brand of shiritaki noodles that I recommend. I have tried many other brands and have not been a fan.
Preparation shirataki noodles
If you try to take a bag of shirataki noodles and toss them directly in a pan, this is your first mistake. It is important to drain the liquid they are stored in and soak them in a bowl of fresh water. From there, drain them and give them another good rinse. If they still have an odor or feel a little slimy, I like to dry fry them in a pan for a few moments. Taking all of these steps will really help them absorb the flavors you are cooking them in and lose a lot of that rubbery texture. While this really helps, they are still not for everyone.
Incorporating shirataki noodles in other keto recipes
I have found that using them in Asian inspired cooking is usually the gateway into loving them. In my book Dairy Free Keto Cooking, I made a beef ramen that is so spot on taste and texture wise that I simply cannot get enough of it. They definitely resemble the texture of rice noodles more than they do a traditional flour pasta. However, through finding the perfect brand and taking the time to properly prepare them, I have become a big fan!
Fun ways to mix up this keto fettuccine alfredo recipe:
add some chopped sun-dried tomatoes and mushrooms
top it with some toasted pine nuts
instead of pesto, add a little but of low carb marinara sauce to make a tomato cream sauce
use zucchini noodles for low carb pasta in place of the shirataki noodles.
substitute shrimp in place of the chicken
make it vegetarian and instead of chicken, load it up with your favorite low carb vegetables
melt some herbed goat cheese into the sauce
make it extra cheesy and top it with some sharp cheddar cheese
In addition to this keto fettuccine alfredo, check out some of my other favorite keto pasta, potato, and rice substitutions:
Print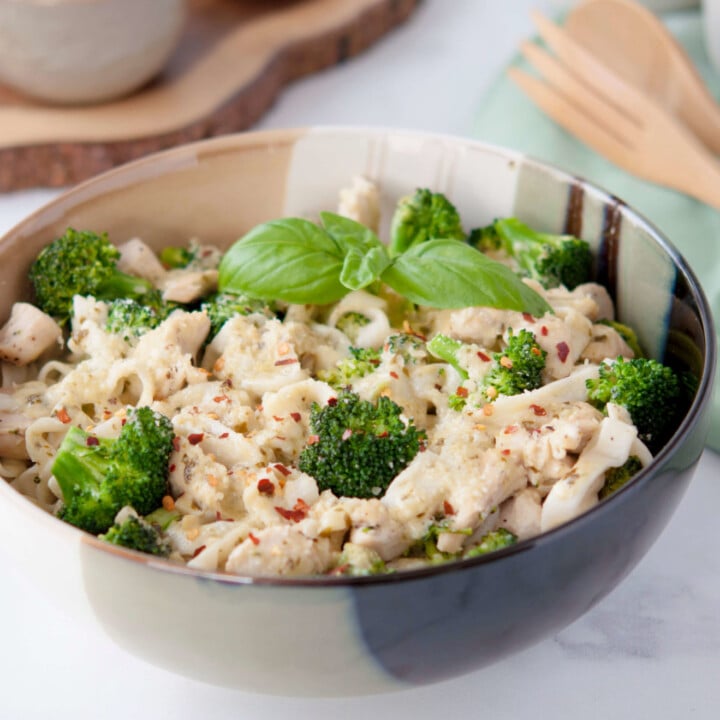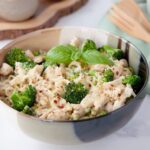 Chicken and Broccoli Keto Fettucine Alfredo with Pesto
---
---
Instructions
Drain the liquid from the packages of the shirataki noodles and place them in a bowl with fresh water to soak for 20 minutes. Drain the water and rinse thoroughly. Pat dry, and set aside
Season the cut-up chicken generously with salt and pepper.
Heat 1 tablespoon of the olive oil in a large skillet over medium heat. Once the oil is hot, add the chicken to the pan and sauté until it almost completely cooked through. Add the broccoli and the remaining 1 tablespoon of the olive oil to the pan and cook until the chicken is cooked all the way through, and the broccoli is crisp-tender.
While the chicken and broccoli are cooking, heat the butter and garlic in a medium sauce pan over medium-low heat. Cook until the garlic is fragrant and the butter begins to brown.
Increase the heat to medium and add the heavy cream, parmesan cheese and pesto. Bring to a slight boil and then reduce the heat to medium-low and let simmer and thicken.
Once the sauce has thickened, toss the shirataki noodles in the sauce and cook until the noodles are warmed.
Add the sauced noodles to the pan with the chicken and broccoli and toss to combine.
Garnish with fresh basil and red pepper flakes, if using.
Notes
Net Carbs Per Serving: 6.8g
Nutrition
Calories:

419

Fat:

28.5g

Carbohydrates:

10.3g

Fiber:

3.4g

Protein:

32g
Keywords: low carb pasta, keto pasta, keto fettuccine alfredo, low carb alfredo sauce, low carb recipes, keto recipes