This Keto Herbed Goat Cheese Cauliflower Mash is rich and creamy and doesn't even need gravy. It is flavorful all on its own. Keto Herbed Goat Cheese Cauliflower Mash is the perfect low carb side dish.
Keto Herbed Goat Cheese Cauliflower Mash
It is really hard to make a pile of mash look pretty, but trust me when I tell you that this is seriously delicious. It doesn't need a low carb gravy or any other kind of sauce. It is amazing straight out of the bowl. This keto herbed goat cheese cauliflower mash is one of my very favorite low carb side recipes. It pairs well with just about anything, but two of my favorite dishes to pair it with are my Keto Dijon Parmesan Crusted Pork Chops or my Pan Seared Chicken with Balsamic Cream Sauce, Mushrooms and Onions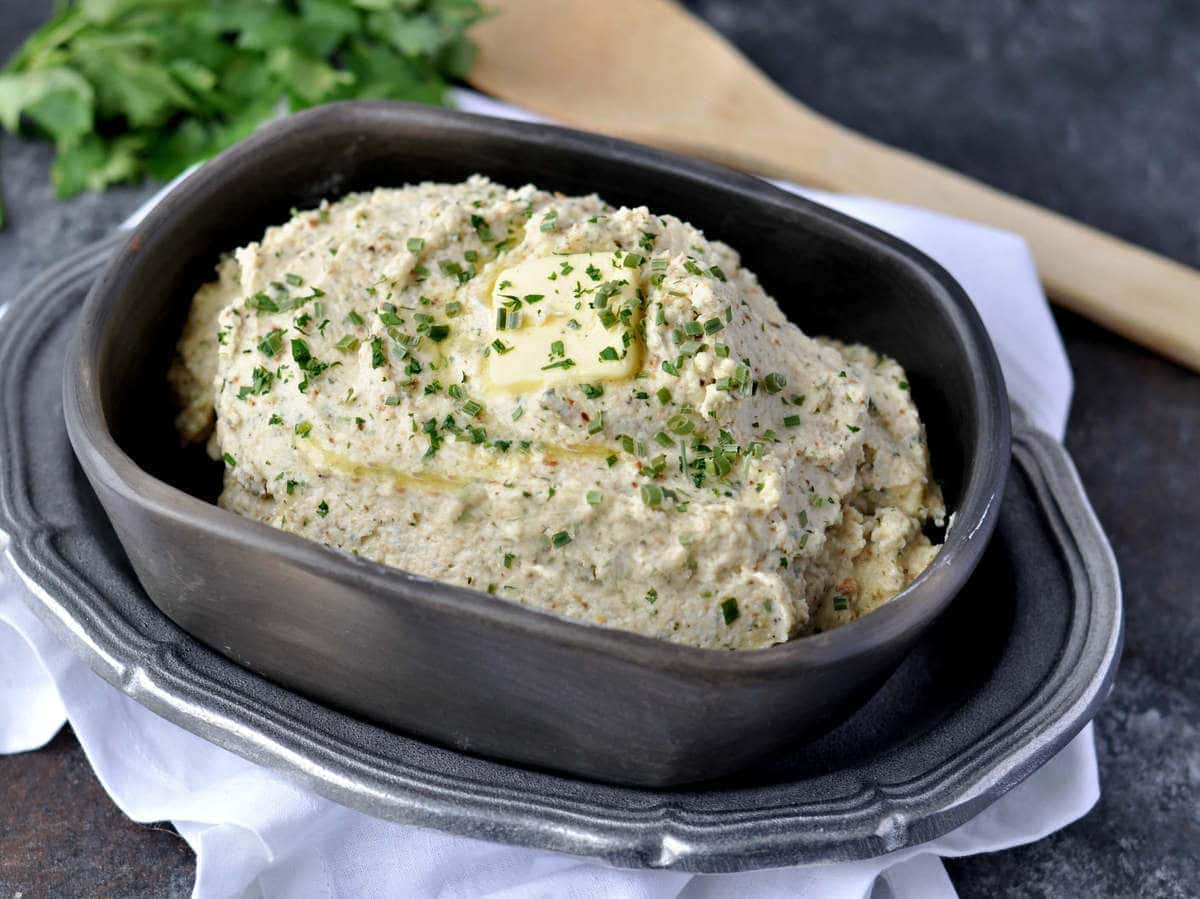 How to make cauliflower mash
This low carb cauliflower mash makes a great low carb substitution for mashed potatoes. Often times, cauliflower mash can be on the watery side because the cauliflower is typically steamed in water or broth and it can be absorbent like a sponge, holding in the liquid. I like to dry roast my cauliflower with only salt and pepper to prevent this. It makes the cauliflower mash a lot closer to actual potatoes and it really enhances the flavor. Also, roasting the cauliflower on a silicone baking mat makes the clean up a cinch.
Depending on the size of the head of cauliflower you use, you may want to add more heavy cream or butter than the recipes calls for. If the cauliflower mash feels too thick, just slowly add additional heavy cream as you puree it until it reaches the desired consistency. Additionally, you can also add chicken stock. Don't forget to check out some of my other favorite low carb cauliflower recipes and low carb side dish recipes.
Other keto side dish recipes you might enjoy
Print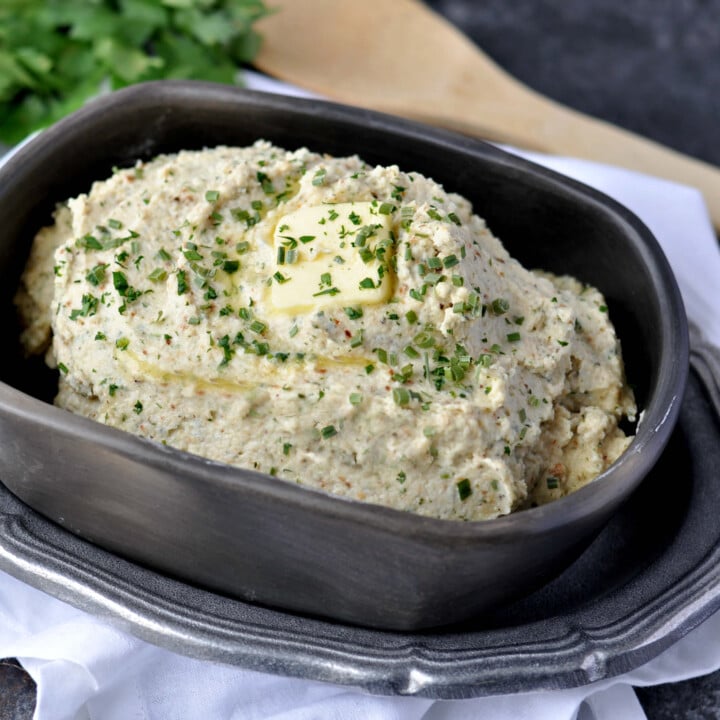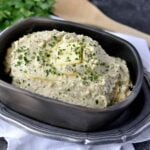 Keto Herbed Goat Cheese Cauliflower Mash
---
Description
Grab a copy of 30 Minute Ketogenic Cooking - Here
---
1

large head cauliflower
Sea salt and black pepper

4 ounces

goat cheese

½ cup

grated Parmesan cheese

½ cup

heavy cream

¼ cup

sour cream

¼ cup

butter

2 tablespoons

chopped fresh chives

1 tablespoon

chopped fresh flat-leaf parsley

1 teaspoon

chopped fresh dill

3

cloves garlic, minced
pinch red pepper flakes, optional
---
Instructions
Preheat the oven to 425°F. Line a rimmed baking sheet with parchment paper or a silicone baking mat.
Core the cauliflower and cut it into florets. Spread the cauliflower in a single layer across the prepared baking sheet. Sprinkle the cauliflower generously with salt and pepper.
Roast the cauliflower on the middle rack for 20 to 30 minutes or until it is tender.
Combine the roasted cauliflower, goat cheese, Parmesan cheese, heavy cream, sour cream, butter, chives, parsley, dill, garlic, and red pepper flakes, if using, into a food processor.
Pulse until smooth and fluffy. Taste, and add additional salt and pepper, if desired.
Top with butter and chopped herbs before serving.
Prep Time:

10 minutes

Cook Time:

30 minutes
Nutrition
Calories:

211

Fat:

18g

Carbohydrates:

7g

Fiber:

2g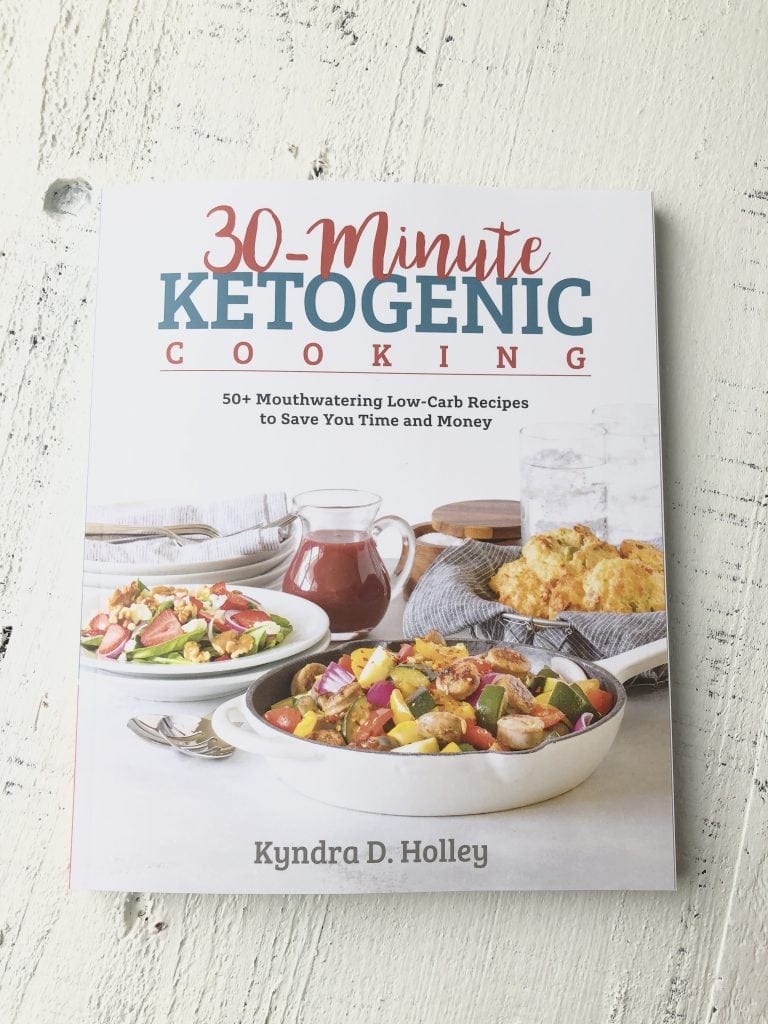 30 MINUTE KETOGENIC COOKING 50+ Mouthwatering Low-Carb Recipes to Save You Time and Money

Check out my other books -
HERE
I am so excited to help with a problem that so many people struggle with – Not having enough time! I can't even count how many times I have heard people say that they just don't have enough time to prepare healthy meals. So, what if I told you that I wrote an entire book of recipes that only require 30 minutes of hands-on time or less?
That's right, every recipe inside can be completed in 30 minutes or less and only contains ingredients that you can easily find at your local grocery store. No funny specialty ingredients here! Only real, whole foods!
50+ Mouthwatering recipes, ready in 30 minutes or less
STARTERS AND SNACKS
Buffalo Chicken Dip
Mediterranean Flat Bread
Dill Pickle Deviled Eggs
Buttery Garlic Crescent Rolls
Tahini Ranch Dip
Pico De Gallo
Cheddar Jalapeno Bacon Biscuits
SALADS
Strawberry Spinach Salad
Shaved Brussels Sprouts and Kale Salad
Greek Salad
Taco Wedge Salad
Cucumber Dill Tuna Salad
Barbecue Chicken Mockaroni Salad
BREAKFAST
Fortune Cookie Waffles
Ham and Spinach Eggs Benedict
Cheesy Pico Eggs
Sausage Balls
Sour Cream and Chive Egg Clouds
Ham and Cheese Waffles
Chicken Cordon Bleu Frittata
LUNCH AND DINNER
Pork Chops with Herbed Goat Cheese Butter
Spicy Sausage and Cabbage Stir-Fry
Zucchini Noodles with Hamburger Gravy
Chicken Sausage and Vegetable Skillet
Sloppy Joe Stuffed Peppers
Cheesy Salsa Verde Chicken Casserole
Greek Meatballs
Grilled New York Steak with Blue Cheese Dijon Cream Sauce
Fish Taco Bowls
Herbed Chicken and Mushrooms
Skillet Chicken Parmesan
Shrimp Piccata
Salisbury Steak
Buffalo Chicken Roasted Cabbage Steaks
Zucchini Noodles with Pesto Cream Sauce
SIDES
Pan-Fried Brussels Sprouts with Creamy Dijon Cider Dressing
Green Onion and Lime Cauliflower Rice
Cheesy Zucchini Gratin
Sauteed Asparagus with Mushrooms and Bacon
Cauliflower Steaks with Cheesy Bacon Sauce
Sauteed Green Beans with Ham
Herbed Goat Cheese Cauliflower Mash
SWEET TREATS
Chocolate Chip Cookies for Two
Mini Blueberry Cheesecakes
Double Chocolate Flourless Brownies
Lemon Mousse
Sesame Shortbread Sugar Cookies
Pumpkin Cheesecake Mousse
Avocado Chocolate Pudding
Hungry? YOU CAN GRAB A COPY -
HERE