All the delicious flavors of your favorite classic diner sandwich, but in a healthier low carb reuben chopped salad rendition. Complete with scratch made Russian dressing.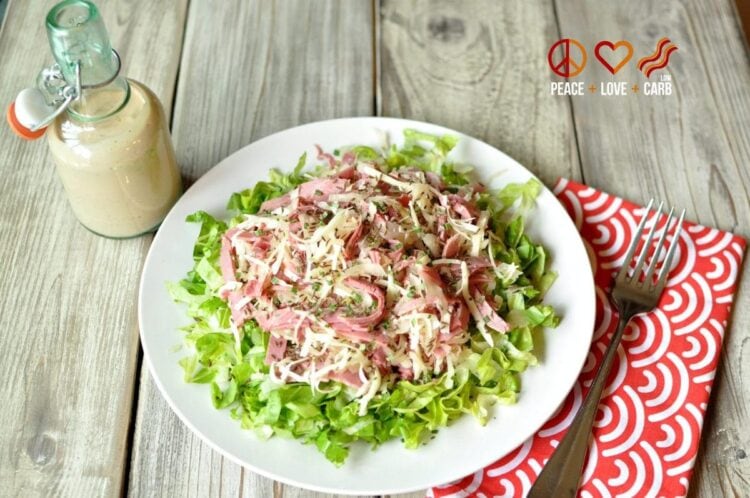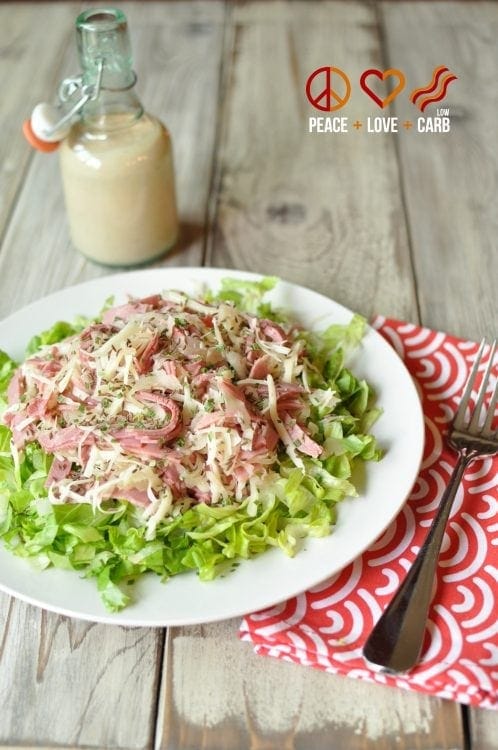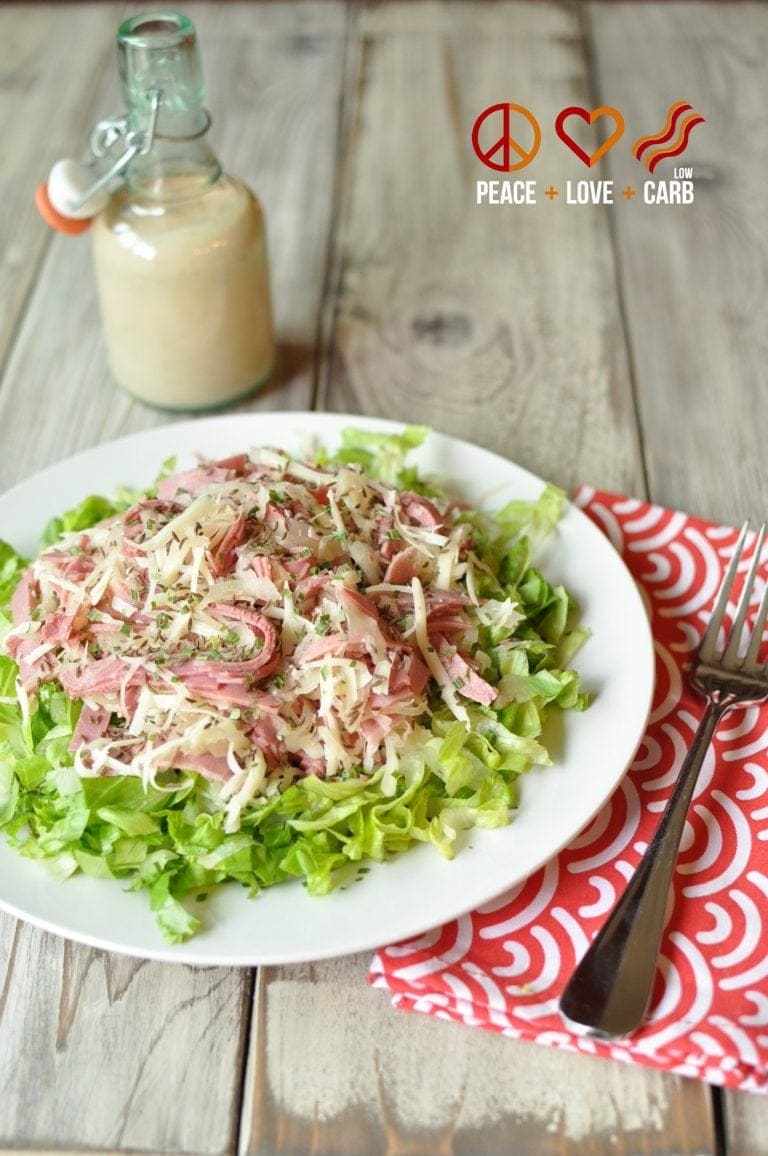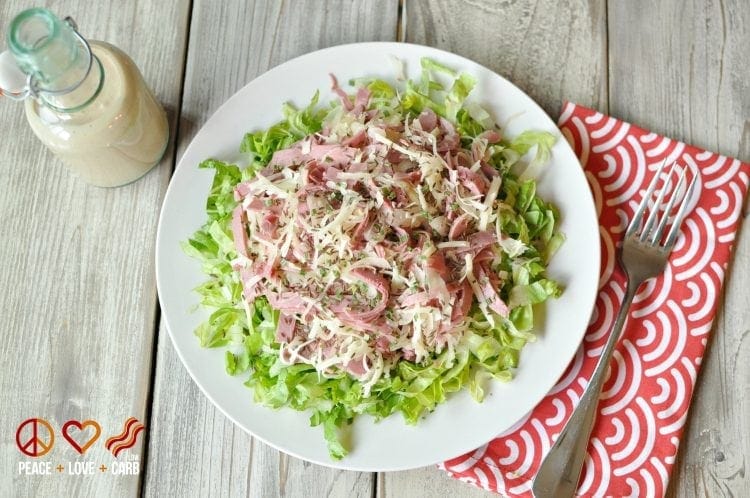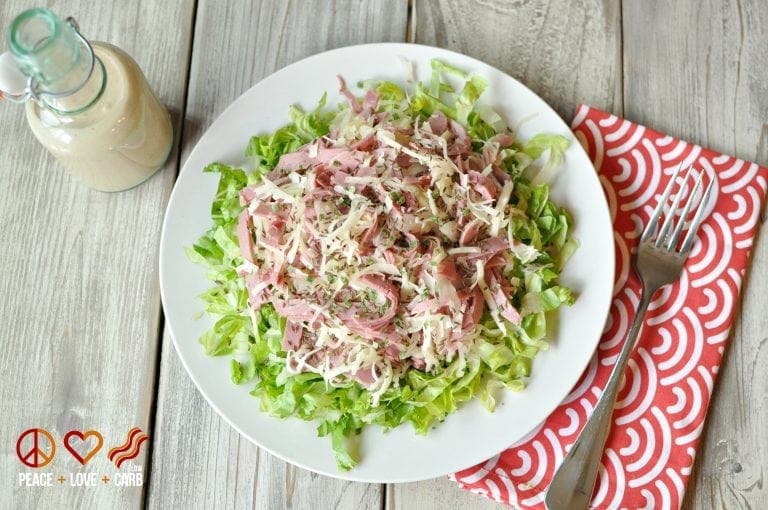 Now that my new cookbook is done, I am finally back to cooking just out of sheer passion and when the mood strikes. I have to admit that it feels pretty great. My husband is off work this week and we are doing a mock run of what it would look like if he were to quit his job and come to work for Peace, Love and Low Carb full-time. It has been a great week so far. More time together and I can get more things accomplished. Those are his handsome, manly hands pouring the dressing. Ooh la la! I'll keep you posted on how things go, but I have a sneaking suspicion that you just might be seeing a lot more of him. Hey!! Keep it clean, you know what I meant!
From the very beginning of my blog, it has been my goal to give you back all of your favorite comfort foods but in creative low carb versions. Why skip your favorite diner sandwich when you can have it as a big, hearty salad? Sure, you might still miss the bread, but once that corned beef hits your lips, you'll forget all about the bread. You'll be like "bread shmead, who needs ya?" This salad was an instant hit in my home and I hope it will be the same in yours.
Check out some of my other favorite low carb salad recipes:
Print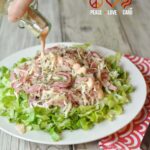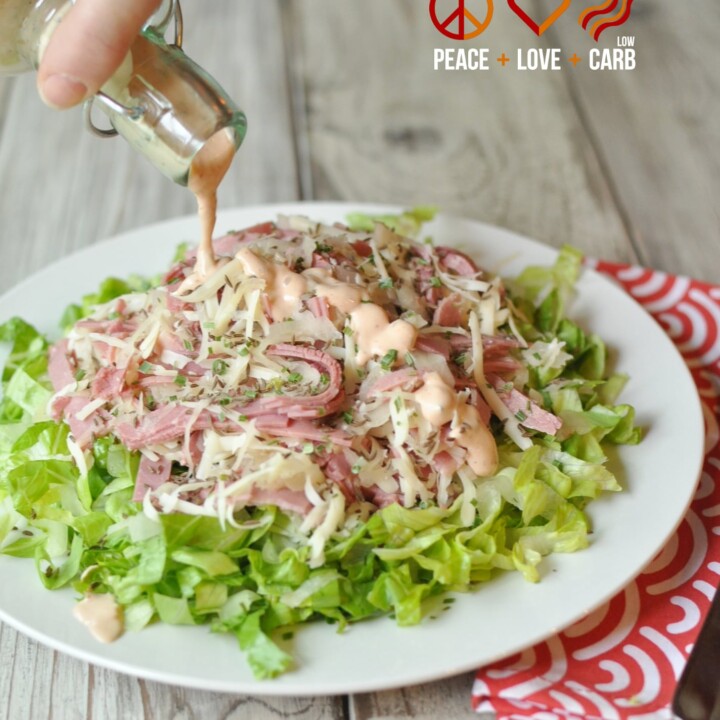 Low Carb Reuben Chopped Salad
---
For the Reuben Chopped Salad
1

large head romaine lettuce, shredded

½

lb deli style corned beef, thinly sliced

1 cup

Swiss cheese, shredded

1 cup

sauerkraut

2 tbsp

caraway seeds

2 tbsp

chives, chopped
For the Russian Dressing
---
Instructions
For the Reuben Chopped Salad
Divide chopped romaine evenly between four plates.
In a large bowl, combine corned beef, Swiss cheese and sauerkraut
Divide mixture among the four plates of lettuce.
Sprinkle caraway seeds and chives over top of each plate.
Serve with Russian dressing.
For the Russian Dressing
In a large mixing bowl, combine mayonnaise, ketchup, mustard, Worcestershire sauce, parsley, chives and dill. Mix until all ingredients are well incorporated.
Notes
For the Salad (Per Serving) Calories: 240 | Fat: 12g | Protein: 25g | Total Carbs: 8.5g | Fiber: 4.25 g | Net Carbs: 4.25g
For the Dressing (Makes 8 Servings) (Per Serving - ¼ cup) Calories: 190 | Fat: 20g | Protein: 0g | Total Carbs: 1.5g | Fiber: 0g | Net Carbs: 1.5g