One taste of this Dairy Free Keto Ranch Dressing and you would never guess that there is no dairy in the recipe. It is creamy, herbaceous perfection. Best of all, it is Whole30 compliant.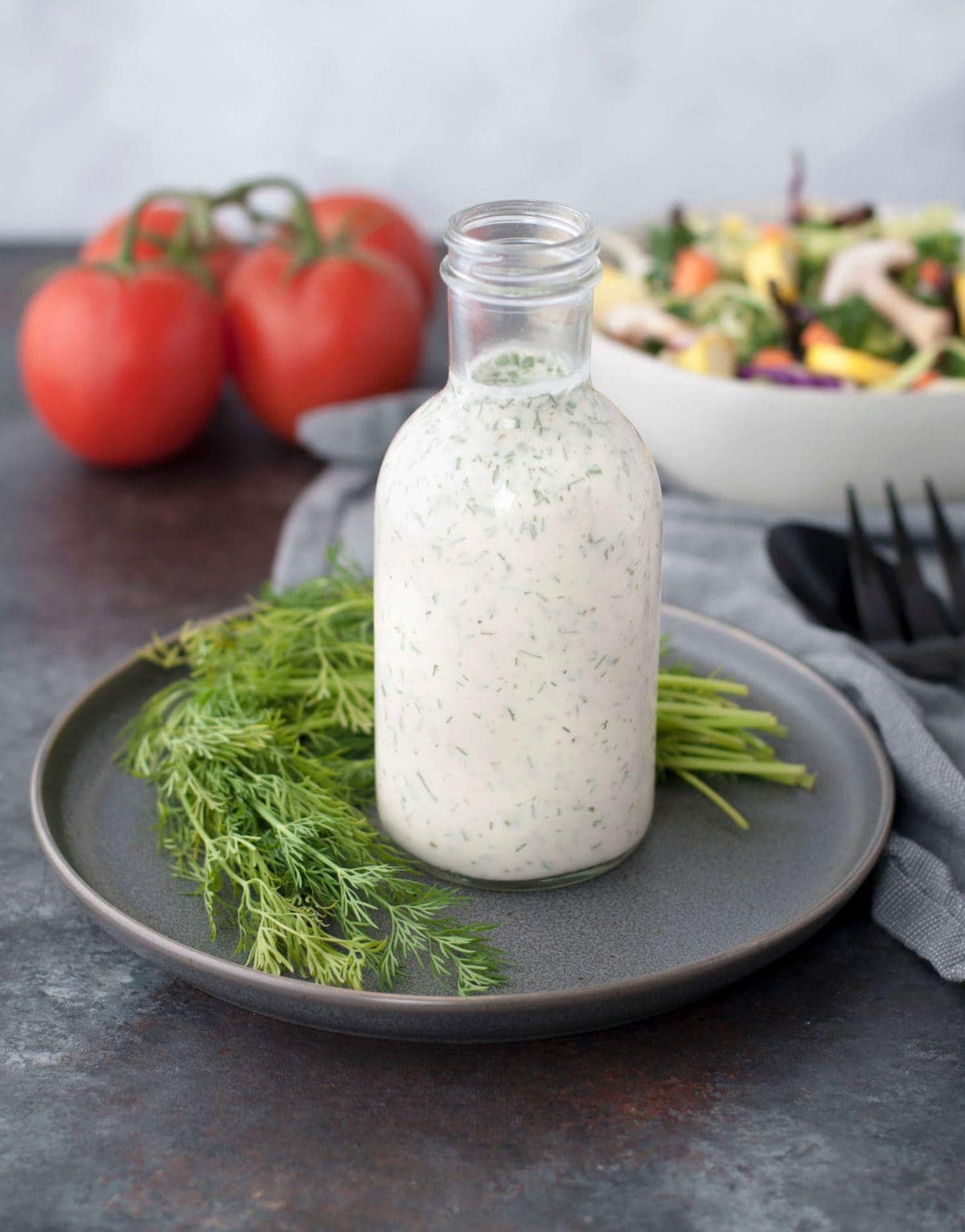 whole30 compliant ranch dressing recipe
If there is one thing I love, it is a good ranch dressing recipe. I think that is obvious by the number of low carb ranch dressing recipes here on my site. Let me just tell you, that I am a picky ranch dressing eater too. Not just any ranch will do! It has to be garlicky, creamy, and herbaceous. This dairy free keto ranch dressing recipes fits the bill perfectly. It is tried and true. I made several different variations of this recipe before deciding that this was the perfect one! Best of all, this is even a whole30 compliant ranch dressing recipe. I even tried a lot of store-bought Whole30 compliant brands like Tessemae's, and Primal Kitchen. While I did like the taste of them, they just didn't taste like ranch to me. They tasted more like a creamy Italian. I knew that I was never going to be satisfied until I just made my own. So I did! I made a deliciously creamy ranch dressing that is dairy free, keto friendly, and Whole30 compliant. It is sure to become your new favorite.
Why dairy free ranch?
I have been following a low carb, keto lifestyle for many years now, but it is only as of the last year or so that I have really begun to focus on dairy free keto. I am even working on a dairy free keto cookbook right this very moment. My body feels best when I combine paleo principles with a ketogenic way of eating - Low carb, high fat, but without dairy, grains, or gluten.
I love to have this dairy free ranch dressing on just about everything. I put it on all my salads, I use it as a dip for fresh veggie trays, I put it on tacos, everything. I told you I am a ranch addict. If my salad has this keto ranch dressing and my low carb pickled red onions on it, then I am a happy camper!
For all my keto Whole30 friends, as long as you use a compliant mayonnaise or make my Whole30 mayonnaise recipe that is linked below, you now have a delicious, go-to Whole30 ranch dressing recipe!
Substitutions and swaps:
Using dried herbs
You can substitute dried herbs in place of the fresh, but not in equal amounts. A good rule of thumb is 1 teaspoon of dried herbs equals 1 tablespoon of fresh herbs. If you are using freeze dried herbs as I frequently do, you would use the same amount as fresh. I love to buy the Litehouse freeze dried herbs. You can usually find them in the produce section at the grocery store, but you can get a way better deal by buying the large bottles at Costco for the same price as the smaller bottles at the grocery store.
Consistency
You may want to add more or even less water, depending on the thickness of the mayonnaise you use and how thick you like your salad dressing. If you want to make your own mayo, which I highly recommend, try out my Easy Peasy 2 Minute Paleo Mayonnaise recipe. It is keto, and even Whole30 compliant. Add the water 1 tablespoon at a time until you achieve the consistency you desire.
Egg-free option
If you are looking for an egg free mayonnaise, you can do what I do and substitute a vegan mayo like Just Mayo It is my favorite egg free mayo. You would never know the difference! Then you have the perfect egg free, dairy free keto ranch dressing recipe.
storage
I like to make this in a wide mouth mason jar, add all the ingredients, cap and shake. Then I just store it in the same jar I made it in. Get my favorite mason jar lids - here
You can eat this right away, but it does taste best after 24 hours in the refrigerator. That gives time for all the flavors to come together. YUM!
More low carb dressing and sauce recipes:
Print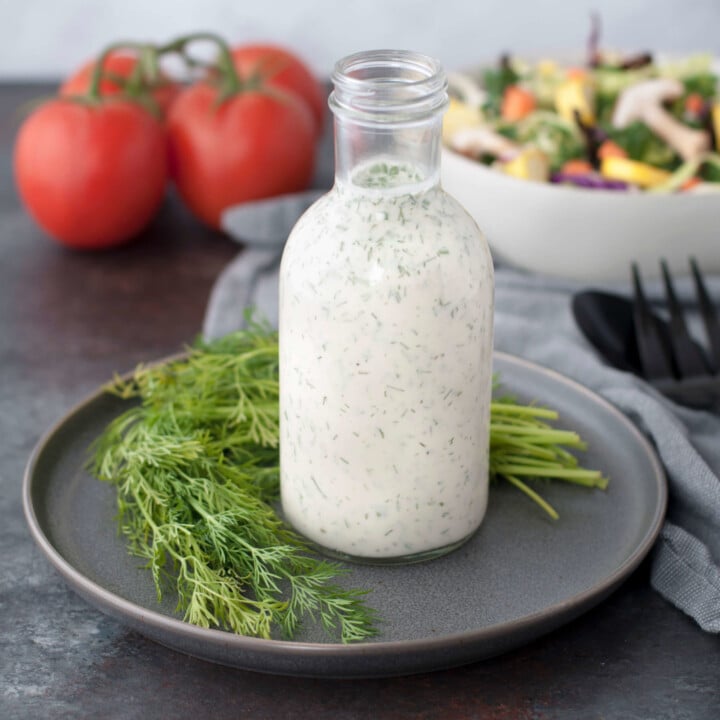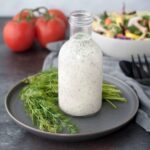 Dairy Free Keto Ranch Dressing
---
1 cup

mayonnaise (get my Whole

30

mayo recipe here)

¼ cup

water

2 teaspoons

chopped fresh chives

1 ½ teaspoons

apple cider vinegar or fresh lemon juice

1 teaspoon

Dijon mustard

1 teaspoon

chopped fresh dill weed

1 teaspoon

chopped fresh flat-leaf parsley

1 teaspoon

garlic powder

½ teaspoon

onion powder (I use these organic spices)

½ teaspoon

sea salt

½ teaspoon

black pepper
---
Instructions
Combine all ingredients together in a mason jar, cap, and shake to combine. Alternately, you can combine all of the ingredients together in a mixing bowl, and whisk until well incorporated.
Store in the refrigerator for up to 2 weeks. (If it lasts that long 🙂 )
Nutrition
Serving Size:

2 tablespoons

Calories:

122

Fat:

13g

Carbohydrates:

.3g

Fiber:

0g

Protein:

0g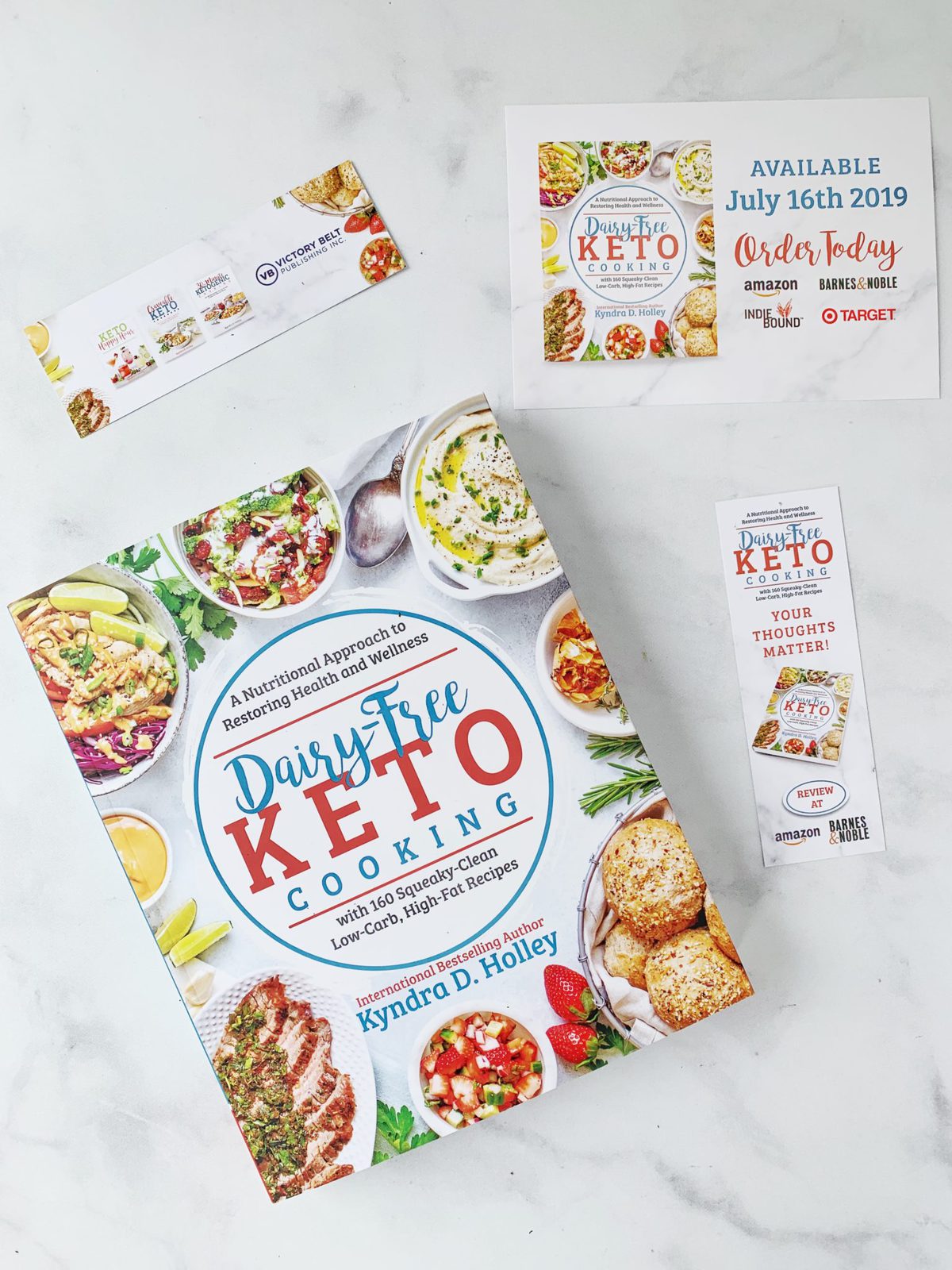 DAIRY-FREE KETO COOKING: A Nutritional Approach to Health and Wellness. With 150 Squeaky Clean Low-Carb, High-Fat Recipes
Check out my other books -
HERE
Using only approachable and accessible, nutrient dense, real food ingredients, I put together a dairy-free keto roadmap that does not require a search for unfamiliar specialty ingredients or that you have a gourmet kitchen. Each one of these delectable recipes is rooted in simplicity and calls for ingredients that can be found at your local grocery store. I'm showing you how to incorporate dairy-free substitutions that go far beyond the coconut.
In addition to tantalizing your palate with tasty recipes, Dairy-Free Keto Cooking will teach you how to restore your health and wellness, while living a lifestyle that nourishes you in mind, body, and spirit. Whether your goal is to lose weight, heal your body from the inside out, or simply find your own personal version of food freedom, I'm here to help you along in your journey to finding your personal path to wellness.
YOU CAN GRAB A COPY -
HERE
Dairy-Free Keto Cooking features something for everyone. If you suffer from dairy intolerances or food allergies, this is the book for you. If you are someone who just loves easy to make, delicious food, then this book is for you. I added a bit of everything everything, including suggestions for adding or reintroducing dairy for all the cheese loving, quesophiles.
With recipes like this, how could anyone possibly feel deprived?
Slow Cooker Pork Carnitas
Cowboy Style Beef Ragout
Sweet and Spicy Barbecue Ribs
Loco Moco
Pork Tenderloin with Dill Sauce
Flourless Chocolate Lava Cake
Easy Peasy Cuban Picadillo
Salted Caramel Chocolate Chip Cookies
Blueberry Maple Breakfast Sausage
Crab Salad Stuffed Avocado
Scotch Eggs
Supreme Pizza Soup
Jalapeño Popper Chicken Salad Sandwiches
Blackened Shrimp Fettucine Alfredo
and much, much more!
I wrote this book with everyone in mind and it is complete with several different meal plans (paleo, AIP, Egg free, nut free, 30 minute meals) as well as tons of valuable resources. Dairy-Free Keto Cooking will quickly become your go-to cookbook!
YOU CAN GRAB A COPY -
HERE