One taste of this Keto Friendly Dairy Free Ranch Dressing recipe and you will never go back to store-bought again. You would never be able to tell that it is dairy free. It is creamy, herbaceous perfection. Best of all, it is low carb, gluten free, paleo, and even Whole30 compliant.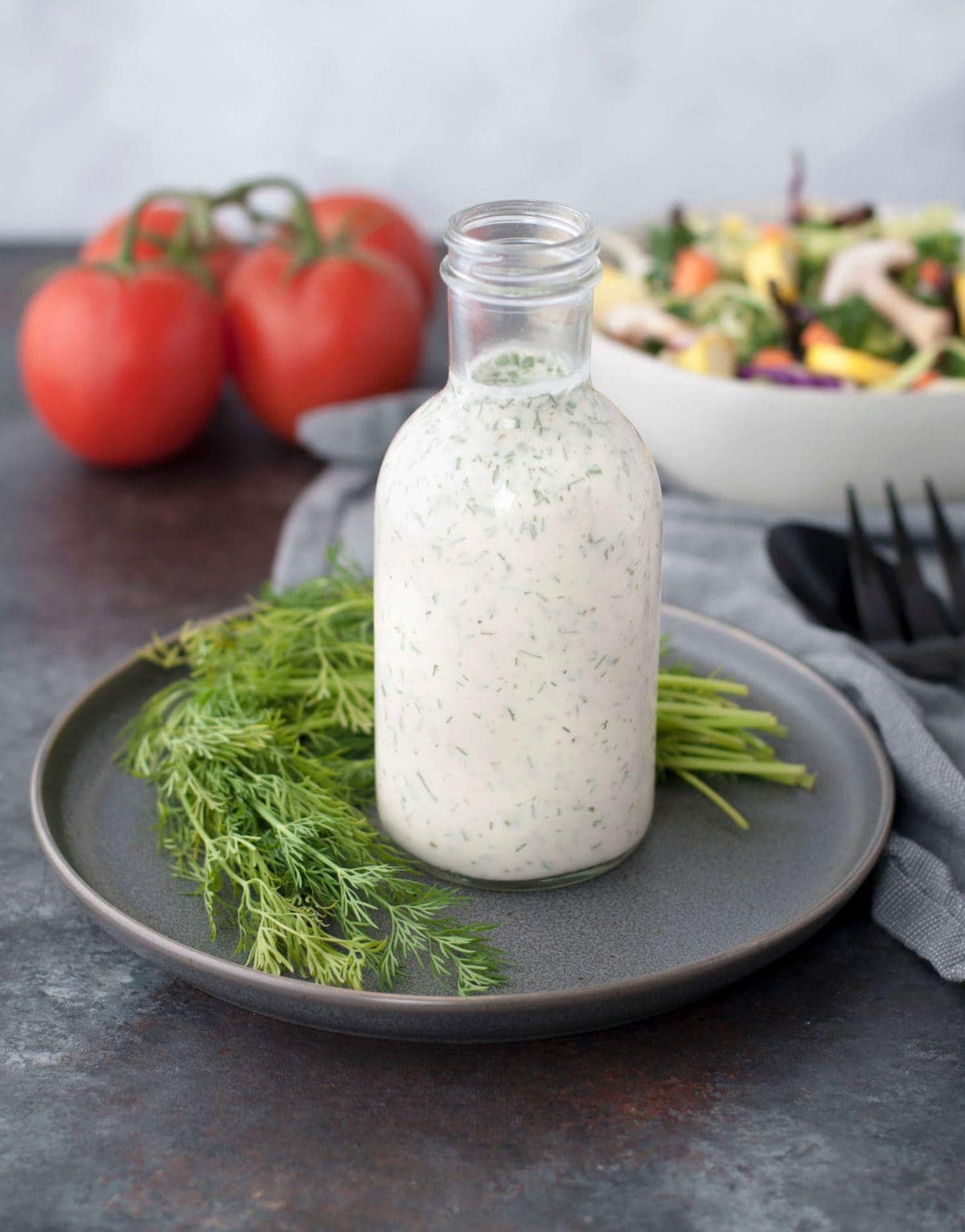 The best dairy free ranch dressing recipe
If there is one thing I love, it is a good ranch dressing recipe. I think that is obvious by the number of low carb ranch dressing recipes here on my site. Let me just tell you, that I am a picky ranch dressing eater too. Not just any ranch will do! It has to be garlicky, creamy, and herbaceous. This keto dairy free ranch dressing recipes fits the bill perfectly. It is tried and true. I made several different variations of this recipe before deciding that this was the perfect one! Best of all, this is a low carb, keto, gluten free, paleo and even whole30 compliant ranch dressing recipe.
Substitutions and Swap
Using dried herbs
You can substitute dried herbs in place of the fresh, but not in equal amounts. A good rule of thumb is 1 teaspoon of dried herbs equals 1 tablespoon of fresh herbs. If you are using freeze dried herbs as I frequently do, you would use the same amount as fresh. I love to buy the Litehouse freeze dried herbs. You can usually find them in the produce section at the grocery store, but you can get a way better deal by buying the large bottles at Costco for the same price as the smaller bottles at the grocery store.
Consistency
You may want to add more or even less water, depending on the thickness of the mayonnaise you use and how thick you like your salad dressing. If you want to make your own mayo, which I highly recommend, try out my Easy Peasy 2 Minute Paleo Mayonnaise recipe. It is keto, and even Whole30 compliant. Add the water 1 tablespoon at a time until you achieve the consistency you desire.
Egg-free option
If you are looking for an egg free mayonnaise, you can do what I do and substitute a vegan mayo like Just Mayo It is my favorite egg free mayo. You would never know the difference! Then you have the perfect egg free, dairy free keto ranch dressing recipe.
Storage
I like to make this in a wide mouth mason jar, add all the ingredients, cap and shake. Then I just store it in the same jar I made it in. Get my favorite mason jar lids - here
You can eat this right away, but it does taste best after 24 hours in the refrigerator. That gives time for all the flavors to come together. YUM!
Other recipes you might enjoy
Print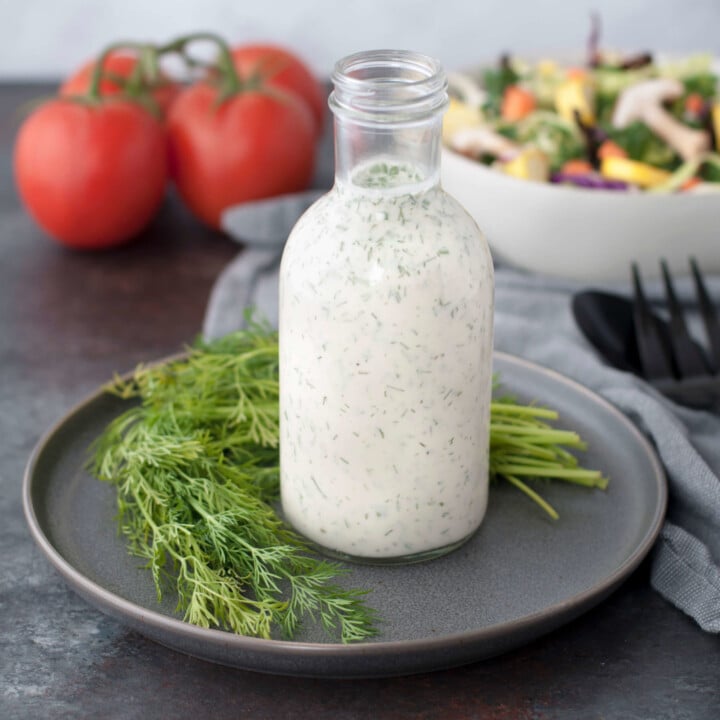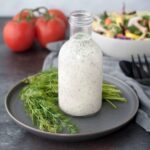 Dairy Free Keto Ranch Dressing
---
1 cup

mayonnaise (get my Whole

30

mayo recipe here)

¼ cup

water

2 teaspoons

chopped fresh chives

1 ½ teaspoons

apple cider vinegar or fresh lemon juice

1 teaspoon

Dijon mustard

1 teaspoon

chopped fresh dill weed

1 teaspoon

chopped fresh flat-leaf parsley

1 teaspoon

garlic powder

½ teaspoon

onion powder (I use these organic spices)

½ teaspoon

sea salt

½ teaspoon

black pepper
---
Combine all ingredients together in a mason jar, cap, and shake to combine. Alternately, you can combine all of the ingredients together in a mixing bowl, and whisk until well incorporated.
Store in the refrigerator for up to 2 weeks. (If it lasts that long 🙂 )
Nutrition
Serving Size:

2 tablespoons

Calories:

122

Fat:

13g

Carbohydrates:

.3g

Fiber:

0g

Protein:

0g