These Keto Cauliflower Pizza Poppers are the perfect low carb party appetizer. All the delicious flavors of pizza in a bite sized cauliflower popper.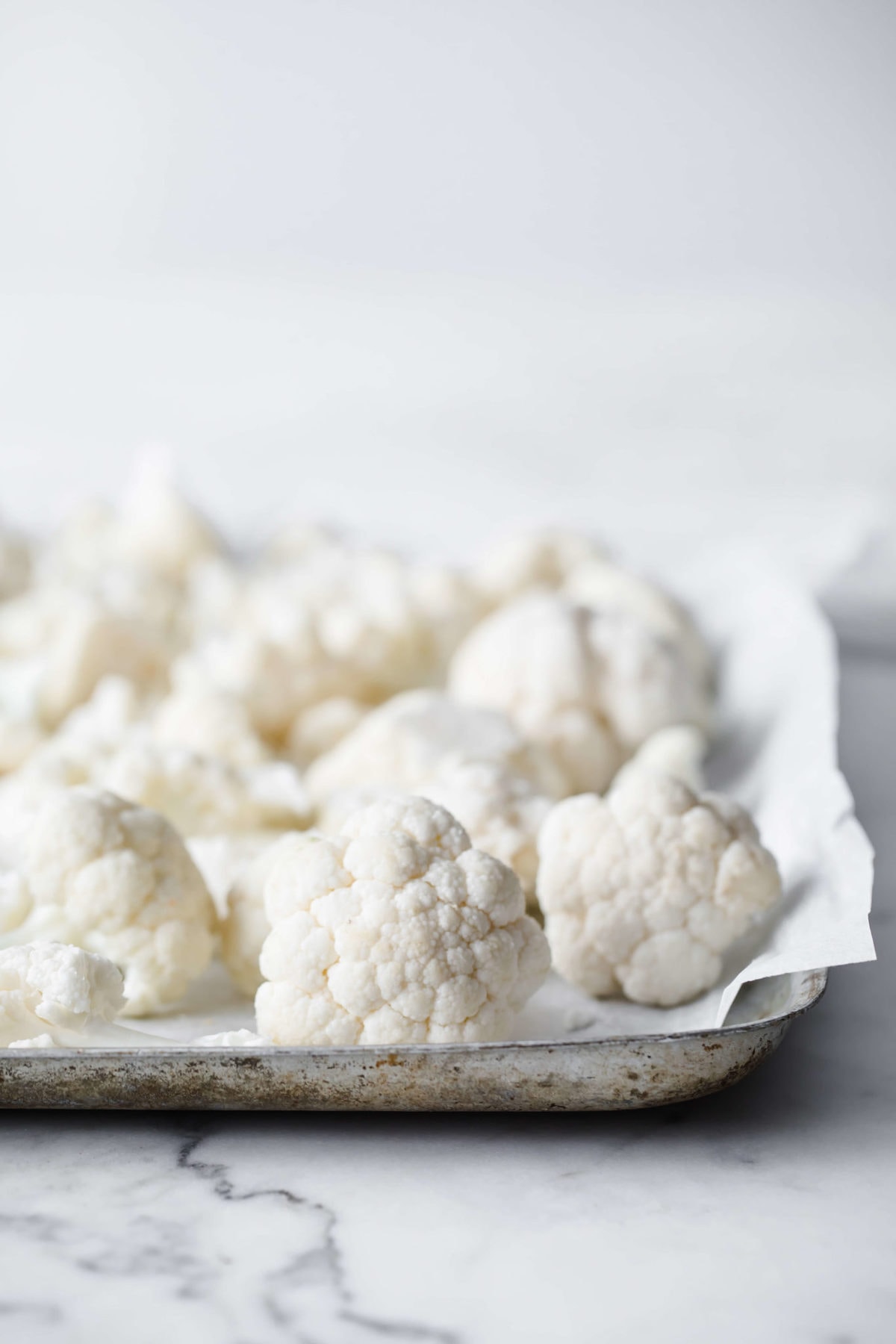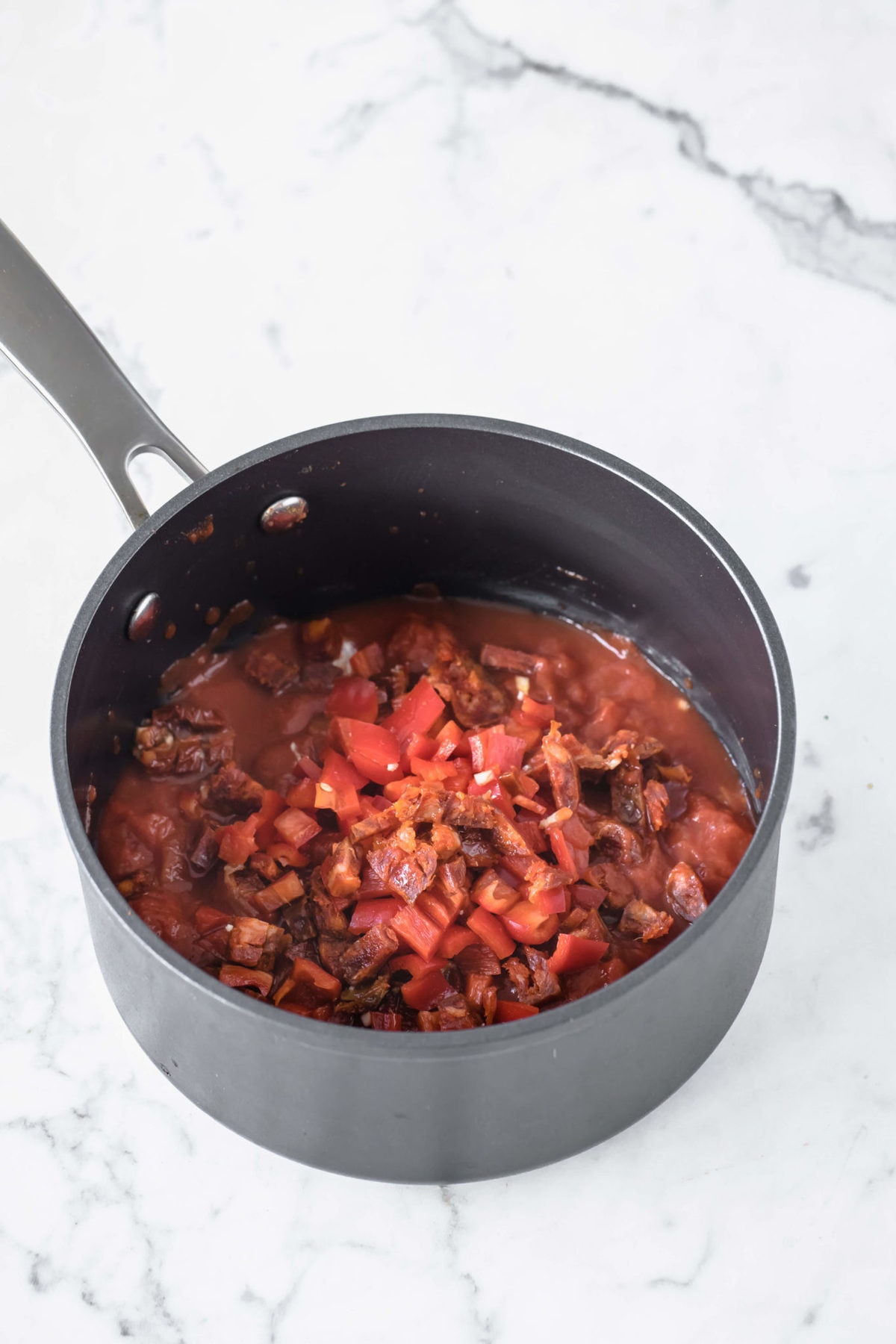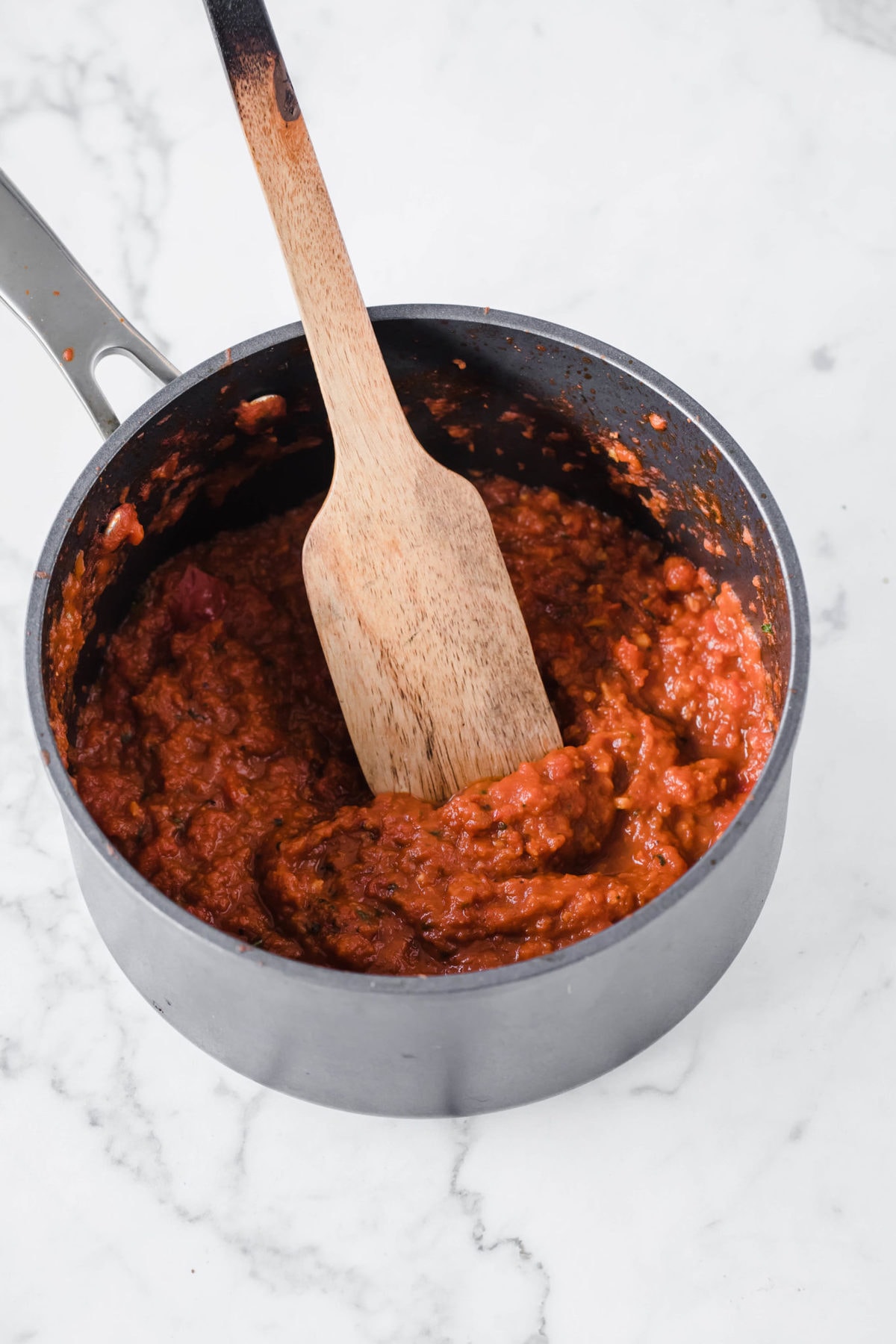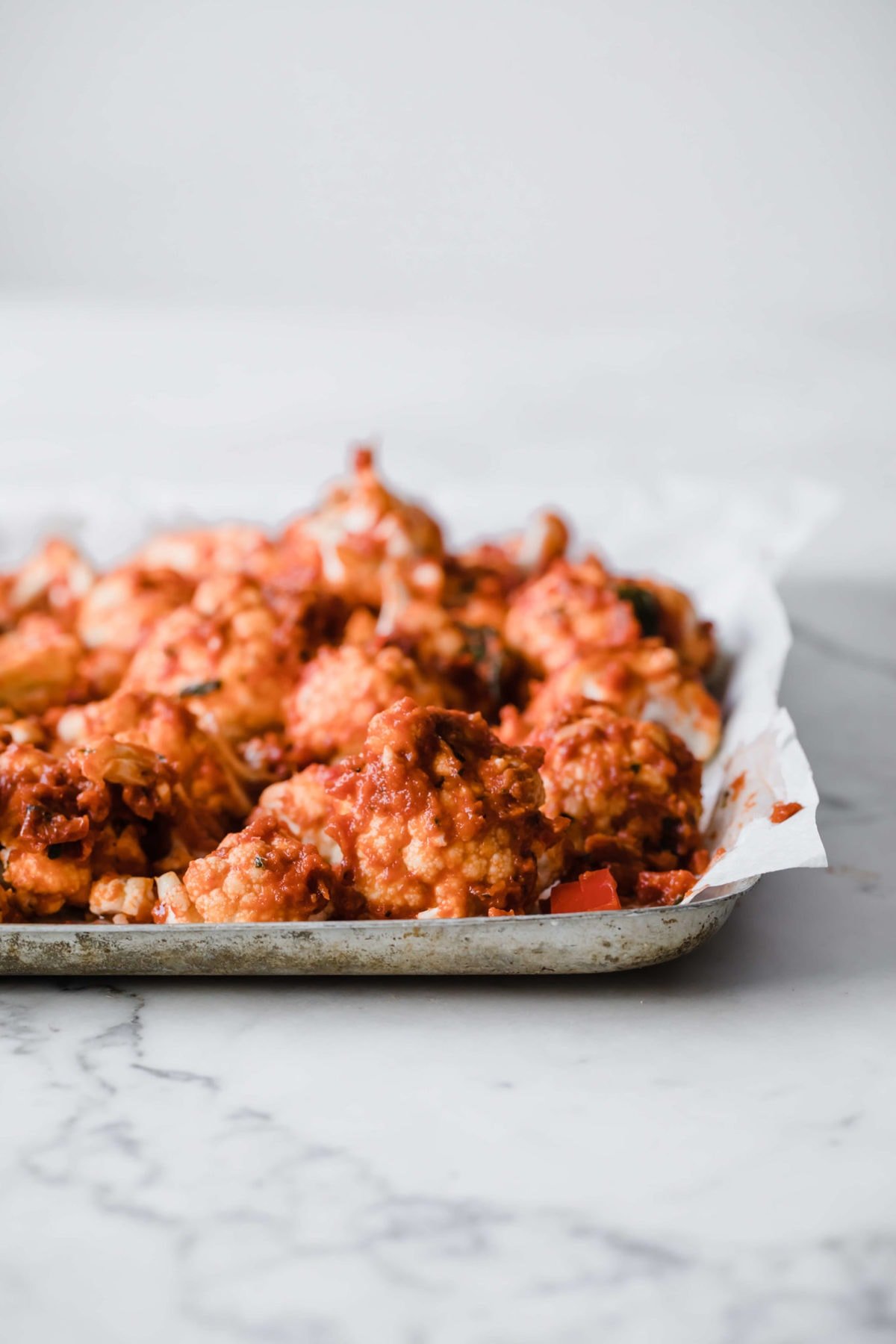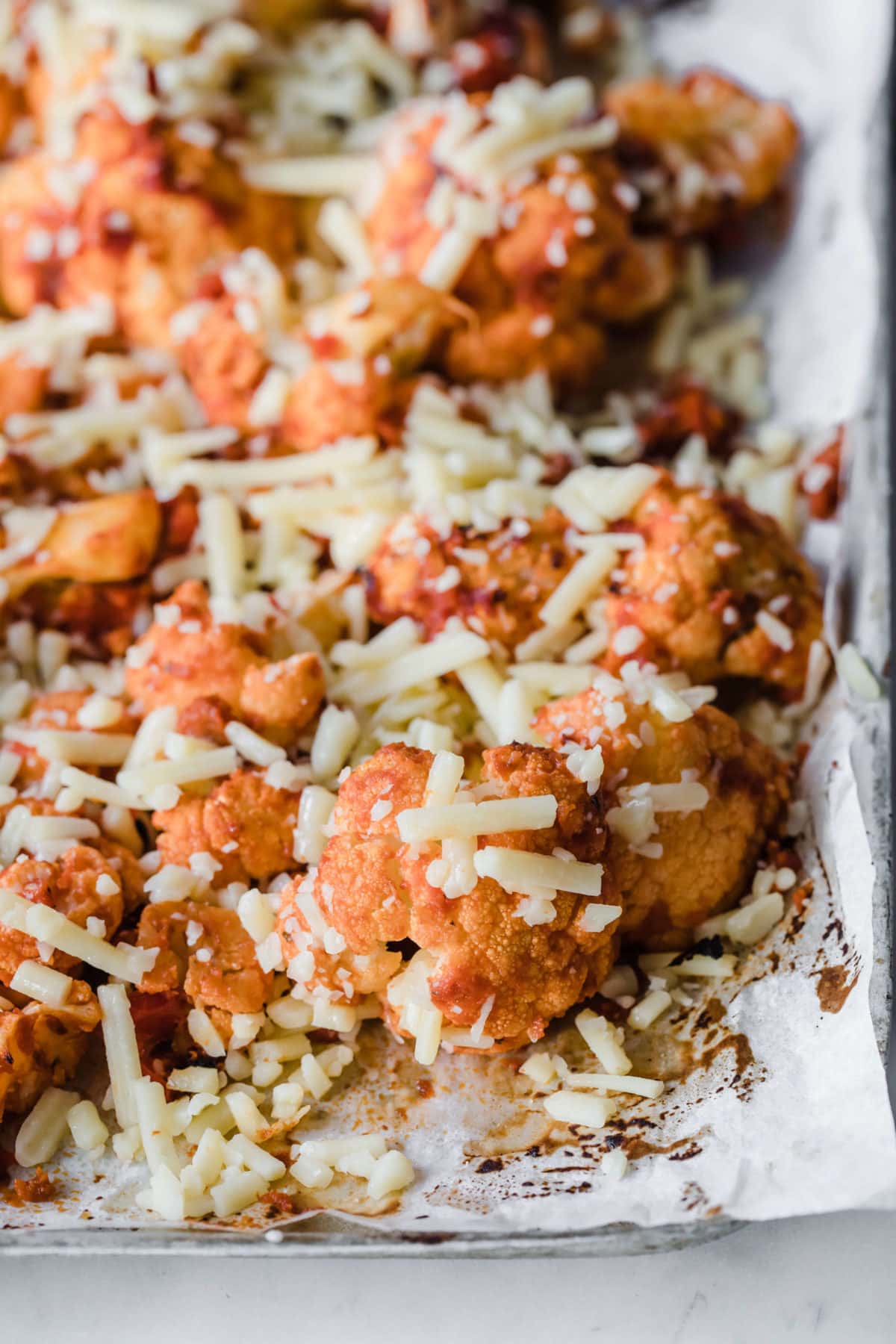 How Many Carbs in Cauliflower?
Cauliflower is a staple in low carb, keto diets. With it's mild flavor and ability to take on a similar texture to rice, potatoes, and even pasta, it is incredibly versatile in low carb recipes. One of my favorite ways to cook with cauliflower is to give it all the delicious flavors of pizza. Even better, low carb pizza. Check out my Supreme Pizza Cauliflower Casserole Recipe.
carbs in large head of cauliflower (7-8 inches) 20-22 net carbs
carbs in medium head of cauliflower (5-6 inches) 15-17 net carbs
carbs in small head of cauliflower (3-4 inches) 8-10 net carbs
carbs in 1 cup cauliflower 4.7-5.3 net carbs
carbs in 1 ounce cauliflower 1.4 net carbs
carbs in 1 pound cauliflower 24 net carbs
carbs in 1 cup riced Cauliflower 4.7 net carbs
carbs in 1/2 cup frozen cauliflower 2.7-3.3 net carbs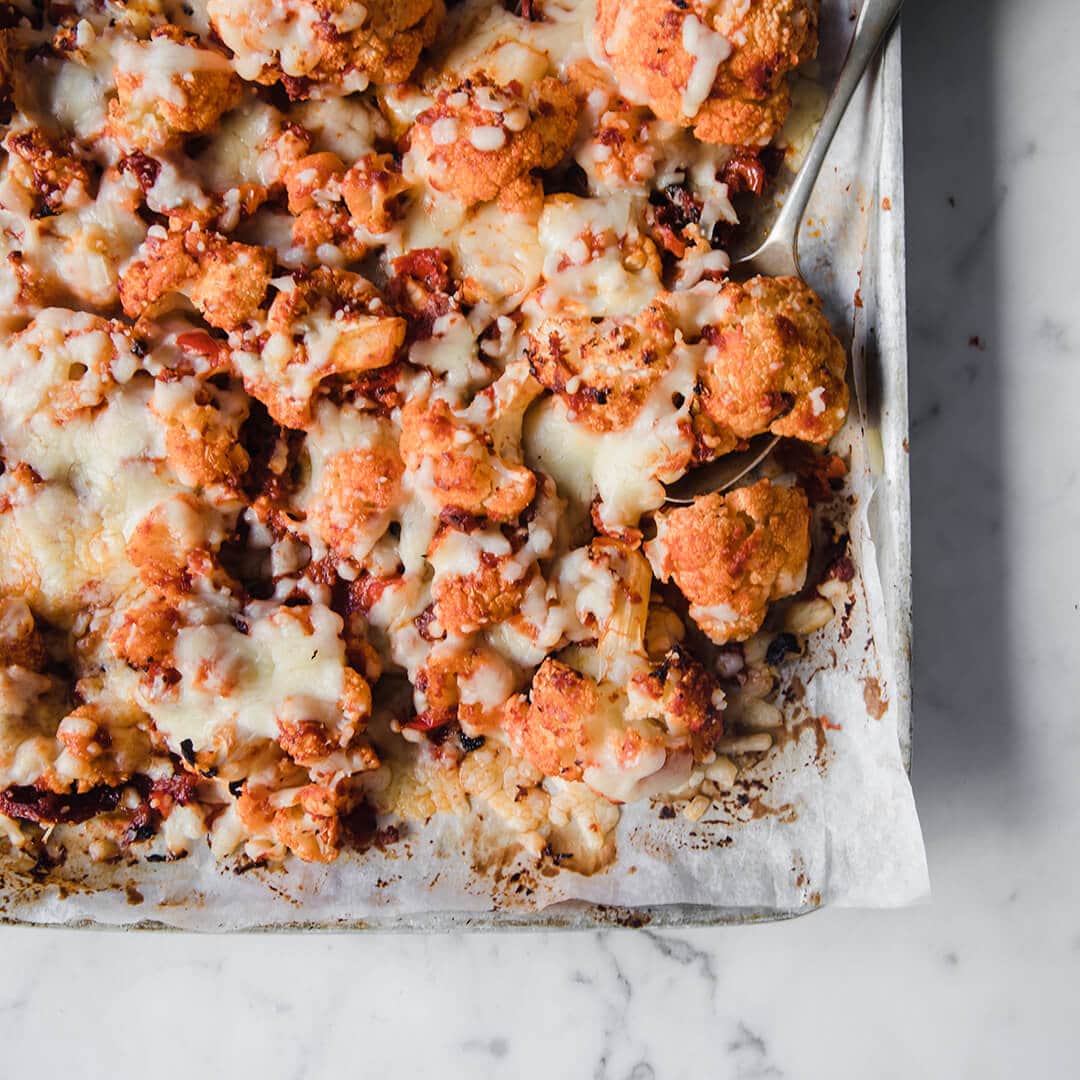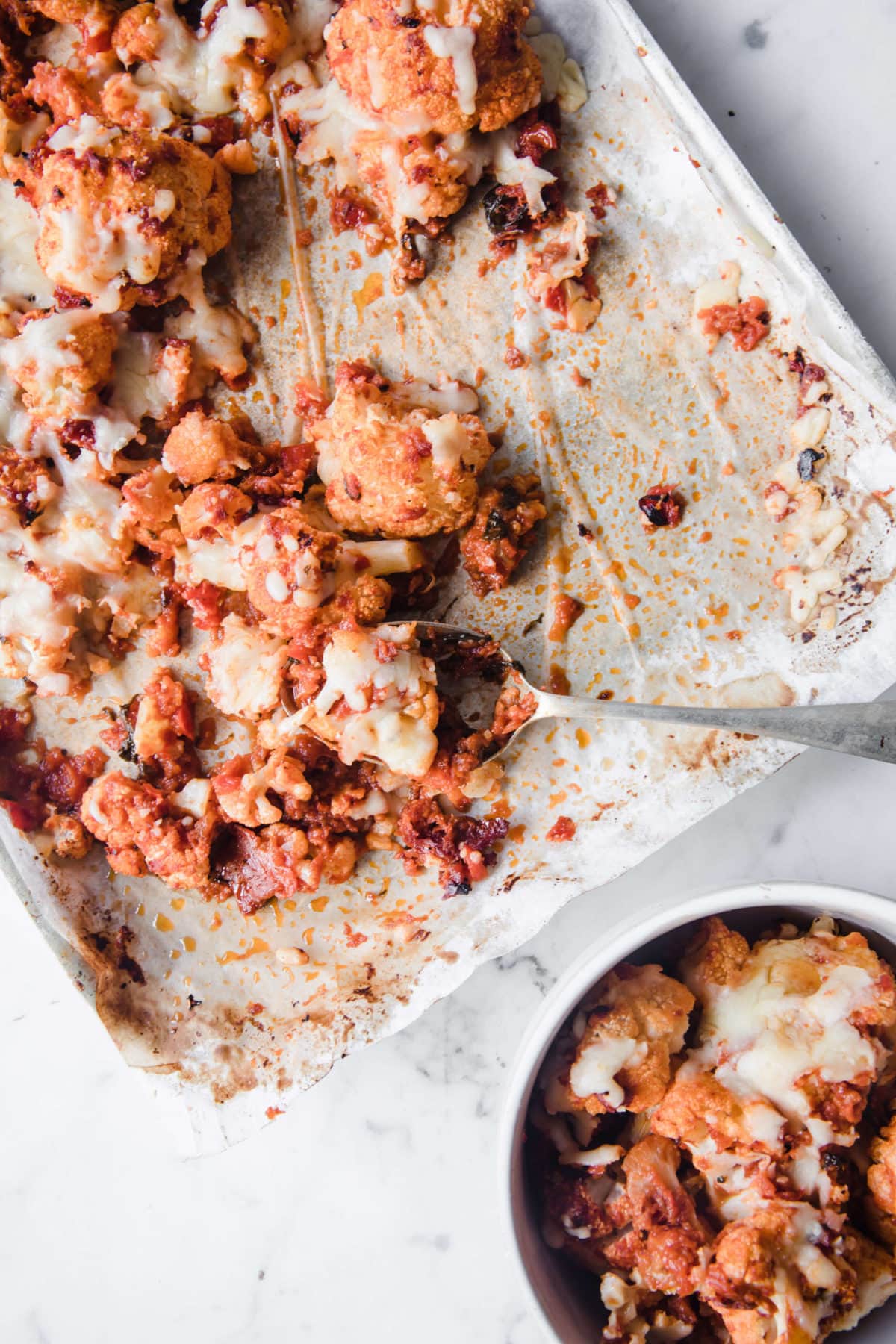 Keto Pizza Recipes are my favorite pizza recipes
These Keto Cauliflower Pizza Poppers are such a great way to sneak some extra vegetables into your diet. Even if you are not a fan of cauliflower, how can you resist it when it is piled with low carb pizza toppings? This dish is great as an appetizer, or even as the star of the meal. Get creative with it and load it up with all of your favorite pizza toppings.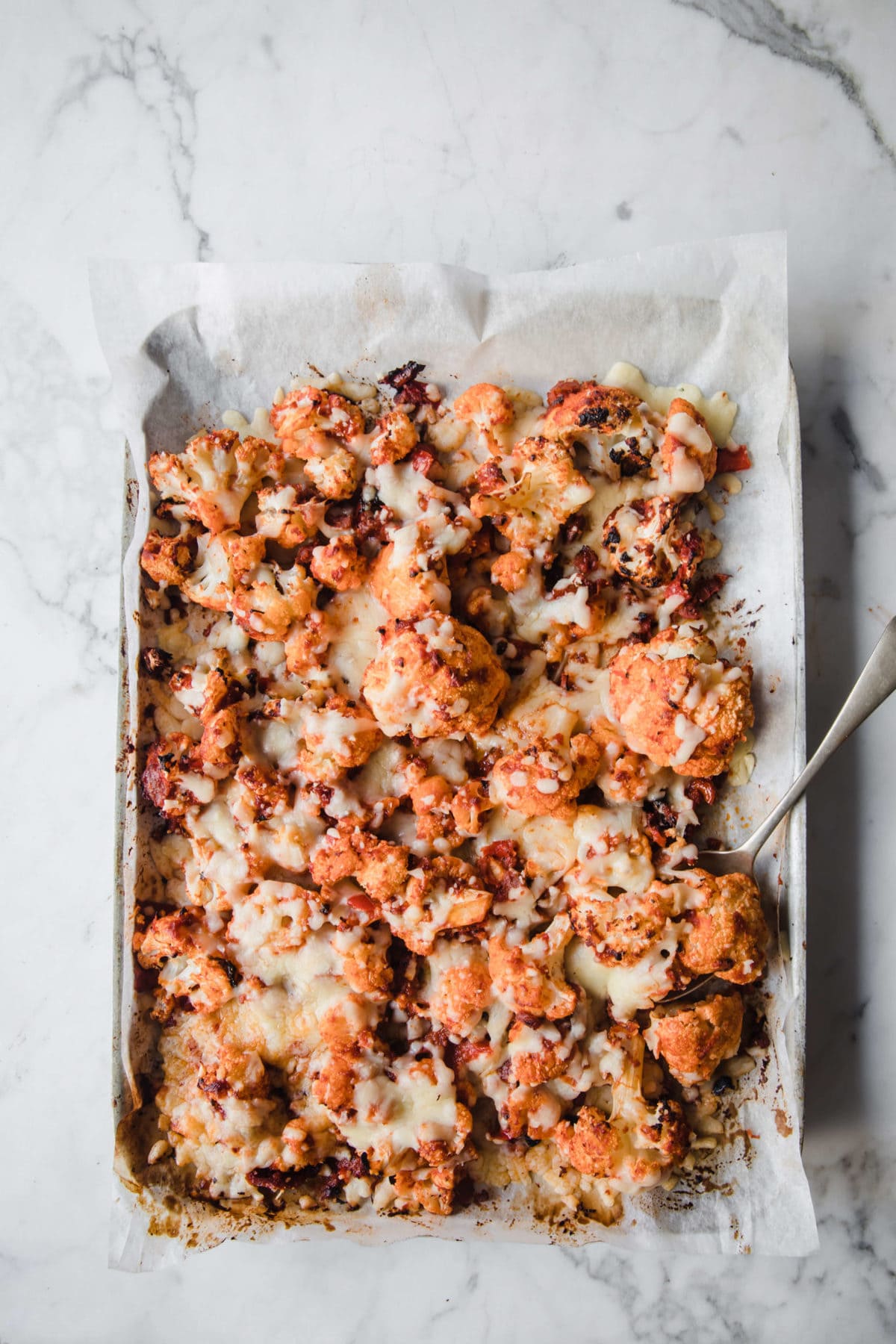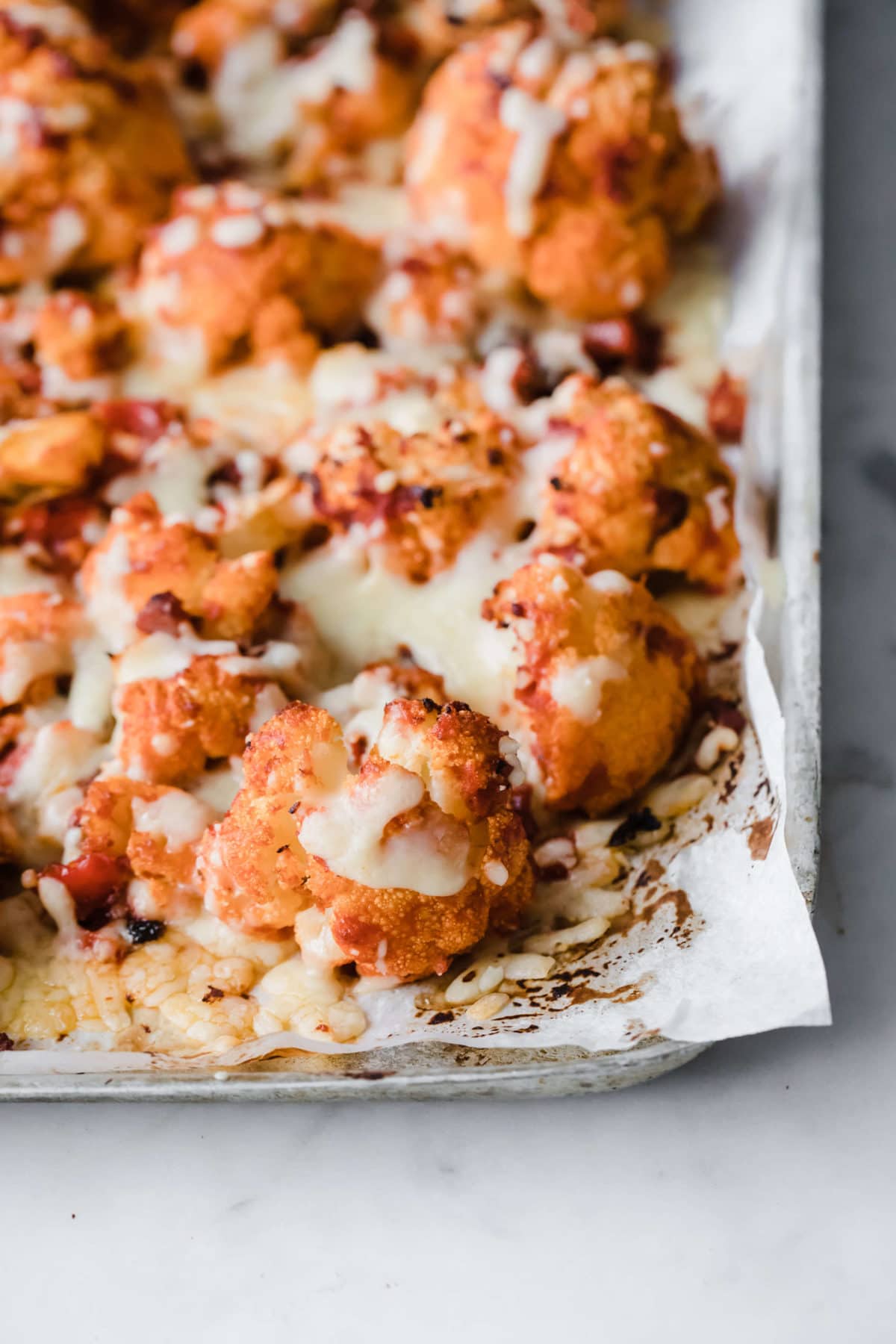 Fun ways to mix up these Keto Pizza Poppers:
Pile it on and make it a supreme – olives, mushrooms, onions, peppers, pepperoni, sausage, ham
Skip the pizza flavors altogether and load it up with Low Carb Taco Seasoning and taco fixings
Sprinkle some grated parmesan cheese and some Italian seasoning on top
Add a rainbow of diced bell peppers
Top it with New Orleans Style Olive Salad
In addition to these Keto Cauliflower Pizza Poppers, check out some of my other favorite low carb appetizer recipes:
Print
Keto Cauliflower Pizza Poppers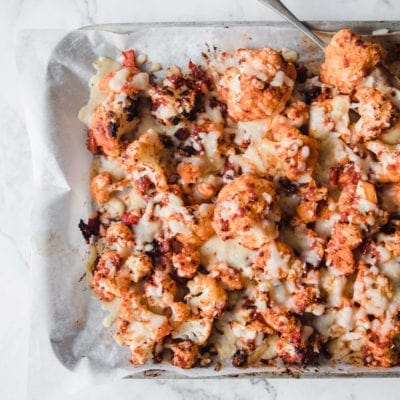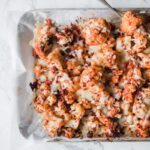 Author:
Prep Time:

15 minutes

Cook Time:

30 minutes

Total Time:

45 minutes

Yield:

6

servings

1

x
Scale
Ingredients
1

large head cauliflower, trimmed and cut into florets

2 tablespoons

butter or olive oil, melted (I use this brand)

1/4 teaspoon

sea salt, or more to taste (I use this brand)

1

(14.5 ounce) can diced tomatoes

3

large sun-dried tomatoes, finely chopped

1

clove garlic, minced

1

small red bell pepper, finely chopped

1.5 ounces

hard chorizo, finely chopped

1 tablespoon

chopped fresh basil

1/4 teaspoon

ground black pepper

1 cup

shredded sharp white cheddar cheese
Instructions
Preheat the oven to 400°F. Line a rimmed baking sheet with parchment paper.
Arrange the cauliflower florets in a single layer across the baking sheet. Drizzle the melted butter over top, sprinkle with salt, and toss to coat.
Roast the cauliflower on the top rack for 15 minutes.
While the cauliflower is roasting, heat a large sauce pan over medium. To the pan, add the tomatoes, sun-dried tomatoes, garlic, bell pepper, chorizo, basil, and black pepper. Once the sauce is hot and starts to bubble slightly, reduce the heat to medium-low and simmer for 10 minutes. Transfer the sauce to a high powered blender or a food processor and pulse until smooth. Alternately, you can skip this step and leave it chunky.
Pour the sauce over top of the cauliflower and roast for an additional 10 minutes.
Remove the tray from the oven, sprinkle the cheese over top, and bake for an additional 10 minutes or until the cheese is melted.
Notes
Net Carbs Per Serving: 6.7g
Nutrition
Calories:

196

Fat:

13.7g

Carbohydrates:

11.2g

Fiber:

4.5g

Protein:

9.6g
Keywords: low carb appetizers, keto appetizer recipes, keto pizza, low carb pizza, keto pizza poppers, keto snacks, keto recipes, low carb food blog, keto blog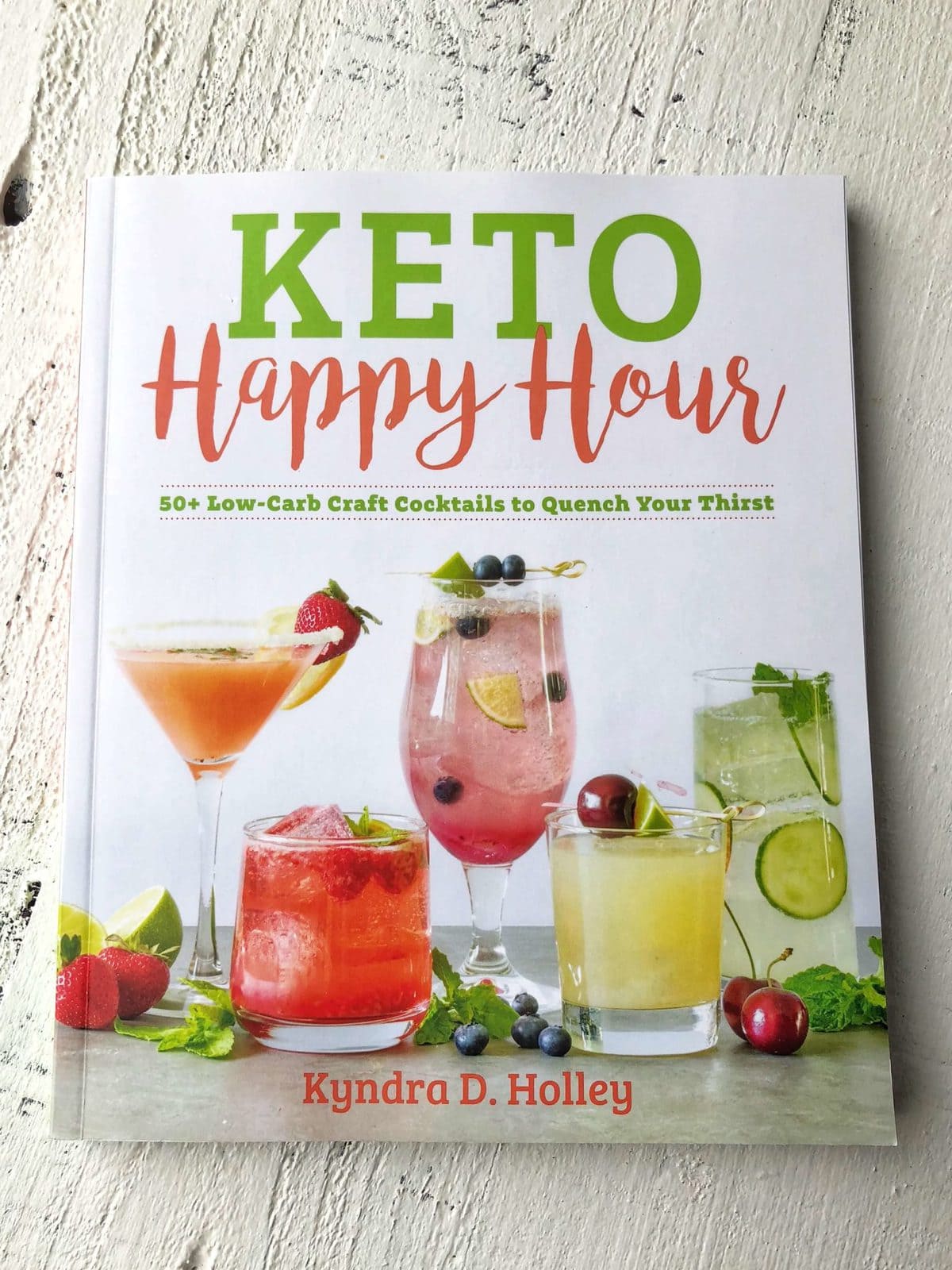 KETO HAPPY HOUR: 50 Low Carb Craft Cocktails to Quench Your Thirst.
Check out my other books –
HERE
So it's Friday night and you're feeling alright. You're ready to dance the night away with a cocktail in your hand. OR, if you are more like me, you want to have a cocktail at home with friends. But how do you know what to drink? What is the best alcohol for a low carb diet. Or what alcohol is lowest in carbs?
First, I'm going to break down the carbs in alcohol for you. Check out my Complete Guide to Carbs in Alcohol. If you're wondering… Can you have alcohol on a low carb diet? Is alcohol keto? You might be saying to yourself "But wait? I can't! I'm low carb." Well, you are NOT low carb. You're are a person following a low carb lifestyle. Do not be defined by your dietary decisions. Doing so will lead to a life of restriction and feeling restricted often causes us to stray from our intended path. Besides, who wants to pass up low carb gummy worms. Especially when they are boozy low carb gummy worms.
 YOU CAN GRAB A COPY –
HERE
I know that it can be tricky to navigate alcohol on a low carb diet, so I'm taking all the guess work out of it for you. I'll show you how to indulge, while still sticking to your healthy living, ketogenic lifestyle. If you think you can no longer have those delicious Moscow Mules at happy hour with your friends, or that you have to skip those margaritas on Taco Tuesday, think again! I'm putting your favorite drinks back on the menu, the low carb menu, that is.
Whether you are craving a cocktail after a long day of work, or looking to do some healthy entertaining, this book has you covered. From mixers, to drinks and even some pub grub. It's all in there! Mixing up cocktails should be fun and it shouldn't come at the cost of your health and weight loss goals. Keto Happy Hour bridges the gap between feeling deprived and feeling mighty fine.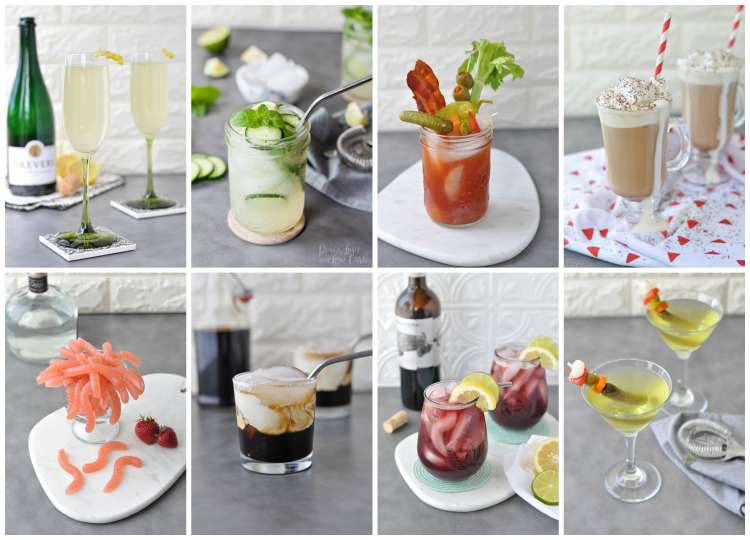 WITH RECIPES LIKE:
Strawberry Basil Lemon Drops
Boozy Hot Cocoa
Dill Pickle Martinis
Moscow Mules
Irish Coffee
Bloody Marys
Scratch made Low Carb Bloody Mary Mix
Homemade low carb coffee liqueur and Low Carb Irish cream
Low Carb Whiskey Sour
Hot Toddy
Cucumber Jalapeno Margaritas
And even…
Low Carb Strawberry Margarita Gummy Worms
AND EVEN SOME FOOD RECIPES LIKE:
Halloumi Bruschetta
Cheesy Nachos
Barbecue Smoked Sausages
Pizza Bagels
Teriyaki Steak Bites
Avocado Keto Hummus
Keto Buffalo Chicken Jalapeno Poppers
Crispy Baked Garlic Parmesan Wings
Bloody Mary Roasted Nuts
Red Wine Fudgesicles
and more…
YOU CAN GRAB A COPY –
HERE