All the delicious flavors of keto pizza, combined with the dense chewy texture of a low carb bagel. These Keto Pizza Bagels are a match made in heaven.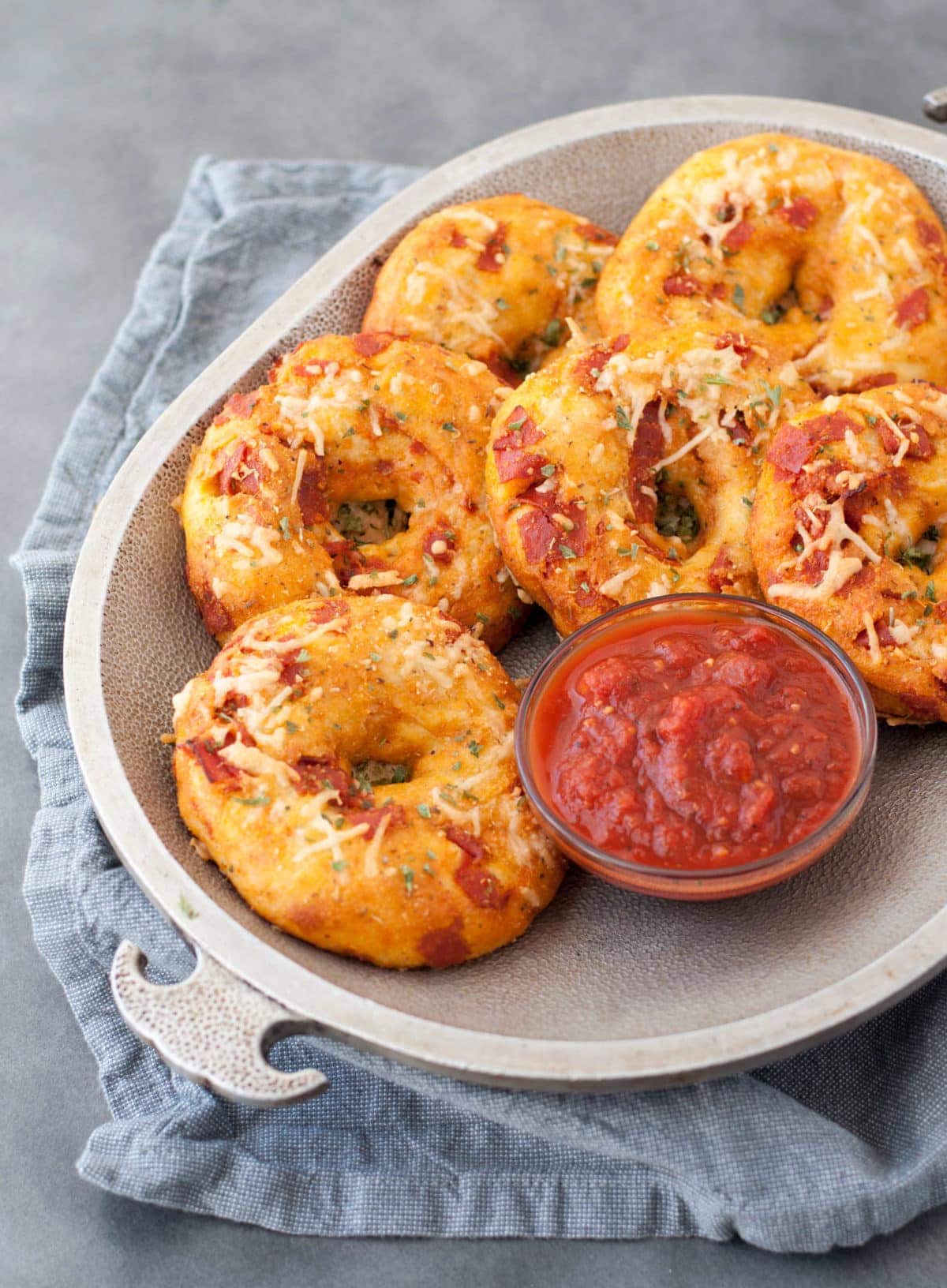 Keto Bagels and Keto Pizza combine to make Keto Pizza Bagels
If there were two foods that I dearly loved in my high carb days, it was pizza and bagels. So when I first started a low carb blog, I just knew that it would have to have a lot of keto pizza recipes, which it definitely does. Then from there I set out to make a Keto Everything Bagel. I wanted to make a low carb bagel that would be a copycat Chonga bagel from Starbucks.
While a keto bagel will never 100% taste like a real bagel, it is a pretty damn good alternative. The only next natural step was to combine my two loves and create these Keto Pizza Bagels. You can really mix and match the toppings as you choose. In fact, you can make the low carb bagel recipe just as it is and then use it for a keto pizza crust and pile on all of your favorite low carb pizza toppings. But don't forget the keto pizza sauce to dip it in.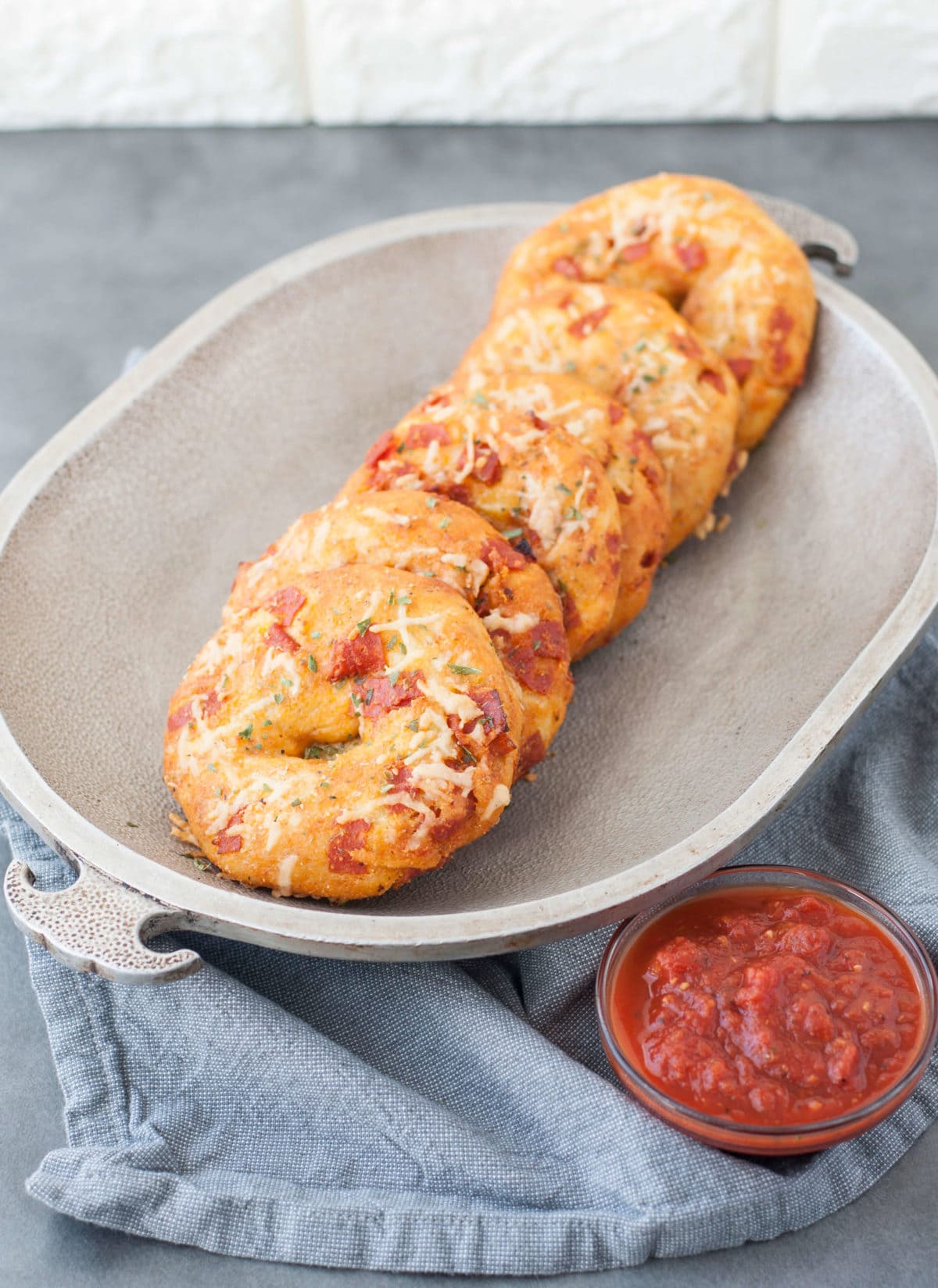 How are these keto pizza bagels gluten free?
These keto pizza bagels are gluten free because they are made mostly of cheese and almond flour, using a keto fathead pizza crust recipe variation as the base. Not only does the fathead dough make for a great keto friendly pizza, but it also makes other amazing recipes like these Beef and Chorizo Keto Empanadas, Keto Soft Pretzels, Keto Everything Bagel Dogs, and Hot Ham and Cheese Roll-Ups just to name a few. The possibilities are really endless with this magic mozzarella dough.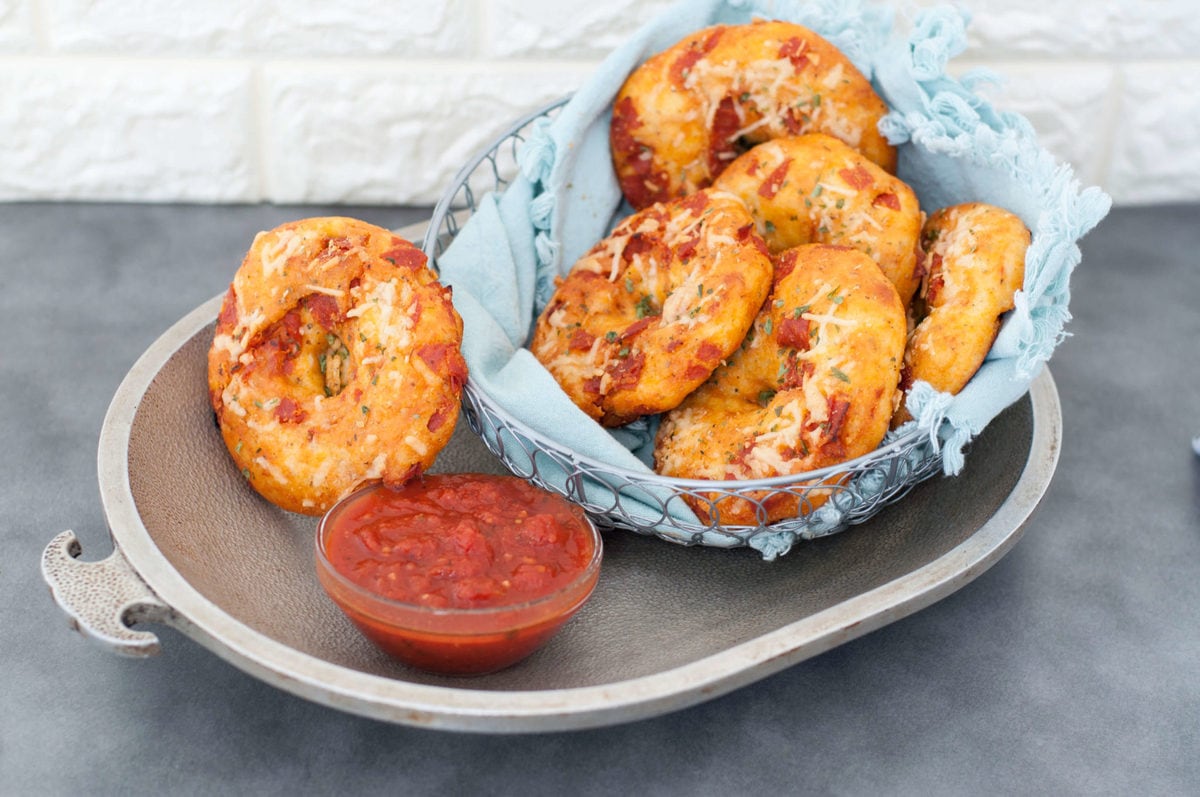 What are the best keto pizza crusts?
In addition to these keto pizza bagels, there are a lot of different low carb pizza crust recipes out there. Many of them are different variations of fathead pizza crust and contain nuts. But one of my favorite recipes is actually a nut free keto pizza crust. I've even gone as far as using a keto waffle for a pizza crust in my Low Carb Garlic Chicken Alfredo Waffle Pizza.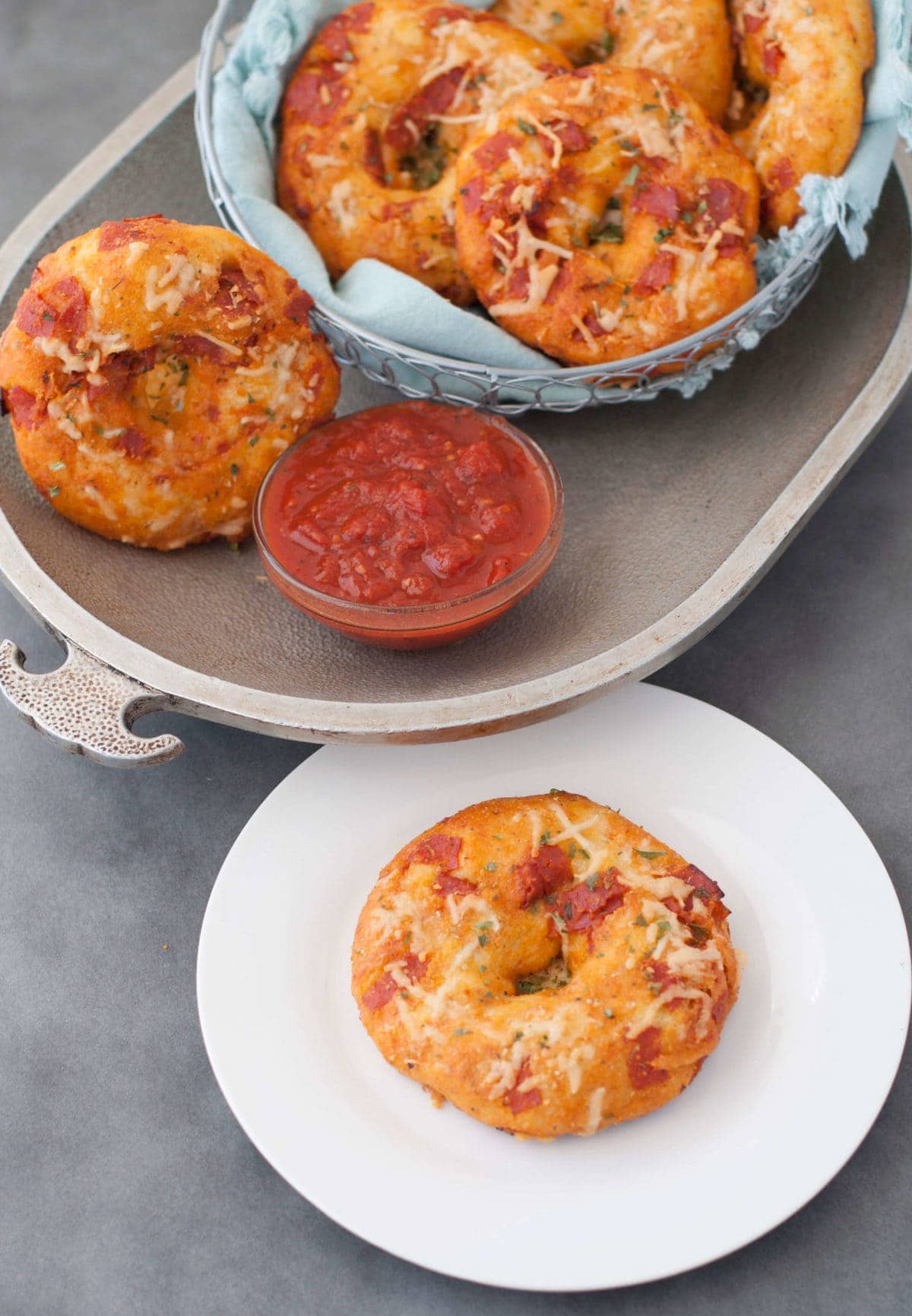 How do you make keto pizza?
Well with a recipe of course! Haha. I couldn't resist. But in all seriousness, making keto pizza is a lot easier than you think it might be. In fact, you can really get creative with it and make all kinds of different low carb pizza variations. Below, I have included some of my absolute favorite.
Print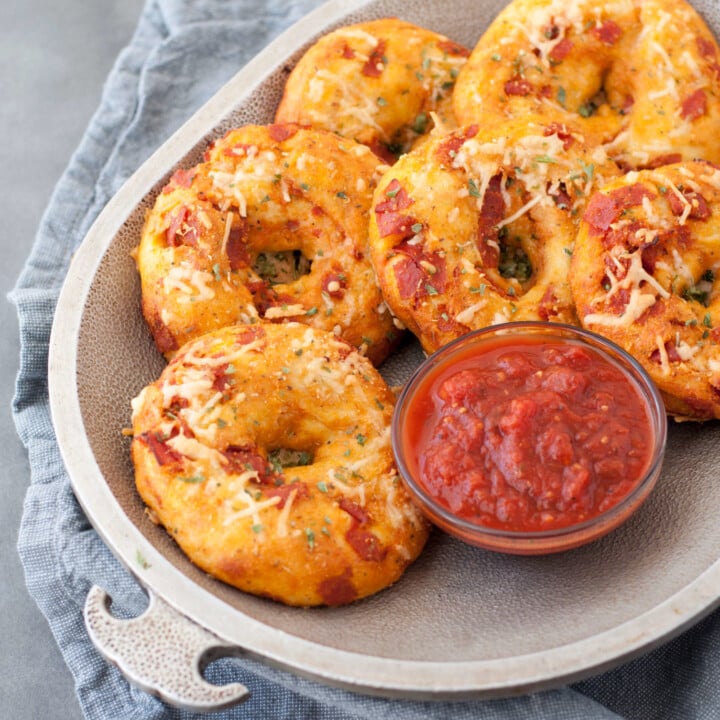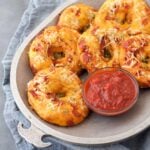 Low Carb Keto Pizza Bagels
---
Author:

Kyndra Holley

Prep Time:

15 minutes

Cook Time:

14 minutes

Total Time:

29 minutes

Yield:

6

Pizza Bagels

1

x
2 cups

almond flour (I use this brand)

1 tablespoon

baking powder

1 teaspoon

garlic powder (I use this brand)

1 teaspoon

onion powder

1 teaspoon

dried Italian seasoning

2

large eggs, whisked

3 cups

shredded low moisture mozzarella cheese

3 tablespoons

cream cheese

¼ cup

Low Carb Pizza Sauce (get the recipe here)

2.5 ounces

pepperoni slices, chopped

1 teaspoon

dried oregano

2 tablespoons

shredded Parmesan cheese
---
Instructions
Preheat oven to 425°F. Line a rimmed baking sheet with parchment paper or a Silpat.
In a medium mixing bowl, combine the almond flour, baking powder, garlic powder, onion powder, and dried Italian seasoning. Mix until well combined. I like to put the mixture through a flour sifter to ensure that all the baking powder gets mixed in with the rest of the ingredients.
In a large microwave safe mixing bowl, combine the mozzarella cheese and cream cheese. Microwave for 1 minute and 30 seconds. Remove from microwave and stir to combine. If needed, return the bowl to the microwave for 30 seconds at a time until the cheese is melted and easy to mix. Mix until well combined.
To the mixing bowl, add the eggs and the almond flour mixture. Mix until all ingredients are well incorporated. If the dough gets too stringy and unworkable, simply put it back in the microwave for 30 seconds to soften and continue mixing.
Once everything is well combined, add the pepperoni to the dough and mix it in. Little by little, add and mix in the sauce. The dough will be fairly soft here.
Divide the dough into 6 equal portions. Roll each portion into a ball.
Gently press your finger into the center of each dough ball to form a ring. Stretch the ring to make a small hole in the center and form it into a bagel shape.

Top each bagel with oregano and Parmesan

Bake on the middle rack for 12-14 minutes or until golden brown.
Notes
Per Serving : net carbs: 6g
Nutrition
Serving Size:

1 bagel

Calories:

449

Fat:

35g

Carbohydrates:

10g

Fiber:

4g

Protein:

28g
Keywords: keto bagels, keto bagel recipes, low carb bagels, pizza bagels, low carb pizza recipes, low carb recipes, keto recipe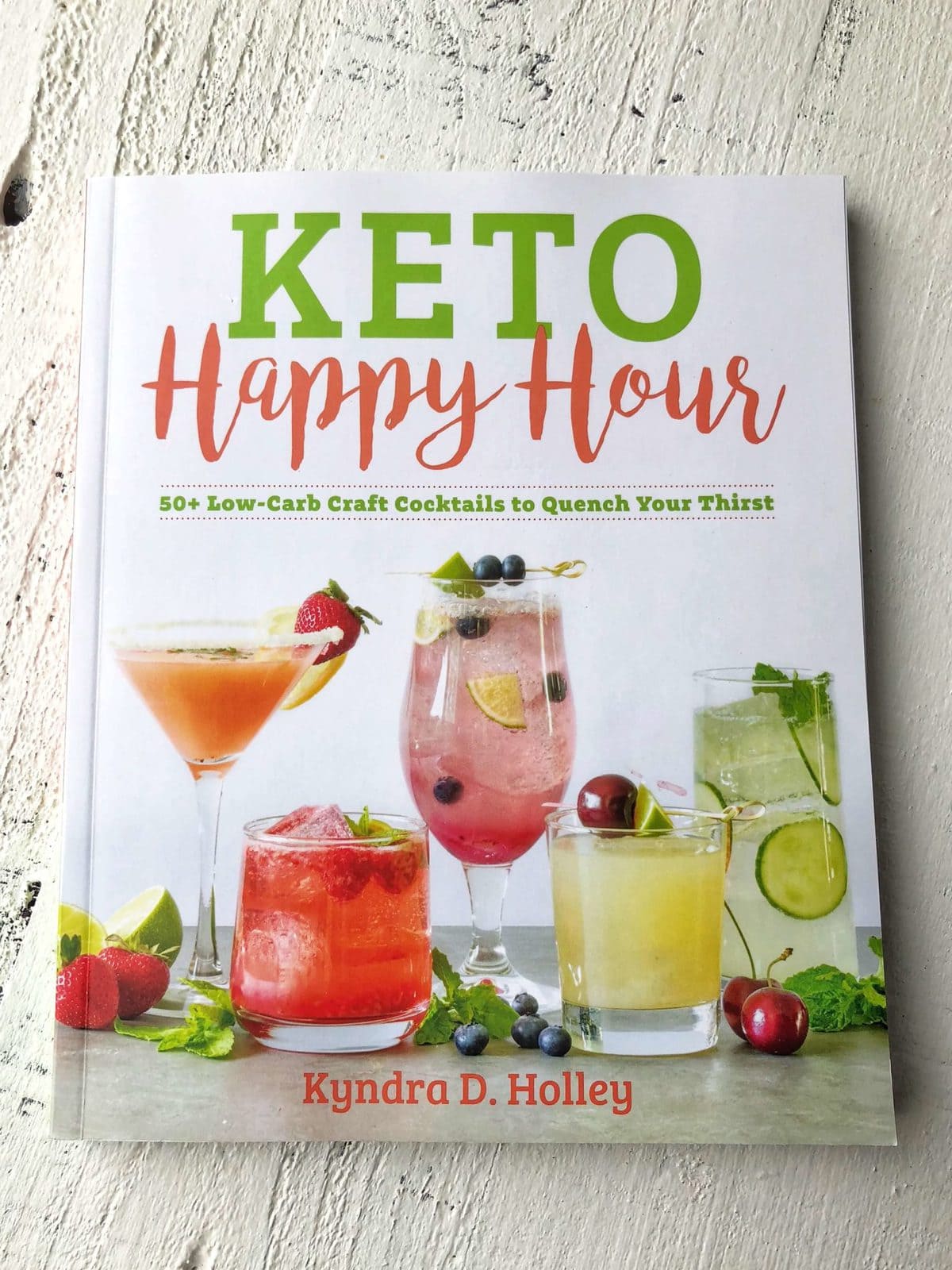 KETO HAPPY HOUR: 50 Low Carb Craft Cocktails to Quench Your Thirst.
Check out my other books -
HERE
So it's Friday night and you're feeling alright. You're ready to dance the night away with a cocktail in your hand. OR, if you are more like me, you want to have a cocktail at home with friends. But how do you know what to drink? What is the best alcohol for a low carb diet. Or what alcohol is lowest in carbs?
First, I'm going to break down the carbs in alcohol for you. Check out my Complete Guide to Carbs in Alcohol. If you're wondering… Can you have alcohol on a low carb diet? Is alcohol keto? You might be saying to yourself "But wait? I can't! I'm low carb." Well, you are NOT low carb. You're are a person following a low carb lifestyle. Do not be defined by your dietary decisions. Doing so will lead to a life of restriction and feeling restricted often causes us to stray from our intended path. Besides, who wants to pass up low carb gummy worms. Especially when they are boozy low carb gummy worms.
YOU CAN GRAB A COPY -
HERE
I know that it can be tricky to navigate alcohol on a low carb diet, so I'm taking all the guess work out of it for you. I'll show you how to indulge, while still sticking to your healthy living, ketogenic lifestyle. If you think you can no longer have those delicious Moscow Mules at happy hour with your friends, or that you have to skip those margaritas on Taco Tuesday, think again! I'm putting your favorite drinks back on the menu, the low carb menu, that is.
Whether you are craving a cocktail after a long day of work, or looking to do some healthy entertaining, this book has you covered. From mixers, to drinks and even some pub grub. It's all in there! Mixing up cocktails should be fun and it shouldn't come at the cost of your health and weight loss goals. Keto Happy Hour bridges the gap between feeling deprived and feeling mighty fine.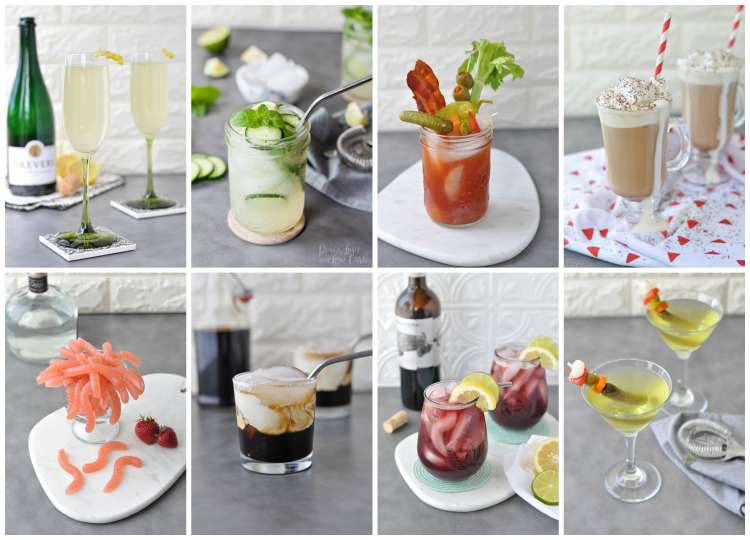 WITH RECIPES LIKE:
Strawberry Basil Lemon Drops
Boozy Hot Cocoa
Dill Pickle Martinis
Moscow Mules
Irish Coffee
Bloody Marys
Scratch made Low Carb Bloody Mary Mix
Homemade low carb coffee liqueur and Low Carb Irish cream
Low Carb Whiskey Sour
Hot Toddy
Cucumber Jalapeno Margaritas
And even…
Low Carb Strawberry Margarita Gummy Worms
AND EVEN SOME FOOD RECIPES LIKE:
Halloumi Bruschetta
Cheesy Nachos
Barbecue Smoked Sausages
Pizza Bagels
Teriyaki Steak Bites
Avocado Keto Hummus
Keto Buffalo Chicken Jalapeno Poppers
Crispy Baked Garlic Parmesan Wings
Bloody Mary Roasted Nuts
Red Wine Fudgesicles
and more...
YOU CAN GRAB A COPY -
HERE