Low carb ham and cheese roll-ups. Warm, comforting roll ups made from fathead dough.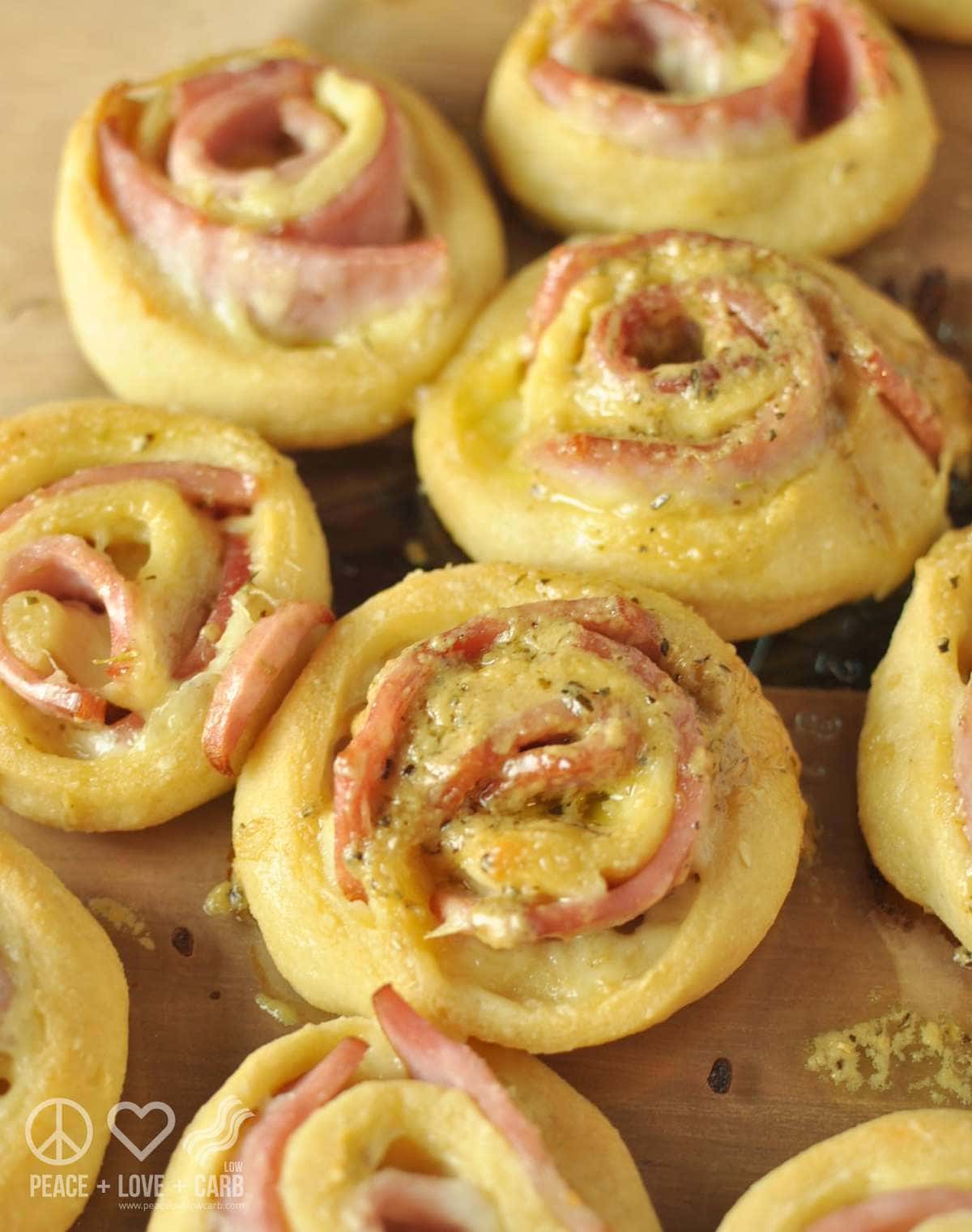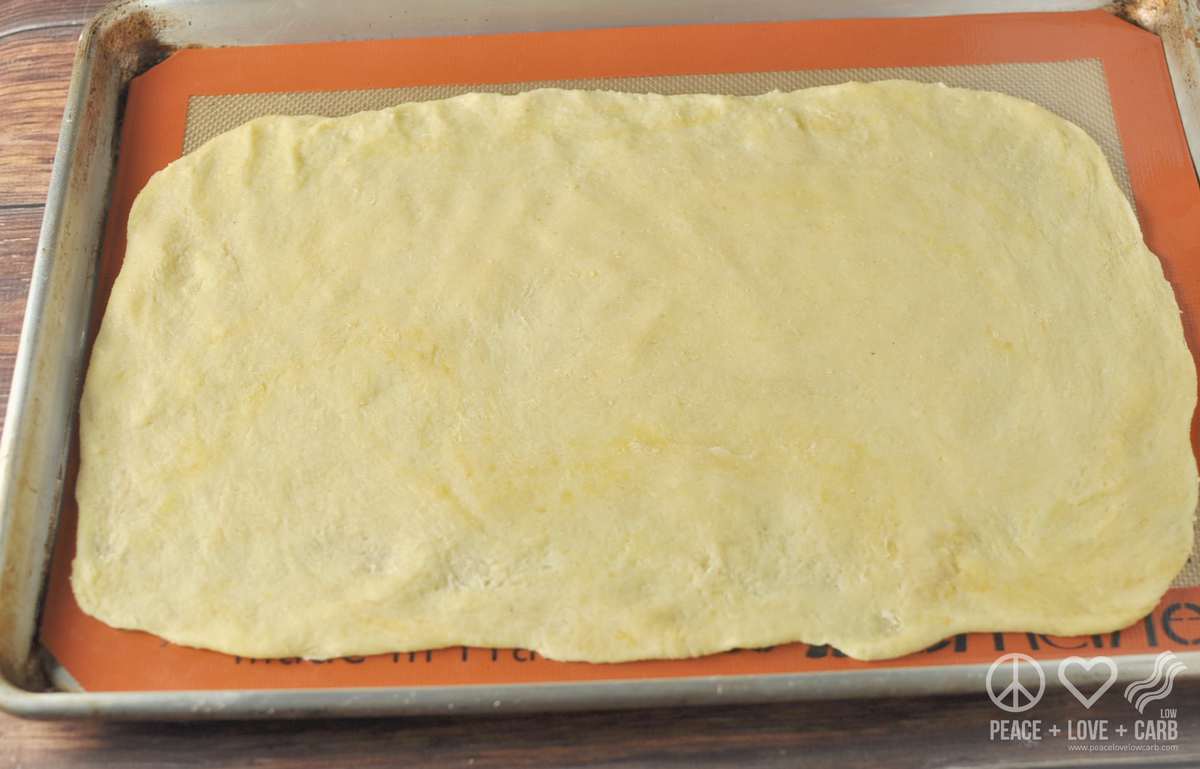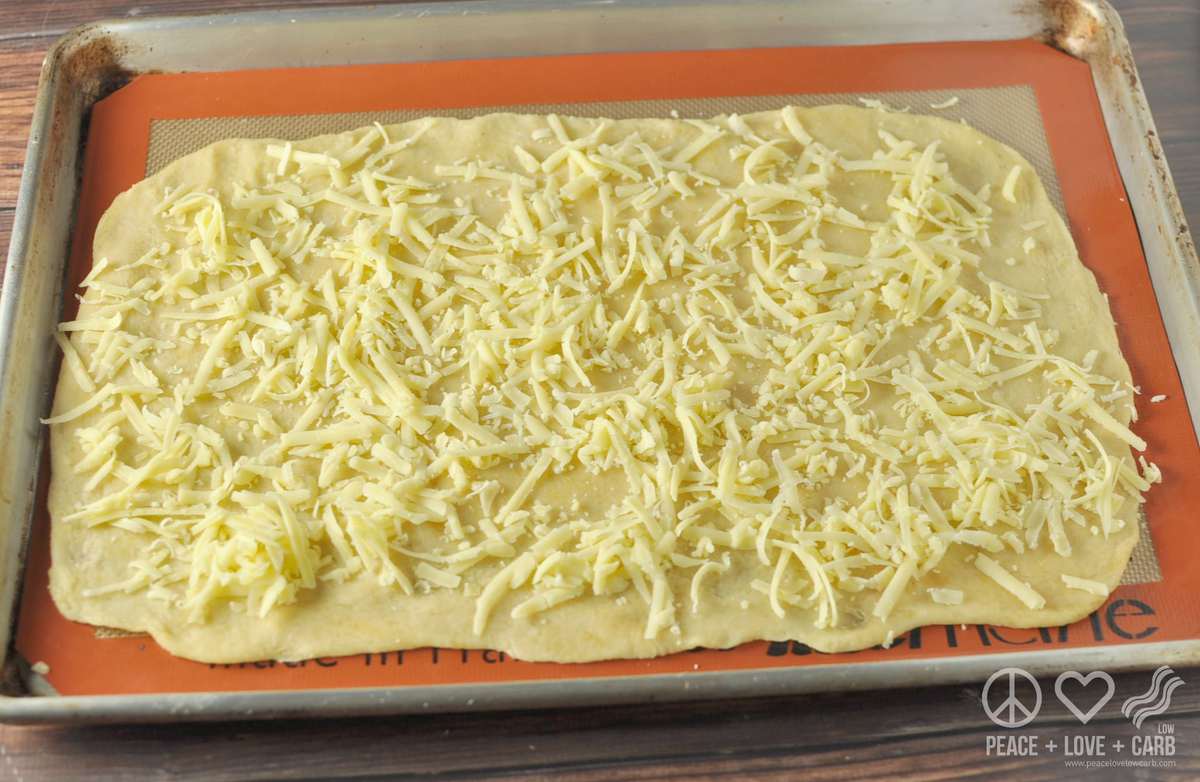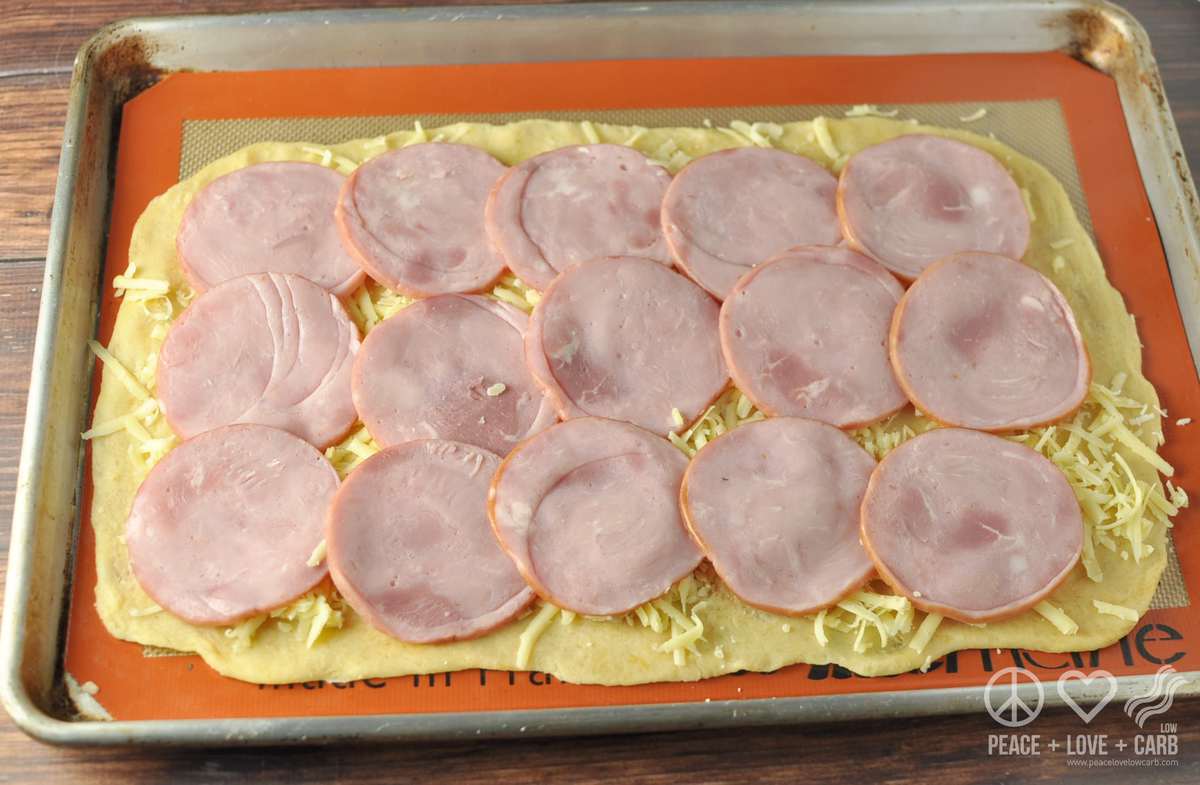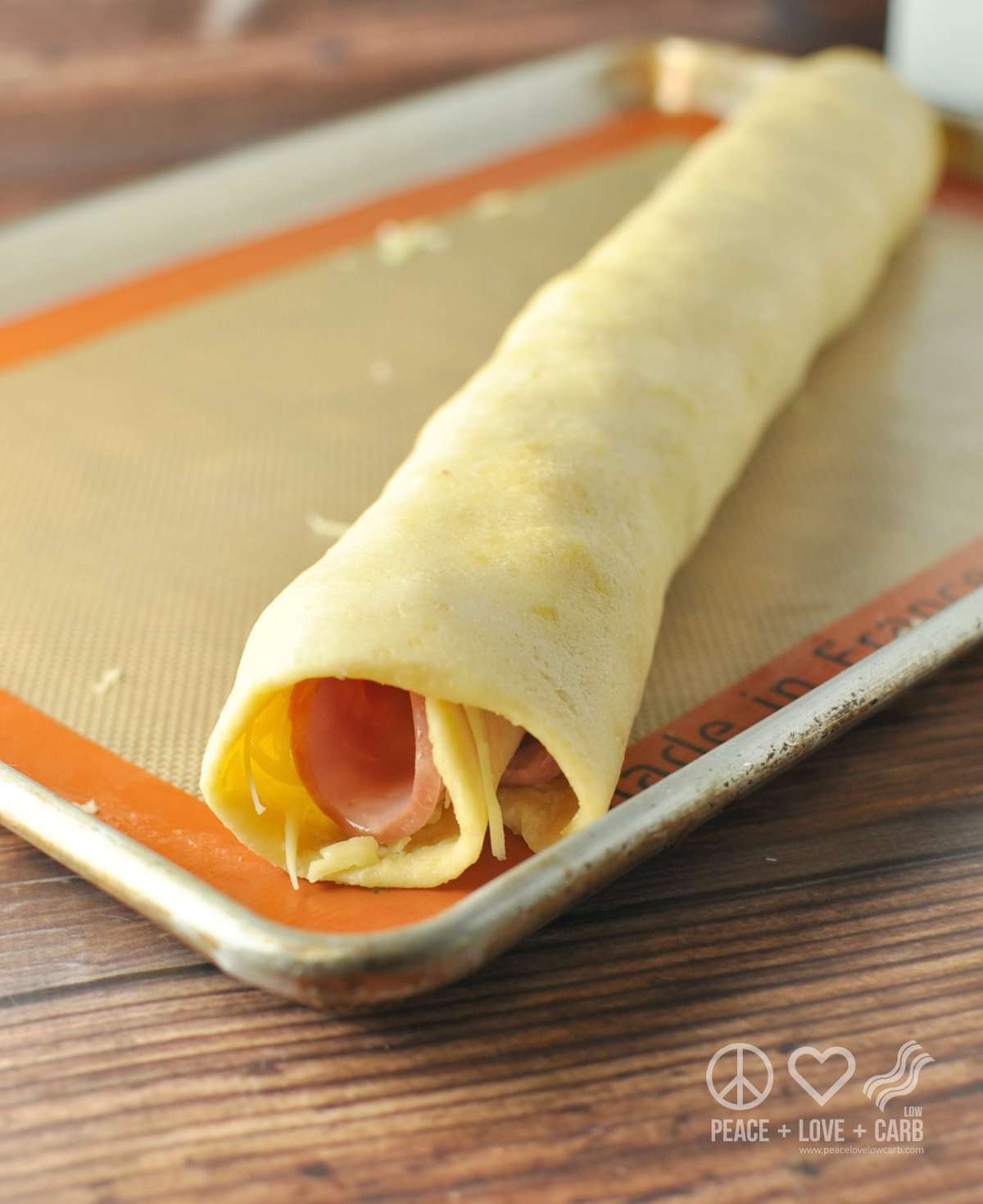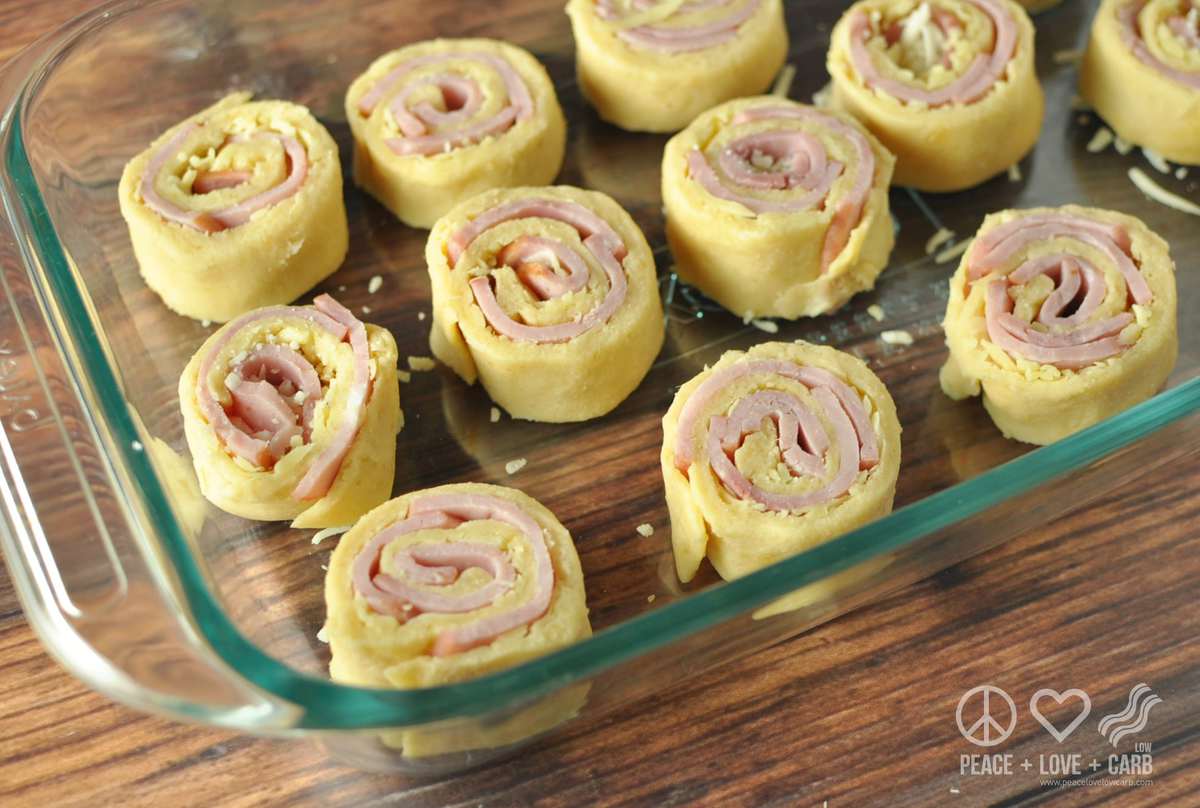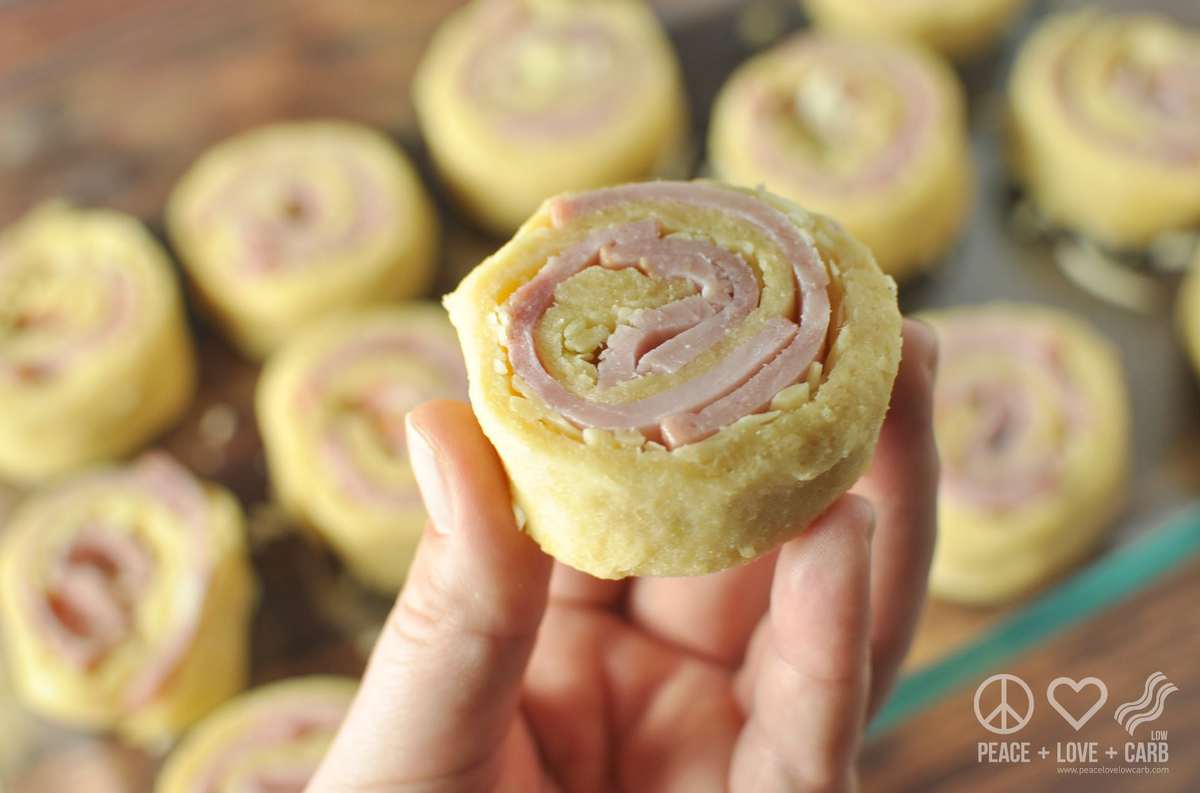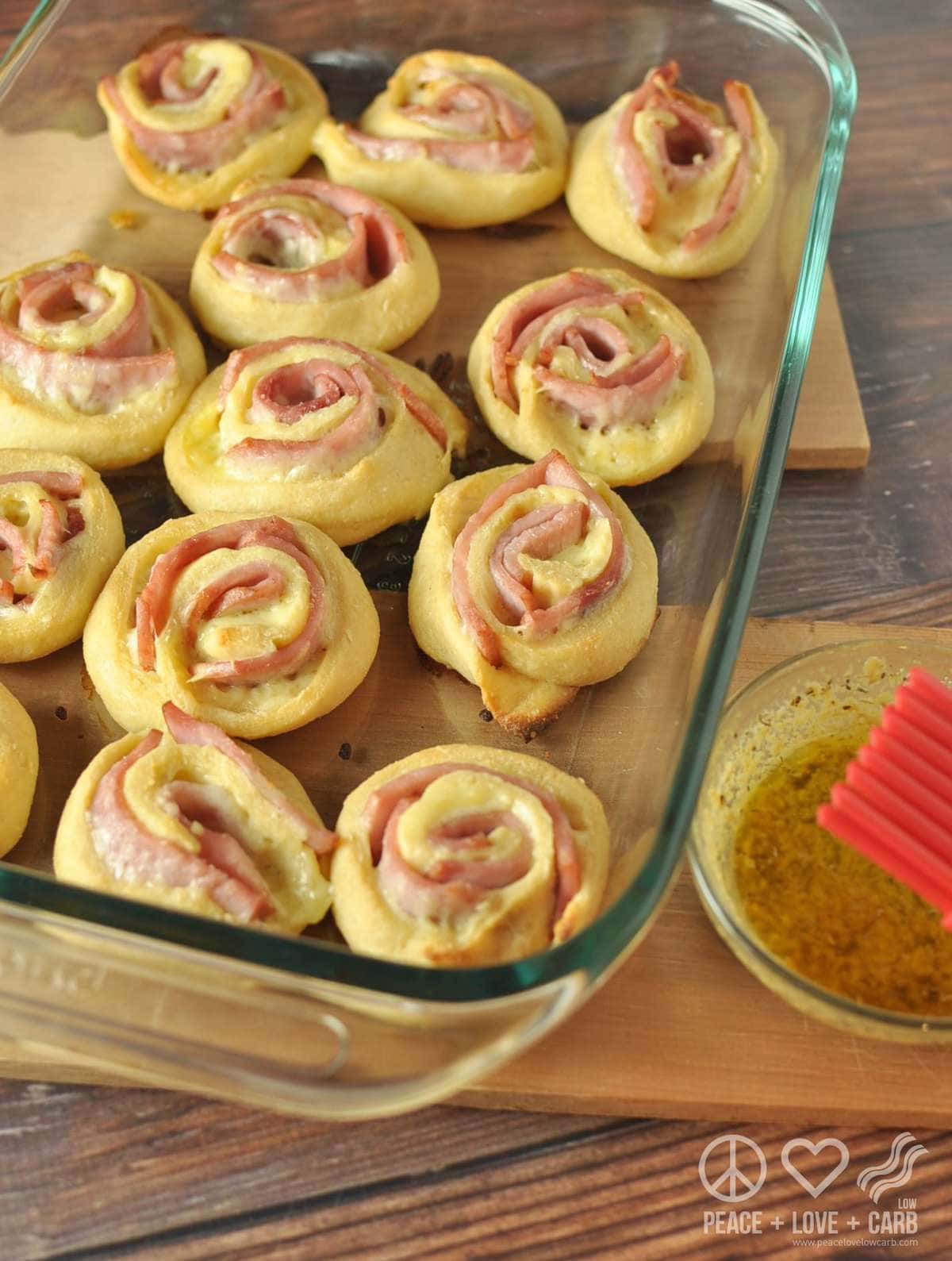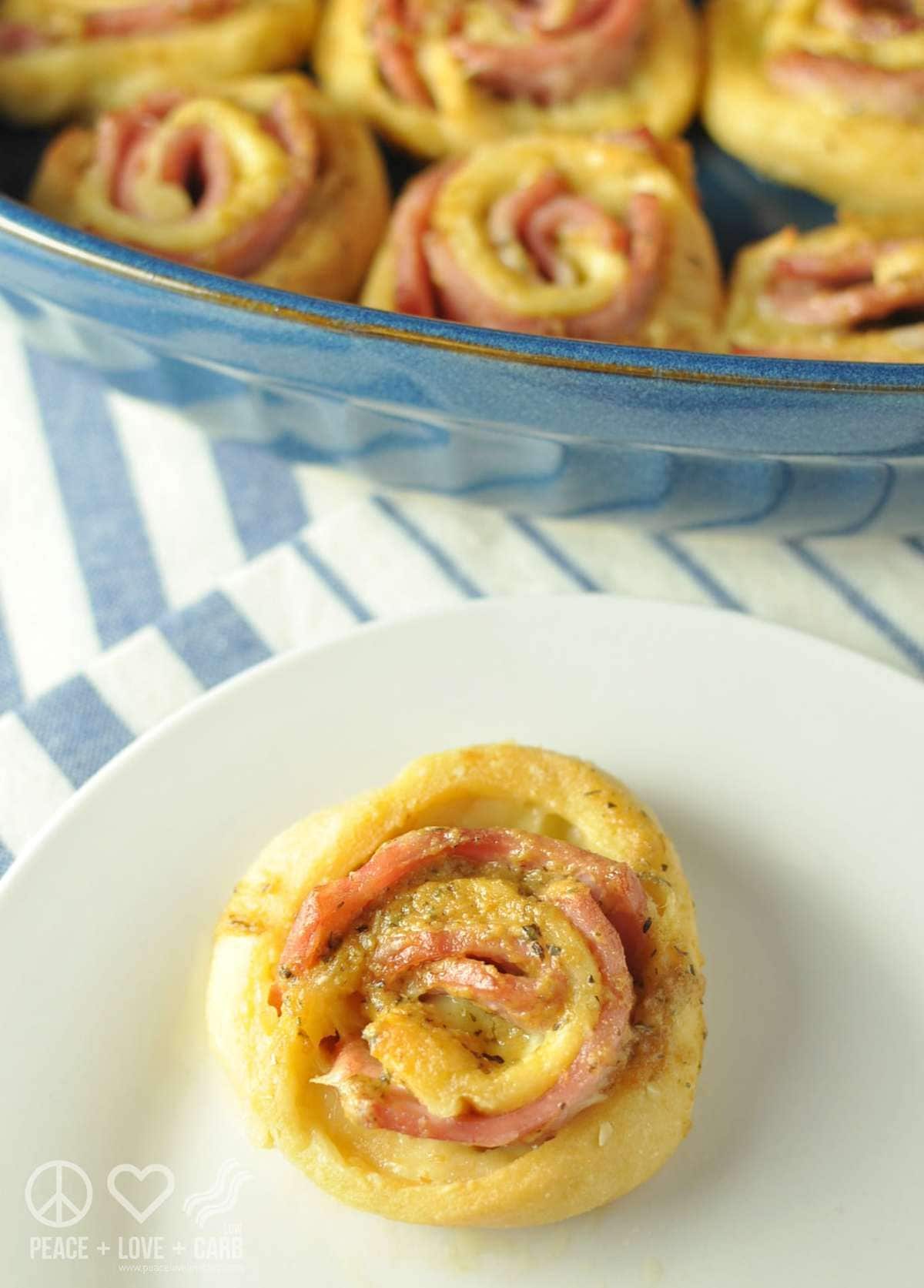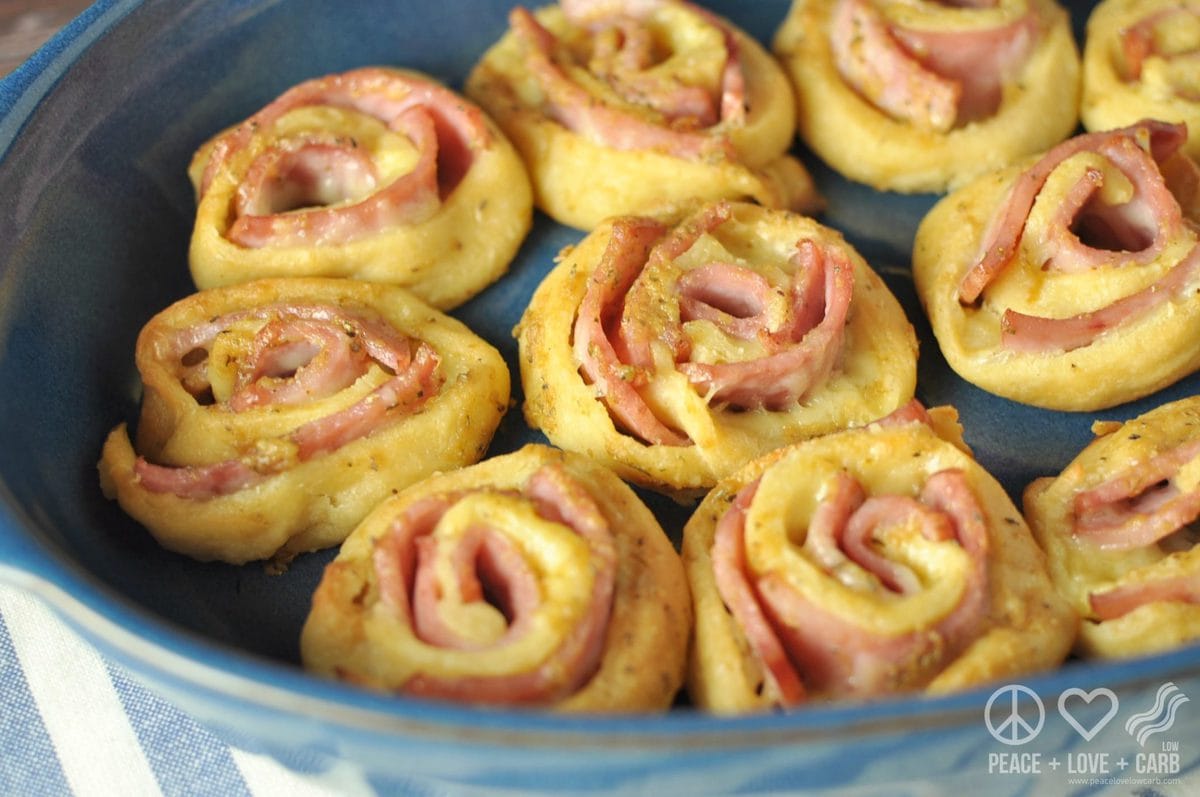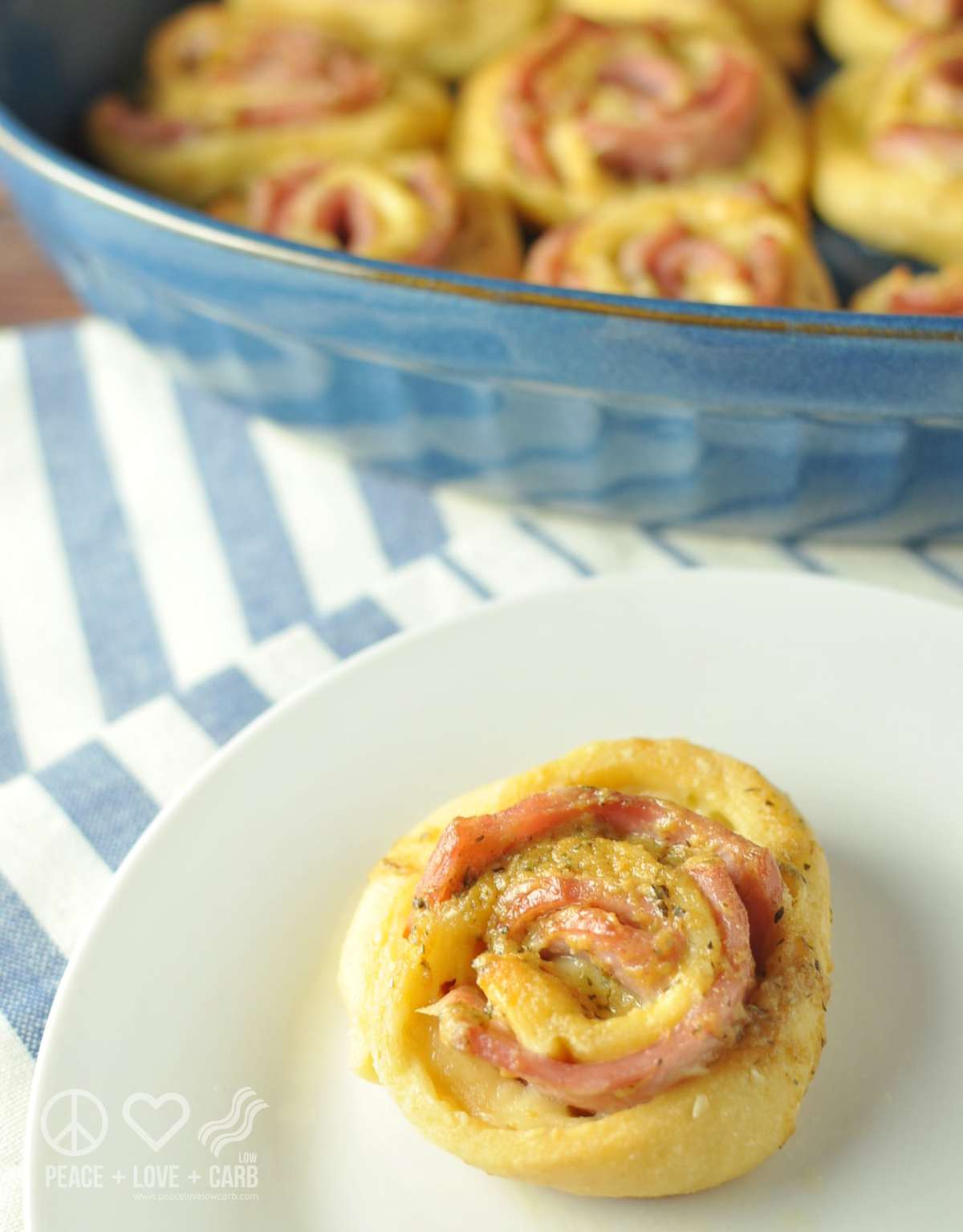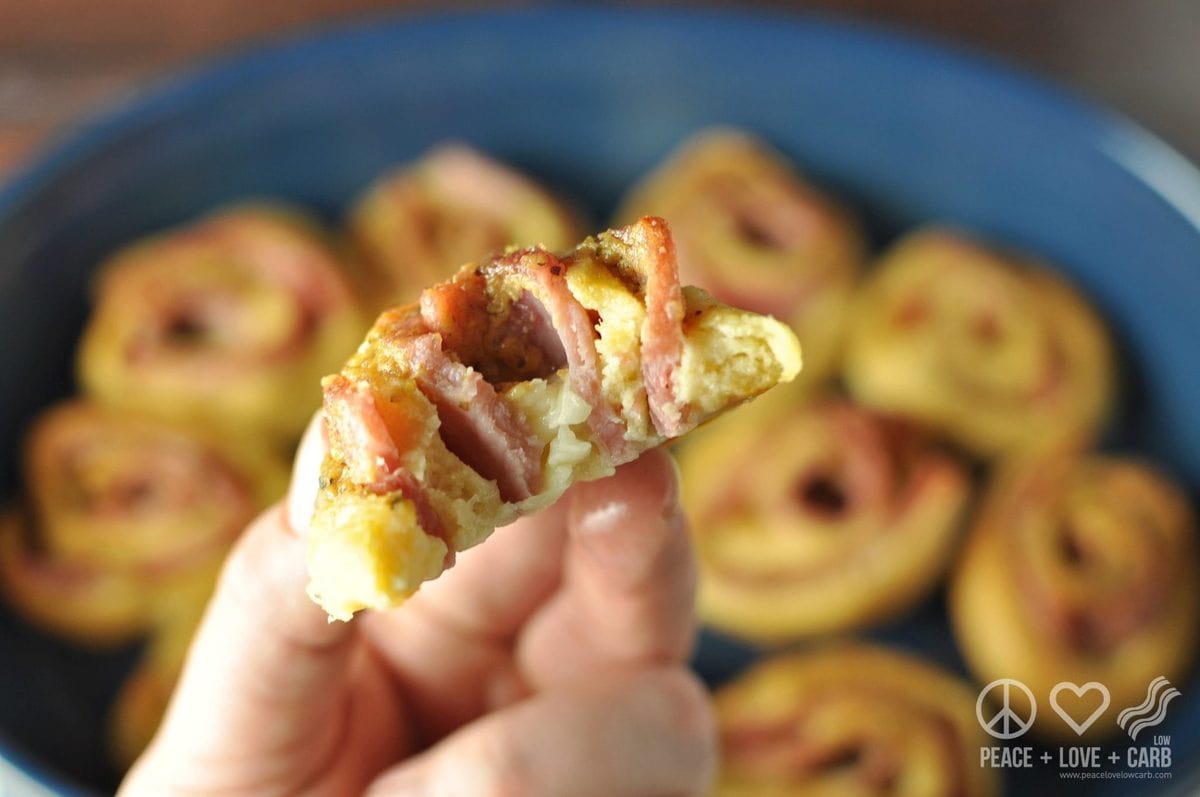 These low carb ham and cheese roll-ups are the real deal. Since they are made with a variation of fathead dough, they are low carb, gluten free and keto friendly. I've been playing with a lot of different low carb cheese dough combinations and this has to be my favorite by far. These little ham and cheese pinwheels come in at just 2 net carbs each. It almost seems too good to be true! I may or not have eaten 4 of them as soon as they came out of the oven. I'll never tell! Be sure to check out this Pepperoni Pizza version as well. Need some additional ideas to help you use up extra holiday ham? Here you go!
A note about this Hot Ham and Cheese Roll-Ups recipe:
It is imperative to the recipe that you use a low-moisture, part skim shredded mozzarella cheese. Switching out the cheese will make these fall flat when baking.
Larger shreds work better and tend to be dryer. They really help make a better "dough" consistency.
If you are worried about these rolls spreading out and flattening, try baking them in a muffin tin. Even better, use a silicone muffin pan and cut your clean up time in half.
For best results you can also make the roll-up and the freeze it for a couple of hours before slicing and baking.
Check out some of my other favorite low carb fathead dough recipes:
Pepperoni Pizza Pinwheels
Print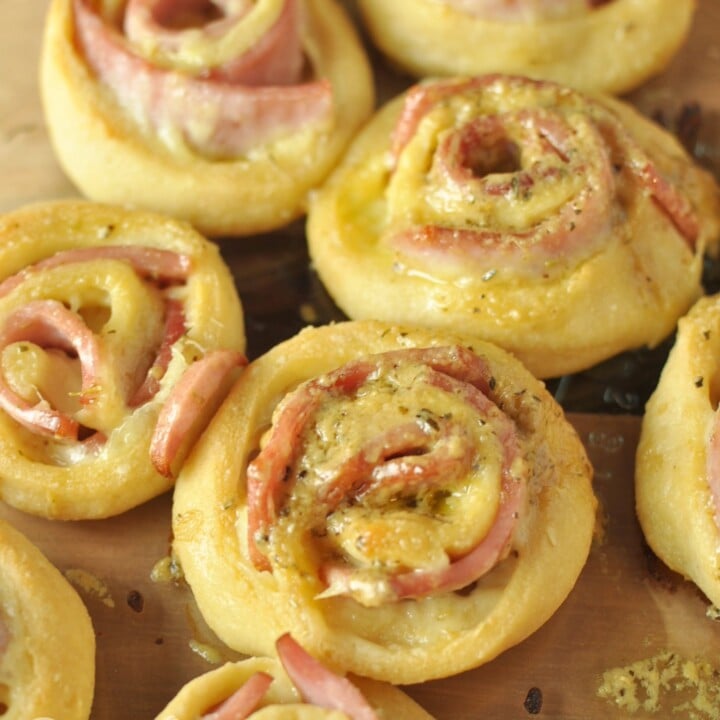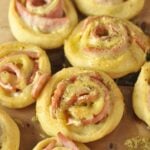 Hot Ham and Cheese Roll-Ups with Dijon Butter Glaze
---
For the Hot Ham and Cheese Roll-Ups
¼

cup

almond flour (get it here)

3 tablespoons

coconut flour (get it here)

1 teaspoon

onion powder

1 teaspoon

garlic powder

1 ½

cup

low-moisture, part skim mozzarella cheese, shredded

4 tablespoons

salted butter

2 tablespoons

cream cheese

1

large egg

10

ounces

sliced ham

1 ½

cups

sharp white cheddar cheese, shredded
For the Dijon Butter Glaze
2 tablespoons

salted butter

1 tablespoon

Dijon mustard

1 teaspoon

Worcestershire sauce

1 teaspoon

garlic powder

½ teaspoon

dried Italian seasoning
---
Instructions
Preheat oven to 375°F.
In a small mixing bowl, combine almond flour, coconut flour, onion powder and garlic powder.
In a separate mixing bowl, combine mozzarella cheese, butter, and cream cheese. Microwave for 1 minute and 30 seconds to soften. Mix together until everything is well combined. If if gets stringy or is not quite melted enough, put it back in for another 30 seconds.
To the cheese mixture, add the dry ingredients and the egg. Mix until all ingredients are well incorporated. If you are having a hard time mixing it, put it back in the microwave for another 20-30 seconds.
Once the ingredients are combined, spread the dough out on parchment paper or a silpat in a thin and even layer - about 9" by 13". If it starts to get sticky, wet your hands a little bit to prevent it from sticking to you.
Once you have the dough in a nice, even rectangle, sprinkle the cheddar over top, covering all of the dough.
Next, layer on the ham.
Roll the dough up tightly lengthwise. This will produce smaller rolls, but you will get almost twice as many. Turn so that the seam is facing down
Cut the ends off each side of the roll-up to even it out. Then cut it into 1" slices.
Place your individual roll-ups in a baking dish.
Bake for 20-25 minutes or until they are fluffy and golden brown.
While they are baking, melt the butter and mix it with the Dijon, Worcestershire, garlic powder and Italian seasoning. Fork whisk until all ingredients are well incorporated.
Take your rolls out of the oven, brush the glaze over top of them. Return them to the oven and bake for an additional 5 minutes.
Notes
Per Serving - Calories - 482 | Fat - 41g | Protein - 25g. | Carbs - 6.8g | Fiber - 2.8g | Net Carbs - 4g