This Vanilla Maple Keto Granola is perfectly crunchy and best of all, it is gluten free, low carb and sugar free. This is the best keto granola recipe ever!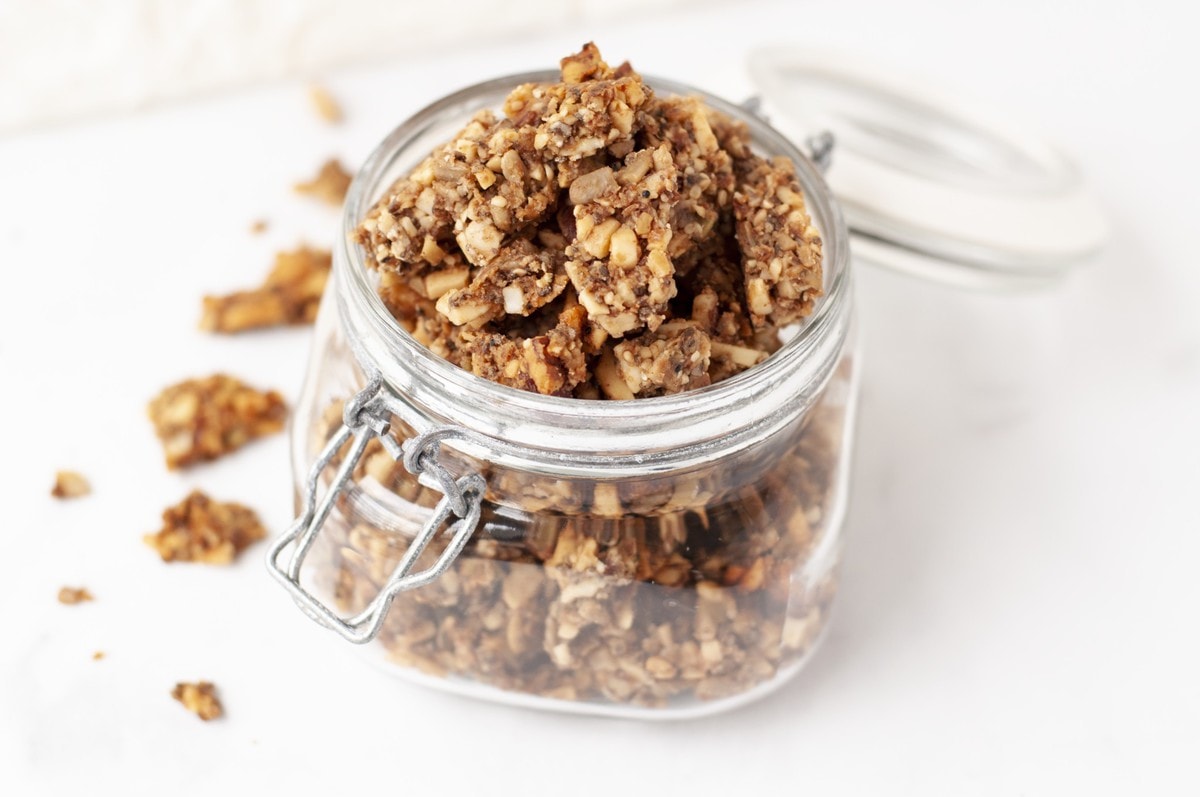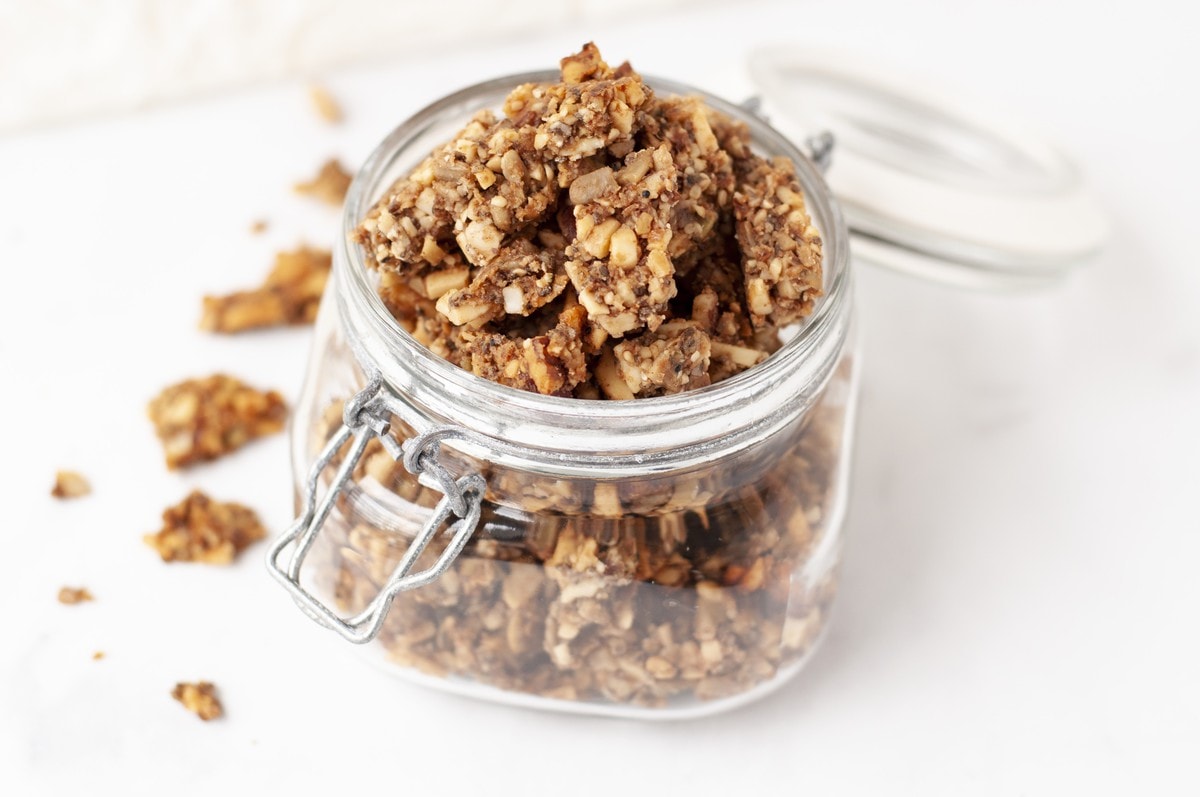 The best keto granola recipe:
Nutty vanilla maple granola, lightly sweetened with granular monkfruit and flavored with a bit of cinnamon, salt, and butter flavored coconut oil for ultimate granola goodness. This sugar free granola recipe is perfect for sprinkling on top of yogurt, as a topping for keto ice cream, or as the perfect low carb snack on its own. A dairy free recipe that everyone can enjoy!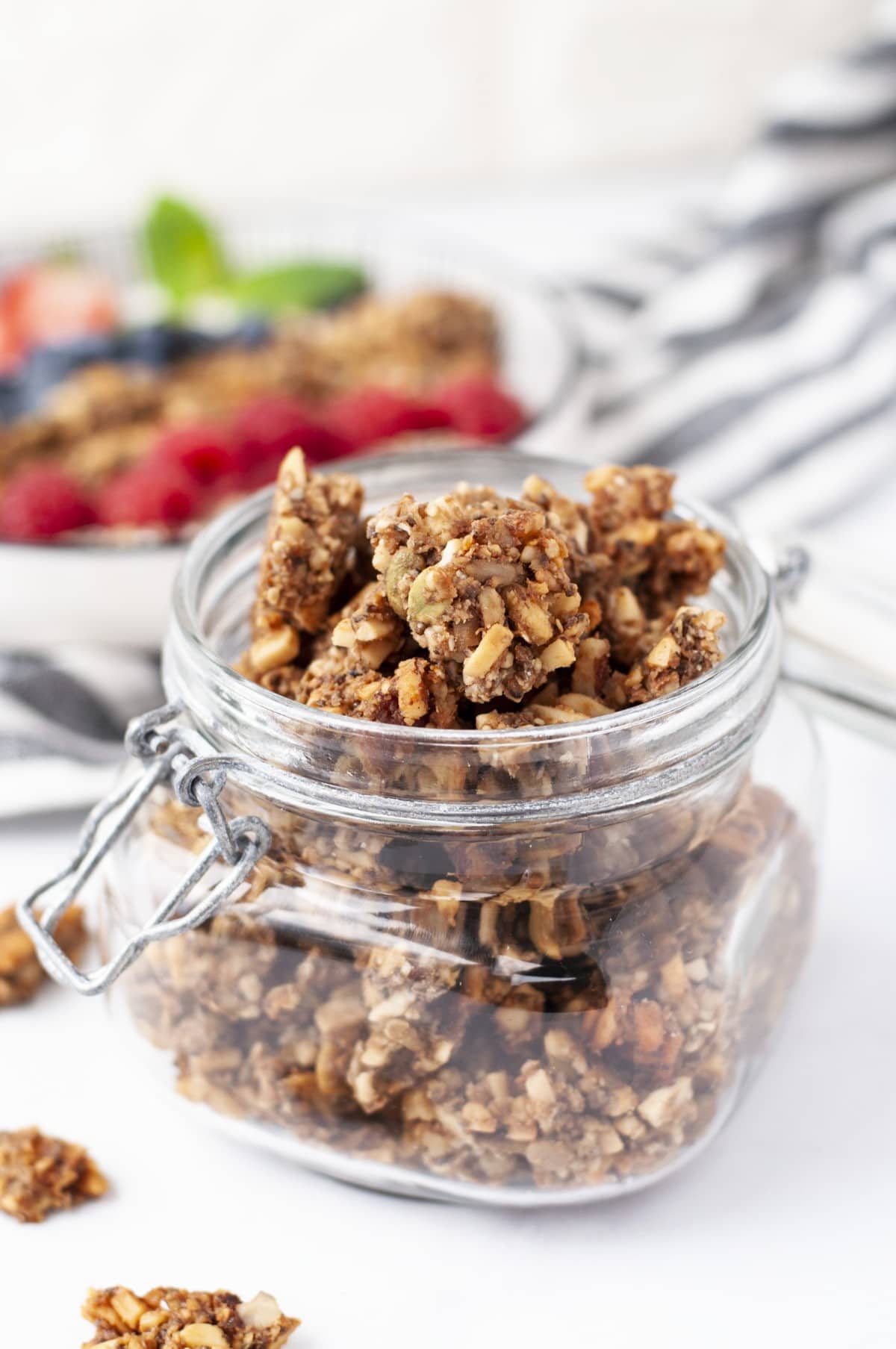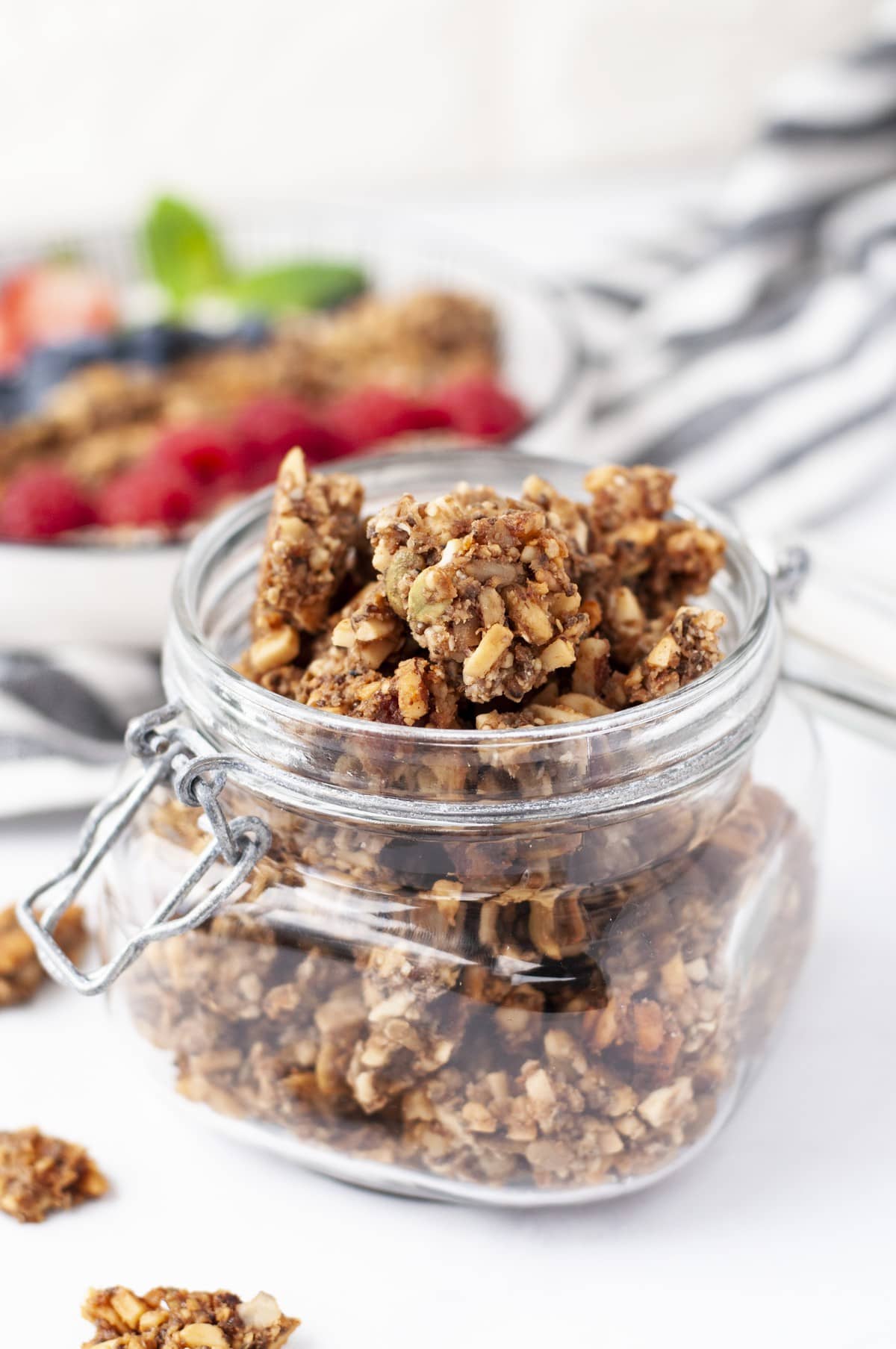 How to make keto granola:
Typically, granola is made with oats, but since this is a low carb granola, I used a mix of slivered almonds, pecans, sunflower seeds, pepitas, flaxseed meal, chia seeds, and hemp hearts, pulsed in a food processor to break everything up. Using a mix of nuts and seeds results in a moderate protein, higher fat granola that tastes great, makes a great vegetarian keto breakfast, and offers an intense crunch, which is exactly what I look for in a granola. The whisked egg whites add a bit of texture and help to bind everything together. Once the granola is done baking, you can break up into your desired size. I like to break mine up into chunks, but you could could break it up into a finer consistency if you prefer that.
If you're craving a granola with a fruity twist, you could add a few handfuls of my Sugar Free Dried Cranberries after baking and cooling. This easy homemade granola recipe makes a great gift, and you can make a few batches at a time depending on the size of your oven.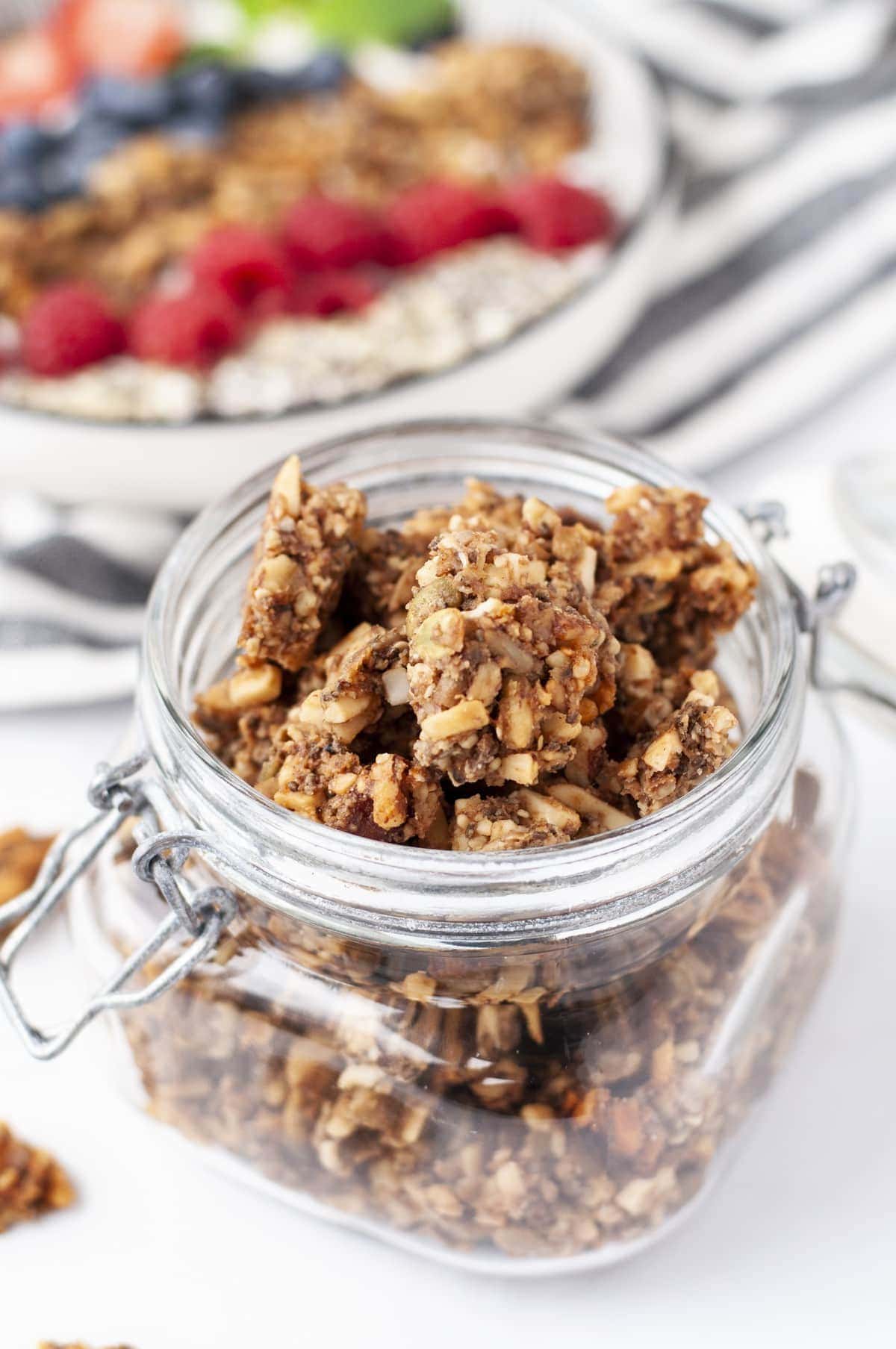 How to make crunchy granola:
The secret to crunchy granola is making sure it's spread evenly across the pan (so that it cooks evenly), and letting the pan sit in the oven until it's completely cold. Trust me: this is the foolproof method to getting perfectly crunchy granola ... and it's totally worth the wait. Even better if you have the time to let it stay in the oven over night.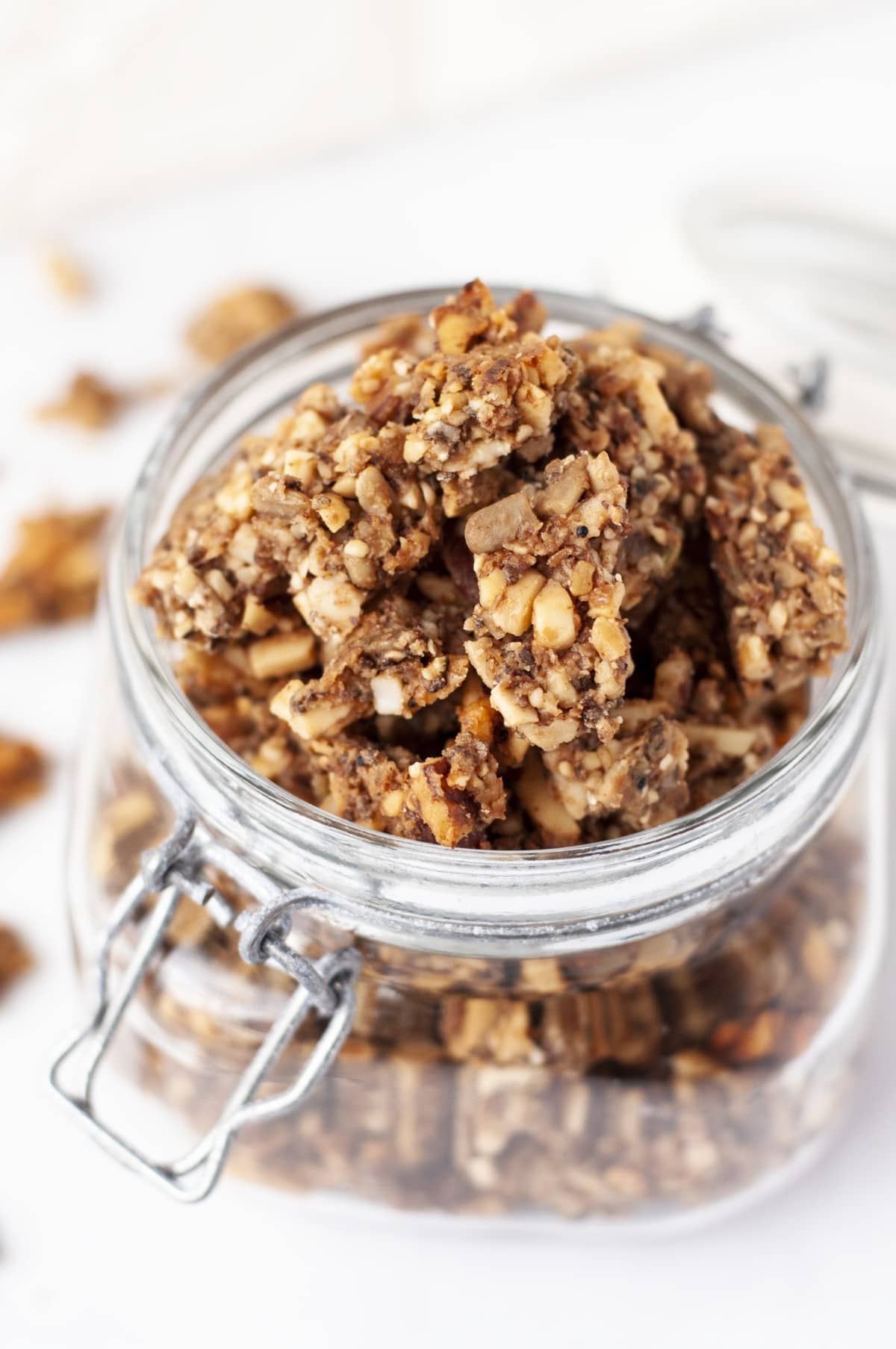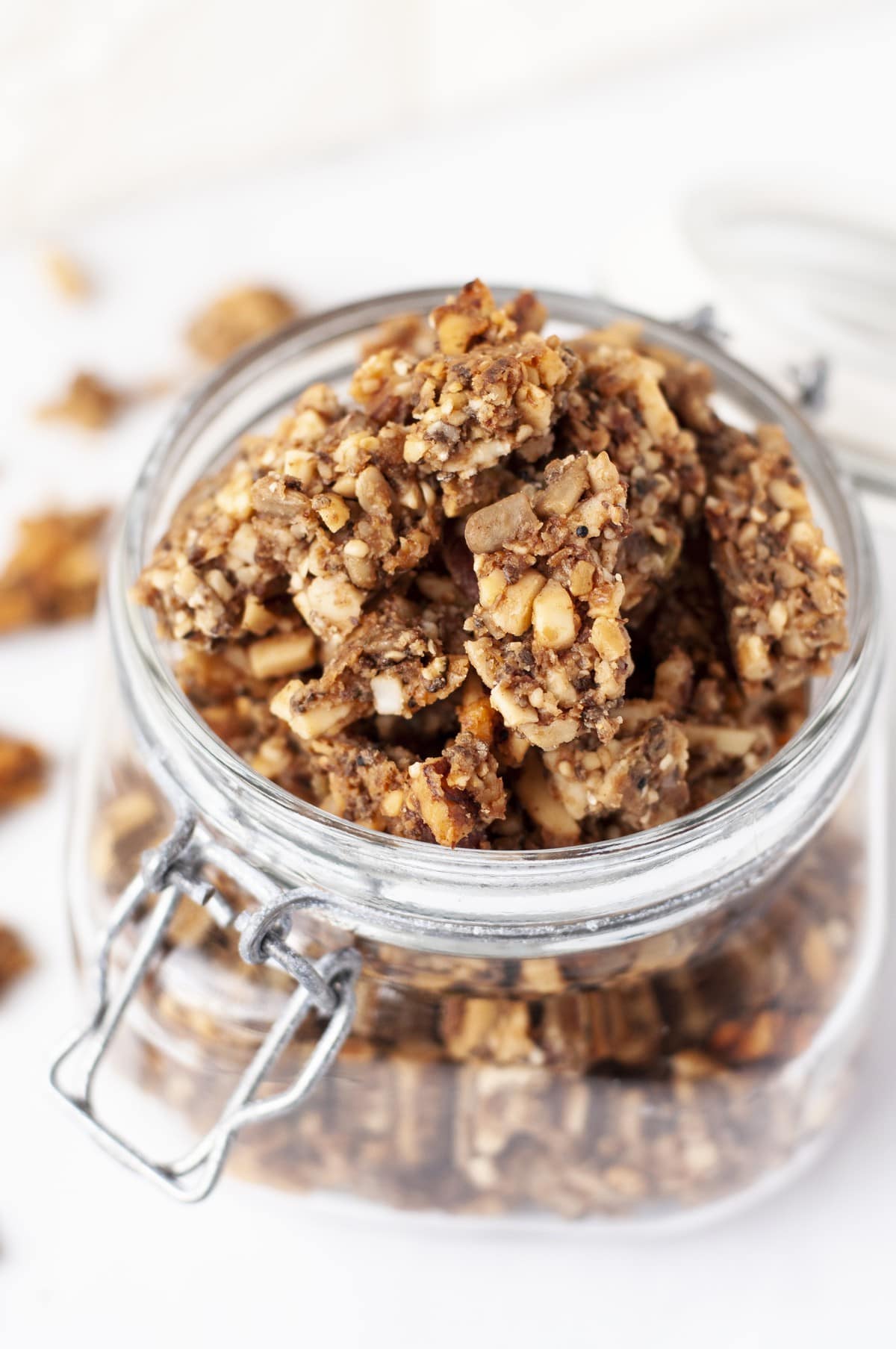 How do you store granola so that it stays crunchy?
To keep your homemade low carb granola nice and crunchy, store it in an airtight container at room temperature. Your granola will stay fresh for up to a month, if it lasts that long. This healthy granola recipe is a great way to switch up your breakfast and add a low carb crunchy snack to your rotation. I like to store mine in these large mason jars, with white lids.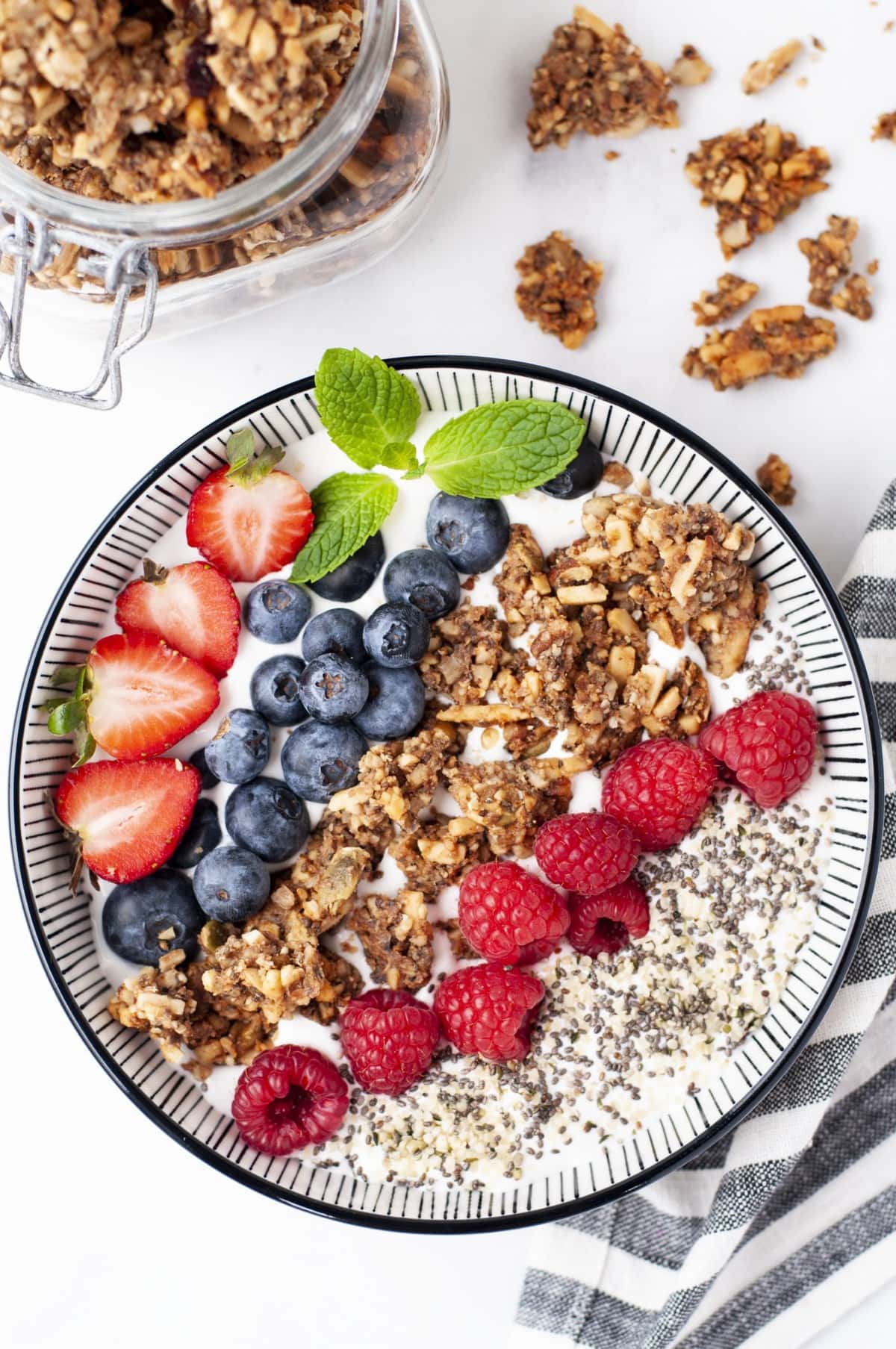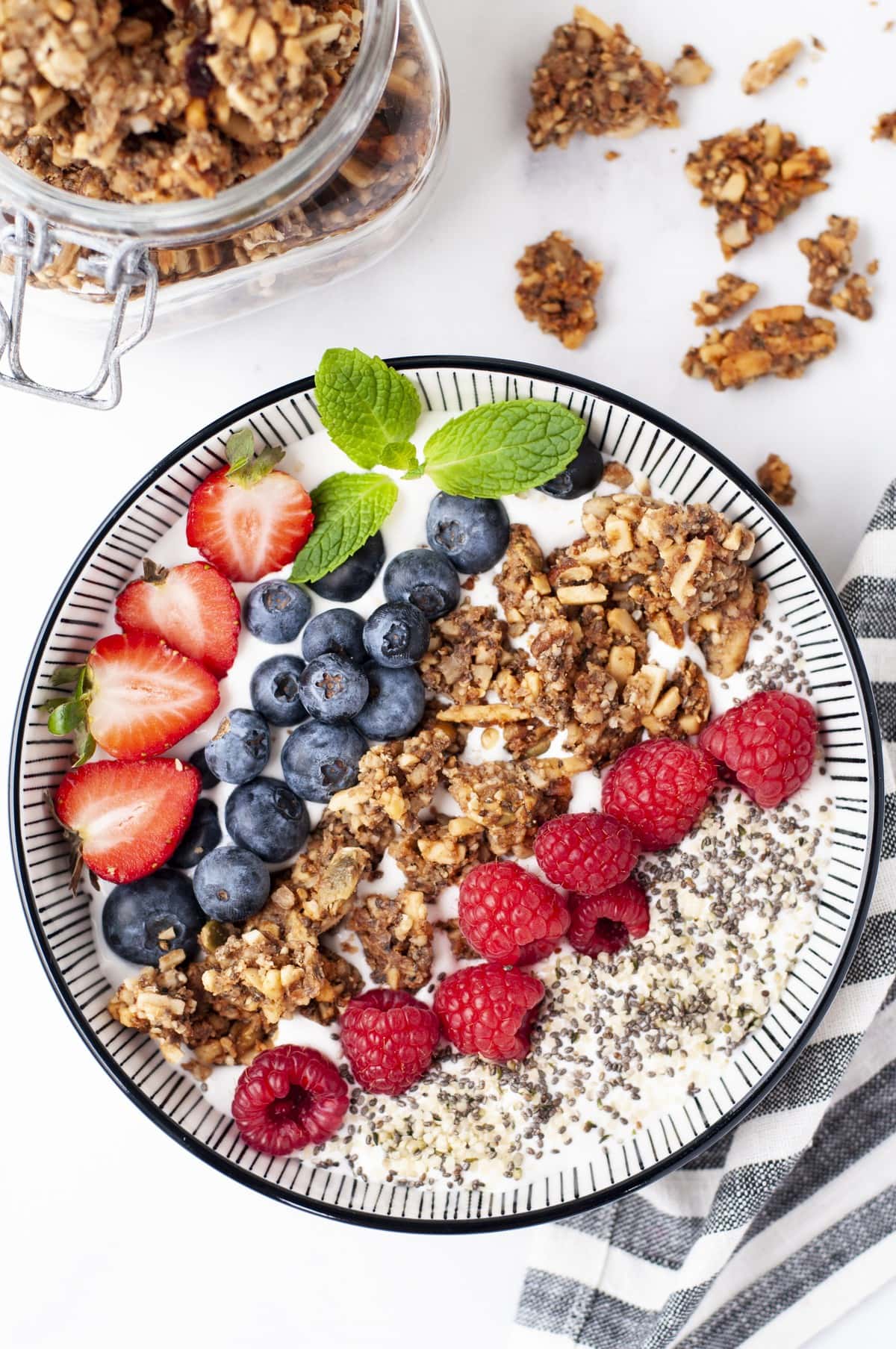 In addition to this Vanilla Maple Keto Granola, check out some of my other favorite low carb breakfast recipes:
Print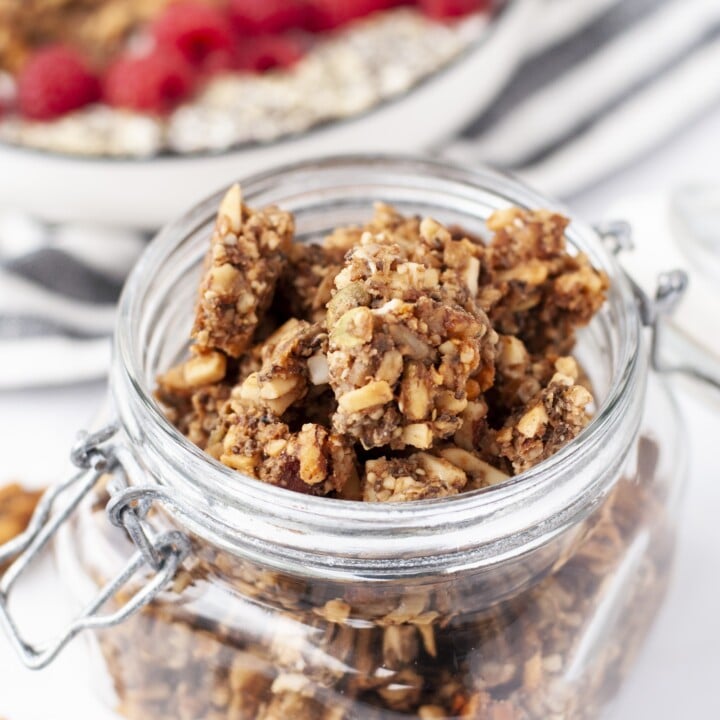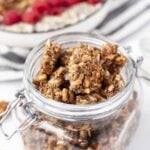 Vanilla Maple Keto Granola
---
2 cups

slivered almonds

2 cups

raw pecans

½ cup

hulled sunflower seeds

½ cup

hulled pepitas

½ cup

golden flaxseed meal (get it here)

¼ cup

chia seeds (I use this brand)

¼ cup

hemp hearts (I use this brand)

1 teaspoon

cinnamon

½ teaspoon

sea salt

2

egg whites, whisked until frothy, with soft peaks

⅓ cup

butter flavored coconut oil, melted (get it here)

½ cup

granular monkfruit (I use this brand) (code PEACE for 20% off)

½ cup

sugar free maple syrup ( I use this brand) (code PEACE for 20% off)

1 tablespoon

pure vanilla extract (I use this brand)
---
Instructions
Preheat the oven to 250°F.
Pulse the pecans and almond in a high-powered blender or food processor and pulse until broken up. You can also rough chop them with a knife. Transfer to a large mixing bowl.
Mix in sunflower seeds, pepitas, flaxseed, chia, hemp, cinnamon and sea salt and give a few quick pulses to chop and combine.
In a separate small bowl, whisk the eggs until they are frothy, with soft peaks, and set aside.
In a third bowl, combine the butter flavored coconut oil, monkfruit, maple syrup and vanilla extract. Mix until well combined.
Add the egg whites to the nut mixture and mix to evenly distribute the eggs through the mixture.
Pour the syrup mixture in a little at a time, mixing as you go.
Once the nut mixture is evenly coated in the egg whites and the syrup mixture, spread it evenly across a large rimmed baking sheet. You want it to be as thin of a layer as possible to ensure that the granola will get crunchy.
Bake it for 1 hour, mixing halfway through. If it still feels like it needs more time, add an additional 30 minutes on to the cook time.
Leave the tray in the oven, but turn the oven off. Let the granola sit in the oven until the oven is completely cold. This will help it get extra crunchy. If you have the time, leave it in the oven (with the oven off) overnight (or for 8 to 10 hours). Don't open the oven door - just let it do its thing.
Remove from the oven and break up into chunks. Store in an airtight container.
Notes
net carbs per serving: 1.5g
Nutrition
Serving Size:

¼ cup

Calories:

165

Fat:

15.3g

Carbohydrates:

4.4g

Fiber:

2.8g

Protein:

4.5g