Fresh, light, and super easy to make—this Whole30 and low carb Strawberry Balsamic Vinaigrette dressing is where it's at.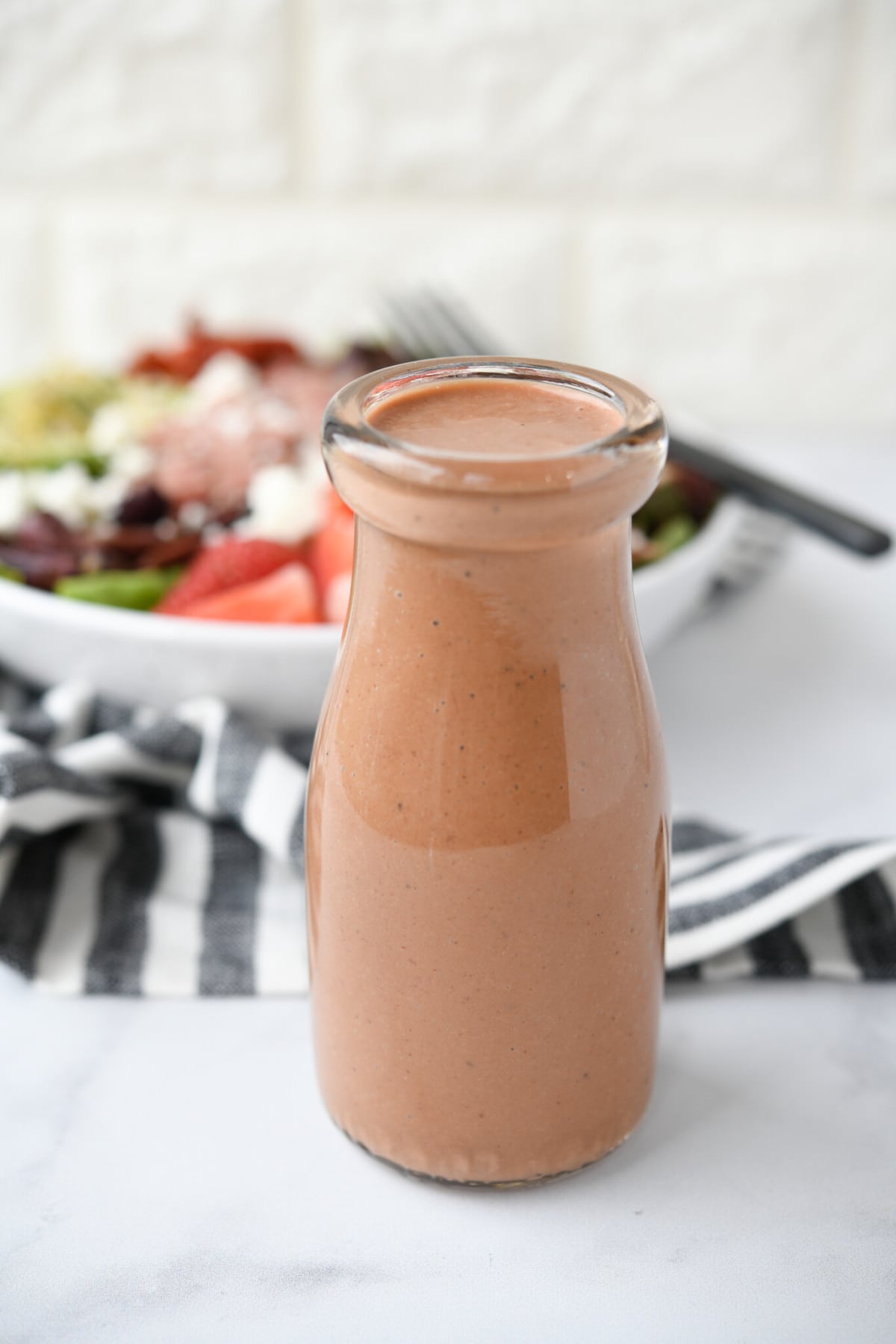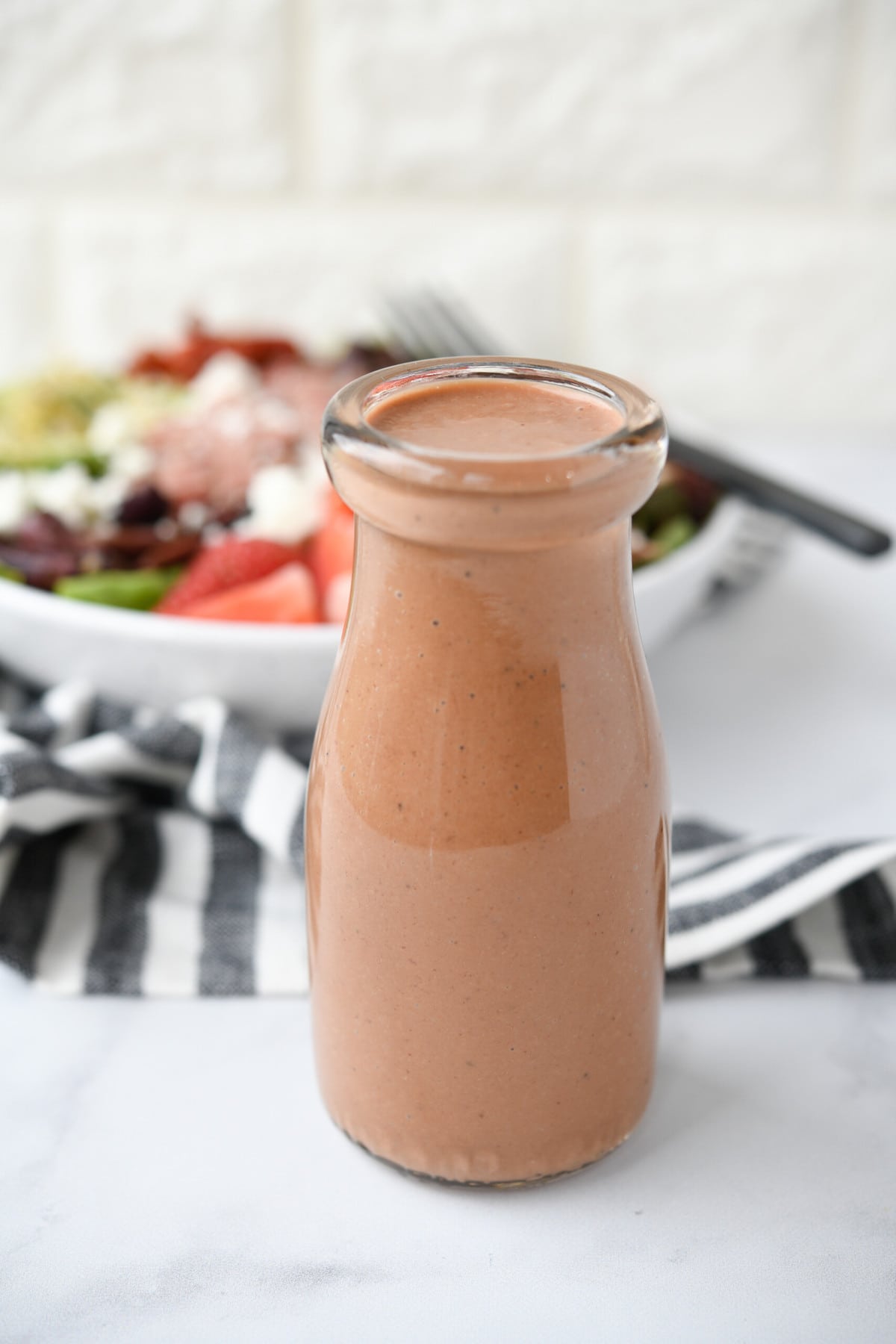 Ingredients
olive oil or avocado oil
strawberries
balsamic vinegar
Dijon mustard
lemon juice
shallot
garlic
sea salt
black pepper
red pepper flakes

How to make vinaigrette
Homemade dressings are so easy to make and they put you in control of the ingredients and the flavor profiles. With a few simple rules, you can make endless flavor combinations. You won't even need to follow a recipe, or measure out ingredients.
Acid and oil - A simple rule of thumb is to use one part vinegar (or other acid) to 3 parts oil. For example, ¼ cup balsamic vinegar and ¾ cup olive oil. However, these aren't fixed proportions. If you like your vinaigrette more on the tart side, or you are trying to balance out sweetness, you may want to go with a 1:2 vinegar to oil ratio like I did in this recipe.
Flavors and emulsifiers - After choosing your acid and your oil, you add in your other flavorings. I always add a bit of dijon mustard for tang, and as an emulsifier. You can add honey, sugar, maple syrup, or fruit for a hint of sweetness. Add garlic, chives, shallot, or onion for
Herbs, Spices, and alliums - add fresh herbs like rosemary, basil, thyme, chives, cilantro oregano, or even fresh mint. Add salt, pepper, red pepper flakes, smoked paprika, you name it. Add in some minces alliums like garlic, onions, or shallots.
These are all just basic guidelines. Have fun with it. Add, mix, taste, repeat... until you have a flavor you love.

Substitutions and variations
Oil - You can use olive oil, avocado oil, grapeseed oil, walnut oil, or even coconut oil
Vinegar - In place of the balsamic, you can use apple cider vinegar, sherry vinegar, champagne vinegar, red wine vinegar. You can also use fresh squeezed citrus like lemon, lime, grapefruit. Even better, use a mix of vinegar and citrus.
Strawberries - This recipe is also delicious with raspberries, blueberries, blackberries, or any combination of mixed berries.
Shallot - If you don't have any shallot on hand, try adding 2 teaspoons of dried minced onion or a teaspoon of onion powder. You can also just add an extra clove of garlic.

Salad and salad dressing recipes you might enjoy
Print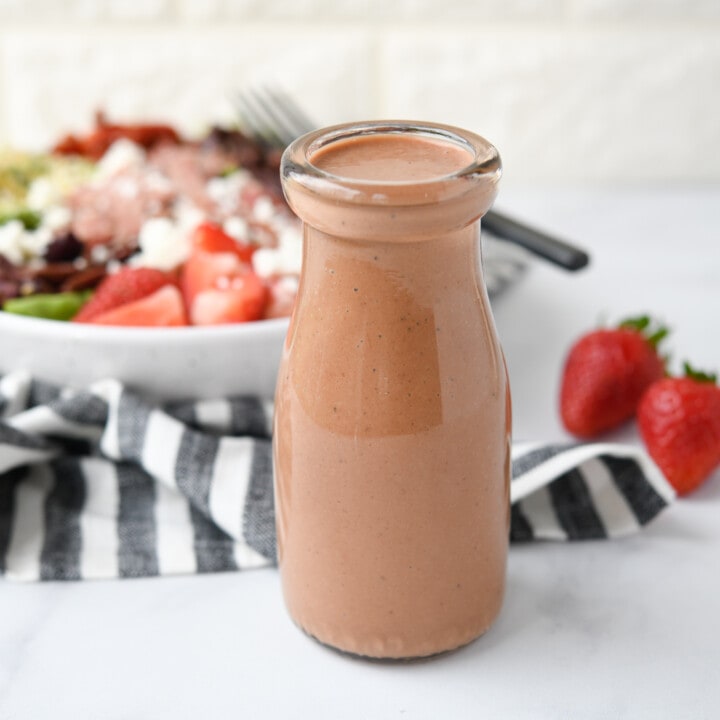 Strawberry Balsamic Vinaigrette
---
½ cup

light olive oil or avocado oil

⅓ cup

sliced strawberries

¼ cup

balsamic vinegar

1 tablespoon

plus 1 teaspoon Dijon mustard

1 tablespoon

fresh lemon juice

½

of a small shallot, minced

1

clove garlic, minced

½ teaspoon

sea salt

⅛ teaspoon

black pepper
pinch of red pepper flakes
---
Instructions
Combine all ingredients in a blender or food processor and pulse until smooth. If the mixture is too thick, add a little water to thin it out.
Notes
net carbs per serving: 1.5g
Nutrition
Serving Size:

2 tablespoons

Calories:

106

Fat:

11g

Carbohydrates:

1.6g

Fiber:

0.1g

Protein:

0g
Keywords: low carb salad dressing recipes, Vinaigrette dressing, strawberry balsamic vinaigrette, keto salad dressing