These Parmesan Chive and Garlic Keto Crackers are the perfect low carb snack or accompaniment for keto dips.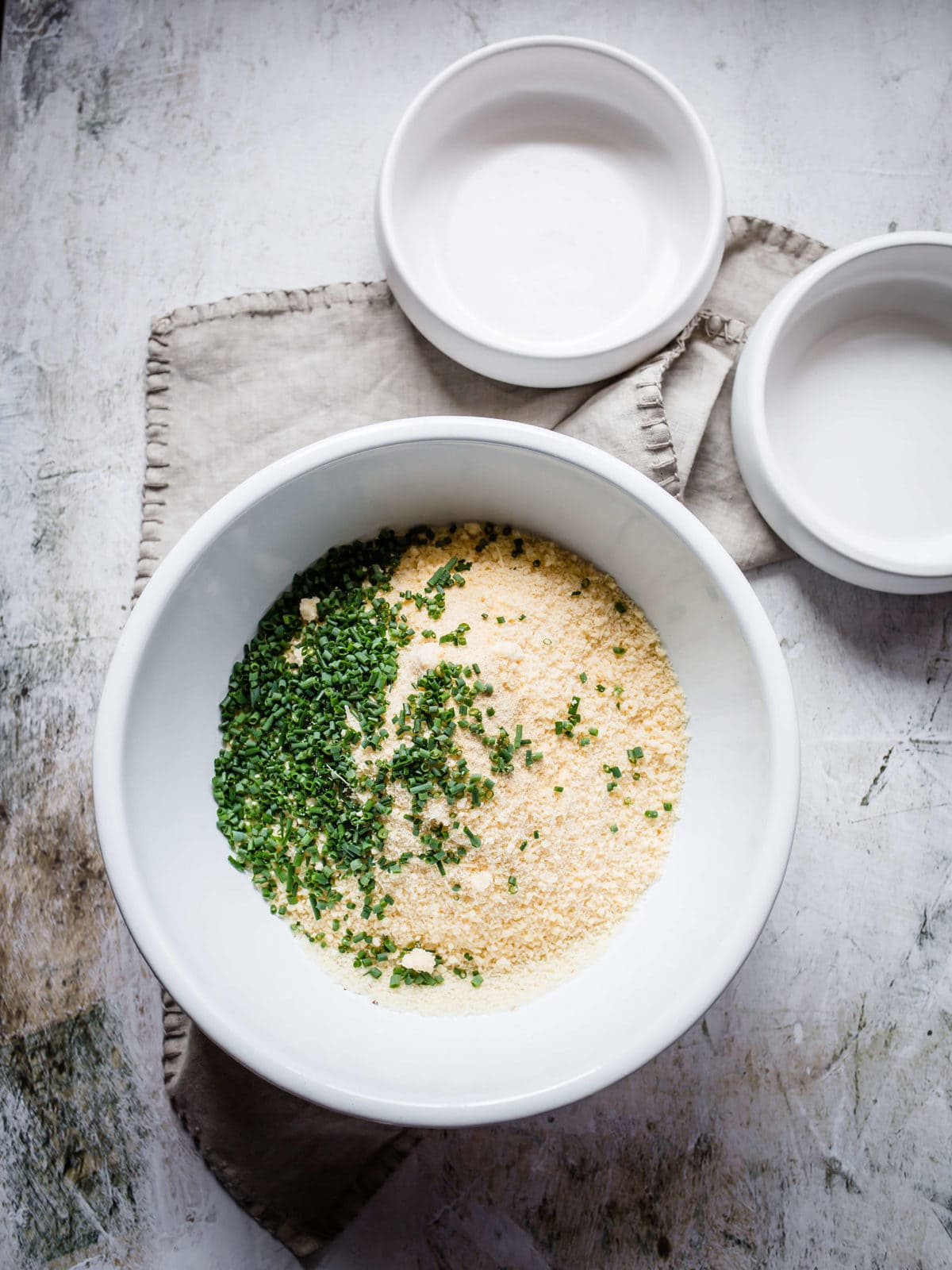 How to make low carb crackers
There are a lot of different ways to make keto crackers, but this almond flour and cheese variation is my favorite. You can also make keto flax crackers or even fathead crackers. You can even make cheese crackers by simply baking slices of cheese until they are nice and crispy. The great thing about all of those different variations is that they are all gluten free crackers. It really just boils down to a matter of personal preference.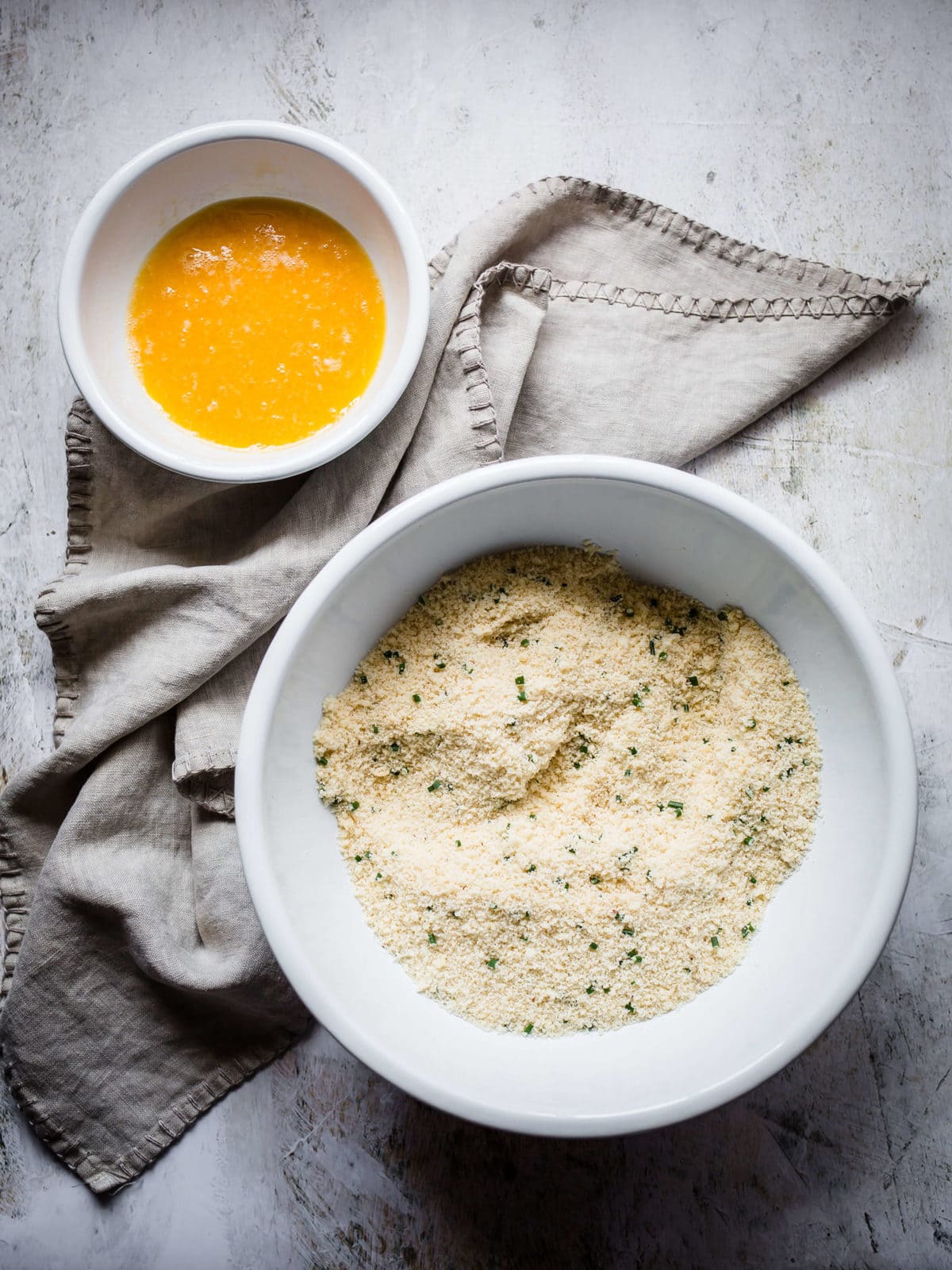 Frequently asked questions?
Can I sub coconut flour for almond flour?
I have only tested these low carb crackers with almond flour. Coconut flour is not a 1:1 substitution. Coconut flour is extremely absorbent, so when substituting coconut flour, it is necessary to add more liquid and more egg. A good rule of thumb is to substitute 1 cup of almond flour with ¼ of coconut flour and one additional egg for every ¼ cup of coconut flour. It may also be necessary to double the liquid called for in the recipe as well. If the mixture seems too dry, simply add more liquid, a little at a time until you reach your desired consistency. If your mixture is too wet, add additional coconut flour, mixing in 1 teaspoon at a time until you reach your desired consistency.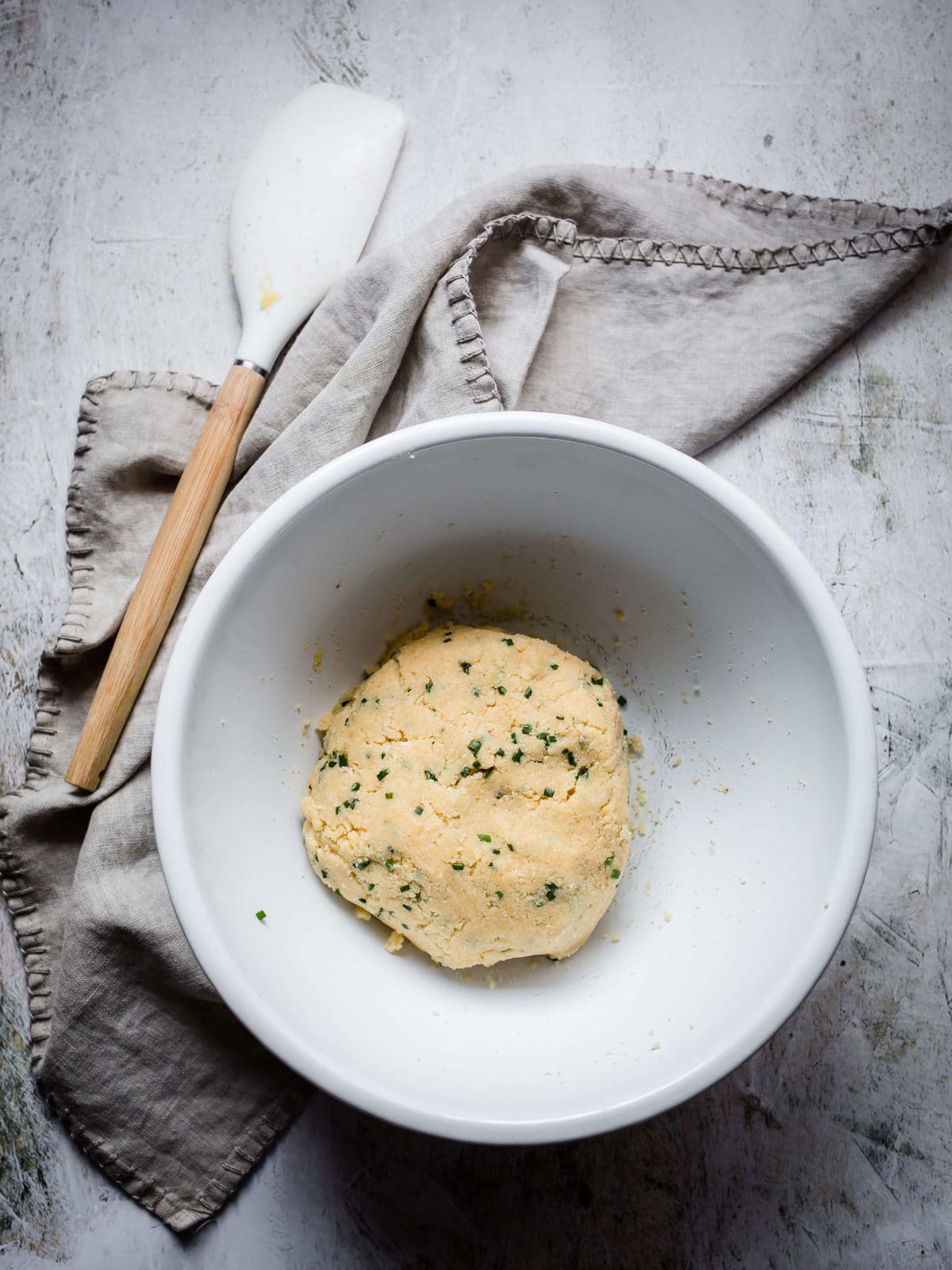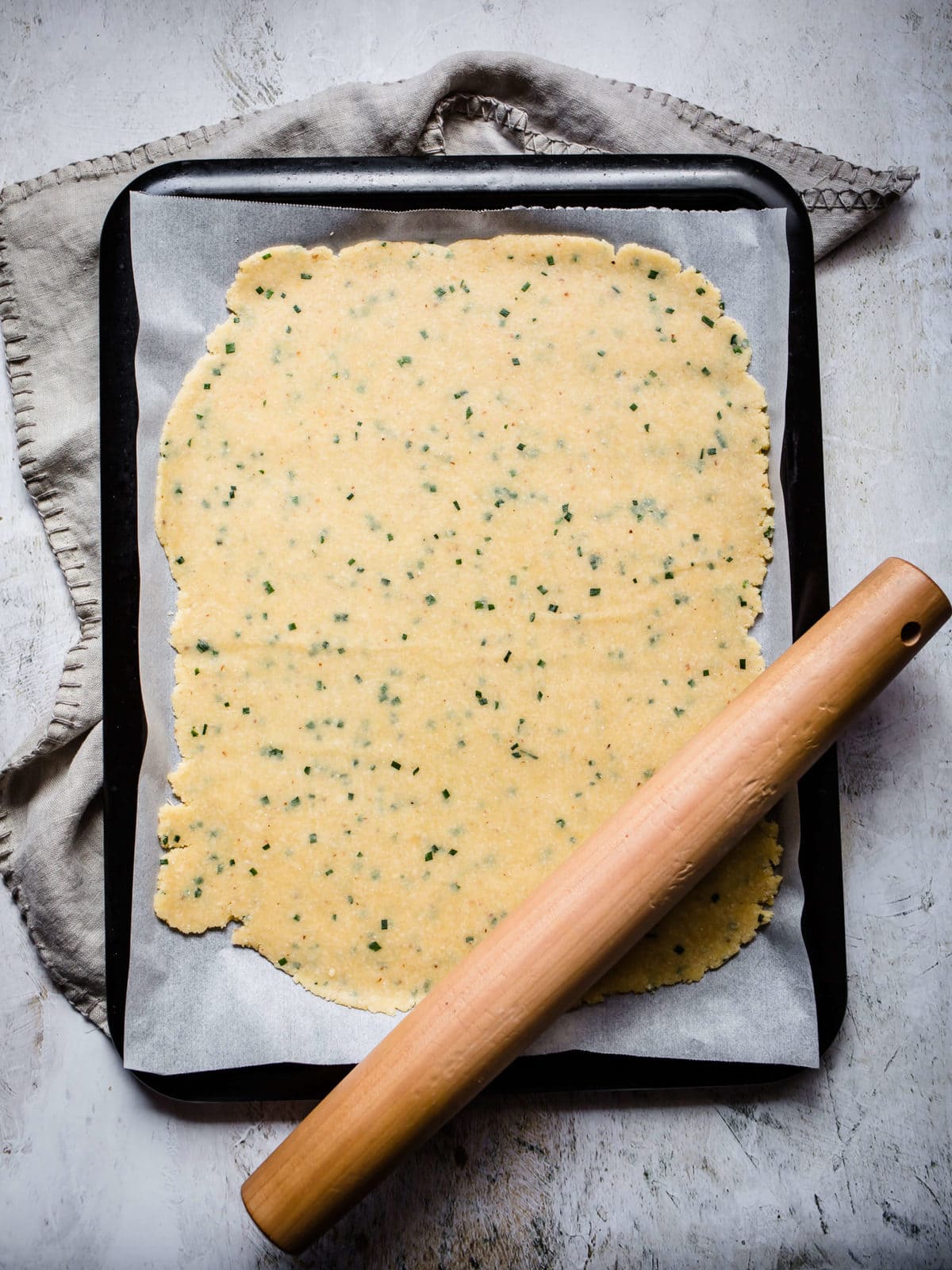 Flavor Variations
Basil and sun-dried tomato
Rosemary and garlic
Cheddar and chive
Nutritional yeast in place of parmesan
Dill and sea salt
Sour cream and chive
Black pepper and parmesan
Cinnamon and erythritol
Wasabi and gluten free soy sauce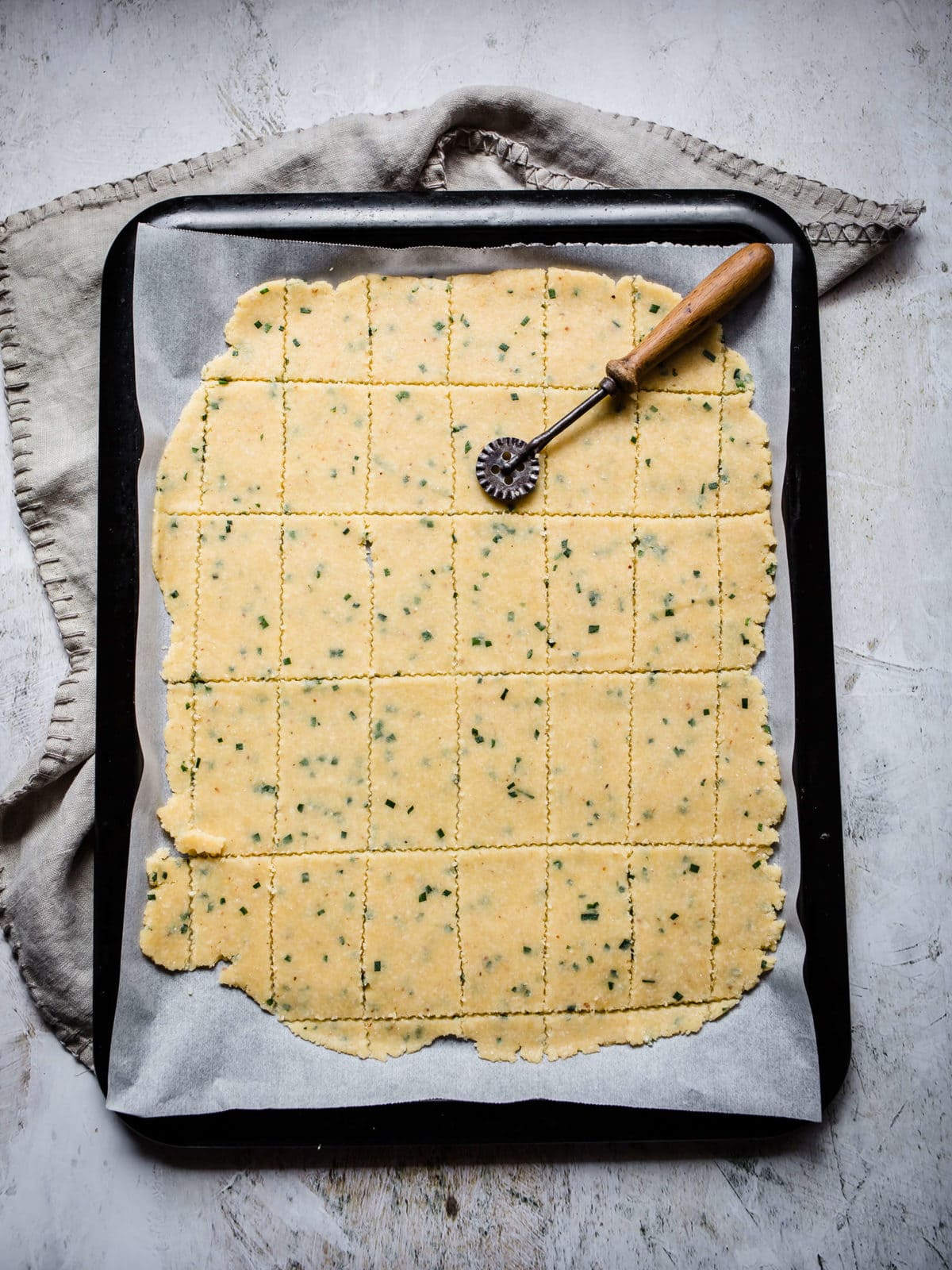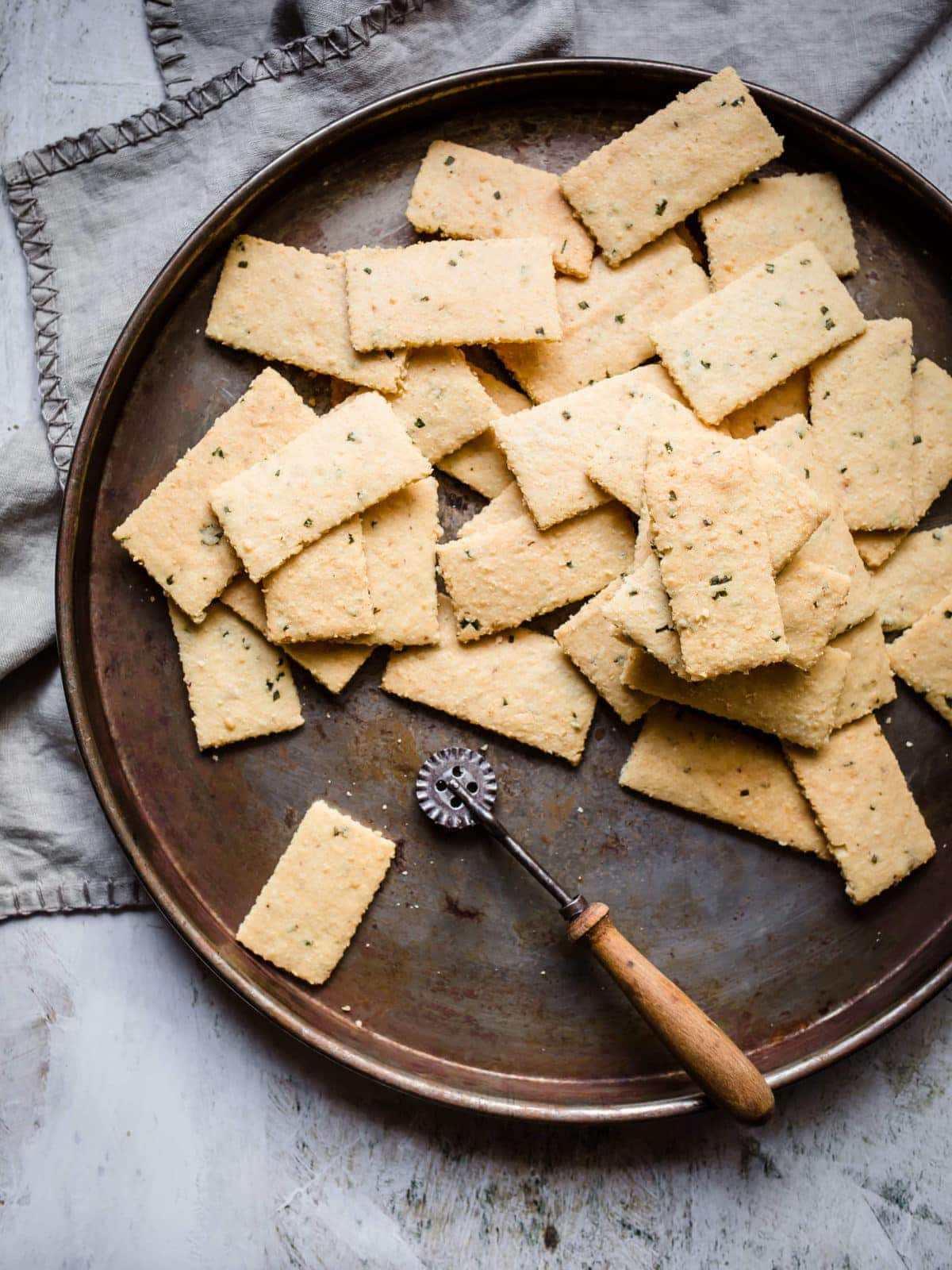 While these keto crackers are quick and easy to make, I get that you might not want to take the time to make your own low carb cracker. Instead, you may prefer to just have something that you can regularly purchase and not have to spend any time in the kitchen. Well, I have a delicious suggestions for a store-bought keto cracker as well. You can check out my favorite low carb, keto cracker here.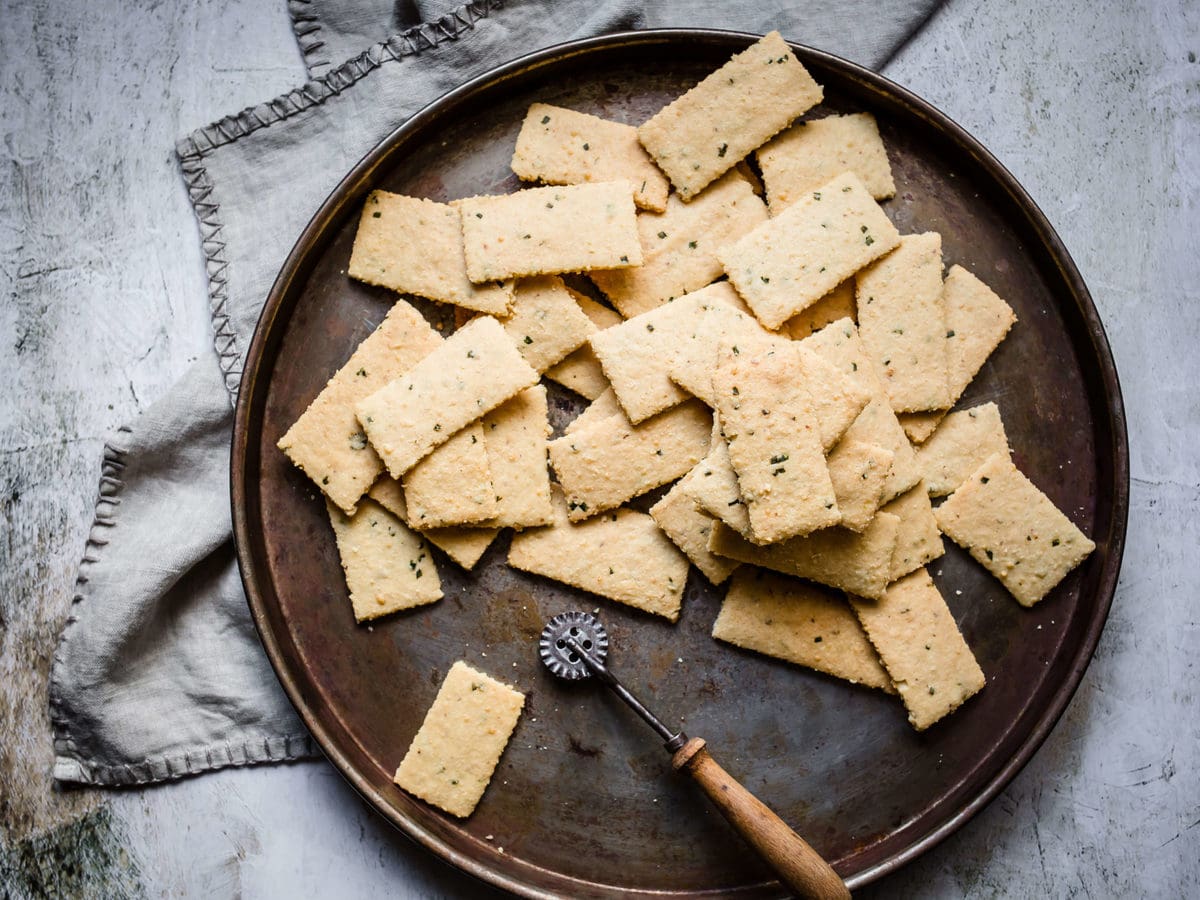 Serving Suggestions
What goes better with crackers that something warm and delicious to spread on top. I have a lot of keto dips, keto sauces, and even keto dressing recipes here on the site. But among them all, below are a couple of my absolute favorite low carb recipes to serve these almond flour keto crackers with.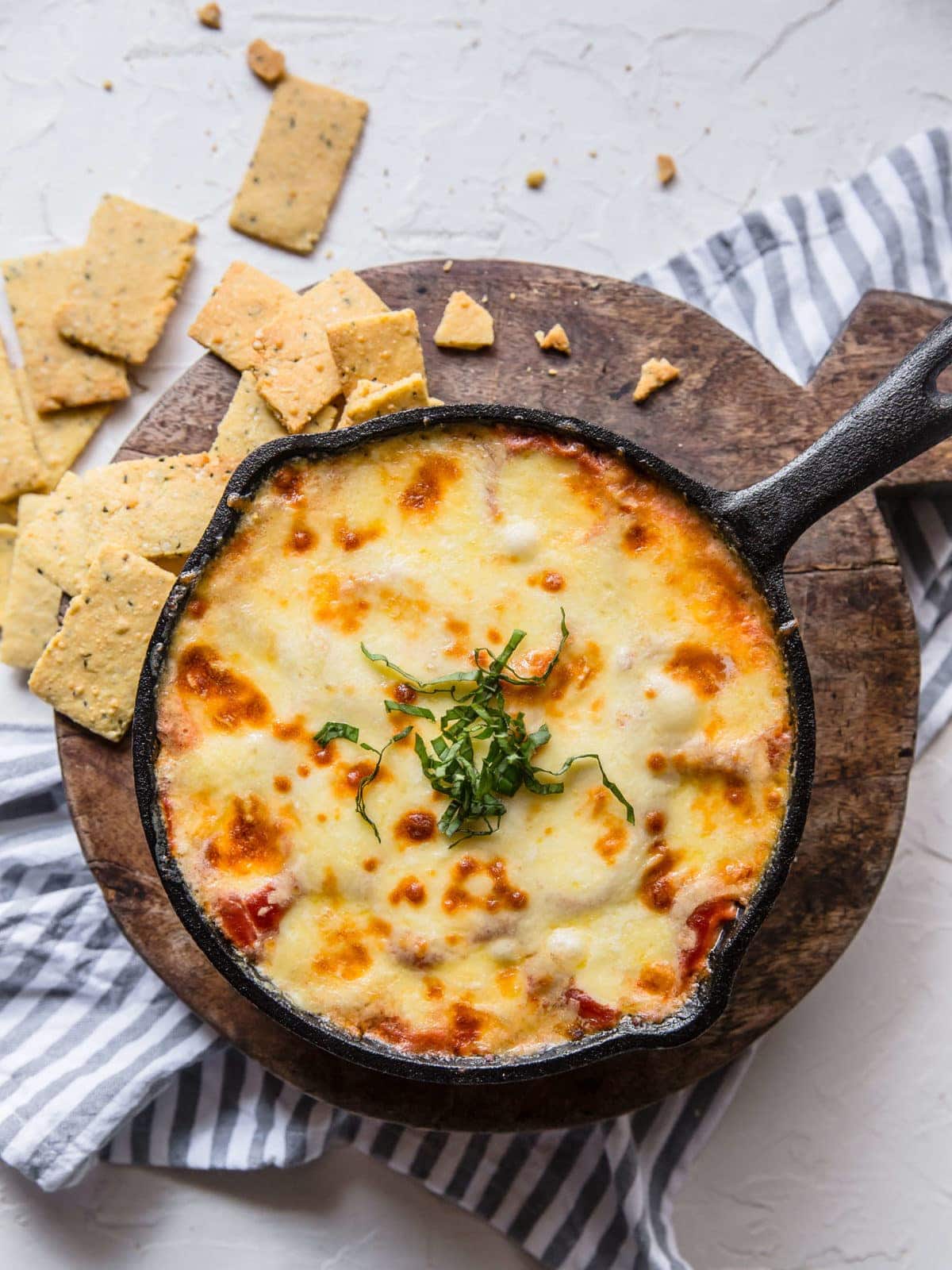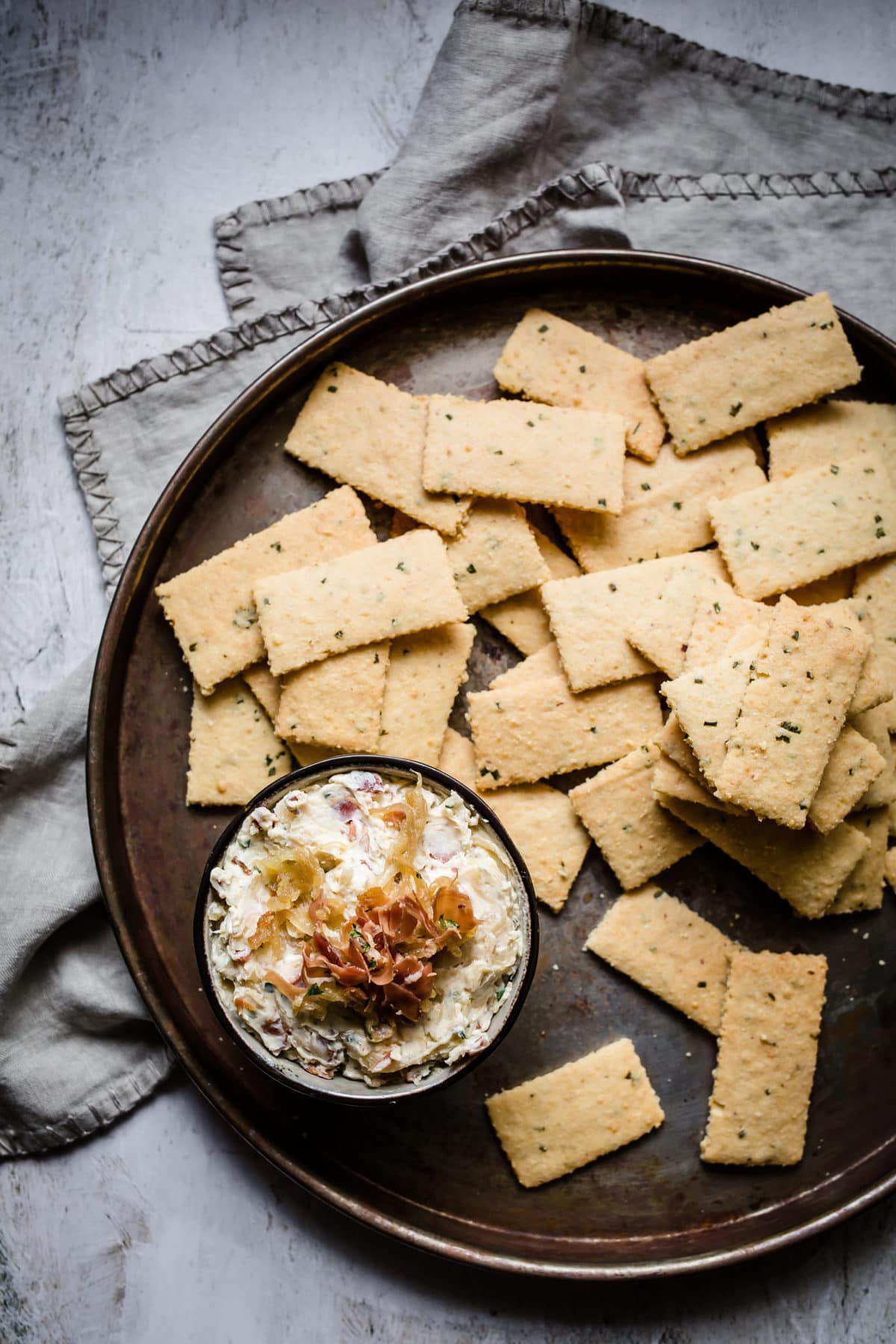 Sign up for our free newslette
NEVER MISS A RECIPE! Get our newest recipes sent directly to your inbox as soon as they are released. CLICK HERE TO SUBSCRIBE
Other recipes you might enjoy
Print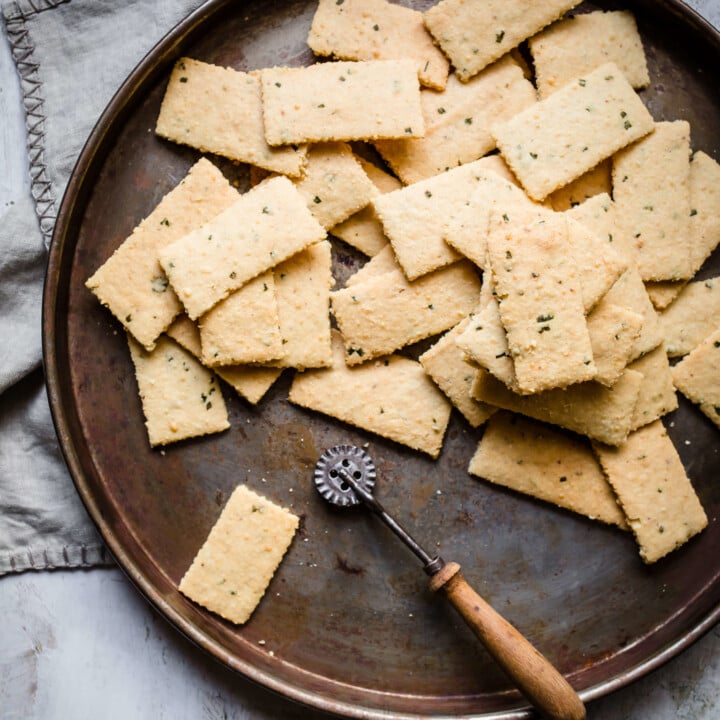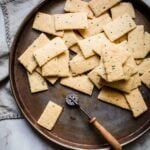 Parmesan Chive and Garlic Keto Crackers
---
Author:

Kyndra Holley

Total Time:

40 minutes

Yield:

100

crackers

1

x
1 ¾ cups

blanched almond flour (I use this brand)

2 cups

finely grated Parmesan cheese

1 teaspoon

garlic powder (I use this brand)

2 tablespoons

chopped fresh chives or

1 teaspoon

dried chives

2 tablespoons

butter, melted

2

large eggs, whisked
---
Preheat the oven to 340°F. Line two large rimmed baking sheets with parchment paper or a silicone baking mat.
In a large mixing bowl, combine the almond flour, parmesan cheese, garlic powder, and chives. Mix until all ingredients are well incorporated.
In a separate small bowl, whisk together the eggs and melted butter.
Pour the wet ingredients into the dry ingredients and mix until a soft dough forms. It may be crumbly at first, but continue mixing it until it comes together.
Divide the dough in half, putting half on each baking sheet. Roll the dough out until it is about ¼ inch thick.
Use a pastry cutter or a sharp knife to cut each sheet of dough into 50 equal sized crackers. (You can make them any size you desire, but the nutritional information below is for a yield of 100 crackers.)
Transfer the baking sheets to the oven and bake for 15 minutes.
Remove the crackers from the oven and carefully re-cut the crackers anywhere they may still be stuck together and separate them just slightly to allow them to cool. They will still be slightly soft at this point. Do not be tempted to cook them longer, simply follow the next step.
With the oven off, put the trays back into the oven and leave them there as the oven cools. This will yield perfectly crunchy crackers.
Notes
NET CARBS PER SERVING: 1.2g
Prep Time:

10 minutes

Cook Time:

30 minutes

Method:

baking
Nutrition
Serving Size:

5 crackers

Calories:

104

Fat:

8.6g

Carbohydrates:

2.1g

Fiber:

0.9g

Protein:

5.8g
Keywords: keto crackers, keto friendly crackers, low carb crackers, keto snacks, gluten free crackers, almond flour crackers, cheese crackers, cracker recipes