If you are looking for ideas and inspiration for keto snacks or low carb appetizers, then this Epic Keto Charcuterie Board is for you.
Charcuterie boards are not only visually stunning, but they are loaded up with delicious keto party foods. The beauty of a well-made charcuterie plate is that there are no rules. You can literally add any low carb snacks that you want. Making a keto charcuterie board is the perfect low carb appetizer for that New Years Eve celebration you've been planning, or for serving up for the big game on Super Bowl Sunday! If you are looking for an easy keto appetizer, then this is the show-stopper you are looking for.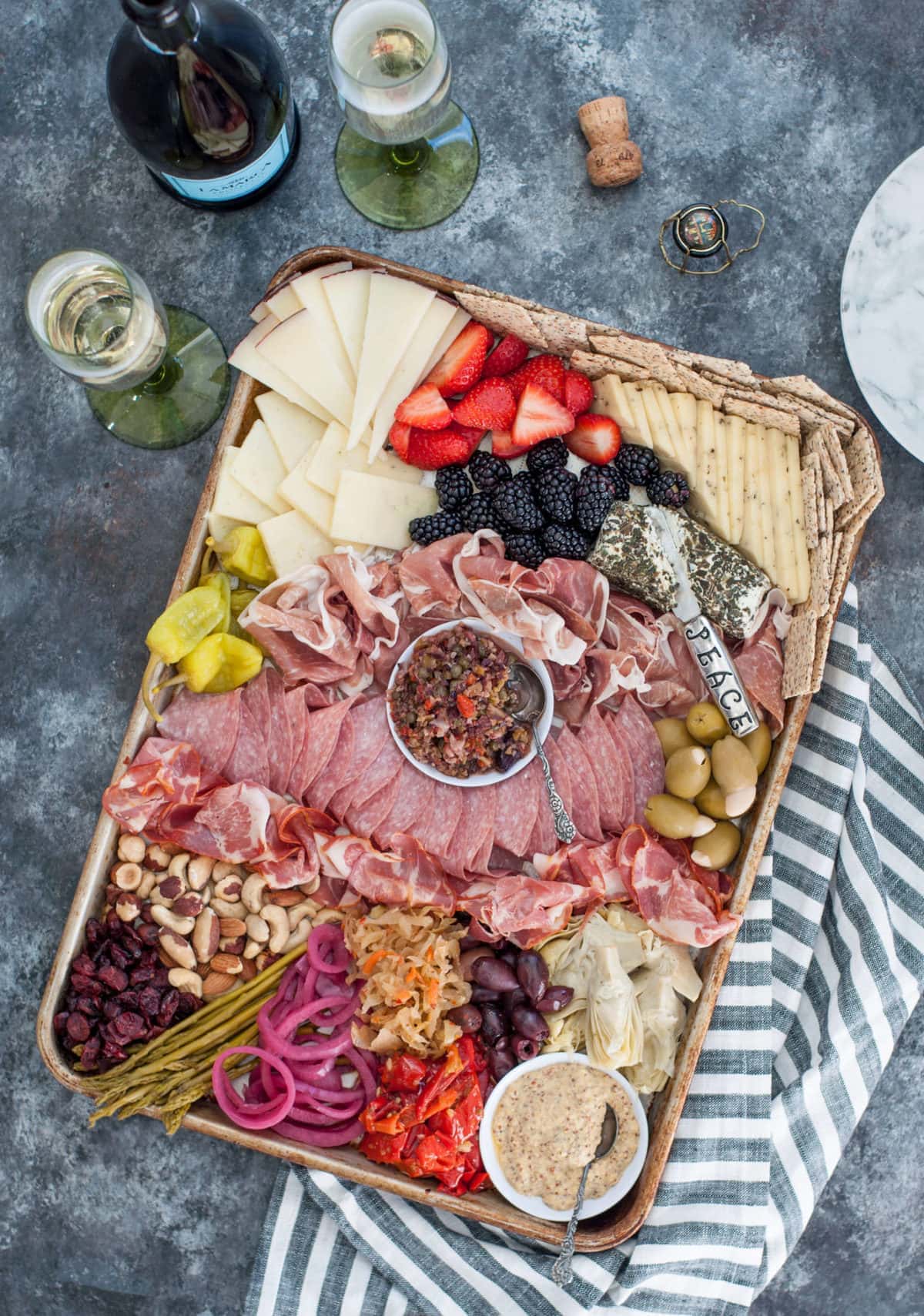 So what is charcuterie?
First let's start with how to pronounce charcuterie. (shar-kew-tree). Although you will also hear many people pronounce it (shar-kew-ter-ree) Now, let's get into the definition of charcuterie. If you take to the internet to define charcuterie, you will find a lot of different answers. The two most common being "cooked meat" and "pork butcher shop". The French word for a person who prepares charcuterie is charcutier, generally translated as "pork butcher". However, todays charcuterie boards have branched out far beyond just an average meat and cheese platter. They are loaded up with all sorts of fantastic snacks, many of which are already naturally keto-friendly snacks.
What is a charcuterie board?
You could ask 10 different people to create a charcuterie plate and all 10 would look vastly different. As we discussed above, the loose translation of charcuterie is "pork butcher" which let to the misconception that a charcuterie board could only contain pork meats. I say, the more meat the merrier. Let's go nuts. Charcuterie commonly implies to a meat and cheese board make with additional offerings of things like nuts, seeds, berries, pickled vegetables, sauces, spreads, bread, crackers etc.
In the case of the keto charcuterie board that I prepared for you today, I've loaded it up with a lot of my favorite low carb snacks. It is possible to have a beautiful tray of keto finger foods and to truly enjoy every last bite. Charcuterie boards can be seen on most restaurant menus these days and are a fantastic way to share a keto friendly appetizer with friends and family.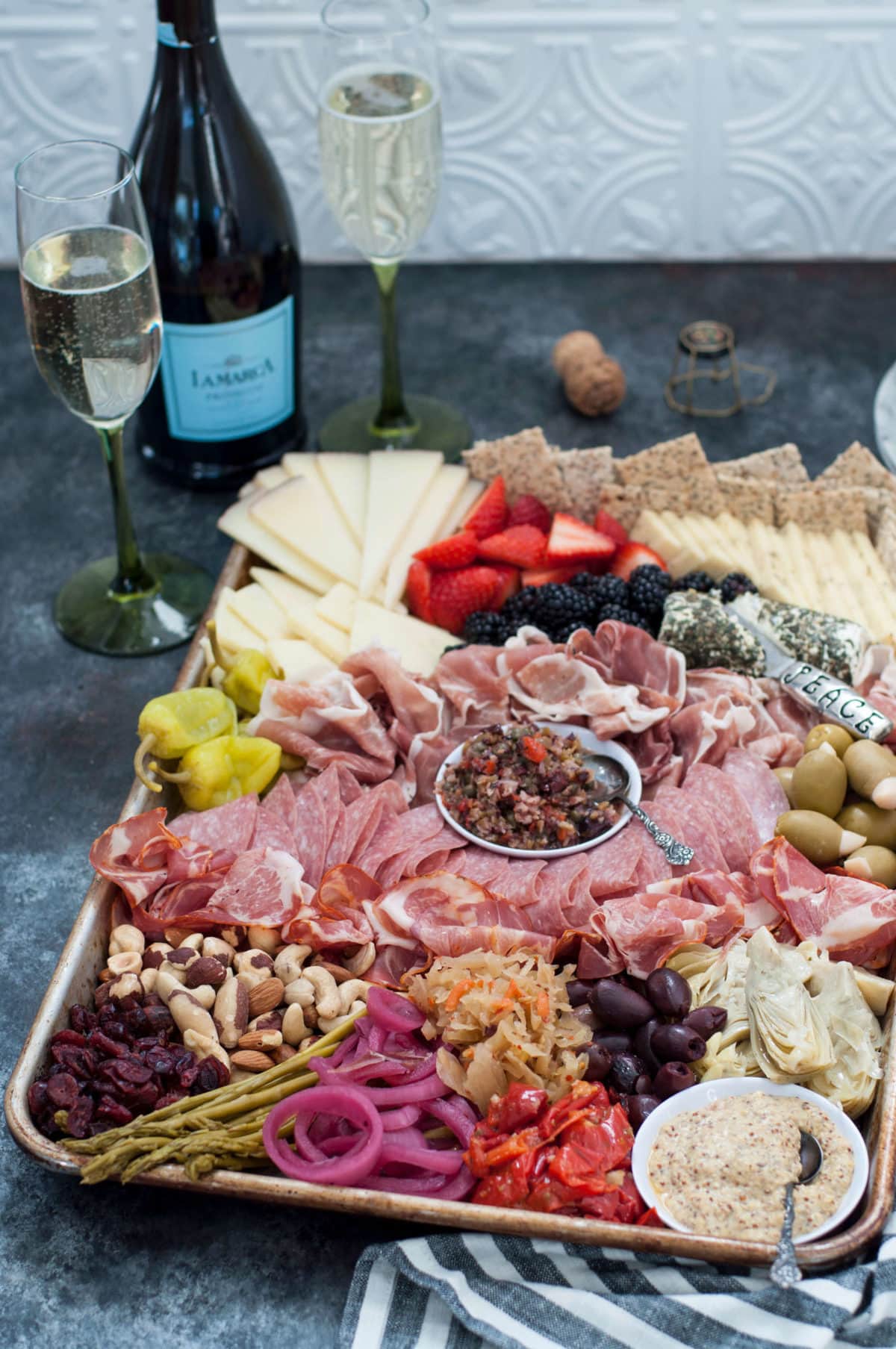 What foods typically go on a charcuterie plate?
A charcuterie board often consists of a variety of cured meats, and artisan cheeses. You will also commonly see a variety of nuts, seeds, berries, pickled vegetables, breads, crackers, spreads, dips, tapenade etc. There really isn't a right or wrong way to make a charcuterie platter, so don't let yourself get too caught up on the details. For example: the board below is completely dairy free. Look how many food options there are, even without the cheese. I'm going to give you all my best tips and tricks for making a kick ass keto appetizer that is sure to impress.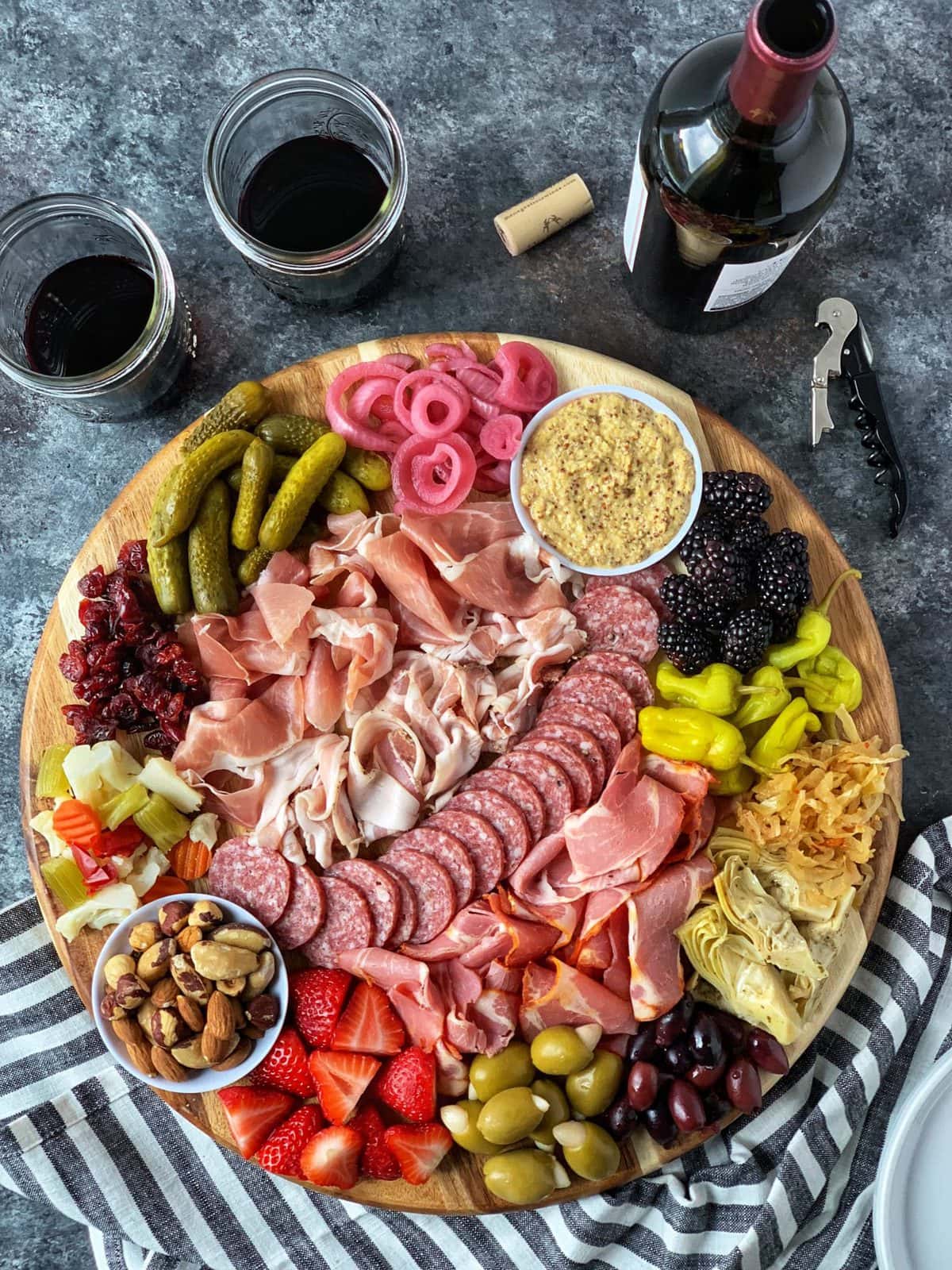 How do you make a keto charcuterie board?
Choose a serving platter for your keto charcuterie board: You want to start by choosing your serving platter. The most common way to serve a keto charcuterie board is on a large food-safe wooden board or cutting board. But you will also see meat and cheese platters served on plastic cutting boards, marble platters, large slabs of slate etc. As long as you are working with a food-safe surface, you are good to go. I have included links below to some of my favorite serving options for your low carb charcuterie board.
Pick the ingredients for your keto charcuterie board: After you have your surface, you want to pick your offerings. It is good to select a wide variety of tastes, colors and textures. You really want your finished meat and cheese platter to POP! After all, we eat with our eyes first. Even though what you are making it technically a keto appetizer, you want your guests to have such a wide variety on their plates that they almost feel as though they are having a full meal.
So what keto-friendly ingredients should you include on your board? Well, you can make your board exactly per the recipe below, or you can get creative with it and load it up with any of your favorite keto snacks. Here are some of my favorites:
Best meats for a charcuterie board:
This is by no means a complete list, but these are some of my favorites. Load this bad boy up with all your favorite keto friendly cured meats.
Salami
Prosciutto
Pancetta
Capocolla
Soppresatta
Pepperoni
Chorizo
Mortadella
Best cheeses for a charcuterie board:
Again, this is not a complete list, but I've included some of my favorites. Go to town with any of your favorite low carb cheeses. After all, this is your keto appetizer platter.
Aged white cheddar
Herbed chevre
Brie
Manchego
Havarti
Gouda
Camembert
Burrata
Halloumi
Gruyere
Best nuts, berries, vegetables, spreads, dips etc. for a charcuterie board:
This is where you get to be really creative. You can load the board up with all your favorite keto snacks. Again, I will list come of my favorite, including links to the corresponding recipes. and don't forget the bubbles – champagne, prosecco, sparkling water, kombucha. That should cover all the bubble bases!
Mixed nuts
Fresh strawberries
Fresh blackberries
Stuff green olives
Kalamata olives
Sauerkraut
Pickled asparagus
Roasted red peppers
Pickled artichokes
Giardiniera
Pepperoncini
Low carb crackers  (here are some low carb cracker recipes)
Dill pickles
Stone ground mustard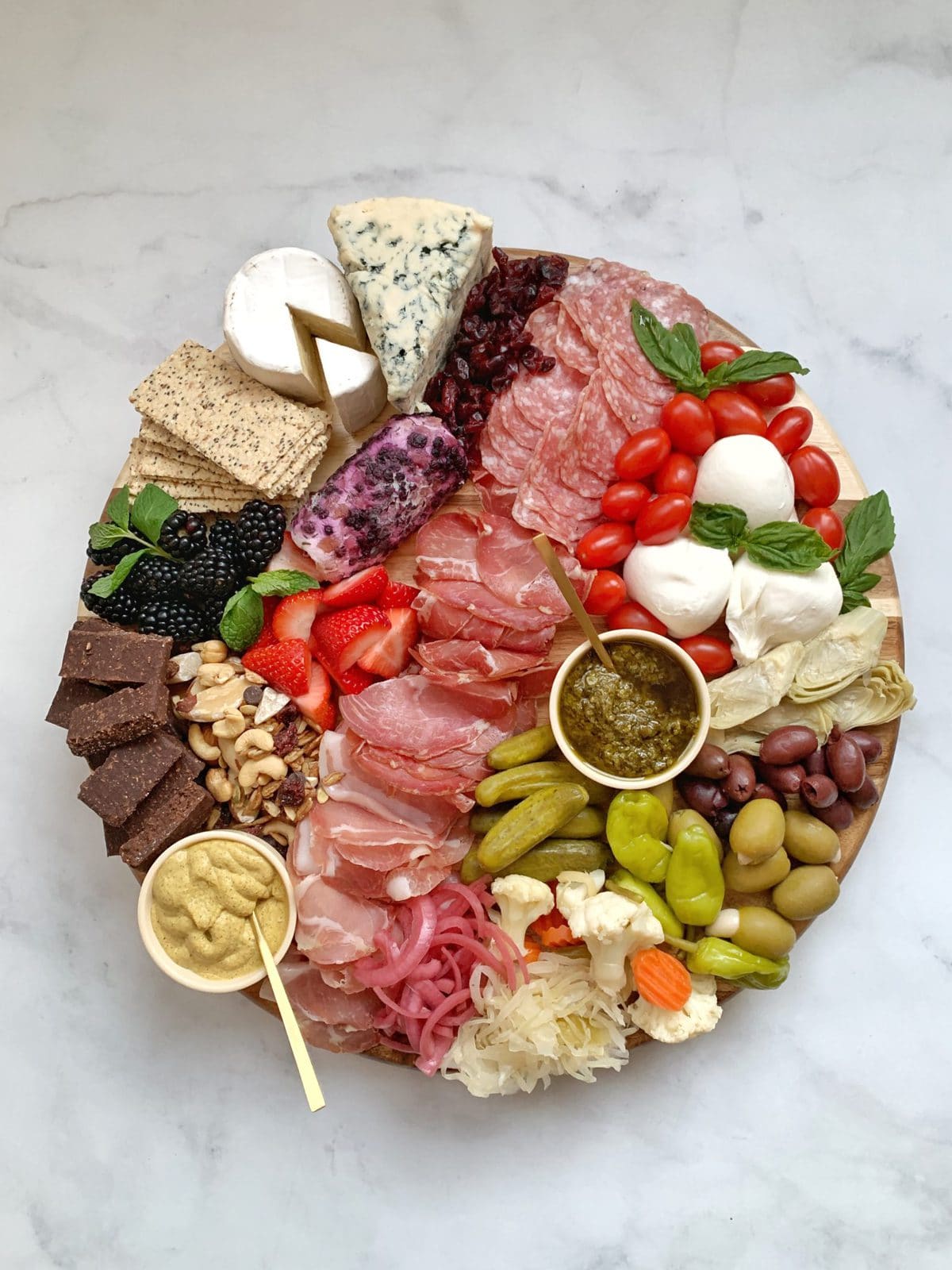 What kinds of dishes and utensils can you use for a charcuterie platter?
Well my friends, there you have it. My complete guide to making an epic keto charcuterie board. I hope you enjoyed this post almost as much as you are going to enjoy tearing into this beautiful plate of low carb, and keto snack foods at your next gathering. Speaking of gatherings, Super Bowl is coming up and this would be the perfect keto super bowl appetizer to bring to any upcoming football parties as we head into the playoffs, on our way to the big game. GO HAWKS!
Print
How to Build an Epic Keto Charcuterie Board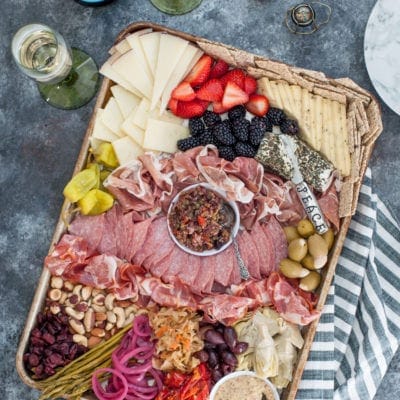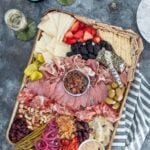 Author:
Prep Time:

20 minutes

Total Time:

20 minutes

Yield:

5

servings

1

x
Scale
Ingredients
6 ounces

sliced prosciutto

6 ounces

genoa salami

5 ounces

spicy capocollo

4 ounces

herbed chevre

6 ounce

sliced manchego

5 ounces

sliced peppercorn white cheddar

4 ounces

garlic white cheddar

1/4 cup

Olive Salad (get the recipe here)

¼ cup

Sugar-Free Dried Cranberries (get the recipe here)

1/2 cup

mixed nuts

½ cup

fresh blackberries

10

strawberries hulled and halved

5

pepperoncinis

½ cup

pickled artichoke hearts

10

garlic stuffed green olives

½ cup

pitted Kalamata olives

¼

roasted red peppers

½ cup

Low Carb Pickled Red Onion (get the recipe here)

20

pickled asparagus spears

¼ cup

sauerkraut

¼ cup

stone ground mustard

1

sleeve low carb crackers (I love this brand)
Instructions
Select a large platter from the list of options in this post and carefully arrange all of the ingredients on top. Share with friend and ENJOY!
Keywords: keto charcuterie board, keto appetizers, low carb snacks, keto Super Bowl appetizers, low carb recipes, keto recipes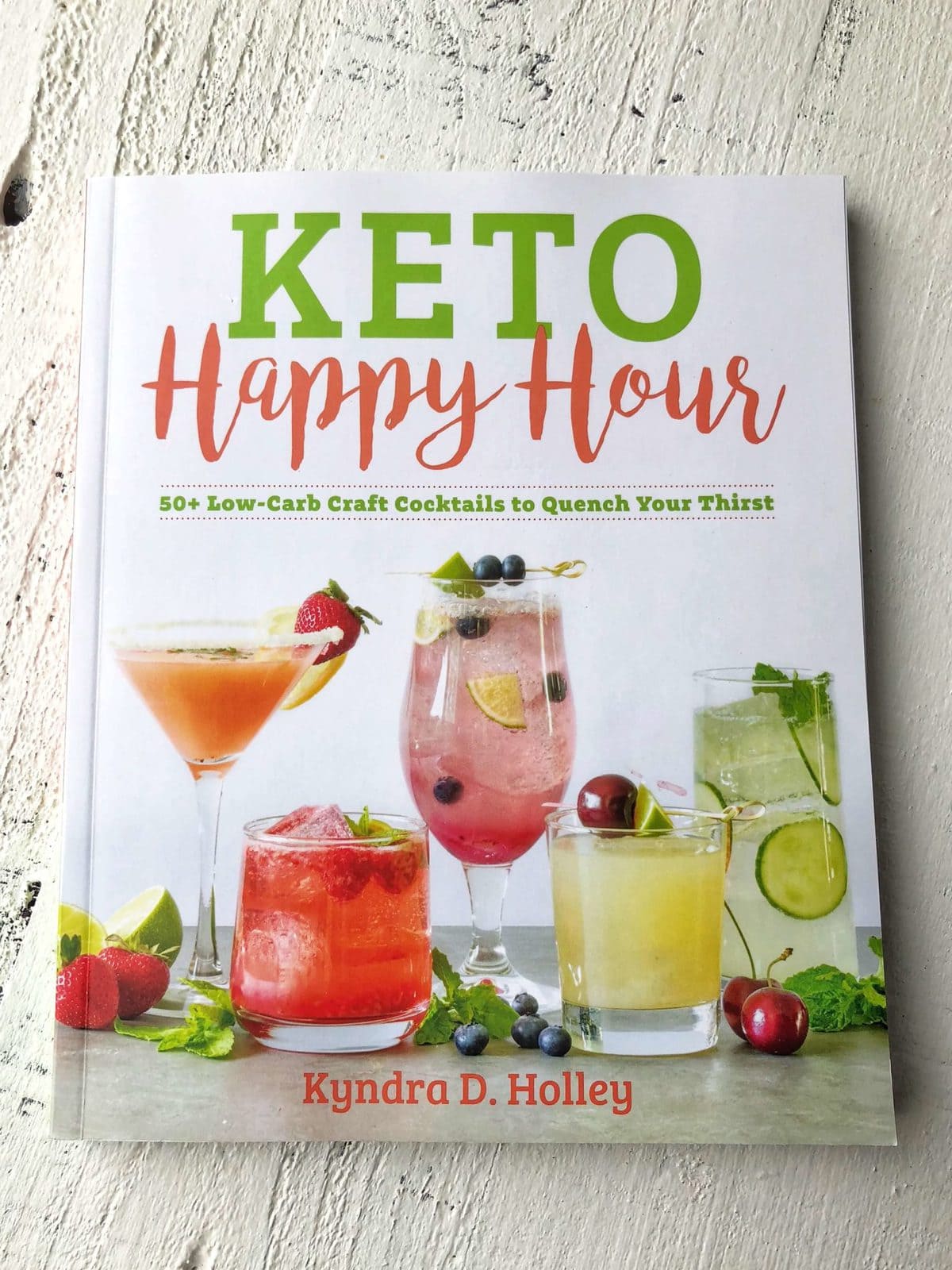 KETO HAPPY HOUR: 50 Low Carb Craft Cocktails to Quench Your Thirst.
Check out my other books –
HERE
So it's Friday night and you're feeling alright. You're ready to dance the night away with a cocktail in your hand. OR, if you are more like me, you want to have a cocktail at home with friends. But how do you know what to drink? What is the best alcohol for a low carb diet. Or what alcohol is lowest in carbs?
First, I'm going to break down the carbs in alcohol for you. Check out my Complete Guide to Carbs in Alcohol. If you're wondering… Can you have alcohol on a low carb diet? Is alcohol keto? You might be saying to yourself "But wait? I can't! I'm low carb." Well, you are NOT low carb. You're are a person following a low carb lifestyle. Do not be defined by your dietary decisions. Doing so will lead to a life of restriction and feeling restricted often causes us to stray from our intended path. Besides, who wants to pass up low carb gummy worms. Especially when they are boozy low carb gummy worms.
 YOU CAN GRAB A COPY –
HERE
I know that it can be tricky to navigate alcohol on a low carb diet, so I'm taking all the guess work out of it for you. I'll show you how to indulge, while still sticking to your healthy living, ketogenic lifestyle. If you think you can no longer have those delicious Moscow Mules at happy hour with your friends, or that you have to skip those margaritas on Taco Tuesday, think again! I'm putting your favorite drinks back on the menu, the low carb menu, that is.
Whether you are craving a cocktail after a long day of work, or looking to do some healthy entertaining, this book has you covered. From mixers, to drinks and even some pub grub. It's all in there! Mixing up cocktails should be fun and it shouldn't come at the cost of your health and weight loss goals. Keto Happy Hour bridges the gap between feeling deprived and feeling mighty fine.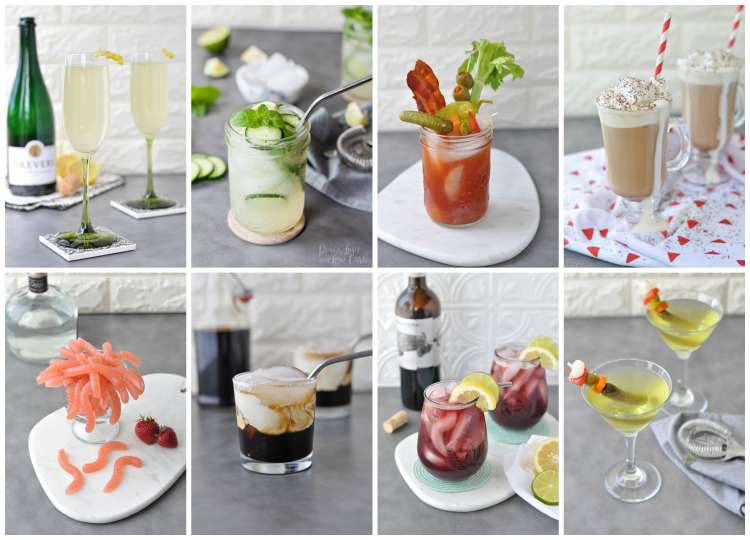 WITH RECIPES LIKE:
Strawberry Basil Lemon Drops
Boozy Hot Cocoa
Dill Pickle Martinis
Moscow Mules
Irish Coffee
Bloody Marys
Scratch made Low Carb Bloody Mary Mix
Homemade low carb coffee liqueur and Low Carb Irish cream
Low Carb Whiskey Sour
Hot Toddy
Cucumber Jalapeno Margaritas
And even…
Low Carb Strawberry Margarita Gummy Worms
AND EVEN SOME FOOD RECIPES LIKE:
Halloumi Bruschetta
Cheesy Nachos
Barbecue Smoked Sausages
Pizza Bagels
Teriyaki Steak Bites
Avocado Keto Hummus
Keto Buffalo Chicken Jalapeno Poppers
Crispy Baked Garlic Parmesan Wings
Bloody Mary Roasted Nuts
Red Wine Fudgesicles
and more…
YOU CAN GRAB A COPY –
HERE