New Orleans Style Briny Olive Salad on top of my low carb and gluten free version of muffuletta. You can't go wrong with a pile of meats and cheeses, topped with a delicious olive salad.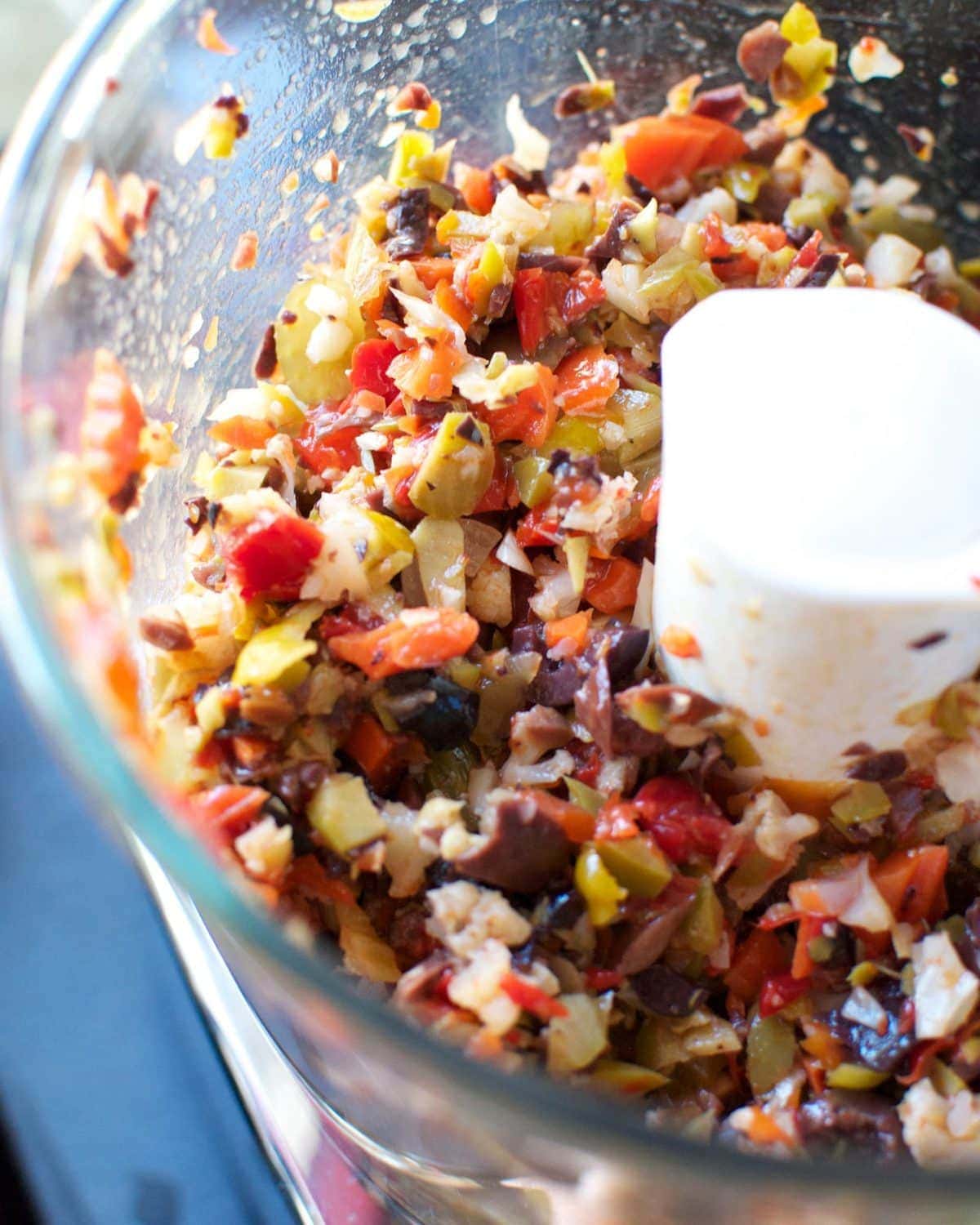 the inspiration behind this new orleans style briny olive salad
Before we get into this recipe, I need to give you the background on my love affair with New Orleans. Jon and I have a very special connection with the city of New Orleans. I went there for the first time during Mardi Gras when I was only 23 years old fell in love. Of course it wasn't Mardi Gras that I fell in love with, in fact, I'm not sure I would ever go there during that time again. Or if I did, I would be on a balcony on and not down in the streets. It is an experience everyone should have, but it is not a good time to truly enjoy the city and all the amazing things it has to offer - architecture, culture, food, art ... you name it, and you will find it in the French Quarter. There's nothing quite like it.
Since that first trip there, I have returned at least 20 times. We try to go once a year, but sometimes it ends up being every other year instead. I can navigate this city practically better than I can navigate my own; it has always just called to me.
When Katrina happened, my heart hurt as if it was my own city. I went back soon after and fell in love with New Orleans and the people all over again. The strength, determination, and pride you will find in New Orleans is like nowhere else in the world. Jon knew how much New Orleans meant to me, and on our first trip there together, he proposed. He took me in a limo out to Oak Alley Plantation and as we walked the brick pathway through the rows of spectacularly massive oak trees, he got down on one knee ... it was straight out of a movie.
And the very next day, it snowed in the city, which is pretty much unheard of. It was truly magical. We went back for our honeymoon as well. To say that this city has become a big part of our history would be an understatement.
what is Muffuletta?
One of our favorite foods while in the city is muffuletta. Muffuletta is a jumbo-size sandwich made on fresh Sicilian bread with sesame seeds. The sandwich is filled with Italian meats and cheeses and a hearty portion of terrifically briny olive salad.
This New Orleans Style Briny Olive Salad is my homemade take on one of "Big Easy" favorites. I love to add it to scrambled eggs, mix it into my salads, make meat roll-ups and lettuce wraps with it. I've even been known to just eat it by the spoonful. Best of all, it is amazing on my Muffuletta Chicken Recipe. All of the flavors of a traditional muffuletta sandwich, without all the gluten and carbs. WIN!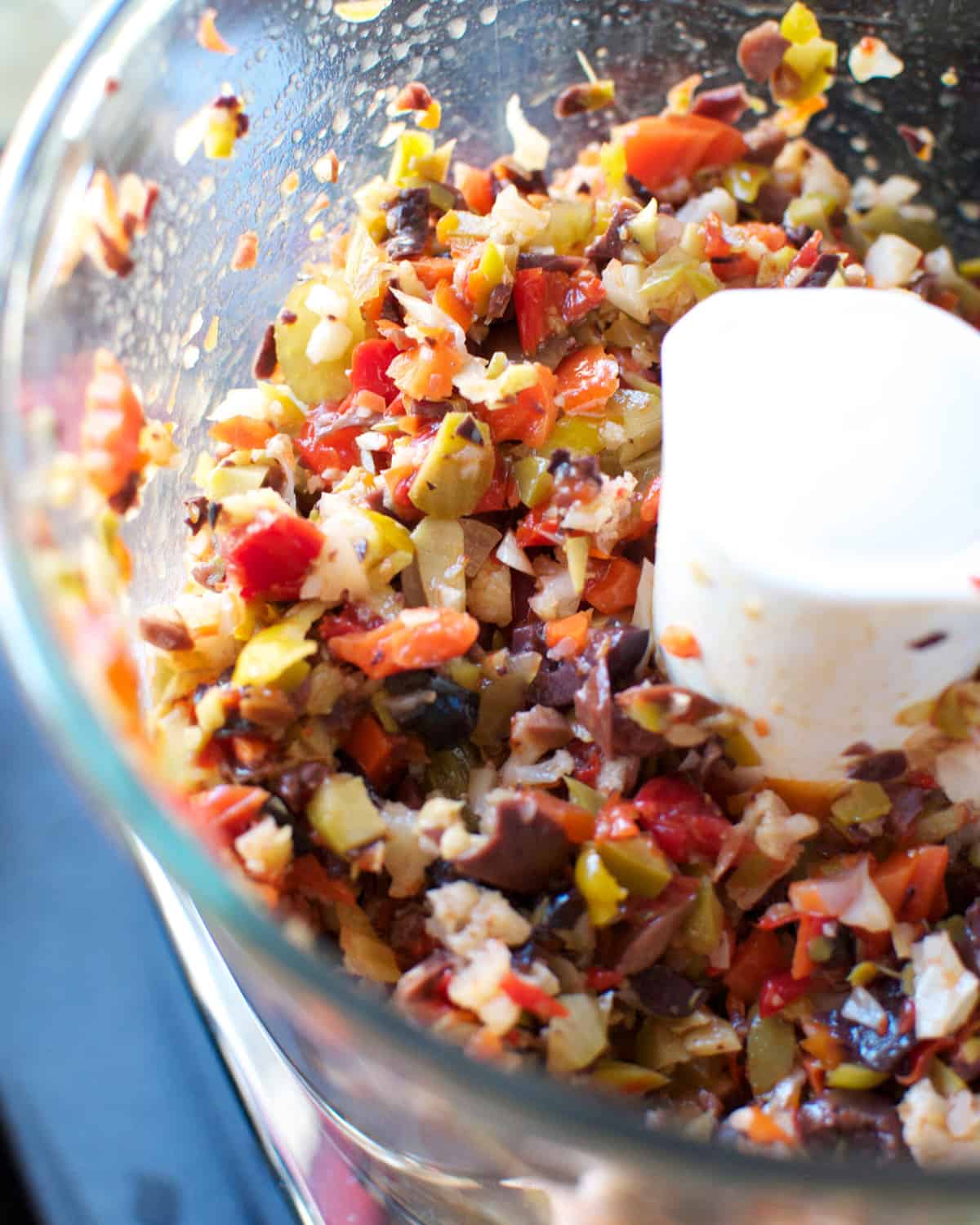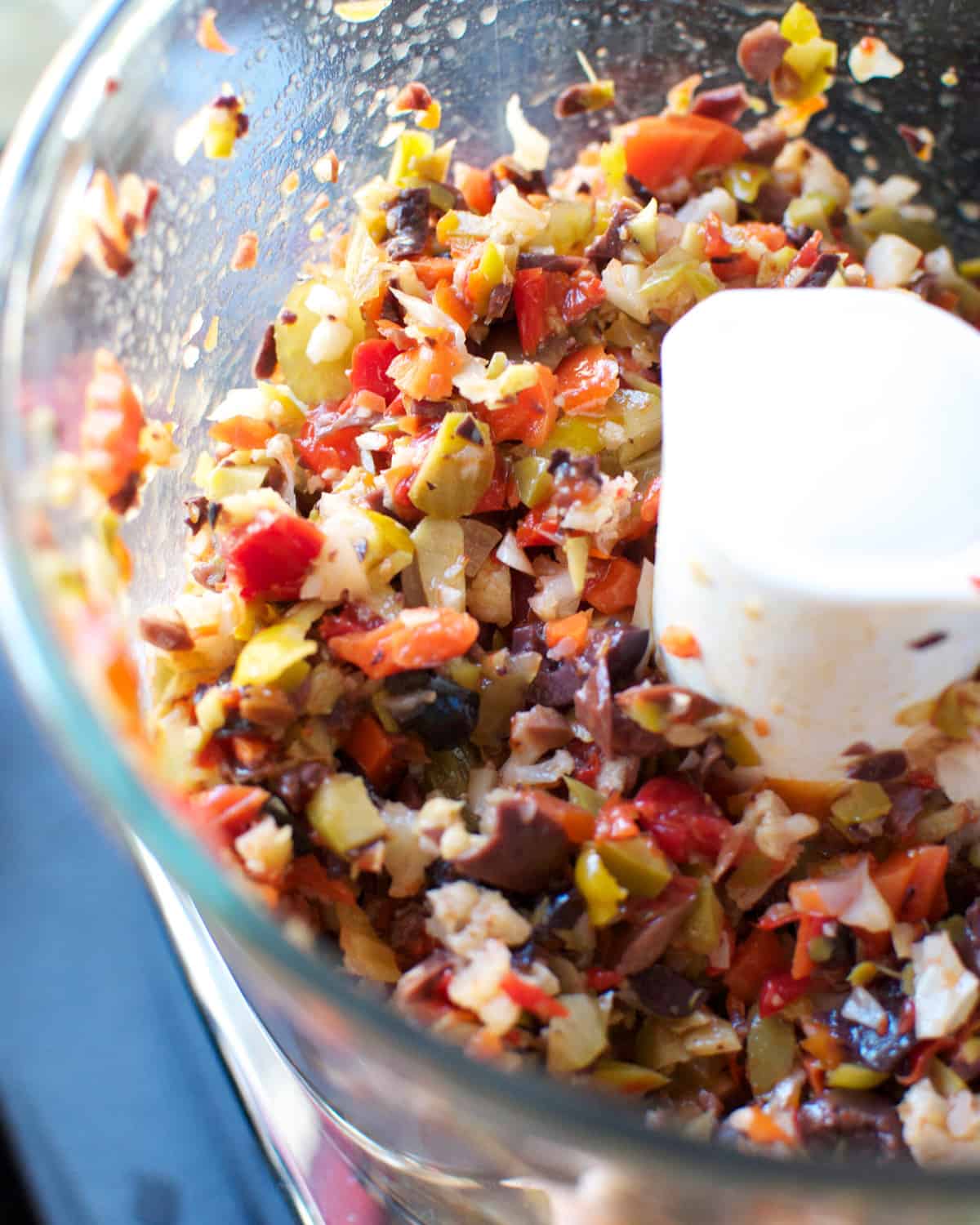 Making a muffuletta wrap with this New Orleans Style Briny Olive Salad
Outside of the Muffuletta Chicken Recipe from The Primal Low Carb Kitchen Cookbook, my absolute favorite way to eat this New Orleans Style Briny Olive Salad is in a lettuce wrap. Admittedly, I have been a little lettuce wrap obsessed lately. There will be a post coming dedicated entirely to this topic. Every time I post a picture of one of my wraps on Instagram, I instantly get asked how I make them and have them stay together like that. Well, it is not some sort of magic, it is all in the way I am wrapping them. First I lay down a piece of aluminum foil. Then on top of that, I lay down a piece of deli sandwich wrap paper. I lay the lettuce down on top of that and then pile on all my sandwich fixings, condiments, meats, cheeses etc. Lastly, I top it with another layer of lettuce. Then I wrap it all up and peel it down as I eat. Sort of how you would with a messy burrito. There you have it! Easy peasy!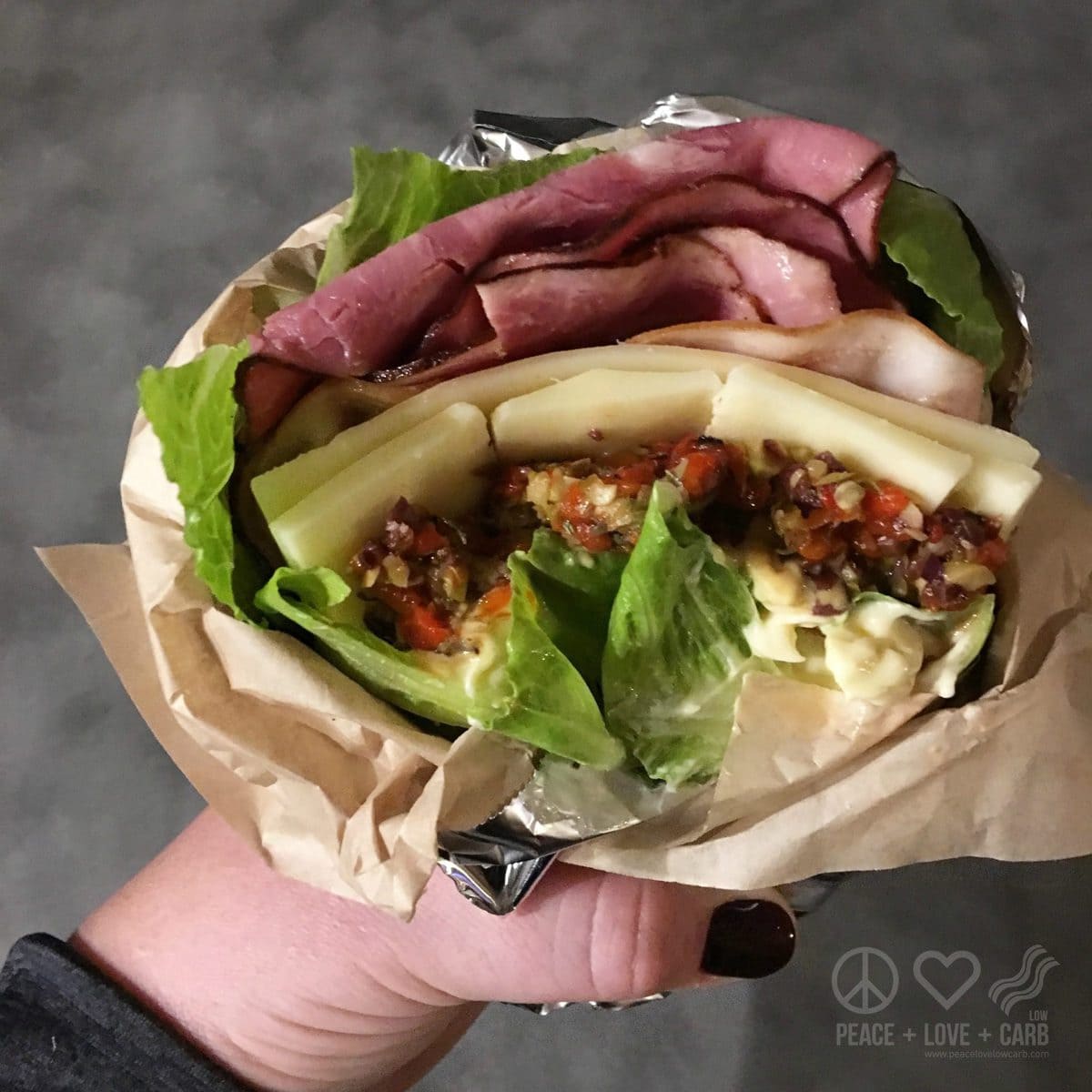 In addition to this New Orleans Style Briny Olive Salad, check out some of my other favorite lettuce wrap recipes and keto salads:
Print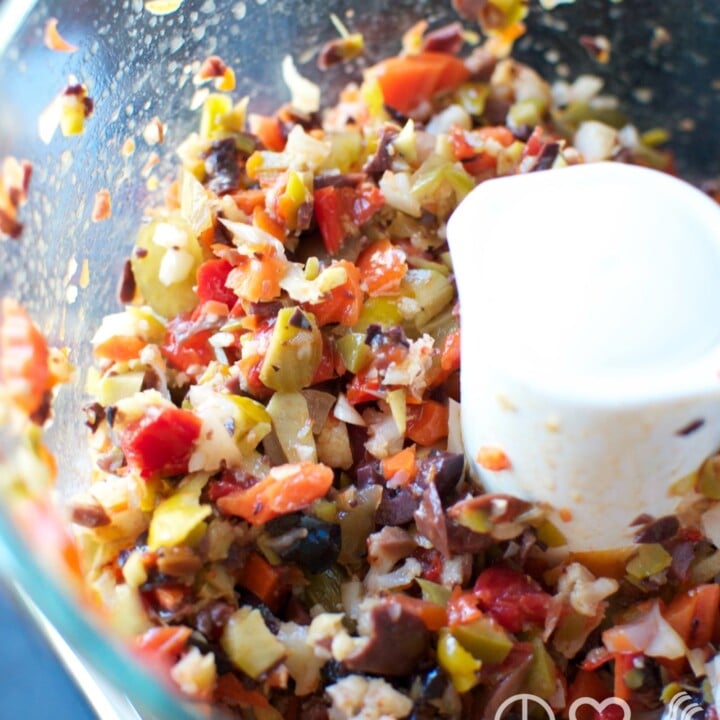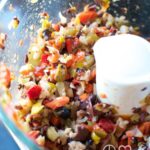 Muffuletta Olive Salad
---
1 ½ cups

giardiniera pickled vegetables

1 cup

green olives

1 cup

Kalamata olives

½ cup

pepperoncini

⅓ cup

red wine vinegar

¼ cup

roasted red peppers

¼ cup

olive oil

4

large cloves garlic

1 teaspoon

dried oregano leaves (I use this brand)

1 teaspoon

dried basil

½ teaspoon

black pepper

½ cup

capers
---
Instructions
In a food processor, combine the giardiniera, green olives, Kalamata olives, pepperoncini, red wine vinegar, roasted red peppers, olive oil and garlic. Pulse until all the ingredients are roughly chopped.
Pulse in the oregano, basil and black pepper until incorporated.
Stir in the capers. Cover and refrigerate for at least 1 hour before serving.
Notes
<2g net carbs per serving
Nutrition
Serving Size:

¼ Cup

Calories:

56

Fat:

5g

Carbohydrates:

2g