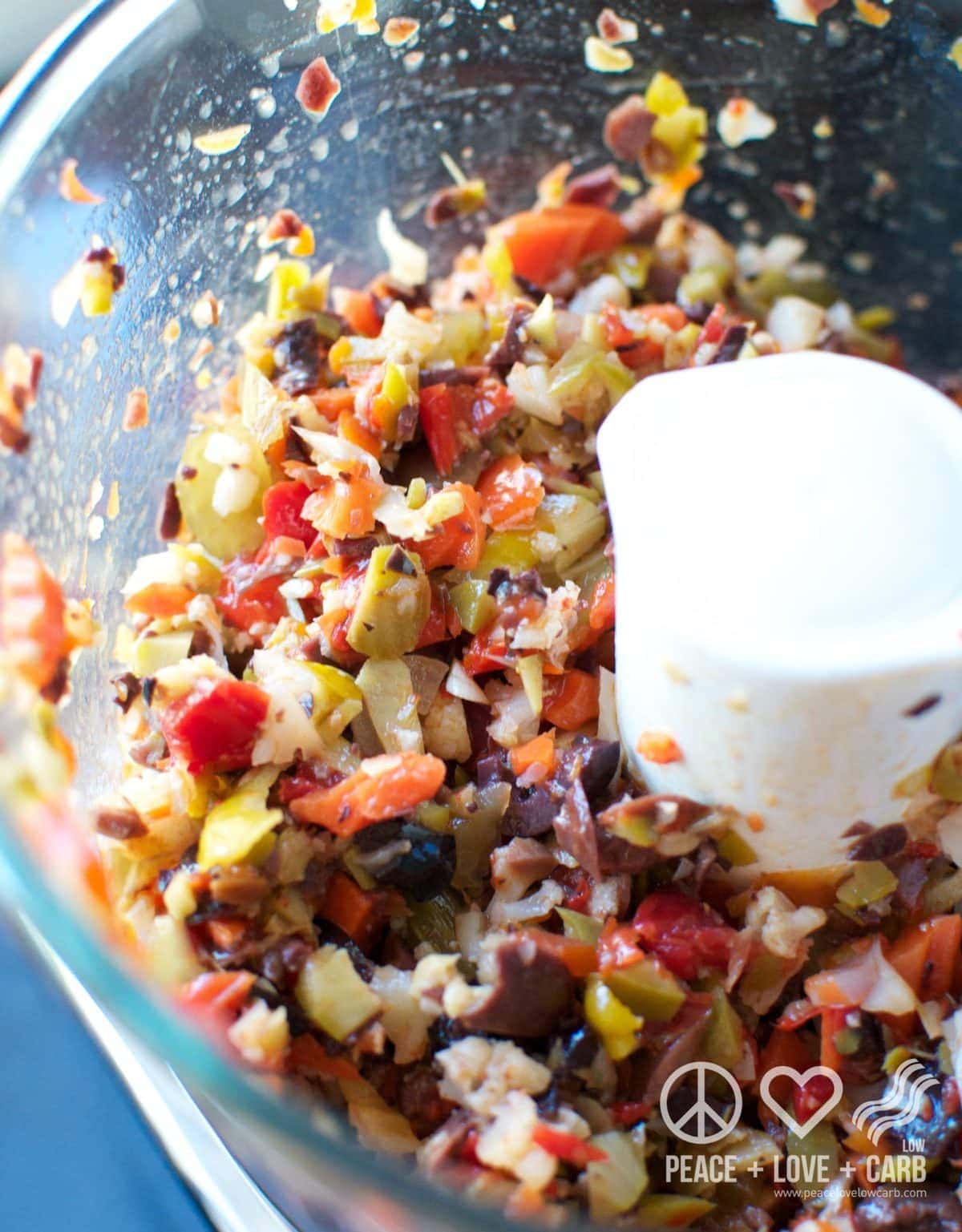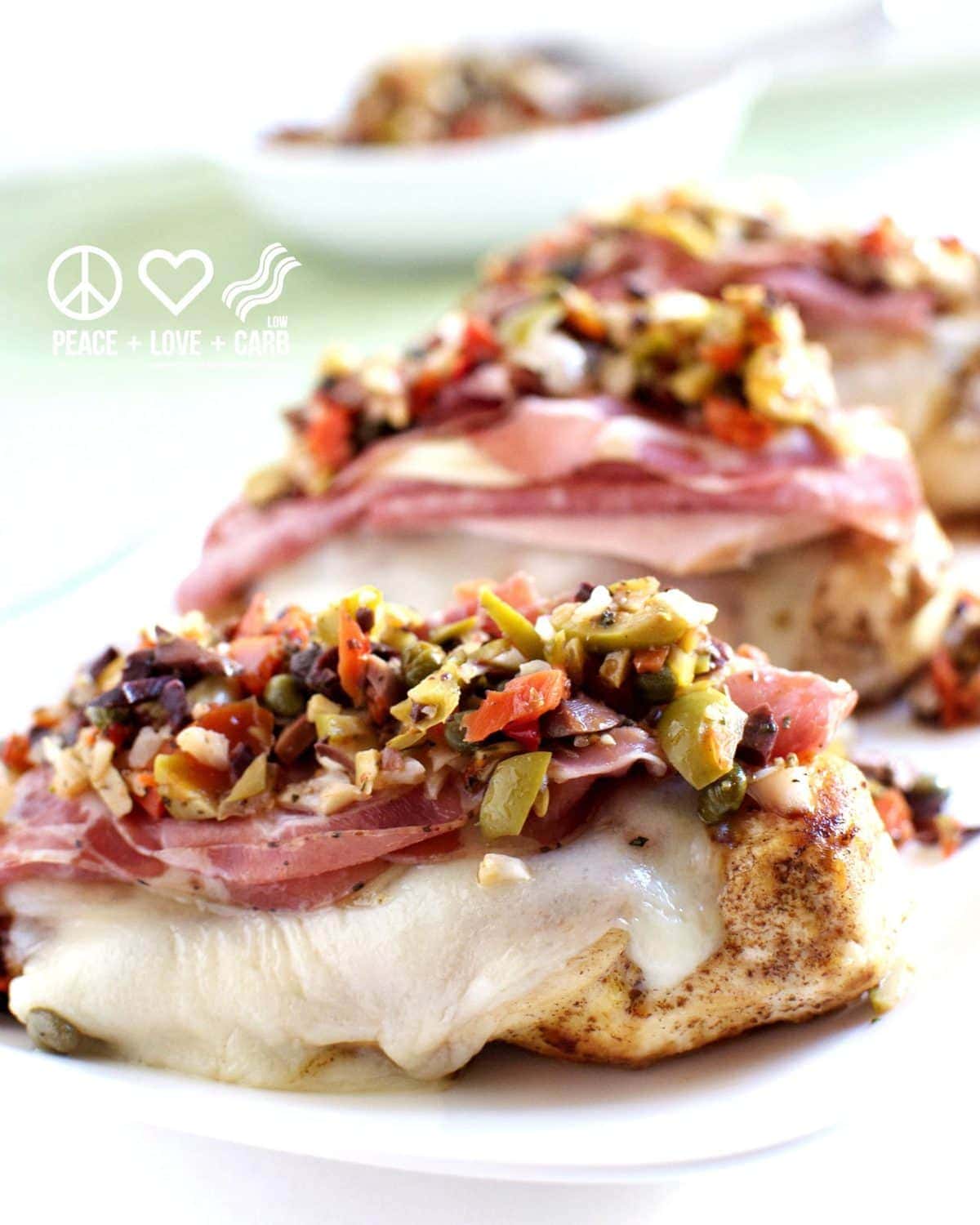 I love muffuletta. It is my all-time favorite New Orleans classic. Jon and I make our way to the "The Big Easy" once every year or two, and getting a muffuletta is always close to the top of our list! So close to the top in fact, that stopping by Franks and getting a muffuletta is usually the first thing we do once we get into the city. This muffuletta chicken is a way for me to get a taste of New Orleans from home. By skipping the bread and turning it into a chicken dish, I can indulge in the rich, deliciousness of muffuletta anytime I want, in a version that fits my low carb lifestyle. I love being able to enjoy all my cajun favorites in a gluten free version and without all the carbs.
More low carb chicken recipes
Print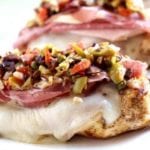 Keto Muffuletta Chicken
---
Muffuletta Chicken
1 ½

pounds

chicken breasts (4 breasts total)

¼

cup

butter (½ stick)

4

ounces

salami, thinly sliced

4

ounces

provolone cheese, sliced

4

ounces

mortadella, thinly sliced

4

ounces

mozzarella cheese, sliced

4

ounces

capocollo, thinly sliced

2

cups

Olive Salad (Recipe Below)
Olive Salad
---
Instructions
Muffuletta Chicken
In a large skillet over medium-high heat, pan-sear the chicken breasts in the butter until they are golden brown and slightly crispy, about 8 minutes each side.
Preheat the oven to 350°F
Place the chicken breasts on a rimmed baking sheet. Layer each breast with the salami, provolone, mortadella, mozzarella and capocollo. Bake on the middle rack for 10 minutes.
Remove the chicken breasts from the oven and top with a heaping portion of Olive Salad.
Olive Salad
In a food processor, combine the giardiniera, green olives, Kalamata olives, pepperoncini, red wine vinegar, roasted red peppers, olive oil and garlic. Pulse until all the ingredients are roughly chopped.
Pulse in the oregano, basil and black pepper until incorporated.
Stir in the capers. Cover and refrigerate for at least 1 hour before serving.
Notes
MUFFULETTA CHICKEN PER SERVING: (This includes the olive salad) 846 Calories; 64g Fat (69.5% calories from fat); 57g Protein; 7g Carbohydrate; 1g Dietary Fiber; 6g Net Carb
OLIVE SALAD PER SERVING: (The olive salad makes 20 servings) 56 Calories; 5g Fat (84.8% calories from fat); trace Protein; 2g Carbohydrate; trace Dietary Fiber; 2 Net Carbs
TIP FOR THE OLIVE SALAD: This salad tastes better, the longer it has time to sit and let the flavors come together. You can store it in the fridge in an airtight container for up to 3 weeks.