These keto pickled red onions are super easy to make and add a lot of flavor to anything you add them to. I put them on salads, protein bowls, eggs, anything! In fact, I look for excuses to add them to my meal.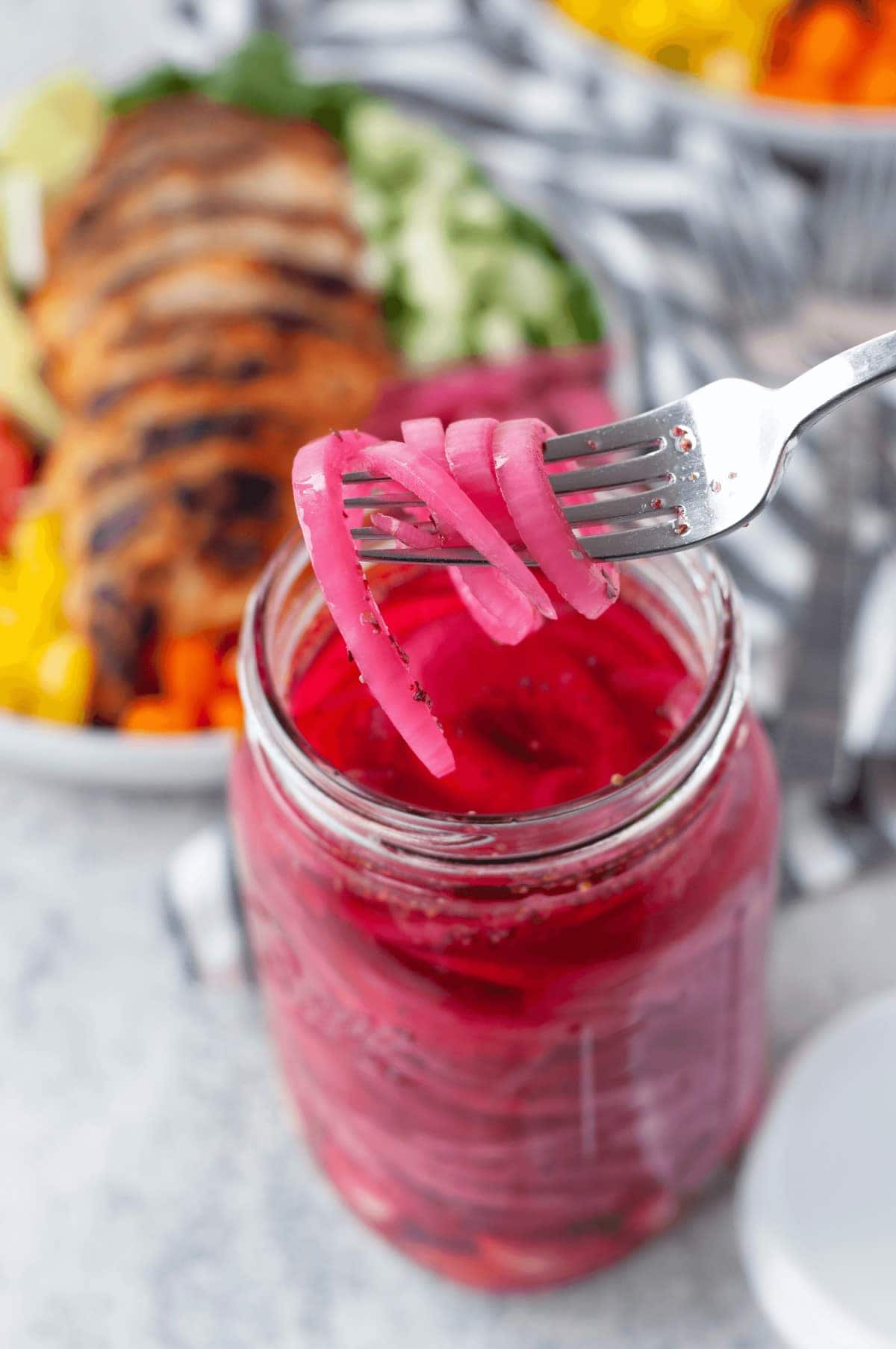 What makes these different?
Pickled red onions are the best: tangy, vinegar, pickled goodness with just a bit of sweetness, adding a little color and crunch to every meal. Typically, pickled red onions are made with sugar. Because this low carb pickled red onion recipe uses erythritol / monkfruit instead of sugar, it's completely keto friendly.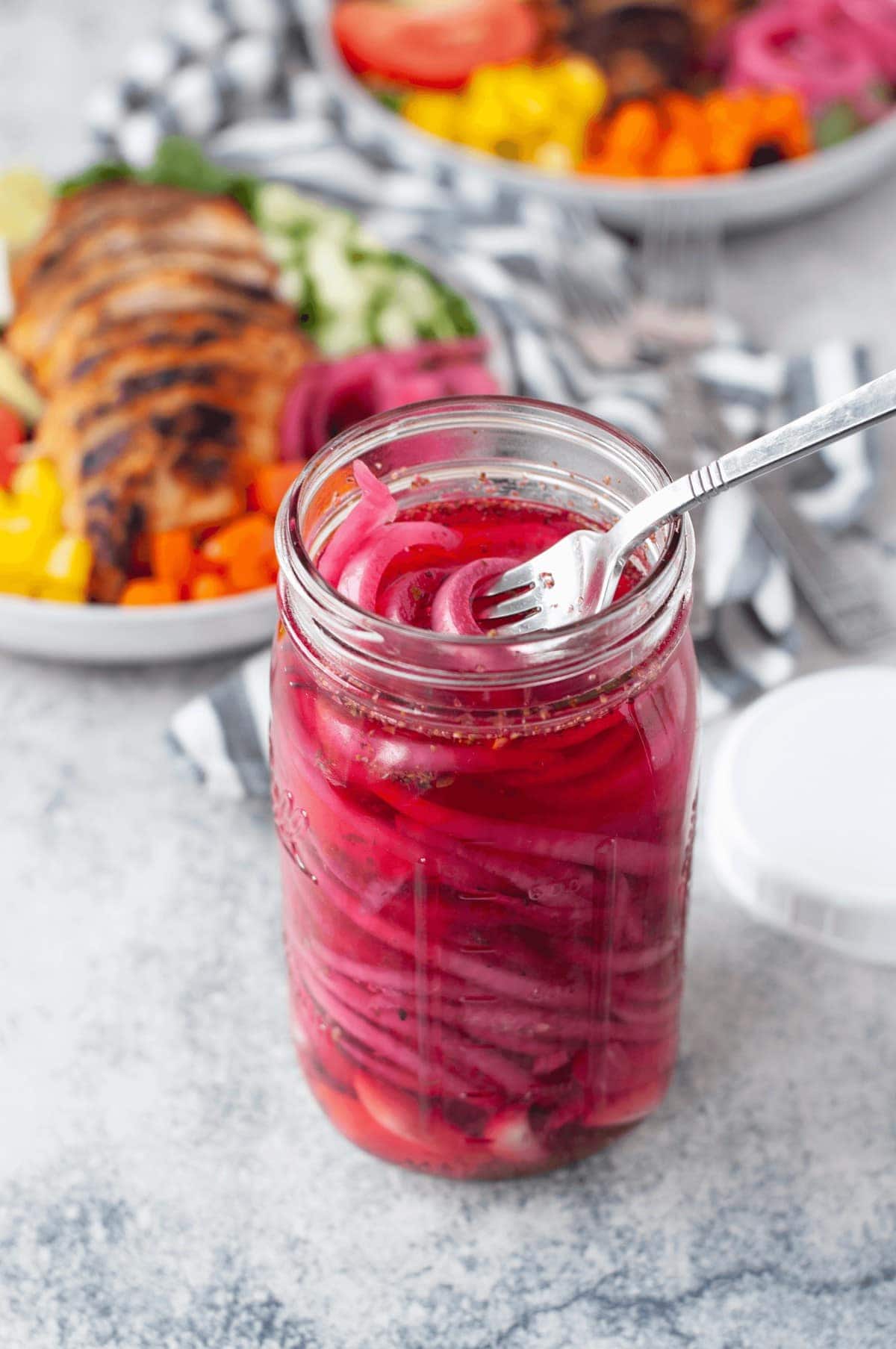 Whole30 Pickled red onions
I'm not sure when I first had pickle red onions, but I can tell you exactly when I fell in love with them. Back in January, during my Craveable Keto book tour, I was making a lot of trips to various Whole Foods salad bars. They have the biggest and best salad bars around, and the best thing about them, is that every single prepared item on the salad bar lists every single ingredient, so you always know exactly what you are getting. Almost every one I went to had pickled onions and I was piling them on all my salads. They were so good, BUT, they had sugar in them. I knew that as soon as the tour was over and I was home and back in the kitchen, that I wanted to make my own low carb pickled red onion recipe.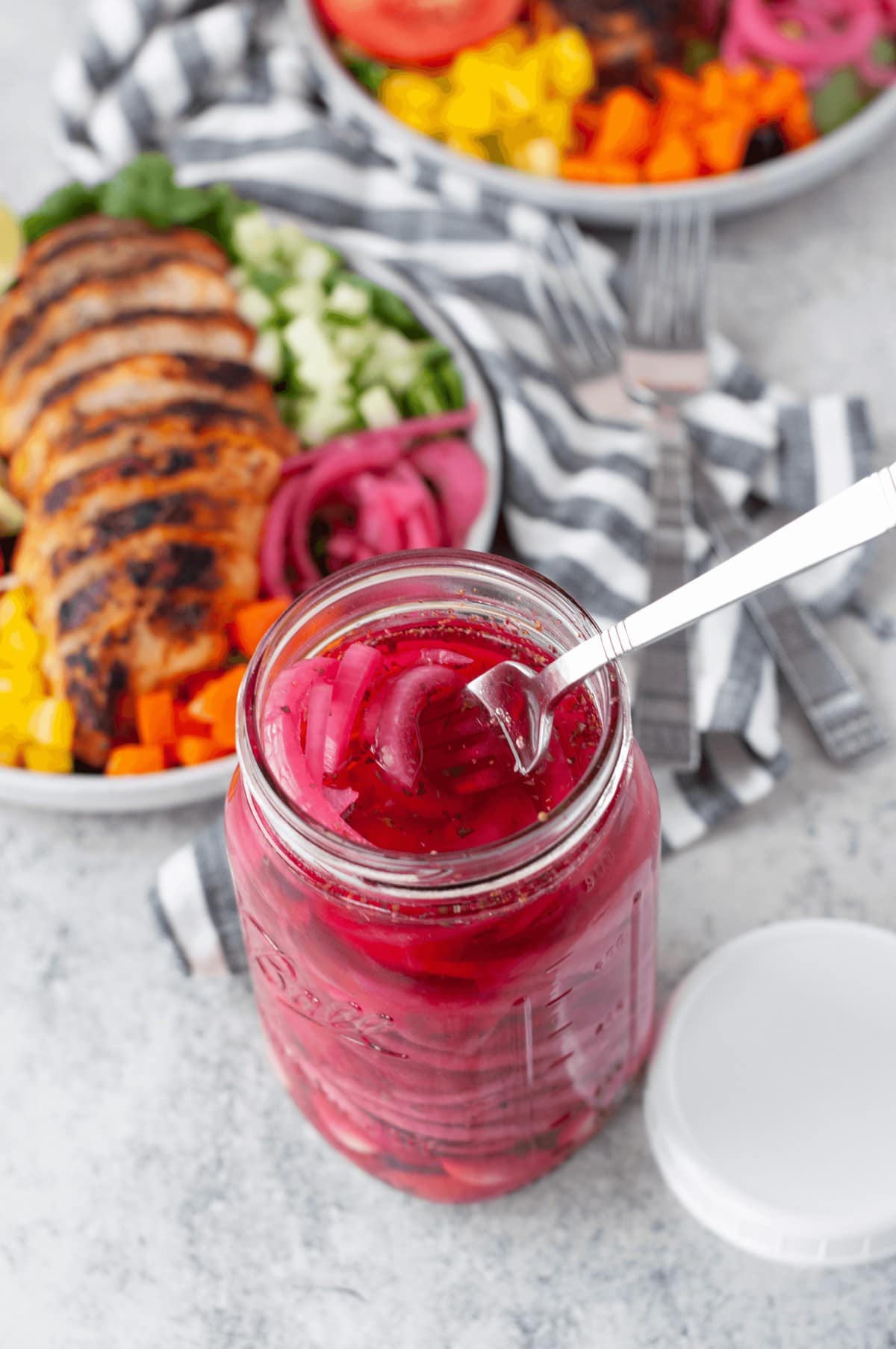 I think the reason I love these whole30 pickled red onions so much is that they have the perfect balance of bitterness from the red onion, sweetness from the erythritol, and acidity from the vinegars. When you put those three things together, you have a match made in heaven. To make them Whole30 compliant, simply omit the sweetener. I put them on everything - salads, lunch bowls, tacos, steak, eggs, etc. I am actually guilty of building an entire meal around whether or not it would go good with these pickled red onions.
Storage Information
Only as long as it takes to eat them! Seriously, another thing I really like about my keto pickled red onion recipe is that they will keep in the refrigerator for at least a couple of months... if you can make them last that long, that is. Just store them right in the mason jar you made them in. I have swapped out all my metal mason jar lids, for these reusable plastic lids. They are so much easier to clean, and then I can avoid the ring of rust from the metal lids. And since I store everything in mason jars, they come in really handy.
More low carb condiment recipes:
Print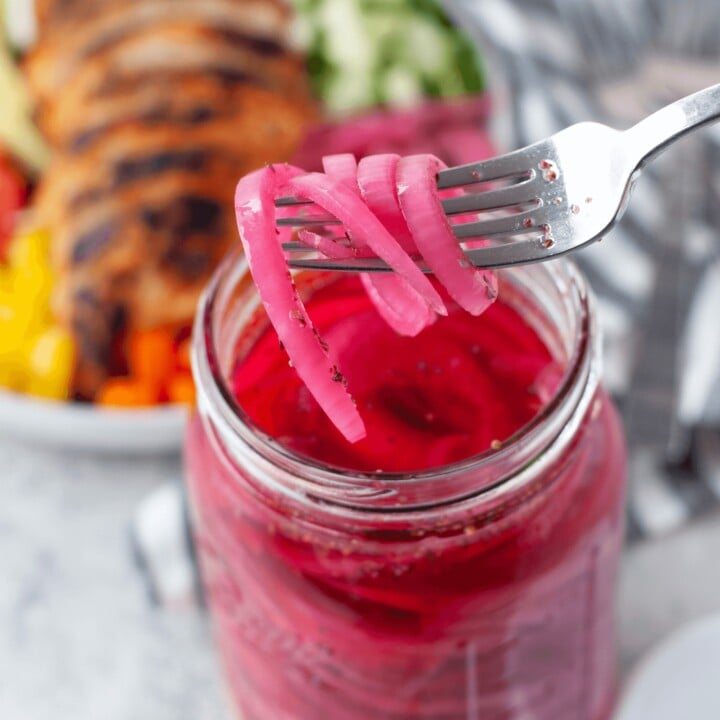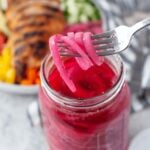 Pickled Red Onions
---
Description
The perfect blend of sweet, sour, and salty. I love to put these onions on everything from my morning eggs, to my lunch time salad, to the top of my steak for dinner.
---
1 cup

red wine vinegar

1 cup

apple cider vinegar (I use this brand)

2 tablespoons

granular erythritol or monkfruit (omit for Whole30) (I use this brand) Code PEACE for 20% off

1 teaspoons

sea salt

2

medium red onions, thinly sliced

6

cloves garlic, peeled and halved

1 teaspoon

dried oregano leaves (I use these organic seasonings)
Pinch of red pepper flakes
---
Instructions
In a saucepan over medium heat, combine the red wine vinegar, apple cider vinegar, erythritol, and salt. Bring to a light boil, stirring until the erythritol and salt are dissolved.
Put the onions, garlic, oregano and red pepper flakes into a 32 ounce mason jar.
Pour the liquid over top, submerging the onions and mixing in the oregano and red pepper flakes.
Let the jar sit on the counter for 1 hour, cap and then refrigerate. (I've switched to these caps)
Store in the refrigerator for up to 2 months. You can eat them after 2 hours, but they just get better and better the longer they are in the fridge.
Prep Time:

15 Minutes

Cook Time:

5 Minutes
Nutrition
Serving Size:

5 to 6 slices

Calories:

10

Fat:

0

Carbohydrates:

1.5g

Fiber:

0.2g

Protein:

0.2g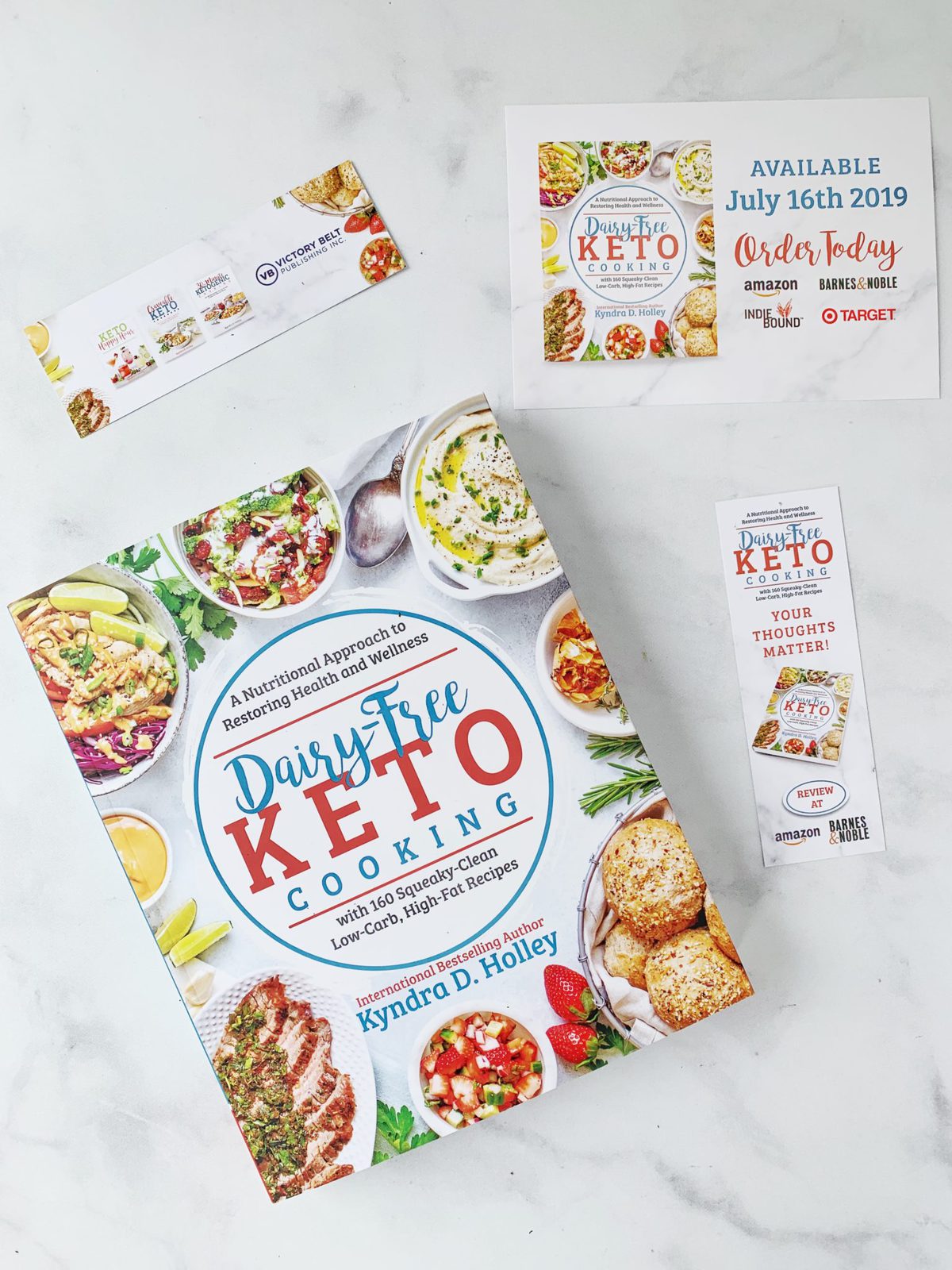 DAIRY-FREE KETO COOKING: A Nutritional Approach to Health and Wellness. With 150 Squeaky Clean Low-Carb, High-Fat Recipes
Check out my other books -
HERE
Using only approachable and accessible, nutrient dense, real food ingredients, I put together a dairy-free keto roadmap that does not require a search for unfamiliar specialty ingredients or that you have a gourmet kitchen. Each one of these delectable recipes is rooted in simplicity and calls for ingredients that can be found at your local grocery store. I'm showing you how to incorporate dairy-free substitutions that go far beyond the coconut.
In addition to tantalizing your palate with tasty recipes, Dairy-Free Keto Cooking will teach you how to restore your health and wellness, while living a lifestyle that nourishes you in mind, body, and spirit. Whether your goal is to lose weight, heal your body from the inside out, or simply find your own personal version of food freedom, I'm here to help you along in your journey to finding your personal path to wellness.
YOU CAN GRAB A COPY -
HERE
Dairy-Free Keto Cooking features something for everyone. If you suffer from dairy intolerances or food allergies, this is the book for you. If you are someone who just loves easy to make, delicious food, then this book is for you. I added a bit of everything everything, including suggestions for adding or reintroducing dairy for all the cheese loving, quesophiles.
With recipes like this, how could anyone possibly feel deprived?
Slow Cooker Pork Carnitas
Cowboy Style Beef Ragout
Sweet and Spicy Barbecue Ribs
Loco Moco
Pork Tenderloin with Dill Sauce
Flourless Chocolate Lava Cake
Easy Peasy Cuban Picadillo
Salted Caramel Chocolate Chip Cookies
Blueberry Maple Breakfast Sausage
Crab Salad Stuffed Avocado
Scotch Eggs
Supreme Pizza Soup
Jalapeño Popper Chicken Salad Sandwiches
Blackened Shrimp Fettucine Alfredo
and much, much more!
I wrote this book with everyone in mind and it is complete with several different meal plans (paleo, AIP, Egg free, nut free, 30 minute meals) as well as tons of valuable resources. Dairy-Free Keto Cooking will quickly become your go-to cookbook!
YOU CAN GRAB A COPY -
HERE