I bet you thought you would never find low carb hash browns. Think again. These Fried Radish and Cauliflower Hash Browns with Bacon will curb your breakfast potato cravings.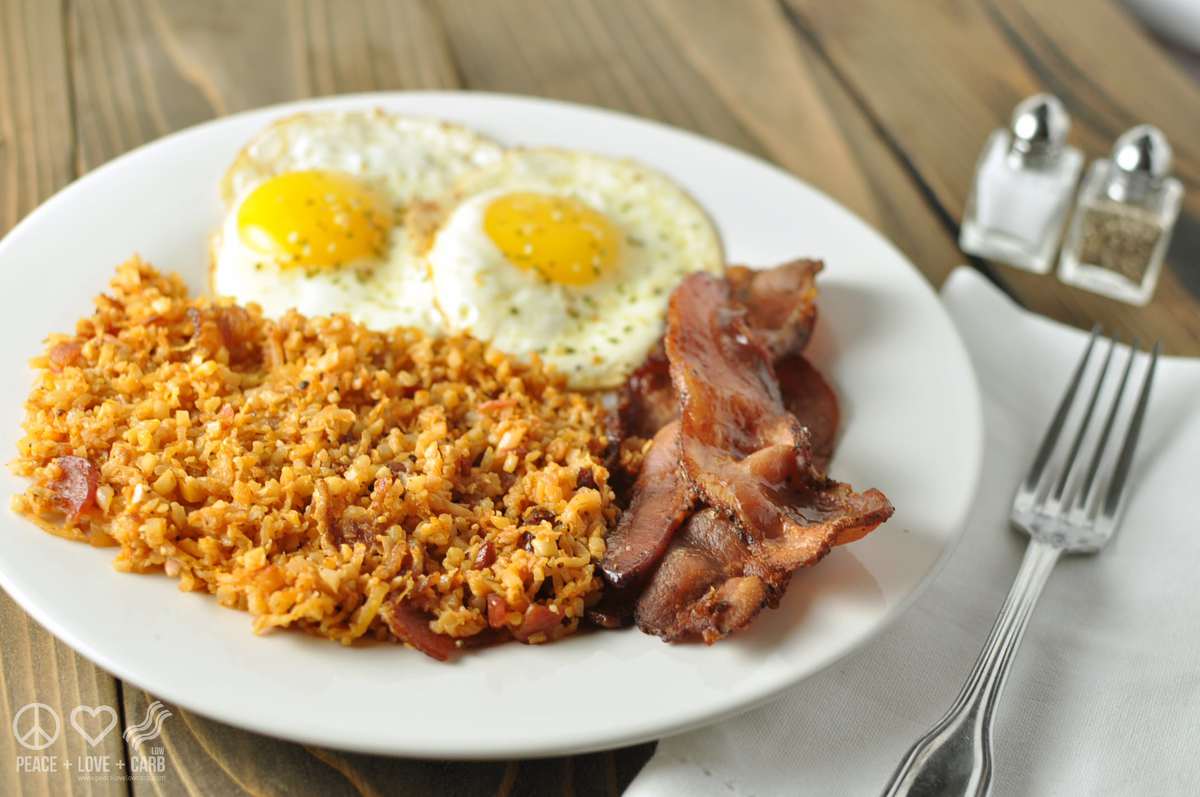 Missing potatoes on your low carb diet? these Fried Radish and Cauliflower Hash Browns with Bacon can fill the void
If you have been following my low carb and gluten free meal plans, then you probably saw this recipe way back in Week 7. Hopefully you have enjoyed it several times since then. Ever since I was a small child, potatoes have always been my favorite food.
Mashed, fried, hash browns, french fries, tater tots ... you name it, I love it. When I first started a low carb lifestyle, potatoes were the very thing I missed the most. I instantly knew that I needed to find a satisfying solution to my potato love affair dilemma. I kept hearing that cauliflower was a great substitution. I was not a fan of cauliflower. I hated the smell of it as it cooked, I hated the mushy texture. I could only eat it raw if it was drenched beyond recognition in ranch dressing ... yes, I am super fancy, thank you for asking!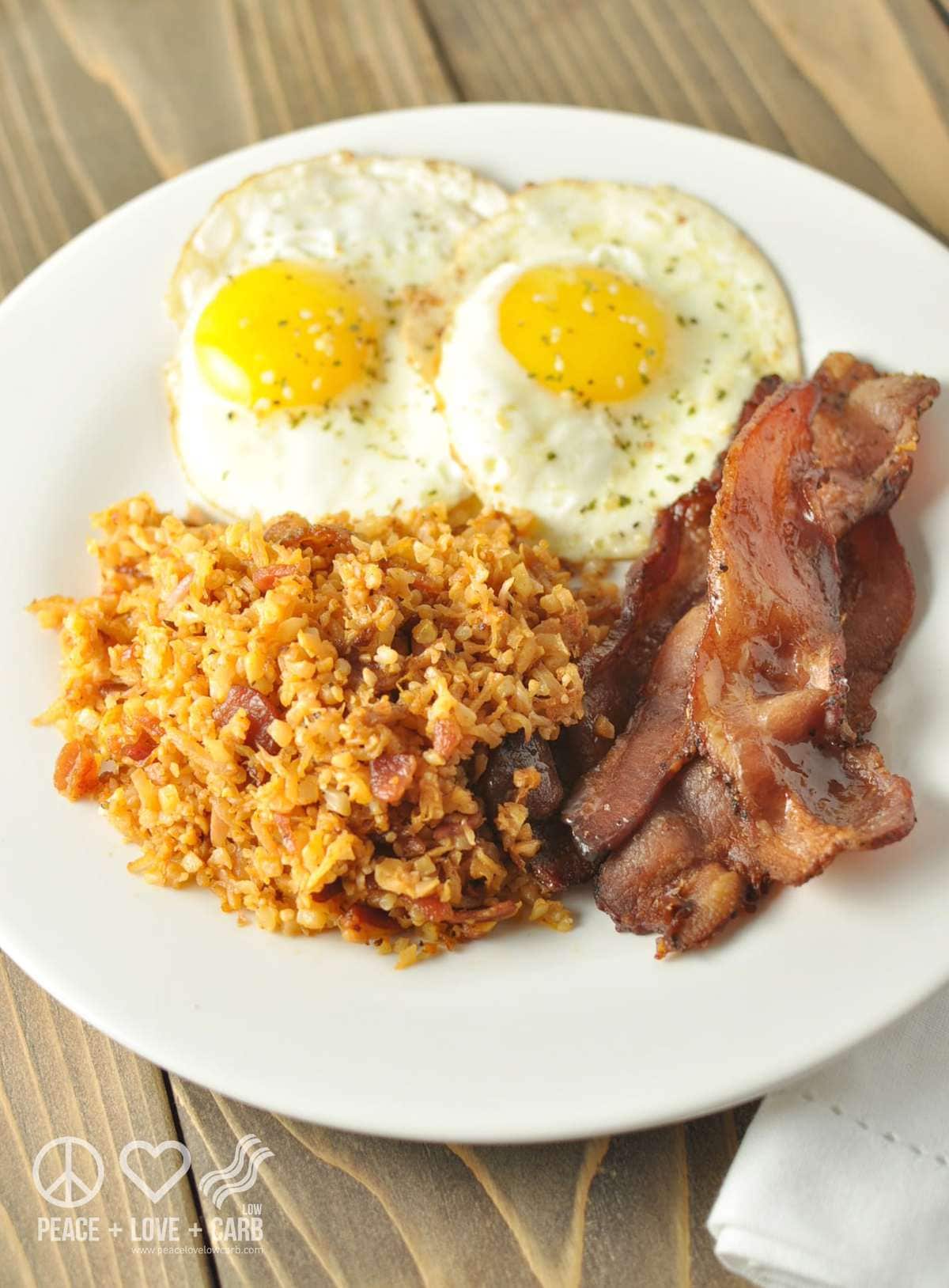 Why I now appreciate keto cauliflower recipes
But somewhere along the way, my love of potatoes morphed into a deep love of cauliflower - the stinky cruciferous vegetable I once loathed. As I got creative in the kitchen, I realized just how many amazing things you could substitute it for.
Cauliflower really can do anything, and in this recipe, it's acting as hash browns. I am a firm believer that even the pickiest of eaters is just one amazing recipe away from being converted into a cauliflower lover. Perhaps this will be that recipe!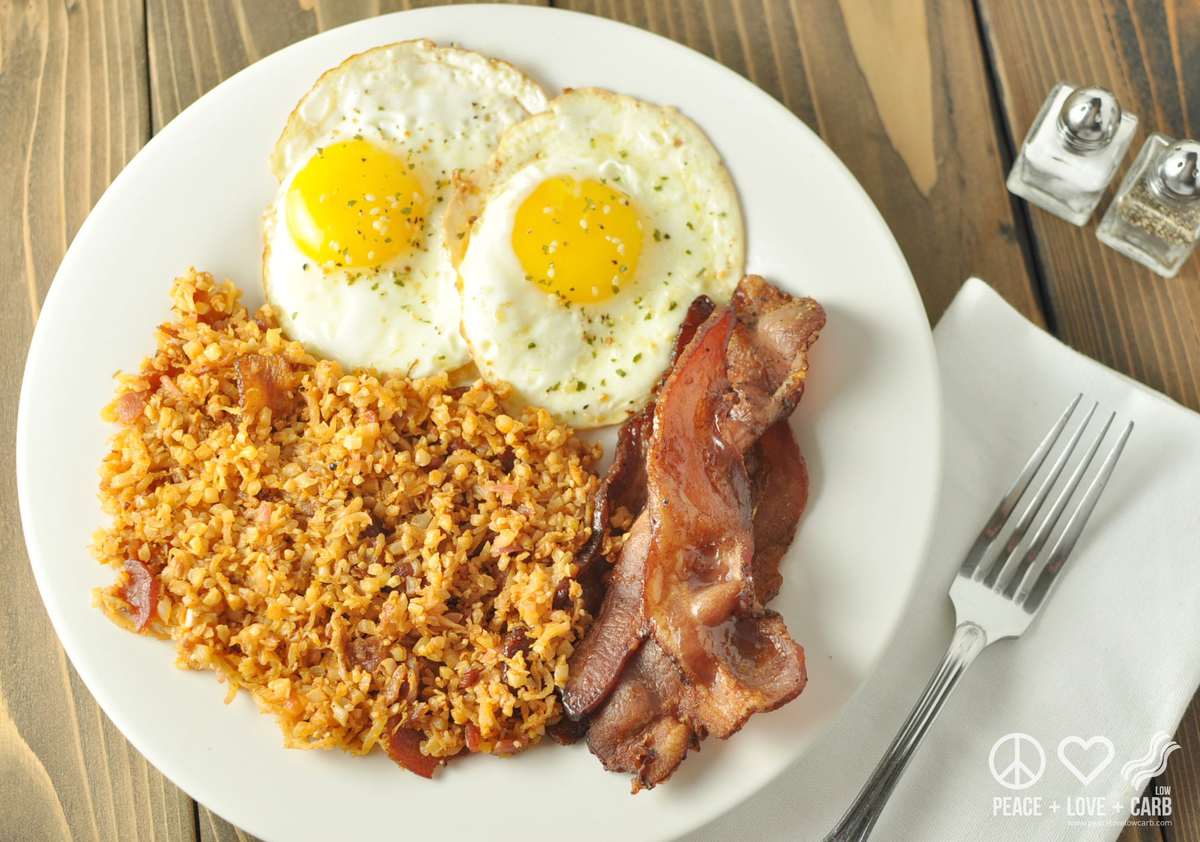 In addition to this Fried Radish and Cauliflower Hash Browns with Bacon recipe, check out some of my other favorite keto cauliflower recipes: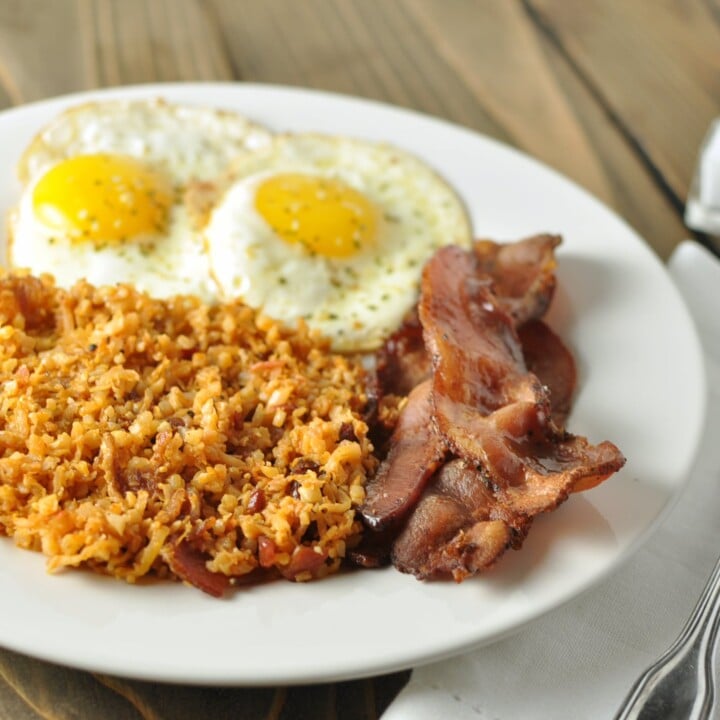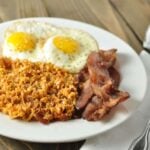 Fried Radish and Cauliflower Hash Browns with Bacon - Paleo, Low Carb
---
1

pound radishes, shredded

3 cups

riced cauliflower

3

cloves garlic, minced
sea salt and black pepper, to taste

½ teaspoon

smoked paprika

3 tablespoons

olive oil

6

strips bacon, cooked crisp and crumbled
---
Instructions
In a large mixing bowl, combine shredded radishes, riced cauliflower, sea salt, black pepper, and paprika. Mix until all ingredients are well combined.
Heat olive oil in a large skillet over medium-hight heat. Once the oil is hot, spread the hash in an even and thin layer across the whole skillet. (If you do not have a large enough skillet, you may need to do this in two batches in order to get them crispy).
Toss in the crispy bacon crumbles.
Fry until hash is cooked through and crispy - about 20-30 minutes. Stir and flip as needed.
Taste and add more salt and pepper if desired.
Nutrition
Calories:

196

Fat:

15g

Carbohydrates:

8.75g

Fiber:

3.75g

Protein:

7g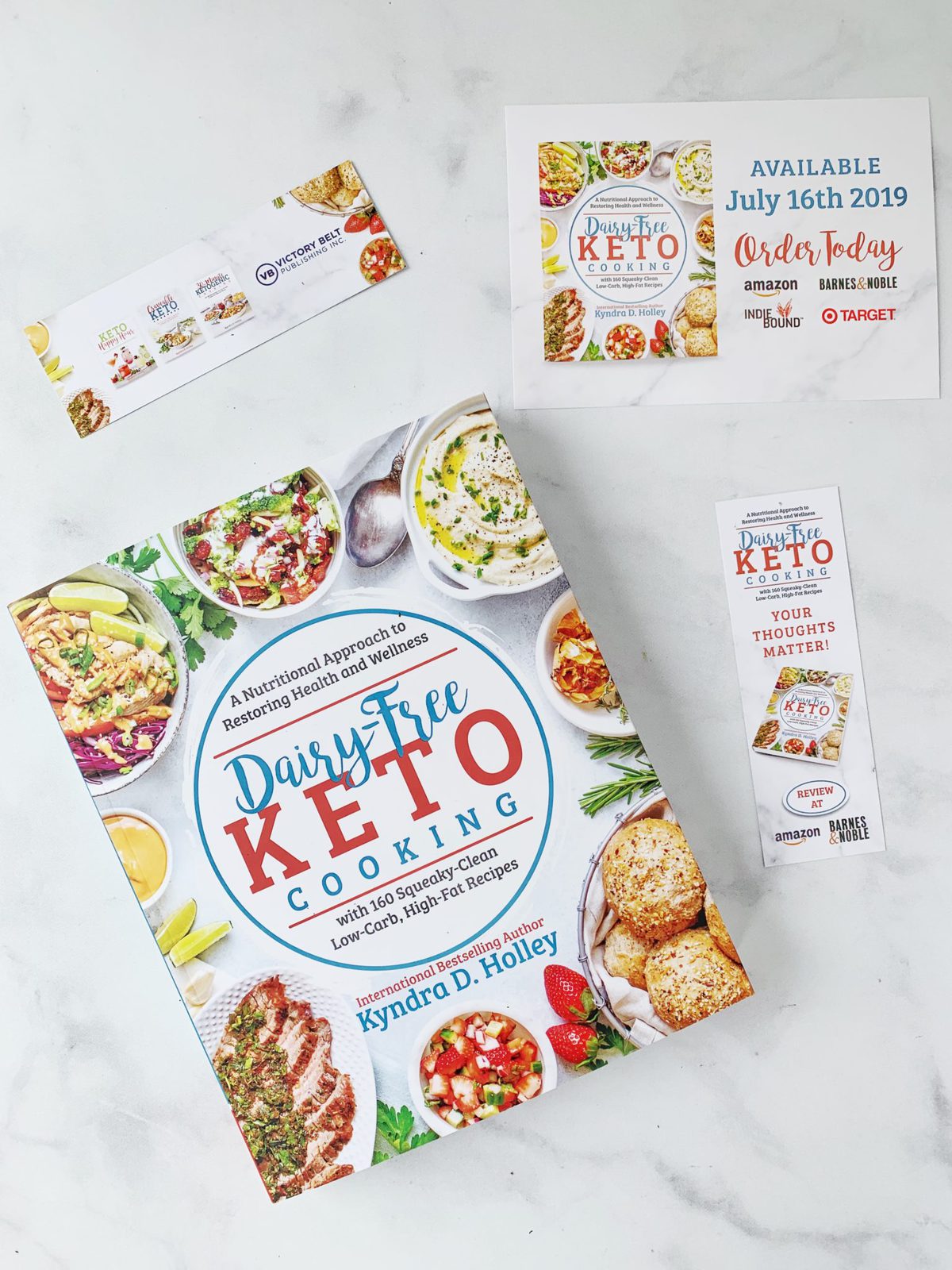 DAIRY-FREE KETO COOKING: A Nutritional Approach to Health and Wellness. With 150 Squeaky Clean Low-Carb, High-Fat Recipes
Check out my other books -
HERE
Using only approachable and accessible, nutrient dense, real food ingredients, I put together a dairy-free keto roadmap that does not require a search for unfamiliar specialty ingredients or that you have a gourmet kitchen. Each one of these delectable recipes is rooted in simplicity and calls for ingredients that can be found at your local grocery store. I'm showing you how to incorporate dairy-free substitutions that go far beyond the coconut.
In addition to tantalizing your palate with tasty recipes, Dairy-Free Keto Cooking will teach you how to restore your health and wellness, while living a lifestyle that nourishes you in mind, body, and spirit. Whether your goal is to lose weight, heal your body from the inside out, or simply find your own personal version of food freedom, I'm here to help you along in your journey to finding your personal path to wellness.
YOU CAN GRAB A COPY -
HERE
Dairy-Free Keto Cooking features something for everyone. If you suffer from dairy intolerances or food allergies, this is the book for you. If you are someone who just loves easy to make, delicious food, then this book is for you. I added a bit of everything, including suggestions for adding or reintroducing dairy for all the cheese loving, quesophiles.
With recipes like this, how could anyone possibly feel deprived?
Slow Cooker Pork Carnitas
Cowboy Style Beef Ragout
Sweet and Spicy Barbecue Ribs
Loco Moco
Pork Tenderloin with Dill Sauce
Flourless Chocolate Lava Cake
Easy Peasy Cuban Picadillo
Salted Caramel Chocolate Chip Cookies
Blueberry Maple Breakfast Sausage
Crab Salad Stuffed Avocado
Scotch Eggs
Supreme Pizza Soup
Jalapeño Popper Chicken Salad Sandwiches
Blackened Shrimp Fettuccine Alfredo
and much, much more!
I wrote this book with everyone in mind and it is complete with several different meal plans (paleo, AIP, egg free, nut free, 30 minute meals) as well as tons of valuable resources. Dairy-Free Keto Cooking will quickly become your go-to cookbook!
YOU CAN GRAB A COPY -
HERE