These Keto Chicken Fried Cauliflower Steaks have all the crispy and delicious flavors of a traditional Country Fried Steak Recipe, but in a vegetarian keto recipe.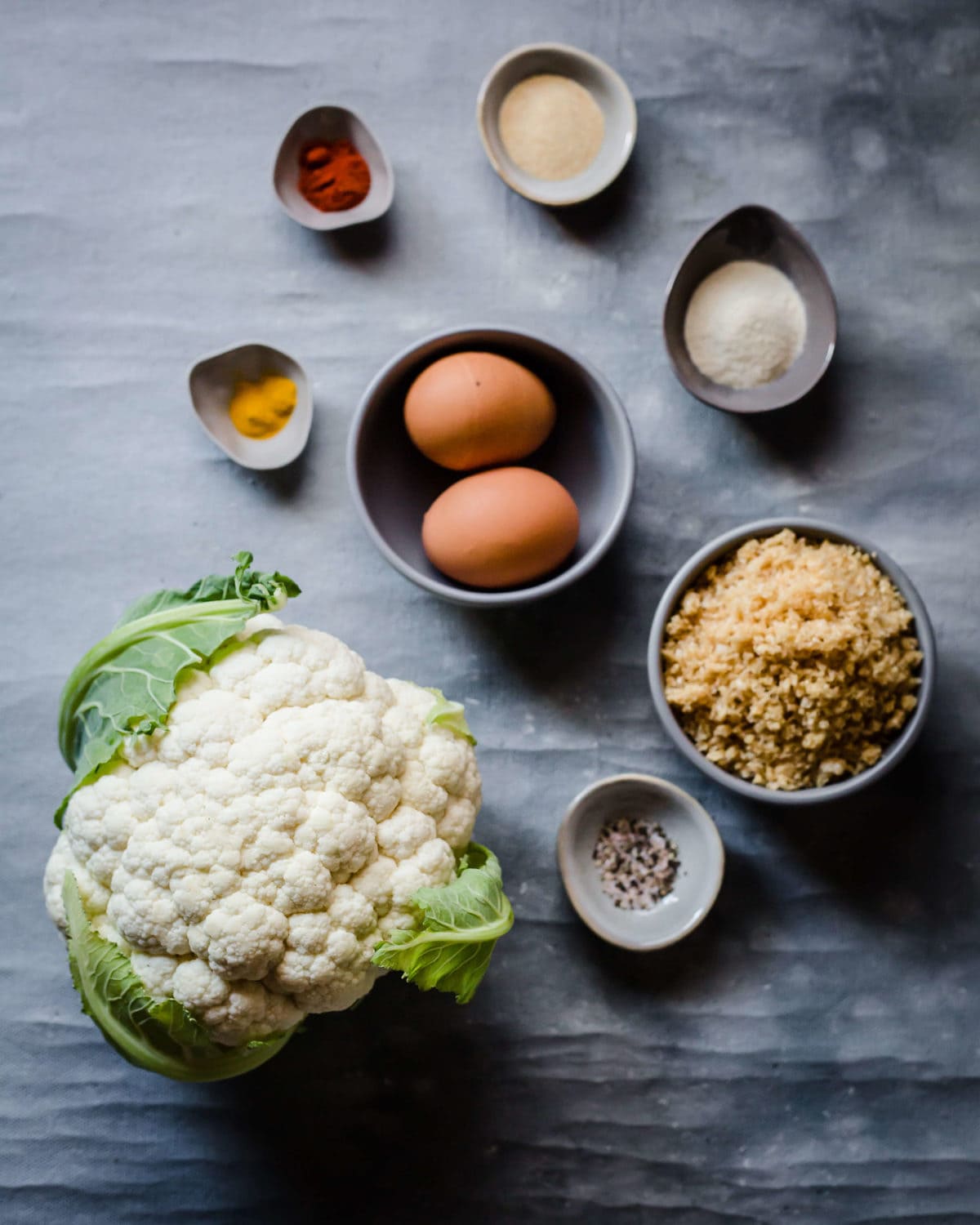 Looking for something different from typical keto cauliflower recipes?
Keto Chicken Fried Cauliflower Steaks might not be the first thing you think of when you search for paleo side dishes or dairy free keto recipes. Trust me: this recipe is sure to be a new favorite. Cauliflower really can do anything. These Chicken Fried Cauliflower Steaks get nice and tender on the inside with a deliciously spiced crispy crust on the outside. Serve with your favorite dressing, and you've got a great keto side dish or a low carb appetizer.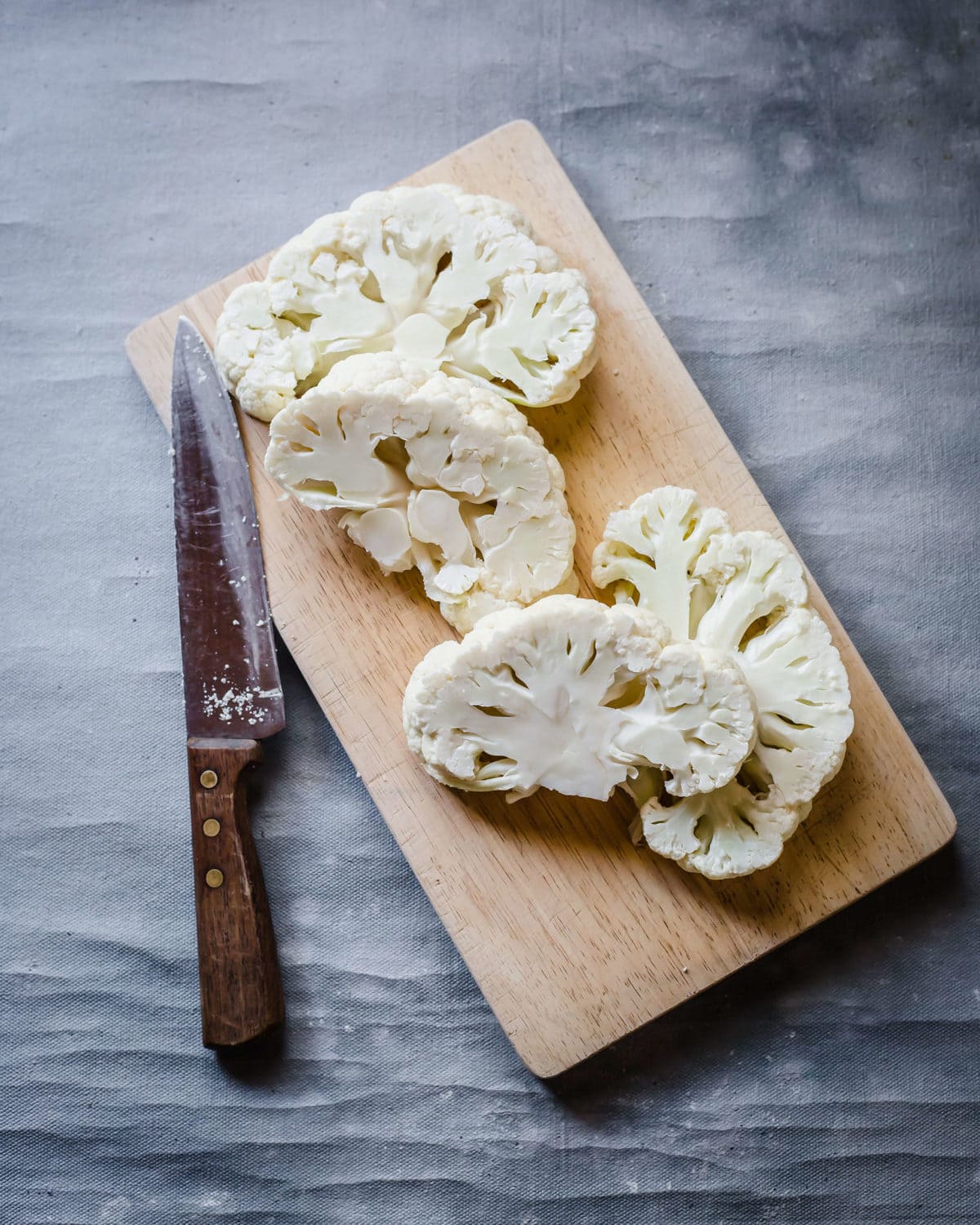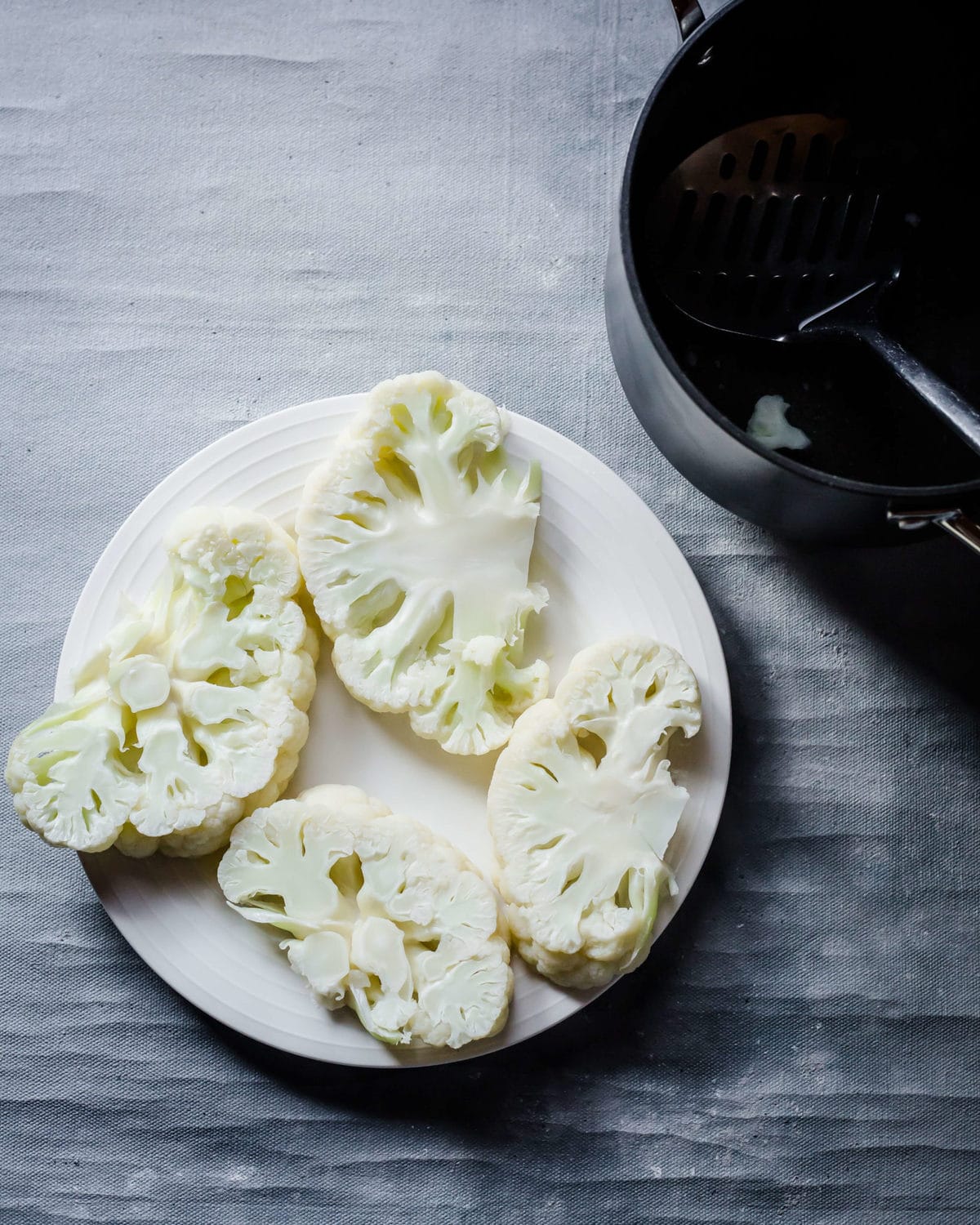 Not your average low carb side dish
If you think that a vegetarian keto recipe can't be great on its own, these Keto Chicken Fried Cauliflower Steaks will change your mind in one bite. To make this a low carb vegetarian meal, simply substitute the pork rinds for almond flour, Parmesan cheese or an equal split of both. You can also use golden flaxseed for a nice crunch as well. You can serve them with a variety of dressings and really customize the flavors. While I served mine with Blue Cheese and Chive Dressing, you could also use Dairy Free Keto Ranch Dressing or marinara sauce to make this the perfect Whole30 side dish.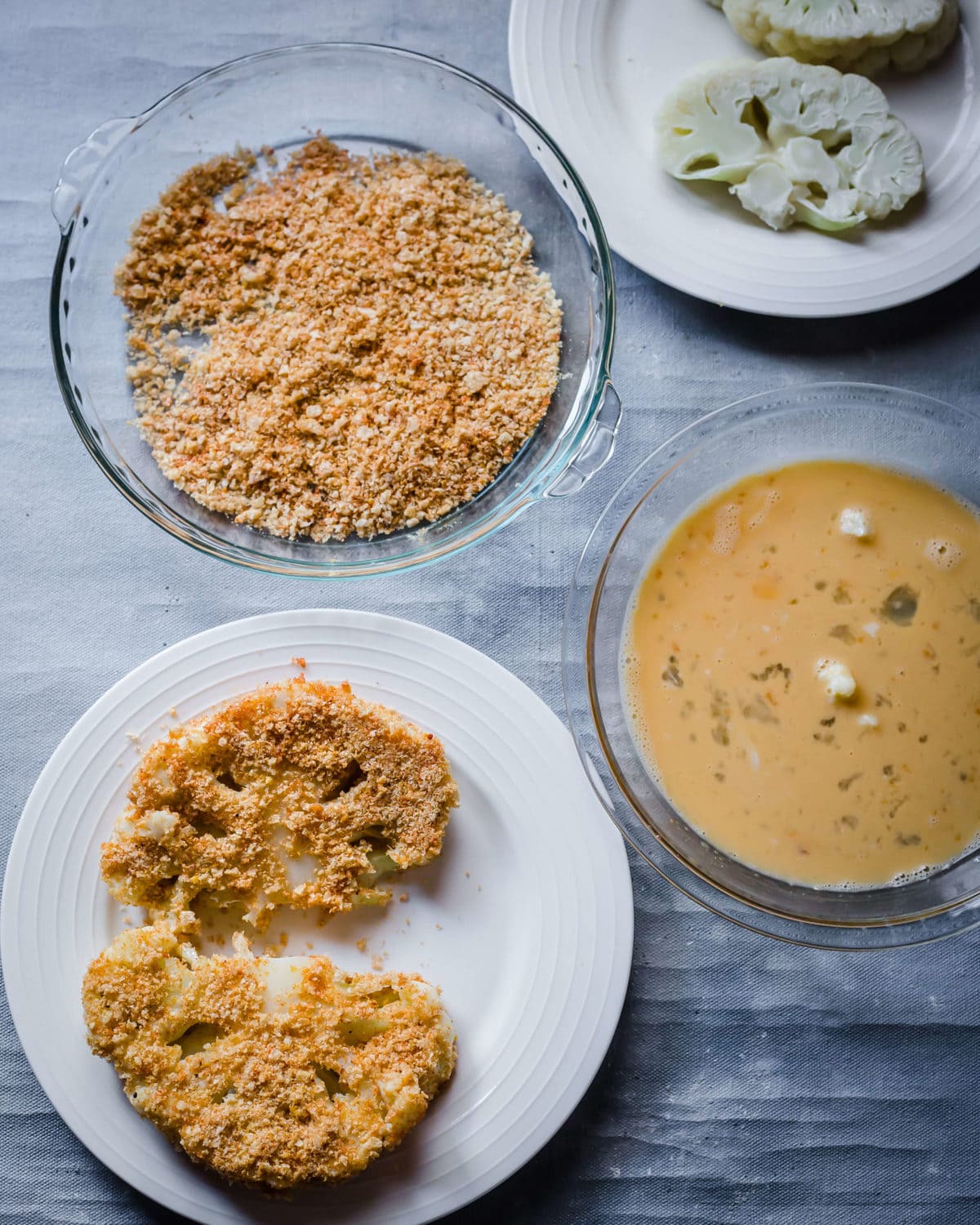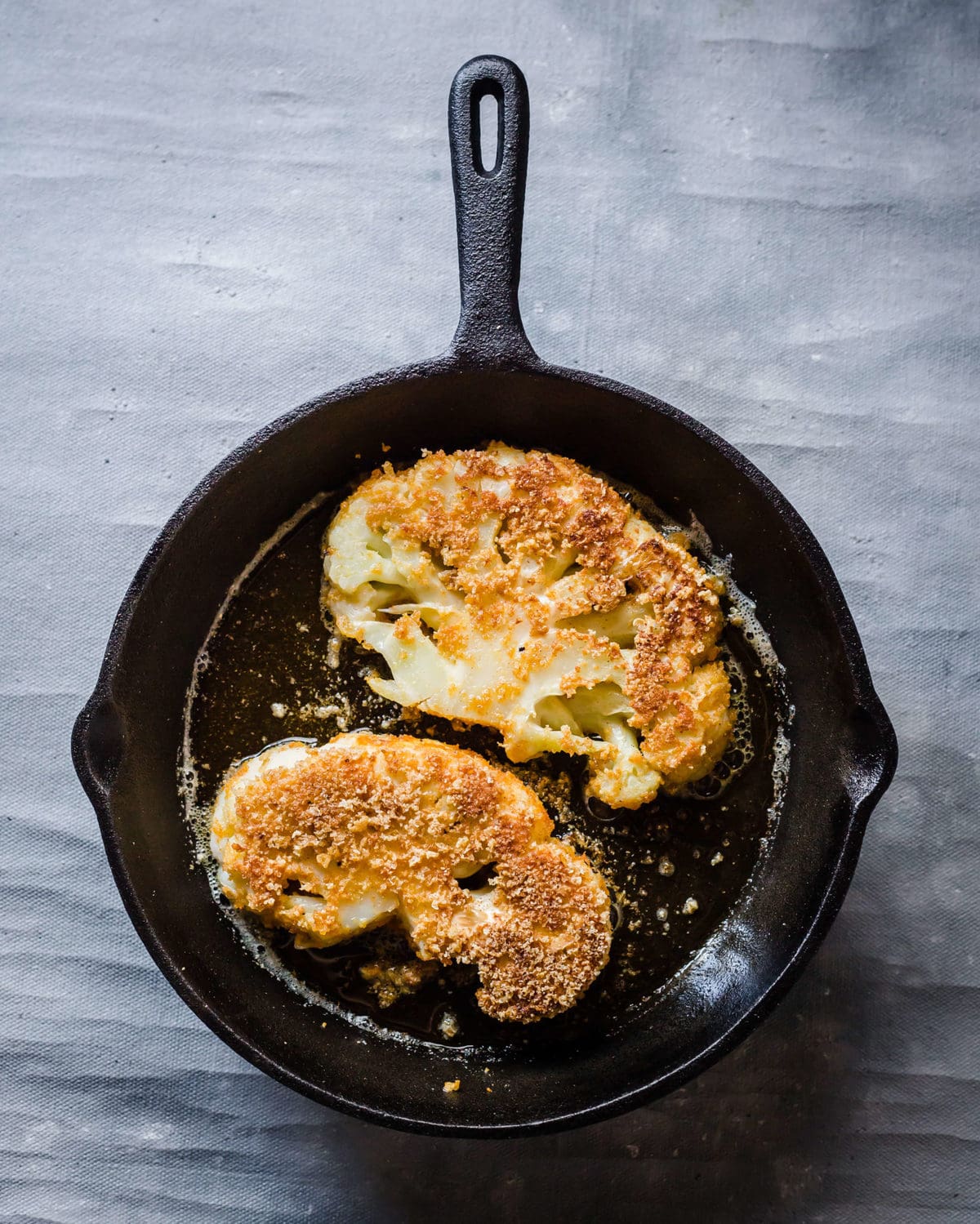 How to make a keto breading substitution
The "breadcrumb" for this keto chicken fried steak is made from a pork rind base. I love pork rinds because you can find them everywhere, they're reasonably priced, and you can grind them up with your favorite seasonings to customize the texture and flavor. Pork rinds are gluten free and very keto friendly (zero carbs). They make the perfect crunch and I've used them as a substitute for traditional breadcrumbs a ton of different recipes. If you don't have a food processor, you can get pre-crushed pork rinds here. Even if you are not a fan of pork rinds, trust me when I tell you that when they are crushed up and used as breading, they are not off-putting at all. They just make an extremely crunchy breading. It's truly perfect on this keto chicken fried cauliflower.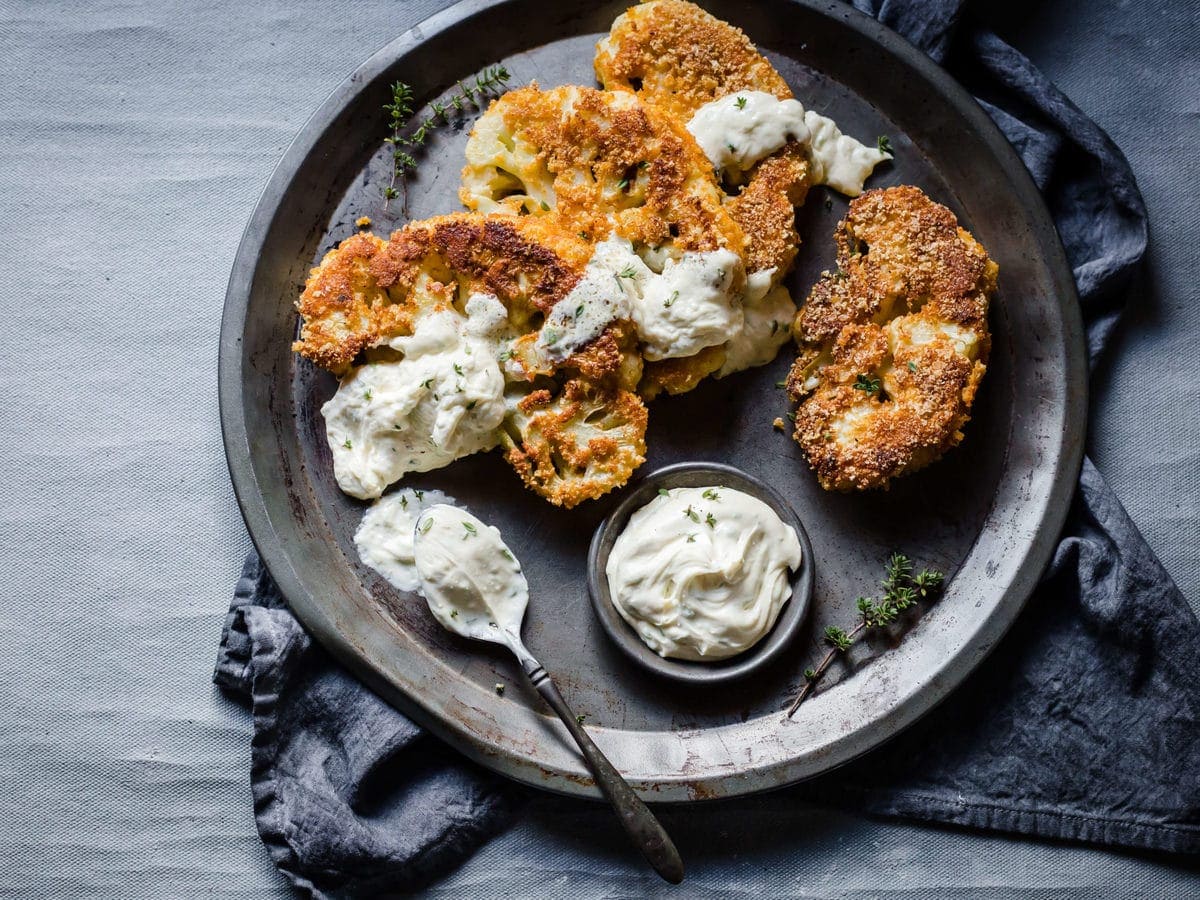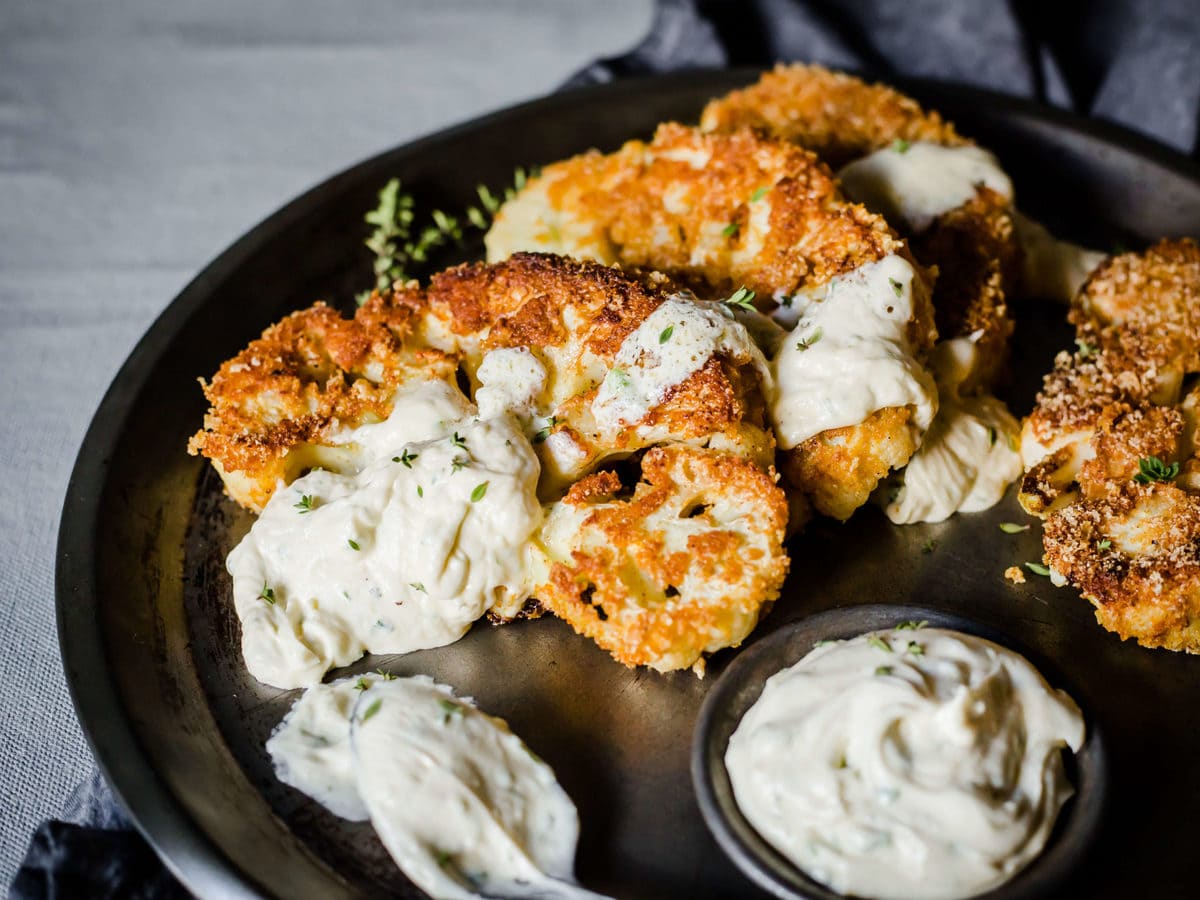 What is the difference between chicken fried steak and country fried steak?
First let's start with the similarities - Chicken fried steak and country fried steak are both made with steak, typically tenderized cube steak, and are battered and fried. Sometimes pan-fried and sometimes deep fried. From there, they are smothered in a delicious gravy before serving. The gravy is often the main distinction between the two. Country fried steak is usually served with a brown gravy and served with potatoes and vegetables, for dinner. Chicken Fried Steak is typically served with a creamy, peppery white gravy and served with eggs and hash browns for breakfast. While these are some of the notable differences, you will still see the lines blurred on many menus. It's all up to the chef. Personally, I am a fan of chicken fried chicken. But let's not get started on all the other variations.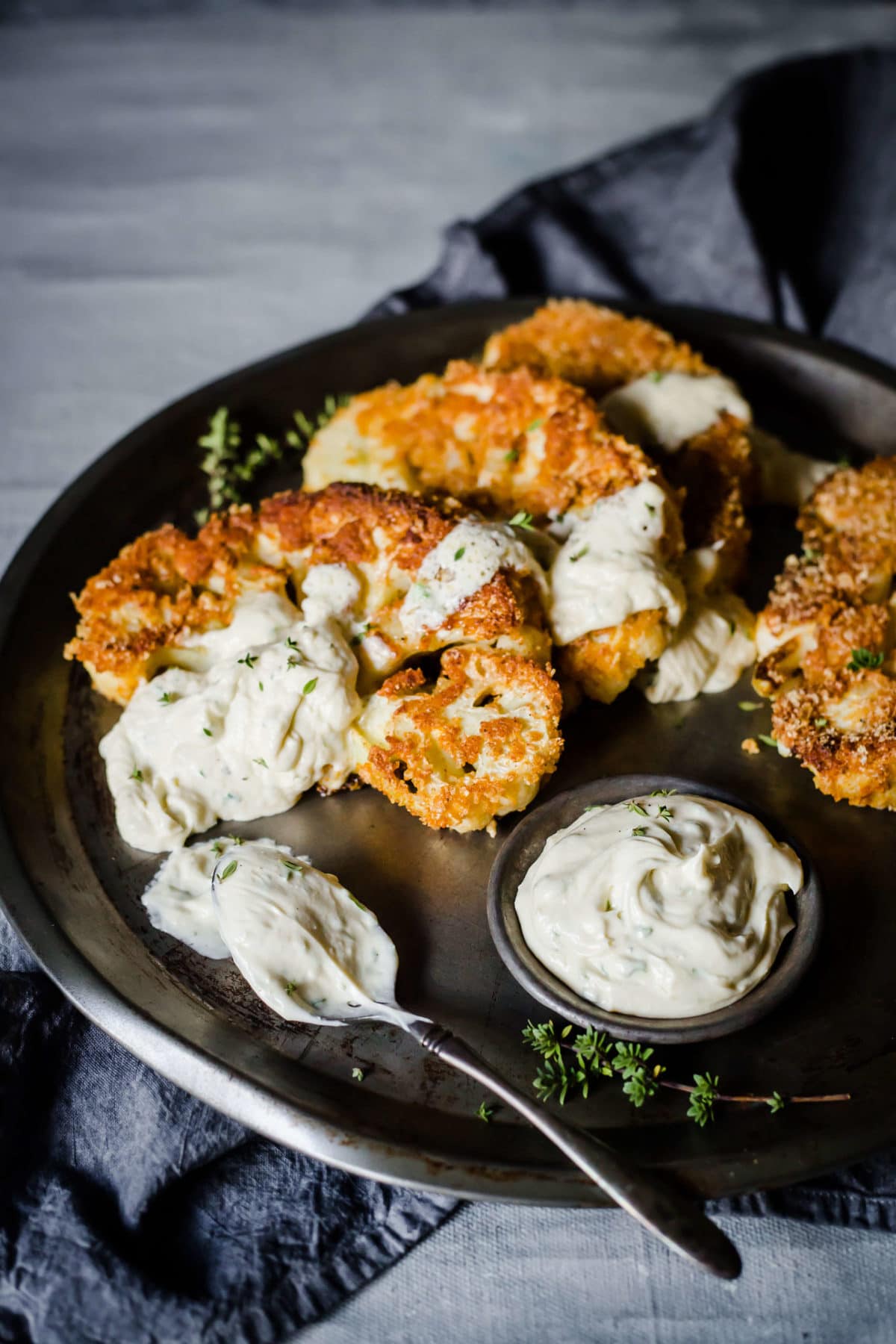 In addition to the keto chicken fried cauliflower steaks, check out some of my other favorite low carb side dish recipes:
Print
Keto Chicken Fried Cauliflower Steaks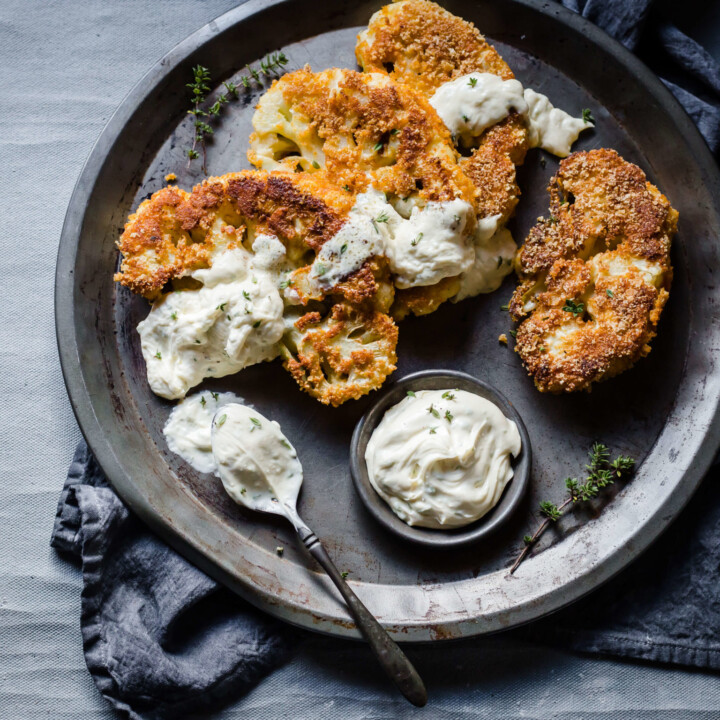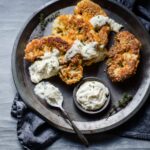 Scale
Ingredients
medium head cauliflower

2

large eggs

1 cup

crushed pork rinds

2 teaspoons

onion powder

1 teaspoon

garlic powder

½ teaspoon

smoked paprika

¼ teaspoon

turmeric
sea salt and ground black pepper, to taste
avocado oil, for frying
Instructions
Remove the leaves and trim the stem of the cauliflower. Slice it into 4 even steaks, slicing from the top, down through the core.
Bring a large pot of water to a boil.
Place each slice of cauliflower into the boiling water for about 3 minutes each, until just tender. Remove from the water, dry with a paper towel, and set aside.
Fork whisk the eggs in a shallow bowl. Combine all of the dry ingredients in a second shallow bowl.
Heat 1 to 2 tablespoons of avocado oil in a cast iron skillet over medium-high heat.
Dip each slice of cauliflower into the egg wash and then press each side into the breading mixture.
Fry each slice for 2 to 3 minutes on each side, or until crispy and golden brown.
Serve with Creamy Chive Blue Cheese Dressing or Dairy Free Ranch Dressing.
Notes
net carbs per serving: 3.5g
Nutrition
Calories:

181

Fat:

21.3g

Carbohydrates:

5.3g

Fiber:

1.8g

Protein:

13g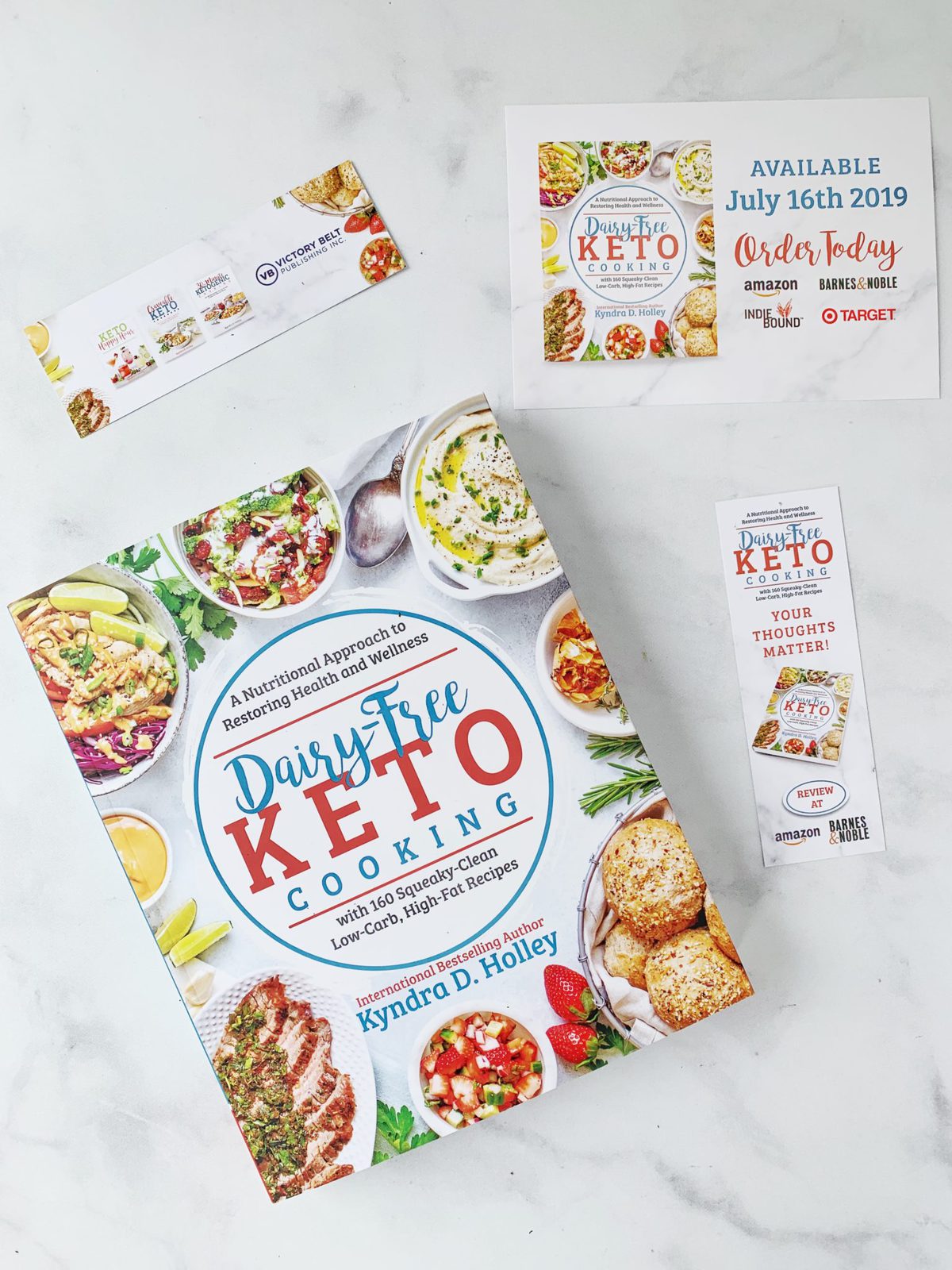 DAIRY-FREE KETO COOKING: A Nutritional Approach to Health and Wellness. With 150 Squeaky Clean Low-Carb, High-Fat Recipes
Check out my other books -
HERE
Using only approachable and accessible, nutrient dense, real food ingredients, I put together a dairy-free keto roadmap that does not require a search for unfamiliar specialty ingredients or that you have a gourmet kitchen. Each one of these delectable recipes is rooted in simplicity and calls for ingredients that can be found at your local grocery store. I'm showing you how to incorporate dairy-free substitutions that go far beyond the coconut.
In addition to tantalizing your palate with tasty recipes, Dairy-Free Keto Cooking will teach you how to restore your health and wellness, while living a lifestyle that nourishes you in mind, body, and spirit. Whether your goal is to lose weight, heal your body from the inside out, or simply find your own personal version of food freedom, I'm here to help you along in your journey to finding your personal path to wellness.
YOU CAN GRAB A COPY -
HERE
Dairy-Free Keto Cooking features something for everyone. If you suffer from dairy intolerances or food allergies, this is the book for you. If you are someone who just loves easy to make, delicious food, then this book is for you. I added a bit of everything everything, including suggestions for adding or reintroducing dairy for all the cheese loving, quesophiles.
With recipes like this, how could anyone possibly feel deprived?
Slow Cooker Pork Carnitas
Cowboy Style Beef Ragout
Sweet and Spicy Barbecue Ribs
Loco Moco
Pork Tenderloin with Dill Sauce
Flourless Chocolate Lava Cake
Easy Peasy Cuban Picadillo
Salted Caramel Chocolate Chip Cookies
Blueberry Maple Breakfast Sausage
Crab Salad Stuffed Avocado
Scotch Eggs
Supreme Pizza Soup
Jalapeño Popper Chicken Salad Sandwiches
Blackened Shrimp Fettucine Alfredo
and much, much more!
I wrote this book with everyone in mind and it is complete with several different meal plans (paleo, AIP, Egg free, nut free, 30 minute meals) as well as tons of valuable resources. Dairy-Free Keto Cooking will quickly become your go-to cookbook!
YOU CAN GRAB A COPY -
HERE