Quick and easy low carb pancakes, made with protein powder. Blend these Low Carb Keto Banana Nut Protein Pancakes to get them nice and fluffy.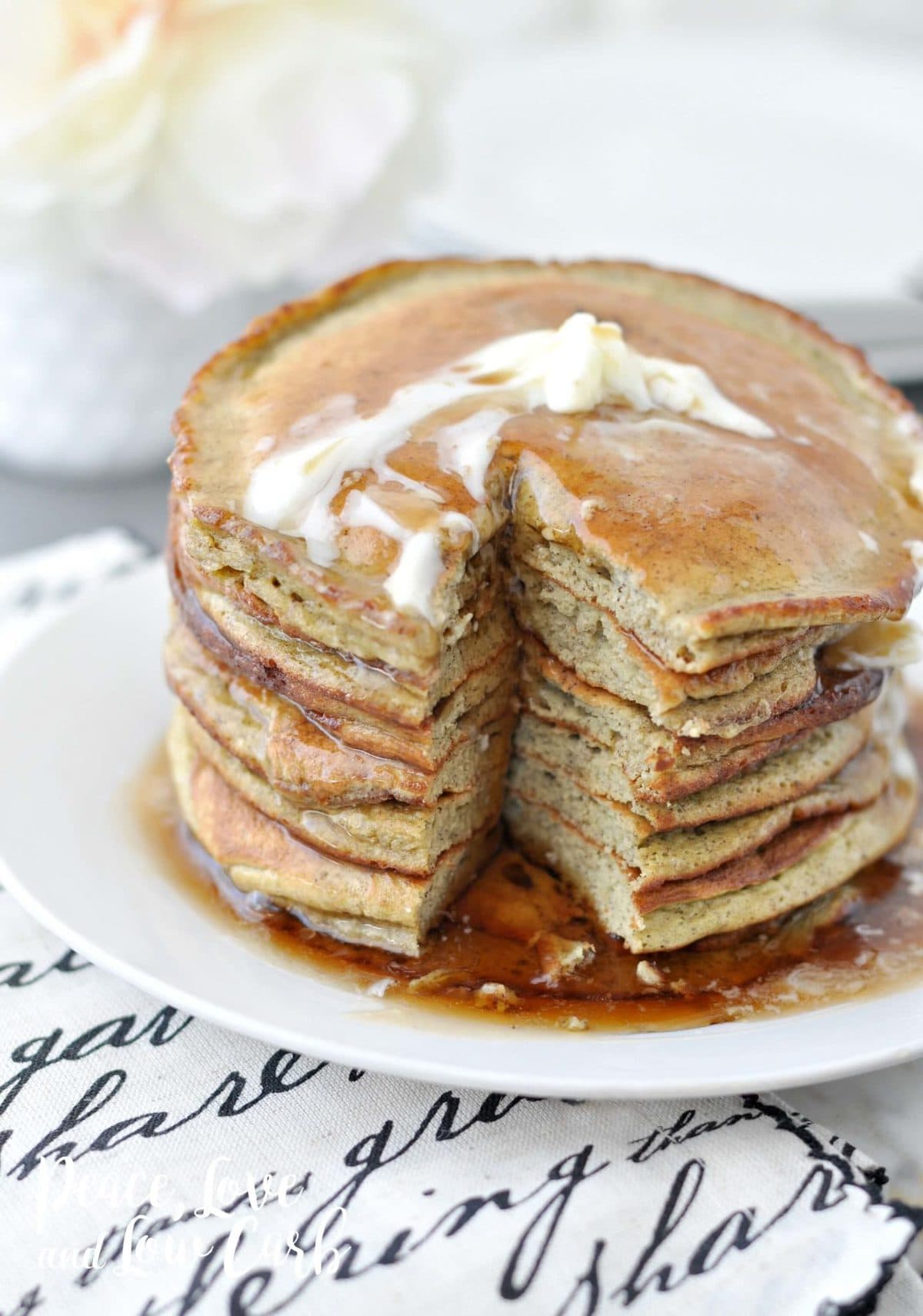 The solution to your pancake cravings on keto: Low Carb Keto Banana Nut Protein Pancakes
I love a good pancake recipe. Like REALLY love. I'm talking breakfast, lunch and dinner kind of love. If I'm honest, I love to eat my pancakes smothered with peanut butter and low carb maple syrup. YUM! It's like dessert and breakfast all wrapped into one.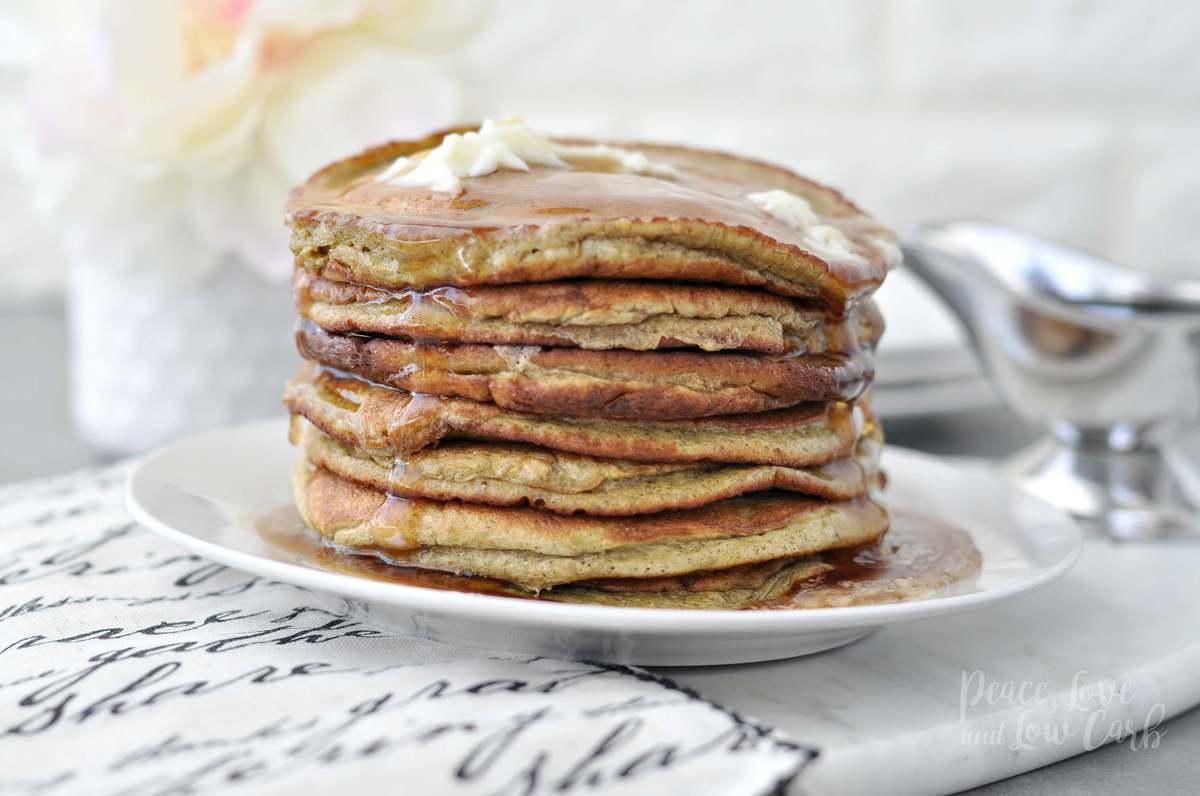 Variations of keto protein pancakes
There are so many different low carb pancake variations floating around: protein powder pancakes, cream cheese pancakes, almond flour pancakes, coconut flour pancakes and more. Did I sound a little but like Bubba Gump there?
But between all these, how do you choose? Honestly, I think it is just a matter of personal preference. Personally, I like most of the variations, with the cream cheese pancakes being pretty close to the top of the list. But then again, I also really love eggs, so the eggy texture of cream cheese pancakes appeals to me. I'm not really a fan of almond flour pancakes as I have never tried a variation that felt light and fluffy and didn't have a gritty texture. When done right, coconut flour pancakes seem to be my favorite variation. I've had a couple recipes that came pretty darn close to the real thing.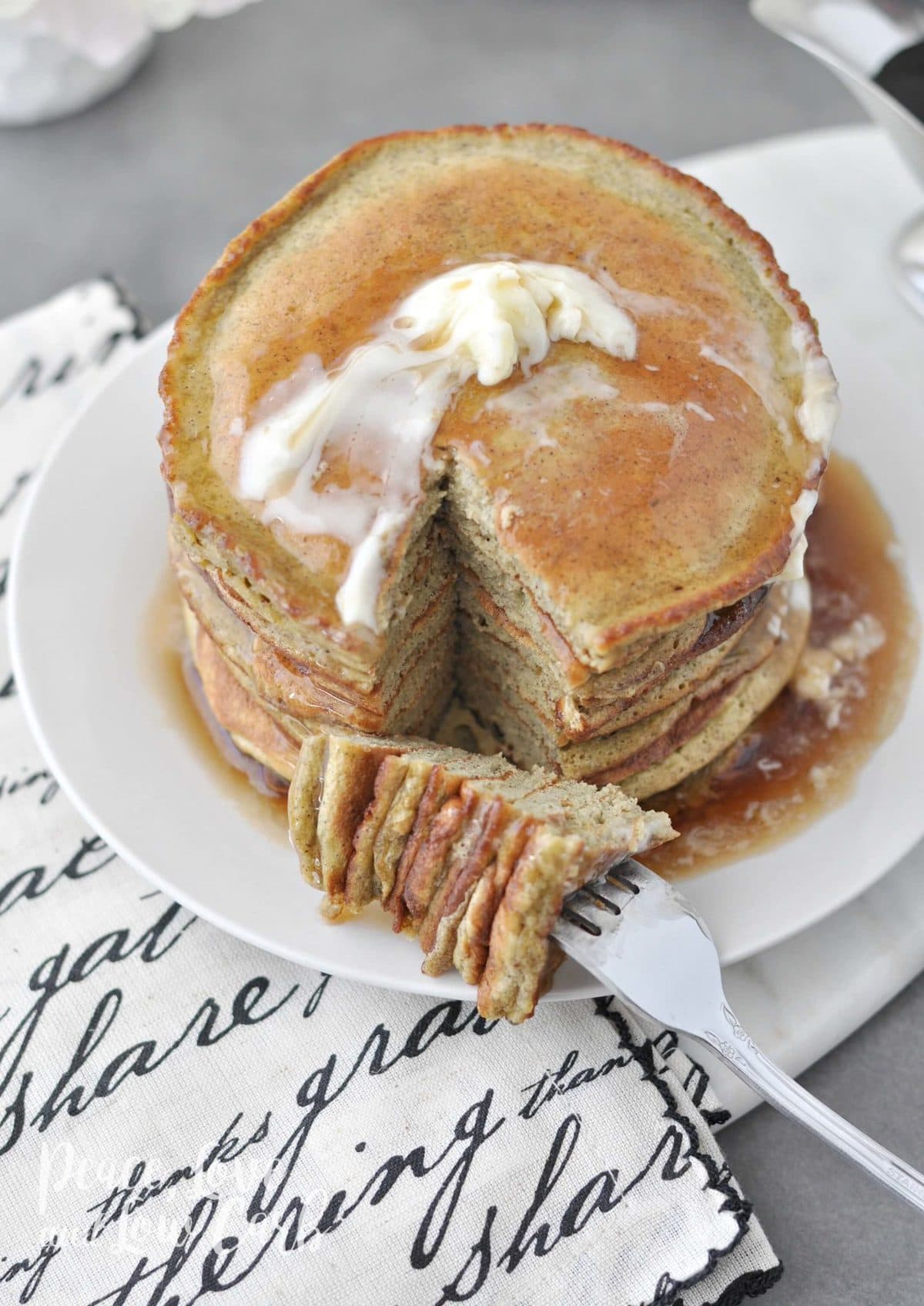 The best protein powder for Low Carb Keto Banana Nut Protein Pancakes
One of my favorite things about this recipe is how easy it is. Just through it all together and blend. No fuss, no muss, no big mess. Just mix and pour! For this keto pancake recipe I used Rootz Paleo Protein Superfood Chocolate Banana Nut Protein Powder. You can't taste any chocolate in this recipe, but the delicious flavors of low carb banana nut bread shine through. I haven't yet tried this recipe as a low carb waffle recipe, but if you do, let me know. I bet it would work out great. Protein powder waffles might just have to be my breakfast for tomorrow.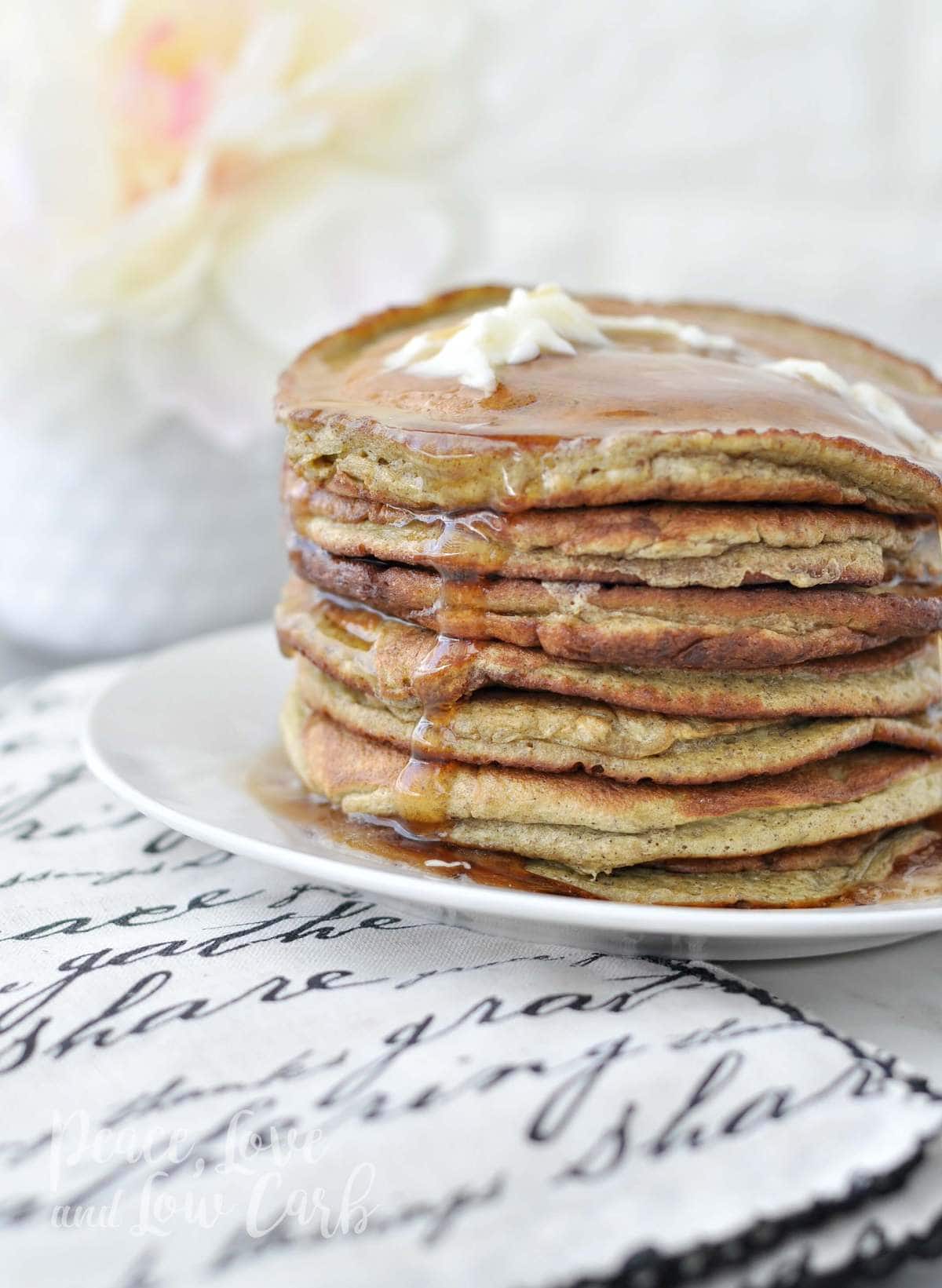 Looking for nut-free keto pancakes?
This recipe is a great alternative for those looking for a low carb pancake recipe free of nut flours. Many people have a nut allergy or simply do not like the taste and texture of either coconut flour or almond flour. These protein powder pancakes are a great substitution. The use of the protein powder makes them light and fluffy, while still keeping them gluten free and nut flour free. Do you have a favorite low carb pancake recipe? I'd love to hear about it.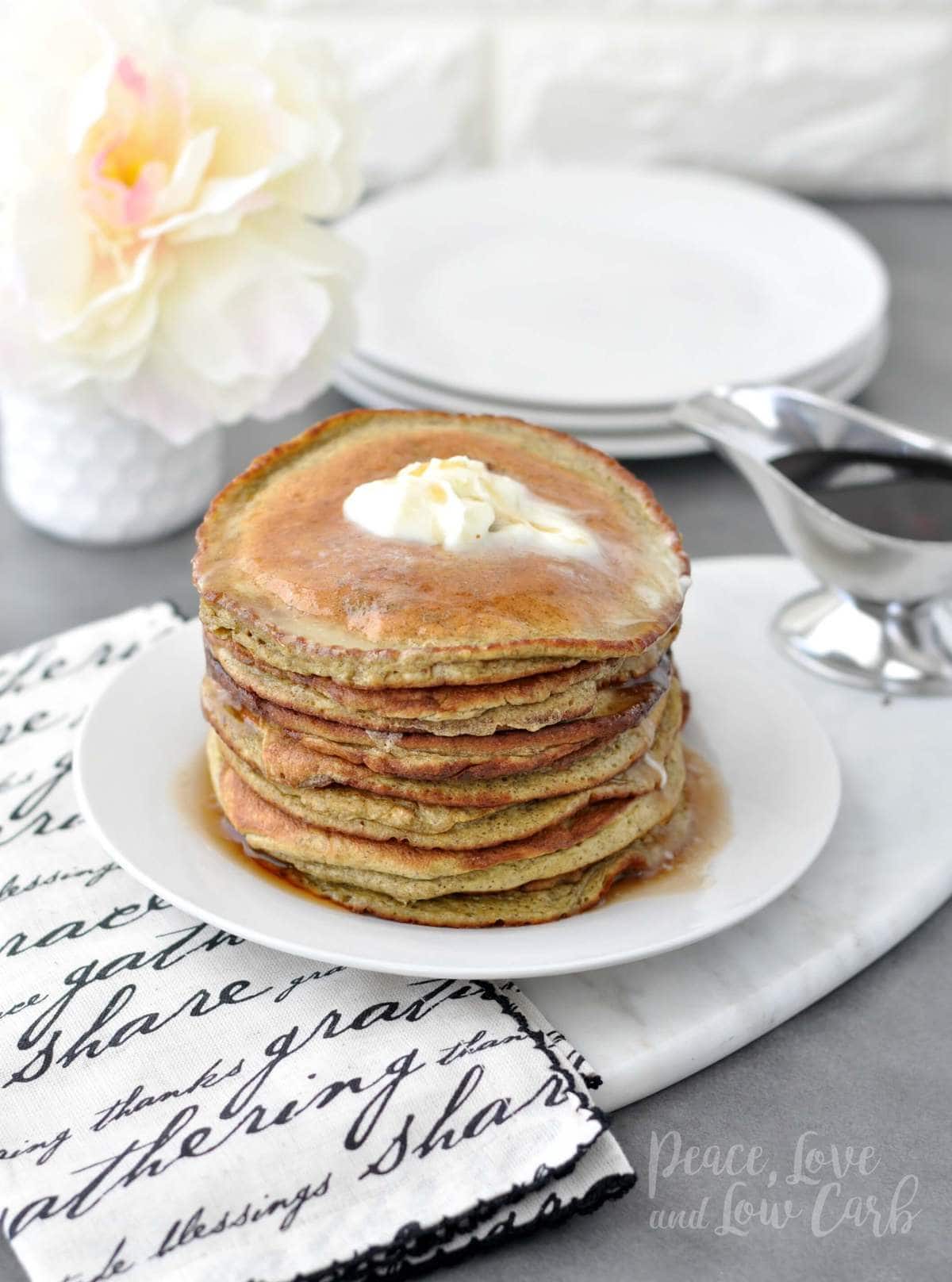 Must-have ingredients for keto protein pancakes: protein powder and sugar free maple syrup
Of course, you can't have pancakes without maple syrup. My favorite keto maple syrup is from Lakanto -- the flavor is spot on. You can get some - HERE
The essential ingredient in these protein pancakes is, of course, protein powder. I recommend this Rootz Nutrition protein powder, because it has the perfect banana nut flavor, and you can't beat the ingredients.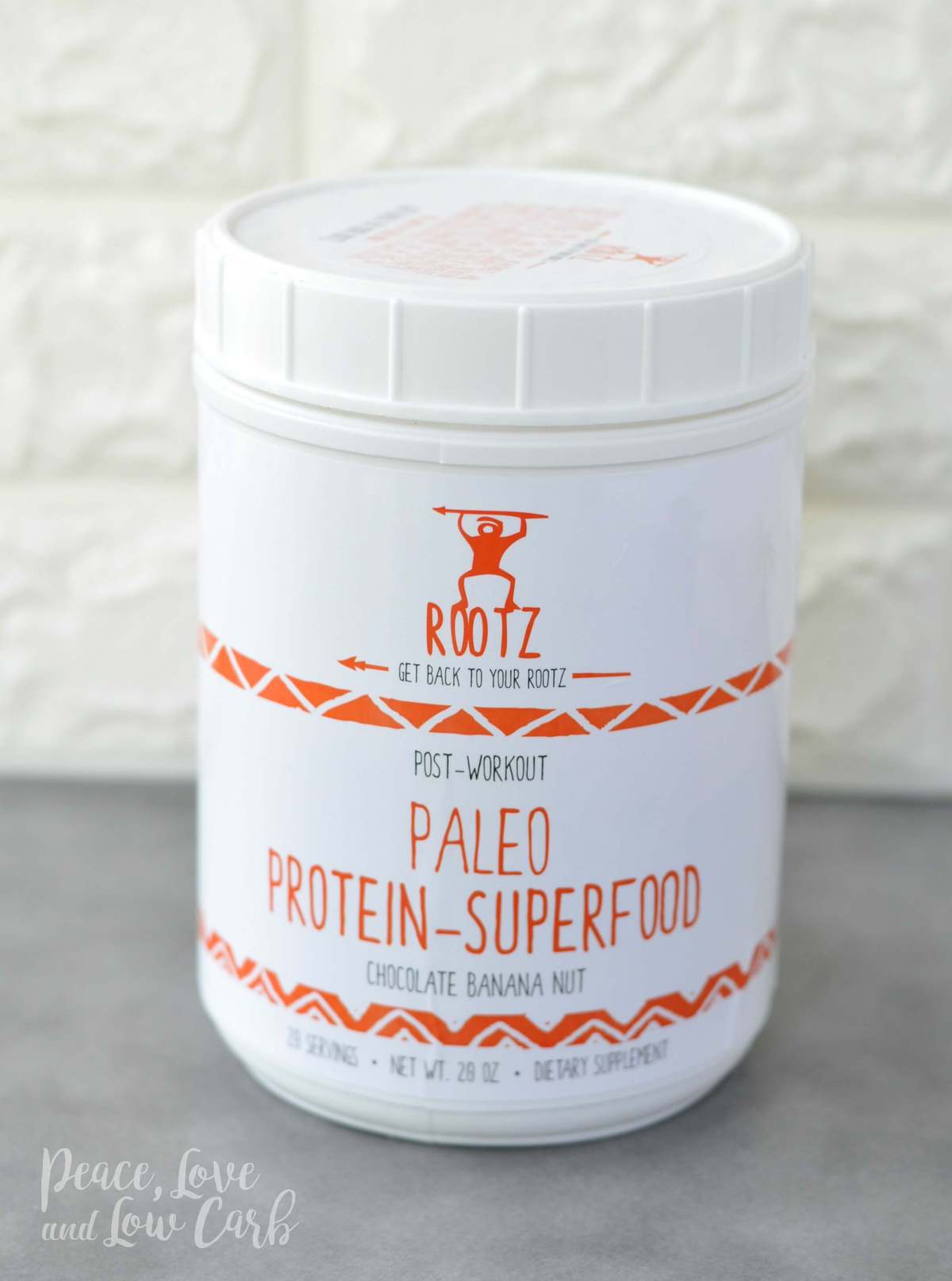 Let's talk more about the Post-Workout Paleo Protein Superfood in Chocolate Banana Nut Flavor. It has minimal ingredients, is low carb, keto friendly, gluten free, dairy free, paleo, soy free, non-gmo, no artificial ingredients and no added color. You can grab some here.
Like I said, it can be really hard to find a low carb keto protein powder. Especially one that actually tastes good. I love that the flavor on this is subtle, without being overly sweet, but yet it holds up on it's own without adding anything besides your favorite non dairy milk. When I mix up a shaker bottle to drink after my workout, I usually just mix it with coconut milk or cashew milk. BUT, my favorite way to drink it is as a Low Carb Cold Brew Protein Shake Smoothie. You'll find that awesome deliciousness below, but first let me tell you a little but more about the protein powder.
From their site: "Our Paleo Protein-Superfood contains egg white protein, hemp protein, and sacha inchi protein, combined with a blend of all natural superfoods to provide delicious post-workout nutrition that promotes the growth of lean muscle mass and overall health. This product contains only the cleanest ingredients available, and can be consumed as a post-workout protein shake or as a complete low calorie meal replacement at any time during the day. The Paleo Protein-Superfood contains a full spectrum of nutrients that will rejuvenate your body and get you ready for your next workout."
Ingredients: This product features four different blends that work together to provide the most complete post-workout nutritional product available.
Protein Blend: Egg White Protein, Sacha Inchi Protein, Hemp Protein
Electrolyte Blend: Coconut, Banana
Superfood Blend: Chia Seeds, Flax Seeds, Maca Root, Bee Pollen, Acai, Goji Berries, Blueberries, Royal Jelly
Green Detox Blend: Spirulina, Chlorella, Kale, Spinach, Broccoli
Other Ingredients: Natural Chocolate Extract, Natural Vanilla Extract, Stevia Leaf, Cinnamon, Natural Sea Salt
In addition to these Low Carb Keto Banana Nut Protein Pancakes, check out some of my other favorite keto breakfast recipes:
Print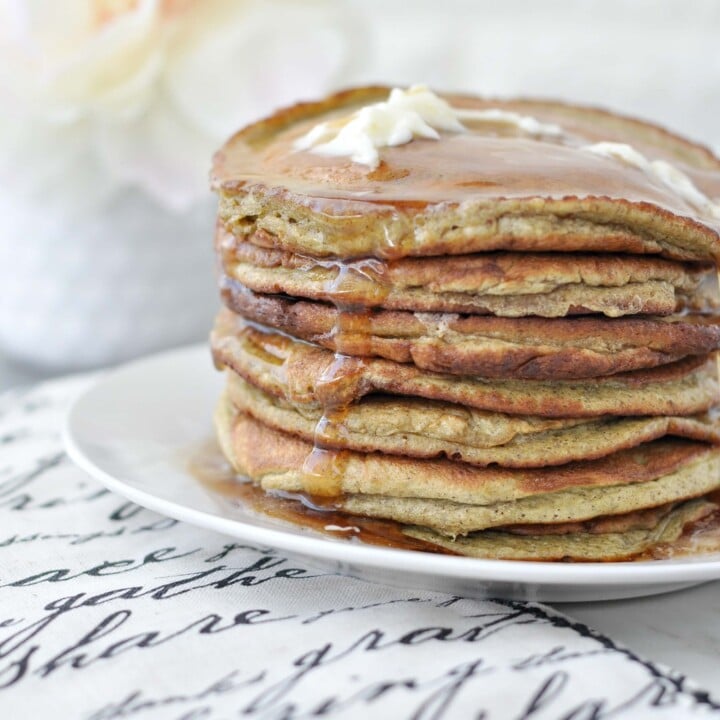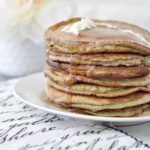 Low Carb Keto Banana Nut Protein Pancakes
---
Prep Time:

5 minutes

Cook Time:

25 minutes

Total Time:

30 minutes

Yield:

8

Pancakes (4 to 5 inches)

1

x
Description
Check out my favorite Sugar-Free Maple Syrup - HERE
---
2

scoops Banana Nut Protein Powder (

56 grams

) (Get it here)

2 ounces

cream cheese, softened

4

large pastured eggs

1 teaspoon

pure vanilla extract (I use this brand)

2 teaspoons

baking powder

1 tablespoon

powdered monkfruit (I use this brand)
Butter for cooking
---
Instructions
Combine all ingredients in a high powder blender. Pulse until all ingredients are creamy and well combined. You may need to scrape down the sides with a rubber spatula and pulse again to make sure everything is completely mixed.
Brush a large non-stick skillet or griddle pan with butter and heat over medium-low heat. Once the pan is hot, add ¼ cup of the batter and cook until it is bubbly on top and golden brown on the bottom, about 3 minutes. Flip and cook the other side until it is golden brown, about 2-3 minutes. Repeat this process until all the batter is gone.
Nutrition
Serving Size:

1 Pancake

Calories:

85

Fat:

5.4g

Carbohydrates:

1.8g

Fiber:

1g

Protein:

7.4g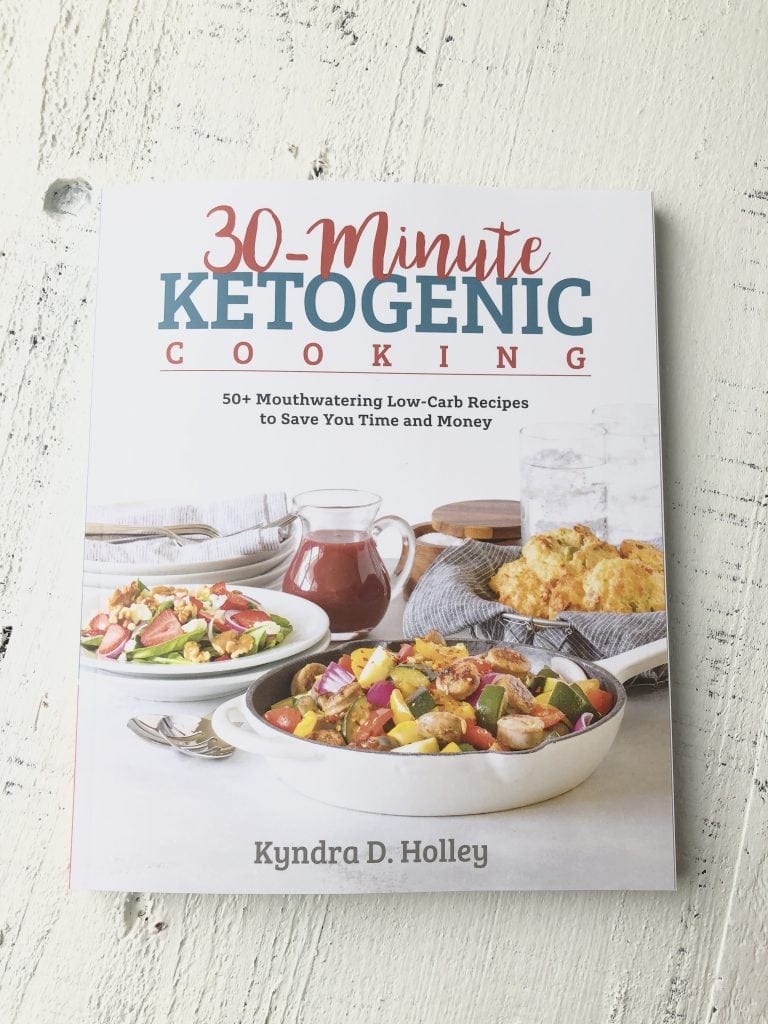 30 MINUTE KETOGENIC COOKING 50+ Mouthwatering Low-Carb Recipes to Save You Time and Money

Check out my other books -
HERE
I am so excited to help with a problem that so many people struggle with – Not having enough time! I can't even count how many times I have heard people say that they just don't have enough time to prepare healthy meals. So, what if I told you that I wrote an entire book of recipes that only require 30 minutes of hands-on time or less?
That's right, every recipe inside can be completed in 30 minutes or less and only contains ingredients that you can easily find at your local grocery store. No funny specialty ingredients here! Only real, whole foods!
50+ Mouthwatering recipes, ready in 30 minutes or less
STARTERS AND SNACKS
Buffalo Chicken Dip
Mediterranean Flat Bread
Dill Pickle Deviled Eggs
Buttery Garlic Crescent Rolls
Tahini Ranch Dip
Pico De Gallo
Cheddar Jalapeno Bacon Biscuits
SALADS
Strawberry Spinach Salad
Shaved Brussels Sprouts and Kale Salad
Greek Salad
Taco Wedge Salad
Cucumber Dill Tuna Salad
Barbecue Chicken Mockaroni Salad
BREAKFAST
Fortune Cookie Waffles
Ham and Spinach Eggs Benedict
Cheesy Pico Eggs
Sausage Balls
Sour Cream and Chive Egg Clouds
Ham and Cheese Waffles
Chicken Cordon Bleu Frittata
LUNCH AND DINNER
Pork Chops with Herbed Goat Cheese Butter
Spicy Sausage and Cabbage Stir-Fry
Zucchini Noodles with Hamburger Gravy
Chicken Sausage and Vegetable Skillet
Sloppy Joe Stuffed Peppers
Cheesy Salsa Verde Chicken Casserole
Greek Meatballs
Grilled New York Steak with Blue Cheese Dijon Cream Sauce
Fish Taco Bowls
Herbed Chicken and Mushrooms
Skillet Chicken Parmesan
Shrimp Piccata
Salisbury Steak
Buffalo Chicken Roasted Cabbage Steaks
Zucchini Noodles with Pesto Cream Sauce
SIDES
Pan-Fried Brussels Sprouts with Creamy Dijon Cider Dressing
Green Onion and Lime Cauliflower Rice
Cheesy Zucchini Gratin
Sauteed Asparagus with Mushrooms and Bacon
Cauliflower Steaks with Cheesy Bacon Sauce
Sauteed Green Beans with Ham
Herbed Goat Cheese Cauliflower Mash
SWEET TREATS
Chocolate Chip Cookies for Two
Mini Blueberry Cheesecakes
Double Chocolate Flourless Brownies
Lemon Mousse
Sesame Shortbread Sugar Cookies
Pumpkin Cheesecake Mousse
Avocado Chocolate Pudding
Hungry? YOU CAN GRAB A COPY -
HERE