This herbed chicken and mushrooms is so tender and juicy, the perfect keto chicken recipe, full of flavor and ready in just over 30 minutes.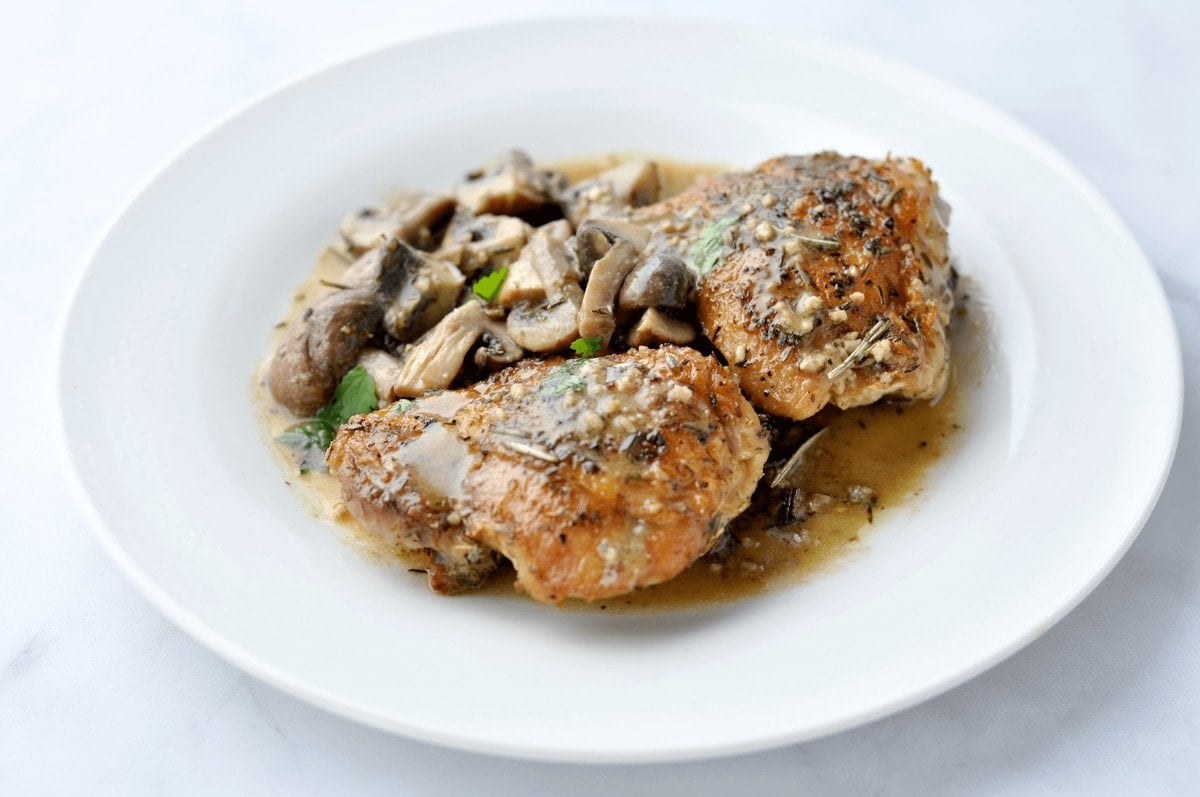 Herbed Chicken and Mushrooms: full of flavor, while also being keto and Whole30 compliant
This herbed chicken and mushrooms is so tender and juicy. It packs so much flavor that it is hard to believe that it is ready and on the table in just over 30 minutes from start to finish. You've got to love any recipe that is inexpensive to prepare, only dirties one pot, is quick and easy, while still being incredibly flavorful.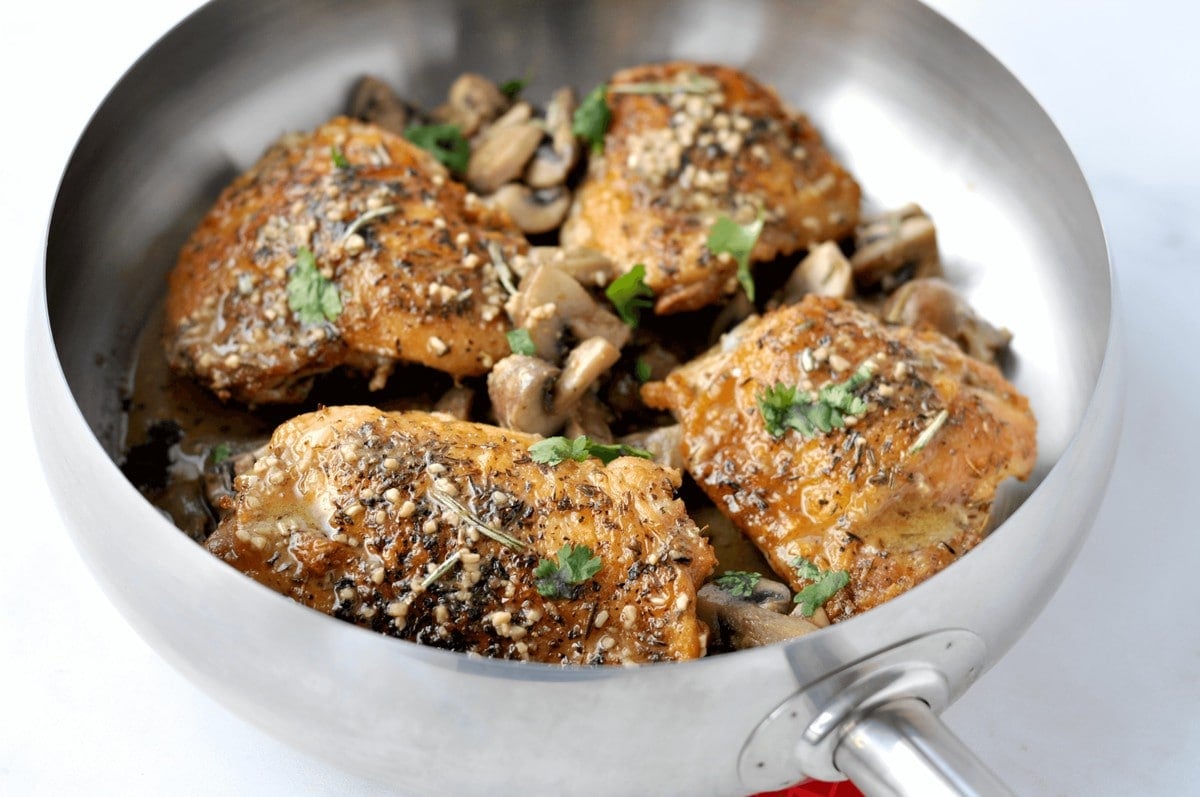 Why I used chicken thighs in this keto Whole30 chicken recipe
For this low carb chicken recipe, I decided to go with bone-in, skin-on chicken thighs. I chose thighs over breasts for a few different reasons. Chicken thighs are higher in fat than breasts, making them even more keto friendly. They are less expensive and they cook very quickly. Perhaps my favorite reason is because you just can't beat that super crispy, perfectly seasoned chicken skin. Mmmmmm, my mouth is watering just thinking about it.
Another reason that I love chicken thighs is that they are great for quick and easy meal prep recipes. I've said it before and I will say it again, meal prep and meal planning has been a huge part of my success in losing weight with a low carb lifestyle. Having something healthy to grab at a moments notice keeps me from reaching for the wrong types of foods.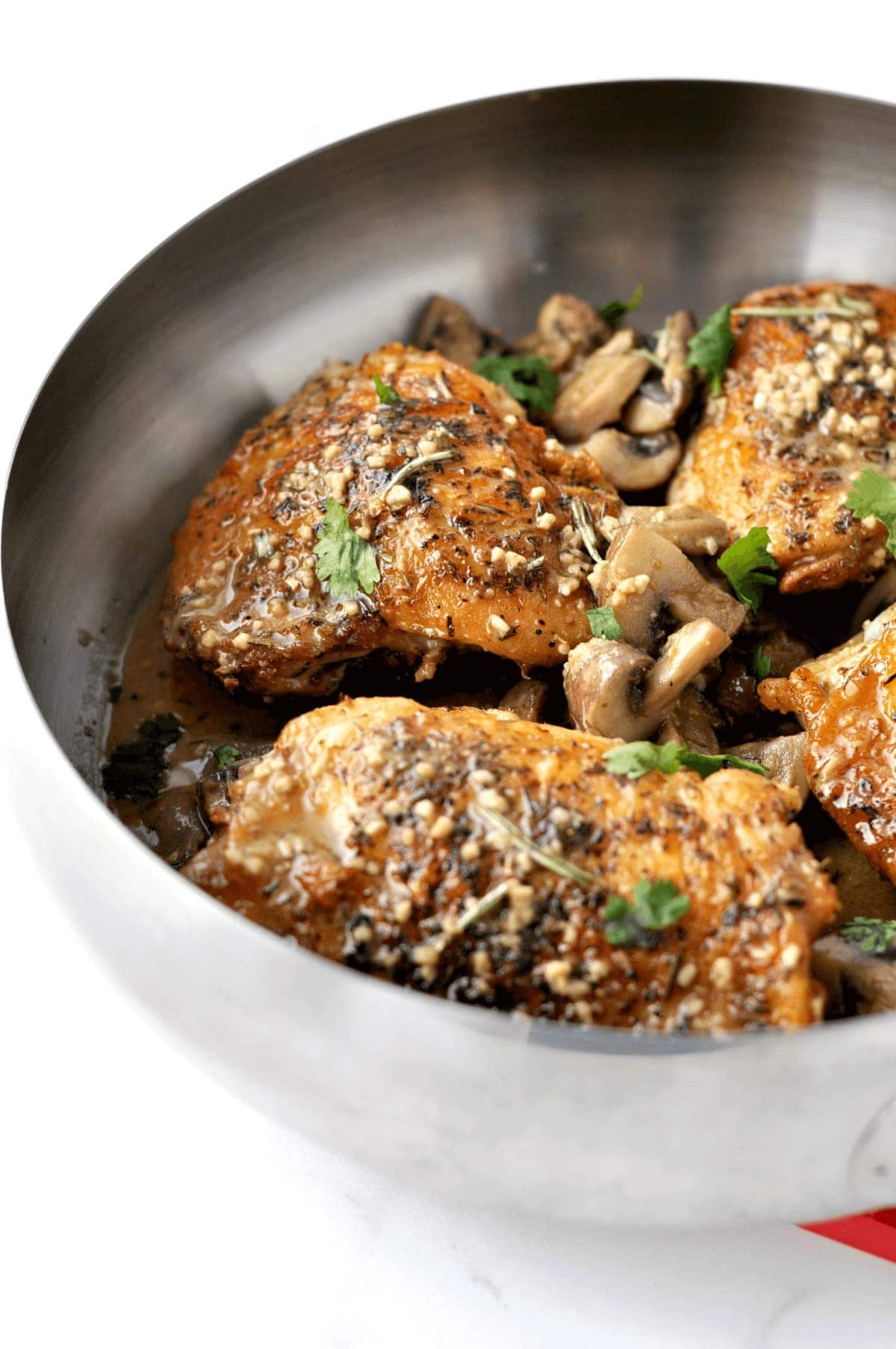 Here are my top 5 tips for quick and easy low carb meal prep:
Set aside non-negotiable time each week that is dedicated to meal prep. Make it a silent promise to your health that you keep week in and week out. Schedule it as you would a job, or a doctor's appointment.
Whenever possible, double the batch and freeze the rest. I apply this principle to just about everything I cook. If I am in between meal prep or just feel like eating something different than what I have prepped, I make a double batch and freeze the rest so that I am always building my food prep stash in the freezer.
Cook things together whenever possible. Aside from the slow cooker, one of my favorite ways to cut down on time and kitchen messes is to throw together sheet pan meals. I throw my protein and the vegetables on a sheet pan and cook them all together. Dinner doesn't get much easier than that.
Prep anything you eat in abundance throughout the week all at once. I always have a stash of hardboiled eggs in my fridge. Perfect for snacking on deviled eggs or whipping up a quick egg salad.
Batch cook meats on an outdoor grill in large quantities. Then pair them with various side dishes and you are set for the week.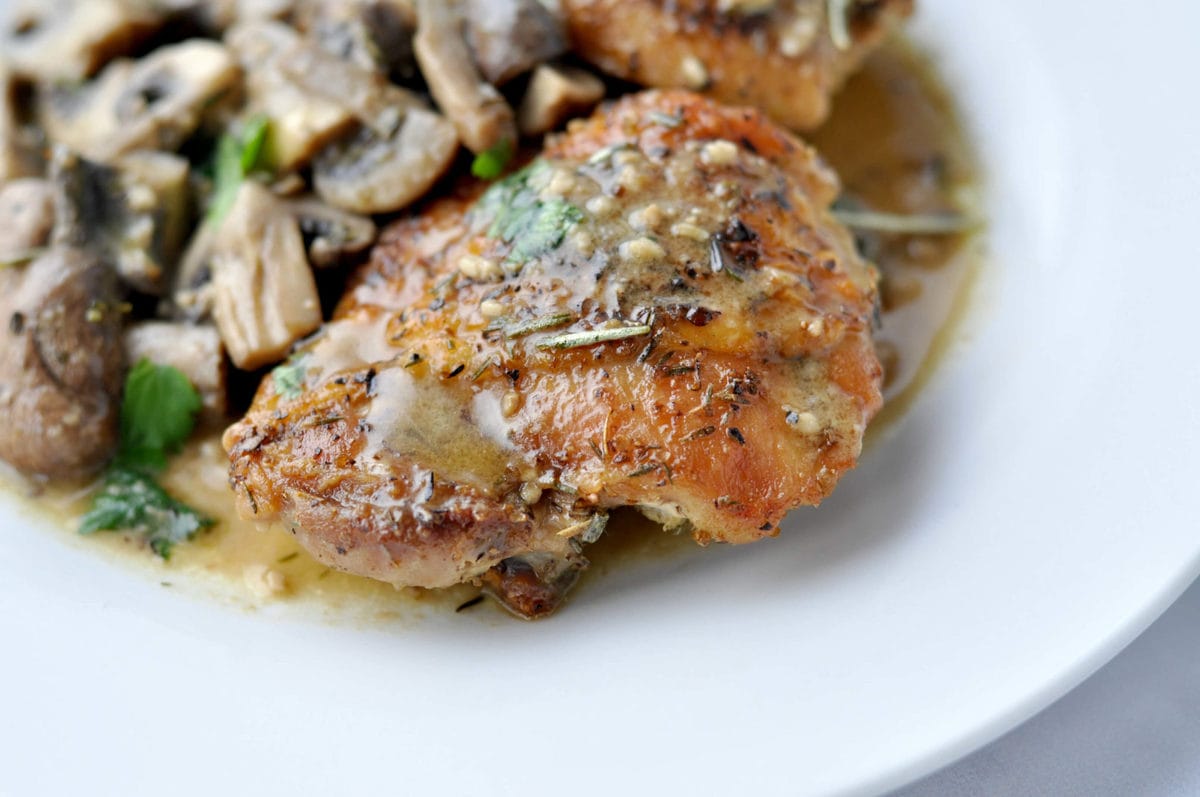 In addition to Herbed Chicken and Mushrooms, check out some of my favorite keto chicken recipes:
Print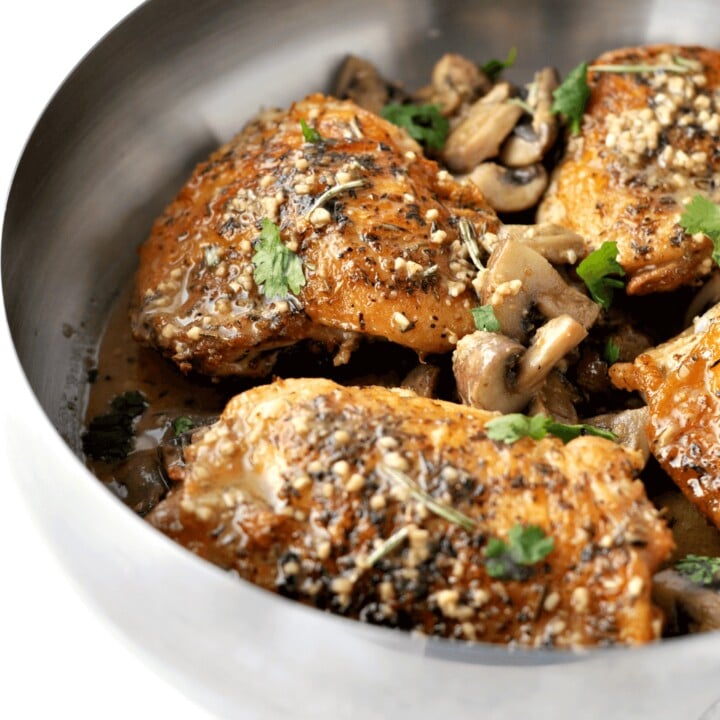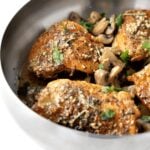 Whole30 Herbed Chicken and Mushrooms
---
8

skin-on chicken thighs

2 teaspoons

sea salt

½ teaspoon

black pepper

1 tablespoon

plus 1 teaspoon dried oregano

1 tablespoon

plus 1 teaspoon dried thyme

1 tablespoon

plus 1 teaspoon dried rosemary

2 tablespoons

olive oil

8 ounces

cremini mushrooms, quartered

2

cloves garlic, minced

1 cup

chicken stock

2 tablespoons

Dijon mustard
Torn fresh parsley, optional as garnish
---
Instructions
Preheat the oven to 400°F.
Season the chicken thighs on both sides with salt, pepper, 2 teaspoons of the oregano, 2 teaspoons of the dried thyme, and 2 teaspoons of the dried rosemary.
Heat the olive oil in a large cast iron skillet over medium heat. Add the chicken to the skillet, skin side down. Cook for 5 to 6 minutes until the skin is nice and crispy.
Flip the chicken thighs over to the other side and transfer the skillet to the oven. Bake for 15 to 20 minutes, until the chicken is cooked all the way through.
Transfer the skillet back to the stovetop. Remove the chicken from the pan, set aside, and cover to keep warm.
To the same skillet, add the mushrooms and cook over medium heat for 5 minutes, until they have releases their liquid and are tender.
Add the garlic, chicken stock, Dijon mustard, and the remaining seasonings and cook for an additional 3 minutes.
Plate the chicken and pour the sauce over top. Garnish with fresh parsley, if desired.
Prep Time:

10 minutes

Cook Time:

35 minutes
Nutrition
Calories:

418

Fat:

29g

Carbohydrates:

2.5g

Protein:

53g