These low carb chips are the perfect crunchy snack. And best of all, they are so much healthier than a store bought bag of potato chips. A healthier, low carb alternative.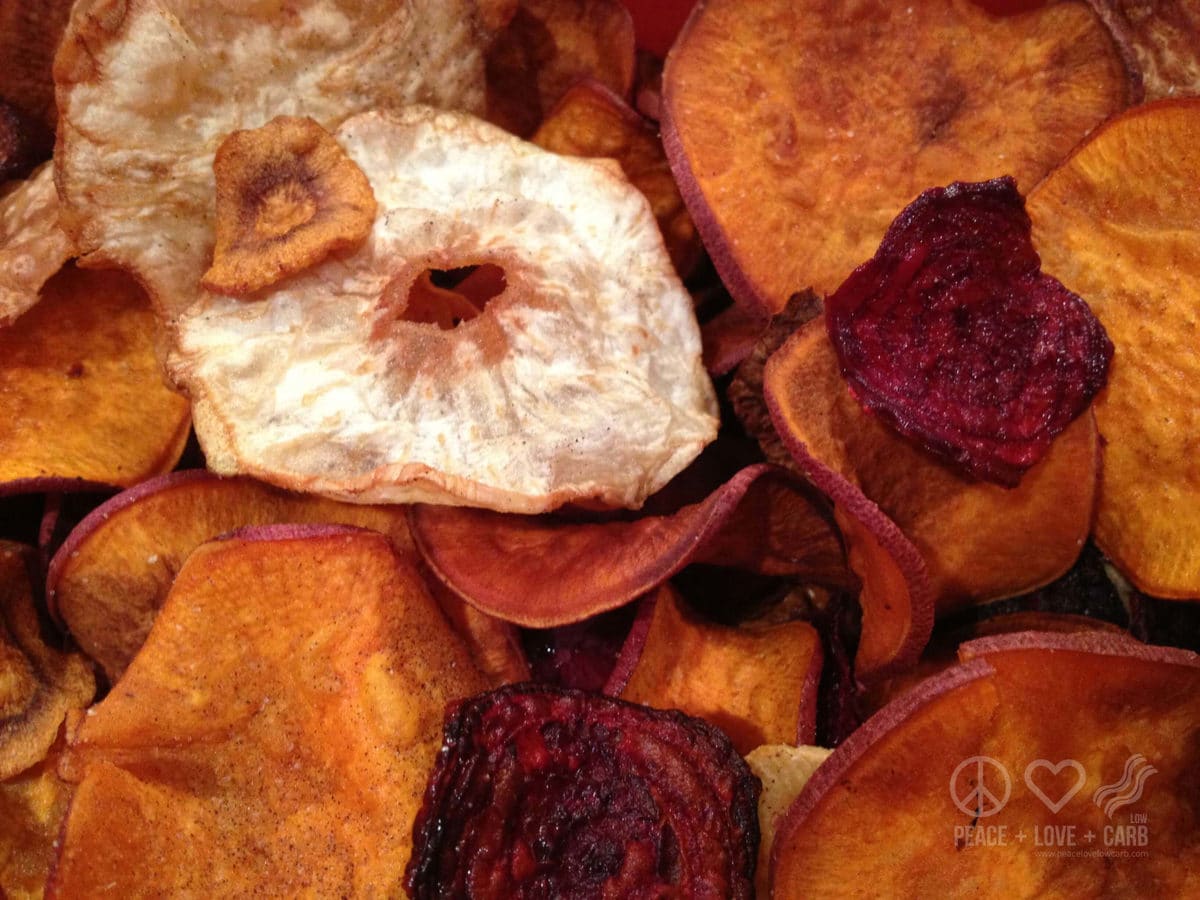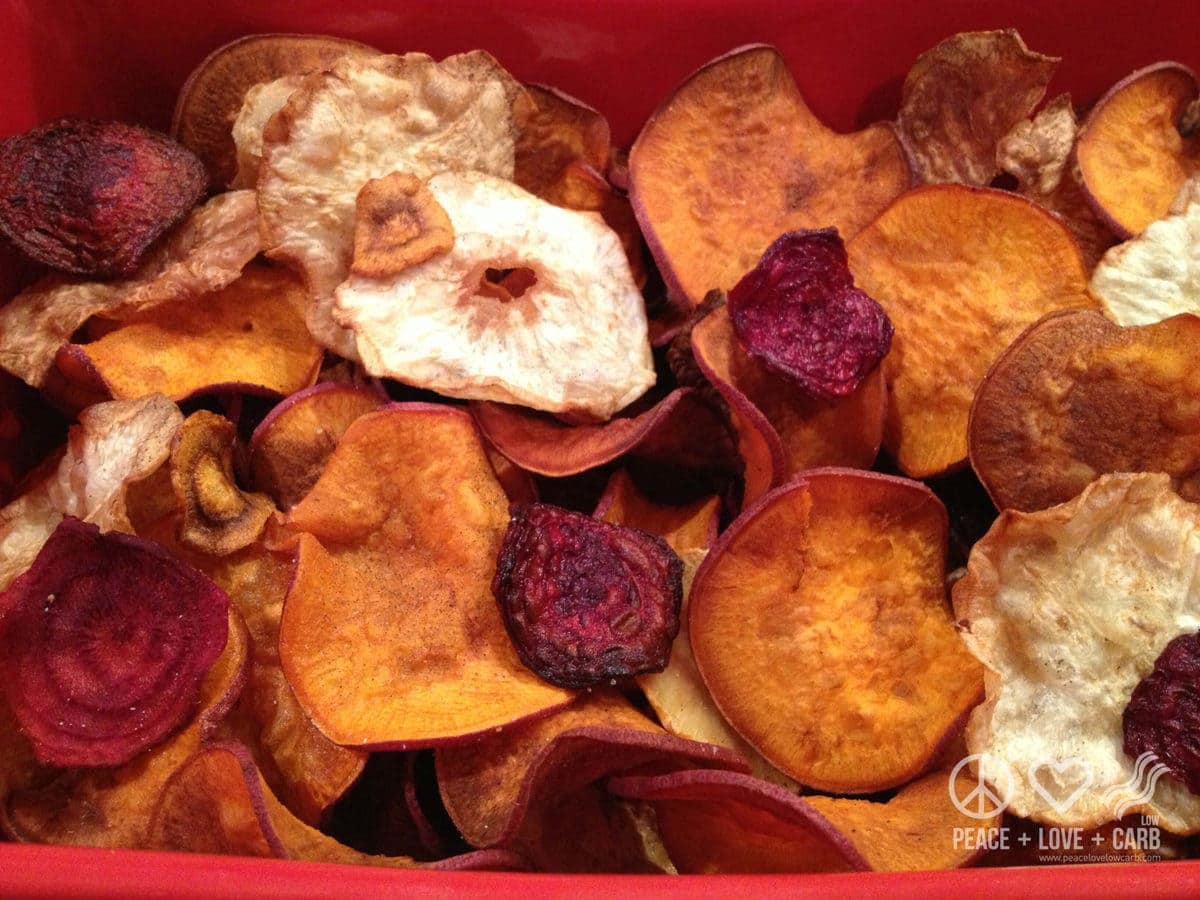 These salt and pepper vegetable chips are the perfect low carb and paleo portable snack option. Get your daily vegetables in with these low carb chips and still feel like you are having an indulgent snack. I love to dip these in my Greek Onion Dip, or my Paleo Avocado Hummus recipe.
I used avocado oil to fry these low carb chips because it has a very high smoke point of over 500° and will not scorch and burn. It is also a very light oil, so you won't end up with greasy, soggy chips. You may want to change the oil out halfway through so that they second half of your chips turn out just as perfectly as the first half.
Tips: Slicing all of the vegetables will go a lot faster if you use a mandoline, versus doing it by hand with a knife. Just be careful not to lose a finger on the mandoline.
I recommend frying the chips separately by vegetable type. Each vegetable with very in frying times. This way you end up with consistently crispy chips, instead of some that are crispy and some that are undercooked and chewy. Also, it will keep the color of the beets from bleeding onto all of the other chips.
Also, I recommend storing these in an airtight container with a paper towel. They should stay nice and crispy for 3-4 days - if they even last that long.
If you are looking for more low carb, keto and paleo portable snack options, check out my list of 50 Low Carb and Gluten Free Snack Ideas
Check out some of my other favorite low carb chip recipes:
Print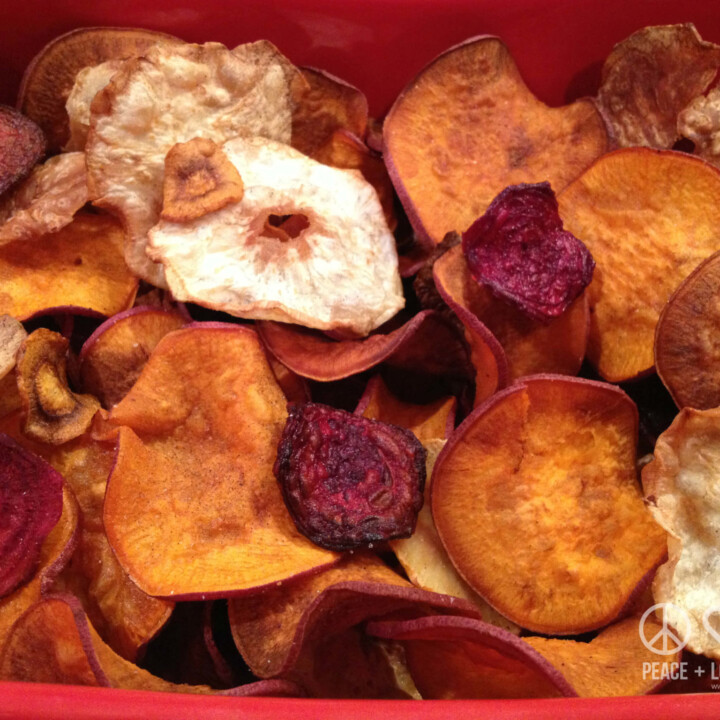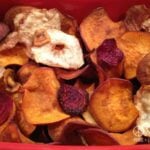 Salt and Pepper Vegetable Chips
---
2

large carrots

1

large sweet potatoes

3

beets

2

medium celeriac
sea salt
onion powder
black pepper
avocado oil (I use this brand)
---
Instructions
Peel and clean the vegetables. Using a sharp knife or a mandoline, thinly slice vegetables in 1/16 inch slices. Line the slices on paper towels and sprinkle with a little sea salt. The salt will help draw out excess moisture and make them crispier after frying.
Using a deep skillet, dutch oven, or wok, heat 2 inches of oil over high heat. Once heated, drop vegetable slices into the oil. Be careful not to put too many in at once.
Fry until slightly browned and the edges start to curl.
Remove from oil and cool on paper towels.
Sprinkle with sea salt, onion powder, and black pepper.
Notes
(Fat does not account for frying oil used)
Prep Time:

30 minutes

Cook Time:

30 minutes
Nutrition
Serving Size:

About 20 Chips

Calories:

50

Fat:

1g

Carbohydrates:

9 net g

Protein:

1.5g