Who needs fast food when you can make your own low carb and keto McMuffin Sausage and Egg Breakfast Sandwich right at home. You won't even miss the english muffin… It's that GOOD!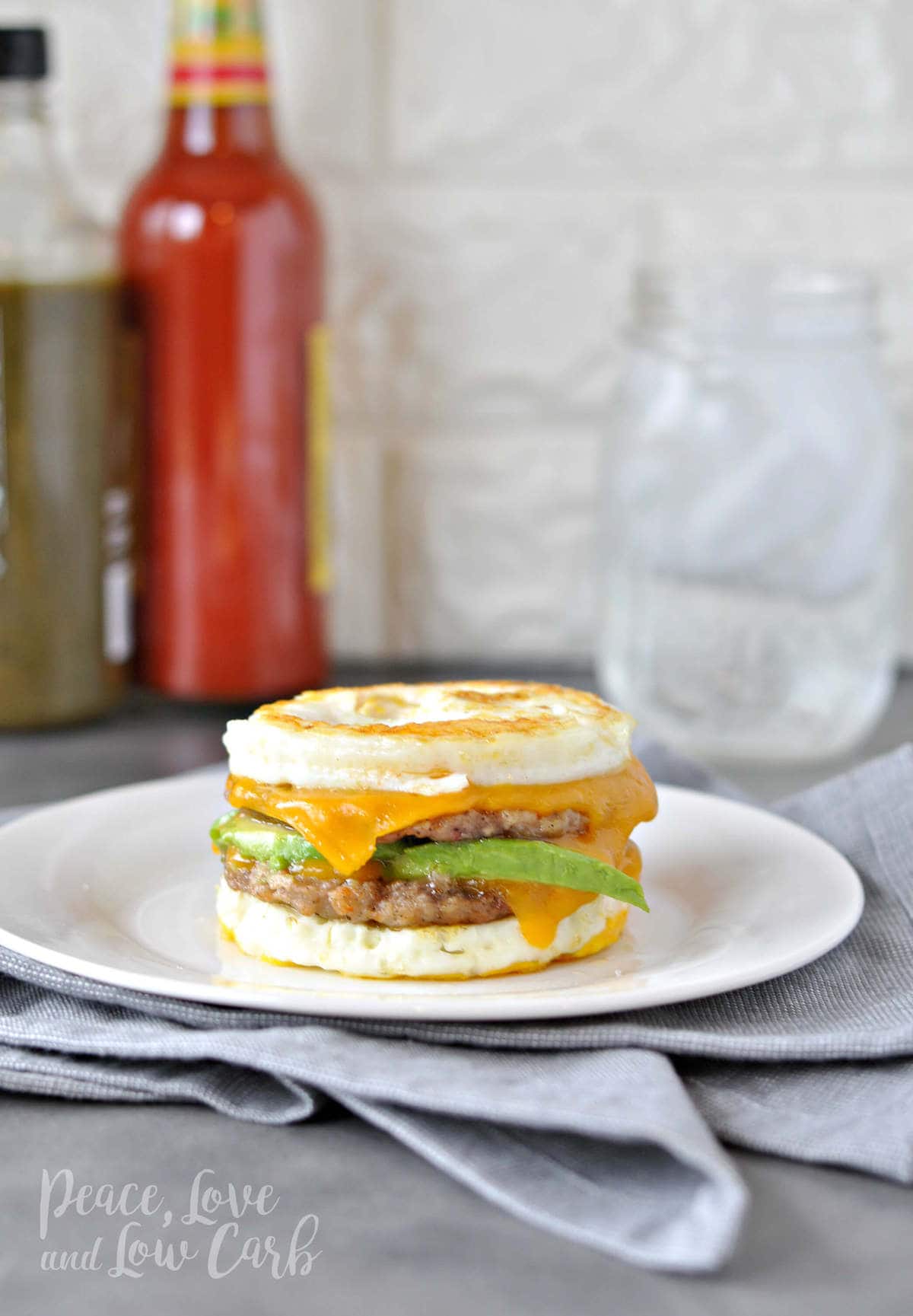 No buns? no problem! Bunless keto breakfast sandwiches
I certainly wasn't the first person to make something like this Keto McMuffin Sausage and Egg Breakfast Sandwich and I definitely won't be the last. I first saw a variation of this a few years ago on Nom Nom Paleo. Every time I would see it pop up in my newsfeed or on Pinterest, I always told myself I was going to make something similar, but I just never got around to it… until now.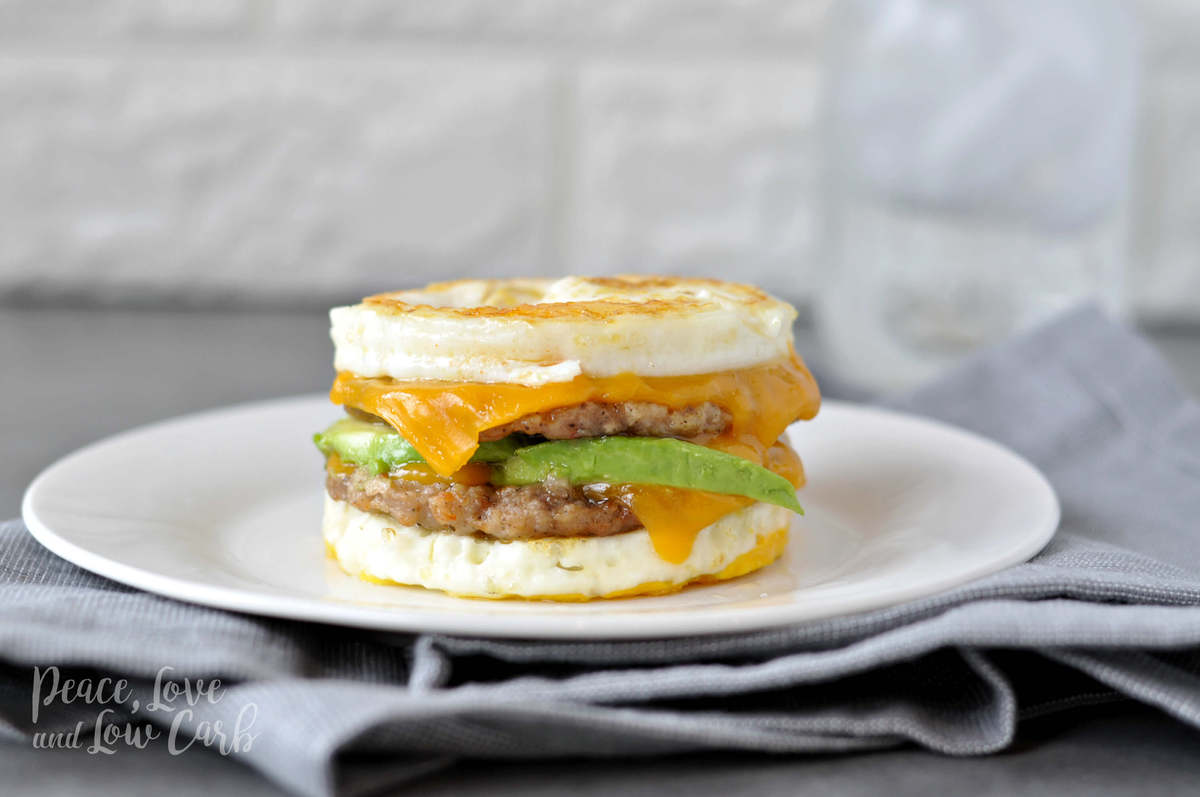 Missing McDonalds on Keto? Try these Keto Sausage and Egg Breakfast Sandwiches!
If you are following a low carb or keto diet, then you have probably gotten pretty bored of plain old bacon and eggs for breakfast. Although they are two of my absolute favorite foods, I am always looking for ways to jazz up low carb breakfast foods. If you are just starting out and are looking for recipes to help you become fat adapted and get into ketosis, then this recipe is a great place to start. Perfectly low in carbs and high in healthy fats.
When I was a kid and I was just starting to learn how to cook, one of the very first things I learned was how to fry an egg. From there, I became obsessed with eating fried egg sandwiches, slathered in an obscene amount of mayonnaise. Don't even get me started on my love of mayo!
I always left the yolk runny and that first bite into a mayo covered, ooey gooey yolk, sandwiched between two soft pieces of white bread was pretty much childhood bliss. Every. Time. I would make one every single day.
The best part of these keto breakfast sandwiches? egg buns.
I took that childhood memory of that first delicious bite and captured it in this Keto McMuffin recipe. I slathered each cooked egg with mayo just like I would have that white bread when I was a child. So good! Next time I make this, I think I will leave the yolks runny just for old times sake. Because let's be honest, I am fork and knifing this sandwich anyway. Otherwise my hands would be a greasy mess.
Just try this Keto McMuffin Sausage and Egg Breakfast Sandwich for yourself and you will see what I mean. For this recipe I used a store bought sausage, but I included a link to my Maple Chicken Breakfast Sausage in the recipe also.
In addition to this Keto Mcmuffin Sausage and Egg Breakfast Sandwich, cHECK OUT SOME OF MY OTHER FAVORITE LOW CARB, Breakfast RECIPES:
Print
Keto Sausage and Egg Breakfast Sandwich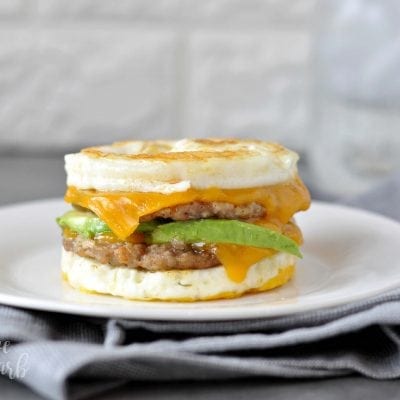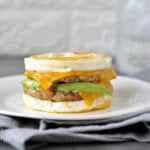 NOTE To make these perfectly round shaped eggs, I cooked the eggs in the ring of a mason jar lid. Super easy and it was something I already had around the house. You can also get silicone egg molds to do the trick. Pick some up here
Prep Time:

5 minutes

Cook Time:

10 minutes

Total Time:

15 minutes

Yield: Makes

1

Serving

1

x
Scale
Ingredients
1 tbsp

butter

2

large eggs

1 tbsp

mayonnaise

2

sausage patties, cooked (find my recipe here)

2

slices sharp cheddar cheese
a few slices of avocado
Instructions
Heat the butter in a large skillet over medium heat. Place lightly oiled mason jar rings or silicone egg molds into the pan.
Crack the eggs into the rings and use a fork to break the yolks and gently whisk. Cover and cook for 3-4 minutes or until eggs are cooked through. Remove the eggs from the rings.
Place one of the eggs on a plate and top it with half of the mayonnaise. Top the egg with one of the sausage patties.
Top the sausage patty with a slice of cheese and avocado.
Put the second sausage patty on top of the avocado and top it with the remaining cheese.
Spread the remaining mayonnaise on the second cooked egg and put it on top of the cheese.
Serve and enjoy!
Notes
6g net carbs per serving
If you want to reduce the calories and the fat content, you can omit the mayonnaise and skip the butter. But like I said above, I LOVE MAYO!! Enjoy!
Nutrition
Serving Size:

1 Breakfast Sandwich

Calories:

880

Fat:

82g

Carbohydrates:

8g

Fiber:

2g

Protein:

32g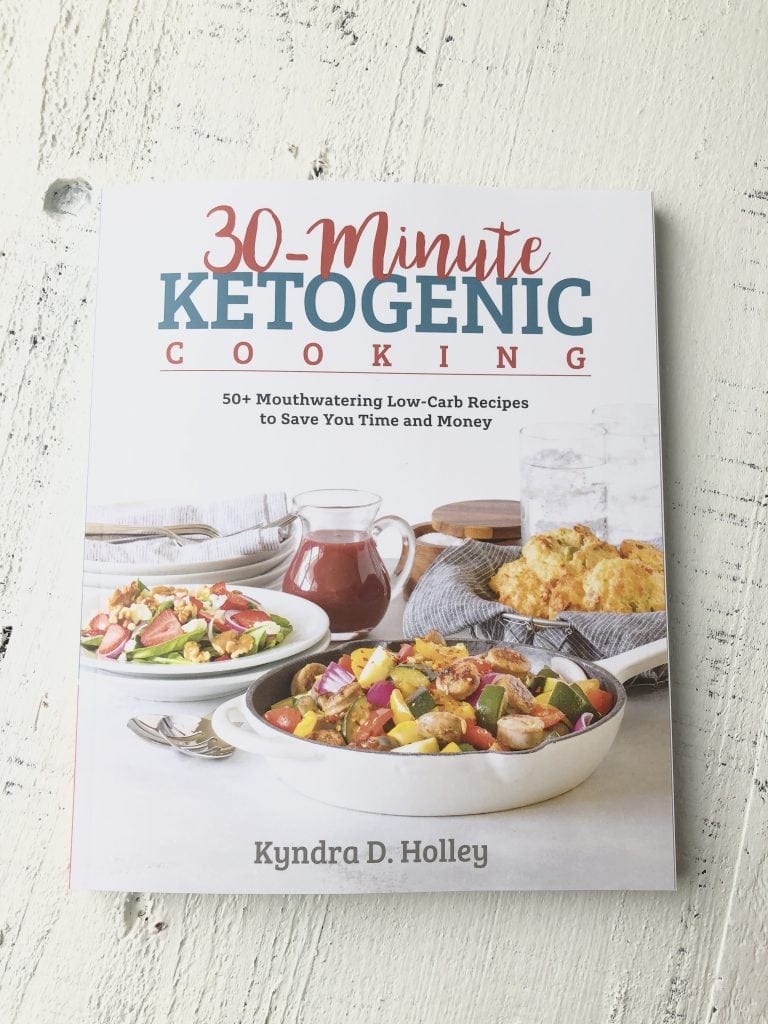 30 MINUTE KETOGENIC COOKING 50+ Mouthwatering Low-Carb Recipes to Save You Time and Money

Check out my other books –
HERE
I am so excited to help with a problem that so many people struggle with – Not having enough time! I can't even count how many times I have heard people say that they just don't have enough time to prepare healthy meals. So, what if I told you that I wrote an entire book of recipes that only require 30 minutes of hands-on time or less?
That's right, every recipe inside can be completed in 30 minutes or less and only contains ingredients that you can easily find at your local grocery store. No funny specialty ingredients here! Only real, whole foods!
50+ Mouthwatering recipes, ready in 30 minutes or less
STARTERS AND SNACKS
Buffalo Chicken Dip
Mediterranean Flat Bread
Dill Pickle Deviled Eggs
Buttery Garlic Crescent Rolls
Tahini Ranch Dip
Pico De Gallo
Cheddar Jalapeno Bacon Biscuits
SALADS
Strawberry Spinach Salad
Shaved Brussels Sprouts and Kale Salad
Greek Salad
Taco Wedge Salad
Cucumber Dill Tuna Salad
Barbecue Chicken Mockaroni Salad
BREAKFAST
Fortune Cookie Waffles
Ham and Spinach Eggs Benedict
Cheesy Pico Eggs
Sausage Balls
Sour Cream and Chive Egg Clouds
Ham and Cheese Waffles
Chicken Cordon Bleu Frittata
LUNCH AND DINNER
Pork Chops with Herbed Goat Cheese Butter
Spicy Sausage and Cabbage Stir-Fry
Zucchini Noodles with Hamburger Gravy
Chicken Sausage and Vegetable Skillet
Sloppy Joe Stuffed Peppers
Cheesy Salsa Verde Chicken Casserole
Greek Meatballs
Grilled New York Steak with Blue Cheese Dijon Cream Sauce
Fish Taco Bowls
Herbed Chicken and Mushrooms
Skillet Chicken Parmesan
Shrimp Piccata
Salisbury Steak
Buffalo Chicken Roasted Cabbage Steaks
Zucchini Noodles with Pesto Cream Sauce
SIDES
Pan-Fried Brussels Sprouts with Creamy Dijon Cider Dressing
Green Onion and Lime Cauliflower Rice
Cheesy Zucchini Gratin
Sauteed Asparagus with Mushrooms and Bacon
Cauliflower Steaks with Cheesy Bacon Sauce
Sauteed Green Beans with Ham
Herbed Goat Cheese Cauliflower Mash
SWEET TREATS
Chocolate Chip Cookies for Two
Mini Blueberry Cheesecakes
Double Chocolate Flourless Brownies
Lemon Mousse
Sesame Shortbread Sugar Cookies
Pumpkin Cheesecake Mousse
Avocado Chocolate Pudding
 Hungry? YOU CAN GRAB A COPY –
HERE