Who needs fast food when you can make your own low carb and keto McMuffin Sausage and Egg Breakfast Sandwich right at home. You won't even miss the english muffin... It's that GOOD!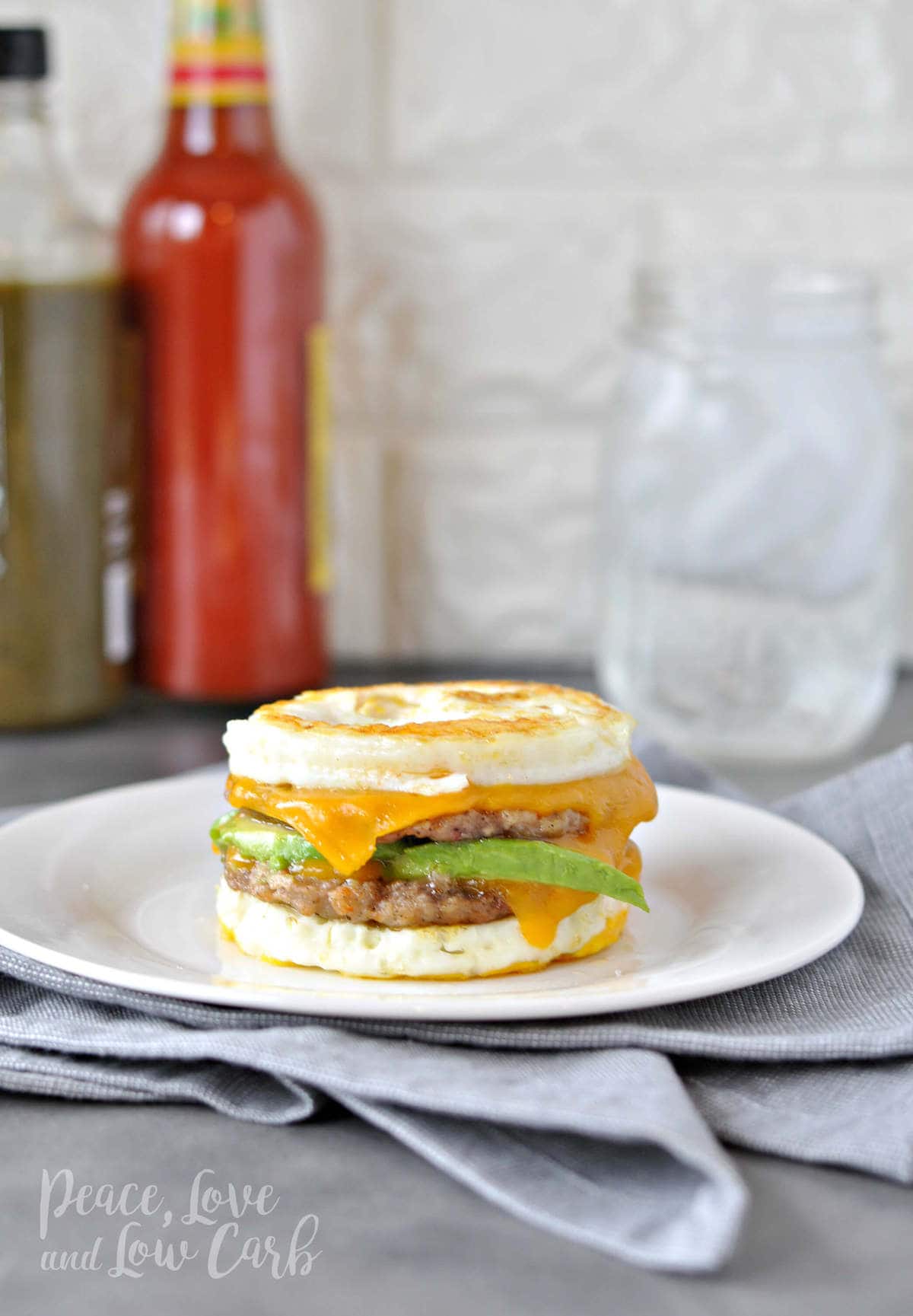 Bunless keto breakfast sandwiches
I certainly wasn't the first person to make something like this Keto McMuffin Sausage and Egg Breakfast Sandwich and I definitely won't be the last. I first saw a variation of this a few years ago on Nom Nom Paleo. Every time I would see it pop up in my newsfeed or on Pinterest, I always told myself I was going to make something similar, but I just never got around to it... until now.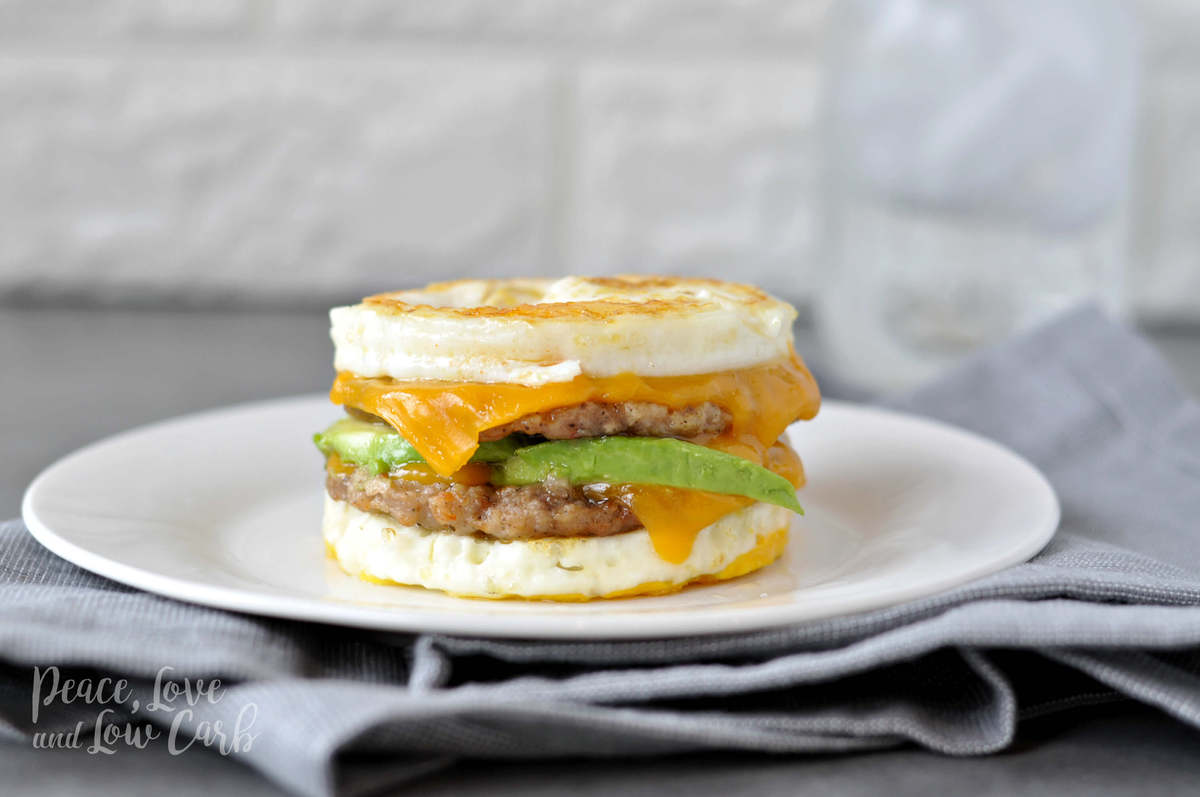 The best part of these keto breakfast sandwiches? egg buns.
When I was a kid and I was just starting to learn how to cook, one of the very first things I learned was how to fry an egg. From there, I became obsessed with eating fried egg sandwiches, slathered in an obscene amount of mayonnaise. Don't even get me started on my love of mayo!
I always left the yolk runny and that first bite into a mayo covered, ooey gooey yolk, sandwiched between two soft pieces of white bread was pretty much childhood bliss. Every. Time.
I took that childhood memory of that first delicious bite and captured it in this Keto McMuffin recipe. I slathered each cooked egg with mayo just like I would have that white bread when I was a child. So good! Next time I make this, I think I will leave the yolks runny just for old times sake.
Just try this Keto McMuffin Sausage and Egg Breakfast Sandwich for yourself and you will see what I mean. For this recipe I used a store bought sausage, but I included a link to my Maple Chicken Breakfast Sausage in the recipe also.
Other low carb breakfast recipes you might enjoy:
Print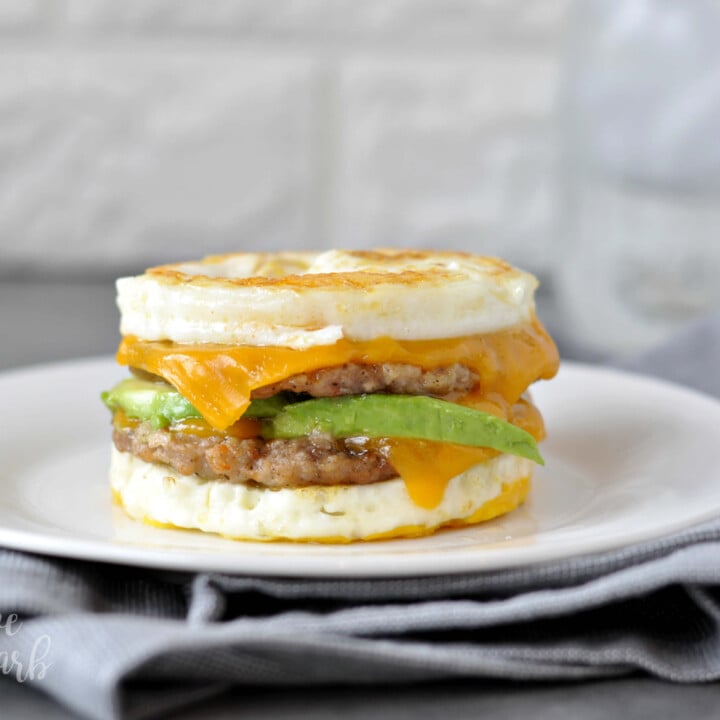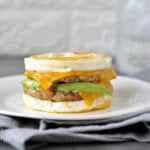 Keto Sausage and Egg Breakfast Sandwich
---
Total Time:

15 minutes

Yield:

Makes

1

Serving

1

x
Description
NOTE To make these perfectly round shaped eggs, I cooked the eggs in the ring of a mason jar lid. Super easy and it was something I already had around the house. You can also get silicone egg molds to do the trick. Pick some up here
---
1 tbsp

butter

2

large eggs

1 tbsp

mayonnaise

2

sausage patties, cooked (find my recipe here)

2

slices sharp cheddar cheese
a few slices of avocado
---
Instructions
Heat the butter in a large skillet over medium heat. Place lightly oiled mason jar rings or silicone egg molds into the pan.
Crack the eggs into the rings and use a fork to break the yolks and gently whisk. Cover and cook for 3-4 minutes or until eggs are cooked through. Remove the eggs from the rings.
Place one of the eggs on a plate and top it with half of the mayonnaise. Top the egg with one of the sausage patties.
Top the sausage patty with a slice of cheese and avocado.
Put the second sausage patty on top of the avocado and top it with the remaining cheese.
Spread the remaining mayonnaise on the second cooked egg and put it on top of the cheese.
Serve and enjoy!
Notes
6g net carbs per serving
If you want to reduce the calories and the fat content, you can omit the mayonnaise and skip the butter. But like I said above, I LOVE MAYO!! Enjoy!
Prep Time:

5 minutes

Cook Time:

10 minutes
Nutrition
Serving Size:

1 Breakfast Sandwich

Calories:

880

Fat:

82g

Carbohydrates:

8g

Fiber:

2g

Protein:

32g