This is a guest recipe by my handsome husband Jon.  I call him the guacamole master.  If you love garlic, and you love guacamole, then you will love this recipe.  This guac does not have cilantro in it as guacamole traditionally does.  He leaves it out because he likes me and I don't like cilantro.  This recipe is low carb, gluten-free and paleo approved.
Check out some of my other favorite low carb dip recipes:

Sign up for updates to receive one week FREE of my low carb and gluten free meal plans:
6 Large Avocados – Peeled and Pitted
4 Tbs. Garlic – Minced
1 Lime – Juiced
2 tsp. Garlic Salt
1 tsp. Cayenne Pepper
½ Medium Onion – Grated
1 Medium Tomato – Chopped
1/4 cup pickled jalapeno slices, chopped
In a large
mixing bowl
, mash together avocado, garlic, lime juice, garlic salt and cayenne pepper.
Using a
microplane grater
, grate the onion into the avocado mixture.  The juice from the grated onion lends extra flavor to this recipe.  Mix in tomatoes and jalapenos.
Prep Time – 15 Minutes
Cook Time – 0 Minutes
Makes Servings: 16
Per Serving:
Calories – 105
Protein – .15 g
Carbs – 3.5 net g
Fat – 9 g
You can order my books –
Here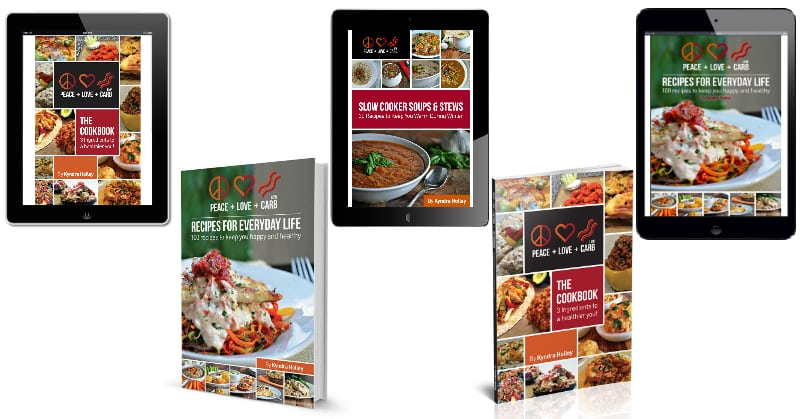 ***Please note that nutritional information listed on this page is an estimation based on the products I used. Ingredients and nutritional information can vary greatly between brands. Always be sure to read labels***
 ***Some links contained on this page are affiliate links and I may receive monetary compensation or other types of remunerations for any products purchased through these links***