This Herbed Butter Roasted Turkey is sure to steal the show as the centerpiece for your Keto Thanksgiving or Christmas gathering.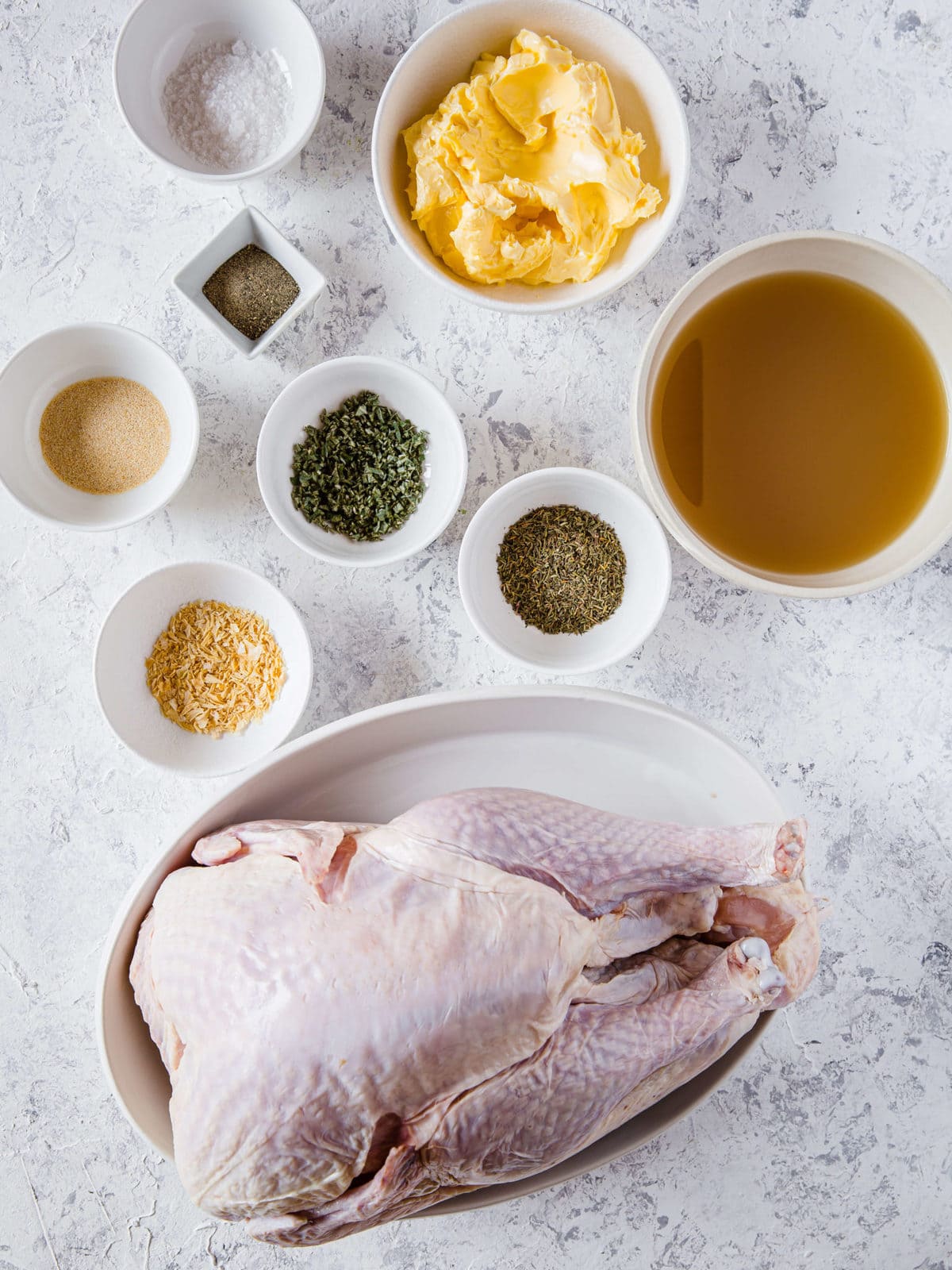 Do you have to brine a turkey?
It's not necessary to brine a turkey if you're looking for amazing flavor and tenderness. Yes, brining is a great option, but for some people, it's not realistic: keeping a huge turkey in a pot filled with salt water can take up valuable space in your fridge.
Massaging the turkey with butter and stuffing butter under the skin not only helps you achieve a deliciously tender result, but also infuses the turkey with herbs and buttery goodness, no brine required.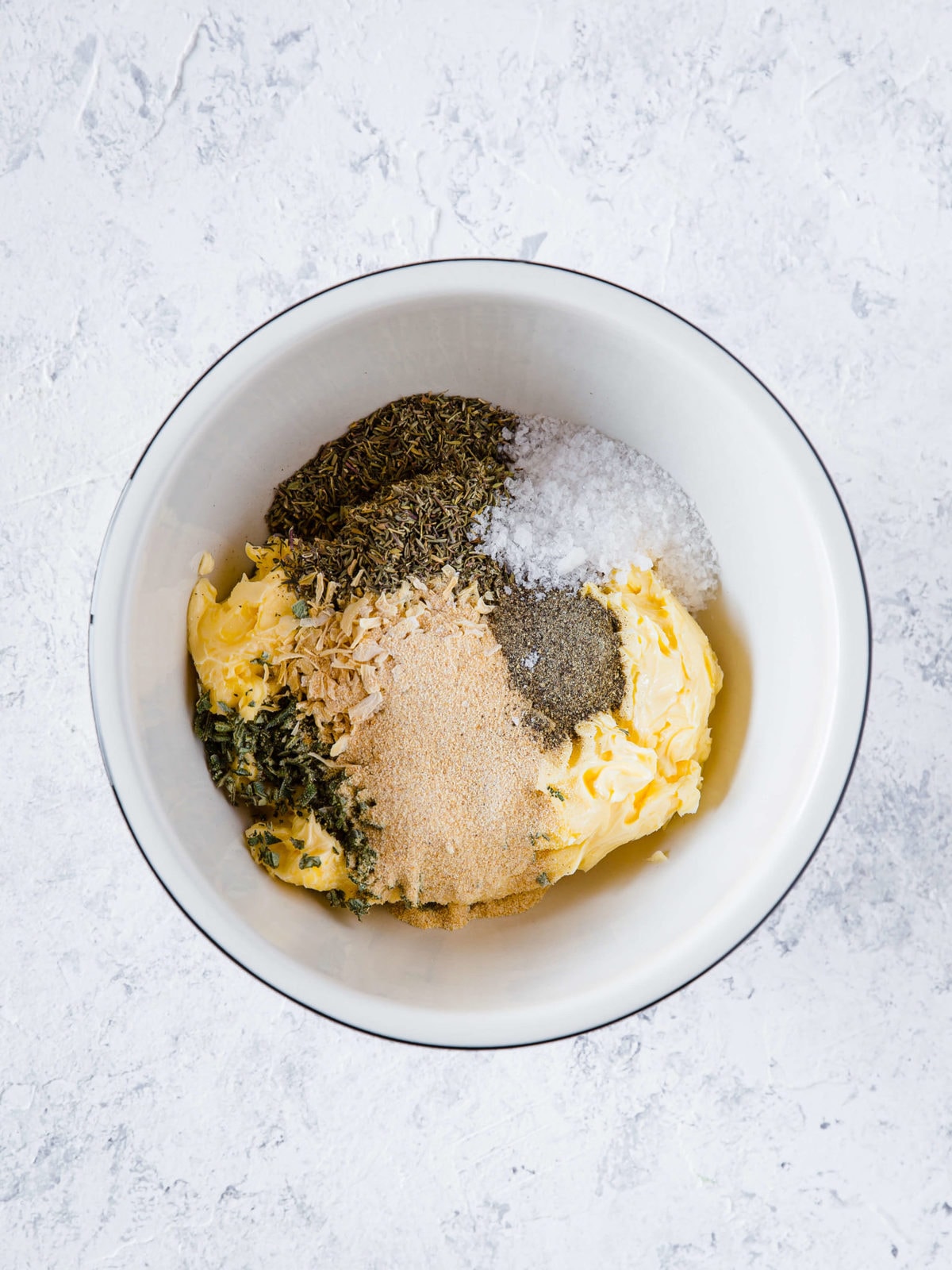 How long does it take to cook a turkey?
When buying a turkey, plan for 1 ½ pounds per guest, and you should have enough for leftovers. Here's a quick guide for cooking the perfect oven roasted turkey:
5 pounds: 1 hour to 1 hour and 15 minutes

10 pounds: 2 hours and 10 minutes to 2 hours and 30 minutes

15 pounds: 3 hours and 15 minutes to 3 hours and 45 minutes

20 pounds: 4 hours and 20 minutes to 5 hours

25 pounds: 5 hours and 25 minutes to 6 hours and 15 minutes

30 pounds: 6 ½ hours to 7 ½ hours
Anything larger than that, roast 13 to 15 minutes per pound.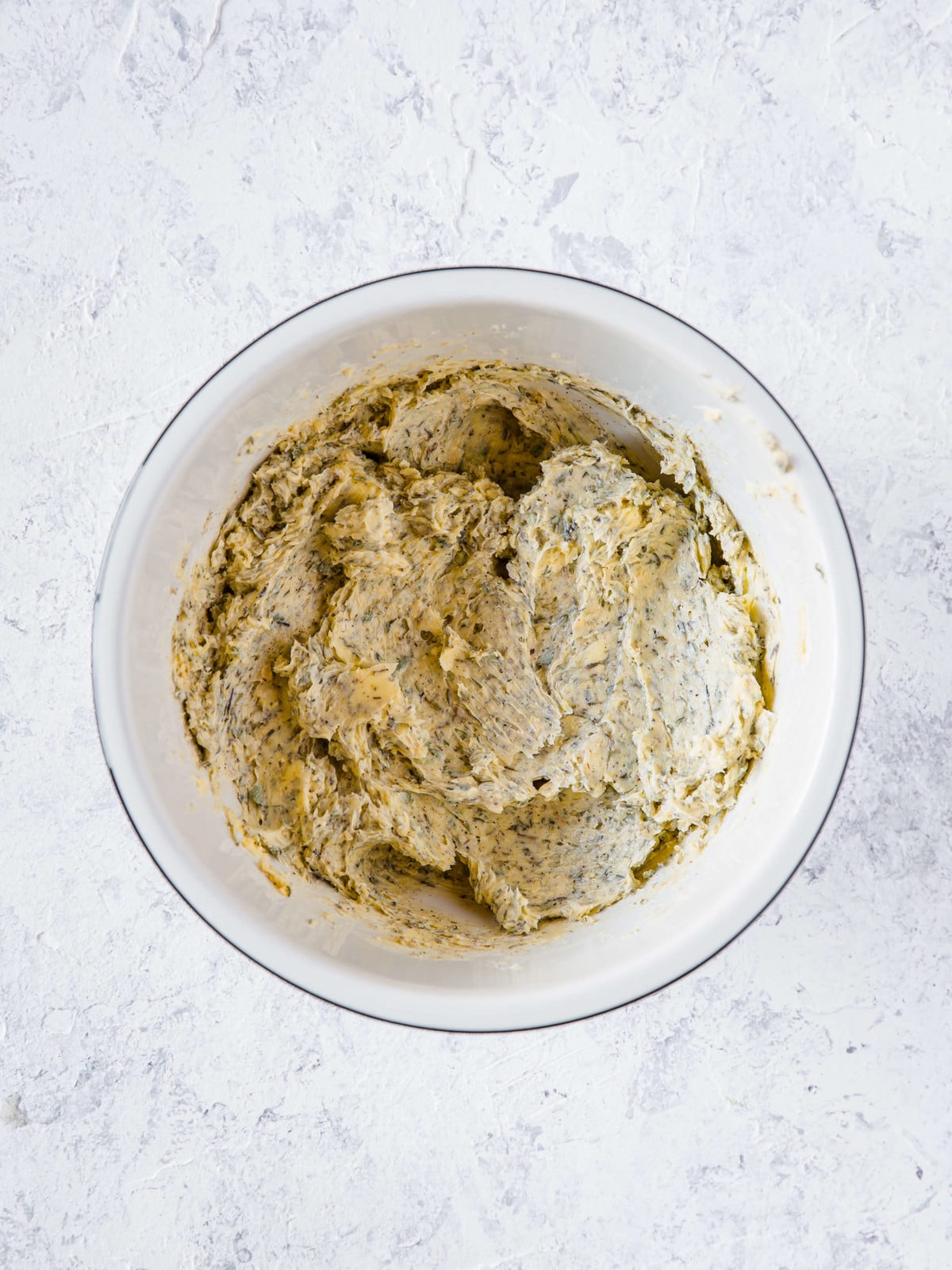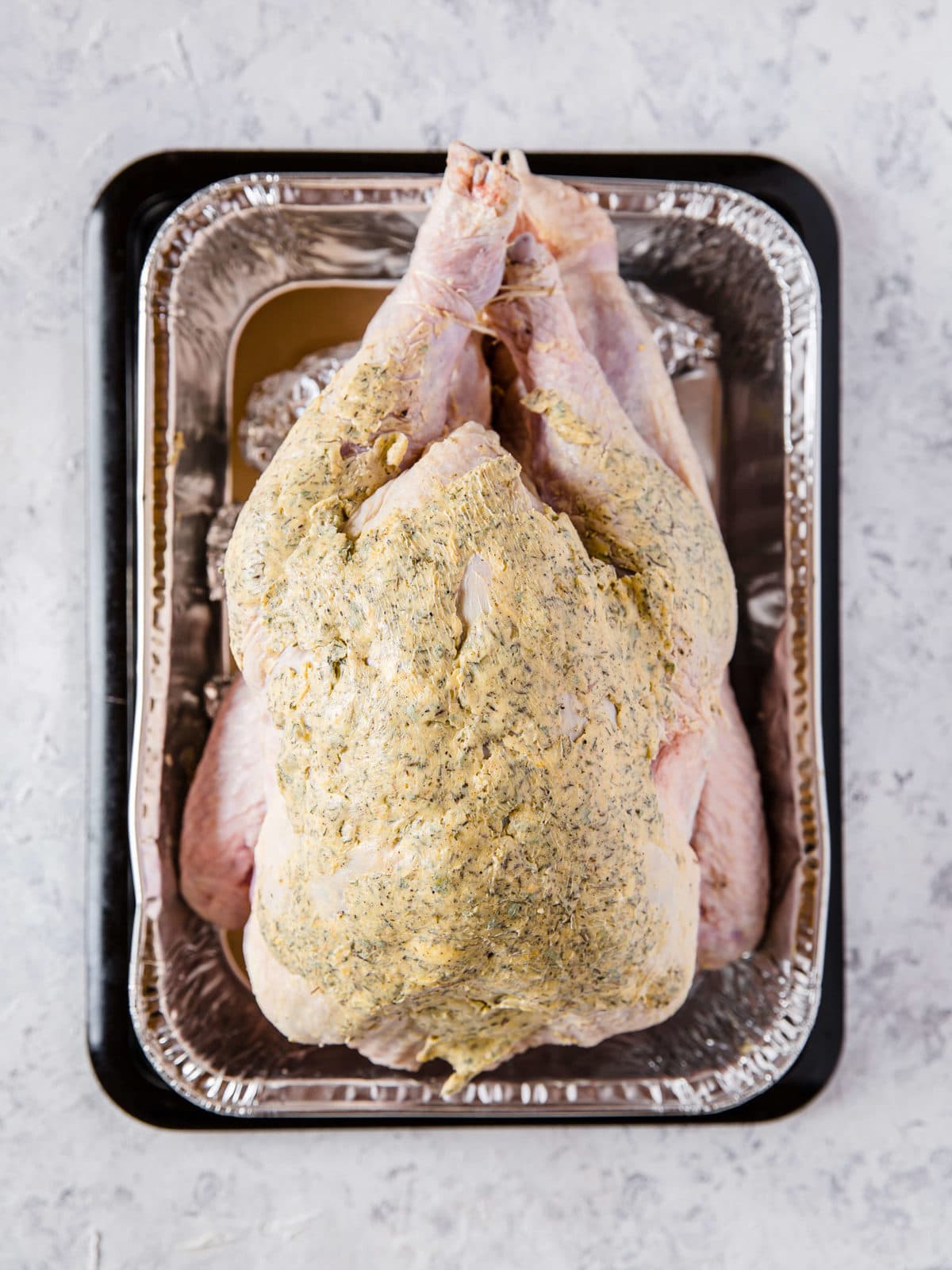 How to cook a Thanksgiving Turkey
There are many ways to cook a turkey. Whether you're planning keto Christmas recipes or your low carb Thanksgiving, you've got quite a few options.
Before the actual cooking process, you could:
Brine the turkey, or marinate in a salt solution to season and tenderize the bird

Dry brine the turkey, which has the same effect as a regular brine, only using dry seasonings and salt

Give your turkey a butter massage, like in this recipe, and season before cooking
When it comes to the actual cooking process, you can:
Deep fry your turkey, which usually results in 1 or 2 family members going to the emergency room

Smoke your turkey, low and slow

Grill your turkey, or

Roast your turkey, like I did in this recipe
I prefer to coat my turkey in an herbed butter, packing it under the skin. This is a keto turkey recipe, afterall.
The herbed butter made with thyme, sage, garlic powder, dried onion, salt, and pepper melts into the meat as the turkey cooks at 350°F (your cook time will depend on the weight of your turkey). The result is a rich, buttery flavor highlighted by herbs, with a tender juiciness throughout the bird and a beautiful brown skin on the outside. All of the juices and butter that cook out of the turkey will gather in the roasting pan, and you'll use this to baste every 15 minutes to keep everything super moist and tender. The remaining juices are used to make a pan gravy, perfect for topping cauliflower mashed potatoes and any other keto Thanksgiving recipes you make this year..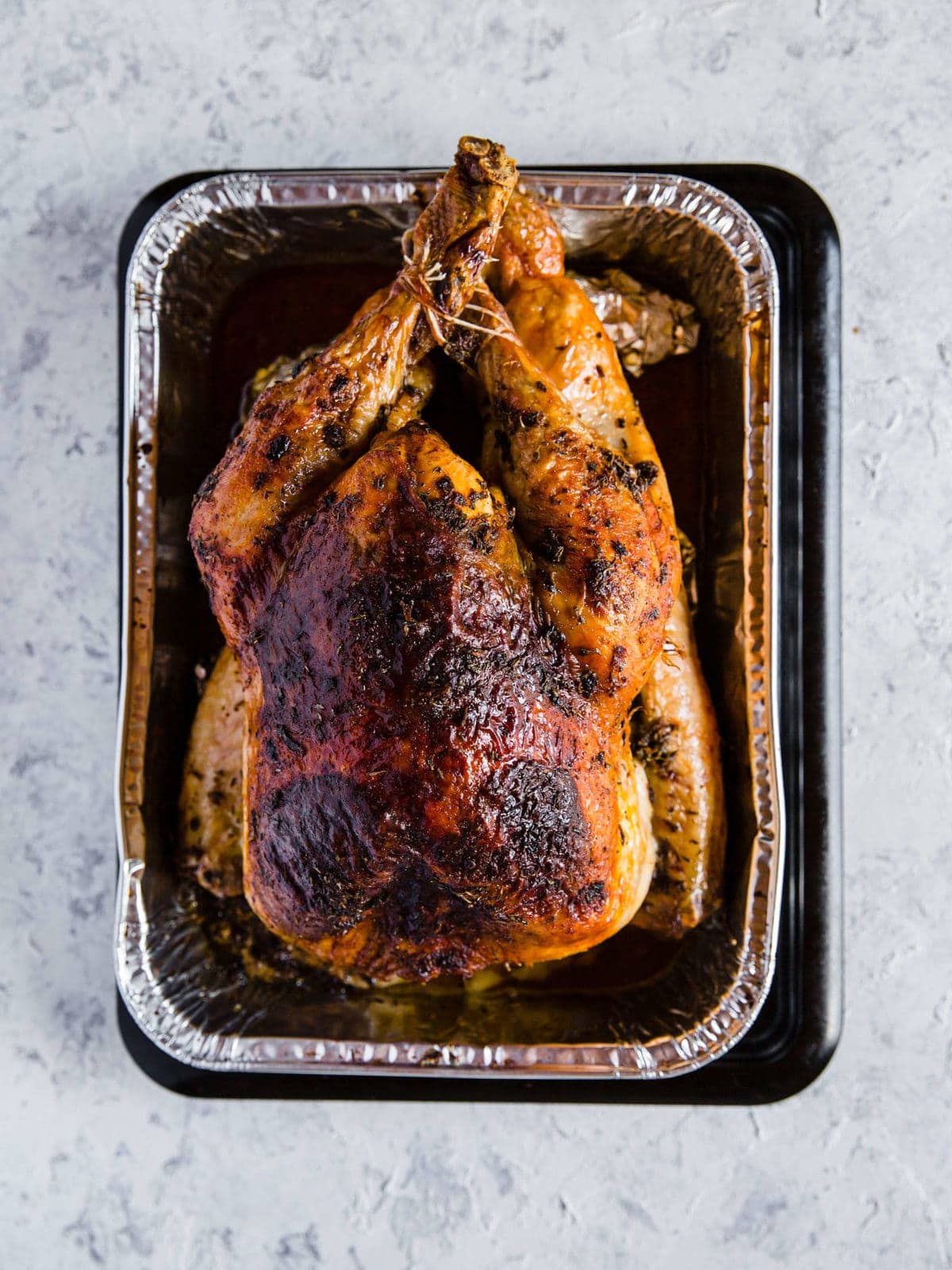 How to know if a turkey is done:
The best way to know if your turkey is done is to use a meat thermometer. You'll want your turkey to have an internal temperature of 165°F.
If you don't have a meat thermometer, you can also pierce the thigh and check the juices. A cooked turkey will have clear juices, and if the juices are reddish pink, you'll need to put it back in the oven and check again in 15 minutes.
It's important to not check the turkey before it's close to being done -- opening the oven lets out the warm air. Check your turkey when it's at least ¾ of the way through its total cook time, and do this while you're basting.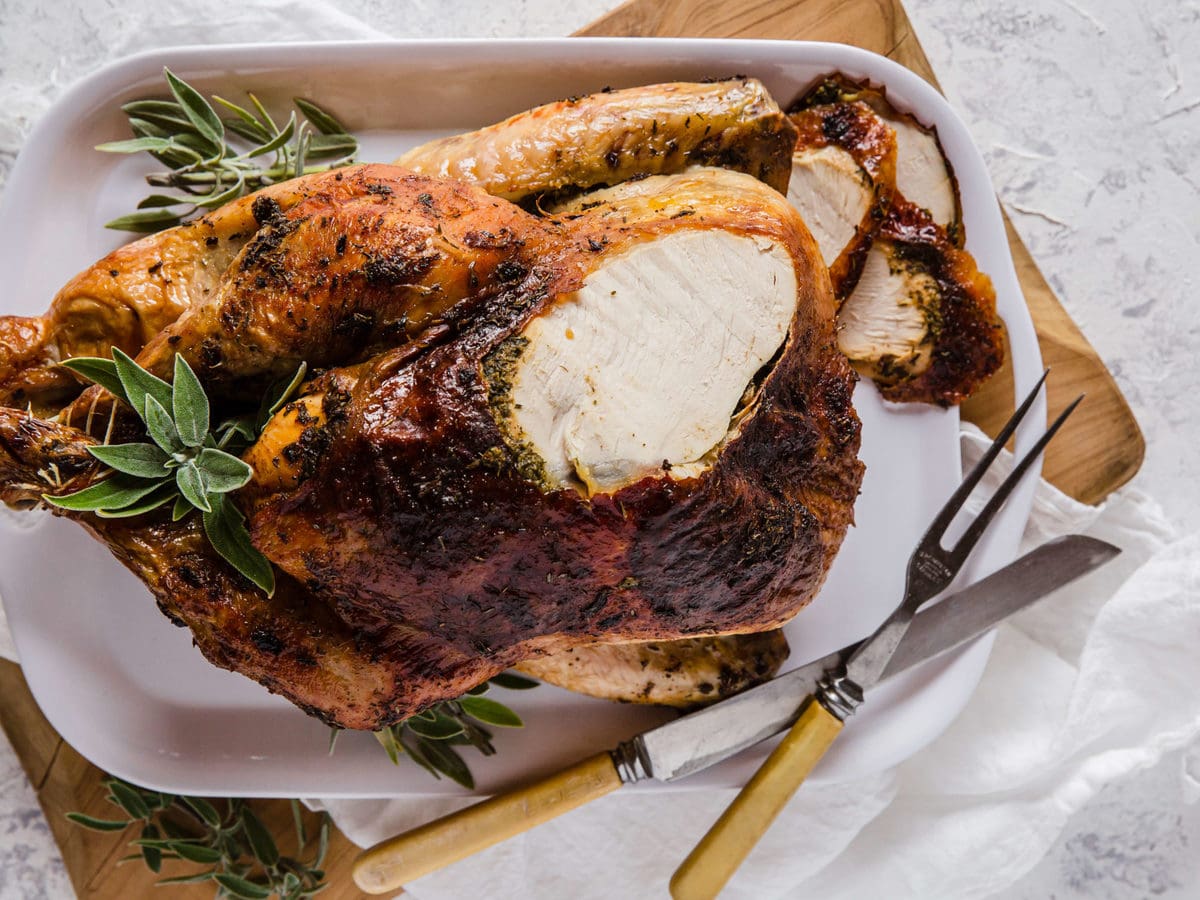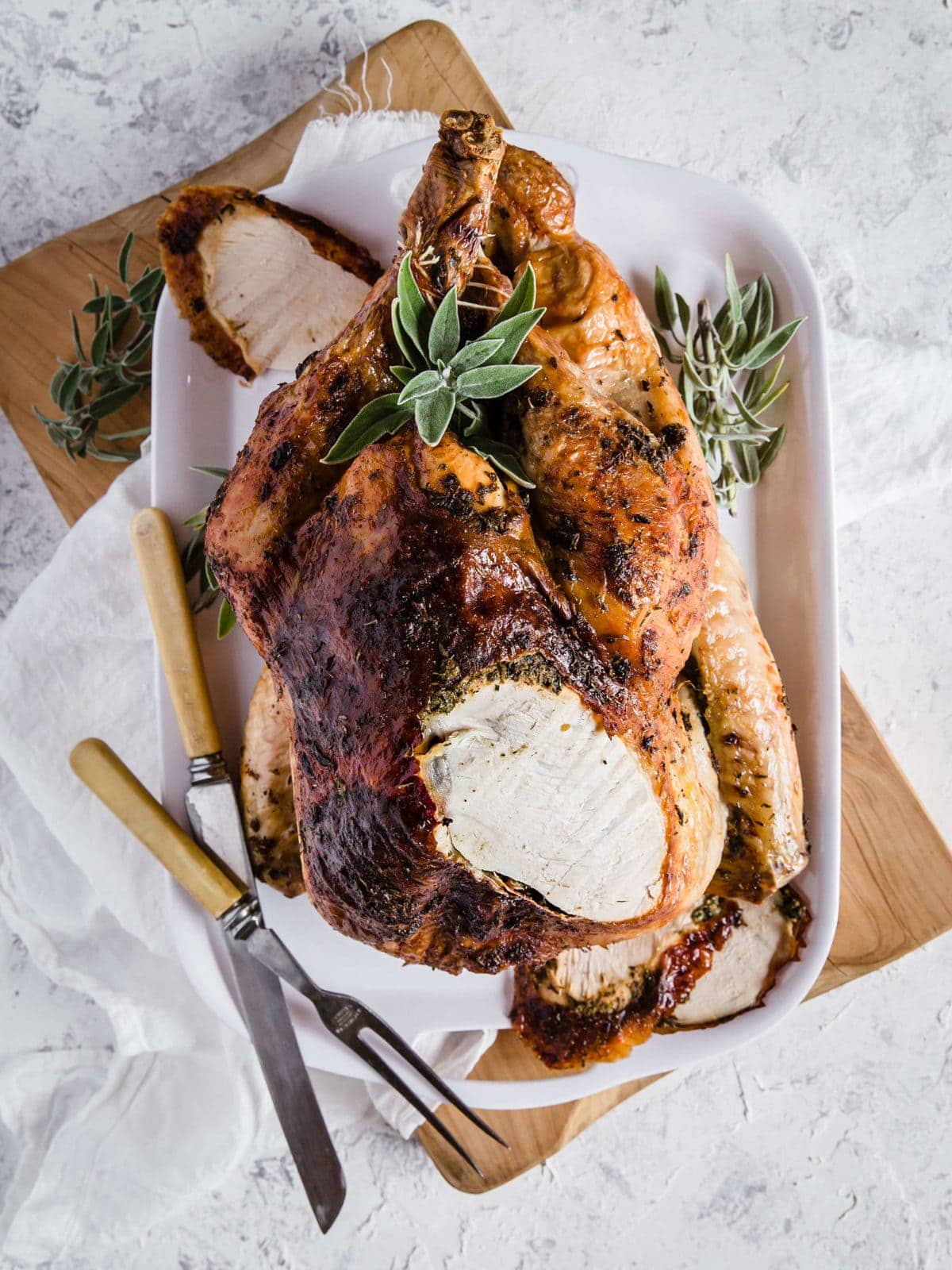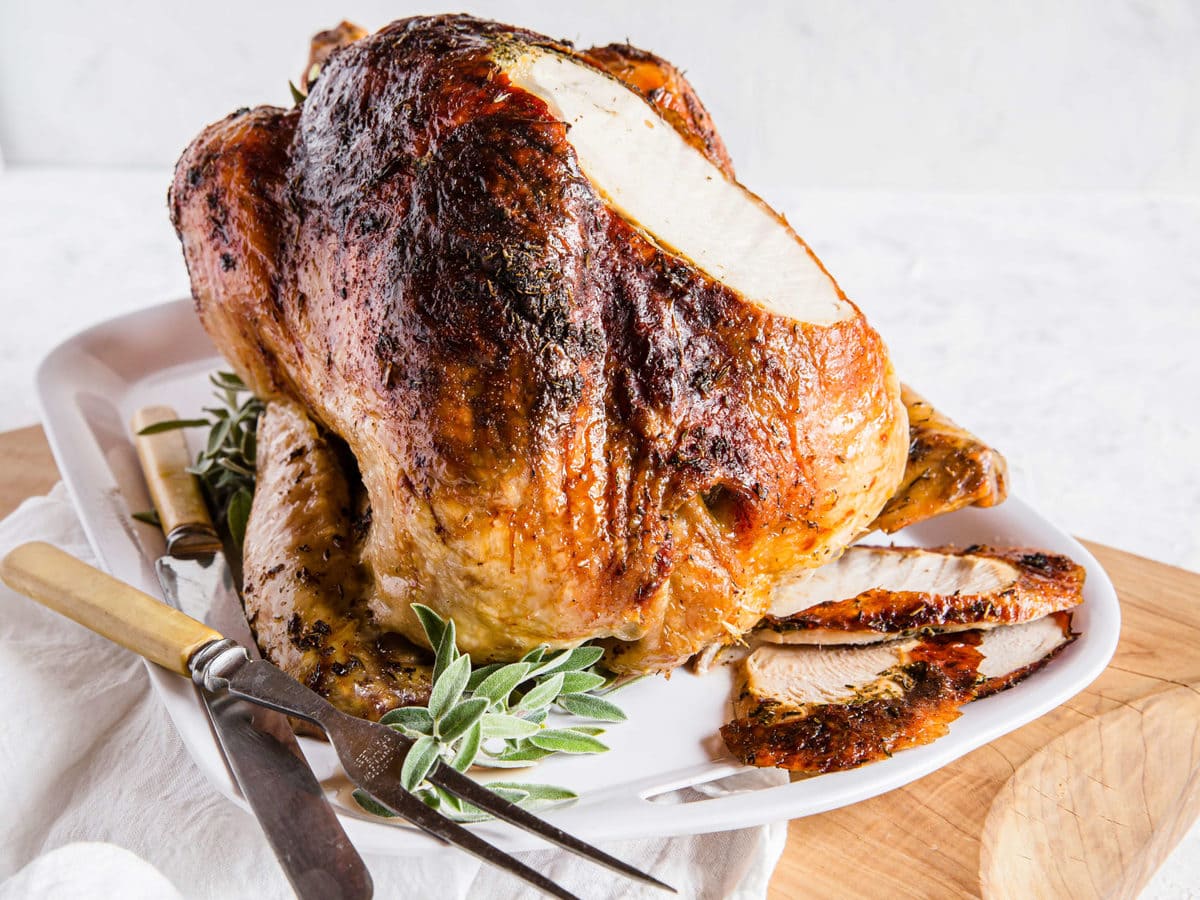 Kitchen Tools for Making this Herbed Butter Roasted Turkey
If you're looking for recommendations to make cooking a turkey a little easier, here are some of my favorite kitchen tools: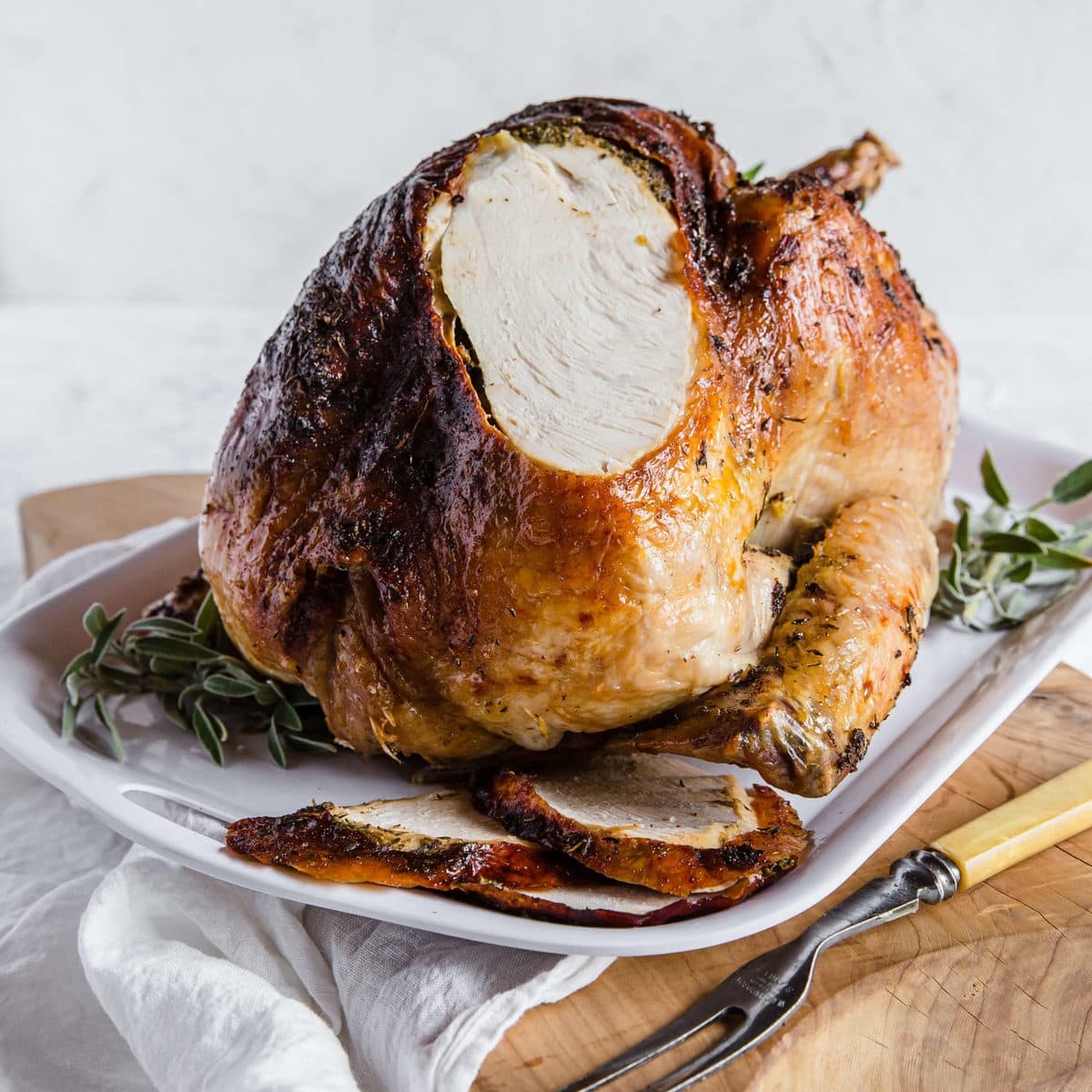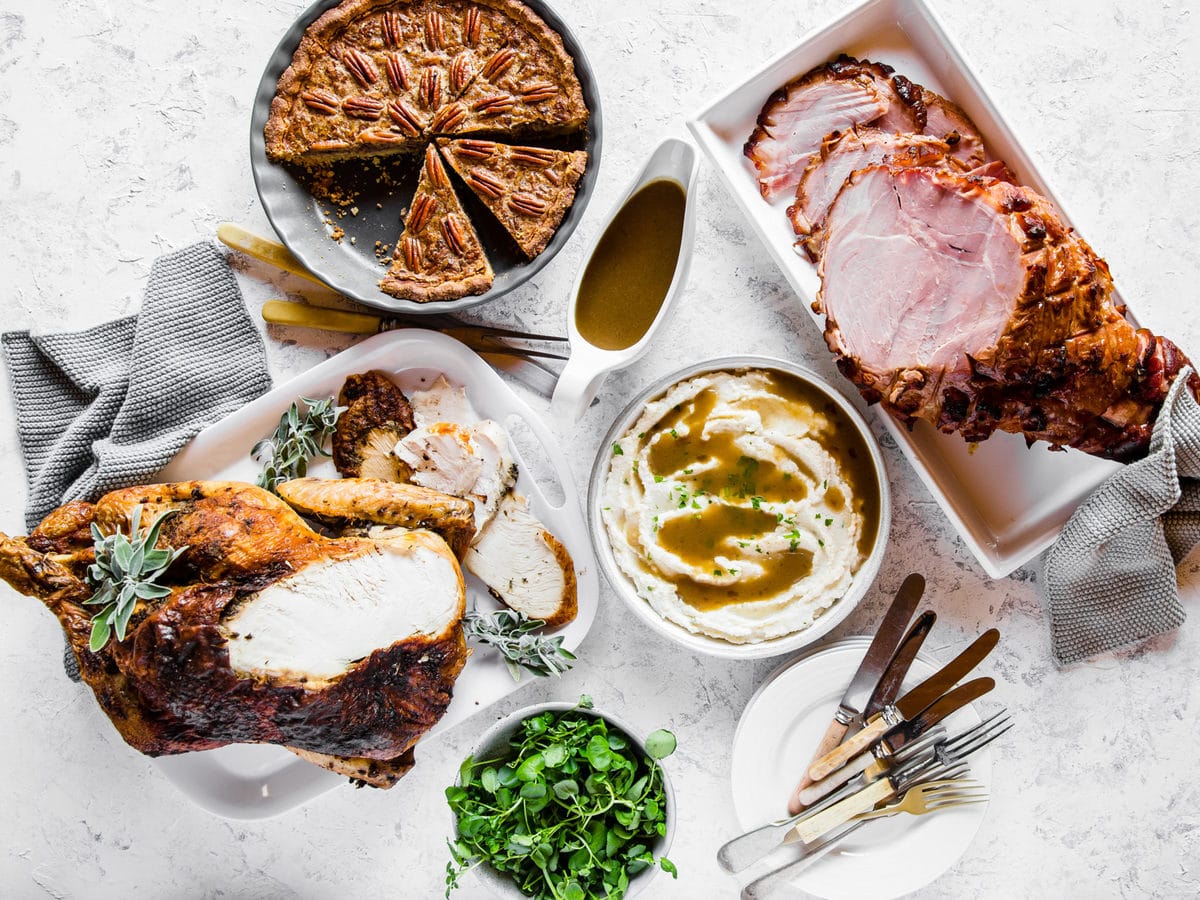 More low carb holiday recipes you might enjoy: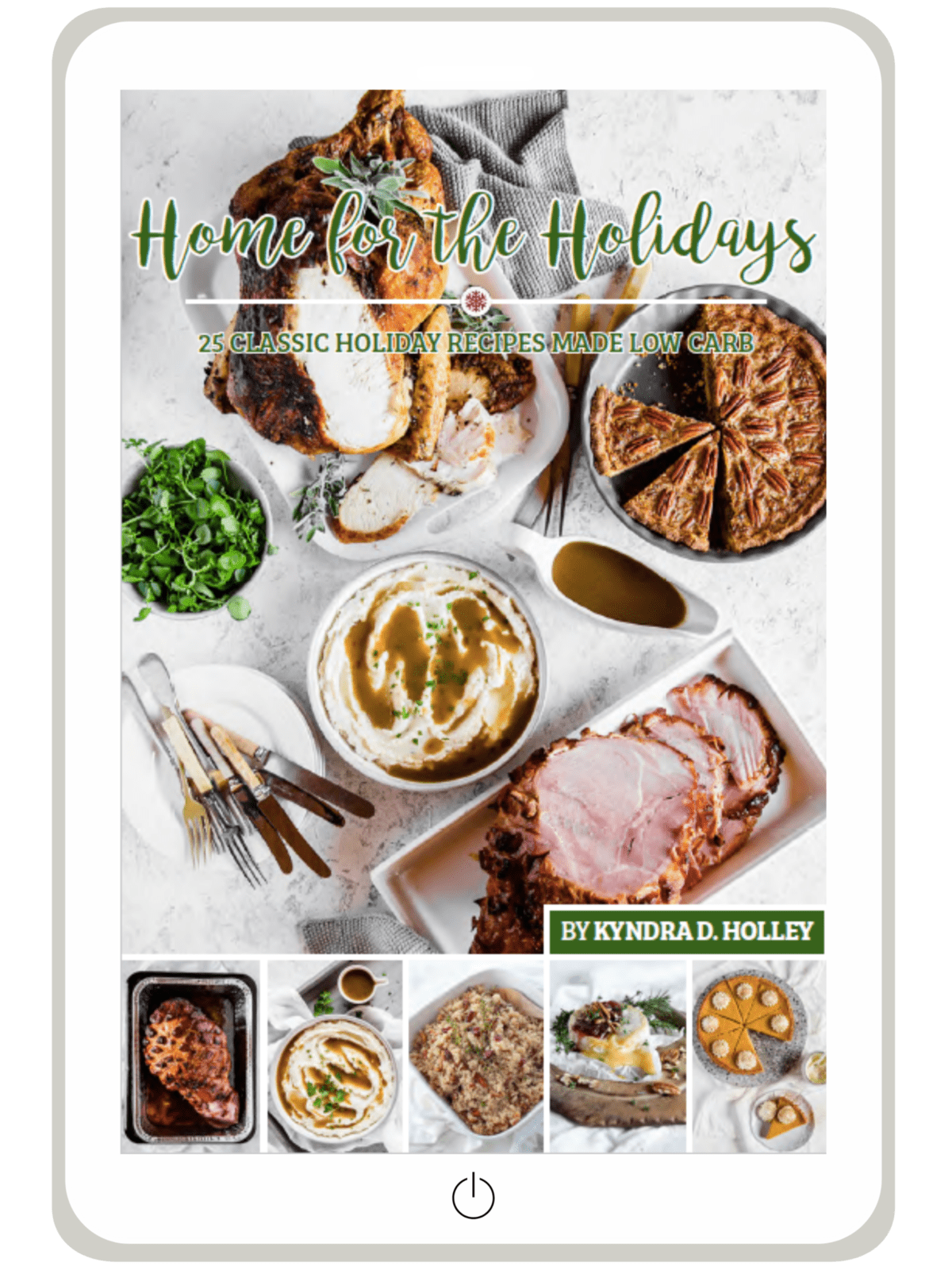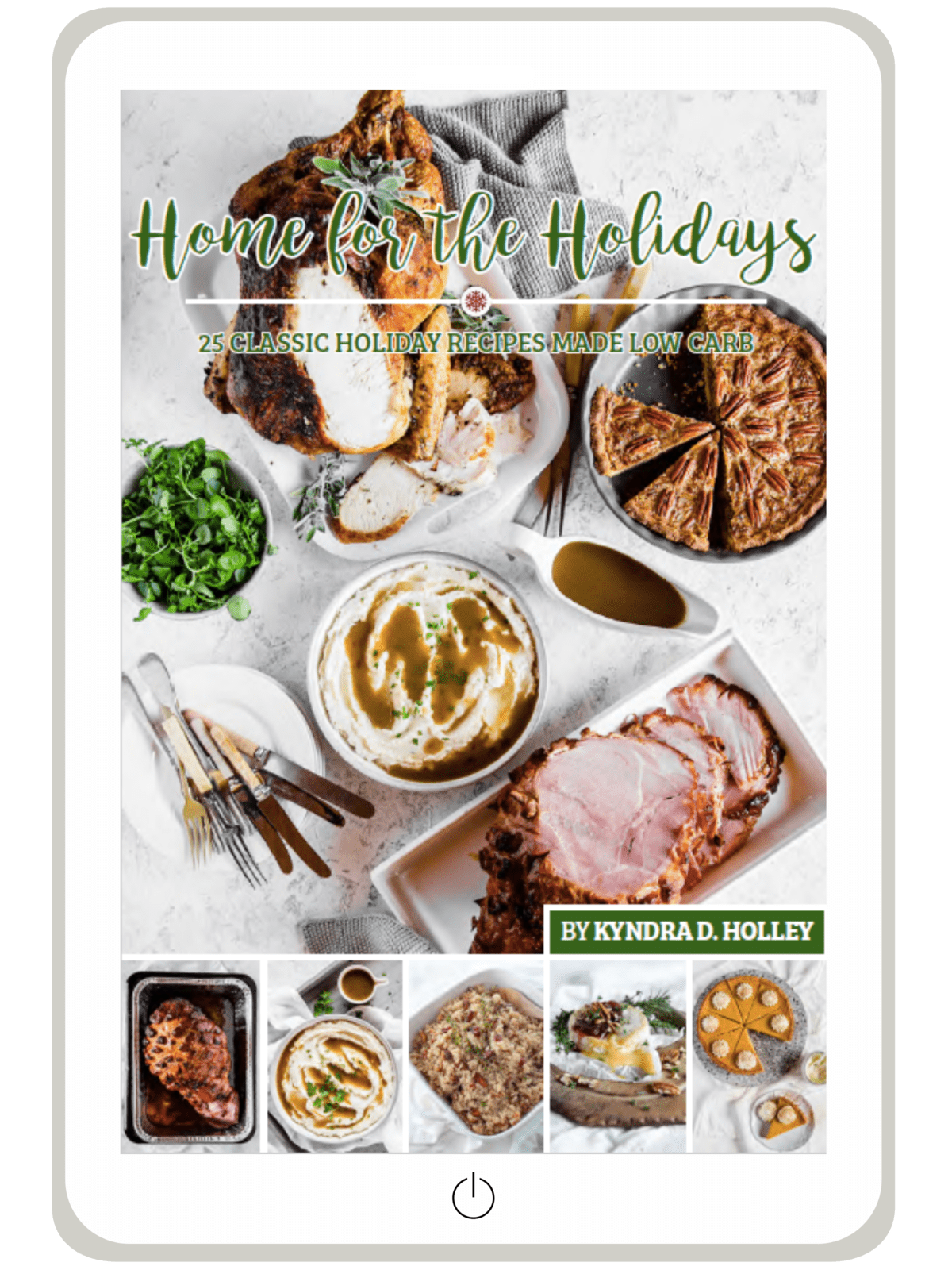 Grab a copy of Home for the Holidays - HERE
Print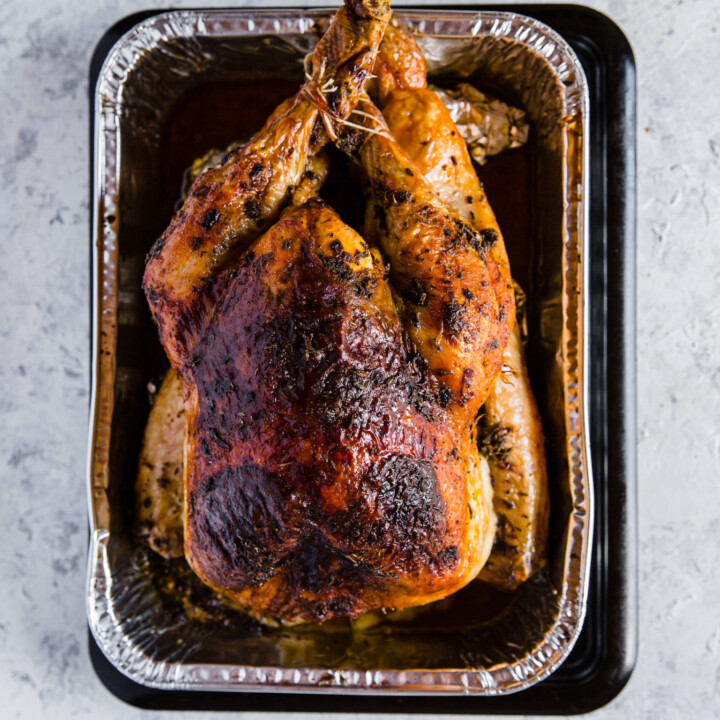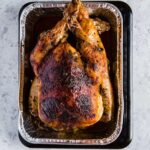 Herbed Butter Roasted Turkey
---
12

pound turkey, defrosted

9 ounces

butter, softened

2 tablespoons

dried thyme

2 tablespoons

rubbed sage

2 tablespoons

dried minced onion

1 tablespoon

sea salt, more to taste

1 tablespoon

garlic powder

1 ½ teaspoons

ground black pepper

3 cups

chicken stock
Fresh herbs, for garnish
---
Instructions
Preheat the oven to 350°F
Place the turkey on an even surface and gently work your fingers underneath the skin, between the skin and the flesh of the turkey, to create a pocket.
Take your time and work gently. The more you can loosen the skin without tearing it, the juicier your turkey turn out.
Place the butter and herbs and seasonings into a mixing bowl and mix to combine. Set ⅓ of the mixture aside. This will be for the top of the turkey.
Using your fingers, scoop out the butter and pack it under the skin, pushing it as far back as you can, and covering the entire top of the turkey, beneath the skin.
Once you have packed ⅔ of the butter under the skin, massage the turkey, on top of the skin, to evenly distribute the butter.
Rub the remaining herbed butter all over the top of the turkey.
Place a roasting rack inside the roasting pan. Pour the chicken stock into the bottom of the pan.
Cook for 13 to 15 minutes per pounds, or until it has reached an internal temperature of 165°F.
Baste the turkey every 15 minutes to keep it super moist and tender.
Rest the turkey for 15 to 30 minutes before cutting into to it to retain the juices.
Retain the juices to make a pan gravy.
Notes
1.3g net carbs per serving
Prep Time:

1 hour

Cook Time:

3 hours
Nutrition
Serving Size:

1 serving

Calories:

734.3

Fat:

46.7g

Carbohydrates:

1.7g

Fiber:

0.4g

Protein:

87.9g
Keywords: keto turkey recipes, how to cook a turkey, keto thanksgiving recipes, how to brine a turkey, roasted turkey recipes, low carb turkey recipes