With less than 5 ingredients, this Roasted Butternut Squash with Sage is the perfect quick and easy low carb side dish. Perfect for your keto Thanksgiving table or a keto carb up any time of the year.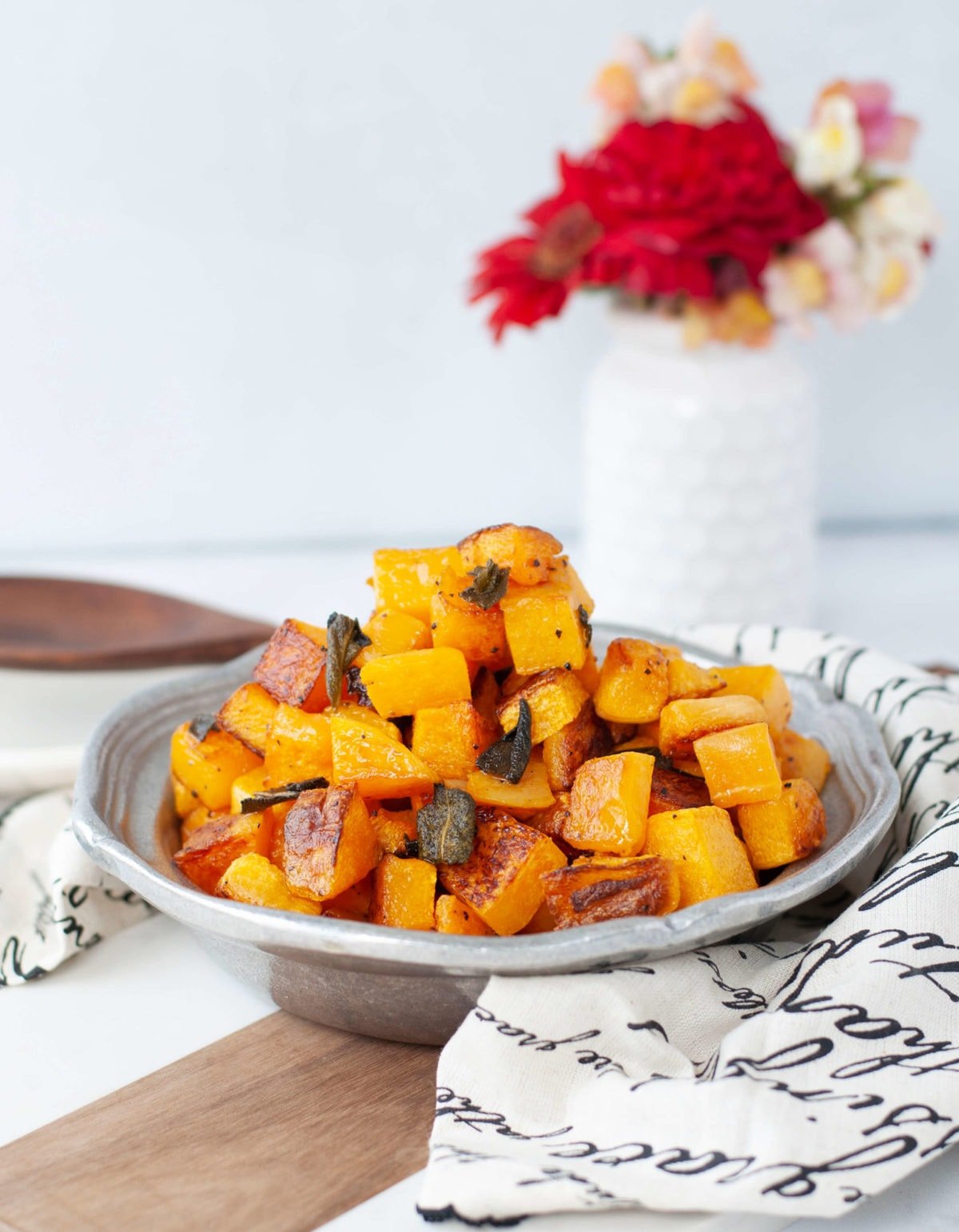 Is butternut squash keto?
I figured I would address this first before we get jump into this perfectly seasoned, buttery, delicious, paleo squash recipe. Ketosis is a metabolic state. In order to get into ketosis, you just need to lower your carb intake. While foods that are lower in carbs are beneficial in maintaining ketosis, you can work some higher carb foods into a keto diet, especially when they're grain free, sugar free, and sourced from real food ingredients. So, in short: yes, you can make this Whole30 butternut squash recipe work on keto, whether you enjoy it as keto side dish that fits into your keto macros, or as a carb up. Butternut squash isn't just good for keto thanksgiving recipes, you can make it year round!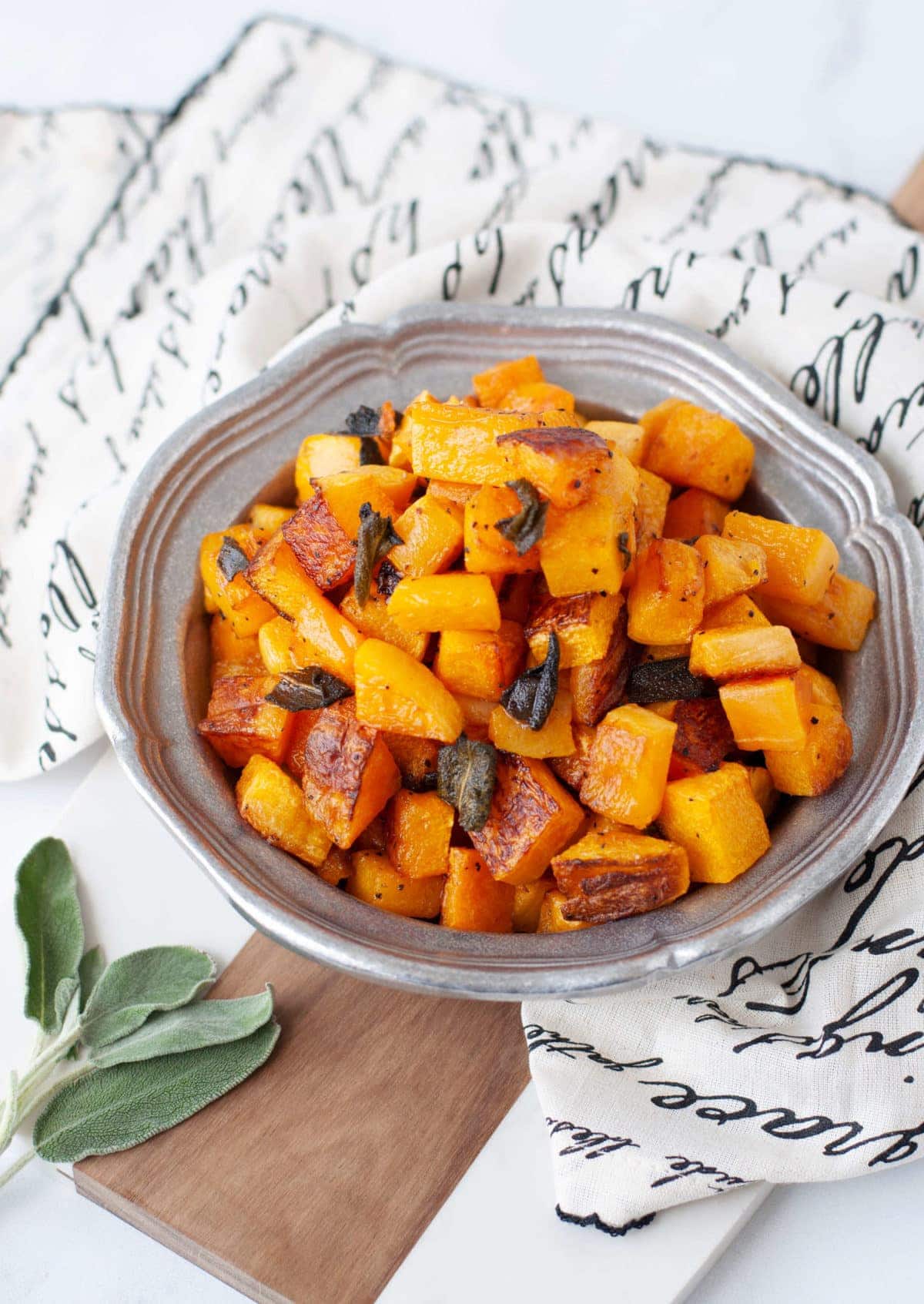 Carb cycling: what is a carb up?
If you've been on keto for a while, you may have heard of carb cycling. Carb cycling is when you consume a higher amount of carbs on keto than you normally would, usually done on a weekly or monthly basis. Keto varies from person to person, so someone's reason for carb cycling will vary from person to person as well. People have done carb up meals, carb up days, even carb up weeks. Some of the benefits include busting through a weight plateau, resetting hunger hormones, balancing sex hormones (for women, especially), and enjoying "off limit" foods in order to avoid developing a restrictive mindset around food rules. Squash is a great option for a carb up because it's a real food loaded with nutrients, and it's delicious.
Carbs in squash
Different types of squash have different macros, here are the net carb counts in a few popular squash varieties:
Acorn Winter Squash: 12.49g net carbs per 1 cup
Butternut Winter Squash: 13.57g net carbs per 1 cup
Crookneck and Straightneck Summer Squash: 2.75g net carbs per 1 cup
Green Summer Squash: 2.59g net carbs per 1 cup
Spaghetti Winter Squash: 6.98g net carbs per 1 cup
Winter Squash: 8.26g net carbs per 1 cup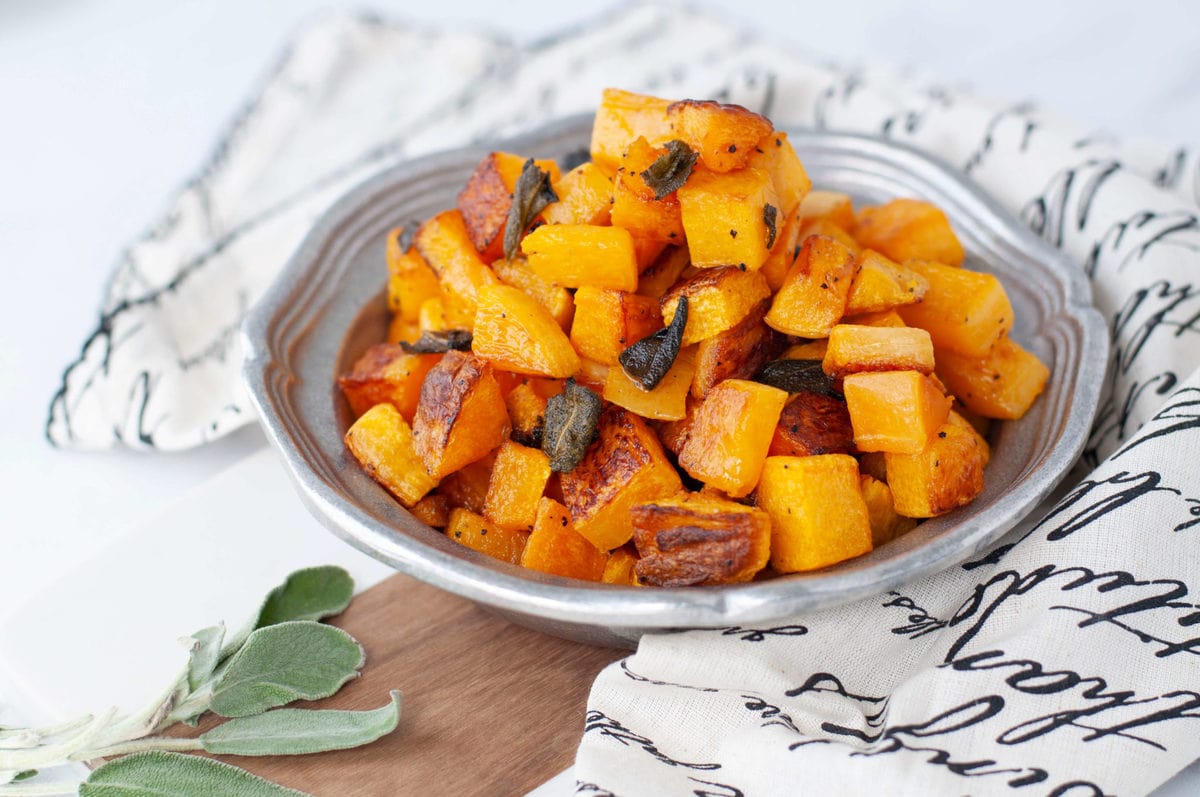 How to cook butternut squash
Butternut squash isn't typically used in keto side dishes because of it's higher carb count, but it's fairly common in vegetarian paleo recipes. The key here is to not use too much fat, especially if you're going to enjoy this dish as a carb up. If you're in ketosis, your body will burn carbs before it burns fat. I like to use melted butter flavored coconut oil to make this recipe work for dairy free keto. If you prefer butter, you can use butter. I toss everything in a bowl, coating evenly with the melted coconut oil or butter. Then spread the squash evenly on a rimmed baking sheet and roast on high heat for 45 minutes. Roasting the butternut squash with the sage really develops the flavors and gets everything nice and tender on the inside and perfectly crispy on the outside.
In addition to this Roasted Butternut Squash with Sage Recipe, check out some of my other favorite paleo side dish recipes:
Print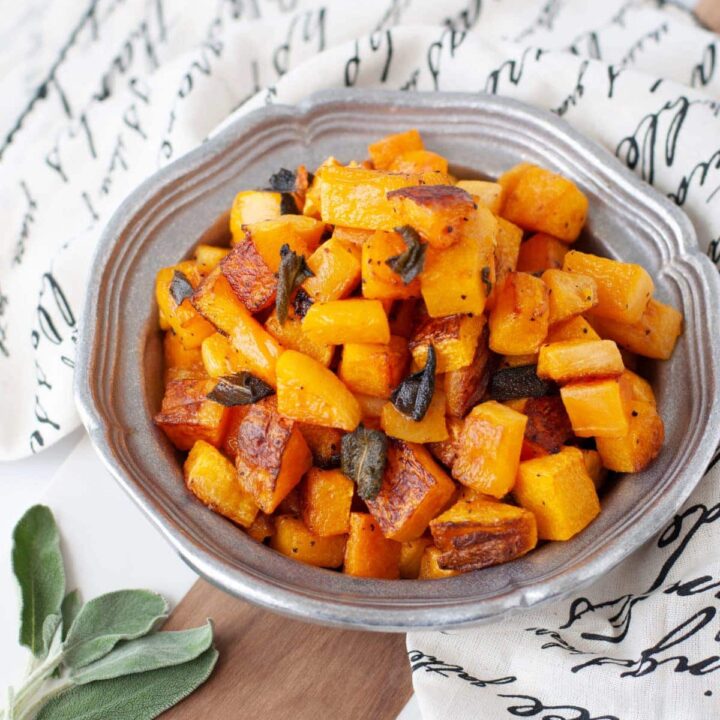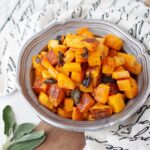 Roasted Butternut Squash with Sage
---
Author:

Kyndra Holley

Total Time:

55 minutes

Yield:

8

servings

1

x
2 ½

pounds butternut squash, peeled, seeded and cubed

3 tablespoons

butter, or butter flavored coconut oil, melted (avocado oil for whole30)

10

fresh sage leaves, torn

1 teaspoon

sea salt

½ teaspoon

ground black pepper
---
Instructions
Preheat the oven to 425°F.
In a large bowl, toss the squash, butter, sage, salt and pepper until the squash is evenly coated.
Spread the squash in a single layer across a rimmed baking sheet.
Roast for 40 minutes, tossing halfway through. Taste, and add more salt and pepper, if desired.
Notes
net carbs per serving: 13.6g
Prep Time:

15 minutes

Cook Time:

40 minutes
Nutrition
Fat:

4.5g

Carbohydrates:

16.5g

Fiber:

2.9g

Protein:

1.5g
Keywords: butternut squash, keto squash recipes, keto thanksgiving, low carb side dishes, keto side dishes