All the delicious flavors of a Caesar salad, but in a deviled egg! A great way to remix an old classic for a low carb option at your next cookout.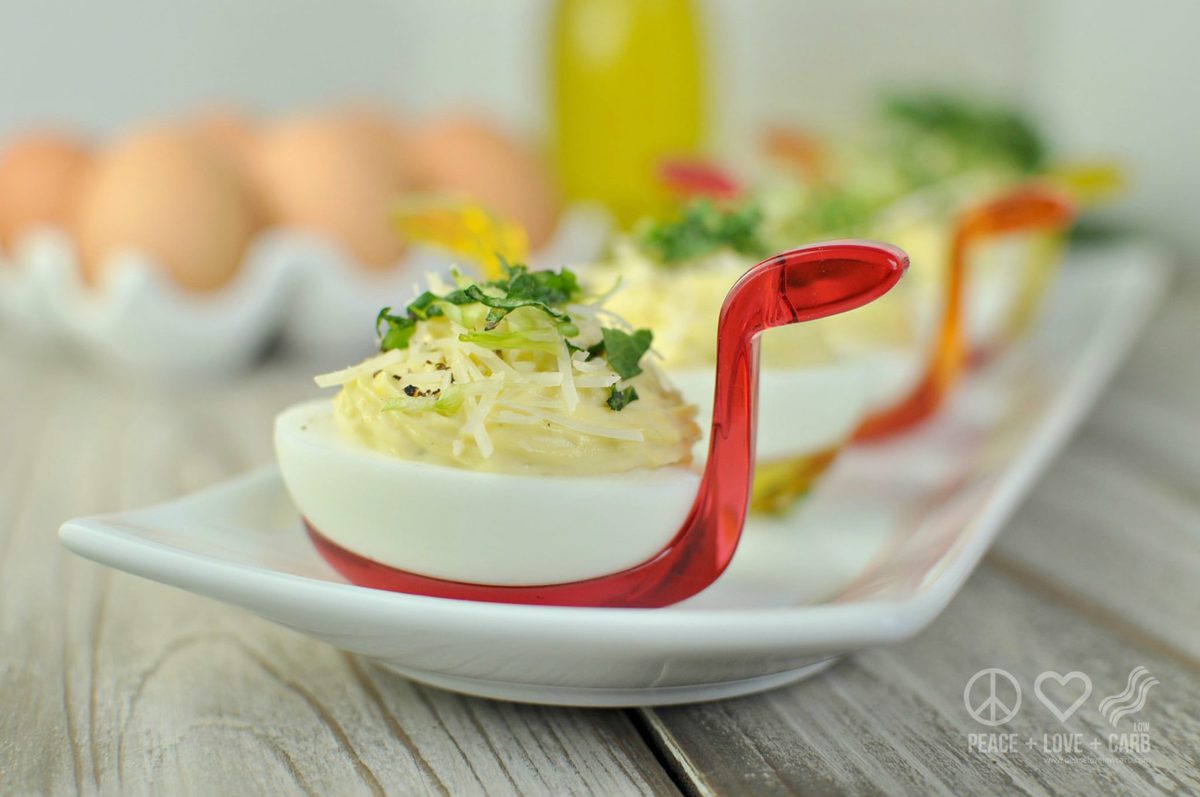 A fresh twist on traditional deviled eggs: Caesar Salad Deviled Eggs
Looking for a new way to enjoy an old classic? These Caesar Salad Deviled Eggs are creamy, satisfying, loaded with Caesar flavor, and so easy to throw together. In fact, I highly recommend making a double batch, because they'll be the first to go at your next summer get together.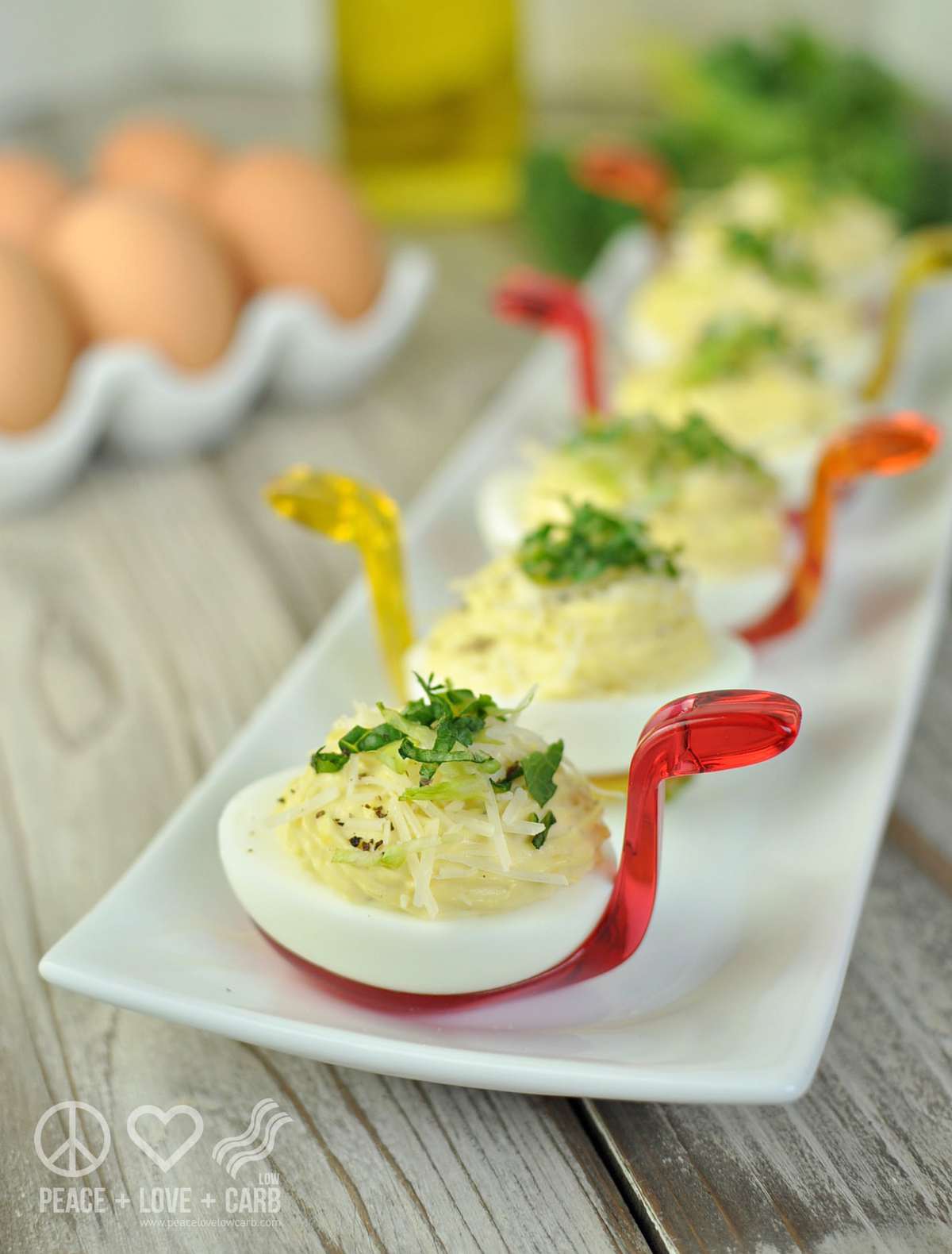 Keto deviled eggs: super easy and super tasty
Deviled eggs are easily one of my favorite foods. You can prepare them so many different ways. Eggs are also a low carb and paleo staple. I often hear "I simply cannot eat another egg." To that I always ask "What about different types of deviled eggs?" I have a few other version on my site already - Buffalo Chicken Deviled Eggs, Bacon Guacamole Deviled Eggs, Bacon Deviled Eggs, and Jalapeño Popper Deviled Eggs, just to name a few. SEE, I told you that I was a big deviled egg fan! And seriously, how cute are these deviled egg cradles?
In addition to these Caesar Salad Deviled Eggs, check out some of my other favorite keto barbecue recipes: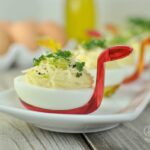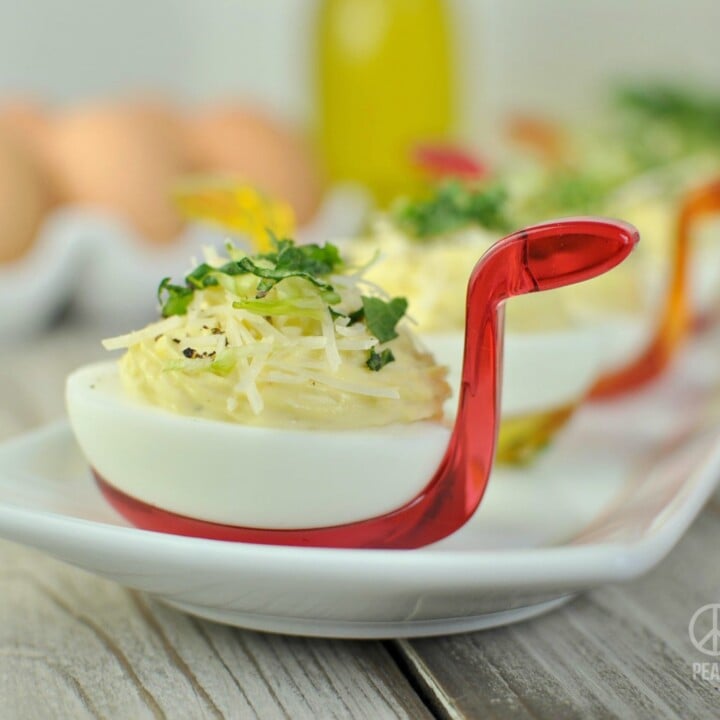 Caesar Salad Deviled Eggs
---
6

large pastured eggs, hard boiled, peeled and halved

⅓ cup

creamy caesar dressing

½ cup

Parmesan cheese, shredded, divided
cracked black pepper, to taste

1

romaine lettuce leaf, shredded
---
Instructions
In a mixing bowl, fork mash the egg yolks. Add Caesar dressing, ¼ cup of the Parmesan cheese and half of the shredded lettuce. Mix until well combined.
Use a pastry bag to pipe the mixture back into the eggs.
Top each egg with a little Parmesan cheese, shredded lettuce and black pepper.
Notes
2.75g net carbs per serving
Nutrition
Serving Size:

254

Fat:

22g

Carbohydrates:

2.75g

Protein:

13.5g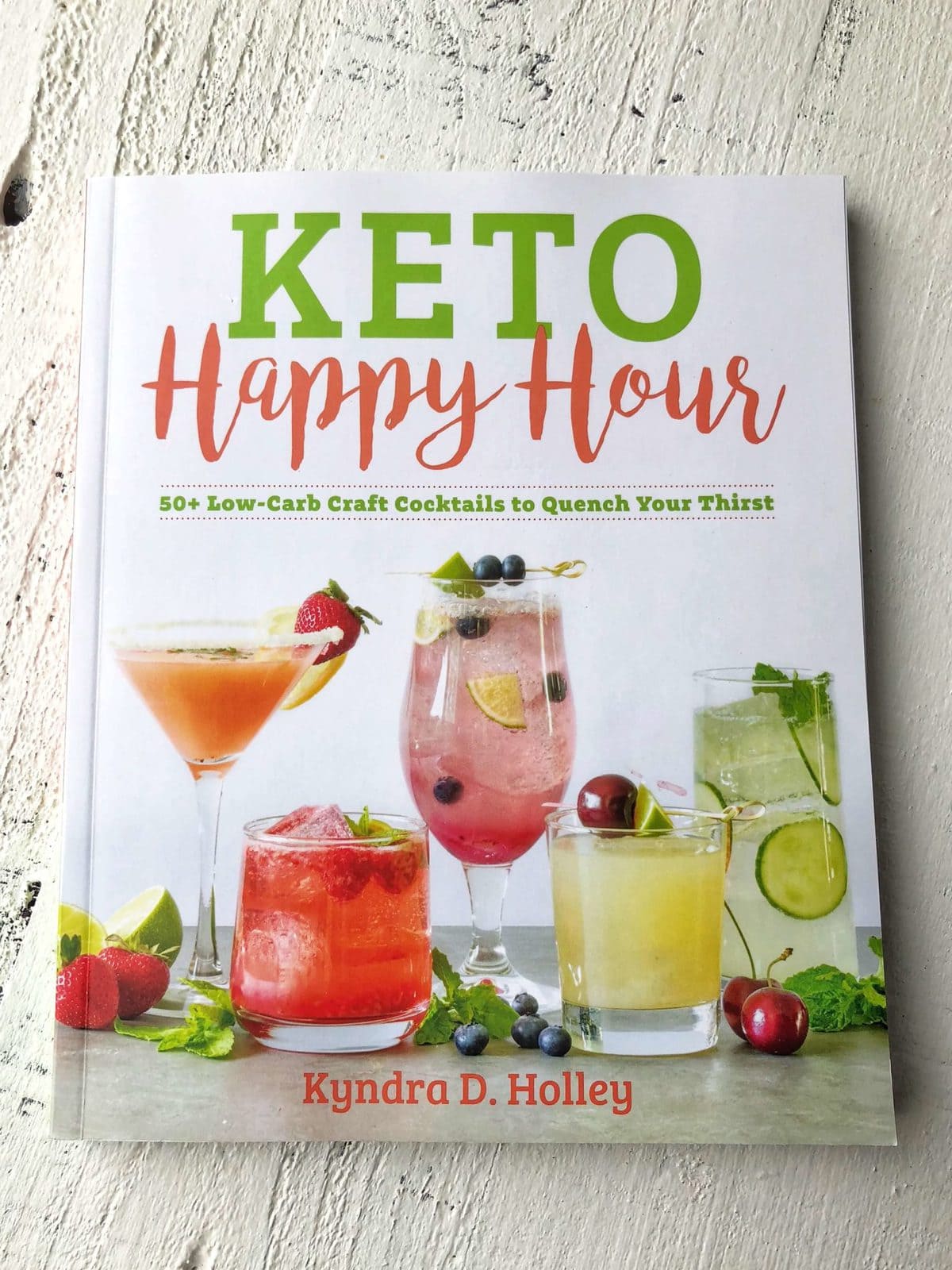 KETO HAPPY HOUR: 50 Low Carb Craft Cocktails to Quench Your Thirst.
Check out my other books -
HERE
So it's Friday night and you're feeling alright. You're ready to dance the night away with a cocktail in your hand. OR, if you are more like me, you want to have a cocktail at home with friends. But how do you know what to drink? What is the best alcohol for a low carb diet. Or what alcohol is lowest in carbs?
First, I'm going to break down the carbs in alcohol for you. Check out my Complete Guide to Carbs in Alcohol. If you're wondering… Can you have alcohol on a low carb diet? Is alcohol keto? You might be saying to yourself "But wait? I can't! I'm low carb." Well, you are NOT low carb. You're are a person following a low carb lifestyle. Do not be defined by your dietary decisions. Doing so will lead to a life of restriction and feeling restricted often causes us to stray from our intended path. Besides, who wants to pass up low carb gummy worms. Especially when they are boozy low carb gummy worms.
YOU CAN GRAB A COPY -
HERE
I know that it can be tricky to navigate alcohol on a low carb diet, so I'm taking all the guess work out of it for you. I'll show you how to indulge, while still sticking to your healthy living, ketogenic lifestyle. If you think you can no longer have those delicious Moscow Mules at happy hour with your friends, or that you have to skip those margaritas on Taco Tuesday, think again! I'm putting your favorite drinks back on the menu, the low carb menu, that is.
Whether you are craving a cocktail after a long day of work, or looking to do some healthy entertaining, this book has you covered. From mixers, to drinks and even some pub grub. It's all in there! Mixing up cocktails should be fun and it shouldn't come at the cost of your health and weight loss goals. Keto Happy Hour bridges the gap between feeling deprived and feeling mighty fine.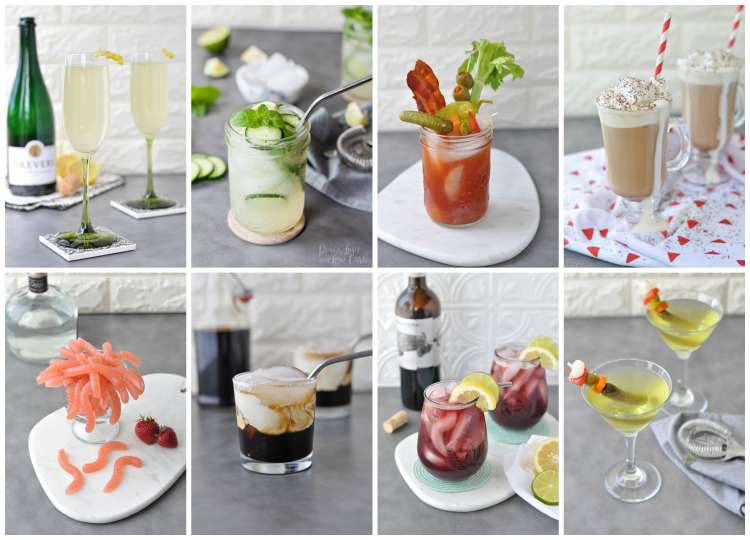 WITH RECIPES LIKE:
Strawberry Basil Lemon Drops
Boozy Hot Cocoa
Dill Pickle Martinis
Moscow Mules
Irish Coffee
Bloody Marys
Scratch made Low Carb Bloody Mary Mix
Homemade low carb coffee liqueur and Low Carb Irish cream
Low Carb Whiskey Sour
Hot Toddy
Cucumber Jalapeno Margaritas
And even…
Low Carb Strawberry Margarita Gummy Worms
AND EVEN SOME FOOD RECIPES LIKE:
Halloumi Bruschetta
Cheesy Nachos
Barbecue Smoked Sausages
Pizza Bagels
Teriyaki Steak Bites
Avocado Keto Hummus
Keto Buffalo Chicken Jalapeno Poppers
Crispy Baked Garlic Parmesan Wings
Bloody Mary Roasted Nuts
Red Wine Fudgesicles
and more...
YOU CAN GRAB A COPY -
HERE