This low carb blackened seasoning is the perfect blend of spiciness, mixed with rich depth of flavor. It will enhance your food, without overpowering it.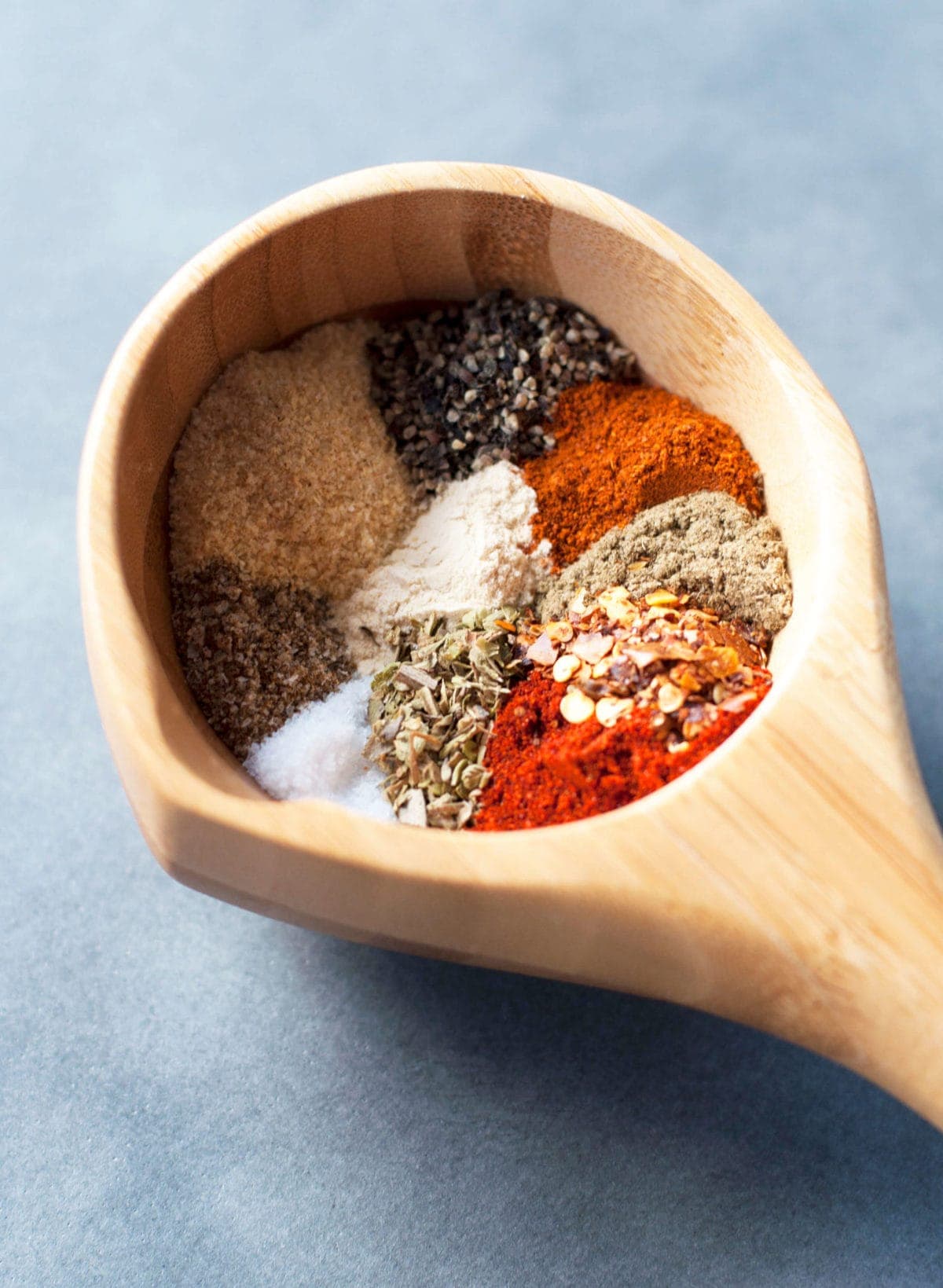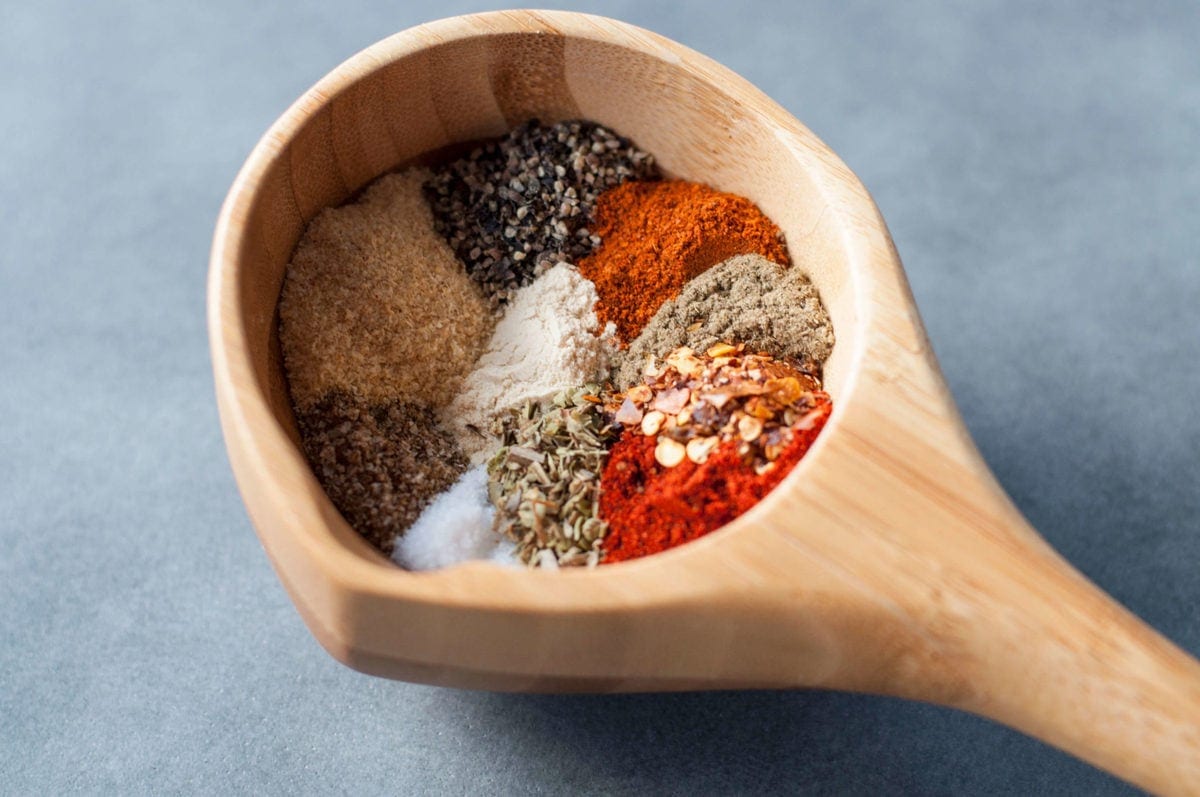 This low carb blackened seasoning is a nice, spicy seasoning that is great on just about any meat, poultry or seafood. Some of my favorite uses for it are on pork chops, chicken, and salmon. It is perfect on my Keto Blackened Steak Salad or even on my Blackened Dijon Chicken
Many of the store-bought spices and seasoning mixes contain added sugar and chemical additives to make them shelf stable. I was shocked to pick up a bottle of Lawrys garlic salt during my keto Whole30 only to realize that it had sugar in it. These are the kinds of things we don't really think about until we are forced to look. Why would garlic salt need to have added sugar? This is why I am a big fan of making my own seasoning blends. That way I know exactly what goes into them and there are no funky unnecessary harmful ingredients.
Whenever I post a new low carb seasoning blend recipe, I always get comments asking where the carbs are coming from. I always giggle at this a little bit because it seems so obvious to me. Where do you think garlic powder comes from? Garlic! and garlic has carbs. So do onions, peppers, herbs etc. So it is natural that the dried and ground versions of these whole foods will also have carbs. For this recipe, the nutritional information is for the entire batch. When only using 1 or 2 teaspoons, the carbs are negligible.
Other seasoning recipes you might enjoy:
Print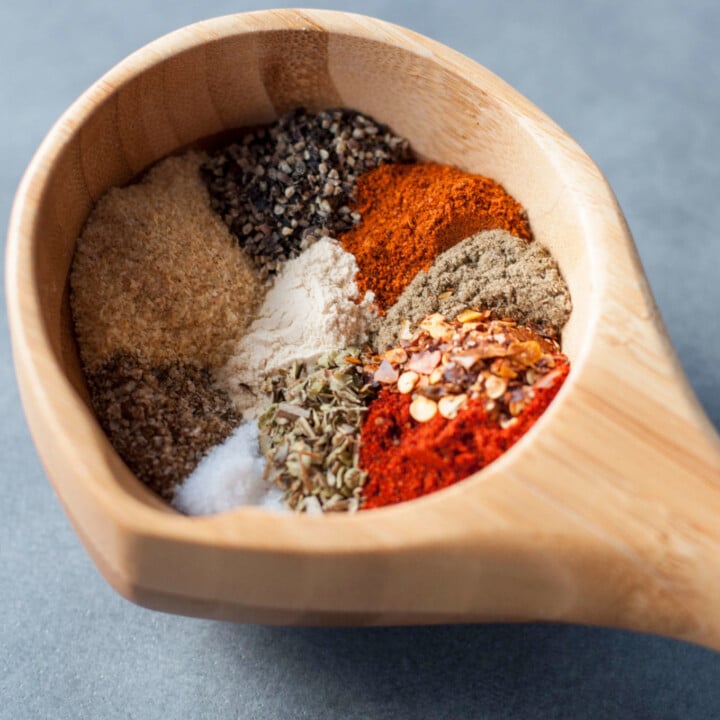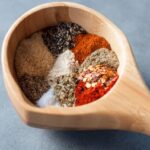 Low Carb Blackened Seasoning
---
---
1 tablespoon

plus 1 ½ teaspoons smoked paprika

1 tablespoon

garlic powder (I use this brand)

1 tablespoon

onion powder

1 tablespoon

dried thyme leaves

1 teaspoon

cayenne pepper

1 teaspoon

dried basil

1 teaspoon

cumin

1 teaspoon

celery salt (I use this brand)

½ teaspoon

dried oregano
---
Prep Time:

5 minutes

Cook Time:

0 minutes
Nutrition
Serving Size:

1 batch

Calories:

96

Fat:

3g

Carbohydrates:

12g

Protein:

4g