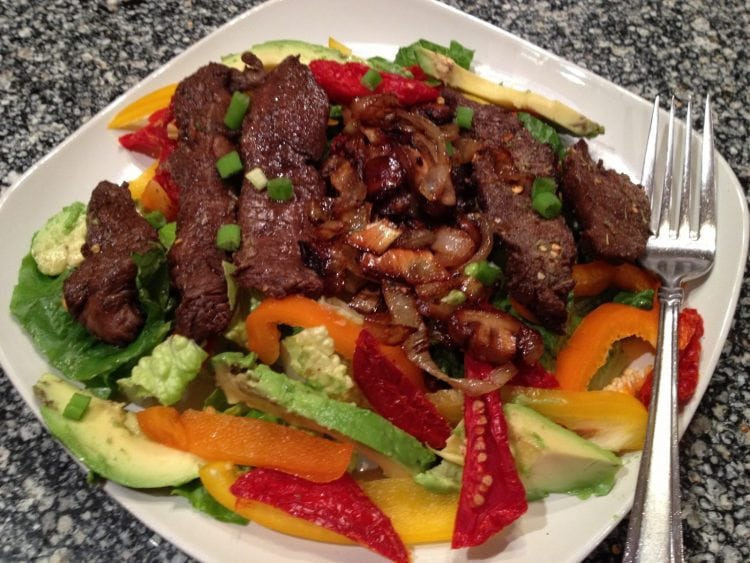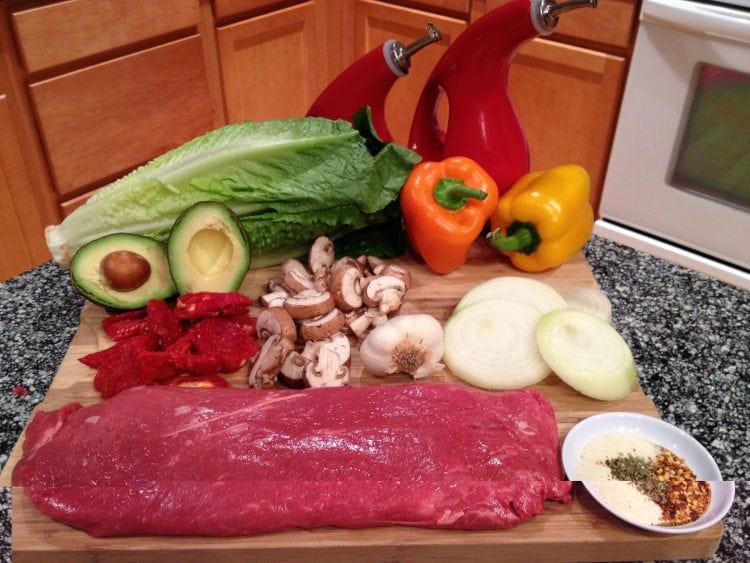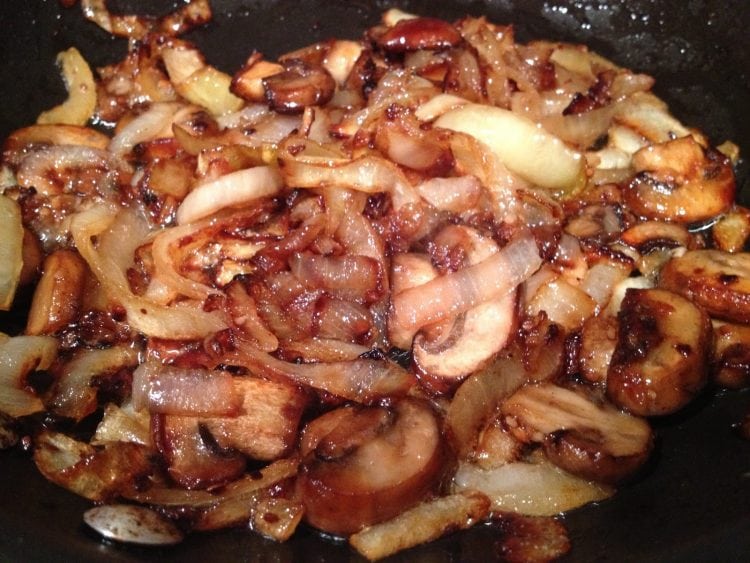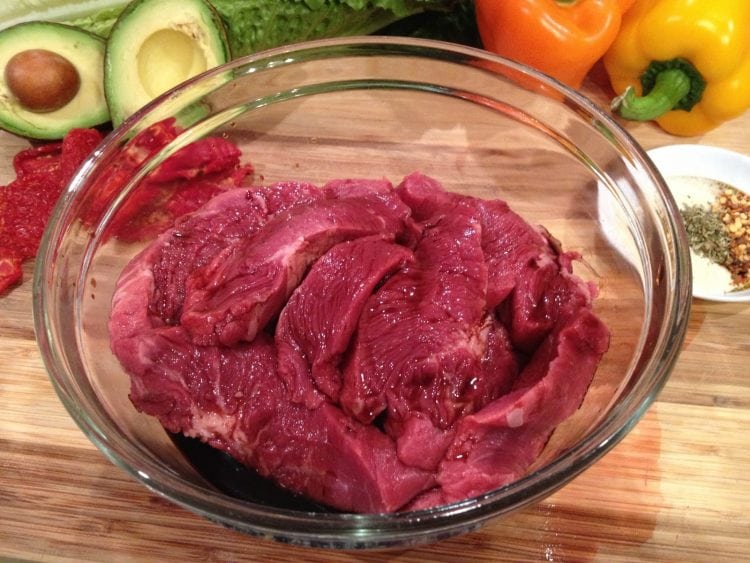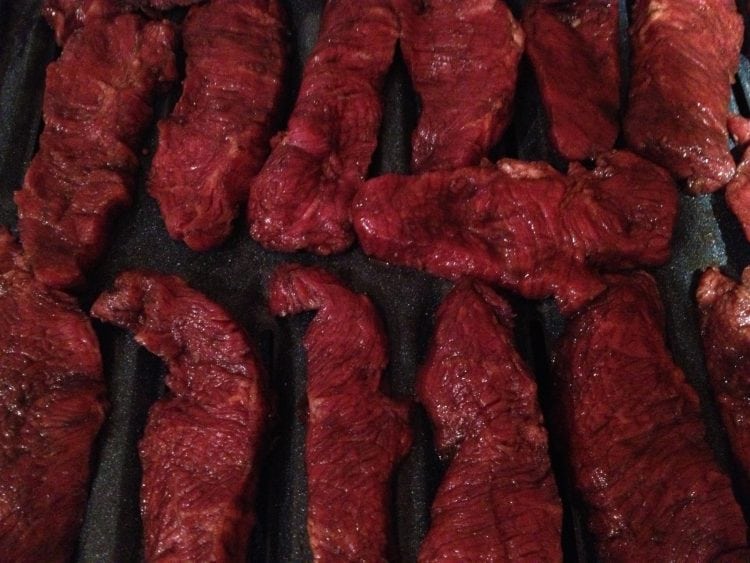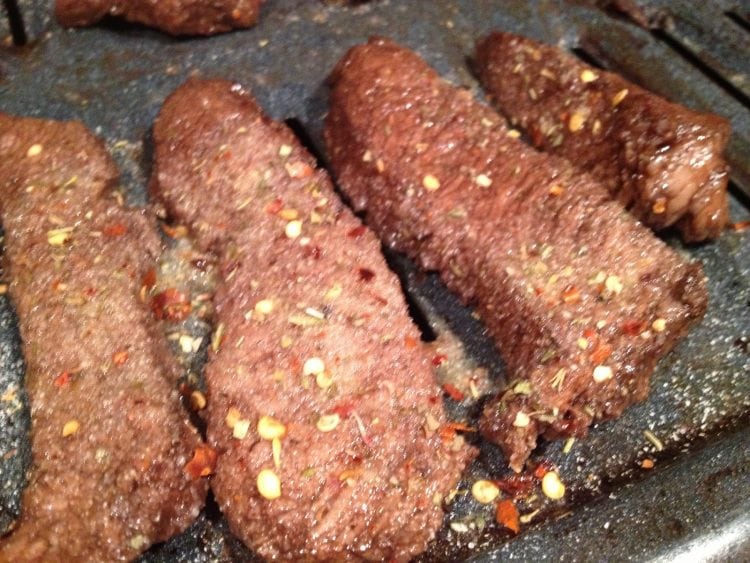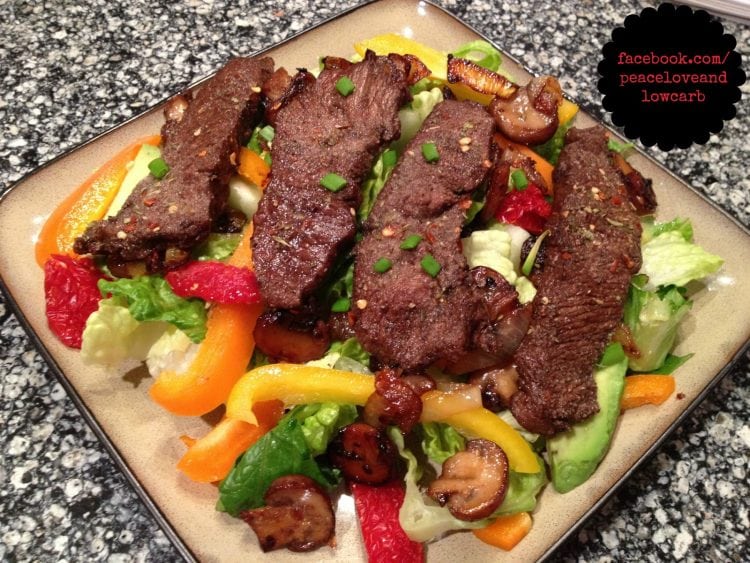 This salad turned out so flavorful that it didn't even require any dressing.  If I wasn't doing the Whole30 challenge this month, I would have added some sort of vinaigrette dressing and some fresh mozzarella.  I love using flat iron steak for my steak salads.  I feel like it is one of the most underrated cuts of beef.  It is so tender and is so much more affordable than some of the other cuts.
Check out some of my other favorite low carb salad recipes:

Sign up for updates to receive one week FREE of my low carb and gluten free meal plans:

INGREDIENTS
1 1/2 lbs. Flat Iron Steak
1/4 Cup Balsamic Vinegar
3 Tbs. Avocado Oil (You can use olive oil instead)
6 oz. Sweet Onion – Sliced
4 oz. Cremini Mushrooms – Sliced
2 Cloves Garlic – Minced
1 Large Head Romaine Lettuce (or 2 medium) – Chopped
1 Avocado – Peeled, Pitted, and Sliced
1 Orange Bell Pepper – Sliced
1 Yellow Bell Pepper – Sliced
3 oz. Sun-Dried Tomatoes
1 tsp. Garlic Salt
1 tsp. Onion Powder
1 tsp. Italian Seasoning
1 tsp. Red Pepper Flakes
DIRECTIONS
Slice flat iron steak into 1/2 inch thick slices.  Put the meat in a large mixing bowl and pour balsamic vinegar over it.  Toss the meat in the balsamic so that it covers all of the pieces.
In a large saute pan, heat avocado oil over low-medium heat.  Once your pan is heated, add mushrooms, onions, garlic and a dash of salt and pepper.  Saute until onions and mushrooms are nice and caramelized – About 20 minutes.
In a large mixing bowl, combine chopped Romaine, avocado, bell peppers, and sun-dried tomatoes.
Line strips of meat in a single layer on a broiling pan.  Combine garlic salt, onion powder, Italian seasoning and red pepper flakes.  Sprinkle seasoning mixture over top of meat.  Broil on high on the top rack for 5 minutes (This will be medium-rare)  Cook longer if you like your meat more on the well done side
Plate your salad mixture and pile on the caramelized onions, mushrooms and flat iron strips.  SERVE AND ENJOY!
Makes 4 Servings:
1 Serving:
Calories: 451
Carbs:  10 net g
Fat:   26 g
Protein:  35 g***Please note that nutritional information listed on this page is an estimation based on the products I used. Ingredients and nutritional information can vary greatly between brands. Always be sure to read labels***
 ***Some links contained on this page are affiliate links and I may receive monetary compensation or other types of remunerations for any products purchased through these links***