All the healthy benefits of immune boosting, anti-inflammatory turmeric in a rich and delicious dairy free, fat burning Bulletproof Keto Golden Milk Latte.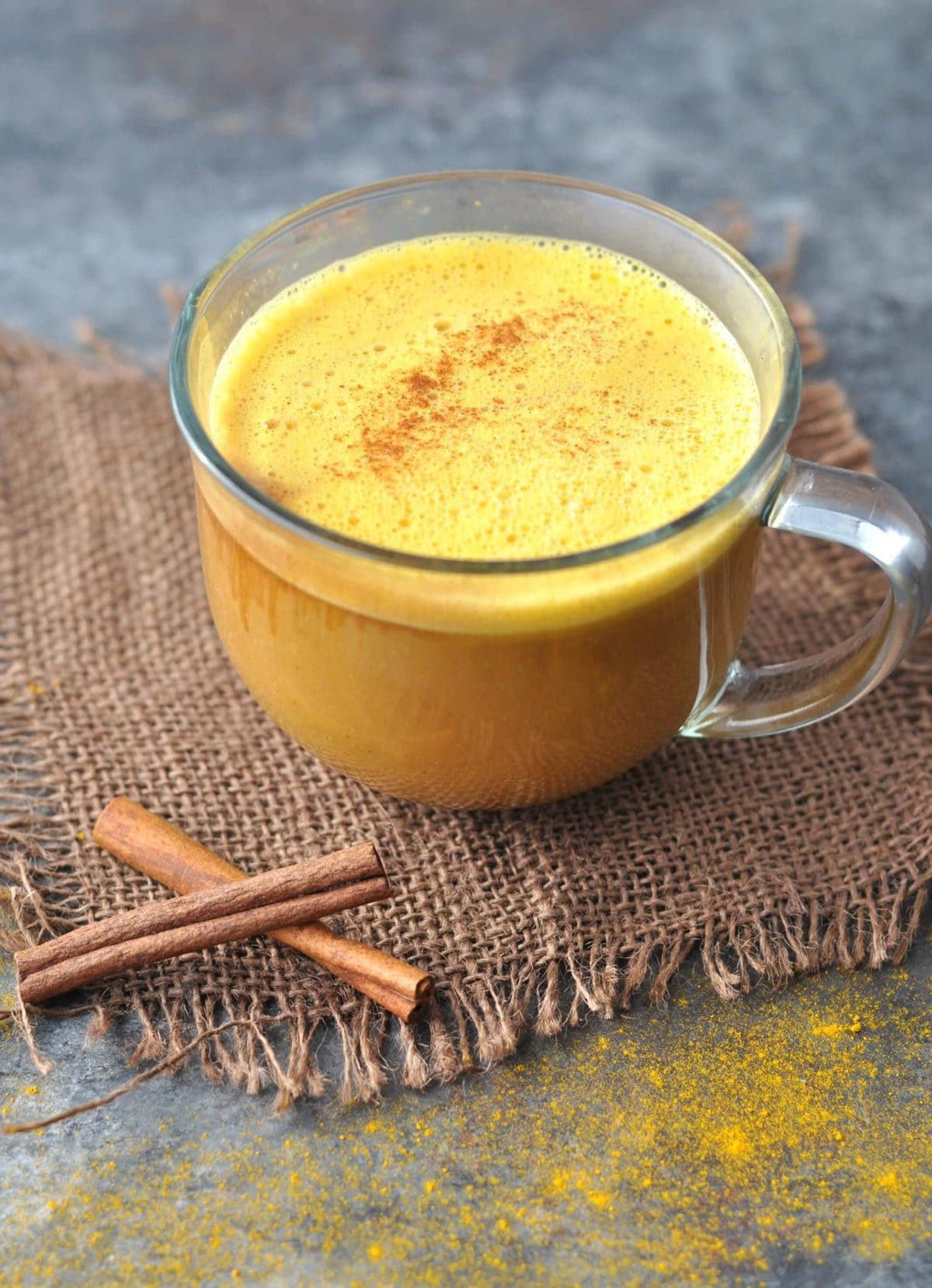 A nourishing, warming, keto superfood
I am so excited to share this Keto Golden Milk Latte with you today. You might also know it as Keto Turmeric Tea. Either way, it is delicious and packed with lots of health benefits! With warming cinnamon and ginger, anti-inflammatory turmeric, and a caffeine kick from espresso, this will be your new favorite warm beverage. I even included a more traditional option without caffeine if you want to enjoy some Golden Milk before bed.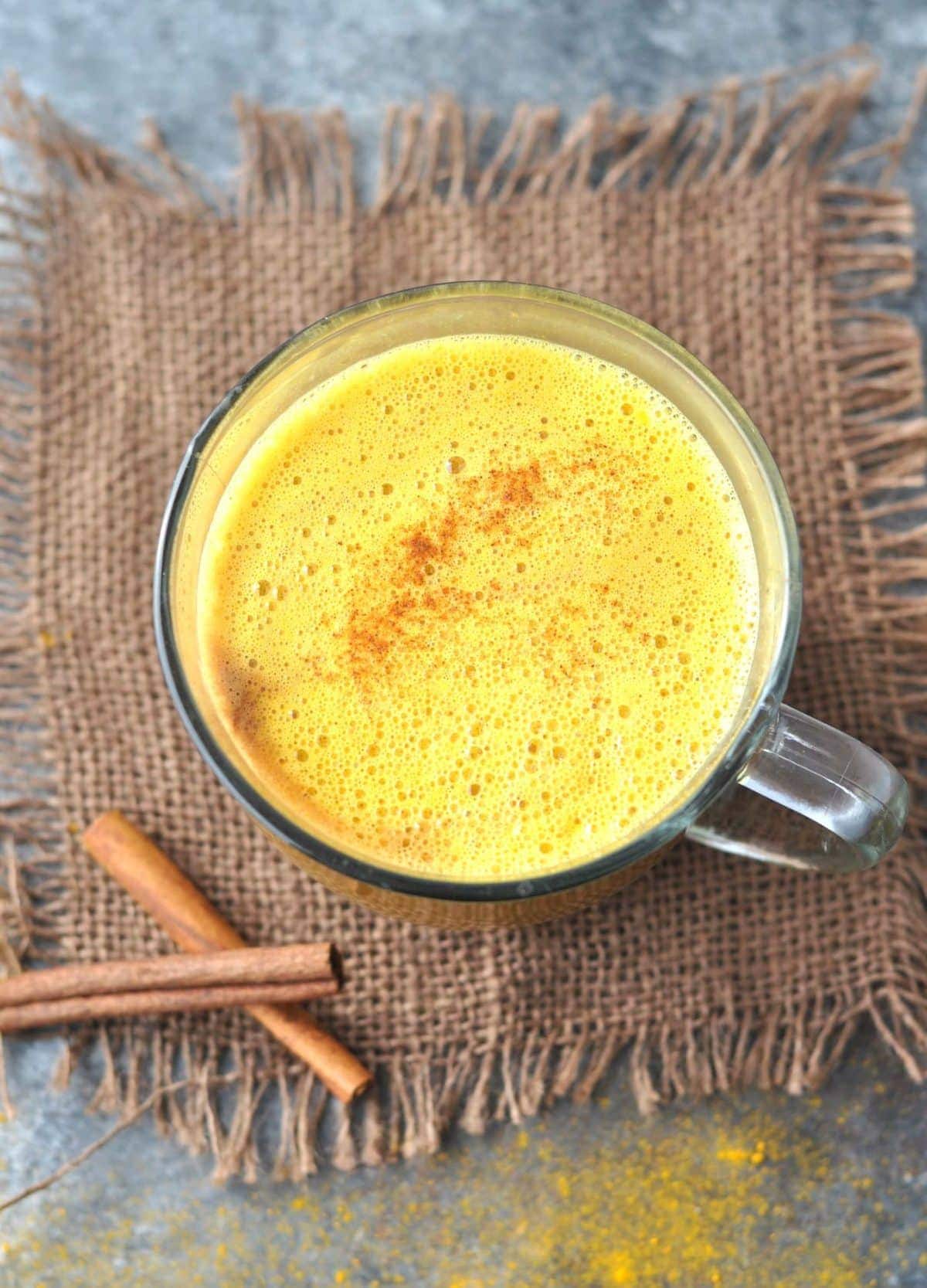 Can you do keto without dairy?
If you have been following me on Instagram or even here on the blog, then you know that I recently had to omit dairy and eggs from my diet, due to the onset of food insensitivities and some continuing gut health issues.
Thankfully for me, there are so many great low carb dairy free alternatives on the market these days. It's hard to miss milk and creamer when you have healthy options like almond milk, cashew milk, and coconut milk, especially from brands like So Delicious and Silk. In fact, they have much more than just milk alternatives, they also have dairy free yogurt, dairy free coffee creamer, dairy free cheese, and even delicious ice cream replacements. I may or may not have eaten my weight in the So Delicious Dark Chocolate Truffle Cashewmilk. It is so creamy and delicious, without having any dairy. Amazing! And while it isn't necessarily low carb, it is my go to for a random once-in-a-while sweet treat.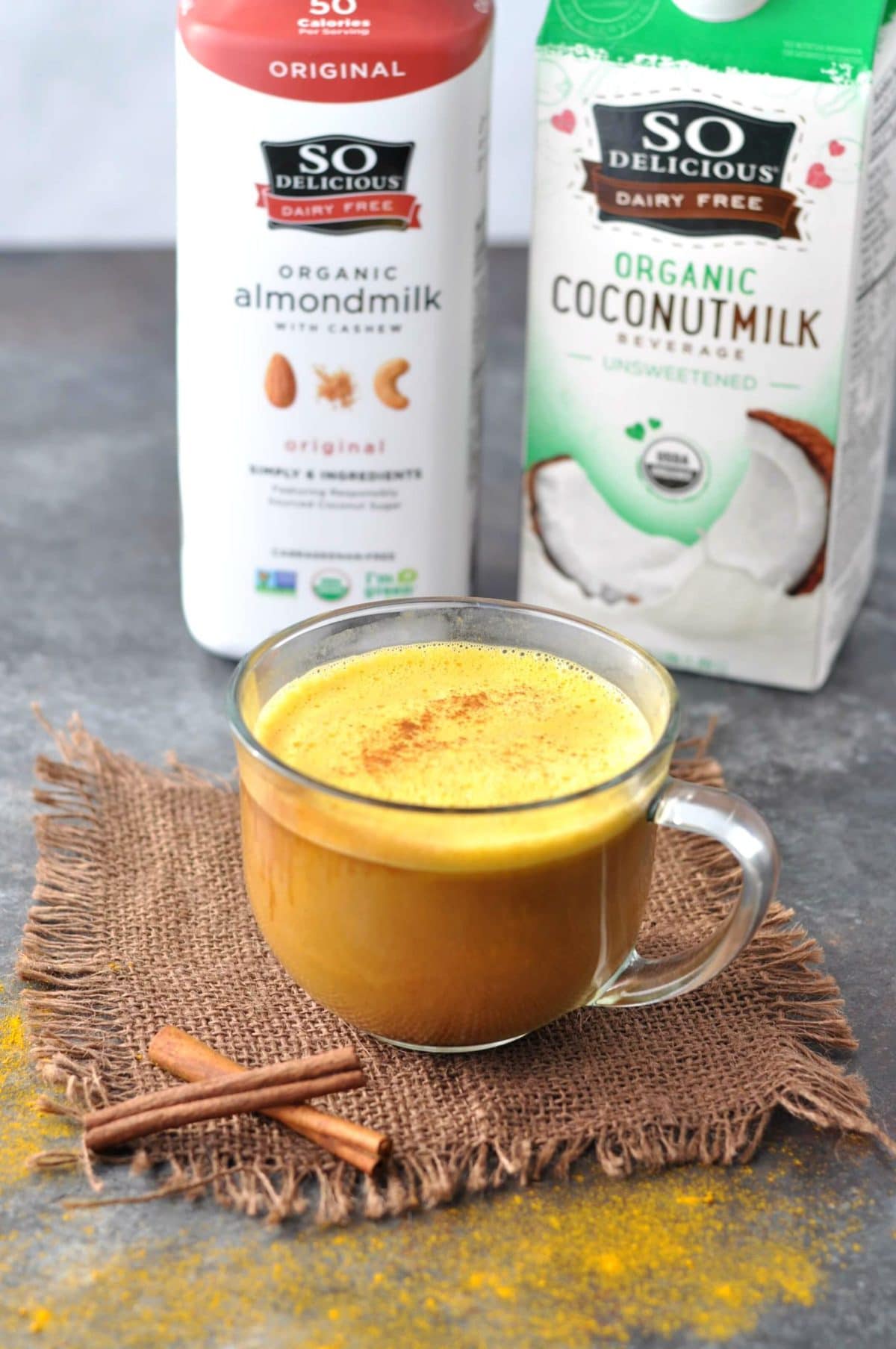 Keto friendly products at Target
When I was approached to do a post for So Delicious Dairy Free and Target, I was over the moon. First of all TARGET!! Hellllo! Target is pretty much my favorite store of all time. You know, the one I go into for mascara and leave with a cart full of things that I never knew I needed. I can't even tell you how many times I have spent hours on a Saturday morning just perusing every single aisle and enjoying some "me" time. Not to mention that they have the best prices! Between using my RED card (a card attached to my checking account that saves me 5% of every purchase), but they have the cartwheel app. It is a free app that helps you save anywhere from 5-50% on products without paper coupons. To use it, you simply choose percent-off offers and cents-off digital manufacturer coupons in the app, then have a cashier scan your unique barcode at checkout. Super easy peasy and it can save you a ton of money. You can download the app here. There are even coupons for 10-15% off certain So Delicious products going on right now!
So Delicious Dairy Free has so many amazing  offerings. Not just nut milks, but cheeses, yogurts, and desserts too. All dairy free! It is incredible to be able to find easy solutions to help me stick with my dairy free keto lifestyle. You can check out their complete product line here.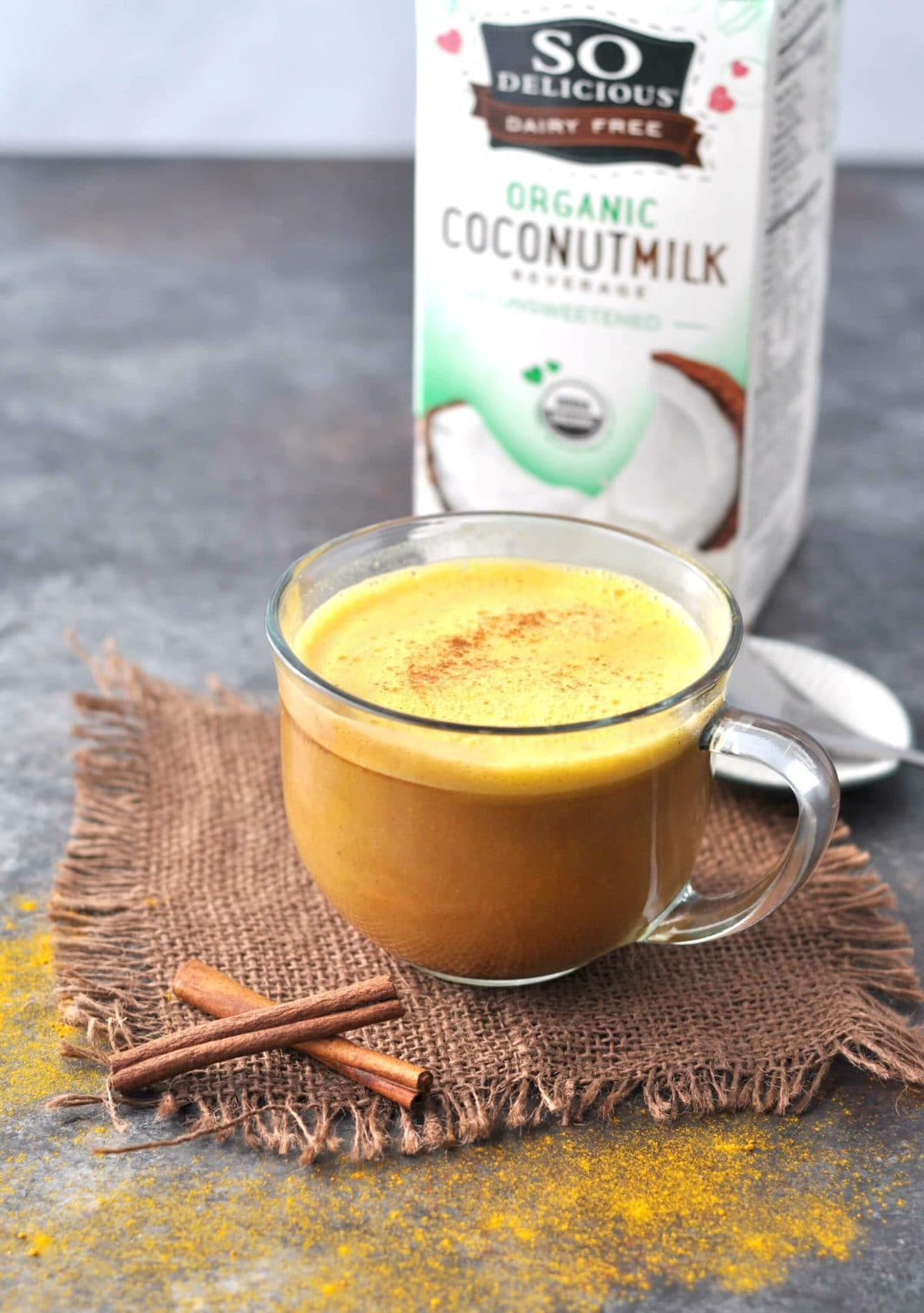 The benefits of this Keto Golden Milk Latte
Now let's talk about Keto Golden Milk Latte. To keep this latte dairy free, I used So Delicious Dairy Free Organic Coconutmilk. It has all the amazing health benefits of turmeric, and is warm and comforting, all while being dairy free and allergen friendly. I gave two different options for making this recipe. One is coffee based and the other is more traditional, but they are both equally delicious. You might even say that it is So Delicious! You see what I did there?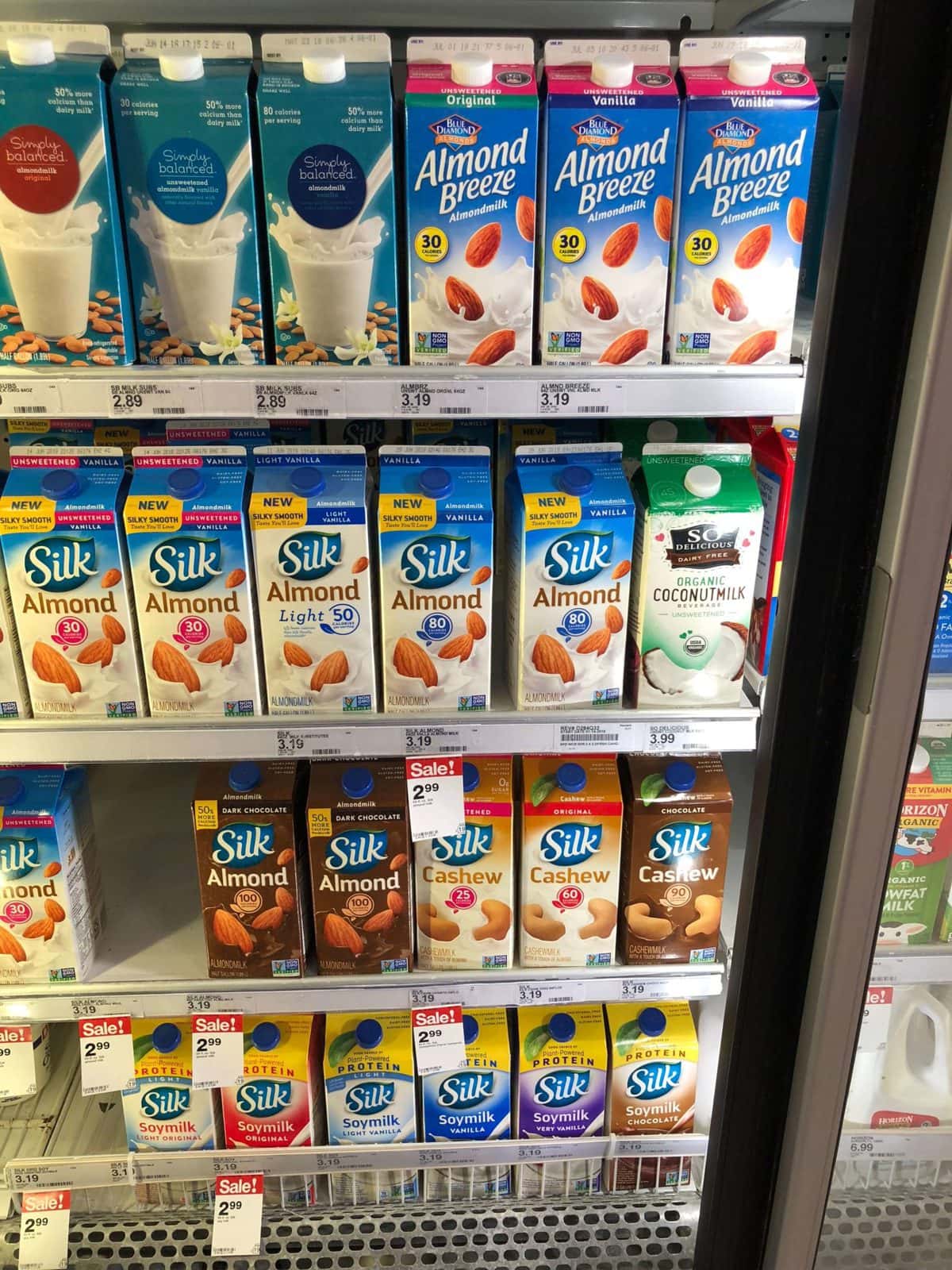 Variations for this Keto Golden Milk Latte
You can try this a few different ways – sweetened, or unsweetened, with espresso or without. I had Jon try each version and he couldn't decide which one he liked the best. Try making the tea first and tasting it. Then add sweetener and see how you feel about it. Then, add the espresso and it just takes it to a whole new level. Coffee lovers unite!!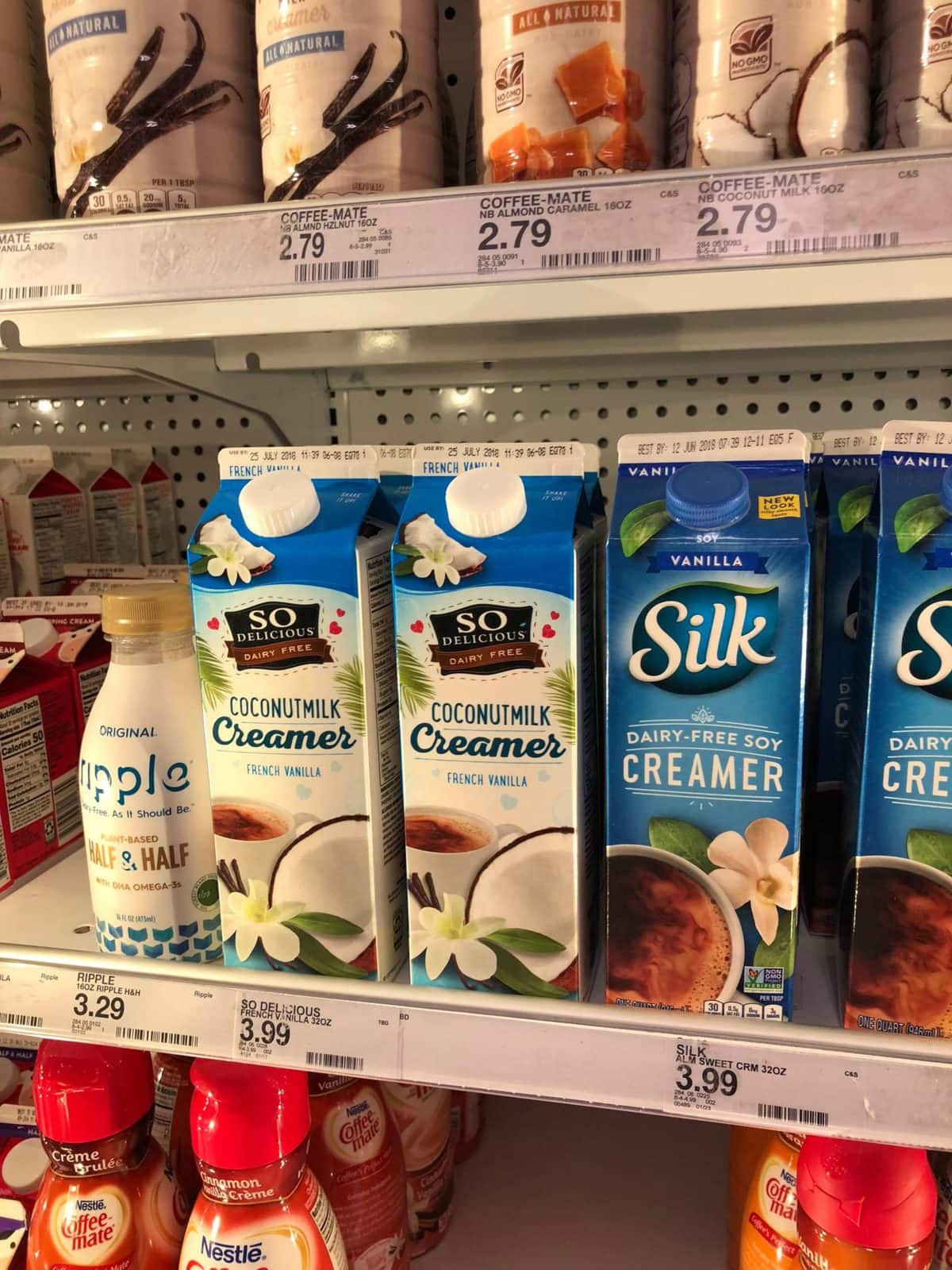 In addition to this Keto Golden Milk Latte, check out some of my other favorite keto coffee recipes:
Print
Keto Golden Milk Latte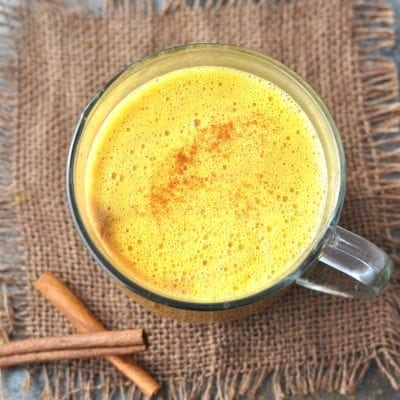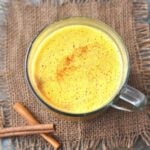 Traditional Golden Milk recipes do not have espresso. I am just a big fan of coffee, so I decided to take a tradition turmeric tea (Golden Milk) and turn it into a frothy, and delicious latte. But the espresso is completely optional. This drink is amazing with or without it. I have provided instructions for how to make it with or without.
Scale
Ingredients
1 1/2 cups

unsweetened coconut milk (I use So Delicious)

1/2 teaspoon

pure vanilla extract (I use this brand)

1/2 teaspoon

turmeric (I use this brand)

1/4 teaspoon

ground cinnamon

1/4 teaspoon

ground ginger (I use this brand)
pinch of black pepper
pinch of Himalayan pink salt

2

shots espresso, optional

1 teaspoon

erythritol, more to taste, optional (I use this brand)
Instructions
With an espresso machine:
Add the coconut milk, or almond milk to the milk steaming pitcher. Add the vanilla extract, turmeric, cinnamon, ginger, pepper, and salt. Stir to mix, and use the steamer wand to heat and froth the milk. This will fully incorporate the spices into the coconut milk.
Pull 2 shots of espresso from the machine and pour them into a mug. Top with golden milk, and sprinkle cinnamon and turmeric on top. Stir in erythritol, to taste, if using.
A More Traditional Take on Turmeric Tea Golden Milk:
Add the coconut milk, vanilla, turmeric, cinnamon, ginger, pepper, salt, and erythritol, if using, to a medium sauce pan over medium heat.
Whisk to combine all ingredients. Heat until the golden milk is hot, but not boiling.
Garnish with a sprinkle of cinnamon and turmeric before serving.
Nutrition
Calories:

82

Sugar:

0.3g

Sodium:

146mg

Fat:

6.2g

Saturated Fat:

6g

Carbohydrates:

4.8g

Fiber:

2.1g

Protein:

0.2g
This is a sponsored conversation written by me on behalf of Danone. The opinions and text are all mine.