These Low Carb Beef Tips in Mushroom Brown Gravy are tender and delicious and the pan sauce makes a fantastic gravy for cauliflower mash.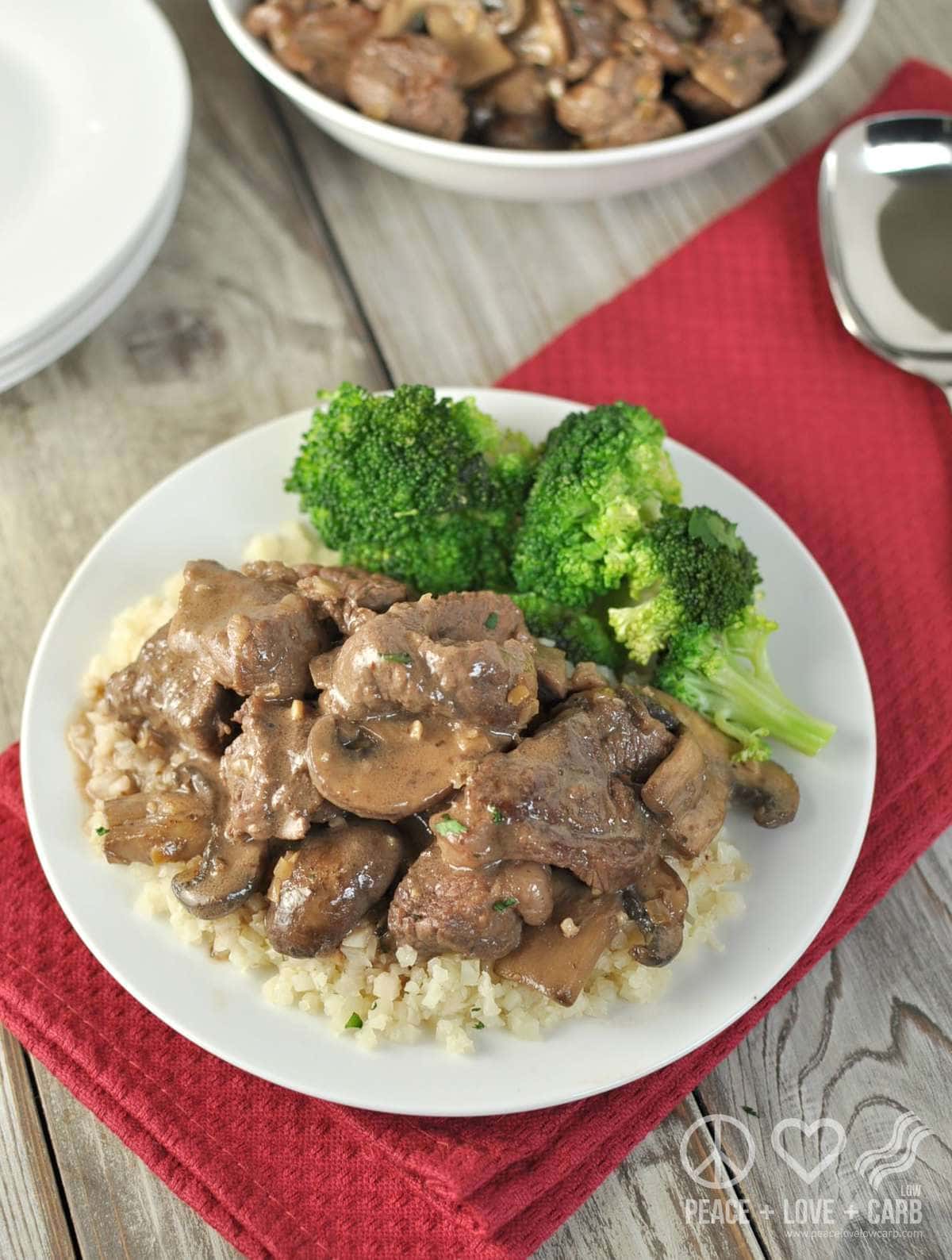 These Low Carb Beef Tips in Mushroom Brown Gravy are nostalgia in a recipe
All during my childhood, if anyone were to ask me what my favorite food was, I would emphatically and loudly exclaim that it was mashed potatoes and gravy. That unwavering love lasted well into adulthood. In fact, it would still be alive and well today if I could get away with eating that many potatoes.
This recipe offers a low carb option for when I'm really wanting to enjoy a meal from my childhood. I hope you'll enjoy it, too!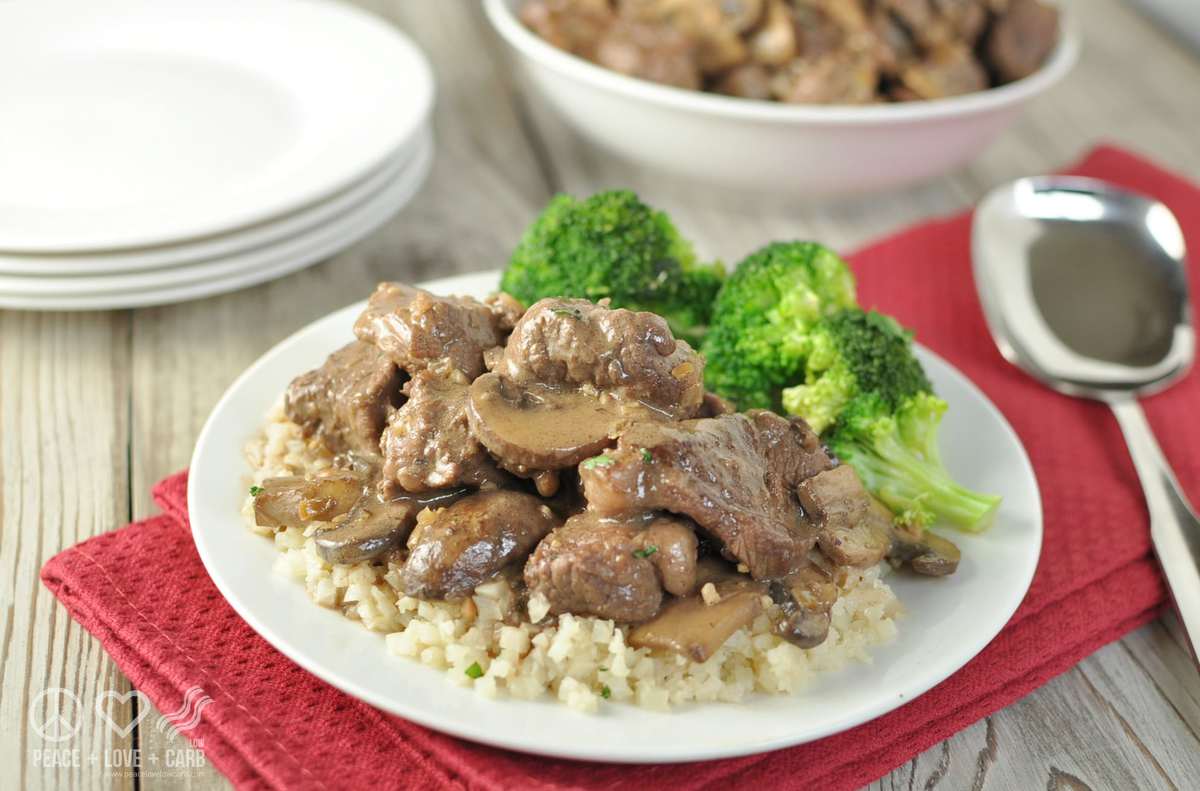 Variations on this keto cauliflower recipe
I came up with a lot of creative cauliflower recipes that helped curb the potato craving, but coming up with a tasty low carb and gluten free gravy was definitely necessary too. The mushroom brown gravy in this recipe is so great over mashed cauliflower or even over chicken or pork. It is very versatile and oh so flavorful. We served this over top of Buttery Cauliflower Rice Pilaf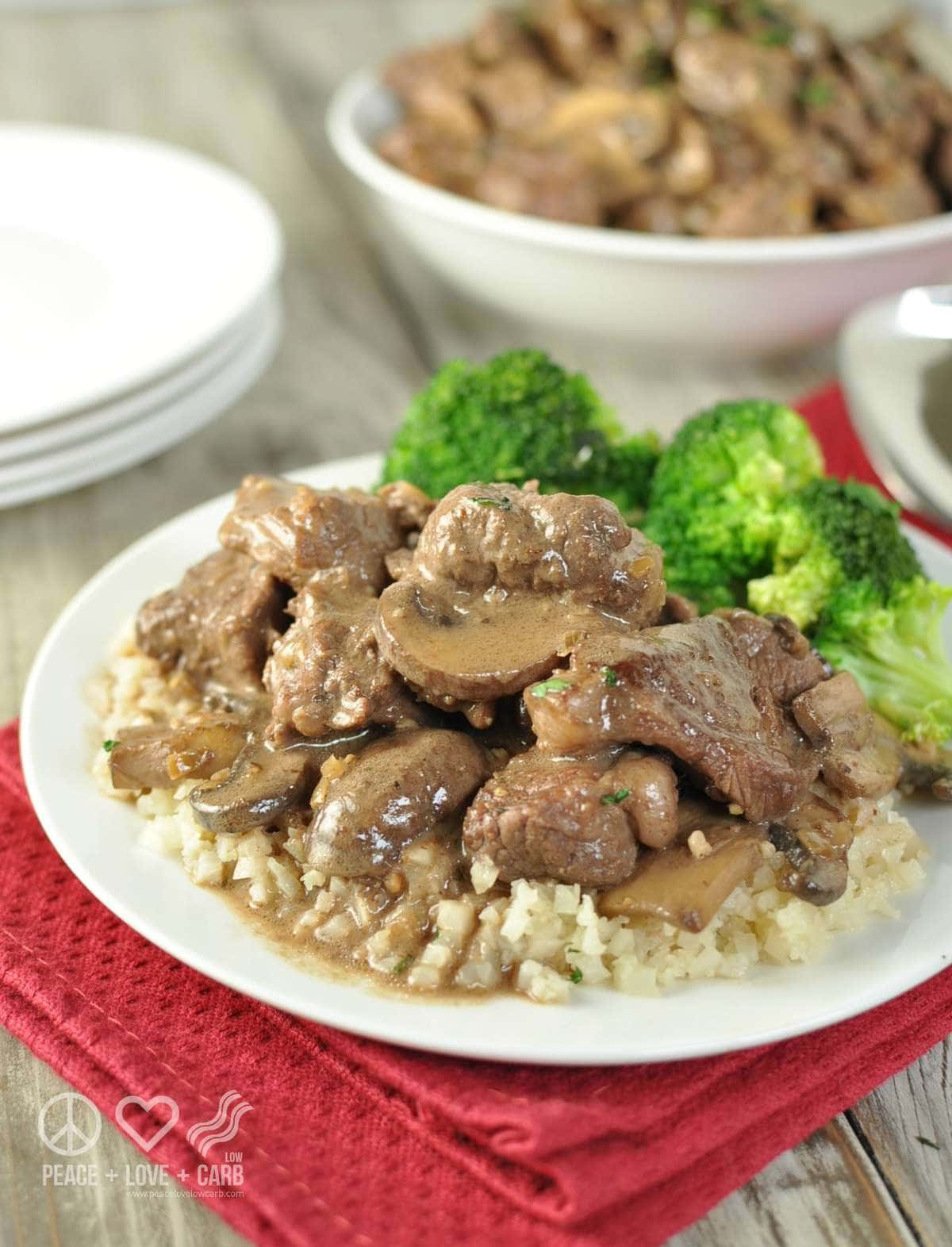 In addition to this keto beef recipe, check out some of my other favorite low carb beef recipes: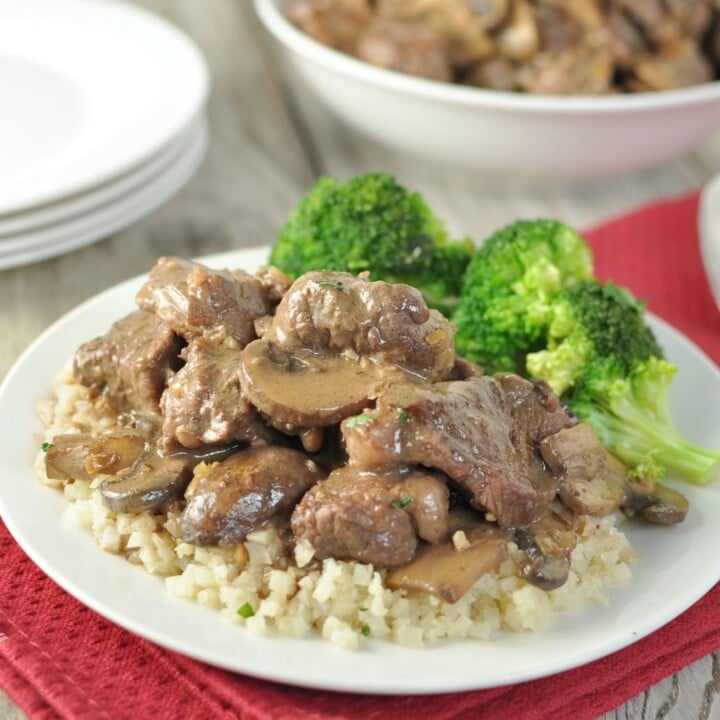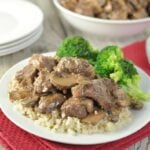 Low Carb Beef Tips in Mushroom Brown Gravy
---
2

pounds stir fry beef
sea salt and black pepper

2 tablespoons

olive oil

2 tablespoons

butter

1

small shallot, finely chopped

2

cloves garlic, minced

2 tablespoons

Worcestershire sauce

8 ounces

cremini mushrooms, thinly sliced

1 cup

beef stock

¼ cup

heavy cream
---
Instructions
Season beef chunks generously with sea salt and black pepper.
Heat olive oil in a large skillet over medium high heat. Once the pan is hot, add the beef to the pan and sear on both sides until nice and browned.
Remove the beef from the pan and set aside. Reduce heat to medium low.
Add the butter, shallot and garlic to the pan. Sauté for 2-3 minutes.
Add the Worcestershire sauce and the mushrooms to the pan. Sauté until the mushrooms have released their liquid and the liquid has evaporated.
Deglaze the pan with the beef broth and use a rubber spatula to scrape up any bits from the bottom of the pan and mix in. Add the heavy cream to the pan and mix in.
Bring to a boil over medium heat and then reduce the heat to low.
Let simmer on low, stirring occasionally until the sauce has started to thicken. About 10 minutes.
Add the beef back to the pan and coat in the sauce. Let cook an additional 5-10 minutes or until the meat is tender and the sauce has finished thickening.
Nutrition
Calories:

561

Fat:

44g

Carbohydrates:

5.5g

Fiber:

0.5g

Protein:

36g
Keywords: low carb comfort food, keto cauliflower recipes, keto comfort food, keto beef recipes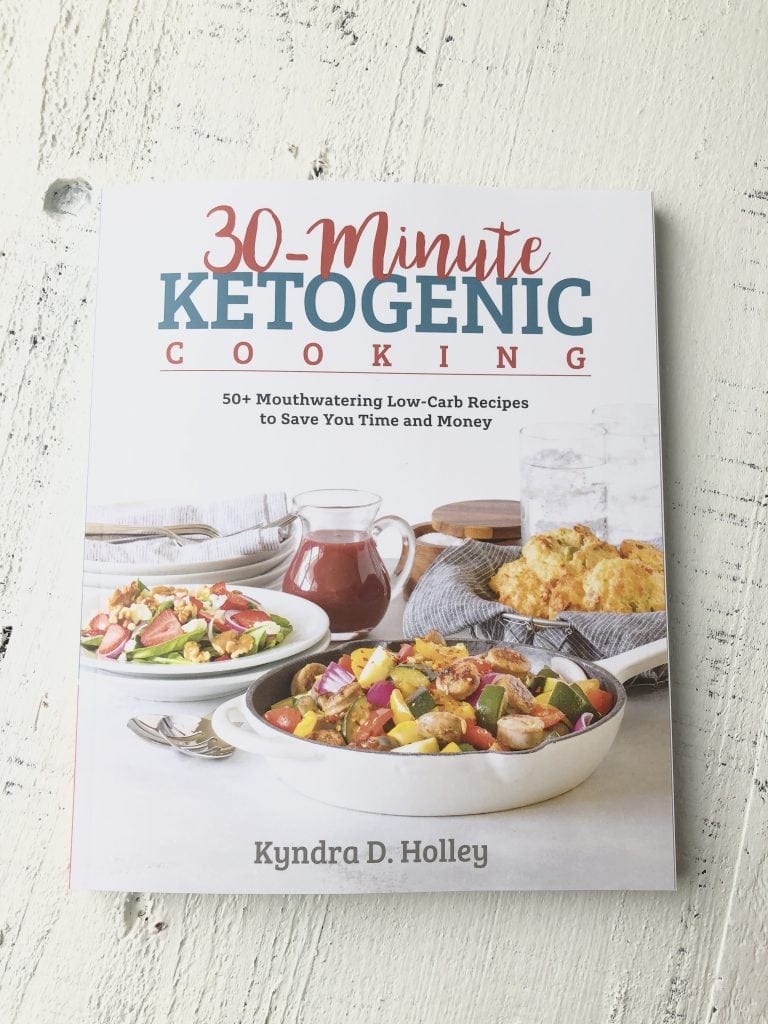 30 MINUTE KETOGENIC COOKING 50+ Mouthwatering Low-Carb Recipes to Save You Time and Money

Check out my other books -
HERE
I am so excited to help with a problem that so many people struggle with – Not having enough time! I can't even count how many times I have heard people say that they just don't have enough time to prepare healthy meals. So, what if I told you that I wrote an entire book of recipes that only require 30 minutes of hands-on time or less?
That's right, every recipe inside can be completed in 30 minutes or less and only contains ingredients that you can easily find at your local grocery store. No funny specialty ingredients here! Only real, whole foods!
50+ Mouthwatering recipes, ready in 30 minutes or less
STARTERS AND SNACKS
Buffalo Chicken Dip
Mediterranean Flat Bread
Dill Pickle Deviled Eggs
Buttery Garlic Crescent Rolls
Tahini Ranch Dip
Pico De Gallo
Cheddar Jalapeno Bacon Biscuits
SALADS
Strawberry Spinach Salad
Shaved Brussels Sprouts and Kale Salad
Greek Salad
Taco Wedge Salad
Cucumber Dill Tuna Salad
Barbecue Chicken Mockaroni Salad
BREAKFAST
Fortune Cookie Waffles
Ham and Spinach Eggs Benedict
Cheesy Pico Eggs
Sausage Balls
Sour Cream and Chive Egg Clouds
Ham and Cheese Waffles
Chicken Cordon Bleu Frittata
LUNCH AND DINNER
Pork Chops with Herbed Goat Cheese Butter
Spicy Sausage and Cabbage Stir-Fry
Zucchini Noodles with Hamburger Gravy
Chicken Sausage and Vegetable Skillet
Sloppy Joe Stuffed Peppers
Cheesy Salsa Verde Chicken Casserole
Greek Meatballs
Grilled New York Steak with Blue Cheese Dijon Cream Sauce
Fish Taco Bowls
Herbed Chicken and Mushrooms
Skillet Chicken Parmesan
Shrimp Piccata
Salisbury Steak
Buffalo Chicken Roasted Cabbage Steaks
Zucchini Noodles with Pesto Cream Sauce
SIDES
Pan-Fried Brussels Sprouts with Creamy Dijon Cider Dressing
Green Onion and Lime Cauliflower Rice
Cheesy Zucchini Gratin
Sauteed Asparagus with Mushrooms and Bacon
Cauliflower Steaks with Cheesy Bacon Sauce
Sauteed Green Beans with Ham
Herbed Goat Cheese Cauliflower Mash
SWEET TREATS
Chocolate Chip Cookies for Two
Mini Blueberry Cheesecakes
Double Chocolate Flourless Brownies
Lemon Mousse
Sesame Shortbread Sugar Cookies
Pumpkin Cheesecake Mousse
Avocado Chocolate Pudding
Hungry? YOU CAN GRAB A COPY -
HERE