All of the delicious flavors of risotto, without all of the carbs. This Low Carb Mushroom Risotto with Cauliflower Rice is sure to be a crowd pleaser.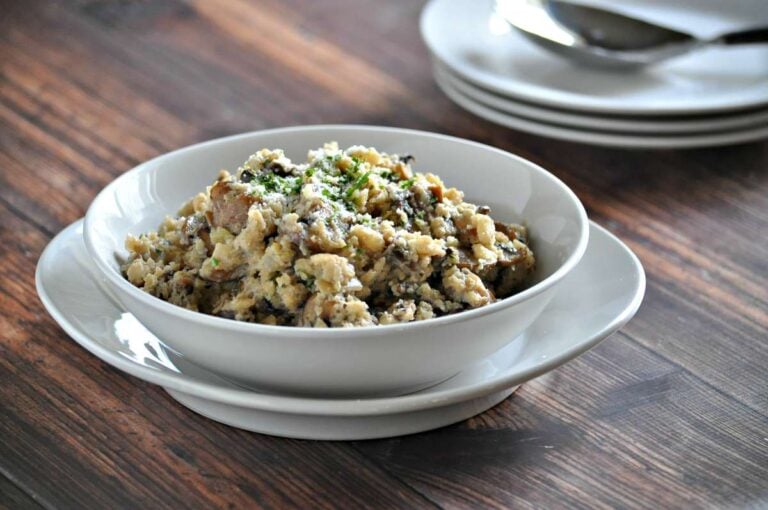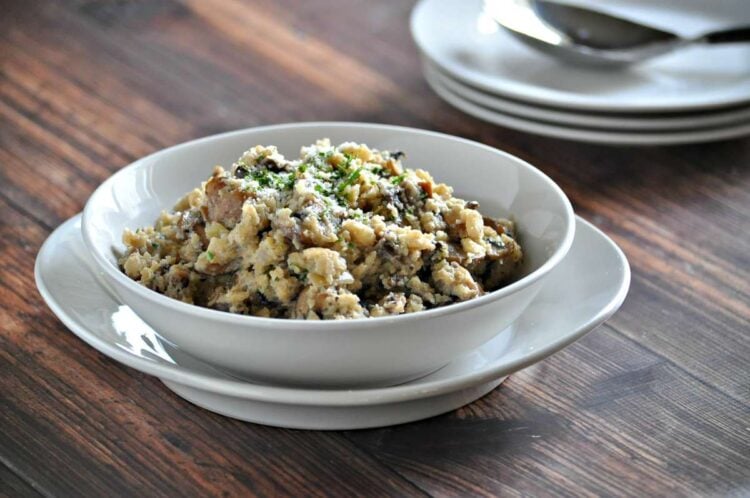 Is there anything that cauliflower can't do? It is the perfect low carb food to simulate low carb potato, pasta and rice recipes. This low carb mushroom risotto rendition does a pretty stellar job of impersonating the real thing. Would you believe me if I told you that I didn't used to like cauliflower? It's true. In fact, I had already made several low carb cauliflower recipes before my low affair with this cruciferous began. Now I can't imagine living a low carb lifestyle without it. Low carb risotto recipes have become one of my favorite things to make with cauliflower. My favorite variation is the Pancetta and Parmesan Cauliflower Risotto recipe from my cookbook - Primal Low Carb Kitchen. And don't forget to check out my newest book - Craveable Keto. For a vegetarian cauliflower risotto variation, substitute the chicken stock for vegetable stock.
Check out some of my other favorite low carb cauliflower recipes:
Mediterranean Low-Carb "Risotto"
Print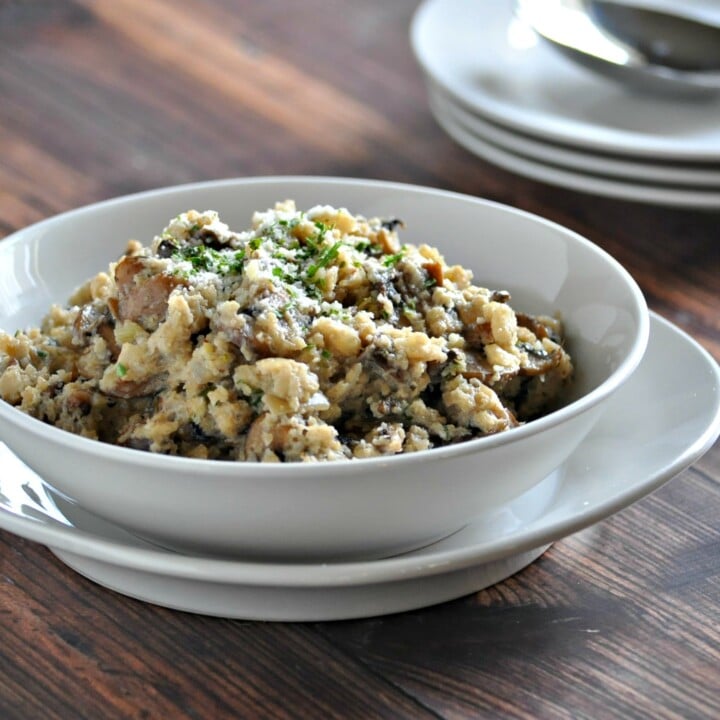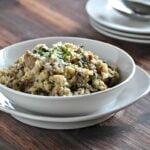 Low Carb Cauliflower Rice Mushroom Risotto
---
2 tablespoons

butter

2 tablespoons

olive oil

6

cloves garlic, minced

1

small onion, diced

1

large shallot, minced

8

ounces

cremini mushrooms, thinly sliced

2

cup

chicken stock, divided

4

cups

riced cauliflower

1

cup

heavy cream

½

cup

grated Parmesan cheese

2 tablespoons

chopped fresh flat-leaf parsley
Sea salt and black pepper, to taste
---
Instructions
In a large sauté pan, heat the butter and olive oil over medium heat. To the pan, add the garlic, onion, and shallot. Sauté until the onions are soft and translucent and the garlic is fragrant. About 5 minutes.
To the pan, add the mushrooms and 1 cup chicken stock. Sauté until mushrooms are soft and have released their liquid. About 5 minutes.
Add the cauliflower and remaining 1 cup of chicken stock and stirring frequently, sauté for 10 minutes.
Reduce the heat to low, stir in the heavy cream, Parmesan cheese, parsley, salt and pepper. Let simmer for 10 to 15 minutes to thicken.
Prep Time:

20 minutes

Cook Time:

30 minutes
Nutrition
Calories:

297

Fat:

26g

Carbohydrates:

Net 7.5g

Protein:

7g