Low Carb Dairy Free Peanut Butter and Jelly PB&J Keto Smoothie. All the flavors of your favorite childhood sandwich in delicious low carb smoothie form.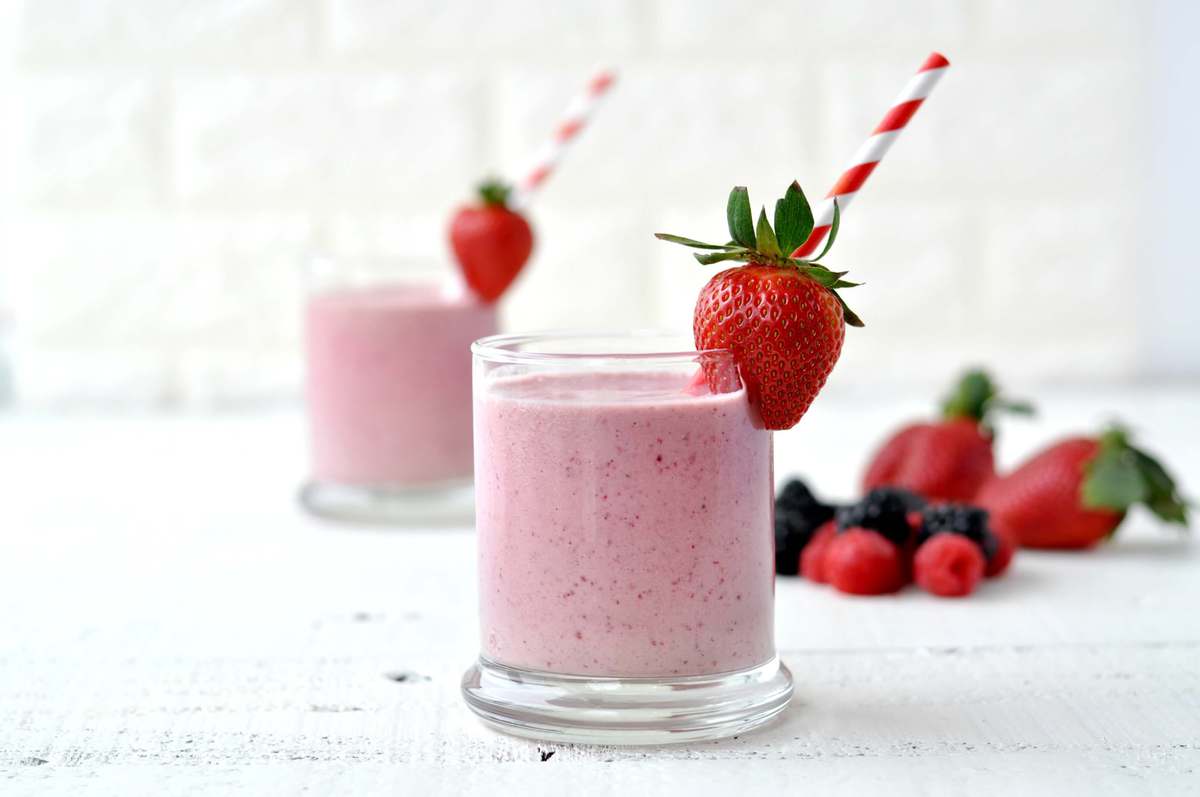 This keto smoothie is basically a dairy free milkshake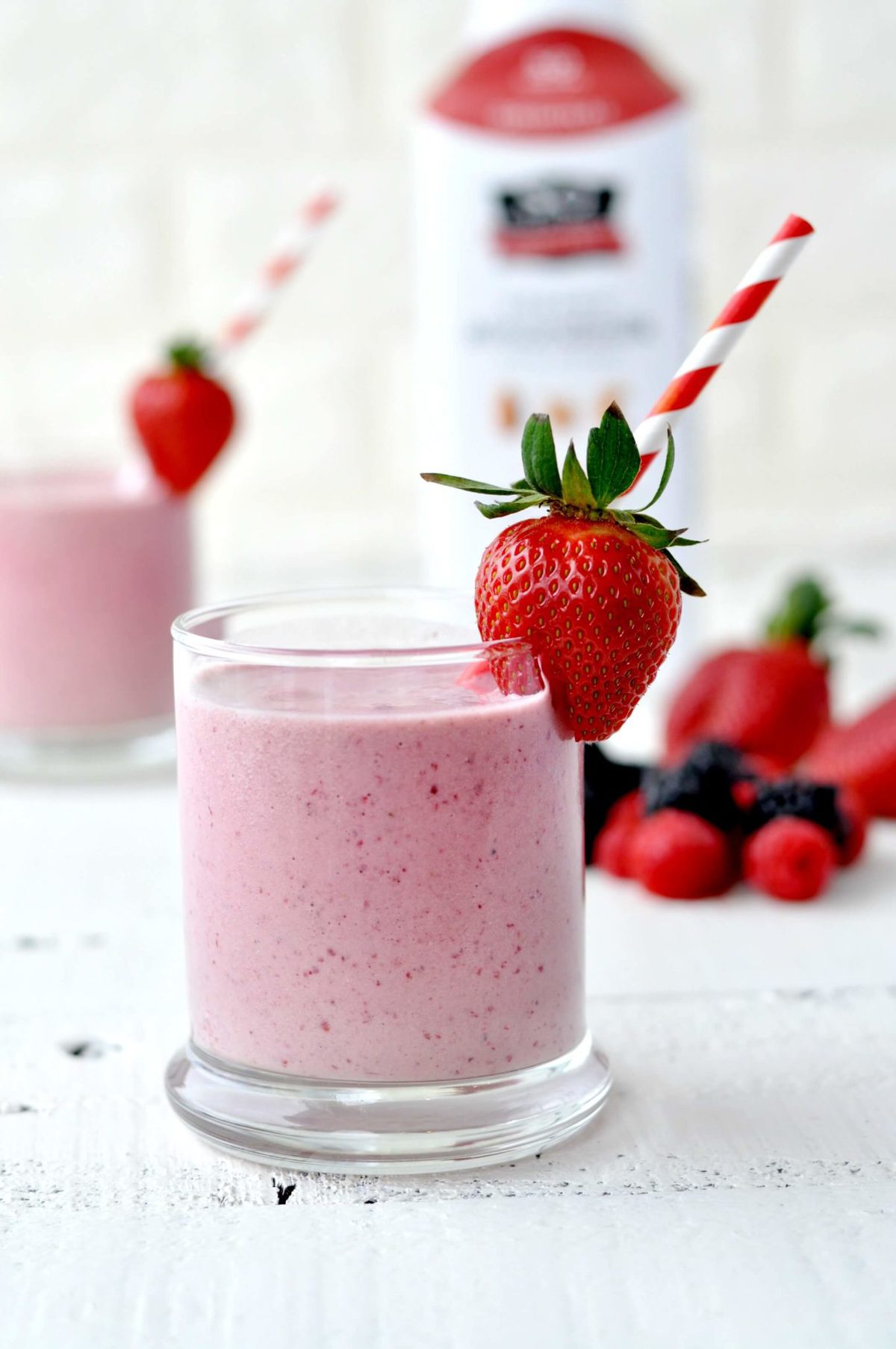 Can I do keto without dairy?
If you have been following me on social media or even here on the blog, then you know that I have recently had to omit dairy and eggs from my diet, due to the onset of food insensitivities and gut health issues.  I am doing an elimination protocol in the hopes of being able to reintroduce them at a later time. Thankfully for me, there are so many great low carb dairy free alternatives on the market. It's hard to miss milk when you have healthy options like almond milk and coconut milk. And for those mornings I'm on the go, a keto smoothie recipe is exactly what I need to keep me fueled in no time flat.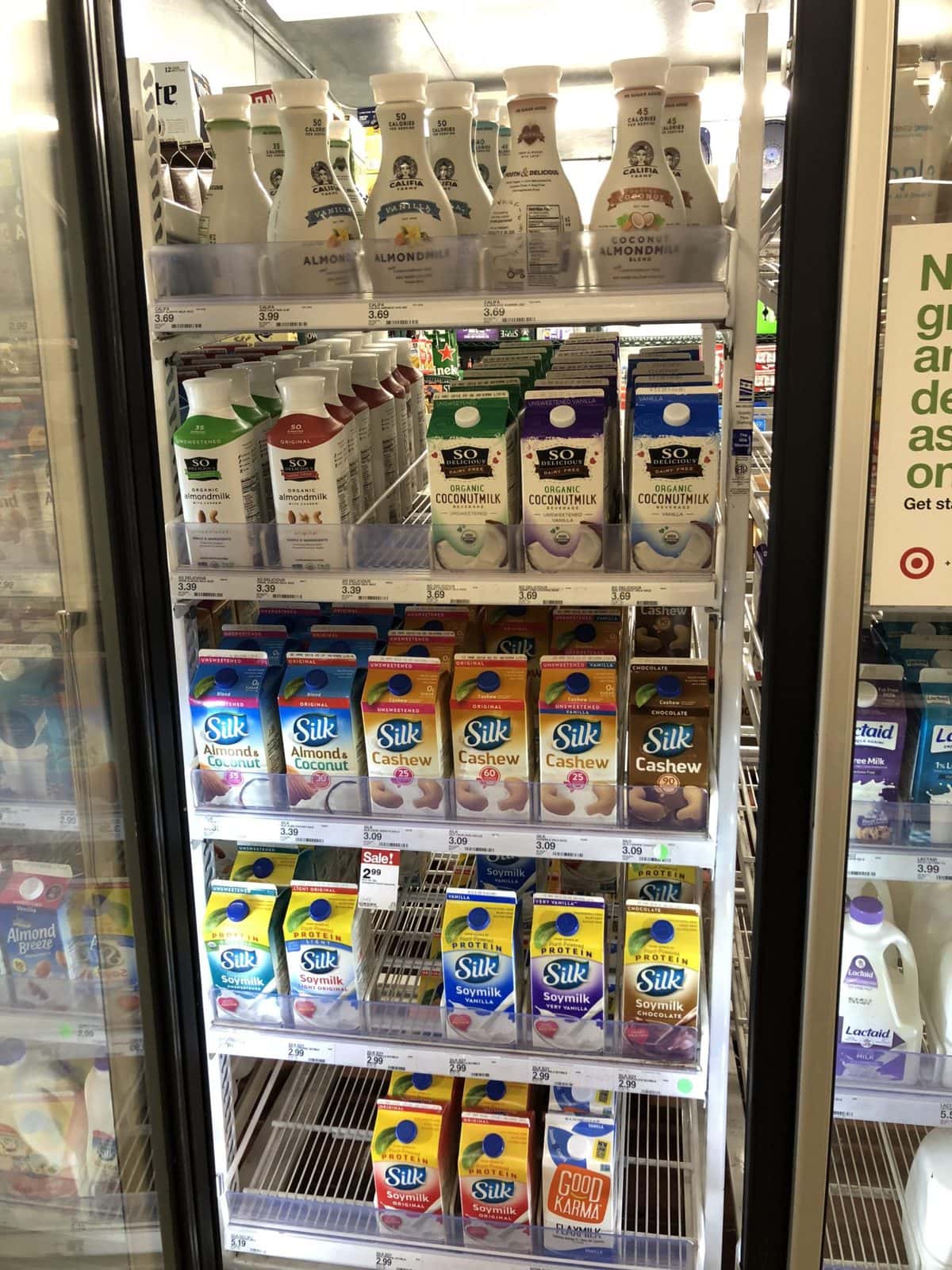 Keto options at Target
When I was approached to do a post for So Delicious Dairy Free and Target, I was over the moon. First of all TARGET!! Hellllo! Target is pretty much my favorite store of all time. You know, the one I go into for mascara and leave with a cart full of things that I never knew I needed. I can't even tell you how many times I have spent hours on a Saturday morning just perusing every single aisle and enjoying some "me" time. Not to mention that they have the best prices! Between using my RED card (a card attached to my checking account that saves me 5% of every purchase), but they have the cartwheel app. It is a free app that helps you save anywhere from 5-50% on products without paper coupons. To use it, you simply choose percent-off offers and cents-off digital manufacturer coupons in the app, then have a cashier scan your unique barcode at checkout. Super easy peasy and it can save you a ton of money. You can download the app here. There is even a 20% off coupon in Cartwheel for all So Delicious Dairy Free products, good from 2/18 – 3/17.
So Delicious Dairy Free has so many amazing  offerings. Not just nut milks, but cheeses, yogurts, and desserts too. All dairy free! It is incredible to be able to find easy solutions to help me stick with my dairy free keto lifestyle. You can check out their complete product line here.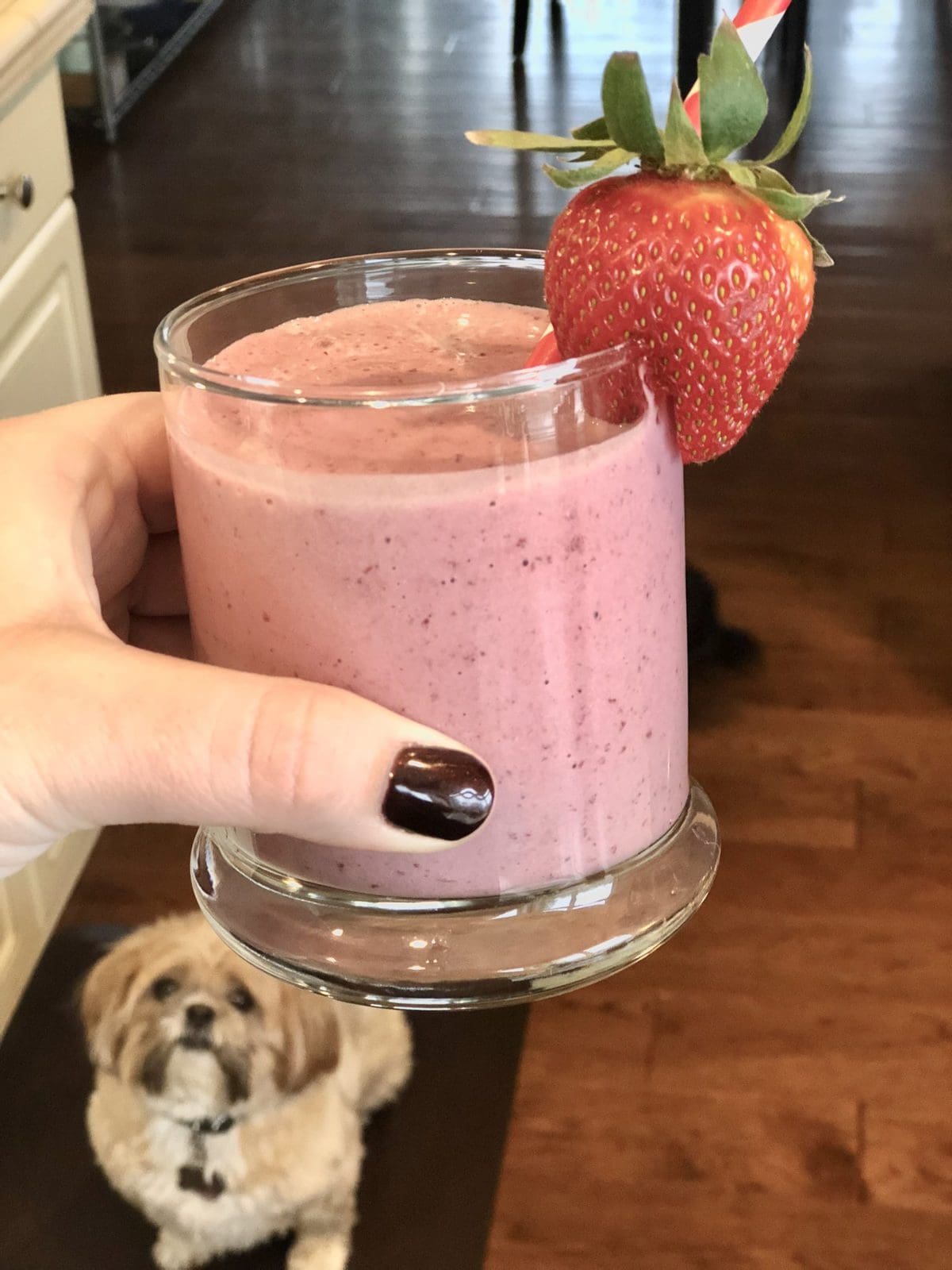 How to make a keto smoothie
Now let's talk about this Low Carb, Dairy Free Peanut Butter PB&J Keto Smoothie recipe. To keep this low carb smoothie dairy free, I used So Delicious Dairy Free Organic Almondmilk. Good keto smoothie recipes are hard to come by. When I switched to a low carb lifestyle, smoothies were one of the things that I missed the most. There is something so comforting and refreshing about drinking a smoothie. Back in my high carb days, I used to order a 32 ounce peanut butter and jelly smoothie. Looking back on it, I don't even want to know how many grams of carbs and sugar those smoothies had. So, when I set out to make a low carb smoothie recipe, I just knew that I wanted it to be a Low Carb, Dairy Free Peanut Butter and Jelly PB&J Smoothie. The end result is delicious. You might even say that it is So Delicious! You see what I did there?
In addition to this Peanut Butter and Jelly Keto Smoothie, check out some of my favorite keto drink recipes:
Print
Low Carb Dairy Free Peanut Butter and Jelly PB&J Smoothie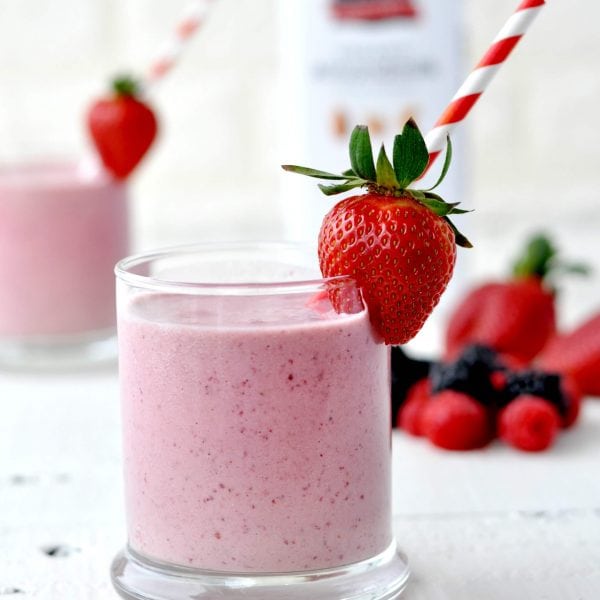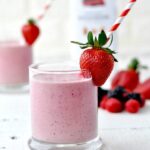 Author:
Prep Time:

5 minutes

Cook Time:

0 minutes

Total Time:

5 minutes

Yield:

2

1

x
Scale
Ingredients
1 cup

frozen mixed berries

2 tablespoon

s peanut butter powder (get it here)

1

scoop dairy free vanilla protein powder (about 30g) (I use this brand)

1 ½ cup

s So Delicious Dairy Free Organic Almondmilk
Instructions
Combine all ingredients in a blender and pulse until smooth and creamy.
Nutrition
Calories:

140

Fat:

4g

Carbohydrates:

11g

Fiber:

5g
This is a sponsored conversation written by me on behalf of Target. The opinions and text are all mine.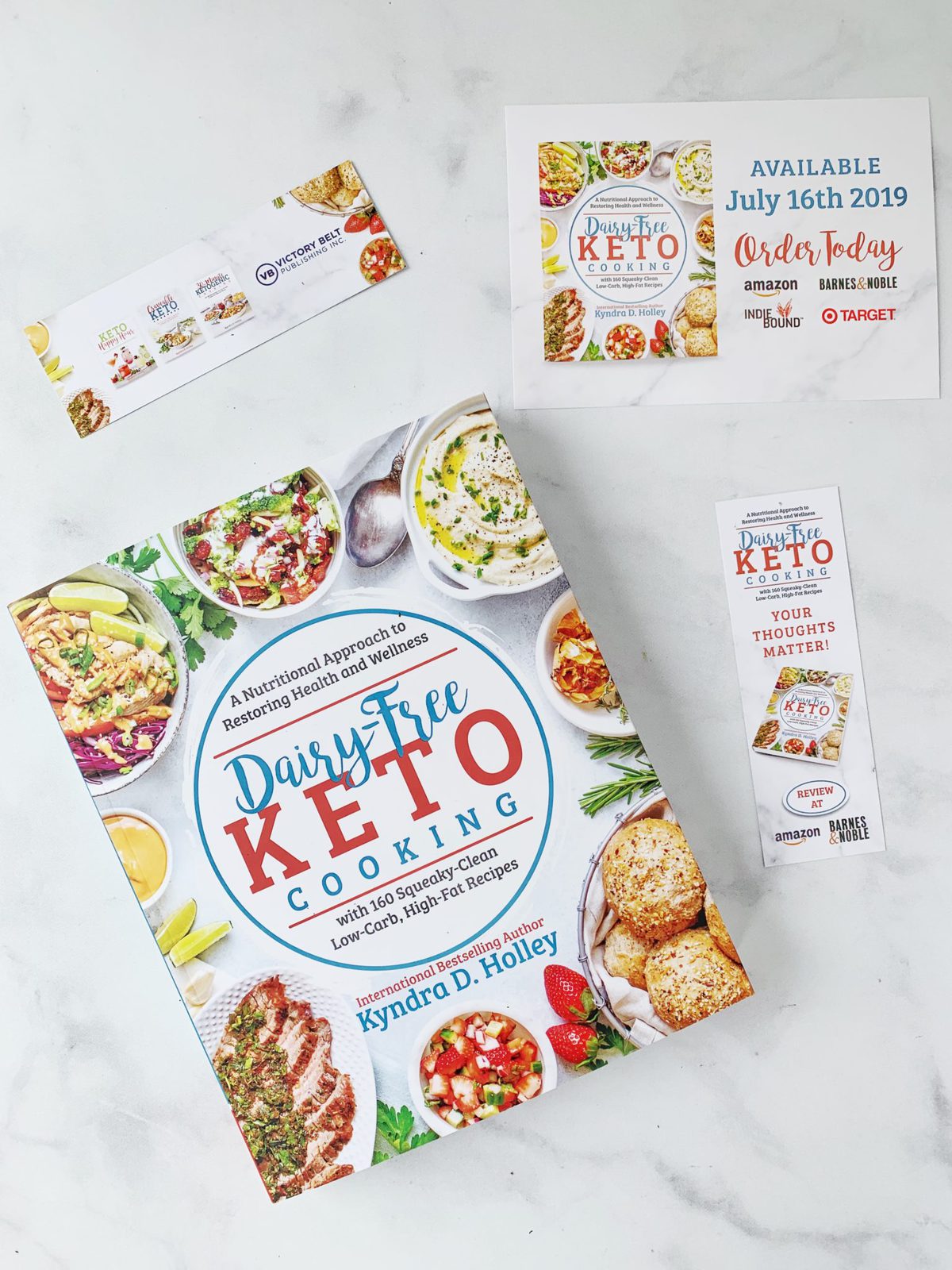 DAIRY-FREE KETO COOKING: A Nutritional Approach to Health and Wellness. With 150 Squeaky Clean Low-Carb, High-Fat Recipes
Check out my other books –
HERE
Using only approachable and accessible, nutrient dense, real food ingredients, I put together a dairy-free keto roadmap that does not require a search for unfamiliar specialty ingredients or that you have a gourmet kitchen. Each one of these delectable recipes is rooted in simplicity and calls for ingredients that can be found at your local grocery store. I'm showing you how to incorporate dairy-free substitutions that go far beyond the coconut.
In addition to tantalizing your palate with tasty recipes, Dairy-Free Keto Cooking will teach you how to restore your health and wellness, while living a lifestyle that nourishes you in mind, body, and spirit. Whether your goal is to lose weight, heal your body from the inside out, or simply find your own personal version of food freedom, I'm here to help you along in your journey to finding your personal path to wellness.
 YOU CAN GRAB A COPY –
HERE
Dairy-Free Keto Cooking features something for everyone. If you suffer from dairy intolerances or food allergies, this is the book for you. If you are someone who just loves easy to make, delicious food, then this book is for you. I added a bit of everything everything, including suggestions for adding or reintroducing dairy for all the cheese loving, quesophiles.
With recipes like this, how could anyone possibly feel deprived?
Slow Cooker Pork Carnitas
Cowboy Style Beef Ragout
Sweet and Spicy Barbecue Ribs
Loco Moco
Pork Tenderloin with Dill Sauce
Flourless Chocolate Lava Cake
Easy Peasy Cuban Picadillo
Salted Caramel Chocolate Chip Cookies
Blueberry Maple Breakfast Sausage
Crab Salad Stuffed Avocado
Scotch Eggs
Supreme Pizza Soup
Jalapeño Popper Chicken Salad Sandwiches
Blackened Shrimp Fettucine Alfredo
and much, much more!
I wrote this book with everyone in mind and it is complete with several different meal plans (paleo, AIP, Egg free, nut free, 30 minute meals) as well as tons of valuable resources. Dairy-Free Keto Cooking will quickly become your go-to cookbook!
YOU CAN GRAB A COPY –
HERE