Keto Chewy Chocolate Chip Cookies - Perfectly chewy and gooey, low carb chocolate chip cookies.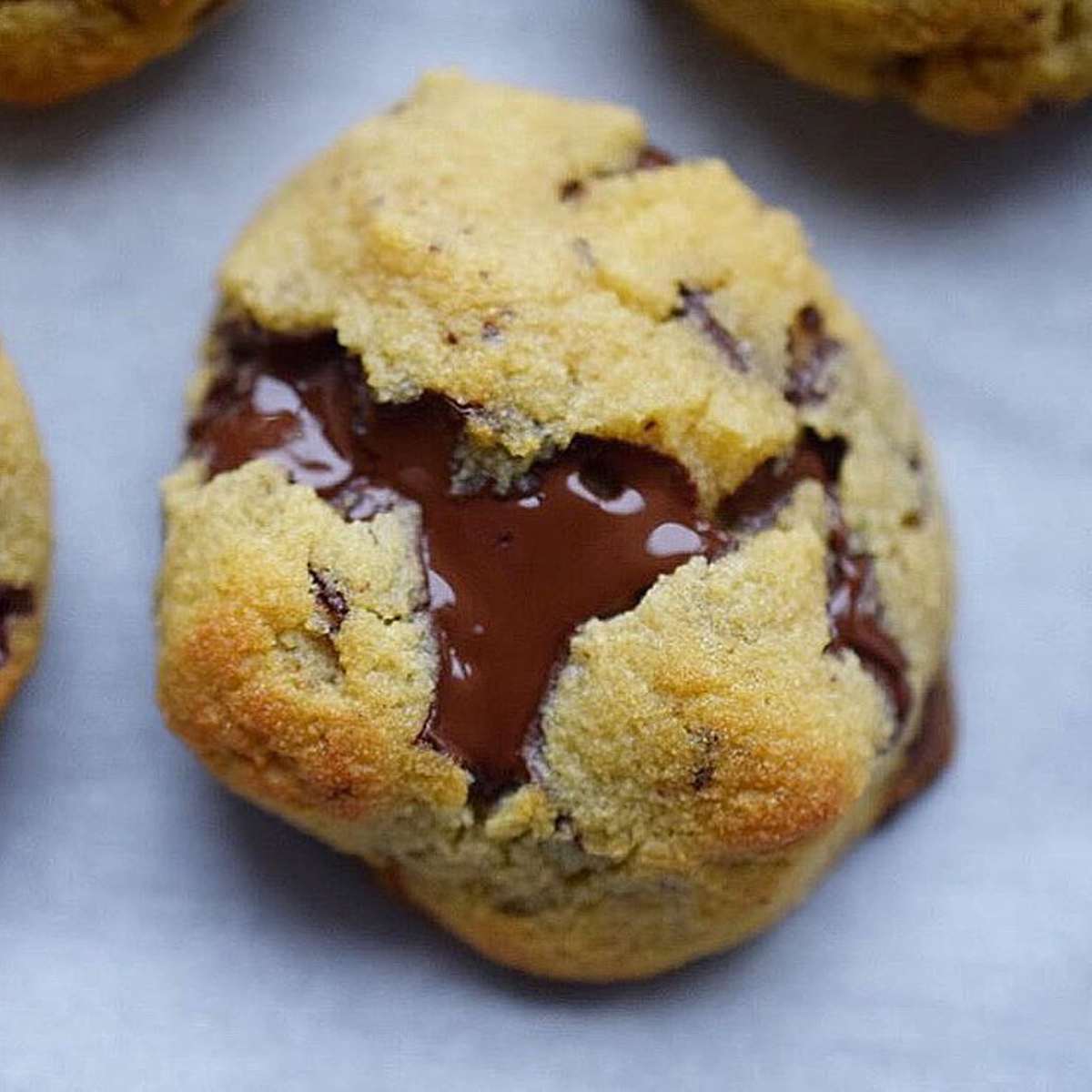 Chewy Chocolate Chip Keto Cookies: your new BFF
Cookies, cookies, cookies! Shout it with me! I am so excited to bring you another delicious keto cookie recipe. A nut-free keto cookie recipe at that. But this time, it is a recipe from my super talented friend Cristina. She is the chef behind the popular blog The Castaway Kitchen. We met online through social media, and a shared love of blogging about real food. From there, it turned into a real-life friendship when we met in Maui. You've got to love any friend that shows up with a fresh batch of low carb cookies to your first meeting. It was love at first bite!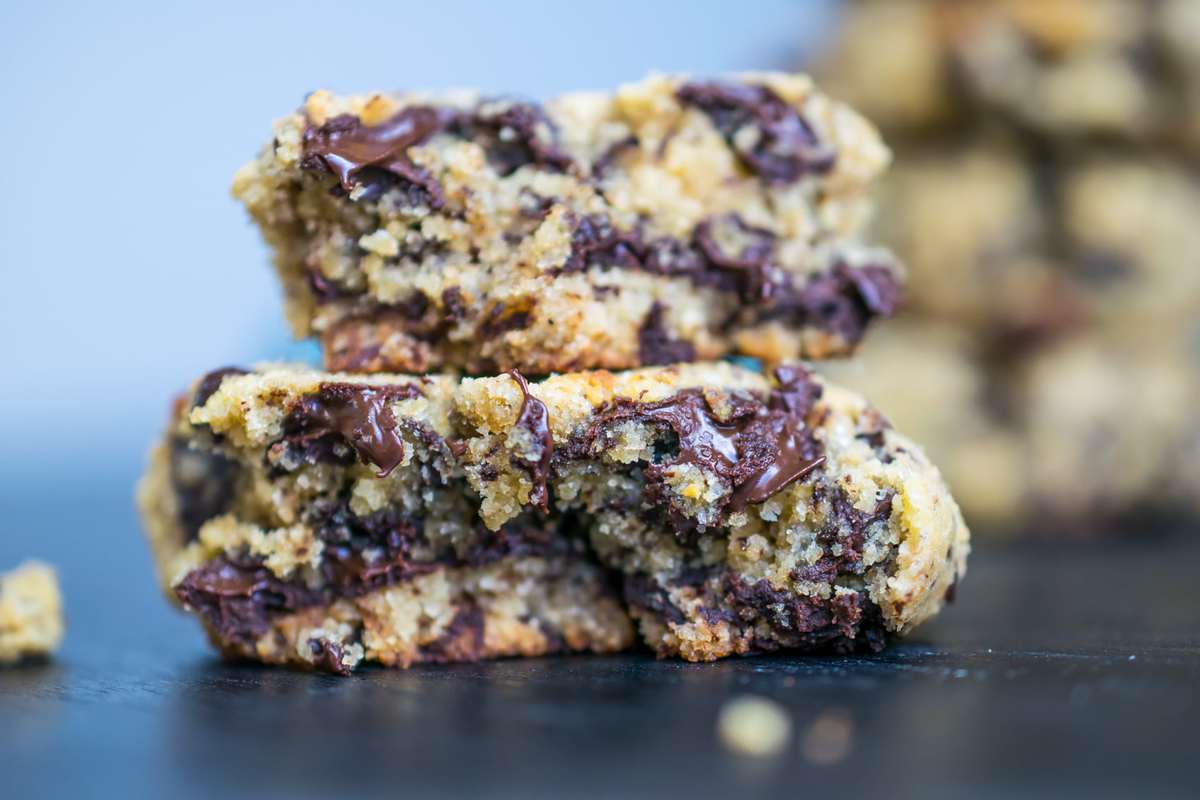 Beyond keto chocolate chip cookies
Not only does Cristina make delicious keto cookies, but she also makes some incredible savory recipes also. In fact, she just wrote her first cookbook. Be sure to read all about it below before skipping straight to the sweet treat!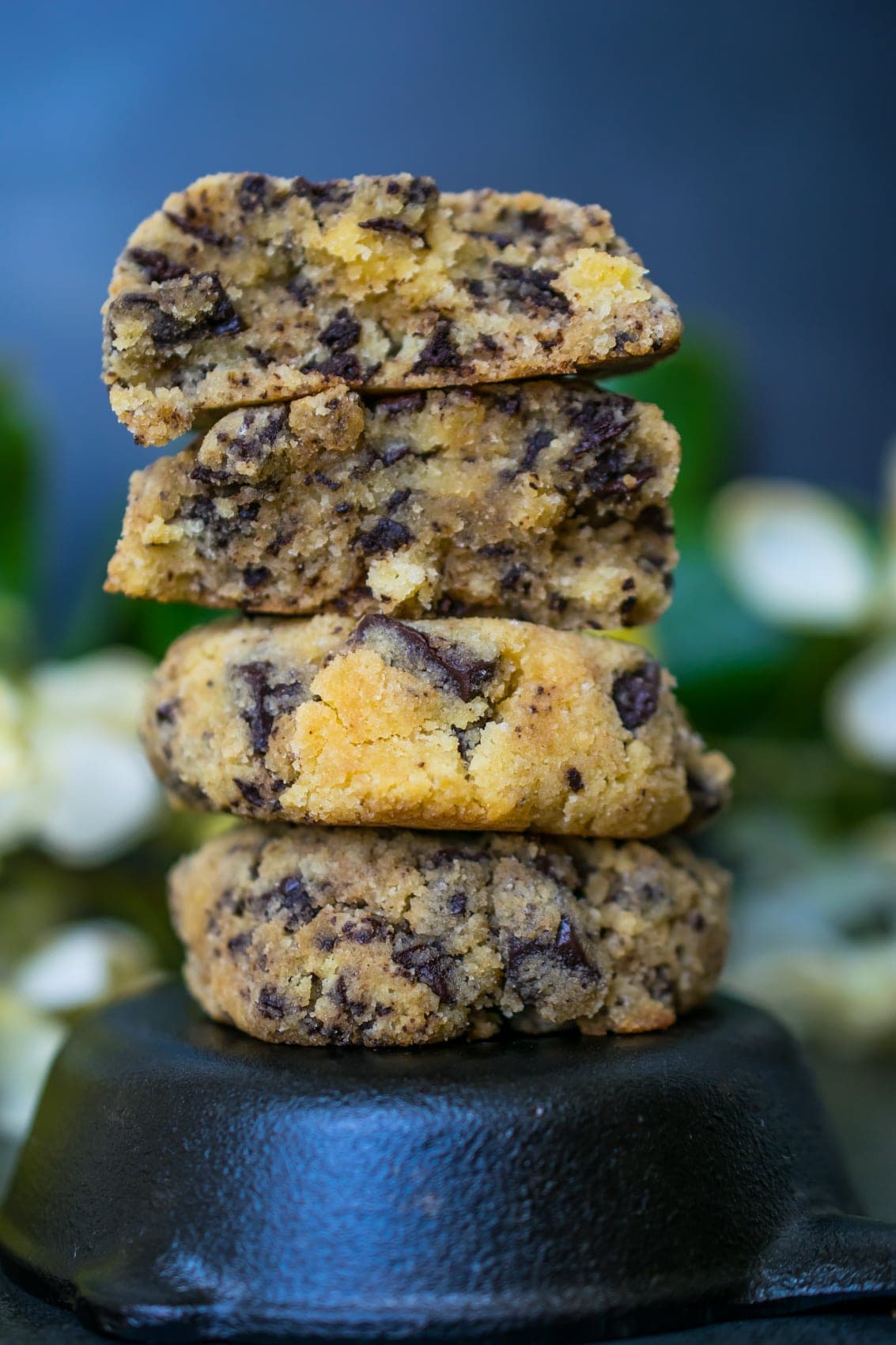 Keto Cookies Straight out of The Castaway Kitchen
From Cristina: Chewy, gooey, better than store bought, keto chocolate chip cookies! These cookies are the real deal. Thousands have already made and loved the Chewy Keto Cookies from my blog The Castaway Kitchen. However, when I gave up nuts because they were stalling weight loss and causing inflammation in my body, I knew I had to re-create them, equally as good! Success! Summer of 2017, while visiting my sister in Florida, these cookies were born.
Keto for Healing
That same week something else incredible happened, I got my first book deal. Kyndra, yes, THIS Kyndra, who I refer to as my fairy godmother and sister from another mister, got me a call with her publisher. Hot damn! I got a book deal. This book, which I so passionately pitched in the summer of 2017, rambling on about my personal struggles with autoimmunity and weight loss. My passion for N=1 experiments and healing through food. This book, which is a culmination of all my of love of food, self-experimentation and healing... it's here!!!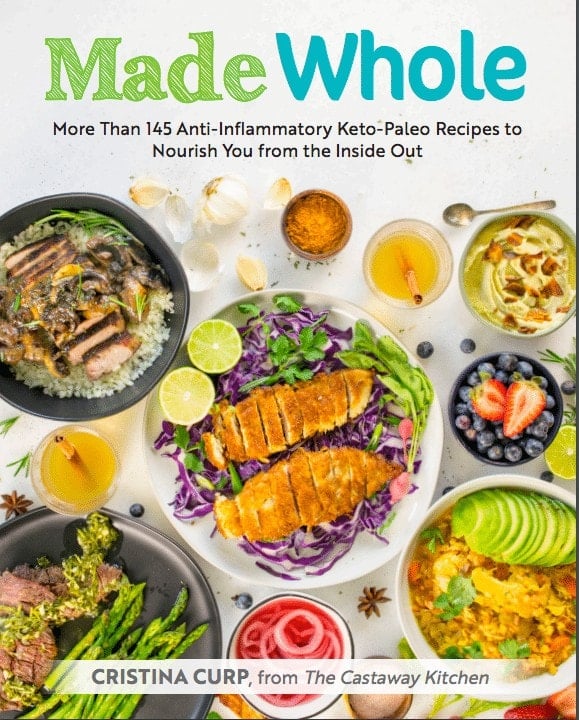 Made Whole: More than 145 Anti-Inflammatory Keto-Paleo Recipes To Nourish You from the Inside Out! (Grab a copy HERE)
This entire book is dairy free and nut free. When butter or ghee are used they are optional and I don't use cream or cheese at all. Most of the recipes have modifications to make the recipes AIP (autoimmune paleo) compliant, egg free or coconut free. The spirit of self-experimentation, healing, self-love and of course love of cooking are woven in these pages.
About the recipes in the book:
AIP or with AIP Mods: 110 recipes
Coconut Free or with Coconut Free Mods: 91 recipes
Egg Free or with Egg-Free Mods: 116 recipes
Whole Ingredient Paleo or with option: 117 recipes
Prep Time, Cook Time, Left Over Storage Info. I also have Time Saving Tips, Chef's Notes and more throughout the book. Macros are included for every recipe.
If you order the book and email me your confirmation to madewholecookbook@gmail.com I'll send you my 35 recipe eBook for free! Order Here Now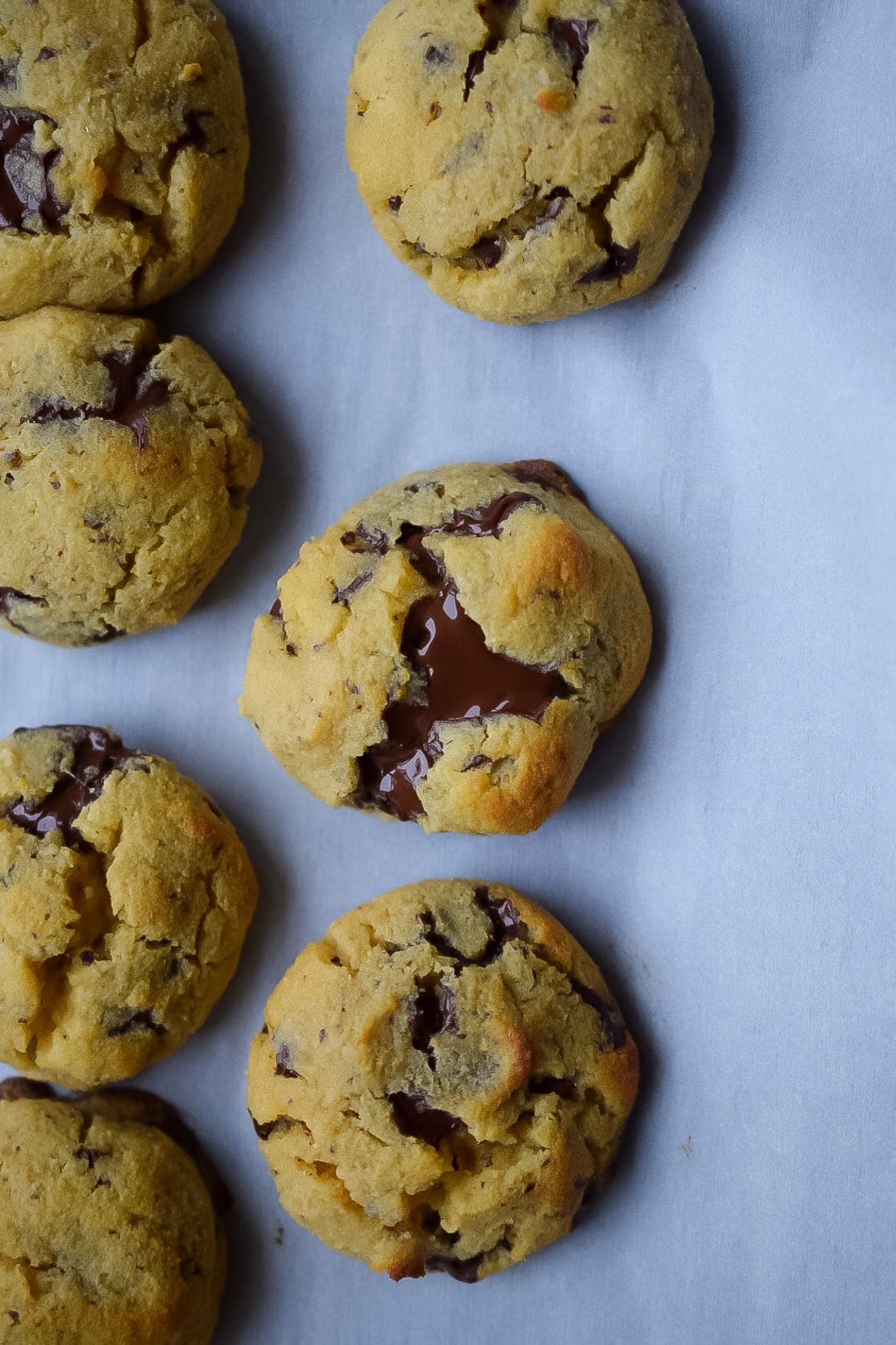 Back to these low carb chocolate chip cookies
When Kyndra and I met in Maui last fall, I took her a batch of these keto chocolate chip cookies. I wanted to share the goodness with my new friend and assure her that her faith in me was not misplaced! Enjoy!
More keto cookie recipes:
Print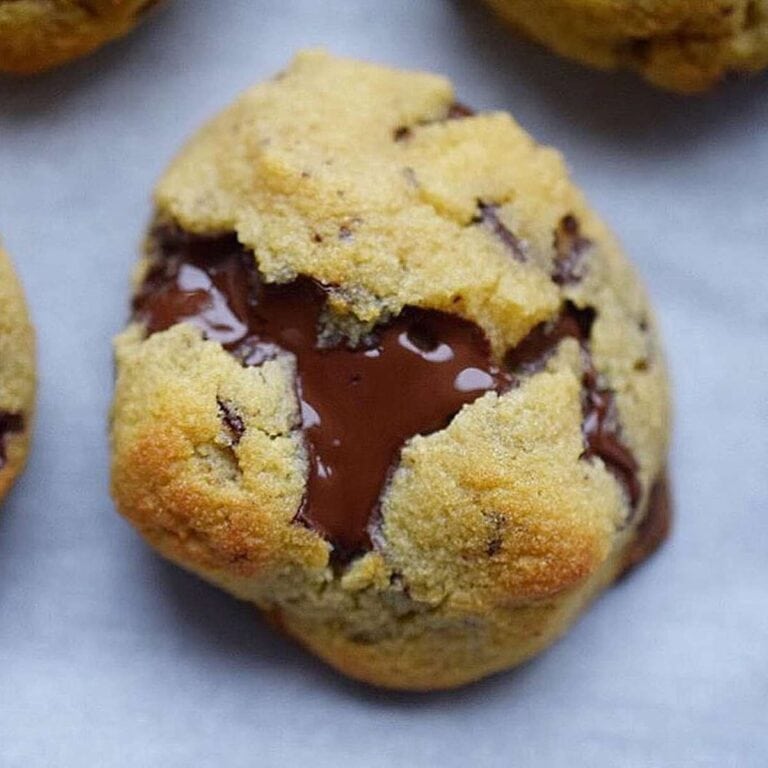 Keto Chewy Chocolate Chip Cookies
---
Description
These Keto Chewy Chocolate Chip Cookies:
Are made using coconut flour, but in such a small amount they do no turn out dry or coconut tasting. The dough is sticky mixed with sweetener, eggs, fat and my secret ingredient… gelatin!
Chopped up low carb chocolate makes the perfect melty pools of chocolate and these are just soft and melt in your mouth out of the oven, and chewy and chocolatey once they cool down.
---
2

large eggs

1 teaspoon

pure vanilla extract ( I use this brand)

⅓ cup

granulated erythritol or other low-carb sweetener (I use this brand)

¼ cup

(

½

stick) unsalted butter, ghee or coconut oil, softened

⅓ cup

plus 3 teaspoons coconut flour

1 tablespoon

unflavored grass-fed beef gelatin (I use this brand)

½ teaspoon

baking soda
Pinch of fine Himalayan salt

1

(4-ounce) bar stevia-sweetened semisweet baking chocolate, finely chopped, or ½ cup stevia-sweetened semisweet chocolate chips (I use this brand)
---
Instructions
Preheat the oven to 350°F. Line a baking sheet with parchment paper.
In a large bowl, whisk the eggs with a fork or wire whisk until frothy. Add the vanilla extract, erythritol, and fat and whisk until well combined.
Add the coconut flour, gelatin, baking soda, and salt to the wet ingredients. Using a rubber spatula, mix the ingredients together until a dough forms.
Fold the chopped chocolate into the dough.
Using a medium-sized cookie scoop or a tablespoon, scoop up a mounded tablespoon of the dough and shape it into a 1-inch ball. Repeat with the rest of dough, placing the dough balls on the lined baking sheet, 2 inches apart. (You should have a total of twelve.)
Using the palm of your hand, gently flatten the balls so they are about ½ inch thick. Bake for 8 to 10 minutes, until the edges are lightly browned.
Remove the cookies from the oven and let them cool to room temperature on the baking sheet before handling. The more they cool, the chewier they will be. Store in an airtight container at room temperature for up to 5 days.
Notes
Substitutions: If you do not have gelatin on hand, you may use unflavored collagen peptides or hydrolysate for the added nutritional benefit and the cookies will turn out perfect, though not quite as chewy as when made with gelatin. If you want to use nut-based flour, try version 1.0 of this cookie, which is made with almond meal. Search for "Keto Chewy Chocolate Chip Cookies" on my blog, thecastawaykitchen.com.
Chef's Note: Although I always recommend letting cookies cool for structural integrity, there is nothing better than a warm cookie in some cold coconut milk. You may burn your fingers or the roof of your mouth, but if melted, doughy cookies are your thing, I give you permission to sneak one fresh out of the oven.
Prep Time:

10 minutes

Cook Time:

8 minutes
Nutrition
Serving Size:

1 cookie

Calories:

63

Fat:

5.6g

Carbohydrates:

2.6g

Fiber:

1.7g

Protein:

2.4g