Fudgy Double Chocolate Keto Brownies and a GIVEAWAY!
DISCLOSURE: ***Some links contained on this page are affiliate links and I may receive monetary compensation or other types of remunerations for any products purchased through these links. This is a sponsored post, however, all thoughts and opinions are my own. If I give a positive review, it is because I feel the product deserves attention and recognition.***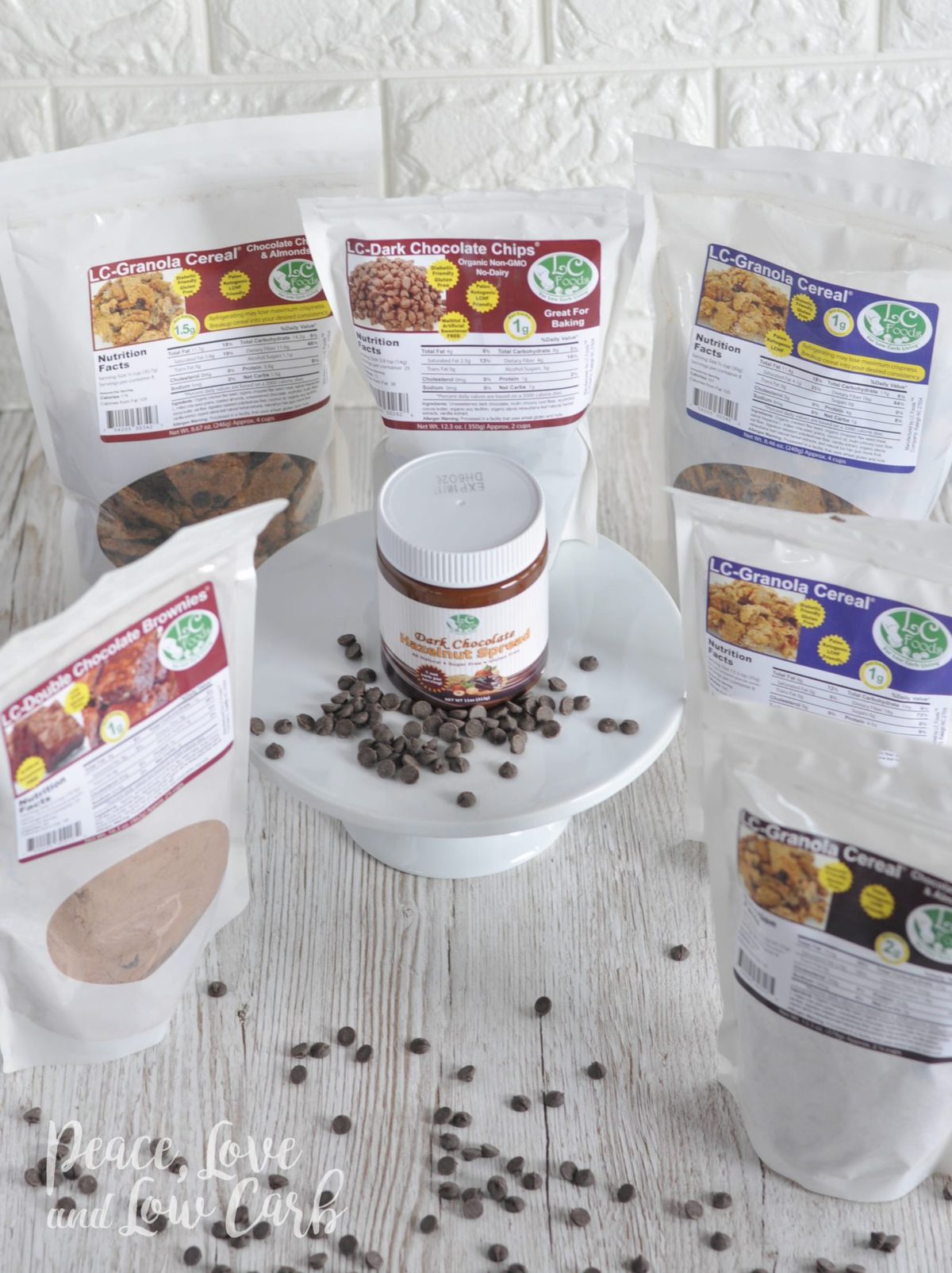 Hey friends!! I am back with some more exciting products from LC Foods Company. Maybe you have no idea what I am talking about? In December I did a review of their amazing Low Carb Breads and Bagels. I even made a delicious Low Carb Cranberry Sauce Cream Cheese Spread recipe to go with it. It might just be my new favorite way to curb a sweet tooth. Rich and creamy, with the perfect amount of sweetness. There was a fantastic giveaway to go with it. You can go back and read all about those products and get the cream cheese recipe here. Well today I am back with another set of awesome low carb and gluten free products and another great giveaway.   They were so generous to send me a giant box of some of their chocolate products. After all, Valentines days is right around the corner. Valentines Day and chocolate go together like bread and butter. Low carb bread of course!
As a refresher, let me tell you a little bit about LC Foods Company, who they are and what they stand for.
WHO IS LC FOODS AND WHAT ARE THEY ALL ABOUT?
From their site: "LC Foods Company is committed to providing our products world wide as good eating choices for the web based consumer, retail store consumer, health food store customer, food service market place, health food distributors, health food professional services, along with healthy eating clinics and diabetic care clinics.
LC Foods Company is dedicated to bringing quality foods to market not previously available to the general public for purchase, including low carb flour blends, low carb milk blends, low carb sugar blends, low carb syrups, sauces, frostings, seasonings, rubs, potatoes, gravy and much more.
LC Foods offers specifically designed foods for all types of diabetic & low carb programs including pre diabetes, type 2 diabetes, diabetes mellitus type 2, those with insulin resistance, impaired fasting glucose, impaired glucose tolerance, borderline diabetes, those with high blood sugar, adult onset diabetes, type 1 diabetic dietary programs and pre-diabetic diagnosed desiring to make dietary changes before the onset of type 2 diabetes. We cater to the low carb community looking for products low in carbohydrates and sugar, as well as individuals recognizing that a low carb lifestyle reducing simple carbohydrates out of their diet will afford them an easier time in weight control and management.
We specialize in low carbohydrate living, diabetic living, weight management living, and low carb diets and dieting. We cater to the diabetic community and individuals who want to reduce carbohydrate intake in their diet with a full line of products very thoughtful to the glycemic index, the glycemic load index, and rich in proteins and fibers. The consumer buying our products can be assured that we have made every effort to insure that our products are void of any simple sugars, corn syrups, wheat, and high carbohydrate flour products, low in net carbohydrates, and high in fiber and protein. We are also dedicated to weight management with all of our products designed to not easily spike blood sugar levels, which releases insulin to create fat storage in the body. LC Food Company is committed to providing these healthy, low carb food products and choices to the health conscious consumer."
Subscribe to their newsletter updates to learn more about their delicious low carb products.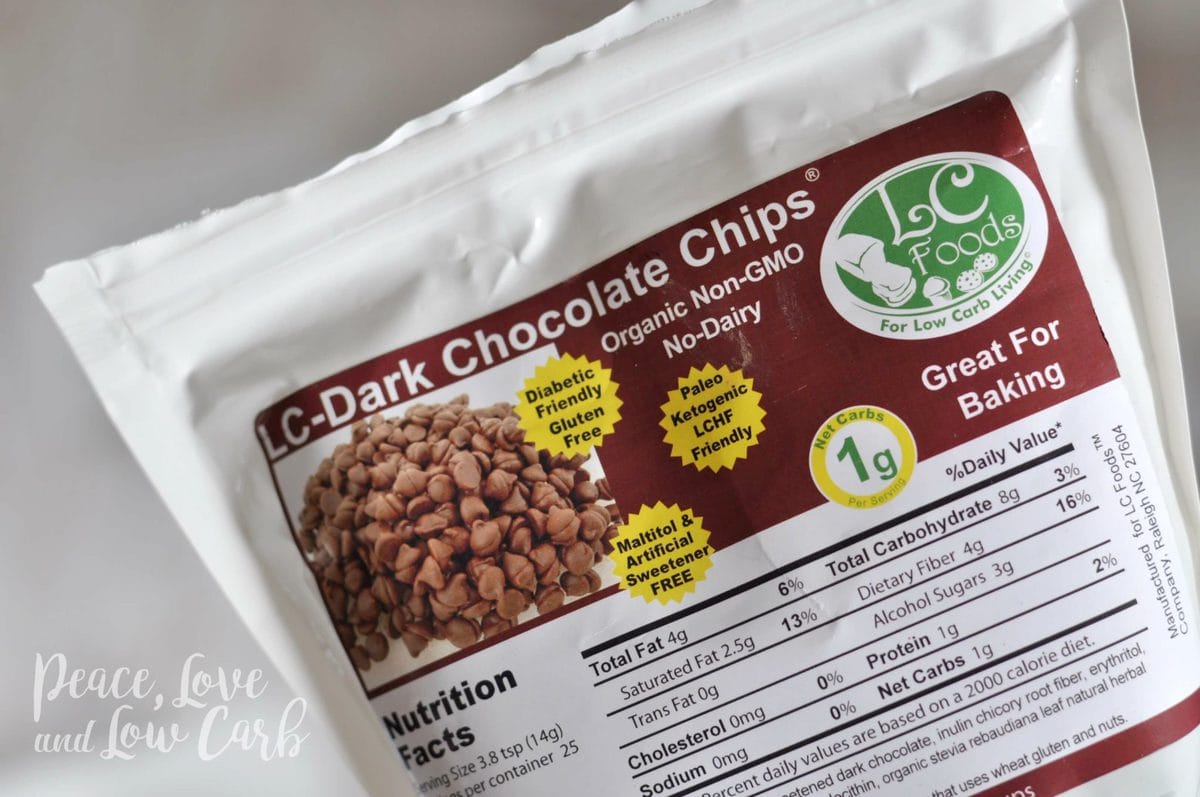 As I said above, this months box was all about chocolate, chocolate and more chocolate. Like these amazing Dark Chocolate Chips. They are only 1 net carb per serving. They are diabetic friendly, gluten free, paleo, organic, non-gmo and dairy free. That is quite the impressive recipe. They have been awesome for baking. I have some exciting recipes in the works that feature these chips. Stay tuned.
They have a pretty extensive low carb and gluten free chocolate section on their website. Many of the options are even paleo friendly. They don't use articial sweeteners, and therefore, their products aren't loaded with a ton of bad sugar alcohols (not all sugar alcohols are created equal) that might cause digestive distress. Did I mention CHOCOLATE? I'm not just talking about chocolate bars, I'm talking about muffins, cupcakes, keto brownies, chocolate chips, granola, cookies, dark chocolate hazelnut spread… just to name a few. You can check out their complete product line here.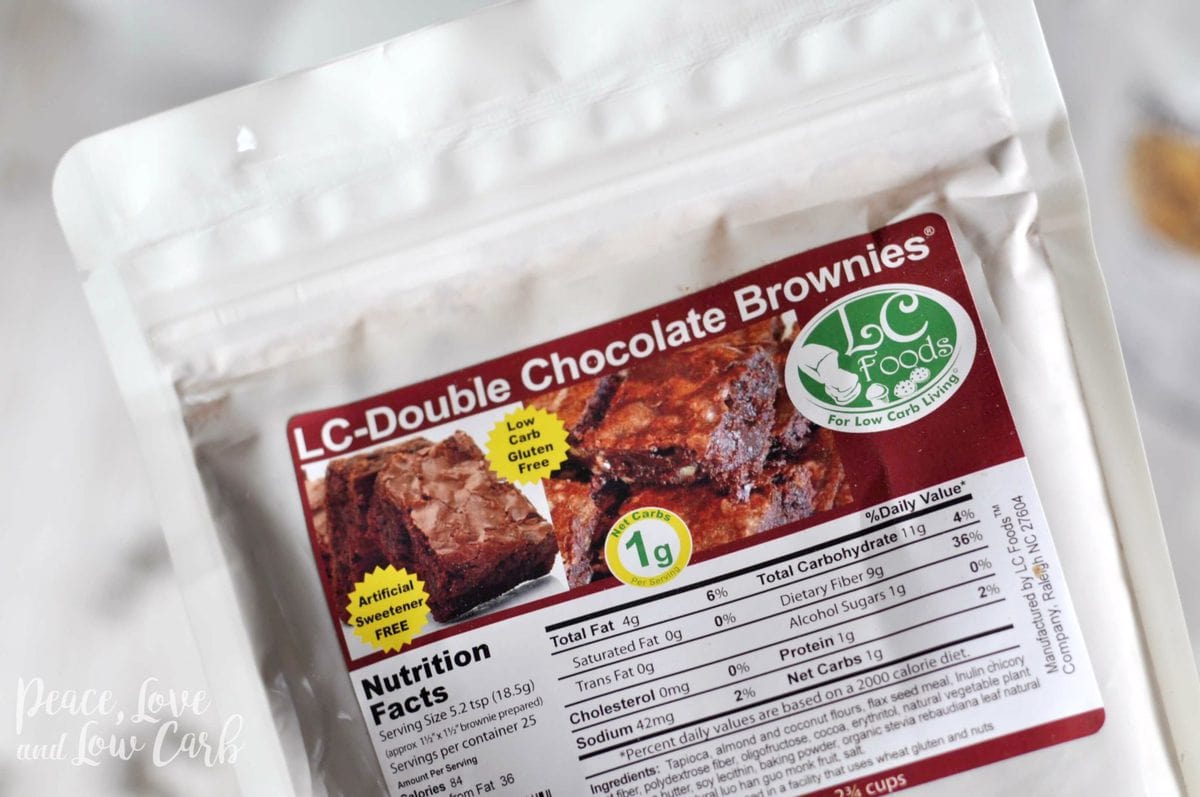 oh hey, did I mention Low Carb Double Chocolate Gluten Free Brownies? I probably should have led with that. They are low carb, gluten free and contain no artificial sweeteners. They come in at just 1 net carb per serving. Did I mention that keto brownies are my favorite sweet treat ever? Especially when they are gluten free keto brownies. As a general rule, my tastes have always gravitated to the savory over the sweet. I am not much for cakes, cupcakes, pies etc. I mean, they taste great, but I don't have a hard time staying away from them. Now keto brownies, that is a different story. A fresh warm pan of gluten free keto brownies will lead me to the kitchen with a butter knife, prying away the perfectly crispy edge pieces. Who's with me on the edge pieces?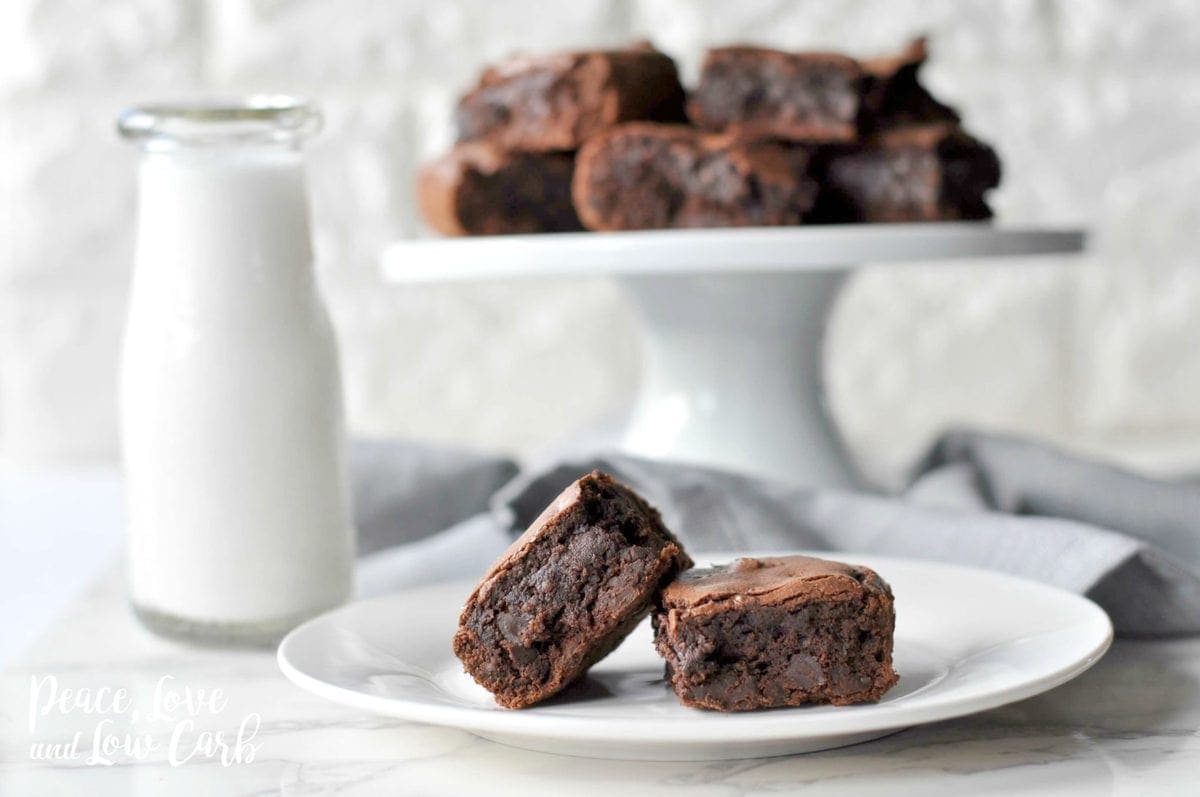 This keto brownie mix was really easy to make. All you need is the mix, eggs, sour cream, butter and vanilla extract. Mix it all together and pop it in the oven. Easy peasy! The end result were these Fudgy Double Chocolate Gluten Free Brownies. They had a dense, fudgy texture with a perfectly crisp and crackly top. We served them with a nice cold glass of coconut milk.
Ingredients: Proprietary blend of tapioca, almond and coconut flours, flax meal, cocoa, Inulin chicory root fiber, polydextrose fiber, baking powder, salt, natural stevia rebaudiana leaf natural herbal extracts, natural luo han guo monk fruit.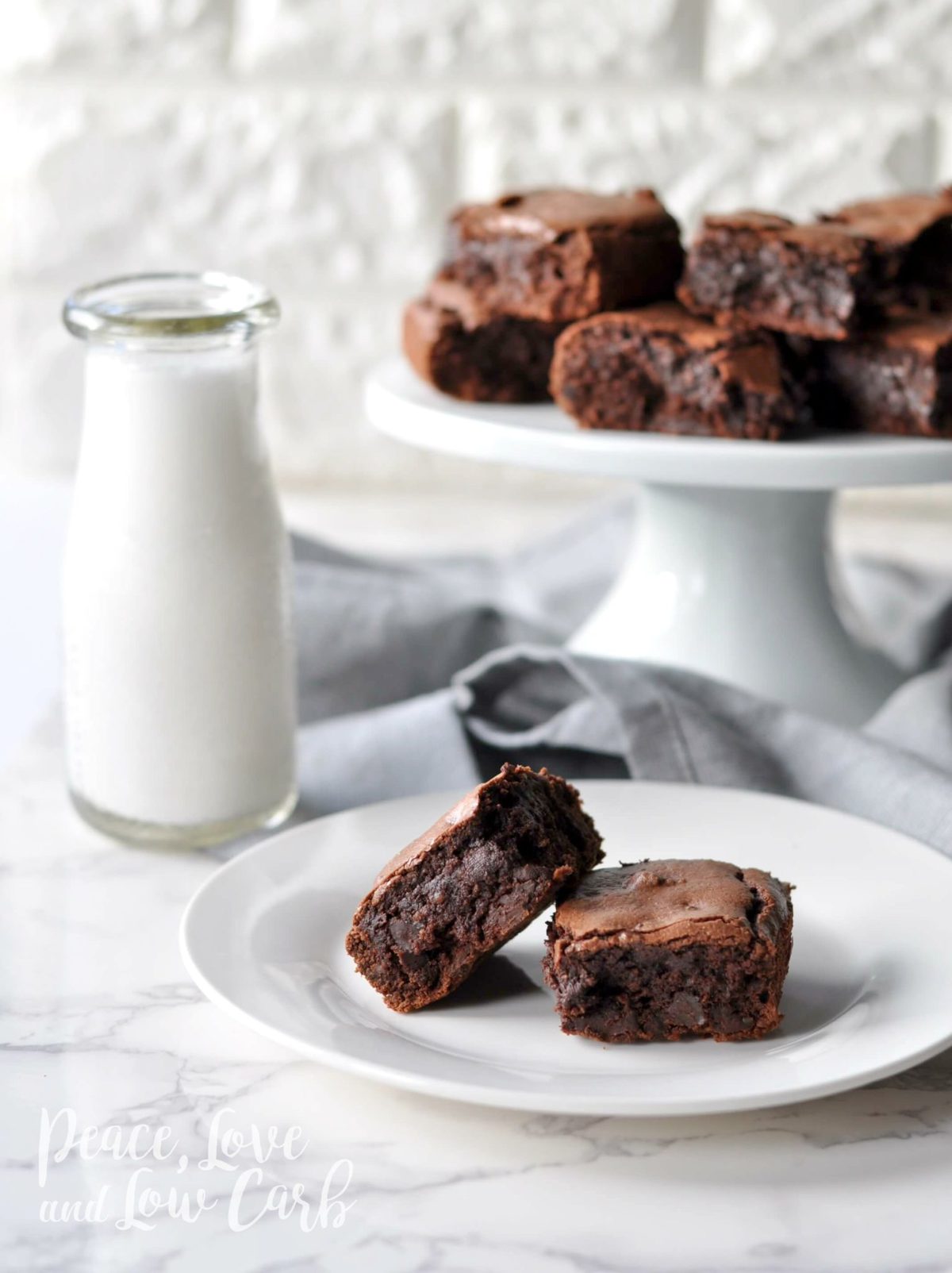 I even took it upon myself to frost these keto brownies with the Dark Chocolate Hazelnut Spread. Hello, low carb Nutella!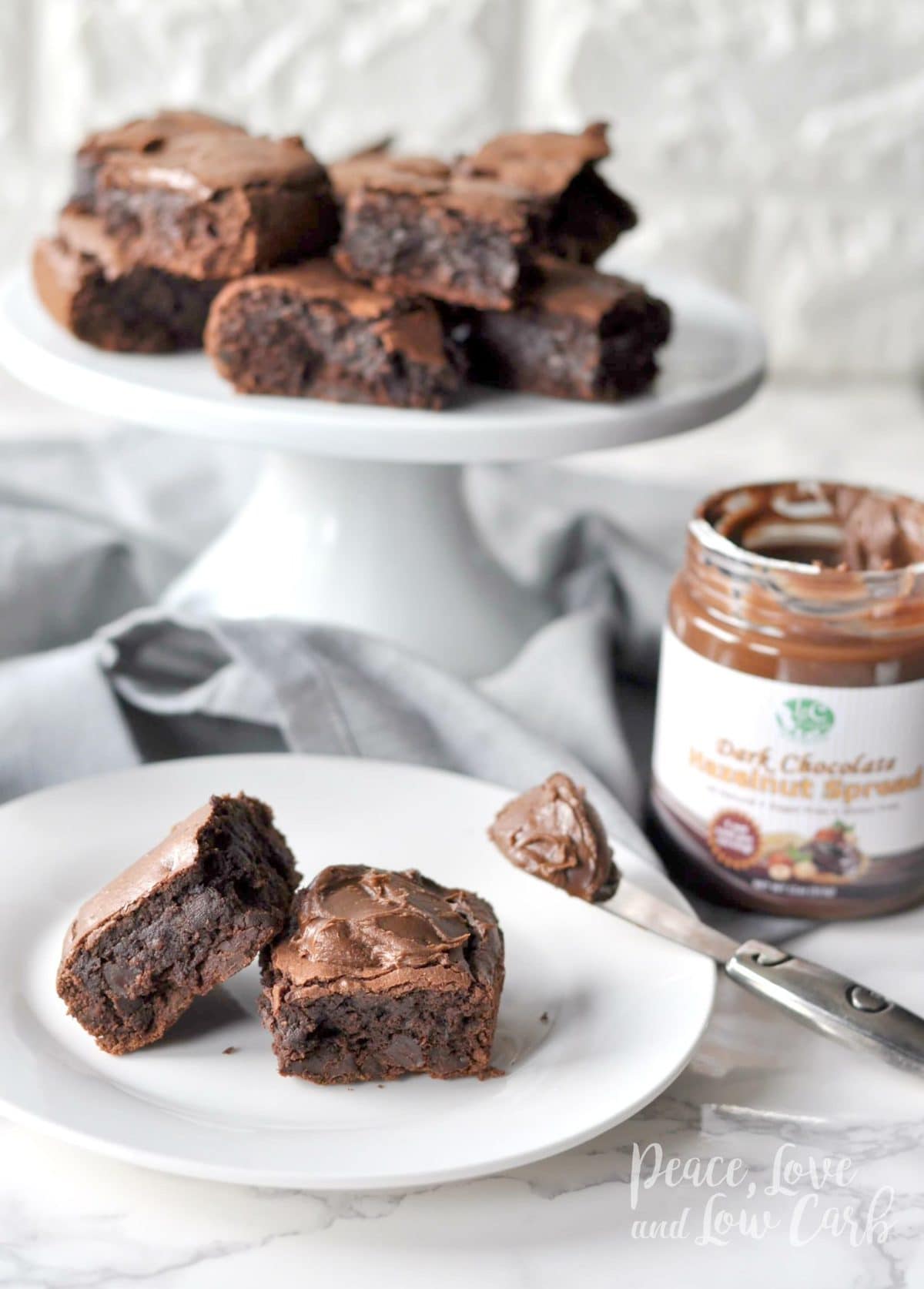 The Dark Chocolate Hazelnut Spread is all natural, sugar free and gluten free. It comes in at only 1 net carb per serving. It was the perfect addition to these deliciously fudgy keto brownies.
Ingredients: Inulin chicory root fiber, palm oil, sunflower oil, roasted hazelnuts, cocoa powder, erythritol, lecithin, vanilla extract, stevia rebaudiana leaf natural herbal extract.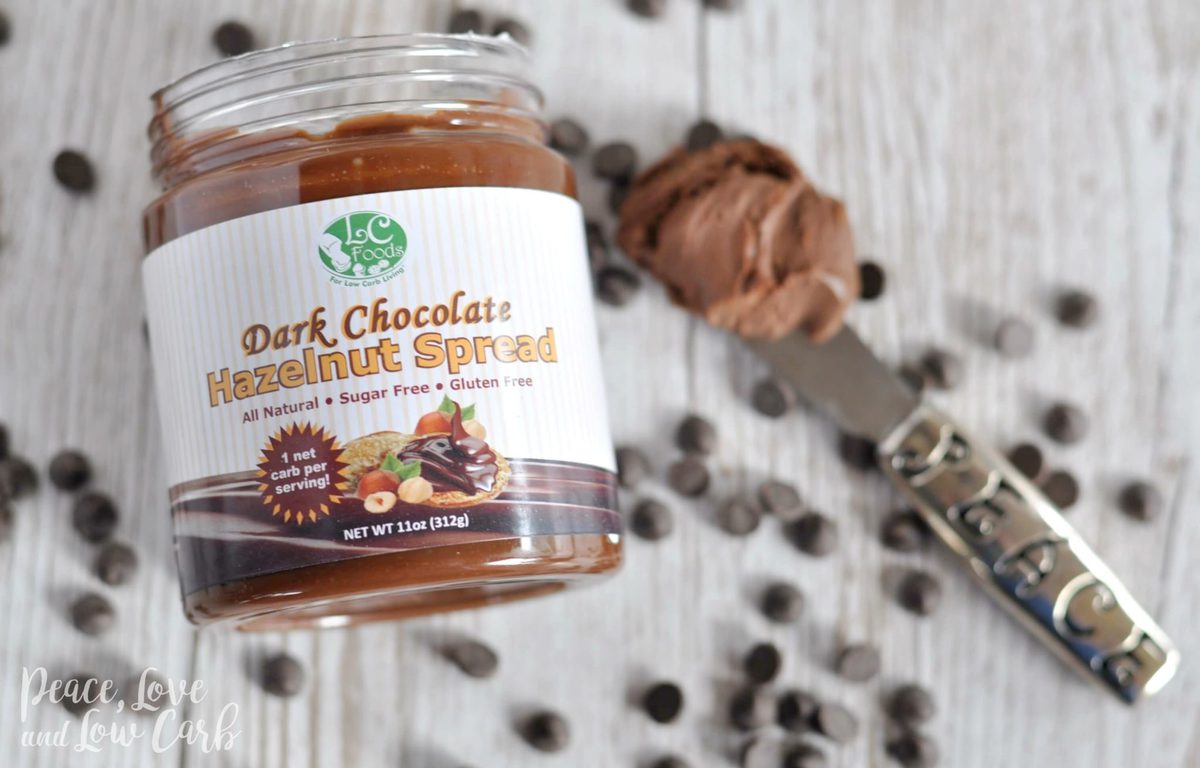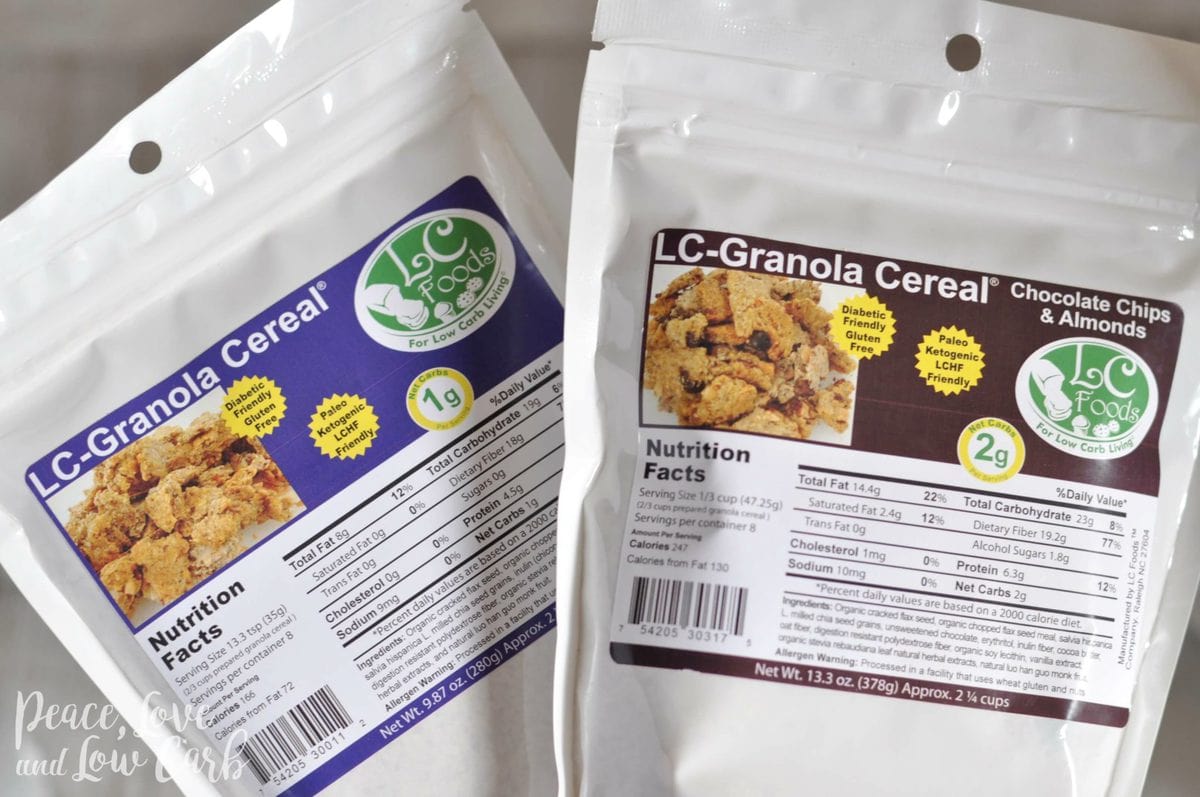 They also sent me their low carb granola cereals. Regular and also their Chocolate Chips and Almond Granola Cereal. Both varieties are low carb, gluten free, diabetic friendly, paleo, and ketogenic. You can read more about them here.
Ingredients plain variety: Organic cracked flax seed, organic chopped flax seed meal, salvia hispanica L. milled chia seed grains, inulin (chicory root) fiber, oat fiber, digestion resistant polydextrose fiber, organic stevia rebaudiana leaf natural herbal extracts, and natural luo han guo monk fruit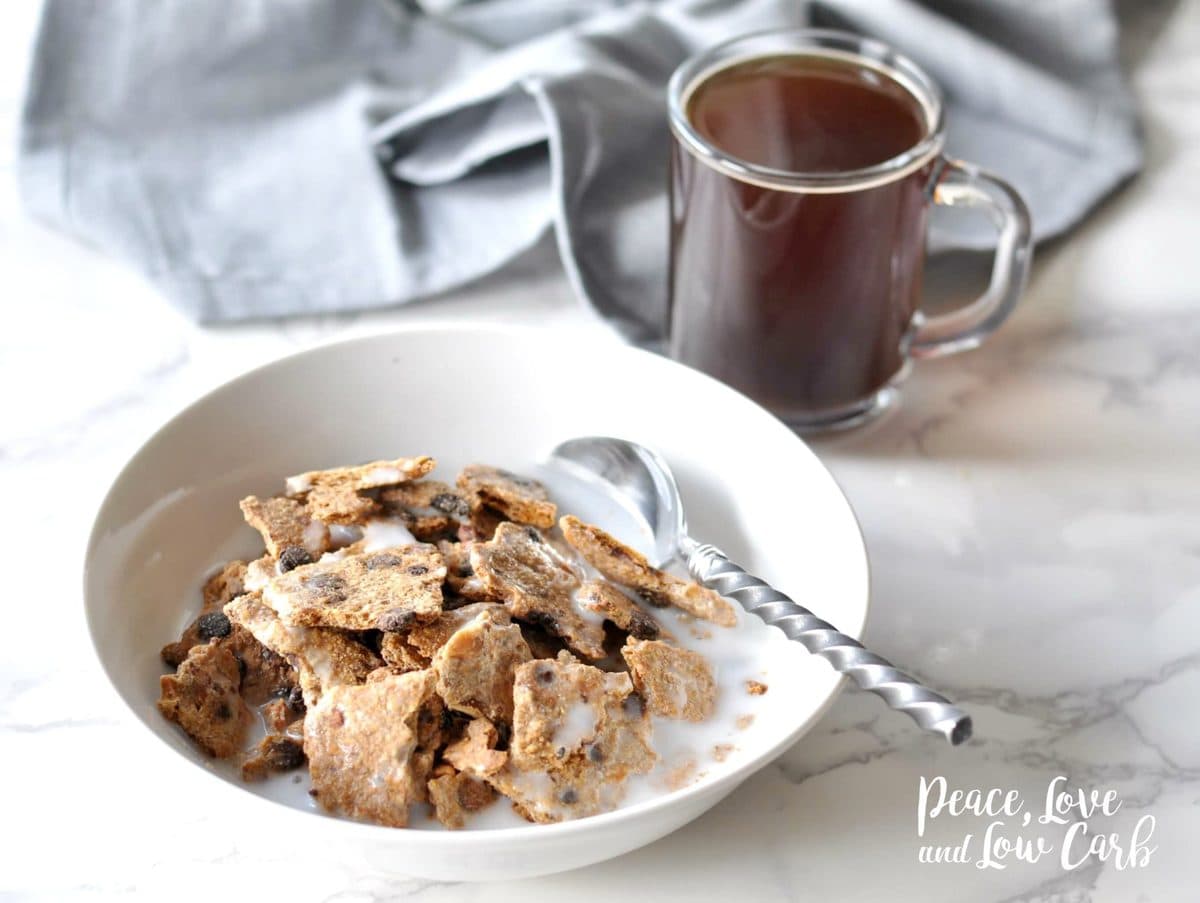 I couldn't wait to pour it in a bowl and cover it with coconut milk. A bowl of Chocolate Almond Granola Cereal for only 3 net carbs (coconut milk included)? YES, please! It has a perfect crunch and holds up against the coconut milk without turning into a soggy mess. It is also great for a crunchy snack all on its own. In fact, we ate the plain variety with cheese and salami. It has just a hint of sweetness that was awesome with the savory flavors of the meat and cheese. Yum!
Ingredients Chocolate Almond: Organic cracked flax seed, organic chopped flax seed meal, salvia hispanica L. milled chia seed grains, roasted almonds, unsweetened chocolate, erythritol, inulin fiber, cocoa butter, oat fiber, digestion resistant polydextrose fiber, coconut oil, organic soy lecithin, vanilla extract. organic stevia rebaudiana leaf natural herbal extracts, natural luo han guo monk fruit.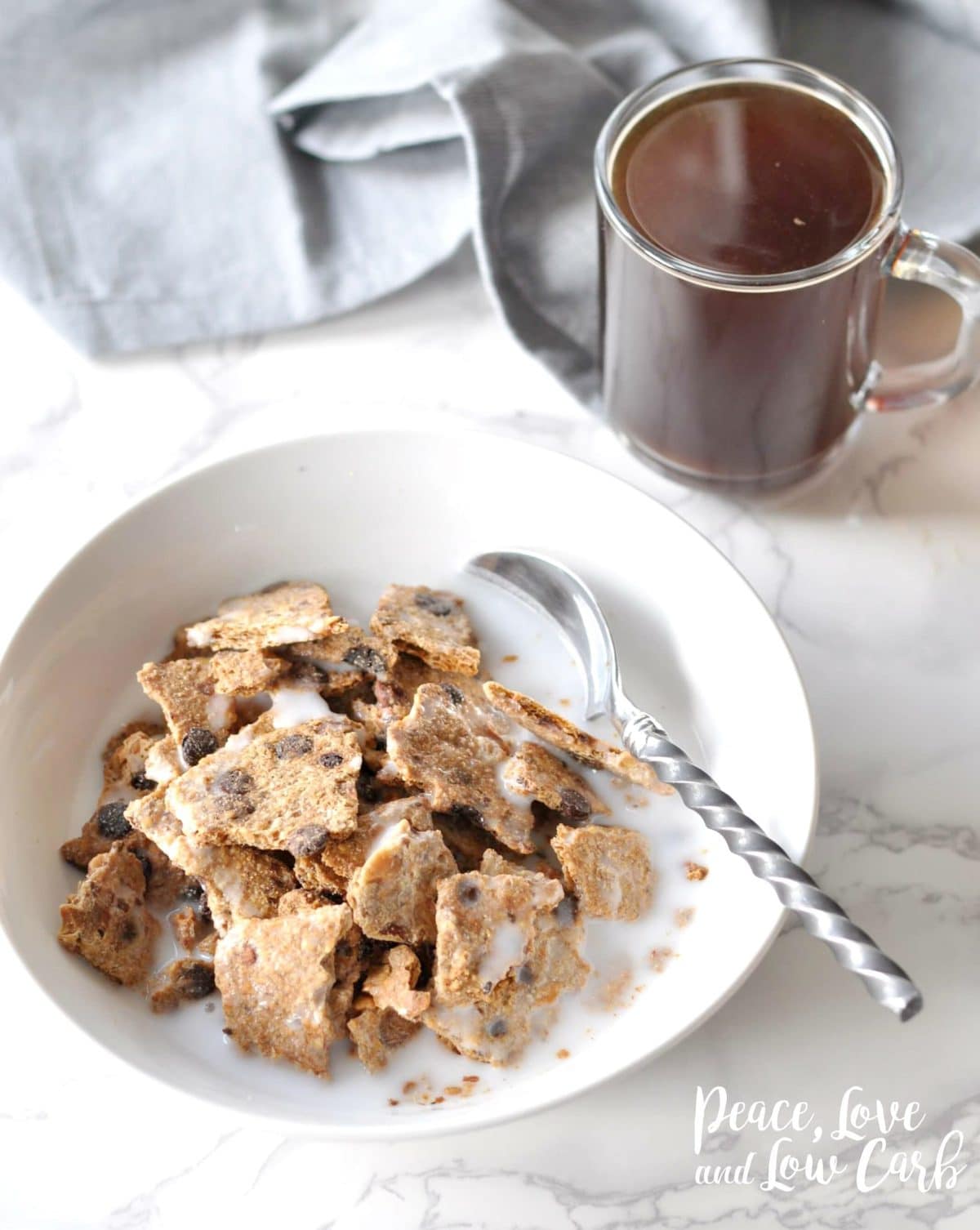 DON'T FORGET TO CHECK OUT SOME OF THEIR OTHER LOW CARB PRODUCTS: