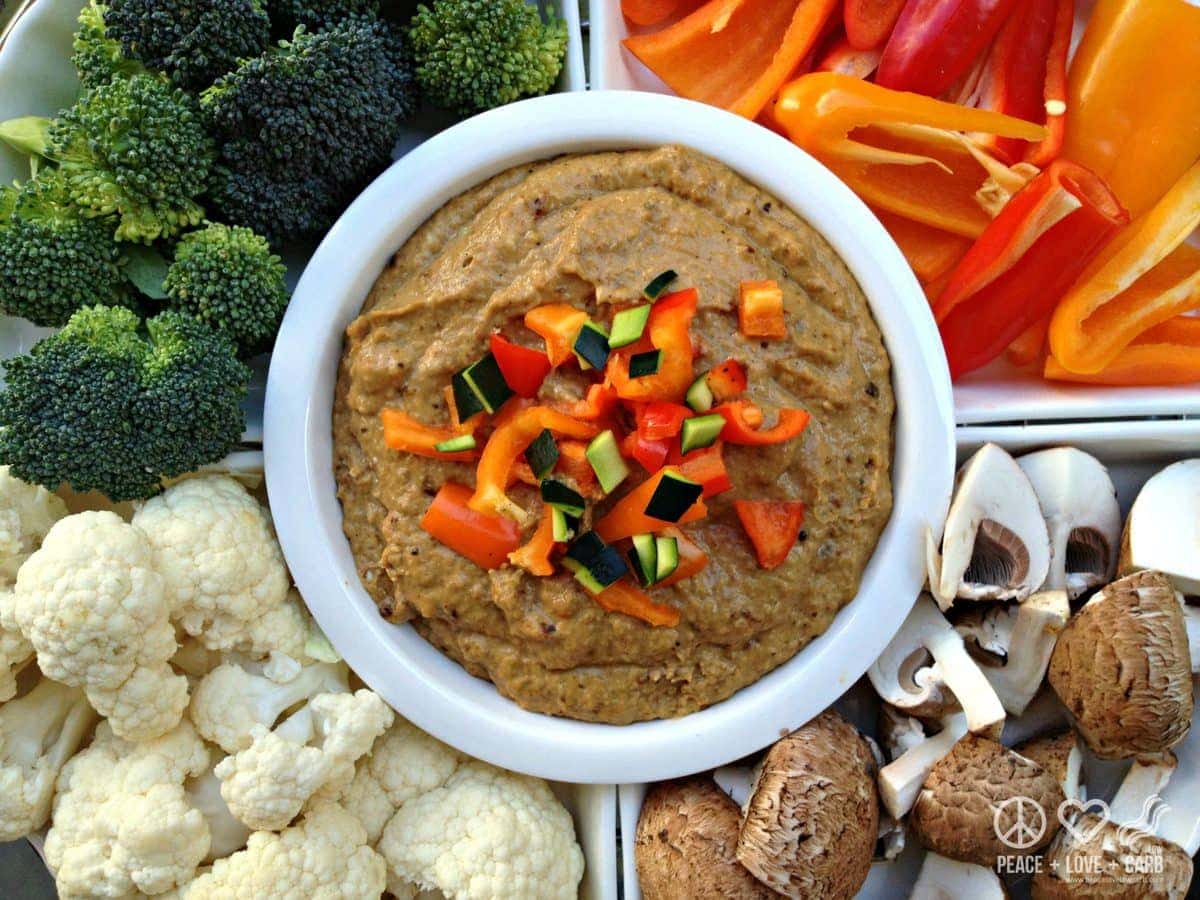 I have had so much fun creating different low-carb, paleo hummus versions. If I am going to a get together that requires me to bring a side dish, I love to do a hummus trio and serve it with fresh vegetables on the side. Then I love to watch people's faces when I tell them there are no garbanzo beans in the recipe.
Check out some of my other favorite hummus and dip recipes:

Sign up for updates to receive one week FREE of my low carb and gluten free meal plans:
[mc4wp_form id="9184"]
1 Large Zucchini – Peeled and Cubed
1 Medium Sweet Onion – Thinly Sliced
½ Lemon - Juiced
¼ Cup Creamy Roasted Tahini with Sea Salt
3 Large Cloves Garlic - Minced
3 Tbs. Olive Oil - Divided
1 tsp. Cumin
1 tsp. Sea Salt
DIRECTIONS
In a large
sauté pan
over low-medium heat, add 2 Tbs. olive oil, onions and pinch of salt and pepper. Cook until onions are nice and caramelized. About 20 minutes.
In a food processor, combine zucchini, caramelized onion, lemon juice, tahini, garlic, remaining 1 Tbs. olive oil, cumin and sea salt. Pulse until smooth and creamy.
Refrigerate at least one hour prior to serving.
Prep Time – 15 Minutes
Cook Time – 20 Minutes
Makes Servings: 10
Per Serving: ¼ Cup
Calories – 62
Protein – 1.8 g
Carbs – 3 net g
Fat – 4.9 g
***Please note that nutritional information listed on this page is an estimation based on the products I used. Ingredients and nutritional information can vary greatly between brands. Always be sure to read labels***
***Some links contained on this page are affiliate links and I may receive monetary compensation or other types of remunerations for any products purchased through these links***