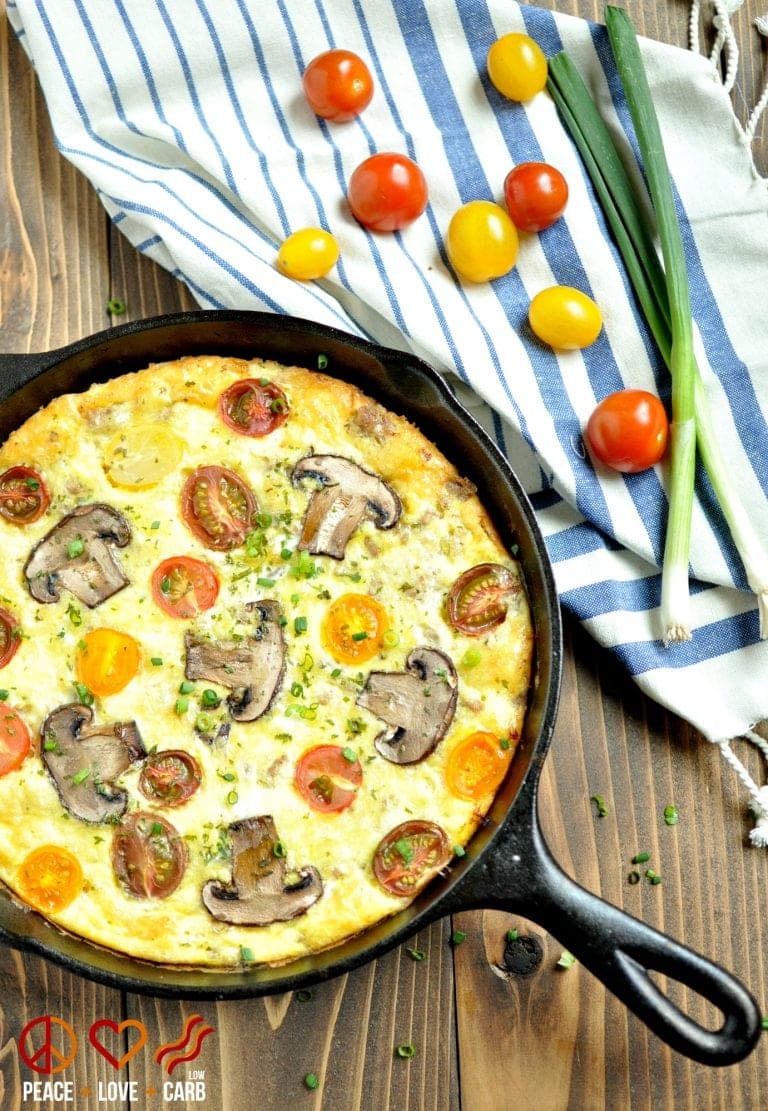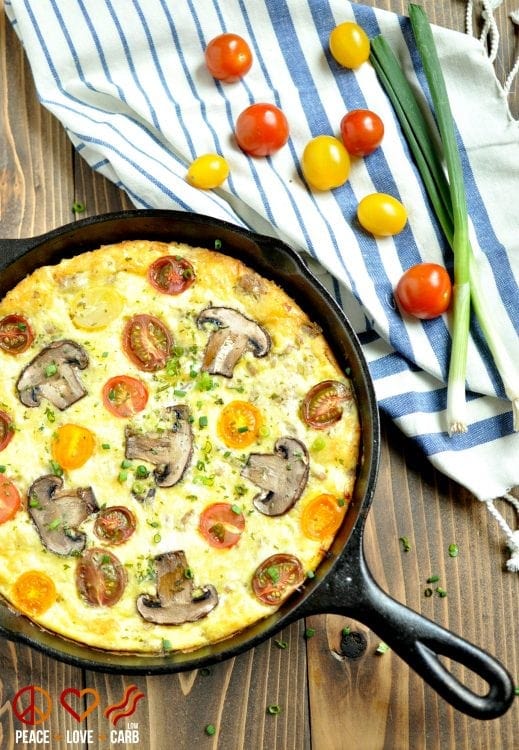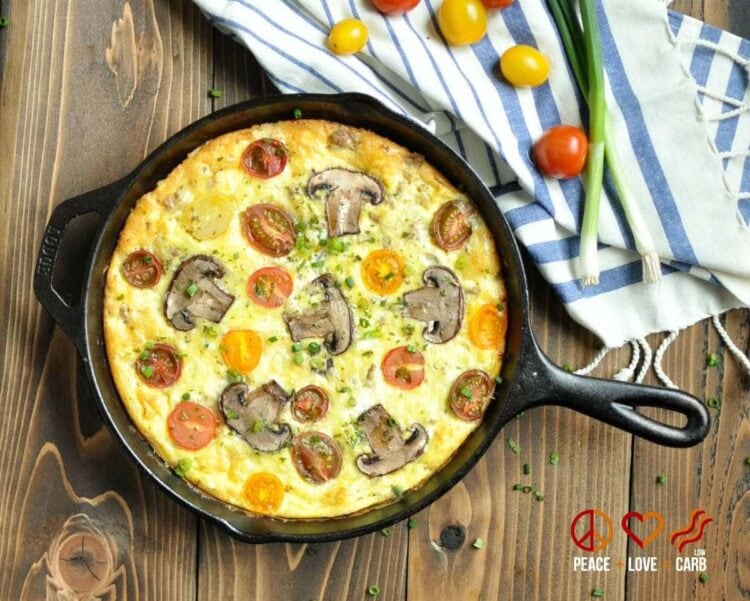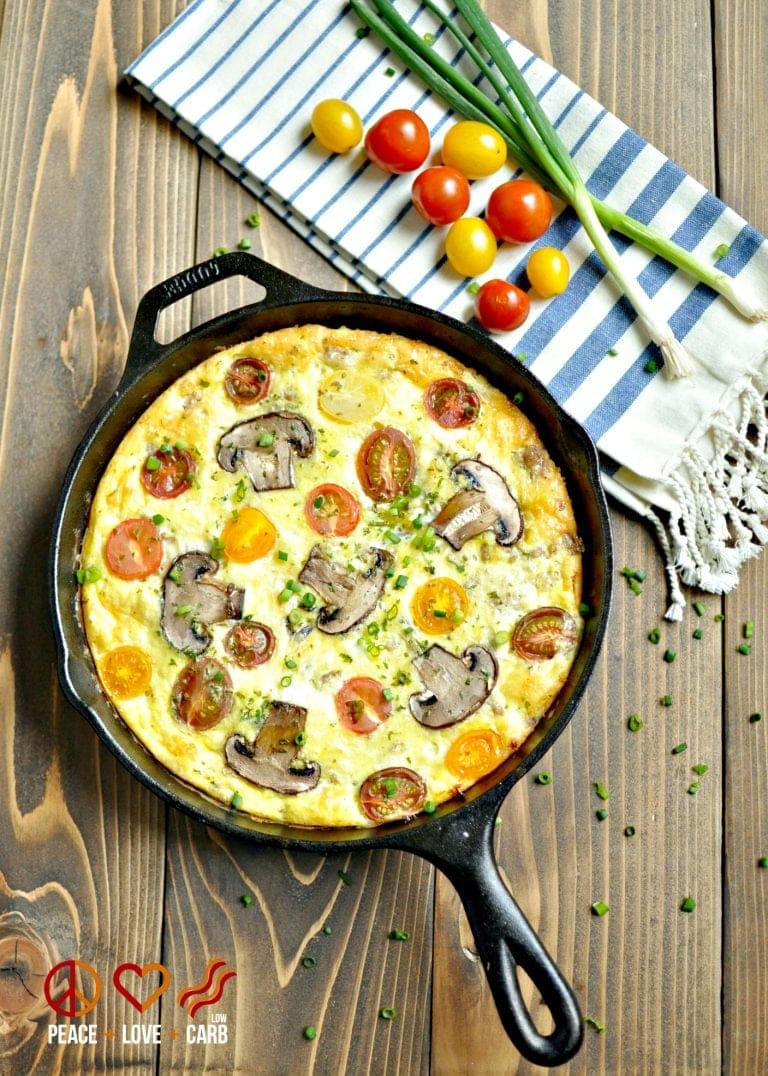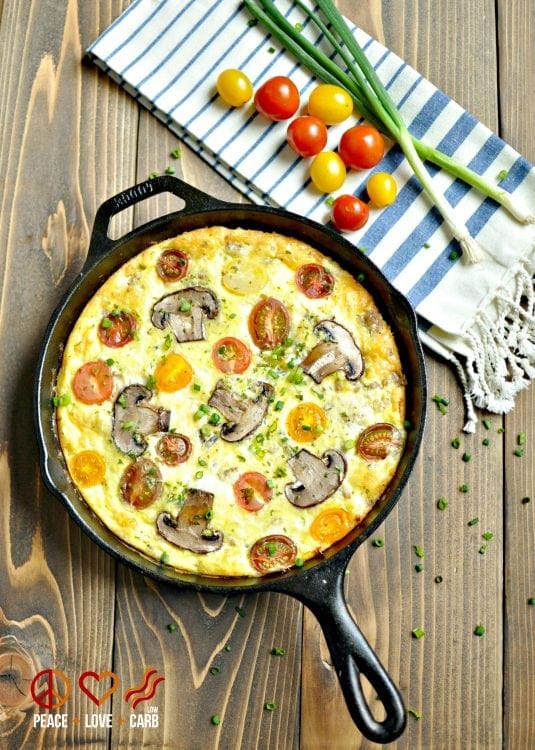 Frittatas are my go to breakfast when I just have a hodge podge of random ingredients in my fridge. I love to throw together leftovers, mix them with eggs, bake it in the oven and call it breakfast. I made one the other morning with leftover meatballs, sweet and spicy green beans, garlic and cheese. It may sound like an odd combination, but let me just tell you, it was fan-friggin-tastic!
Check out some of my other favorite low carb breakfast recipes:
Breakfast Stuffed Delicata Boats

Sign up for updates to receive one week FREE of my low carb and gluten free meal plans:
[mc4wp_form id="9184"]
---
SERVES 6
Ingredients
1 ½ lb ground pork or ground pork sausage
6 cremini mushrooms, thinly sliced (set a few aside for the top of the frittata)
3 cloves garlic, minced
1 ½ teaspoon sea salt, more to taste
1 ½ teaspoon minced onion flakes
½ teaspoon black pepper
10 large eggs
1 ½ cups sharp white cheddar, shredded
8 mini heirloom tomatoes, halved
2 green onions, chopped
Instructions
Preheat oven to 350°
Heat a large cast iron skillet or any oven proof skillet, over medium heat. To the skillet, add ground pork, mushrooms, garlic, sea salt, minced onion flakes and black pepper. Saute until the pork is cooked through.
Crack the eggs into a large mixing bowl and fork whisk. Mix the shredded cheddar into the eggs.
Pour the egg mixture evenly over top of the pork mixture in the skillet.
Once the eggs start to firm up and set on the bottom and the sides, top with heirloom tomates and remaining sliced mushrooms.
Bake for 20 minutes.
Top with chopped green onions before serving.
Makes 6 Servings
Per Serving
Calories: 599
Fat: 47g
Protein: 37g
Total Carbs: 6.67 g
Fiber: .67g
Net Carbs: 6g