Keto, Low Carb Blueberry Muffins. Warm, delicious and comforting. Best of all, they are gluten free too. Enjoy an old classic without all the sugar.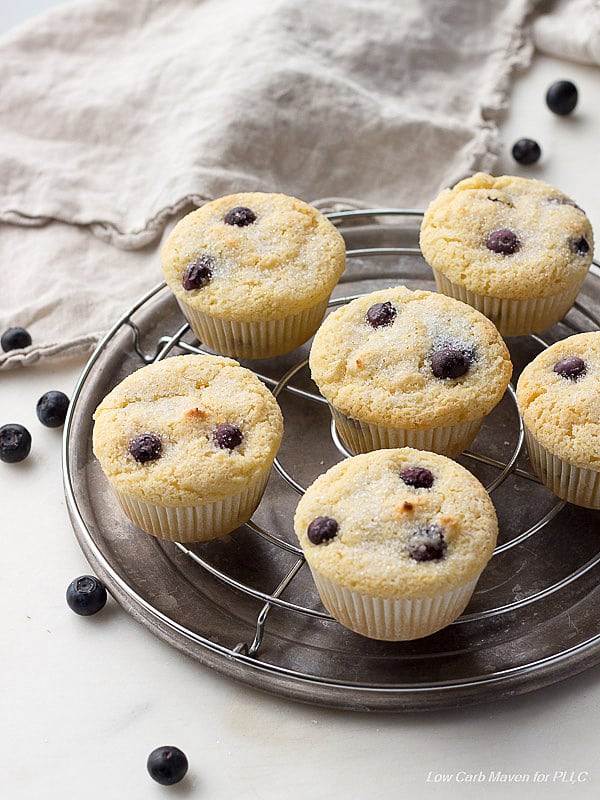 Low Carb Blueberry Muffins
Today's recipe is a guest post from the lovely and talented Kim Hardesty of Low Carb Maven.
Not only is Kim a fantastic low carb baker, she has some incredibly mouth watering savory recipes on her blog as well. Check out her entire low carb recipe index. You won't be disappointed! A couple of my favorites are her Salmon with Bacon Tomato Vodka Sauce and her Low Carb Spinach Manicotti.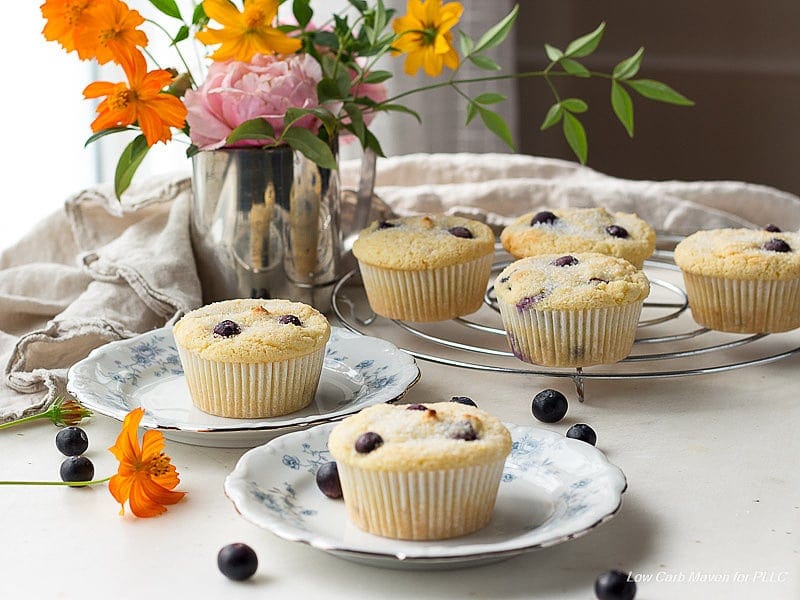 About this Low Carb Blueberry Muffin recipe
From Kim: I love a good classic blueberry muffin on occasion. They bring back childhood memories of camping in Peyson Arizona with my family. We spent the days fishing lakes and streams or hiking around the mountains surrounding the camping grounds. After a great night's sleep, I looked forward to my mother's campfire breakfasts which always included blueberry muffins or blueberry pancakes.
The blueberry muffins my mom made came from a boxed mix that contained a small can of wild blueberries. (Does anyone remember those?) It was my job to dump the blueberries into the muffin batter - a job I approached with much solemnity because I was serious about my baking even then! Mom prepared the most mouthwatering breakfast right over the campfire and also warmed our shoes so our feet wouldn't be cold. Good times!
As I mentioned, I take my baking seriously. If I'm going to spend extra carbs indulging in a low carb treat, it'd better be good. I think these low carb blueberry muffins are VERY good. We can all agree that low carb baked goods are different than the "real thing" - not bad, just different. These low carb blueberry muffins may lack that starchy stick-to-the-teeth mouthfeel inherent in regular muffins, but they are so soft and fluffy you'd be hard pressed to tell the difference.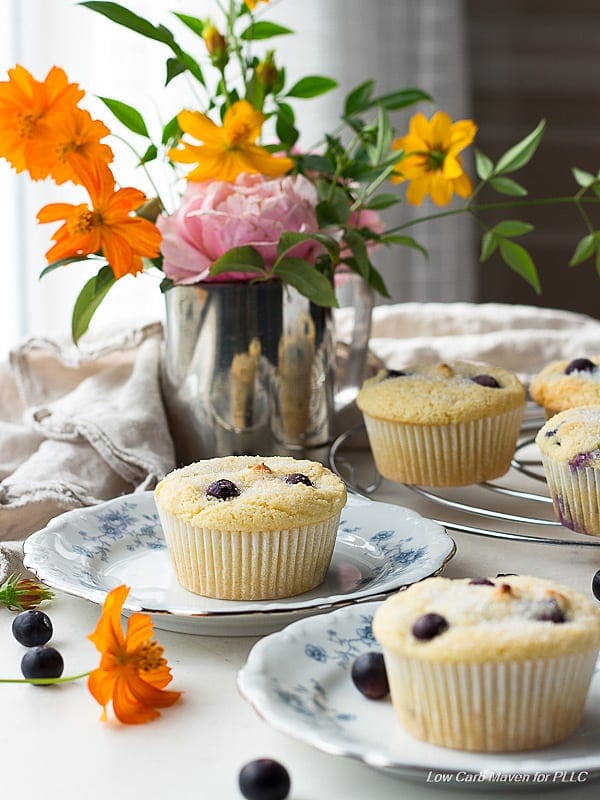 Why I use coconut flour in this keto Blueberry Muffin recipe
Coconut flour is the grain free flour alternative of choice for these muffins. It's low in carbs, high in fiber and well tolerated by many who suffer with nut allergies. Coconut flour produces soft and fluffy baked goods which have a mild coconut flavor. I especially love it for low carb quick bread and muffin recipes like chocolate zucchini muffins and these great blueberry muffins.
When using coconut flour, convention is to use lots of eggs to help add structure with their protein content and trap air. But the large amount of eggs causes baked goods to stick to pans like crazy, earning coconut flour a bum rap. To get around that problem I used a little cream cheese and a more traditional method of incorporating the ingredients. Make sure to let the muffins cool just a bit before gently removing from the pan and then store in the refrigerator. To enjoy, warm gently in the microwave.
Additional notes:
For best results, cream the ingredients together to whip air into the batter.
Use a plastic bag with a snipped corner to squeeze the batter into the muffin liners. If you don't the muffins will be misshapen and spiky.
Weigh the coconut flour for best results since it is affected by ambient humidity.
Sprinkle the tops with erythritol to avoid burning.
Bake on a rack positioned to the lower third of the oven with the specific method I specify so that you can force the muffins to rise quickly, avoiding blueberry studded rocks.
Don't overbake.
Slather a warm muffin with butter and enjoy!
In addition to this gluten free muffin recipe, check out some of my other favorite keto breakfast recipes:
Print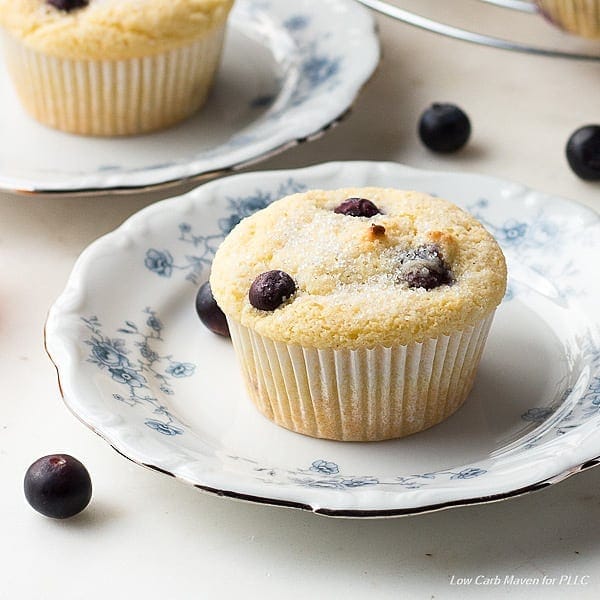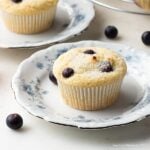 Low Carb Blueberry Muffins
---
Cream Together
½

stick (2 oz) butter, very soft

4 tablespoons

(

2 oz

) cream cheese, very soft

½ teaspoon

vanilla
Dry Ingredients
½ cup

coconut flour (get it here)

¼ cup

granular monkfruit (I use this brand) Code PEACE for 20% off

1 teaspoon

baking powder

¼ teaspoon

salt

1/16 teaspoon

cinnamon

⅛ teaspoon

xanthan gum (binds ingredients)
Wet Ingredients
3

large eggs (cold)

¼ cup

heavy cream (last wet addition)
Add Last
⅓ cup

fresh blueberries

2 teaspoons

granular monkfruit
---
Instructions
Preparation:
Preheat oven to 350°. Position oven rack to the lower third of the oven. Line a six cup muffin tin with paper liners. Add the dry ingredients together in a smaller bowl and whisk together to combine and break up any lumps.
Combine:
In a medium bowl, cream the butter, cream cheese, and vanilla together until light and fluffy. Add 1 egg and beat into the butter mixture until the mixture is light and fluffy (it may break or separate, it's okay). Add ⅓ of the dry ingredients and mix until completely incorporated, making sure to keep that light, fluffy texture. Keep in mind that we want a light and fluffy - almost mousse-like texture throughout this process.
Add another egg and beat until fully combined and the batter is fluffy. Add half of the remaining dry ingredients, beating again. Add the last egg, beating until fully incorporated, followed by the last of the dry ingredients. Finish by adding the heavy cream, once again, beating until the batter is thick, but still light and fluffy. Fold in the blueberries.
Filling the Muffin Tin:
Spoon the thick batter into a plastic zip-loc bag and snip off a corner, producing about a ¾ inch hole. Place the snipped corner into a muffin liner and squeeze the batter into a fat, rounded mound, filling the muffin liner about ¾ full. Repeat for each muffin liner, adding any remaining batter to those that need a little more. Knock down any peaks with your finger. Sprinkle about ¼ teaspoon of monkfruit over the top of each muffin to help prevent burning and to give the muffins a nice look.
Bake:
Place the muffins into the oven. Turn the oven up to 400° degrees for 5 minutes. Then, turn the oven back to 350° and bake the blueberry muffins for about 25 minutes more. They're ready when they feel firm when lightly pressed with a finger, but still sound a little moist. Remove from the oven and let cool five minutes before gently removing from the pan and placing on a cooling rack.
Nutrition
Serving Size:

1 Muffin

Calories:

273

Fat:

25g

Carbohydrates:

7g

Fiber:

3g

Protein:

5g